Rushwaya gold-smuggling case exposes a microcosm of the corruption that exists in Zimbabwe today
The irony of the arrest of Ms Henrietta Rushwaya
In June this year the then President of the Zimbabwe Miners Federation (ZMF)[i] Ms Rushwaya said "that small-scale mining must be a preserve for indigenous Zimbabweans…if that was embraced, then we will not be in this predicament of disturbances that are affecting production. Even things like smuggling in the case of gold usually become rampant when you factor in foreign participants."[ii]
Then barely four months later on 26 October 2020 the same Ms Rushwaya was caught trying to smuggle fourteen bars of gold weighing 6.9kg out of Zimbabwe on a flight to Dubai. The gold is valued at £300,000 or about $400,000.
Rushwaya connected to ZANU-PF and the President
Ms Rushwaya is not only a prominent figure in Zimbabwe's ruling party, but also a niece of President Mnangagwa. She may no longer be the head of the ZMF, but otherwise she is still protesting her innocence and seems rather unaffected by the event.
The arrest lifts the lid a little on the way things are run in Zimbabwe today
In another article [Zimbabwe's artisanal miner's, popularly known as makorokoza, risk their lives to make a decent living under Midlands Province on the website www.zimfieldguide.com] I wrote under Buyers: "Gold barons and their agents known as runners are thought to be the largest buyers of illicit gold in Zimbabwe. They are mainly based in Harare and they buy from their runners who are quasi-employed by them on a semi-permanent basis and also from independent informal traders…Foreign nationals (mainly Chinese) and Zimbabwean diaspora in South Africa also buy gold illicitly from small-scale and artisanal miners…It is reported that many licensed buyers sell some of their gold to Fidelity Printing and Refining (FPR) thus keeping to the legal supply chain in order to avoid getting into trouble with the authorities and sell the rest of their gold on the black market where they get a better profit margin."
In the chapter on the illicit gold trade I wrote: "Some of the factors and players in the black market have already been highlighted. The PACT 2015 report stated: "while official production figures have been growing, it is widely thought most output from Artisanal and Small-scale Gold Mining (ASGM) is un­accounted for, rendering official output figures a massive underestimation." The report goes on to state that: "a common estimate is that 50% of ASGM gold production is lost to smuggling."
Zimbabwe's political elite have been seemingly untouchable
The scandal has highlighted how the ZANU-PF political elite along with senior individuals in the Zimbabwe National Army (ZNA) Zimbabwe Republic Police (ZRP) Central Intelligence Organisation (CIO) the Reserve Bank of Zimbabwe (RBZ) and Customs and Excise officials within the Zimbabwe Revenue Authority (ZIMRA) are complicit in protecting powerful smuggling rings that are costing the nation millions of dollars.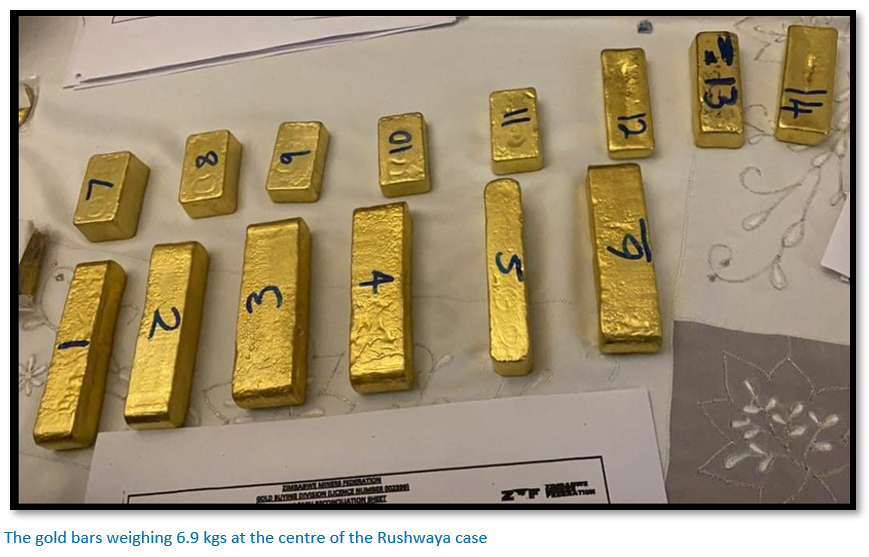 If Rushwaya is an 'untouchable' then how was she apprehended?
The smuggling attempt at Robert Gabriel Mugabe International Airport on Monday 26 October 2020 was apparently part of a well-orchestrated process that involved Rushwaya being escorted to a VIP departure point at the airport at which security personnel manning the closed circuit television monitoring system were instructed to switch the system off as she walked through. This exit process was planned to be slick and quick, taking just four minutes.
Accompanying her to smooth the path through the VIP departure point were two Central Intelligence Organisation (CIO) operatives, Steven Tserai,[iii] one of the President's long-term aides who apparently has now been sacked[iv] and Raphinos Mufandauya, both of whom may have been part of the smuggling ring. After she was stopped at the airport one of Rushwaya's subordinates at ZMF named Gift Karanda came to assist her and claimed to be a member of the CIO but was not.[v] These three were also arrested along with Ali Mohammed and two police officers.
Rushwaya did not have documents that allowed her to export gold and had claimed that the gold belonged to Pakistani tycoon Ali Mahommed who owns a car dealership that exports second-hand cars across Africa through his company called Ali Japan 786.
Intelligence sources said she attempted to bribe the four military intelligence officers who arrested her with $5,000.[vi]
If the process for smuggling gold out of Zimbabwe was well-established; how was Rushwaya caught red-handed?
Rushwaya's dramatic arrest along with fellow conspirators seems to have come about because of rivalry between the main gold smuggling rings in Zimbabwe. The money-spinning scams from initially the Marange and Chiadzwa diamond fields and now rampant gold smuggling has financed the operations of ZNA, ZRP, CIO and RBZ since 2006 and by financing these state forces has enabled the ruling party ZANU-PF to maintain its grip on power.
In a continuation of the same power struggle between President Robert Mugabe who was ousted by his deputy Emmerson Mnangagwa there is now a simmering tension between President Mnangagwa and his deputy Constantino Chiwenga. At the time of President Mugabe's ousting, the military spokesman said the armed forces would be: "targeting criminals around him [Mugabe] who are committing crimes... that are causing social and economic suffering in the country."[vii]
In a Zimbabwe which has seen the same political party ZANU-PF determined to hold onto power for the past forty years; the scenes are the same and just the names change as the playing cards get constantly re-shuffled as the 'chefs elite' jostle for a better political vantage point to defraud the people and their country.
Was political damage caused?
In an apparent attempt to cause political damage to President Mnangagwa's faction the alleged CIO operative Gift Karanda told the arresting officers that the gold was actually owned by President Mnangagwa's wife Auxilia and their son Collins, a soldier now turned businessman. Auxilia subsequently denied ownership of the gold ingots.
Undoubtably political damage was caused. Many Zimbabweans will remember the embarrassment caused by 'Gucci Grace' for her extravagance during a period of economic turmoil in the country and the profligate scenes on social media of her children living the high life.
During Mugabe's time there was a constant stream of allegations that Grace Mugabe was involved in smuggling millions of dollars in diamonds from the Chiadzwa mine which has been described as: "the biggest in southern Africa since diamonds were discovered in South Africa a century ago" and there are serious allegations that she was involved in wide-spread ivory smuggling from Zimbabwe to China.[viii]
Is there any doubt that the country's elite are on the same path of enriching themselves at the expense of Zimbabwe's citizens?
Is this just the usual political jostling in Zimbabwe by using other means?
This may well be the case. Since the November 2017 ousting of President Mugabe in which Emmerson Mnangagwa was supported by the then Zimbabwe Defence Forces commander Constantino Chiwenga there has been constant tension between the two in the way we have become accustomed to with ZANU-PF as the various political factions jostle for power.[ix]
In addition to his current post as First Vice-President Chiwenga is also Health minister and in September 2020 his deputy and long-time friend Obadiah Moyo was sacked for corruption over the awarding of $60 million coronavirus masks and testing contracts in a move that was highly embarrassing to Chiwenga.
An intelligence source told The Zimbabwe Independent: "The idea is to soil each other as much as possible to affect their standing and depreciate their suitability for office. It's a complex mind game at play."[x]
Did the gold smuggling tip-off come as revenge and a way of evening up the political balance?
It appears that the gold smuggling by simply carrying bullion through the VIP departure point and switching off the CCTV cameras was a well-practiced routine. Apparently ZRP officers were too scared to carry out the arrest of Rushwaya even after they had been tipped off because of her political connections and so the arrest was carried out by military intelligence officers.
"From the information we have, she was sold out by a member of the cartel from the security establishment who tipped off the MI and by the time she arrived at the airport, everything was known and they had an easy catch."[xi]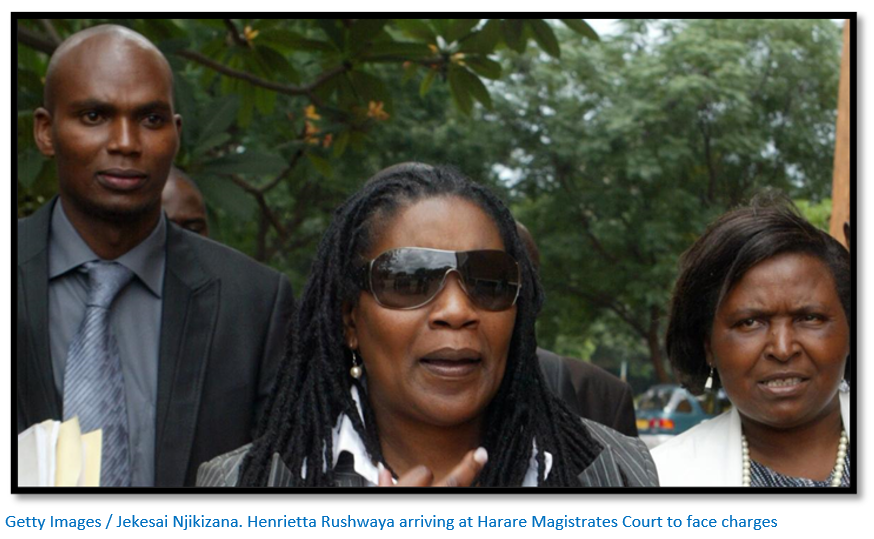 So what did Rushwaya say at the Magistrate's Court?
Those named above are facing charges of smuggling, unlawful possession of gold, bribery, criminal abuse of office and obstructing the course of justice.
Seeking bail at Harare Magistrate's Court Rushwaya said she packed her clothes in a similar bag at home but mistakenly took the one with the gold bars instead for the trip. Her lawyer said: "The wrong bag was put into her vehicle and she did not have the knowledge of its contents when she took it to the Robert Mugabe International Airport."[xii]
The State Prosecutors applied on 28 October 2020 to withdraw their consent for bail for Rushwaya after previously agreeing bail of $90,000 plus the surety of the title deeds to her Borrowdale property.[xiii]
The State Prosecutors Mr Garudzo Ziyaduma and Mr Charles Muchemwa told the Magistrate Mr Ngoni Nduna at the Harare Magistrates Court that the smuggling attempt had all the hallmarks of a well-planned and organised smuggling ring with airport security personnel primed to switch off the CCTV monitoring system as Rushwaya went through the VIP departure point in a process that would take just four minutes. There were also back-up plans to bribe anyone who 'smelt a rat' and this Rushwaya tried to do when the trap was sprung by military intelligence operatives offering them $5,000.
They told the Magistrate: "The net of the syndicate is actually wider. Hence upon taking note of that, we have enlarged the scope of the investigation…We expect more suspects to be brought to court tomorrow. There is also evidence that was availed to the effect that the accused tried to bribe two officers who had discovered the offence...There were also other personnel involved in assisting in the smuggling of gold. One is a member of the CIO and the other was masquerading as one. The net is wider than what was thought earlier hence the decision to withdraw the consent."[xiv]
The Harare magistrate Mr Ngoni Nduna subsequently denied Rushwaya bail and said she should remain on remand but granted $100,000 bail to Ali Mahommed who the magistrate said was only involved in the crime by way of being implicated by Rushwaya.[xv]
Is the Zimbabwe economy now dominated by different criminal networks with strong connections to Government and the security services?
The short answer is 'without a doubt.' The criminal activities undertaken by Grace Mugabe with her coterie of supporters began in the eighties with widespread handouts of agricultural inputs of seed to rural farmers which were labelled as the "Presidential Input Scheme" as though Robert Mugabe had personally funded their supply!
Then when the economy when feet up and the summer rains became problematic the desperate plight of rural farmers was exacerbated by distributing the seed late thus ensuring the crops failed and the rural population became dependent on food handouts from ZANU-PF; thus ensuring that they voted to keep the same political chefs and structures in place. In an excellent article Jefferson Murisi and David Chitando write that these same tactics have been used by the ruling party to "rig, bribe and coerce" rural voters to vote for ZANU-PF for forty years.[xvi]
Those same elite who corrupted the political system have simply extended their networks into the criminal underworld of smuggling natural resources such as diamonds and gold, wildlife trafficking and extortion wherever they see opportunities for personal benefit in the commercial sphere .
And yes, it is the same people, although a few names may have changed as the original chefs in ZANU-PF and government and security establishments have either died, retired or been exiled.
Other Illicit foreign buyers of gold include Zimbabwe diaspora working independently or with local partners to smuggle gold out of Zimbabwe primarily to South Africa. Chinese nationals often operate as millers and become part of the gold supply chain and foreign diplomats attached to local foreign embassies and consulates are often linked to gold smuggling networks.
Gold in Zimbabwe is increasingly sought by smuggling networks.
Gold is currently Zimbabwe's top export making up almost 25% of exports by value in 2019 and these are the official statistics. A recent UNIDO report estimated two million people were dependent on artisanal mining and small-scale mining for their livelihood in the absence of jobs in the formal employment sector.[xvii]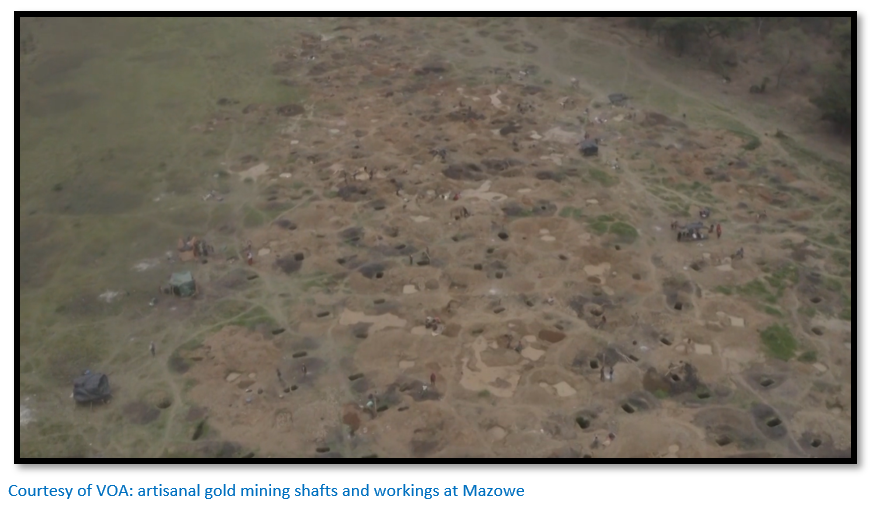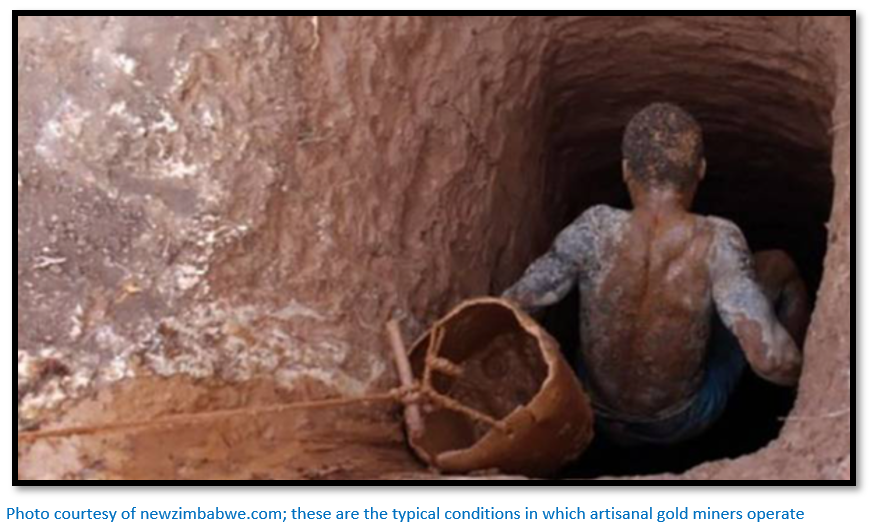 The PACT 2015 report states that: "a common estimate is that 50% of ASGM gold production is lost to smuggling." Readers are urged to read the article Zimbabwe's artisanal miners, popularly known as makorokoza, risk their lives to make a decent living under Midlands Province on the website www.zimfieldguide.com
Gold production at Fidelity Printing and Refining (FPR) the country's official gold buyer went down from 33.2 tonnes in 2018 to 27.6 tonnes in 2019, a 17% decline, not because Zimbabwe's gold production went down but because a greater percentage is being smuggled out by the networks principally to Dubai where there are less controls than in South Africa and acts as a gateway to India, Europe and the USA.
It is strangely inconceivable that with a 2018 gold bullion price of $45,000 per kg the supply of gold should be going down when the current November 2020 price is $58,000 per kg.
And where was Ms Henrietta Rushwaya headed to? Dubai, of course!
What is the scale of the gold smuggling?
Fidelity Printing and Refining (FPR) figures are not to be believed as they constitute official deliveries to the country's only legal buyer and do not include smuggled output. Their figures show deliveries totalled 27.6 tonnes in 2019 against 33.2 tonnes in 2018: a drop of 17%. This is inconceivable!
The number of artisanal and small-scale miners is steadily increasing as opportunities in the formal employment sector worsen as the economy fails plus increasing numbers of rural workers forced out of agriculture with erratic rainy seasons and more crop failures. More likely production in 2019 was around 53.6 tonnes with 26 tonnes of gold lost to smuggling worth about $1.5 billion at current November 2020 prices.
Is Fidelity Printing and Refining (FPR) implicated with the ruling family in the smuggling?
Some sources including The East African hinted that the 6.9 kg haul of gold in Rushwaya's bag had come directly from FPR saying it was the only organisation in Zimbabwe that could refine gold bars to 99% purity. This and the fact that Steven Tserai is a long-term aide of President Mnangagwa and that another of those implicated Gift Karanda asserted at the time that the gold was actually owned by Auxilia Mnangagwa and son Collins have drawn the ruling family firmly into the gold smuggling controversy.
Auxilia Mnangagwa has since distanced herself from the smuggling case, saying criminals were abusing her name and in a statement said: "I do not engage in illegal narrow minded pursuits like gold smuggling. I am greatly aggravated by the continuation of these false stories."[xviii] On Facebook she wrote she and her son had been: "falsely implicated…and had no dealings nor involvement with Ms Henrietta Rushwaya of any illegal kind."
The Times also suggested that the gold had been removed from FPR at the instigation and for the benefit of Zimbabwe's ruling family with whom Rushwaya is connected.[xix] Family connections are often important in these gold smuggling networks where there is an issue of trust.
Small-scale artisanal gold producers are most vulnerable
As I outlined in the article Zimbabwe's artisanal miners, popularly known as makorokoza, risk their lives to make a decent living under Midlands Province on the website www.zimfieldguide.com it is the small-scale producers that are most vulnerable but increasingly it is they rather than the large-scale producers that are delivering the larger quantities of gold. In 2018 21.7 (65%) vs 11.5 tonnes; in 2019 17.5 (63%) vs 10.1 tonnes.
Why would artisanal and small-scale gold miners prefer to sell to the smuggling networks? Firstly the gold barons send their runners directly to the mine-sites and pay cash for gold. The runners are prepared to buy small quantities, typically 10 grams and this reduces the risk that artisanal miners have of being robbed whilst they hold or transport their gold to the towns. When gold producers sell to Fidelity Printing and Refining they suffer delays in payment and some of the payment being made in government bond notes.
There has been an increasing scale of violence in relation to artisanal and small-scale gold-mining. Groups of thugs known as mashurugwi (or from Shurugwi) are synonymous with machete gangs and raid artisanal mining settlements to extort and steal gold. In addition security forces, including the police often need to be bribed to turn a blind eye to villagers mining in riverbanks and they will extort money or gold from them in return for allowing them to continue their mining activities.
Who is Ali Mahommed?
When Henrietta Rushwaya was arrested at Robert Gabriel Mugabe International Airport with the 6.9 kg of gold she told Criminal Investigation Department (CID) detectives that she was carrying the gold on behalf of Ali Mahommed.
At Harare Magistrates Court Mahommed denied that the gold belonged to him and said the documents found on Rushwaya with his company's stamp could have been forged and that he had nothing to do with the smuggling ring.[xx]
Ali Mahommed is a Pakistani national and director of a company called Ali Japan786 that imports and sells second-hand vehicles and is licenced to buy and sell gold. Legally this is done through Fidelity Printers and Refiners with the Reserve Bank of Zimbabwe paying him through off-shore accounts.
He denied there was any evidence linking him to these gold offences and no indication in the State's case of him having conspired to smuggle gold outside the country. He wanted to clear his name and preserve his $50 million business empire in Zimbabwe.[xxi]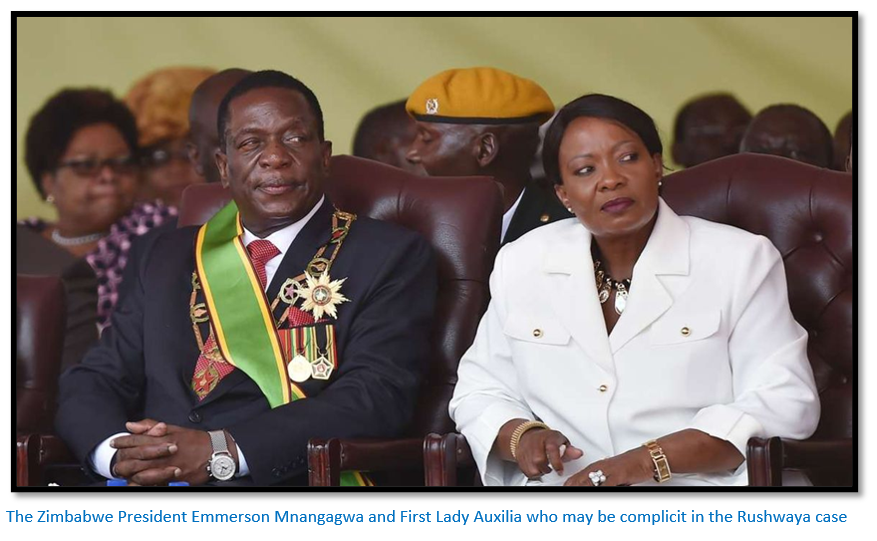 Who is Henrietta Rushwaya apart from being niece to the Zimbabwe President?[xxii]
She was born in 1968 in Masvingo and trained as a teacher at Morgenster Teachers' College.
She worked in Harare at the Sports and Recreation Commission before being selected to travel to Norway to study sports management on a scholarship in 2000.
Her rise to Zimbabwe Football Association (ZIFA) Chief Executive
She returned from Norway in 2004 and was tasked with coordinating fundraising activities for the senior national soccer team, The Warriors before getting a job as the Director of Sport in then Vice-President Joseph Msika's office. In March 2007, she was appointed ZIFA chief executive.
Between 2007 and 2008 she faced theft charges for stealing money from ZIFA and was tried at the courts in 2008.
A career in politics
In 2008 Rushwaya tried to use her family connections to represent Zanu PF in Gutu South in the parliamentary elections but failed to get nominated as she was arrested and charged with attempting to defeat the course of justice after an investigation at the Attorney-General's Office into questionable circumstances that led to her trial on theft charges.
Bribery and match-fixing allegations
In January 2011 newspapers alleged she was having an affair with MDC politician Welshman Ncube.
In 2012 she was arrested by the Anti-Corruption Commission on allegations of bribery and match-fixing linked to the Asiagate match-fixing scandal. She appeared in court facing 11 counts of concealing transactions from a principal, two counts of fraud, and 15 others of bribery involving US$1 million.
Extortion charges
In August 2014 Rushwaya was arrested on charges of extorting hundreds of thousands of dollars from Walter Magaya, the religious leader of Prophetic Healing and Deliverance Ministries.
The centre of a match-fixing syndicate
In April 2016 she was again arrested for manipulating football matches and being the central figure in a syndicate that involved referees, players and journalists in a trip by the Zimbabwe national team to Malaysia on 28 December 2009 during which matches are said to have been manipulated.
Limpopogate
It was alleged that Rushwaya was the central figure in another match-fixing scandal commonly referred to as Limpopogate which had been fixing games for a period of at least six years.
Fired from ZIFA
After being found guilty on the majority of the charges levelled against her, Rushwaya was dismissed from ZIFA on 26 October 2016 after a disciplinary tribunal ruled she had been responsible for mismanagement and insubordination.
President of the Zimbabwe Miners Federation (ZMF)
Without any prior experience in mining but probably because of her political connections she was elected President of the ZMF in 2018
Henrietta Rushwaya is a niece to President Emmerson Mnangagwa – her family and political connections give the game away
Her sister Heliete Rushwaya is the acting chief executive of the Zimbabwe Broadcasting Corporation (ZBC) really just an adjunct to ZANU-PF
Her cousin is Martin Rushwaya who is now deputy chief secretary for administration and finance in the Office of the President and Cabinet and was formerly permanent secretary in the Ministry of Defence.
Her father and Martin's father are brothers. Martin's mother the late Mary Rushwaya is sister to President Mnangagwa's mother.
Her current controversy
As we know on 26 October 2020 Rushwaya was arrested as she tried to smuggle 6.9kg of gold out of Zimbabwe at Robert Gabriel Mugabe International Airport. She was charged with smuggling under the Customs and Excise Act and attempted bribery.
The ZMF acted quickly and on 29 October 2020 Rushwaya was suspended from her post as president for bringing the organisation into disrepute.
Postscript on journalist Hopewell Chin'ono
The award winning Zimbabwean journalist has been charged with obstructing justice and contempt of court for tweeting about the Rushwaya court case and breaching his bail conditions which included a ban on him posting on Twitter. He was ordered to be held in the now notorious Chikurubi maximum-security prison outside Harare.[xxiii]
His lawyers said he had been unjustly sent to Chikurubi when he should have been sent to a remand prison and was being punished for publicly exposing a multimillion dollar scandal around coronavirus supplies to the state.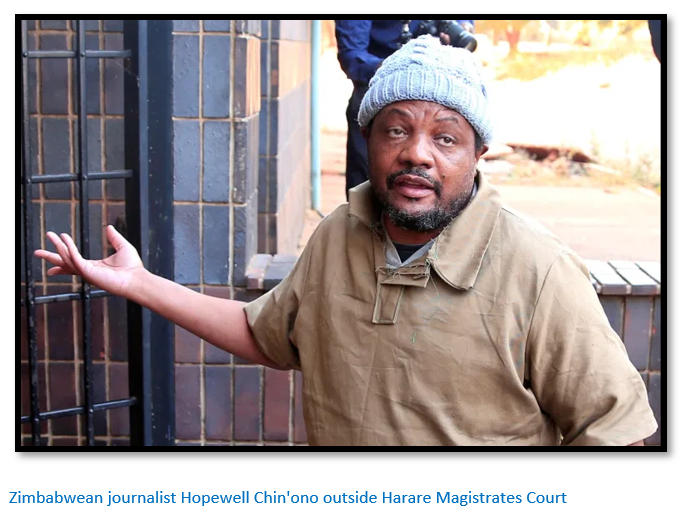 References
Mining Zimbabwe.com. Reserve small-scale mining for locals. 29 June 2020
www.newzimbabwe.com/latest-rushwaya-denied-bail on 13/11/2020
www.newzimbabwe.com/interesting-facts-about-jailed-henrietta-rushwaya/ of 3/11/2020
www.myzimbabwe.co.zw/news/73113-gold-smuggling-saga-latest-mbanje-producer-henrietta-rushwaya-wants-her-gold-bars-back.html by Muza Mpofu
Radio VOP. Govt food handouts: a Zanu PF weapon for abuse of rural electorate by Jeffryson Murisi David Chitando. 29 August 2019
The Chronicle. Rushwaya still in custody four more arrested/ 29 October 2020
The East African. Mnangagwa's family under scrutiny over gold smuggling by Kitsepile Nyathi. 12 November 2020
The Herald. Just-in-henrietta-rushwaya-suspended/ 29/10/2020
https://iharare.com/henrietta-gold-smuggling-latest-ali-mahommed-hangs-rushwaya-to-dry/ 27/11/2020
The Telegraph. Zimbabwe mining official took gold bars by 'accidentally picking up wrong handbag.' 4 November 2020
The Times. Zimbabwe president's relative arrested at airport after gold bars found in handbag. 29 October 2020 by Jane Flanagan
The Times. Henrietta Rushwaya: Zimbabwe ruling family suspected of stealing gold from state. 16 November 2020 by Jane Flanagan
The Zimbabwe Independent. Rushwaya gold case opens can of worms. 6 November 2020 by Andrew Kunambura and Tinashe Kairiza
Notes
---