Oh dear, another foiled gold smuggling attempt is linked to the Zimbabwe President's family
Some months ago, we reported that on 26 October 2020 Henrietta Rushwaya was caught at Robert Gabriel Mugabe (RGM) International airport trying to smuggle fourteen bars of gold weighing 6.9kg (valued at £294,100 or about $417,600 at today's price) out of Zimbabwe on a flight to Dubai. See the article Rushwaya gold-smuggling case exposes a microcosm of the corruption that exists in Zimbabwe today under Midlands on the website www.zimfieldguide.com
At the time Rushwaya, then head of the Zimbabwe Miners Federation (ZMF) and niece of President Mnangagwa fingered the First Lady Auxillia Mnangagwa and her son Collins Mnangagwa as the real owners of the gold bullion. The ZANU-PF government issued statements distancing the first family from Rushwaya and the First Lady herself said: "I do not engage in illegal narrow-minded pursuits like gold smuggling."[i]
Another Zimbo nabbed gold smuggling
On 9 May 2021, Tishinga Nyasha Masinire, 33, was arrested at OR Tambo International Airport when scanners picked up the 23 bars of gold worth £555,000 or US$783,000 he had in his suitcases.[ii] The Zimbabwean who arrived on a flight from Harare is/was Henrietta Rushwaya's aide and driver, although Rushwaya herself "claims that Masinire is not her driver because he resigned from his job last year. She distanced herself from Masinire and categorically denied that the gold in question belonged to her or the Zimbabwe Miners Federation (ZMF)"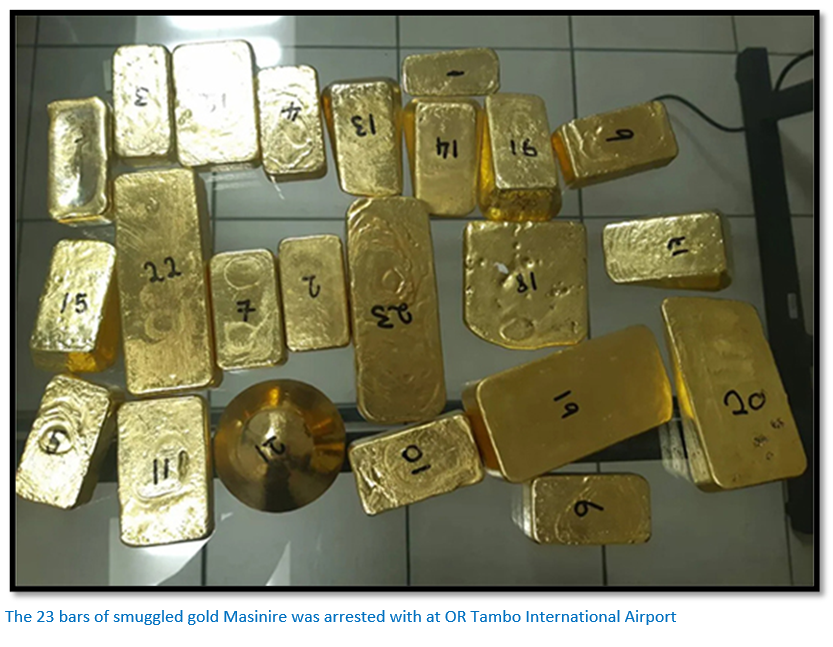 Of course, everything Rushwaya says may be true. Masinire is no longer her driver, probably the gold does not belong to her, or the ZMF. There is a strong suspicion that the gold shipments being smuggled by both Rushwaya and Masinire belongs to someone far more important than any of these individuals who were simply acting as mules.
A security source told the Zimbabwe Independent: "The similarities and connections relating to Masinire's and Rushwaya's alleged gold smuggling cases are too glaring for any credible police force to ignore. She is a person of interest in this matter. She certainly will be called for questioning."[iii]
South African Crime Agency comments
National spokesperson for the Directorate for Priority Crime Investigation (Hawks) Lieutenant-Colonel Philani Nkwalase told African News Agency in Pretoria that Masinire had been released on bail and said: "The suspect was requested to scan his luggage at the international arrivals Customs section of the South African Revenue Service (SARS) and 23 pieces of gold were allegedly found in his luggage. He allegedly failed to declare any items and did not have any permits or licences to be in possession or transport gold…The alleged smuggler appeared this morning and the matter was postponed to the 1st of July. The suspect was granted R100 000 bail with stringent conditions…including that he should not leave South Africa and he also has to report to the nearest police station at least three times per week."[iv]
Nkwalase continued: "He allegedly failed to declare any items and did not have any permits or licences to be in possession or transport gold, and the Hawks were called to effect the arrest." Masinire is facing charges of contravening the Customs Act 91 of 1964 and the Precious Metals Act 37 of 2005.
The biggest puzzle is how did Masinire get through RGM International Airport without the gold being detected?
A statement issued by RGM International airport officials claiming that Masinire met all airport formalities and procedures contradicts the South African authorities' claims that the suspected smuggler: "did not have any permits or licenses to be in possession of gold."
We know that in Rushwaya's case she was escorted by Central Intelligence Organisation (CIO) agents through customs and immigration who have now been charged with her and that the airport CCTV had been deliberately switched off. Her arrest was made by Military Intelligence (MID) not Zimbabwe Republic Police (ZRP)
Airports Company of Zimbabwe acting executive Tawanda Gusha told the Independent[v] that Masinire, could be seen on CCTV footage going through airport formalities "without any glitches." Gusha continued: "What is happening is that the police have been investigating that case since Monday. They are here as we speak. They are checking everything. It is the airport which is being investigated. The police have not given anything on what they have found so far…I am sure the CCTV was active. We have not heard of any report about our system going down. It is active all the time. What I can clarify is that we have two systems which we run concurrently. As far as I am concerned, both systems were working on Saturday…At the moment, we are not privy to what the police have found so far. The accused went through the airport formalities. As far as I am concerned, nothing was irregular about that. But I do not know whether he had the requisite papers."[vi]
However, we know the statement released by the Hawks states that Masinire: "failed to declare any items and did not have any permits or licenses to be in possession of gold."
President Mnangagwa's family implicated in gold smuggling once again
When he came into office, President Mnangagwa promised he would tackle the endemic corruption and criminality that exists throughout the entire edifice of ZANU-PF government, but his administration has been accused of actually facilitating the 'black market' of illicit gold-buying through the security services and police so that the bulk of the gold mined is now smuggled outside the country. Even the price per gram paid by Fidelity Printers and Refiners the government's official buyer at $54 per gram is less than the price paid by dealers of $58-$60 per gram so that miners are incentivised not to use official channels.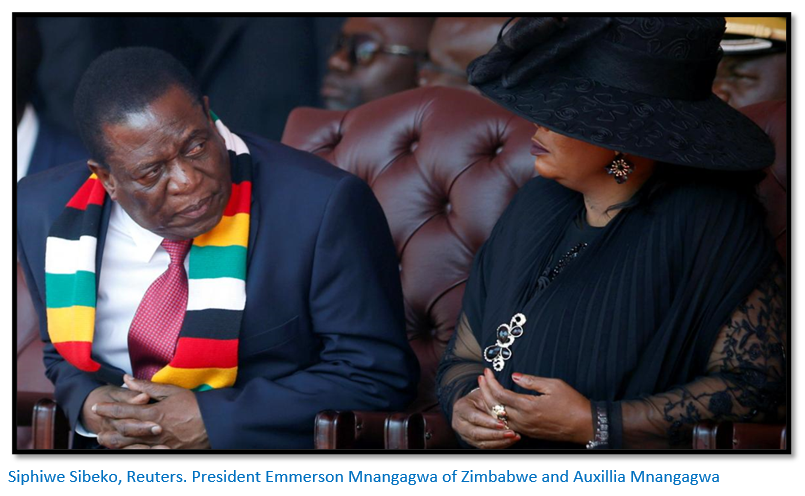 For over forty years Zimbabwe has been the subject of increasing corrupt leadership who have bankrupted the entire economy and destroyed its infrastructure that was the envy of Africa, at the same time reducing its citizens to poverty in the pursuit of personal wealth. See the article Corruption in Zimbabwe - Transparency International reveals the latest Corruption Perceptions Index (CPI) for 2020 under Harare on the website www.zimfieldguide.com
Zimbabwe has become a country that benefits only the minority elite at the heart of political power, ZANU-PF hangers-on, civil servants and the military. Instead of fighting corruption, the ZANU-PF machinery concentrates on silencing any alternative voices and opinions – the very opposite of an open and transparent democracy that they claim to be.[vii] In Zimbabwe it has become the citizens who speak up about the rampant corruption norm to endure abduction and abuse at the hands of the military and police.
Gold smuggling to Dubai from Zimbabwe is rampant, but the elites are untouchable
It has been estimated that gold worth US$100 million is smuggled out of Zimbabwe's porous borders every month. The gold that the thousands of artisanal miners labour for in dangerous and desperate conditions in the hope that it will take them out of poverty is bought by a cartel of dealers who are part of the ZANU-PF establishment.
Gold has become the fastest growing sector of the Zimbabwe economy, most of it by small-scale miners, but much of it is smuggled illegally into neighbouring South Africa and then Dubai. The arrests of both Rushwaya and Masinire are embarrassing for the President because they illustrate how deeply his family and the country's elite are immersed in this murky trade. Gold smuggling is all about amassing personal wealth and does nothing for the economy which loses vast amounts of foreign currency. Zimbabwe's citizens suffer too as there are no funds for health care, water and sanitation, education and social security.
See the article Zimbabwe's artisanal miners, popularly known as makorokoza, risk their lives to make a decent living under Midlands on the website www.zimfieldguide.com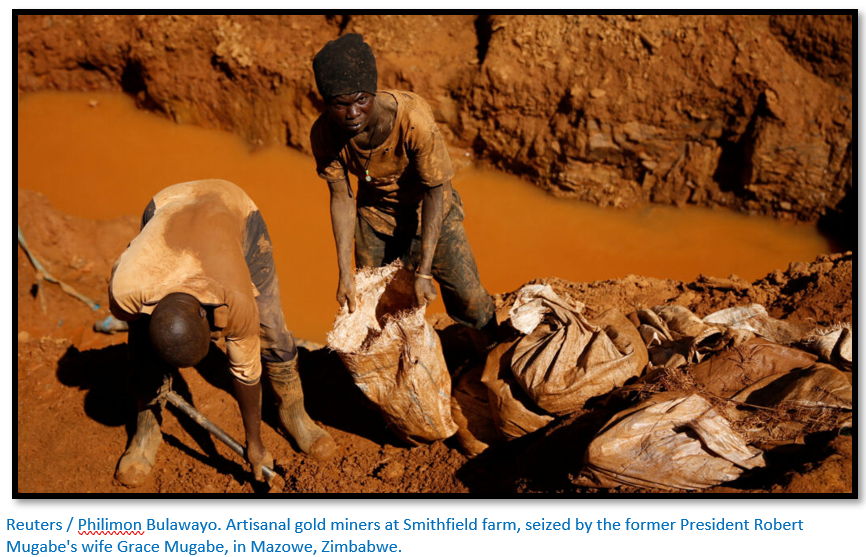 The 2020 gold seizures have involved Mnangagwa's niece and his personal CIO bodyguard and now in 2021 it is the niece's driver and aide who is arrested. They expose the extent to which the elite are involved in ensuring that their personal wealth is stored in outside havens such as Dubai where no questions are asked as to its source.
Arrests made to date will not come before the Courts
No arrests are made even if the evidence is presented against corrupt officials and if someone is politically aligned to ZANU-PF, the justice system turns a blind eye.

Henrietta Rushwaya's gold-smuggling case in 2020 opened up a can of worms to a microcosm of the corruption that exists in Zimbabwe, but because of her alignment to ZANU PF and Emmerson Mnangagwa, the case has since been forgotten.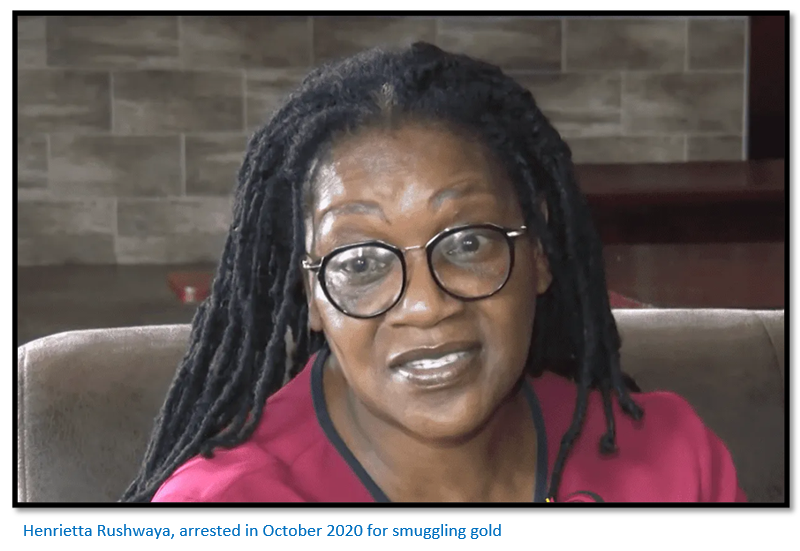 The Herald reported: "Rushwaya Bounces Back as ZMF President." Despite the fact that Rushwaya is out on $100,000 bail with restrictions on her movement and has been charged with gold smuggling, illegal possession of gold and bribery after her 26 October 2020 arrest, the Zimbabwe Miners Federation (ZMF) Council after quite correctly suspending her, have now decided to reinstate her. The Federation's secretary general Morgan Mugawu said the decision to reinstate Ms Rushwaya was arrived at on the basis that she remains innocent until proven guilty.
The mealie-mouthed explanation:[viii] "We are not necessarily going back on our previous decision which culminated in the suspension, but the fact of the matter is that her incarceration had meant that she could not fulfil her mandate but now she is available" is a lot of nonsense, but typical of the ZANU-PF apparatchiks who guess that Rushwaya's Court case will be quietly dropped because she is considered untouchable.
In another later article the Herald reported that Rushwaya's case had been "postponed" as the Prosecutor Mrs Netsai Mushayabasa spoken to the investigating officer and "they needed time for the gold to be weighed."[ix]
Why will these gold smuggling legal cases not be pursued?
On 10 May 2021 a Zimbabwean, Nyasha Masinire was arrested at OT Tambo International airport for attempting to smuggle 23 pierces of gold worth US$783 000 into South Africa. This man is/was Henrietta Rushwaya's aide and driver; nothing will be done to this culprit as he is politically aligned to ZANU-PF.

These are the things Mnangagwa should be focusing on, but The President cannot act on these corrupt officials since they are most probably acting on his family's instructions.
Even ZRP are puzzled as to how Masinire circumvented security at RGM International Airport
The Zimbabwe Independent newspaper reported on 14 May 2021 that security officials at RGM International airport stated that the suspect Masinire met with all airport formalities and procedures. This is a complete contradiction of the South African claims that the suspected smuggler "did not have any permits or licenses to be in possession of gold."[x]
ZRP spokesperson senior assistant commissioner Paul Nyathi said: "We are waiting for a detailed report from Interpol. Secondly, we are keen to establish how he went through the airport formalities and whether the gold was declared or not? Was he accompanied or not?..."Was he acting alone or in cahoots with other people? Basically, the police are conducting investigations from the Zimbabwean side while we are waiting for information from our counterparts in Pretoria."
Home Affairs minister Kazembe Kazembe added to the mystery when he told the media that when Masinire walked into RGM International airport, he was not carrying any suitcase: "We are going to leave no stone unturned in finding out what happened. We want to know how this man left the country with all that gold…So far we have established that when he walked in at the RGM International Airport (on Sunday) he didn't have a bag, now we want to establish who gave him that bag, where and how. Investigations are ongoing, as I said, I am confident we will unearth what transpired on the day as soon as possible, working with our Interpol colleagues."[xi]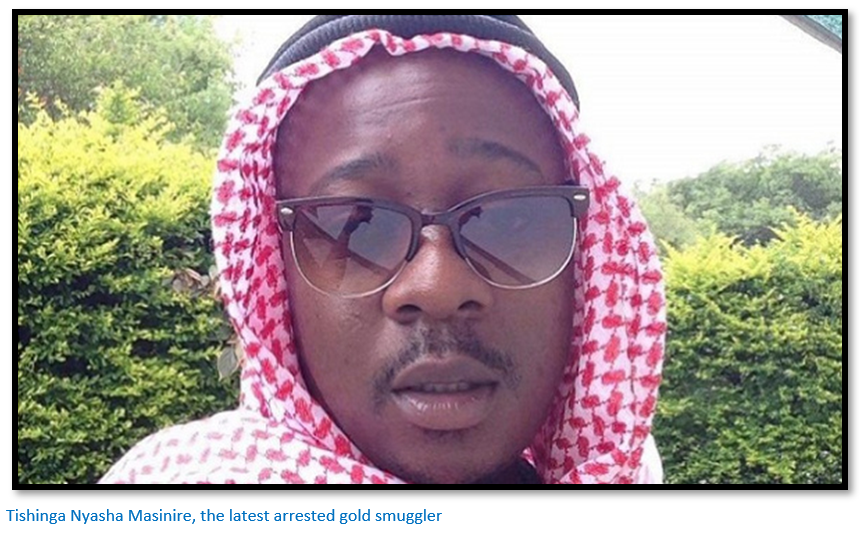 Were security at RGM International airport part of the gold smuggling plot?
The spotlight must now shine on Zimbabwe's security at airports and ports of entry that are manned by security agents from Military Intelligence (MID) Zimbabwe Intelligence Corps, CID, Minerals Flora and Fauna, Zimbabwe Revenue Authority (ZIMRA) and Immigration officers. The Independent reported that 20 security officers were on duty at the airport when Masinire boarded.
The statement by Home Affairs minister Kazembe Kazembe that Masinire was not carrying a bag when he entered the RGM International airport but had one when he arrived at OT Tambo International airport suggests the involvement of a well-knit syndicate on the Zimbabwean side where top officials may have facilitated Masinire's smooth passage.
Even ZRP spokesperson senior assistant commissioner Paul Nyathi said authorities were seeking to understand how Masinire left Zimbabwe with the gold contraband.
Did someone give Masinire the bag containing the gold bars after he went through security?
This possibility looks highly credible. Sources told the Zimbabwe Independent newspaper that "Masinire was part of a wider network of individuals in Zimbabwe and South Africa and was not acting alone. The Hawks will seek to put the right pieces to the puzzle and have already identified persons of interest whom they seek to interview."[xii]
Masinire's dramatic arrest was "just the tip of an iceberg and will potentially reveal the vast network and broad syndicates smuggling precious minerals to South Africa and Dubai."
Hawks spokesperson in Pretoria Lieutenant-Colonel Philani Nkwalase told the Zimbabwe Independent that investigations will move to establish whether South Africa was Masinire's final destination and how he managed to evade arrest in Zimbabwe. He added: "It's still a new investigation; in good time we will know all the answers. He was granted a hefty bail and he paid. Ownership of the gold remains a subject of our investigation. We will work with the police from the country where the suspect came from [Zimbabwe] through Interpol to get the truth and address the syndicate should it be found that this person is not working alone."
References
Gold Theft in Zimbabwe - a Huge Problem But Is It Getting Worse? https://allafrica.com/view/group/main/main/id/00077882.html
J. Maromo. 10 May 2021. Man nabbed allegedly trying to smuggle gold worth R11m into SA from Zimbabwe, out on R100K bail: https://www.iol.co.za/news/south-africa/gauteng/man-nabbed-allegedly-try...
Tinashe Kairiza/Taurai Mangudhla. 14 May 2021. The Zimbabwe Independent. R11m gold smuggler puzzle for authorities
Jane Flanagan. 11 May 2021. The Times. Smuggler linked to President Mnangagwa had 23 gold bars in a case
Prince Njagu. 13 May 2021. Criminalising Freedom of Expression in Zimbabwe by ZANU PF. https://bulawayo24.com/index-id-opinion-sc-columnist-byo-203646.html
Ishemunyoro Chingwere. 16 February 2021. The Herald (Harare) Rushwaya Bounces Back as ZMF President
Prosper Dembedza. 5 May 2021. The Herald. Zimbabwe: Rushwaya Case Postponed
Mashudu Netsianda, 10 May 2021. https://www.chronicle.co.zw/just-in-sa-police-arrest-33-year-old-zimbo-f...
Tim E. Ndoro. 10 May 2021. Henrietta Rushwaya Threatens US$1 Million Lawsuit After Being Linked To R11m Gold Smuggler Nabbed In SA.
Michelle Chifamba. 7 December 2020. The Africa report. https://www.theafricareport.com/53429/zimbabwe-losing-millions-from-illi...
Notes
---