A description of the old Meikles Hotel, the Mill and Coach House and Coaching Stables and Strickland's Store on Marshbrook Farm (now Charter Estates) in Charter District (PART 3)
Why Visit?:
The Mill and Coach House and Coaching Stables, the Meikles Hotel and Strickland's Store on Marshbrook (now Charter Estates) date from 1892 – 1894 and are amongst the oldest surviving buildings in Zimbabwe. They predate the Market Hall, Harare's oldest surviving building which was built in 1903 and therefore deserve recognition and preservation.
They are amongst the few early buildings in Zimbabwe which remain intact; only the Coaching Stables where the Zeederberg's mules were kept has been significantly altered into a tobacco barn and even here the original structure can still be seen.
It is quite surprising how little is known about these buildings; even the date of their construction is obscure. There are very few written accounts; although many visitors pre 1902 spent the night at the Meikles Hotel…perhaps they were too exhausted from spending days tightly packed into a Zeederberg Coach to make observations. However in later years, David Worthington, Manager of Charter Estates for 37 years, comments that they had many distinguished guests who came for extended stays over Christmas.
Charter Estates enjoyed a high reputation for the quality of its cattle herd which was built up over the years by David Worthington from 1948 – 1985 and Tony Mirams from 1985 to 2000.
The current buildings usage seems to mirror the confusion and chaos brought about by the 2000 land invasions as they are each used by different parties: the Hotel by Sadzaguru, the Coaching Stables by Dr Muchena, the Mill by various parties and Strickland's Store by someone else; nobody is responsible for maintenance, and the buildings which should be listed as National Monuments, will fall into increasing disrepair.
How to get here:
Distances are from the Mupfure River (formerly Umfuli River) just south of Beatrice on the A4 National road going from Harare to Chivhu (formerly Enkeldoorn) At 28.6 KM take the gravel road to the left at a large "Sadzaguru" signpost. The GPS reference is 18⁰30′44.39″S 30⁰53′05.74″E Keep to this road which is in good condition. At 41.8 KM cross a spruit and turn left in front of the farmhouse, 48.8 KM reach a T junction and turn right, 49.2 KM turn left onto a gravel road marked to Marondera and Charter Primary School, 50.9 KM turn right at the signpost "Sadzaguru" onto the farm entrance road (formerly Charter Estates) 51.2 KM pass Church on right.
For the return journey retrace the same route as the quickest way to get back to the A4.
Meikles Hotel and Bar: 18⁰33′27.11″S 31⁰03′12.73″E
Mill and Coach House and Strickland's Store: 18⁰33′30.12″S 31⁰03′13.34″E
Coaching Stables: 18⁰33′32.00″S 31⁰03′17.64″E
GPS reference for Civilian and BSAP graves: 18⁰33′13.94″S 31⁰03′30.35″E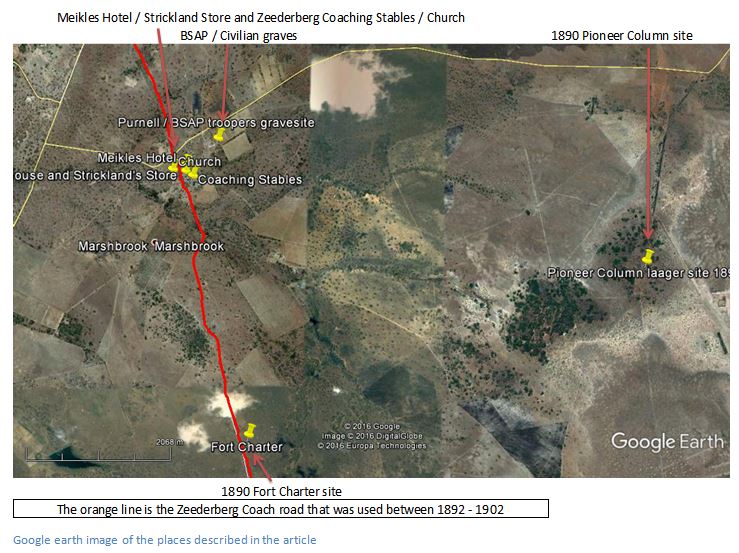 Strickland's Store; subsequently the Police Station and then Charter Post Office Agency
John Meikle kindly lent me notes he has written on Jeannie Strickland, born as Jeannie Meikle, in Strathaven, Lanarkshire in 1864, the eldest daughter of John and Sarah Meikle. The family moved to Natal in 1868 and leased a farm in the Greytown area. Whilst father John tried his luck on the diamond fields, the eldest son John (the present John Meikle's grandfather) his mother Sarah and Jeannie ran the farm. Grandfather John recalled how Jeannie would be taken out of school to chase the birds off the fields: "I can imagine her now in her checked shawl on a cold frosty morning and how we used to look forward to the coffee Mother sent us."
In 1886, father John and the boys John, Tom and Stewart were working on the Barberton alluvial gold fields, but after a short spell of mining they began transporting goods and supplies to the diggings.
In 1892, the three brothers left for the Mashonaland goldfields with five loads of general merchandise and three loads of liquor. In the same year they bought Marshlands Farm at Charter and constructed a Hotel and Store which Arthur Strickland, now married to Jeannie, would run. They were still living at Charter, as John Meikle writes: "in 1896 young John's sister Jeannie was anxious to visit the family in Natal, so John decided he would accompany her and her son Newby of 2 years old to see her safely on the boat at Beira.
They set off in a Cape Cart pulled by three mules and a horse. On the second day John, John noticed about twenty armed natives coming along a path on their right front, who on seeing their approach disappeared into the long grass, which struck him as suspicious. That night they put up at a wayside hotel at Marandellas and heard disquieting news of unrest among the natives. The following night at Rusape, drums could be heard beating in all directions and John was very uneasy. On the third night they reached Umtali and the Mashona Rebellion broke out on the following day. John and his sister boarded the train at Chimoio and on reaching the Pungwe River made the final part of their journey to Beira by lighter. Beira was an uninviting place, malaria ridden and as there were no pavements one had to trudge through the sand."
At some time after 1896, Arthur and Jeannie moved to Inodzi Farm north of Penhalonga and adjacent to John and Barbara Meikle's farm at Mountain Home. There they built a gracious house in 1910 overlooking the arable land next to the Umtali River and created a model farm. Arthur died in 1928, but Jeannie lived on, only dying in 1958 at the age of 94 years old, and the proceeds of her estate, in accordance with her will, were used to build a retirement home, now Strickland Lodge.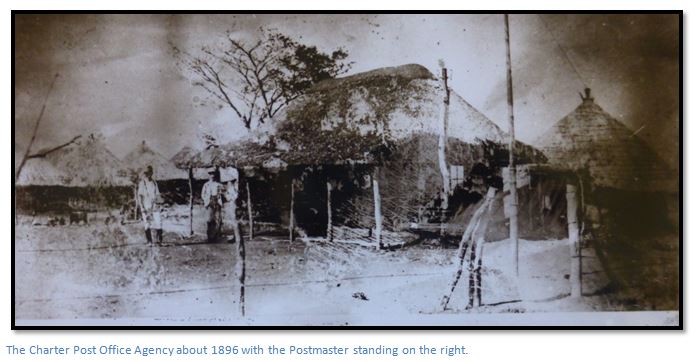 R. Cherer Smith lists the Charter Post Office Agency in 1890; it was renamed Marshbrook in November 1910, and closed down in February 1942. In his chapter on some Rhodesian Post Offices he does include Orton's Drift on the Sebakwe River, (see the separate article on the website www.zimfieldguide.com) but makes no mention of Charter; although he does include the photo captioned as Meikles Hotel in the previous paragraph.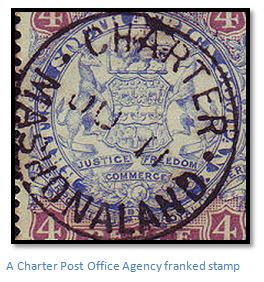 One of the few mentions by Cherer Smith of Charter is of C.H. Cary, the Postmaster, who found the lack of news in 1892 about the outside world so preyed on his mind that he began to doubt his own sanity. His solution was to carefully open all of Dr Jameson's newspapers and periodicals when the mail arrived at Charter on Tuesday night and before it left on Wednesday. As long as care was taken not to dirty any of the mail with finger marks, he got away with it, and Cherer Smith says the small population of Charter were kept well-informed through this means about what was happening in the country!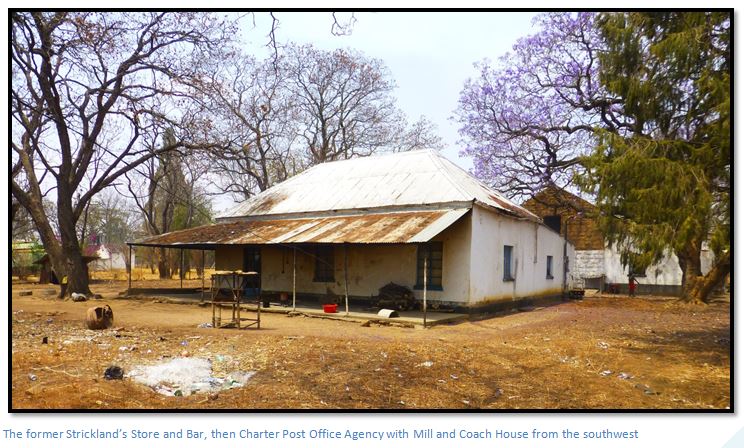 The age of the Mill and Coach House and Coaching Stables
There is little information available about their history, although it is known that they were used by the firm of C.H. Zeederberg Ltd, which operated a mule drawn coaching service and narrows the construction period to between 1892 – 1902. David Worthington, who was Manager of Charter Estates for 37 years, thought the Mill and Coach House and Coaching Stables were built after 1896; J.K.G. Borcherds thought between 1892 – 1894.
There is a misconception that the 1896 Charter laager was at Fort Charter; in fact, it was at Strickland's Store in the middle of these buildings. So unlike the buildings that were abandoned in many isolated Mashonaland settlements, they were not destroyed, in fact, I don't think the laager was ever threatened, despite being so close to the centre of unrest on the Mupfure River.
In the absence of any information, I have some difficulty believing that the buildings were built after 1896-7. The Zeederbergs, being prominent in the transport business, knew the railway was being built from Beira from 1892 and must have anticipated its arrival in Umtali and then Salisbury and would have known it would, in all probability, kill off most of their business. They didn't know, of course, that the Boer War would delay things and provide a new temporary business opportunity.
The Mill and Coach House and the Coaching Stables at Charter are very substantially built and must have cost a fortune, just the timber requirements for the loft of the Coaching Stables must have been huge. They were built on the Meikles Brothers property at Marshbrook and I assume there must have been some lease agreement covering their use by the Zeederberg coaching service. Ownership of the buildings would have reverted to the Meikles, and I cannot envisage that Doel Zeederberg, being a good businessman, would spend such a considerable sum on such a short economic life span. Between 1895 and 1897 the Zeederberg's dissolved their partnership, and Doel got the monopoly for the mail coaches north of Petersburg and the internal routes in Rhodesia.
The coaching stations spread around the country were pretty rough and ready; very much the antithesis of these buildings at Marshbrook which show the quality of workmanship that you see at Rhodes' Stables near the Matobo Research station. [See Rhodes stables under Matabeleland South on the website www.zimfieldguide.com] I think there is probably a strong case for considering that they were paid for by the Meikles Brothers, with Arthur Strickland supervising the building between 1894 – 1896; after 1896 the Strickland's left and moved to Inodzi Farm at Penhalonga. They would not have had any need for coaching stables for 36 mules, but perhaps they thought they might be converted and used for some other purpose when and if the coaching business ceased.
Rob Burrett kindly sent me this photo of the Strickland's former home at Inodzi Farm, Penhalonga; the fine masonry work comprising the foundation of the building only reinforces my belief that Arthur Strickland directed the building work at Charter.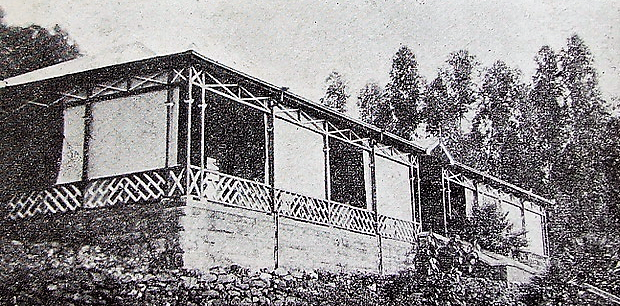 A Fine homestead on Arthur Strickland's Inodzi Farm, Penhalonga
The Church of All Saints at Charter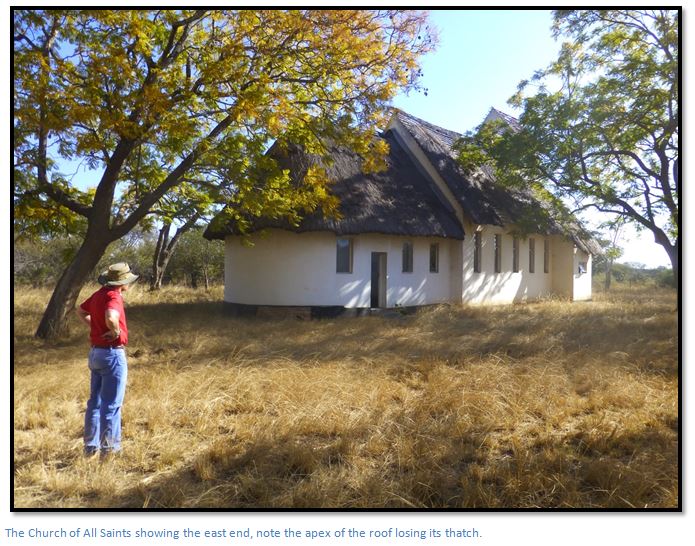 David Worthington provided the details of the Church in his talk to the Mashonaland Branch of the History Society at Charter Estate on 13th May 1990.
The Church was built in 1961 and blessed, but not consecrated as it was not on church property, by the Rev. Cyril Alderson, then Bishop of Mashonaland, with Sir Humphrey Gibbs, then Governor of Southern Rhodesia, reading the lesson. The Church has always been interdenominational welcoming worshippers of all faiths under its roof.
The Church is still in remarkably good condition, apart from the thatching on the apex of the roof which has now been blown off and a few broken windows, and the historic bell which is now missing, although its location is known. In the past six months period the roof thatching has visibly deteriorated.
The bell that used to hang in the Church at Charter was given by the Parish of Langford, Norfolk, England, whose 900 year old Church of All Saints was on land taken over by the military in WWII as a battle training area and is now disused. The bell was cast in 1766 and the Latin inscription on it says that it was purchased with pennies saved by the parishioners of Longford to commemorate the defeat of the Jacobite cause at the Battle of Culloden The Jacobite rising of 1745 was the attempt by Charles Edward Stuart to regain the British throne for the exiled House of Stuart.
The Church organ was the original first organ in the Anglican Cathedral and came from the Cape in 1891, before being given to the Methodists. They gave it to the Dutch Reformed Church, who gave it to David Worthington in 1961, but this has also now gone, but again its location is known.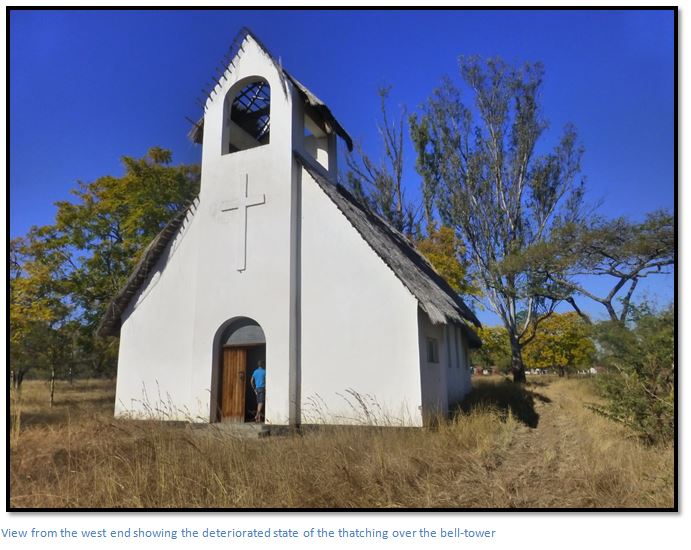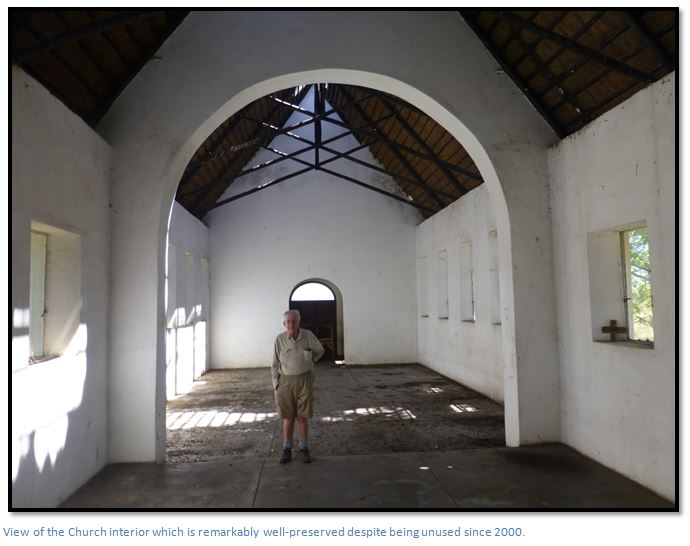 A white marble plaque commemorates Viscount Hudson of Pewsey, Minister of Agriculture in Britain from 1940 – 1945 who died on the 2 February 1957 and was one of the five prominent Conservative Party members who owned Charter Estates between 1946 and 1979.
It seems surprising that with all the Churches springing up over this country that a religious community, or the nearby school, has not adopted this perfect little church as their own. In the meantime, as the thatching on the roof deteriorates, so the cost of any future repairs will rise considerably.
Civilian and BSAP graves
The graves are situated on the east side of an anthill 170 metres south east of the old General Manager's residence and 170 metres from the road, the GPS reference being: 18⁰33′13.94″S 31⁰03′30.35″E. The memorial headstone carved in Cape Town reads: "In memory of my beloved wife BESSIE PRINGLE, (Bessie Purnell) who died at Charter 14 Feb 1899, aged 25 years, and her brother CHARLES PURNELL, died at Charter 28 May 1898, aged 21 years. By a juster Judge than here, father in thy gracious keeping, leave we now thy servants sleeping."
Brother and sister lie side by side; their graves are outlined with cemented bricks and the headstone faces east as is usual with Anglican burials.
Robert Henry Pringle, aged 25, described as a bachelor and clerk, and Bessie Ellen Mary Purnell, aged 21, described as a spinster, were married on 1st February 1897 at St Cyprians Church, Kimberley. An image of their marriage certificate No 948 of 1897 is on the website www.1820settlors.com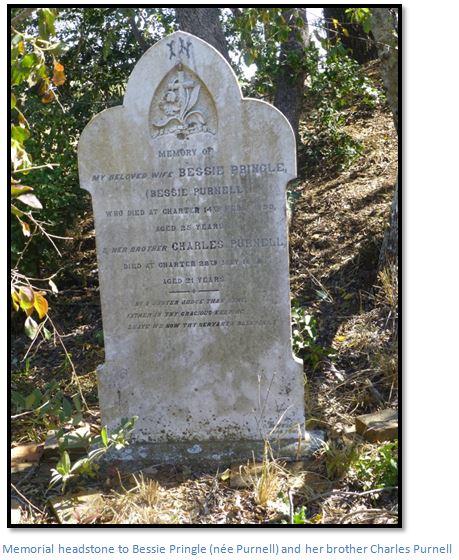 The BSAP Troopers graves are a few metres to the south east face east. Their wood grave markers have long gone and their individual graves are no longer known, a simple line of granite stones outlines each grave; a custom that was in common usage at the time.
David Worthington states that Col. A.S. Hickman identified the graves of these two BSAP Troopers who died here in 1891 and are buried beside an anthill 600 metres to the north west of the old Meikles Hotel and alongside the graves of Bessie Pringle (née Purnell) and her brother Charles Purnell. In his book Men who made Rhodesia they are identified as: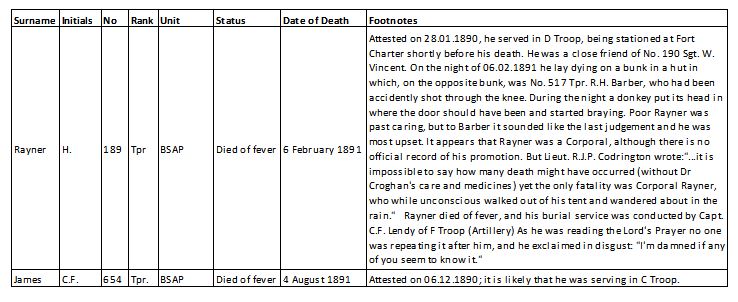 Both of the above were despatch riders. Colonel Hickman states that 29 BSA Police men died in 1890 – 1891. Two at Mafeking and one at Macloutsie before the column set out; but many of the deaths were amongst the despatch riders who lived in very primitive conditions (five at the Runde, formerly Lundi River) Neither Worthington's or Tony Mirams recall ever having seen the distinctive shaped metal grave markers usually found on early graves.
The BSAP compiled lists of the names of those buried at each site around the country before 1908. Lists were then drawn up by the Guild of Loyal Women (GLW) that were sent to be cast as the familiar circular cast markers by the Gregory iron foundry firm in Cape Town. Those who died prior to the death of Queen Victoria on 22nd January 1901 are headed "FOR QUEEN & EMPIRE" and those after are "FOR KING & EMPIRE." It seems that these two lonely graves were missed from the lists and never had grave markers; hence Col. Hickman had to identify them from the BSAP records.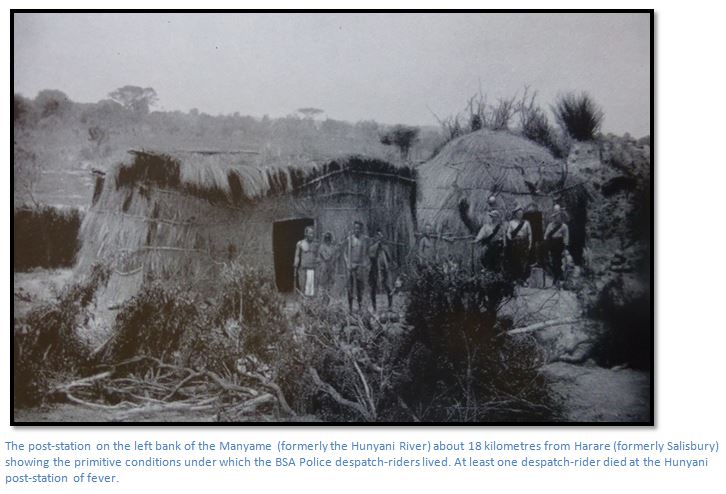 R. Cherer Smith, in his book Rhodesia, a Postal History, says a heavy burden fell upon the BSA Police despatch-riders, who maintained the service under very difficult conditions. Apart from the weather, they lived on poor rations and were often dressed in rags and barefoot. They suffered from malaria, dysentery and undernourishment and their horses were often unfit for service.
Australian and New Zealand graves at Charter
There are graves of the Australians and New Zealanders who came up from Beira to Mutare by rail and then cross-country from Marandellas to Charter on their way to Bulawayo and Mafeking and died of malaria fever contracted in Mozambique. However, no evidence has been found for any being buried at Charter. [See the article: Anglo Boer War graves at Paradise Plot Cemetery, Marondera on the website www.zimfieldguide.com under Mashonaland East Province.
Alice Balfour's journey through Charter
Alice Blanche Balfour (1850 – 1936) was a sister of A.J. Balfour, Prime Minister of England from 1902 to 1905. In 1894 she trekked through South Africa and Rhodesia with AHG Grey and his wife, afterwards the fourth Earl and Countess Grey and a future Governor-General of Canada and his brother, G. Grey. Miss Balfour was a keen amateur artist and four of her watercolour sketches were included in a set of stamps issued to commemorate Rhodesia through Artist's eyes on 20 July 1977; The National Archives in 1980 also issued a portfolio of ten of her watercolours.
Her book Twelve Hundred Miles in a Waggon published in 1895 tells of her challenging travels in often primitive and challenging conditions by ox-wagon from Mafeking with members of the Grey family through South Africa and Rhodesia. Her descriptions and drawings of this trip are an invaluable resource for anyone interested in the colonial history of this part of the world and below are some of her sketches made on the journey between Fort Victoria and Salisbury.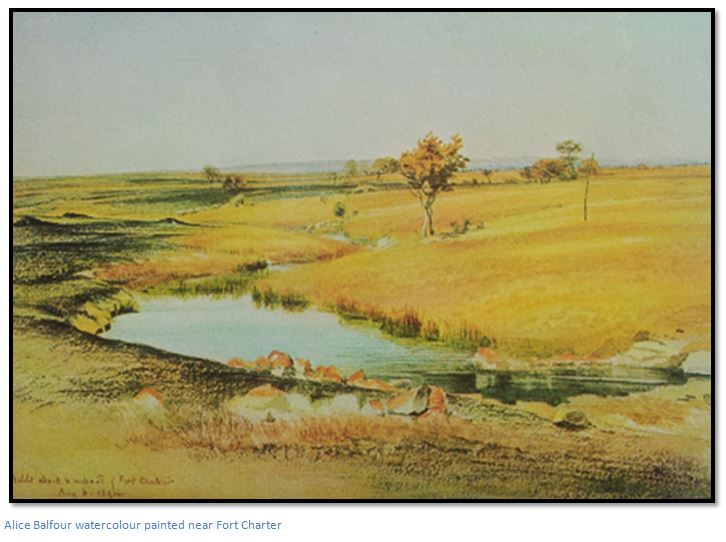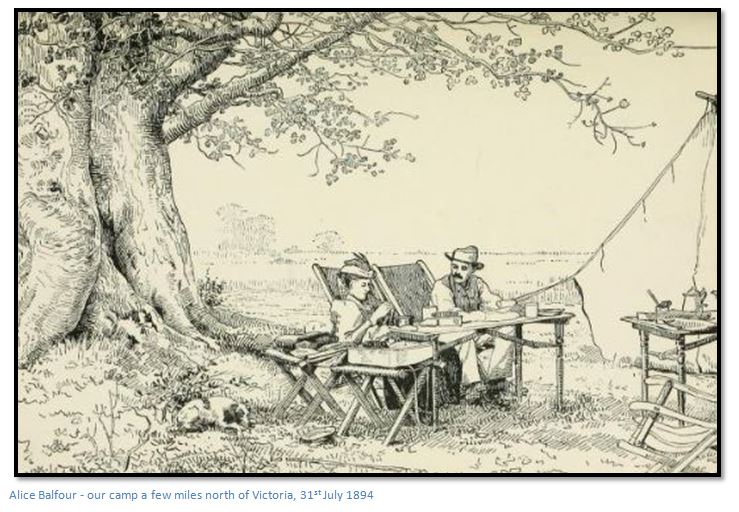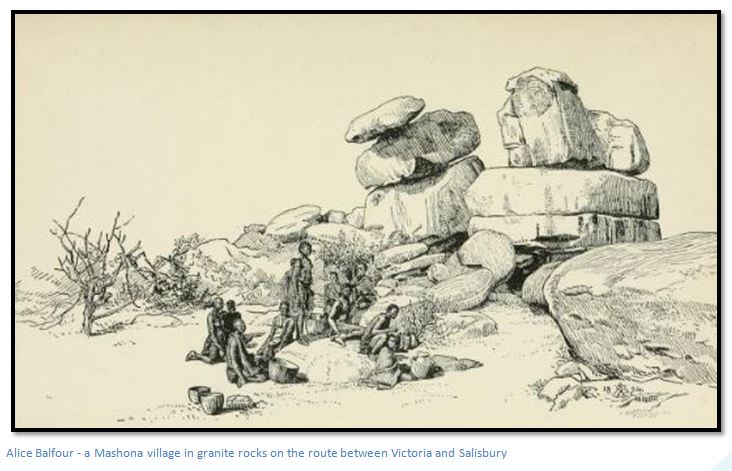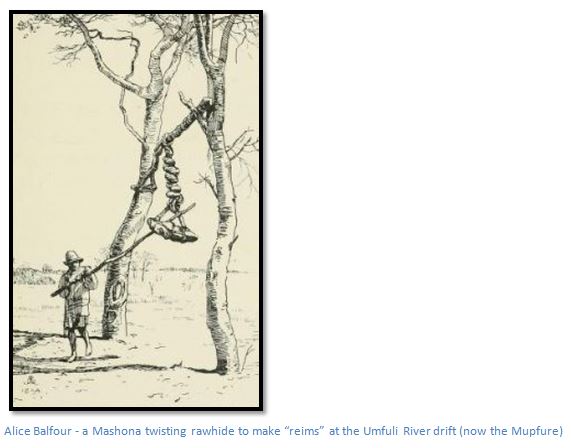 The party took twelve days to travel by ox-wagon from Victoria to Salisbury across the "Charter flats" along the watershed. In August the grass had been burnt, but like so many others she remarks on the pink, crimson and orange colours of the Muhacha (Parinari curatellifolia Planch. ex Benth) on the ridges and Msasa (Brachystegia spiciformis) in the river valleys. She enjoys the soft water in the streams and the deep granite soils which are not much disturbed by the wagon wheels. The air is now dry and "deliciously bracing and invigorating" and says "all I have to complain of is the monotony of the perpetual blue sky. As to health, we are all robust and I have never felt better in all my life." Like many travellers she comments that the deep sand is hard on the oxen and that the grass after winter is poor, so they have more work and less food and need more attention. They hear stories about the lions killing oxen, but never see or hear them. "We have got quite callous as regards such stories now. We walk at nights out of sight of the wagons. If we hear howls we say: it's only a hyena and pass on."
John Kenneth Gerard Borcherds
Borcherds who drew up the architectural plans of all the buildings, except the Meikles Hotel, was son of the Salisbury Mining Commissioner, Kenneth Havelock Borcherds, and was born in Salisbury on 4 July 1921. He qualified as a Pilot Officer in the RAF during WWII and fought in Persia (now Iran) and North Africa. After the war he qualified as an architect, but also worked in the Labour Department. He married Anthea, daughter of a Native Commissioner, Frank Howe Ely and the plans were presented by him to the National Archives of Zimbabwe in 1960.
Acknowledgements
J.K.G. Borcherds, "A Brief Description of Fort Charter", September 1960. BO 9/1/1 National Archives, Harare.
Tony Mirams for photographs, letters and bringing J.K.G. Borcherds' Charter Estates survey to my notice.
J. Meikle for his Notes on Jeannie Strickland (née Meikle)
Mr Kagahande and Harold Mhundwa for assistance at Charter Estates
D.K. Worthington. Early Days at Charter Estate. Heritage of Zimbabwe Publication No 10, 1991. Pages 93-98.
M. Worthington. Notes on D.K. Worthington and photographs.
C. Lloyd. Fort Charter. Heritage of Zimbabwe Publication No 11, 1992. Pages 123-130.
Memoirs of D.G. Gisborne, 1893 Column. Rhodesiana Publication No 17. December 1967.
Wikipedia
Colonel A.S. Hickman. Men who made Rhodesia. The British South Africa Company. Salisbury, 1960
R. Cherer Smith. Rhodesia, a Postal History. Salisbury. 1967
The reminiscences of Bernard Seymour Hall of Selukwe formerly of the BSAP, provided by his son Bernard Seymour Hall in http://www.rhodesians-worldwide.com/rwmagazines1/Vol171/f