A description of the old Meikles Hotel, the Mill and Coach House and Coaching Stables and Strickland's Store on Marshbrook Farm (now Charter Estates) in Charter District (PART 2)
Why Visit?:
The Mill and Coach House and Coaching Stables, the Meikles Hotel and Strickland's Store on Marshbrook (now Charter Estates) date from 1892 – 1894 and are amongst the oldest surviving buildings in Zimbabwe. They predate the Market Hall, Harare's oldest surviving building which was built in 1903 and therefore deserve recognition and preservation.
They are amongst the few early buildings in Zimbabwe which remain intact; only the Coaching Stables where the Zeederberg's mules were kept has been significantly altered into a tobacco barn and even here the original structure can still be seen.
It is quite surprising how little is known about these buildings; even the date of their construction is obscure. There are very few written accounts; although many visitors pre 1902 spent the night at the Meikles Hotel…perhaps they were too exhausted from spending days tightly packed into a Zeederberg Coach to make observations. However in later years, David Worthington, Manager of Charter Estates for 37 years, comments that they had many distinguished guests who came for extended stays over Christmas.
Charter Estates enjoyed a high reputation for the quality of its cattle herd which was built up over the years by David Worthington from 1948 – 1985 and Tony Mirams from 1985 to 2000.
The current buildings usage seems to mirror the confusion and chaos brought about by the 2000 land invasions as they are each used by different parties: the Hotel by Sadzaguru, the Coaching Stables by Dr Muchena, the Mill by various parties and Strickland's Store by someone else; nobody is responsible for maintenance, and the buildings which should be listed as National Monuments, will fall into increasing disrepair.
How to get here:
Distances are from the Mupfure River (formerly Umfuli River) just south of Beatrice on the A4 National road going from Harare to Chivhu (formerly Enkeldoorn) At 28.6 KM take the gravel road to the left at a large "Sadzaguru" signpost. The GPS reference is 18⁰30′44.39″S 30⁰53′05.74″E Keep to this road which is in good condition. At 41.8 KM cross a spruit and turn left in front of the farmhouse, 48.8 KM reach a T junction and turn right, 49.2 KM turn left onto a gravel road marked to Marondera and Charter Primary School, 50.9 KM turn right at the signpost "Sadzaguru" onto the farm entrance road (formerly Charter Estates) 51.2 KM pass Church on right.
For the return journey retrace the same route as the quickest way to get back to the A4.
Meikles Hotel and Bar: 18⁰33′27.11″S 31⁰03′12.73″E
Mill and Coach House and Strickland's Store: 18⁰33′30.12″S 31⁰03′13.34″E
Coaching Stables: 18⁰33′32.00″S 31⁰03′17.64″E
GPS reference for Civilian and BSAP graves: 18⁰33′13.94″S 31⁰03′30.35″E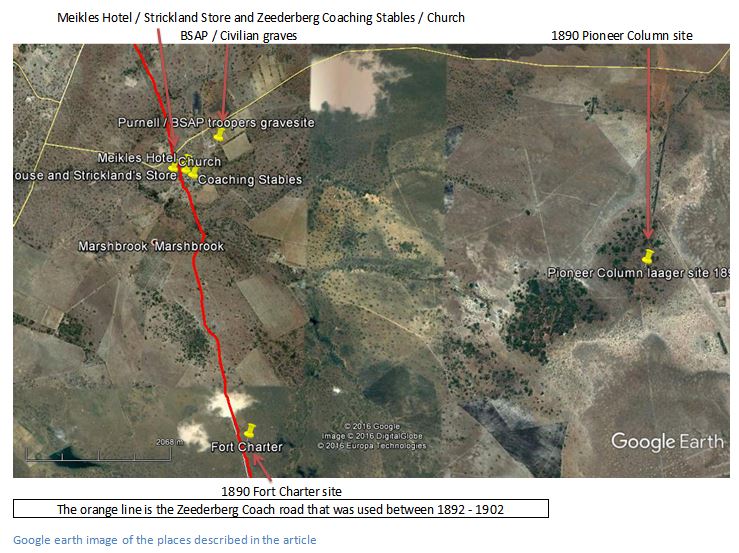 Meikles Hotel
Research by Cormac Lloyd in the 1990's revealed that the Meikles Hotel dated from December 1892, when Marshbrook Farm was first registered in the name of Edward Eyre Dunne. In that month Dunne's Drift Hotel at Charter was registered in the Mashonaland Times and Mining Chronicle. Presumably the drift relates to the crossing over the Ngezi River just 500 metres away. The only reference to Edward Eyre Dunne I found was in the Memoirs of Dudley Gisborne published in Rhodesiana No. 17.
Dudley Gisborne signed on as a Trooper in the Bechuanaland Border Police in August 1890 and was sent to Macloutsie into "E" Troop. After eighteen months he applied for a discharge and worked for a further six months at Weil's store at Macloutsie, before accepting a transfer to Salisbury. He travelled by covered scotch cart to Tuli before changing to a travelling wagon carrying the mail with four passengers. He describes the road as in a dreadful state and somewhere between the Umzingwani and Nuanetsi Rivers the wagon fell into a deep rut and broke two wheels. They walked to the Lundi River (now Runde) and there telegraphed Dudley Bates; then the contractor for the mail service, who sent a scotch cart to rescue them.
Eventually they reached Victoria at its second site; now on Clipsham Farm, which had a hotel run by "Tos" Slater, with probably the earliest billiard table in the country. Gisborne says that although the billiard table was dilapidated and ancient, it broke the monotony of life for the travellers who visited the hotel. Victoria soon moved to its present-day location at present-day Masvingo, because of the poor water supply and unhealthy position at Clipsham Farm.
Forty eight kilometres further on they reached "Makowrie's" a trading station below a small kopje in which the Mashona had built an inaccessible kraal amongst the granite boulders to protect them from raiding parties of amaNdebele. From there they travelled on to Charter where there was the fort and a small garrison, still stationed here in July 1892.
They met the Charter Hotel Manager, Edward Eyre Dunne, who he describes as a handsome Irishmen, but was considered a social outcast after turning to drink and together with his Shona servant "Bill" was the terror of the local Mashona. The BSA Company would not tolerate this sort of behaviour for long and soon sent him to Lake Tanganyika where he allegedly died because his supply of whisky ran out. Gisborne adds that Dunne had been in the army and must have been a charming man until he took to drinking, and that there were many characters like him in the early days, who were banished from respectable society to live out their days alone and in the wilds.
Dunne was succeeded by Arthur Strickland, who married Jeannie Meikle. Jessie M. Lloyd says they were at Charter only for the period 1892-1893, but Cormac Lloyd's researches revealed the Strickland's were still managing the Hotel and Store in 1896 and Arthur Strickland was in command of the laager during the 1896 Mashona Rebellion, or First Chimurenga. A newspaper account in the Rhodesia Herald of Wednesday 16 July 1896 written by Dan Judson states quite categorically that the laager was sited at the Hotel and Strickland's Store and is quoted in full in the accompanying article on Fort Charter in the website www.zimfieldguide.com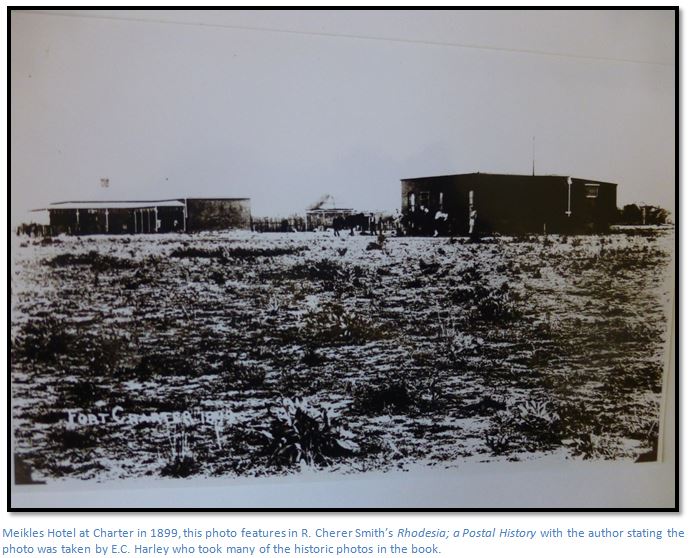 The photo above is important because it shows the Charter Hotel on the left, the Stockman's cottage behind and Strickland's Store and Bar, later the Post Office Agency on the right.
David Worthington, who managed Charter Estates from 1948 – 1985, says the Hotel consisted of three rooms for the Manager's use, a large communal dining / living room and six box-like rooms each 3 metres x 3 metres for travellers. Worthington says he actually knocked down the walls and made them into three larger rooms of 3 metres x 6 metres. In the 1950's, the house was struck by lightning and he had to jack up the roof and rebuild a wall, finding bricks of seven different sizes, some unfired, there was no ant course, or a damp course, and damaged floor and joists, which he replaced with panga-panga blocks, which still survive.
The small three roomed building behind the house then existed, plus the stockman's cottage, which can be seen in the above photo; both under corrugated iron roofs with wooden floors. David Worthington describes another brick under thatch cottage next to the Mill and Coach House, possibly the oldest building, which had been used variously as Strickland's Store and the Bar; then Police Station and gaol and finally as a Post Office Agency and Store. This building was functioning as the Post Office Agency when E.C. Harley took the photo which features in R. Cherer Smith's book.
My rough survey plan of the Meikles Hotel building is below.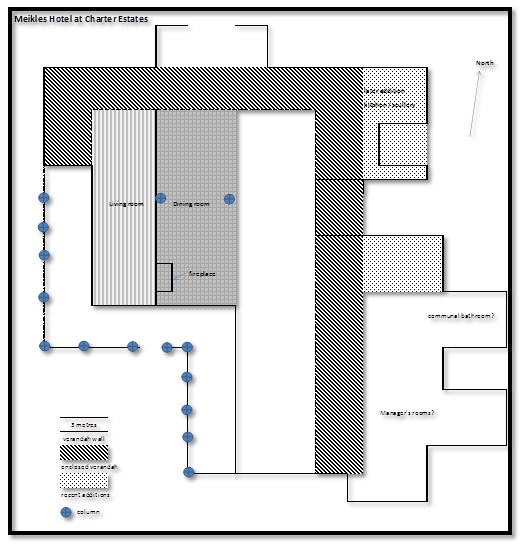 I believe the covered verandah probably wrapped around the northern section, but was later filled in to provide more space and the north eastern side was added later to make a kitchen / scullery. The remainder of the building looks largely original.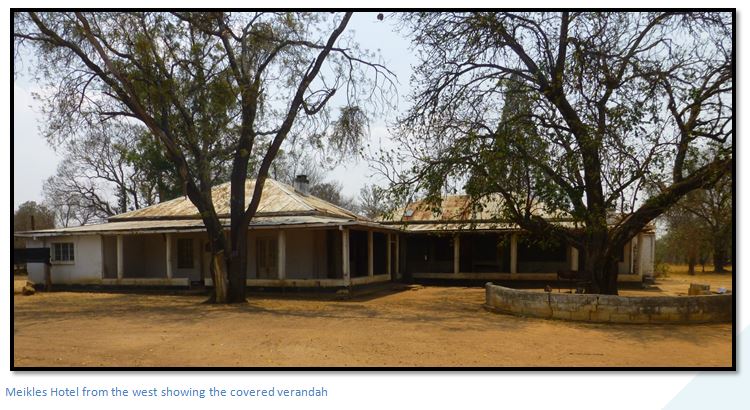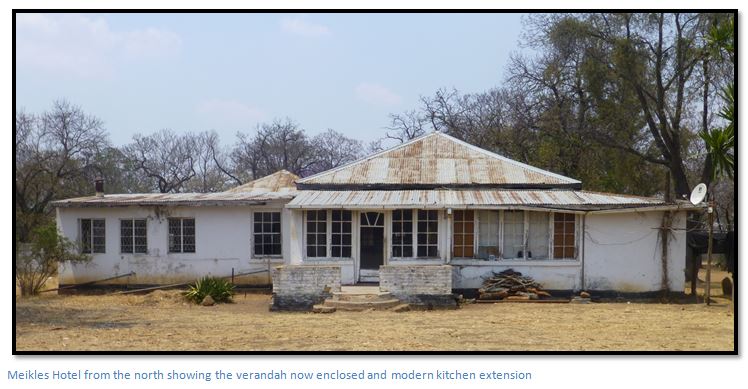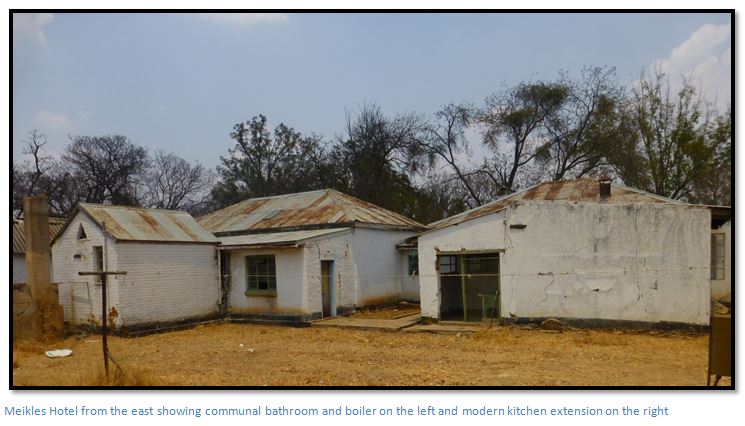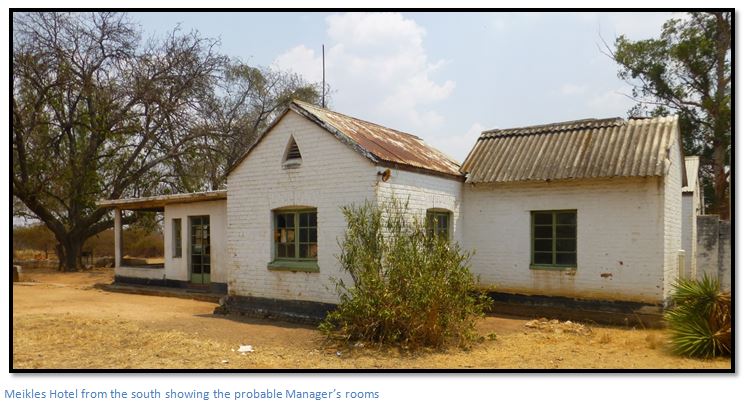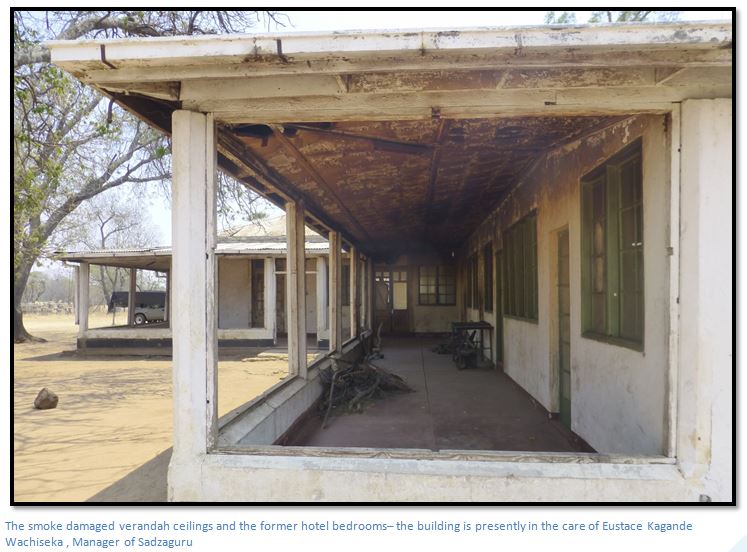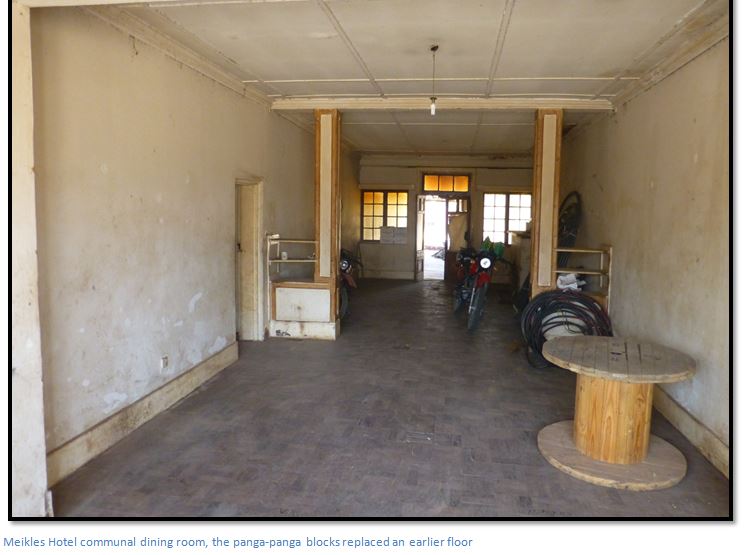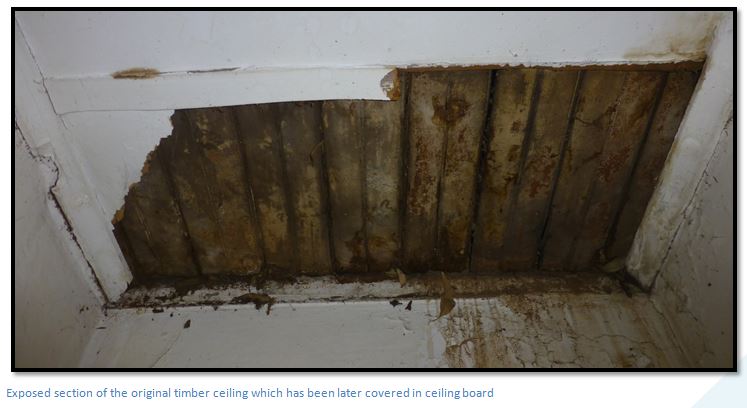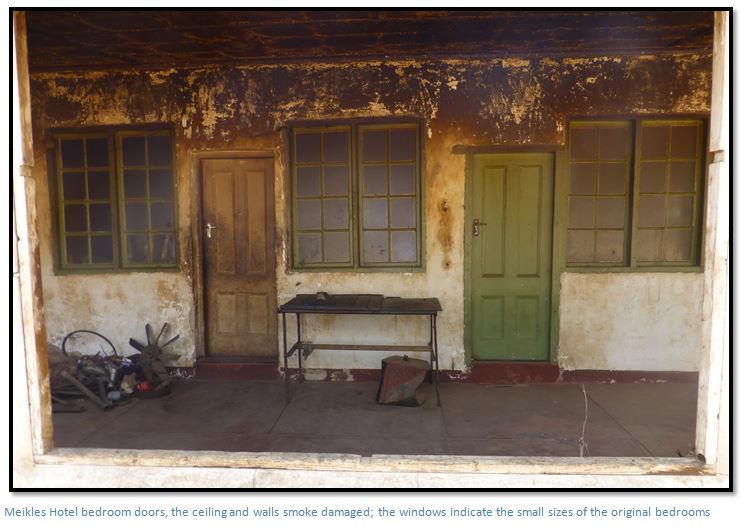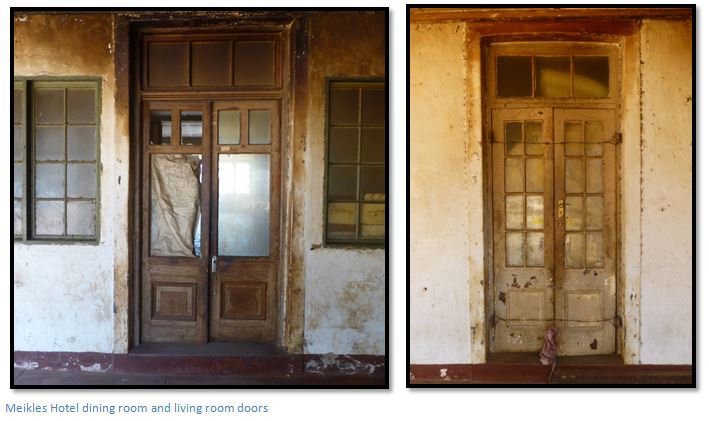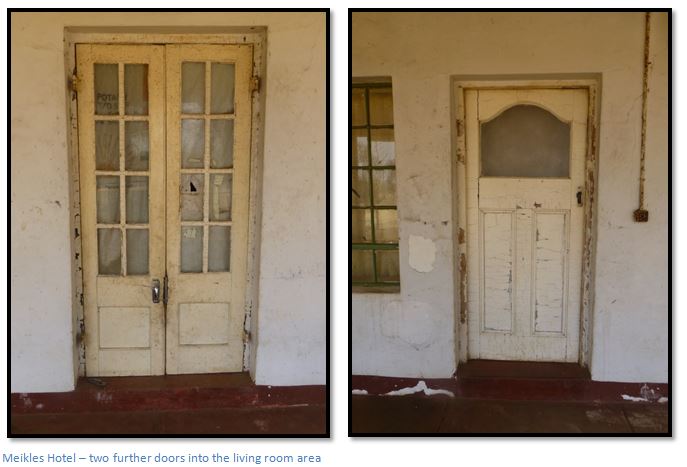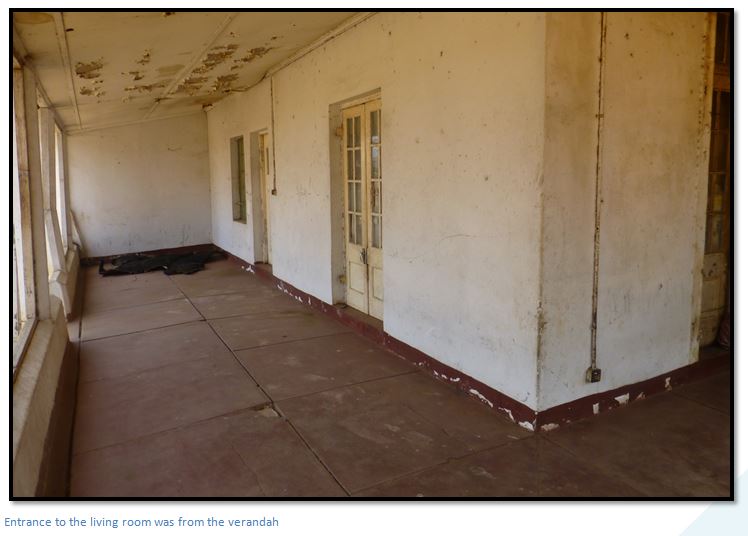 According to Vikki Campbell (née Worthington) and Michael Worthington the Hotel was always called the "Big House" and was occupied by the British aristocrat owners and their guests who stayed for three months every Christmas! David Worthington called this the "swallow season" and says at this time they were inundated by visitors…political, farming, and administrative and VIP's galore!
The Stockman's Cottage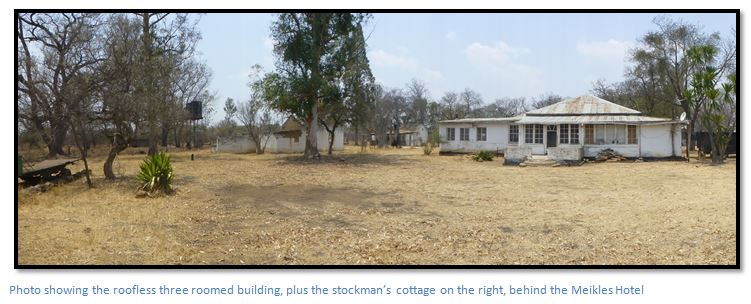 Acknowledgements
J.K.G. Borcherds, "A Brief Description of Fort Charter", September 1960. BO 9/1/1 National Archives, Harare.
Tony Mirams for photographs, letters and bringing J.K.G. Borcherds' Charter Estates survey to my notice.
J. Meikle for his Notes on Jeannie Strickland (née Meikle)
Mr Kagahande and Harold Mhundwa for assistance at Charter Estates
D.K. Worthington. Early Days at Charter Estate. Heritage of Zimbabwe Publication No 10, 1991. Pages 93-98.
M. Worthington. Notes on D.K. Worthington and photographs.
C. Lloyd. Fort Charter. Heritage of Zimbabwe Publication No 11, 1992. Pages 123-130.
Memoirs of D.G. Gisborne, 1893 Column. Rhodesiana Publication No 17. December 1967.
Wikipedia
Colonel A.S. Hickman. Men who made Rhodesia. The British South Africa Company. Salisbury, 1960
R. Cherer Smith. Rhodesia, a Postal History. Salisbury. 1967
The reminiscences of Bernard Seymour Hall of Selukwe formerly of the BSAP, provided by his son Bernard Seymour Hall in http://www.rhodesians-worldwide.com/rwmagazines1/Vol171/f