Chivhu (formerly Enkeldoorn)
Why Visit?:
Chivhu is just one of those places for which you slow down to pass through on the journey down to South Africa or back to Harare.
The Enkeldoorn Hotel, now Vic's Tavern, was never an imposing sight, just a nondescript sprawling single story collection of buildings, but was once where a group of jokers who regularly met at the Enkeldoorn hotel for social drinks at the bar, led by a well-known local, Buck Rogers, a fighter pilot during the Second World War.
They established a so-called independent state named the Republic of Enkeldoorn, with a written Constitution and Regulations. The Republic was the area around the bar counter. Buck Rogers was installed as President and his wife, Helen was First Lady. The Prime Minister was Henry Cook, who owned the Enkeldoorn hotel, a tall man with an aristocratic bearing who wore a monocle and had a passion for horses, and attractive women, and would be seen riding a horse every morning before breakfast.
How to get here:
The old Enkeldoorn Hotel, now Vic's Tavern, is just off the A4 Harare to Masvingo Road, in the middle of Chivhu.
GPS reference: 19⁰01′10.78″S 30⁰53′49.13″E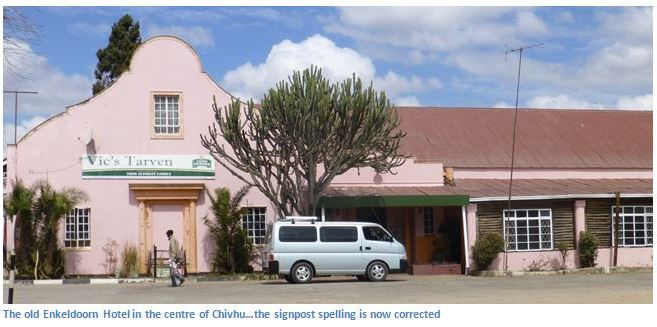 The pub was a neat and tidy timber bar of English style with posts reaching up to support shelving above the bar and two African barmen in their neatly pressed starched white tunics. To the left of the pub entrance was a curious cubicle about the size of a telephone box with a stout timber door and barred window. This was the gaol. The Enkeldoorn hotel was a hive of activity in those days as it was right on the road so many weary travellers stopped for refreshment and was always full of interesting characters and the social hub of Enkeldoorn. The traveller would of course head for the hotel and enter the bar. Buck Rogers was usually the instigator of a "gaoling"' supported by whatever local support he could muster. The unsuspecting traveller would be asked for his passport and unwary travellers who scoffed at the notion of The Republic of Enkeldoorn were thrust into the gaol and made to plead for beer and / or clemency. The passport was then stamped with the Republic of Enkeldoorn Visa. In time this practice had to stop following a stern letter from the British Government stating the Republic of Enkeldoorn was not officially recognized and they could be arrested. So much to Buck's regret, visas were then issued, with a stamp and his flourishing signature.
M. Retzlaff Letters from Africa Mandyretzlaff.blogspot.com