Arthur Shearley Cripps Shrine near Chivhu
Why Visit?:
In the nave of his roofless mission church lies the body of Arthur Cripps, a man described as poet, novelist, missionary, politician of sorts, visionary, crank, but known to the local Africans as "kambandakoto" or "he who went about as a poor man."
Cripps walked everywhere, refusing lifts if offered and sharing his food and clothes with the poor. He fought with the British South Africa Company over its land policies and lived an austere and simple life as one of the people. He raised money to buy his own farms where land-hungry Africans could settle, and continually urged the Bishops and Synods of the Diocese of Mashonaland to take the concerns of their African flock more seriously.
Arthur Cripps put no value on material objects, yet over sixty years after his death, his grave-site is venerated as a shrine and thousands come each year to pay homage to his memory.
How to get here:
Distances are from Vic's Tavern, formerly the Enkeldoorn Hotel, in Chivhu town. Take the unnamed street going east off the A4 passing Chivhu General Hospital, 0.6 KM turn left onto gravelled Cripps Road, 8.72 KM cross a small stream and shortly after turn left onto a farm track. 9.9 Km reach shrine site.
GPS reference: 18⁰57′30.09″S 30⁰56′34.70″E
In her excellent article, Mrs Dorothy Finn says that Cripps was not related to Lionel Cripps, or Sir Stafford Cripps, but after taking a history degree at Trinity College, Oxford where he was awarded a Blue for rowing, a half-Blue for boxing and was well-known in three-mile races, he made a complete change of career and was ordained as an Anglican minister in 1892. In 1900 after six years as a Vicar in Essex, he decided to dedicate his life to missionary work in Africa. Cripps had been profoundly affected by the book Trooper Peter Halkett in Mashonaland which showed a photograph of the alleged ringleaders of the Mashona Rebellion of 1897 being hung from a tree and decided to become an African missionary to put right the wrong that had been carried out on Africans.
He arrived in Mutare in January 1901 and was made priest-in-charge at Wreningham Mission, a pole and daga building, where he adjusted to a life amongst an African community whose language he did not speak. It was here he began the endless trekking for which he became famous, running the 10 kilometres to Chivhu to take morning service, then another 50 kilometres to Mvuma, before returning to his Mission. Here he built his first church with a round nave and round transepts, perhaps in imitation of the local huts.
In the next ten years he produced many books and poems, Finn believes to relieve his loneliness, plus a political pamphlet on the 1903 Hut Tax and numerous letters to the local newspapers, in what was predominantly an Afrikaans area. He had already become controversial; convinced he must fight the African cause against exploitation. Local whites were shocked that he lived like an African villager and gave away all he had. They could not reconcile his talents as a poet and author with the political agitator who lived on sadza and gravy.
In 1909 with money given to him by his mother, he bought land now known as Maronda Mashanu, which he gave to African Anglican farmers if they gave up polygamy and became a Christian. In 1914-18 he served as a Chaplain in East Africa before returning and nearly losing his life helping local Africans in the Great Flu Epidemic of 1918, when over 20 million died world-wide. In 1926 after growing disagreements with the Diocese and quarrels with co-workers, he left for England, where he lived in Oxford and shocked the locals by converting the Vicarage into a boys' club and home for tramps!
By 1930 he was back in Africa and living in virtual seclusion at Maronda Mashanu, except for long treks to hold services at Chivhu, Mvuma and the Save valley. In the course of treating patients with venereal diseases he contacted eye disease, which later cost him his sight. At the same time he started his mission church at Maronda Mashanu made of daga, poles and thatch in the form of a five-pointed star, the tapering thatched roof supported by five pillars. Each apex contained a niche in which stood a saint and above the altar was a life-sized figure of Christ with five wounds. Cripps stayed here until his death in 1952.
In 1938 Oxford University Press published a comprehensive selection of his poems entitled Africa; Verses which pleased him, but in the same year he suffered a stroke which slowed him up physically and his eyesight began to deteriorate until by 1951 he was totally blind. Characteristically in his final years he made few concessions to his blindness and still walked great distances with his African guide. He wrote until his death, dictating his work to his long suffering mission worker colleague, Miss Olive Seth-Smith and after her death in 1950, to Leonard Mamoura.
All his private income he gave away and repaired his boots with hammered-out bully beef tins, smoked home-grown tobacco, his bed so old that when Miss Seth-Smith replaced it, he angrily gave it away and retrieved the old one from the rubbish dump! He hated cars and called his Bishop a "car-born vampire" and once made a visiting Church dignitary ride a donkey without a saddle, bridle or bit and confiscated his riding cane in case he beat the donkey. There is a story that he once accepted a lift to Harare from a local Afrikaans farmer who drove off leaving his African guide behind. Cripps sat in silence throughout the journey and on reaching Harare said: "well, now I must go back to my boy" and set off on foot back to Chivhu.
He died on 1st August 1952 and was buried in his church in a ceremony attended by thousands and accompanied by mass singing of the vast crowd. Today he lies at the heart of his church with fresh flowers in earthenware pots as can be seen from the photo, repairs too are taking place, with a cement roof over his gravesite.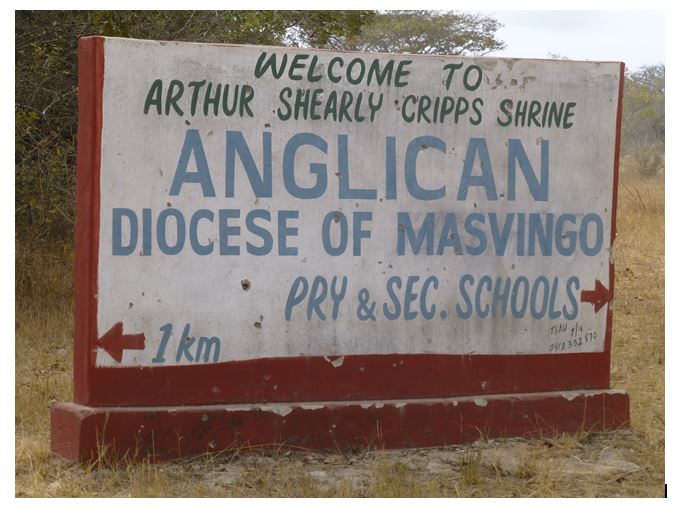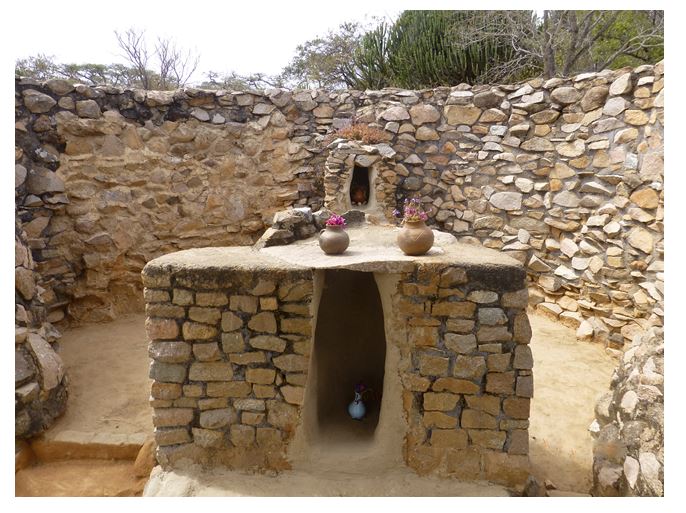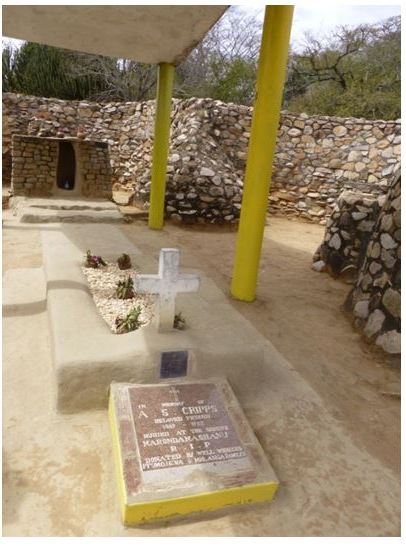 A complex character, this obituary by Leonard Mamoura is fitting;
Reverend A.S. Cripps, he cared not for himself, but he cared to help the poor,
the weak and the sick people to whom Christ was a friend.
May he Rest in Peace and Rise in Joy.
Surely our beloved father and noble friend has outsoared the shadow of our night.
He stood for Liberty, Equality and Fraternity, did he not?
Thousands of miles he came to seek us here.
He did himself to Africa endear,
Africa weary, worn with want and fear.
He brought us Hope and Love, what better could he bring?
Anglican parishioners in Masvingo diocese gather every year to commemorate the life of A.S. Cripps. However in 2012, the annual August celebrations of this Anglican missionary revered by many Zimbabweans were declared "illegal" by the police in Masvingo province. The venue for the event was reported to have been seized by the ex-communicated Bishop Nolbert Kunonga, who put up posters informing parishioners he would be at the shrine on the scheduled dates.
The struggle over control of church properties between the main church and a breakaway faction led by Kunonga came about because the main Anglican Church officially appointed Bishop Chad Gandiya to head the Harare Diocese, but Kunonga was granted custodianship of Harare Diocese properties by Chief Justice Godfrey Chidyausiku in 2011 and used that ruling to illegally seize properties in other provinces. Fortunately the matter was resolved and today the shrine remains in the hands of the Anglican Church.
Acknowledgements
D.E. Finn. Kambandakoto - a study of AS Cripps 1869 – 1952. Rhodesiana No 7. 1962 34 - 43
Mrs Dorothy Finn together with Rev. F.W.M. Lee published a comprehensive collection of Cripps' poems
---
Anglican Communion News Service. 30/07/2012
When to visit:
All year around Monday to Sunday 8am to 5pm
Fee:
Entrance free, but donations towards running the Church are welcome