Thuli Safari Area
Why Visit?:
Although Tuli Safari Area is primarily a hunting area, the various historical sites within the Safari Area do fall within the non-hunting area and therefore both hunting and tourism can take place at the same time without any major inconvenience to clients.
How to get here:
(1) From Harare at the junction of the A6 / A4 at Beitbridge take the A6 Beit Bridge to Bulawayo road for 5.3 KM and turn left at sign which reads Kuduland River Lodge and Nottingham estate HA-BANGALA. At 11.3 KM reach the Umzingwane River Bridge and immediately after turn right, 18.2 KM continue left at the junction and signposts for Nottingham Estate and green / yellow Tuli Safari Area, 23.7 KM pass the Kuduland sign on the left, 28.9 KM pass the Fishing Camp sign on the right. 38.1 KM keep right at the junction, 31.2 KM pass the ECM disused coal mine on the right, 42.2 KM pass the fly camp turnoff on the right, pass citrus fields, 57.2 KM pass entrance to Sentinel Ranch on the left. Continue travelling west, 109 KM reach Shashe Business Centre; 132 KM reach Limpopo Business Centre. Take the road north, 137 KM reach a junction which has a green / yellow sign saying department of parks and Wildlife – Tuli Safari Area and turn left, 150 KM reach Tuli Police camp. Turn left at the sign saying Aerodrome / Tuli Safari Area, 151.5 KM turn right into ZWMA camp, 152.3 KM reach National Parks office and check-in.
(2) From Bulawayo after exiting Gwanda continue on the A6 for 6 KM and turn right onto the tarred Guyu Road signposted with a green / white sign with Tuli Institute. At 24.9 KM continue straight on, 43.4 KM continue straight on, 57.5 KM reach Guya Business Centre and Police Station. The tar road changes to gravel, 105 KM continue straight on, 112.2 cross stream, 123.8 KM cross stream, 127.4 KM cross stream, 133.2 KM reach Tuli Police Camp, follow the sign saying Aerodrome / Tuli Safari Area, 134.7 KM turn right into ZWMA camp, 135.4 KM reach National Parks office and check-in.
There is an earth airstrip at Tuli.
NOTE: The Shashe River crossing is about 600 metres of sand and requires 4WD to get across.
GPS reference for National Parks Office: 21⁰55′44.88″S 29⁰11′25.51″E
Website reference: www.zimparks.org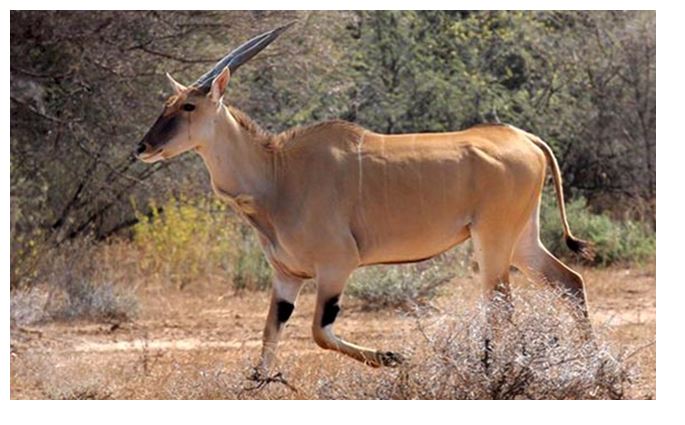 The Thuli Safari area is a protected area in south-western Zimbabwe. It comprises four reserves within the Zimbabwe Parks and Wildlife Estate and covers the entire west bank of the Shashe River within the Thuli Circle. The reserves are administered as a single unit, from the National Parks and Wildlife Management Authority office on the east bank of the Shashe River. The three botanical reserves are very small; in total covering just over a square kilometre.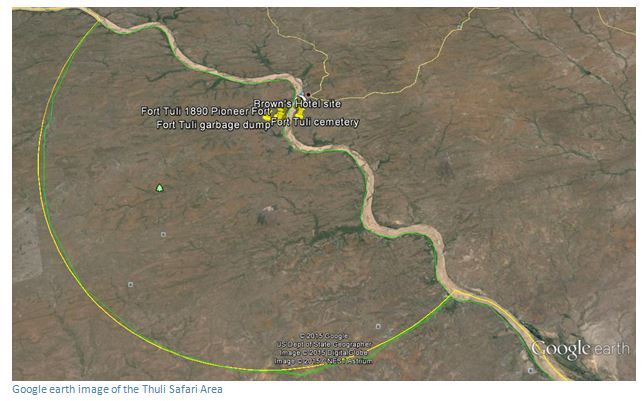 Thuli Safari Area was proclaimed in 1975 and prior to that date from 1958, it was a controlled hunting area. In terms of a memorandum signed on 22 June 2006, Thuli Parks and Wildlife Land forms the core of the conservation area that Zimbabwe contributes to the limpopo-Shashe Transfrontier Conservation Area in conjunction with the Mapungubwe National Park in South Africa.
Thuli Safari Area is currently operated through hunting concessions.
Fauna
Wildlife includes elephants, giraffe, eland, zebra, jackal, hyena, cheetah, leopard, black rhinos, wild dogs and lions.
Flora
Most of the Tuli area is scrubland with Mopane and Combretum bush, but the Sarari Area's eastern border, supports riverine vegetation such as Ficus and Faidherbia along the Shashe River.
Geography and geology
The protected area comprises a flat landscape, giving way to rugged hilly terrain near the Shashe River. The underlying bedrock is Jurassic basalts which trend NNE-trending with inwardly-dipping lava flows and a well-preserved volcanic caldera. In September 1993, a South African expedition visited four structures in Zimbabwe that had been selected because of circular outlines, or because of unusual aeromagnetic anomalies. The first one, the 1.1 kilometre diameter Thuli structure was identified as a well-preserved volcanic caldera formed by a series of basaltic, gabbroic, and dioritic intrusions. Preliminary results of magnetic traverses are consistent with the model of a volcanic pipe.
Accommodation and camping
Camping sites exist at the head office and within the safari area. There are no hotels or self-catering accommodation, but Shashe Wilderness Camp is run by Wildlife Environment Zimbabwe and is about a kilometre to the north of National Parks reception on the eastern bank of Shashe.

This camp is set amongst huge riverine trees, with wonderful bird life and looks out onto the Shashi River, a vast expanse of sand with occasional water. The camp was set up in 1976 as an environmental education centre for children, this is still the primary function of the camp, but not the only, and it is open to anyone who loves peace and tranquillity of the bush. The camp itself consists of three blocks. There are ladies accommodation, men's accommodation and a central dinning come kitchen area.
For bookings at the Shashe Wilderness Camp contact Rosemary Harrison at zitf@zitf.co.zw.
References:
Reimold, W. U.; Master, S.; Koeberl, C.; Robertson, D. (1994). "The 1993 Zimbabwe impact crater and meteorite expedition"
Wikipedia
Zimbabwe National Parks and Wildlife Management Authority
When to visit:
All year around Monday to Sunday 6am to 6pm
Fee:
Entrance and accommodation fees are payable