Orbicular Granite Formation
Why Visit?:
Although this area is outside of the Matopos National Park and there are no animals, the Communal lands have a natural beauty of its own and Ndebele communities live and farm here.
The orbicular granite formation is very rare; the closest site is in Namaqualand, South Africa. This structure is from the mid Proterozoic Eon and was formed approximately one billion years ago.
Other similar sites in Finland and Chile enjoy the status of protected site
How to get here:
The site is one kilometre downstream of Diana's Pool which is 70 kilometres southeast of Bulawayo. From Bulawayo take the A6 towards Gwanda, but turn right at Mawabeni ( 57.5 KM peg) Drive 10 KM to Esibomvu, turn left in Esibomvu, continue straight to Diana's Pool (ignore roads to left and right) The dirt road is suitable for ordinary vehicles, as long as they have good ground clearance. Guests are required to report to caretaker Nxumalo at the homestead closest to the entrance of Diana's Pool protected area, or at the Happy Thaba Store near the entrance. Best to hire a local guide.
GPS reference: 20⁰27′41.44″S 28⁰53′34.05″E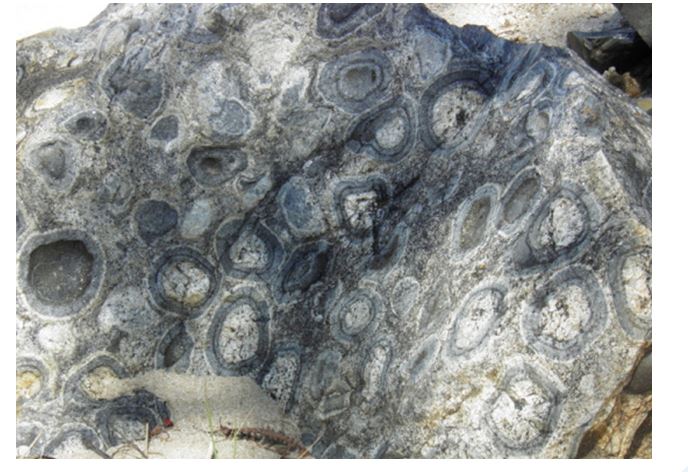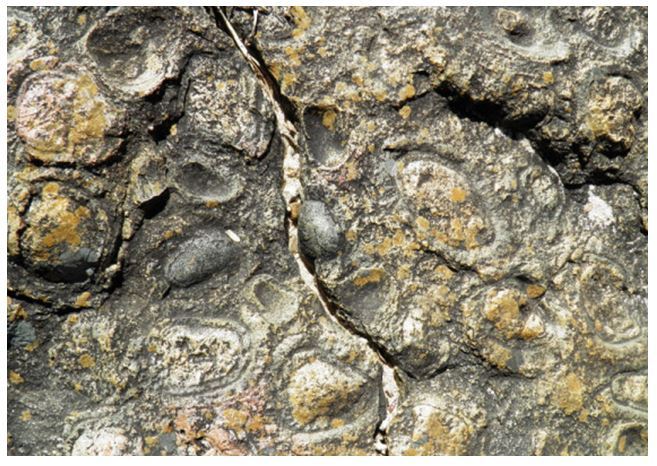 The black and white objects within the rock are called orbicules and the mass of mostly ellipsoidal, but also near-spherical, irregular and broken shapes within the granite make a spectacular sight. The orbicules are of varying size, but are often in close contact with one another and their overall distribution does not appear to be uniform.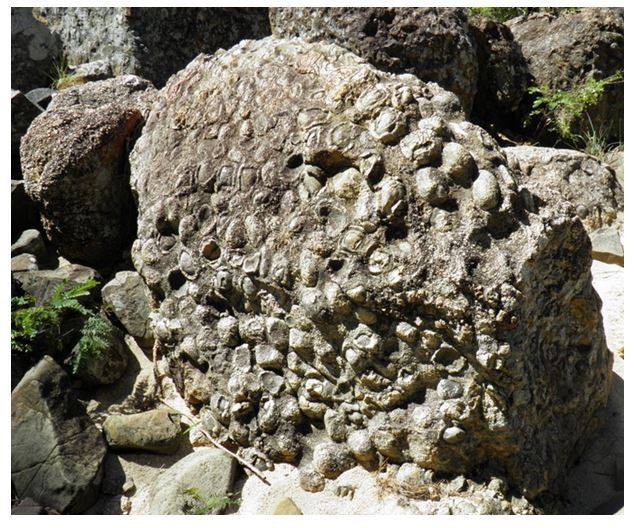 There is a clear contact zone between the orbicular granite and the host granite body which is coloured a uniform mid- to dark grey. Some geologists propose that the orbicules are concentrically layered, sphereoidal structures, probably formed through nucleation around a grain in a cooling magma chamber and that variations in the orbicules are a result of changes in the composition of the magma and the degree of cooling. Broken orbicular fragments may indicate that the proto-orbicules were moved by convection currents within the magma chamber and the orbicules were still in a plastic state as they are often deformed or moulded together. Some orbicules appear to have been dragged along by the current while others show evidence of mass movement after settling.
Acknowledgement
---
JC Bevan and AWR Bevan. Nature and Origin of the orbicular granodiorite from Boogardie Station, Western Australia: an ornamental stone of monumental proportions: The Australian Gemmologist (2009), v. 23, P.373-432.
Wickipedia
When to visit:
All year around Monday to Sunday 8:30am to 5:30pm
Fee:
Entrance free, but a small donation to the local guide