Mort's Tree
Why Visit?:
Ten kilometres south beyond Mbalabala was the mountain acacia, brachstegia glaucescens, described by Lyn Mullin in his classic Historic Trees of Zimbabwe as the largest near any main road in Zimbabwe and preserved solely from early destruction by Mort Poultney in the 1970's.
Deforestation and degradation of the soil is a big problem in Zimbabwe and Government departments must encourage replanting of trees and to preserve the indigenous woodlands.
According to Jenny Brebner, née Poultney, this wonderful tree had come to the end of its natural life. It increasingly began to lose branches until it finally fell down and had to be cut up.
How to get here:
From the Mbalabala / Filabusi turnoff continue south down the A6 national road towards Beit Bridge for 10.3 KM to the former site of Mort's Tree on the rise on the left side of the road. The magnificent specimen of mountain acacia died a natural death when it reached the end of its life span; all that is left is a hole and lengths of the trunk lying on the ground. Two other smaller specimens are fortunately well away from the road and for the time being grow larger.
GPS reference: 20⁰32′20.20″S 29⁰01′31.46″E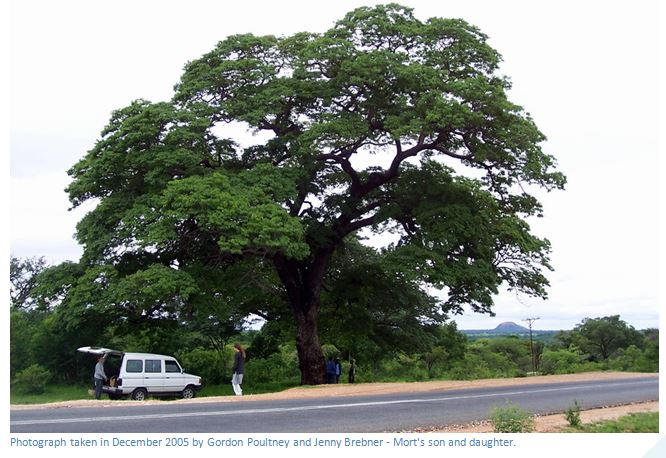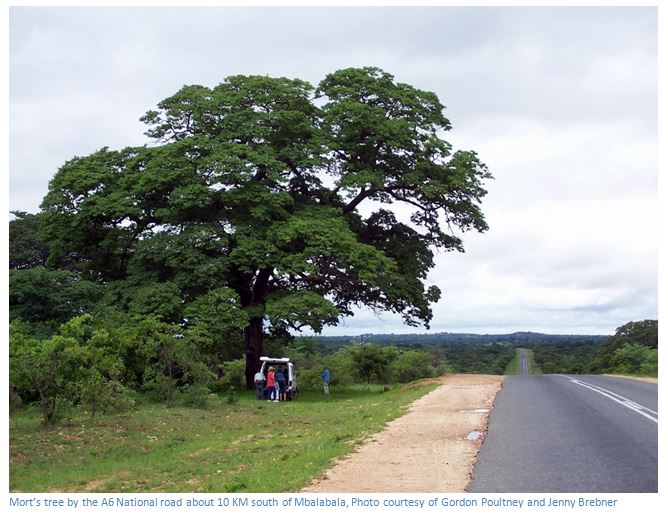 With a height of 22 metres and crown spread of 24 metres in 1988, this magnificent tree must have been noticed and remarked upon by thousands of visitors travelling from Beit Bridge to Bulawayo, or the Victoria Falls. What most travellers would not have known was that this tree was spared from felling by the Department of Roads many years ago by the action of Harold Mortimer "Mort" Poultney.
Mort was Bronwen Cumming's father and she says: "Mort Poultney was my father and came to this country in 1948 from South Africa to join the Department of Conservation and Extension. In 1956 he left government service and was appointed manager of Irisvale Ranch, where he continued his conservation work and was appointed Chairman of the Filabusi ICA from 1967 to 1973. Like his great friend Keith Harvey, Mort served on the Cattle Producer's Association and was Chairman at the time of his death in 1980.
In the 1970's the present highway was being widened and the Department of Roads considered that the tree, which was within the road servitude, should be cut down. Mort considered the mountain acacia a beautiful specimen of its type and also a useful landmark on Irisvale Ranch as it was visible from a great distance. When the Department of Roads asked if they could construct a camp for their road-building unit on Irisvale Ranch, Mort agreed, but the mountain acacia had to stay!"
In remembrance of his university and long-time friend; they were both driving forces in the ICA movement, Keith Harvey placed a copper plaque high up on the trunk of the tree which read "Mort's Tree."
There is a family postscript to this story because over the years, the original copper sign became grown over and damaged, and the Poultney family, like so many, had been uprooted from this country and were living in Canada. On a holiday here in 2005, they decided to replace the original sign and below you can see Gordon Poultney, with his Mum, two sisters and nieces holding the ladder, as he fixes the new sign high on the tree trunk.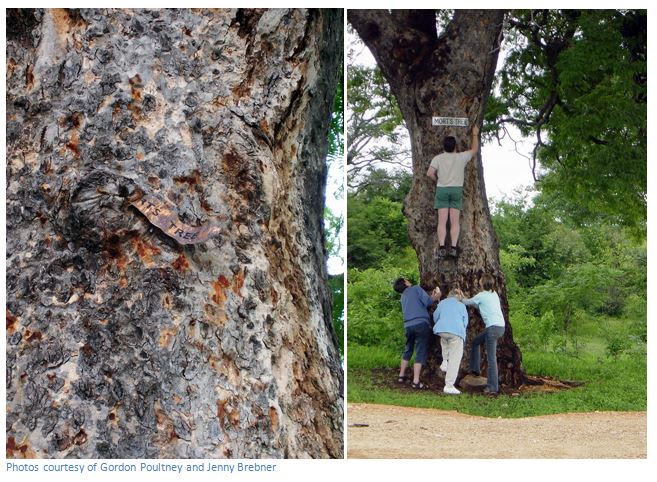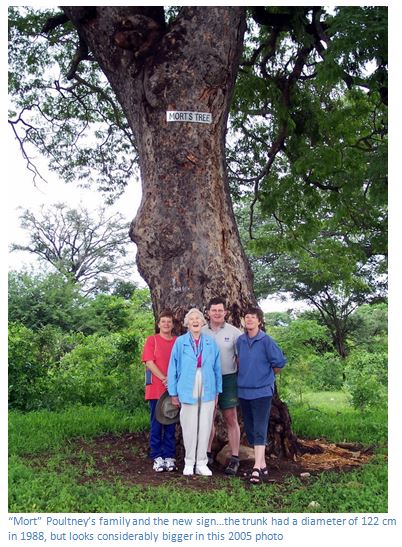 Sadly when I visited the tree in August 2016 the mountain acacia, Mort's tree, had been reached the end of its natural life cycle and died and had been sawn up.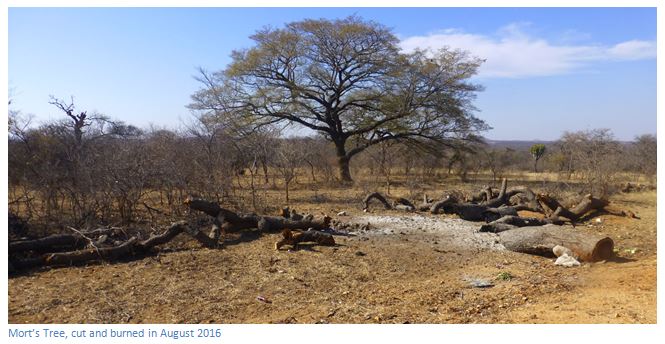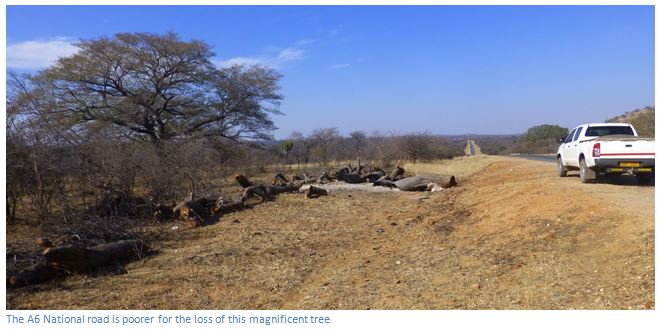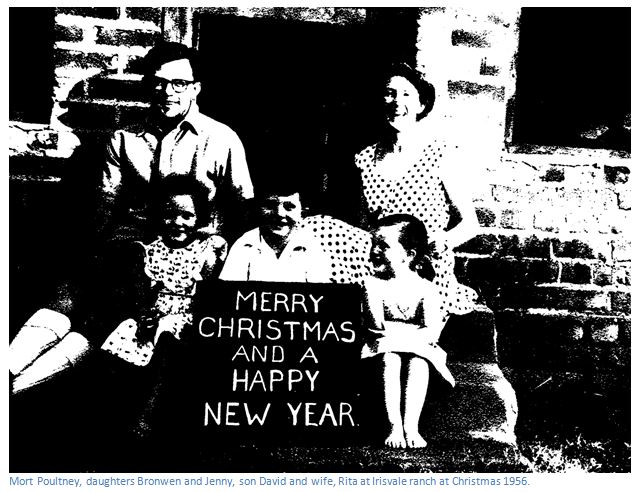 The life of Keith Harvey (1921 – 2007) Mort's life-long friend, is typical of many citizens of this country. He fought with the South African forces in North Africa and Italy and after WWII obtained a degree in soil conservation at the University of Witwatersrand. In 1947 he married Jeanette Vass and two years later immigrated to Rhodesia where he joined the Department of Conservation and Extension. He served in Gutu and Enkeldoorn and in 1954 bought Nyororo Farm at Felixburg, where he farmed until the family were forced off in 2001. Extremely community minded, he served on the Mvuma and Chatsworth ICA's for many years, served on the Cattle Producers Association for twenty-seven years with two stints as Chairman and served on the Natural Resources Board from 1969 to 1991 and was Chairman for seven years.
Keith Harvey's daughter, Kate Raath, lent me a letter which I would like to quote in full as it gives the basis for Keith and Mort's lasting relationship which endured all their lives.
P.O. Box 99
Chatsworth
3rd May 2000
My Dearest Bronwen,
Your visit on Sunday meant a lot to me and I was most grateful for it. Ever since I lost my very special friend Mort, who was almost a brother to me, I transferred some of my affection to you who were so much like him.
I first met Mort at an artillery training course in Potchefstroom in 1941 and we struck up a relationship that was to be of value to both of us over the years. I was two years older, but we shared so many interests that soon gave us a special and mutual understanding that was to be with us for the next 40 years.
From Potch, Mort was transferred to the 6th Light Artillery Regiment and I to the 1st Ack Ack regiment, but we met up again in Cairo and then with the 6th S.A. Division in Italy. Our regiments were often close to each other as we moved up the Italian Peninsula to Florence, but we were held up by the Germans in the Apennine Mountains after some very fierce battles beyond Castiglione and increasingly heavy snowfalls were forced to spend the winter of 1944 in the most unpleasant circumstances, other than getting short periods of leave in Florence and once in Rome.
My Ack Ack gun was in the mountains near Gritzana railway station and Mort's battery of field guns in the valley below us, so we could usually see (or hear) when either was getting "stonked" by the Germans! We managed to survive and when the beautiful mountain spring melted the snow our Division drove the Germans off the formidable Monte Stanko and we breached the Po Valley and then on to Milano. We had our victory parade at Monza on the 14th of May 1945.
After more peacetime spells of leave we returned to a desert camp in Egypt where we were exposed to peacetime seminars to plan our futures, one of which was for a degree course at Wits University on soil conservation. Both Mort and I decided to give it a go! On receiving our degrees in 1949 we both decided to join the Rhodesian Department of Conservation and Extension rather than remain in South Africa where the Afrikaner nationalists had won the post war election.
We were both successful extension officers but wanted to go farming on our own and raise our families in rural Rhodesia. We continued to be actively prominent in the conservation farming field and maintained a strong relationship with each other until Mort's very sad death; a terrible shock to his wonderful wife and children and many friends.
At his funeral I spoke of his strong character and convictions, his honesty, forthright opinions, loyalty and patriotism, his meticulous attention to detail and above all his special brand of humour.
Bronwen, I still think very lovingly of Mort and dear Rita.
I hope this letter does not make you too sad, but I have been wanting to tell you for some years of something of my relationship and feeling of your father who was to me more of a brother than just a friend.
My kindest love to you and yours and may our wonderful country survive the evil things that it is encountering these days
Keith Harvey.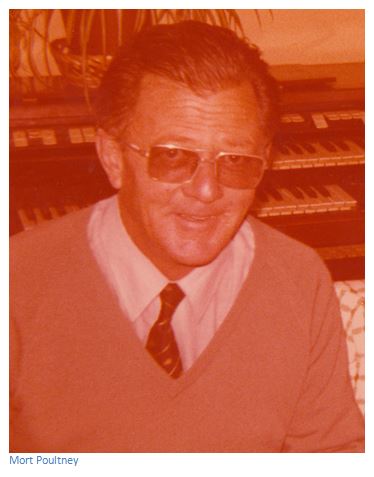 Acknowledgements
L.J. Mullin. Historic Trees of Zimbabwe. CBC Publishing, Bath England. ISBN No. 0-9515209-6-2. 2003
www.rhodesiana.com. Photos and quotes with kind permission of the Poultney family
Thanks to Kate Raath for family letters and photos