Memorial to Bertrand and Aleth de Guitaut
Why Visit?:
This is a very poignant spot where a honeymoon couple died sixty years ago…their lives commemorated by the stone cross on the granite kopje
There are wonderful views north west towards the Mulungwane Range and Bulawayo and also north east across Zinjanja monument
How to get here:
From Shangani take the A5 towards Bulawayo, 18.4 KM reach Insiza and turn left onto the untarred road heading south-east, 45.8 KM reach Fort Rixon road junction, 46.9 KM turn left towards Fort Rixon, 48.1 KM pass through Fort Rixon, 55 KM turn right at the intersection, 58.2 KM continue on at road intersection, 61.8 KM continue south at road intersection, 65.9 KM turn left at road intersection, 67.6 KM this is the nearest point to the Bertrand and Aleth de Guitaut Memorial 200 metres up the kopje to your left. Zinjanja Monument is just a 2-3 kilometres to the north east.
Alternatively drive to Danan'ombe Monument, afterwards continue on the same untarred road going west a further 11 KM to Fort Rixon, then south a further 19.5 KM.
GPS reference: 20⁰09′03.48″S 29⁰20′45.83″E
On the 14th April 1955 a honeymoon couple flew into the mountain at this spot due east of Bulawayo and years later their family came and built a memorial in the form of simple granite cross with a plinth below recording their names and the date of their death.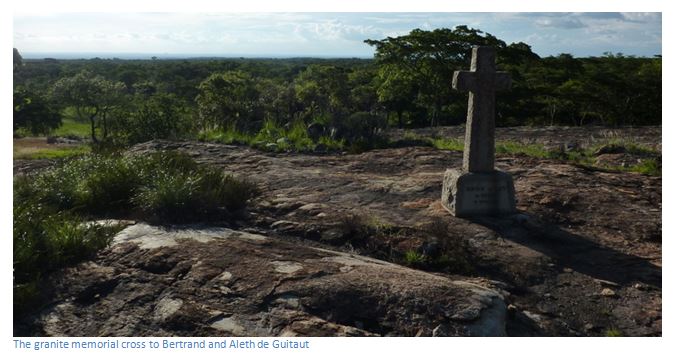 At one time visitors used to see pieces of aluminium from the wreckage, but they have disappeared over the years. Bertrand de Pechpeyrou de Comminges de Guitaut (1915-1955) was piloting their small single engine aircraft at the end of the rainy season on a day when their was thick mist hanging low on the ground and across a terrain which is for the most part fairly flat; so it is not hard to imagine these granite hills suddenly appearing when it was too late to adjust the course or altitude.
Having said in my original article: "I could find no articles on the air crash, or information on whether they were perhaps flying from Bulawayo down to South Africa and became disorientated as the crash site is due east of Bulawayo" I had an email from Barry Brown who sent me the following excerpt from the book Lords and Lemurs; Mad Scientists, Kings with Spears, and the Survival of Diversity in Madagascar by Alison Jolly (details below)
"No pilot himself, Monsieur de Heaulme was shortly elected president of the Aeroclubs of Madagascar. He set about equipping clubs of new pilots on a quasi-industrial scale. In 1953, Bernard Astraud learned that the Royal Rhodesian Air Force had twenty-four Chipmunks to sell. These were two-seat training planes, ideal for teaching pilots. When the air force upgraded, it offered the planes to the Madagascar Aeroclubs for less each than the price of a car.
Huguene de Heaulme fell in love with a pilot. Jacques Lalut was a "commandeur du bord" or Captain, for Air Madagascar. He had trained in America on wartime fighters. Monsieur de Heaulme swept his pilot son and his daughter's pilot fiancé into helping fetch their Chipmunks from Rhodesia. Lalut now lives in the south of France and writes. His novel Have by Now Become Two Beautiful Trees is a wonderfully mixed creation. He tells a lyrical wish-fulfilment love story anchored in details of airplane engines, take-off times, radio reports, and weather conditions, all punctuated by a very French list of menus and bottles of wine consumed at each landing stage. In the novel Lalut describes the Flight of the Chipmunks just as it happened.
It took a combination of military-style organization and amateur gusto, with international paperwork masterminded by Monsieur de Heaulme. Nine amateur pilots for the first convoy travelled to Bulawayo, Rhodesia, in a plane lent by the French navy base in Diego Suarez. It was an ancient Junker 52, a trimotor with a cabin that Lalut claims was made of corrugated iron. Inside the iron cabin, morning turbulence caused "paper bags to appear in the hands of two or three of those knights of the sky, with empty gaze and greenish tint." Even the Junker needed three stops to reach Bulawayo.
The Chipmunks were single-engine planes designed for aerobatics, with low-set wings and a cockpit in which the passenger sat behind the pilot, you may have seen a Chipmunk in flight in the film The English Patient. Their Gypsy 135 motors were renowned for robustness, the "heavy cavalry"' of airplane engines. Lalut admits that they "sometimes presented little disquieting vibrations, but they had the advantage of not stopping completely." That was just as well, since the homeward route lay across the Mozambique Channel.
The Rhodesians received them royally. A yellowed clipping from the Bulawayo Herald shows the only picture I have seen of Henry de Heaulme smiling, indeed grinning, as Jean grins back from an open cockpit, while Astraud laughs out loud. To start with, the pilots learned to fly in formation. Lalut was used to that from his fighter training, but the amateurs were understandably queasy. They soon found that flying in closer formation (within reason) made it easier to follow the leader's moves. A couple of days later the nine little planes left Bulawayo, waved off by the French vice-consul, press, photos, and cinema.
The Chips had a range of only 350 kilometres, which meant nine refuelling stops on the Bight to Fort Dauphin. The welcoming circus continued at each stage: Que Que, Salisbury, and Umtali, Rhodesia; Vila Pery, Beira, Quelimane, Antonio Enes, and Lumbo, Mozambique; the medieval streets of Mozambique Island. Receptions! Cocktails! Consuls and mayors! English fried fish fillers and chilled Portuguese white wine. A hilarious race in which the pilots pulled several rickshaw drivers, installed in their own vehicles, around a hotel yard. (The drivers were pale with fear - after all, the rickshaws were their only capital.) Jean sparked off that race and won it. The "Marseillaise" was sung in all its verses by their Portuguese hosts, while the French hummed in embarrassment through the Portuguese national anthem. The group made an excursion to the great game park of Gorongosa while the airplanes spent three days in Beira for mechanical check-ups.
Hippopotamus! An elephant barring the road! Jacques Lalut and Jean de Heaulme, sharing a cabin, dashed across to the lodge at night for a drink of water, imagining that every moon shadow hid a lion or leopard. Madagascar has just one occasionally lethal land animal - a biting spider. One evening in the game park, Lalut was hypnotized to see a file of naked women dancing in the distance to the sound of a drum, dancing for themselves, with no men present.
The most dangerous leg of the trip came next. After taking off from Lumbo, the convoy of little planes had to refuel at Juan de Nova, a tiny island in the middle of Mozambique Channel. Pilots and their passengers bundled up in inflated Mae West life vests, complete with powder to dye the water around a downed airman and to "make the sharks throw up" as Bernard Astraud put it cheerfully. The channel is a favourite haunt of great whites. Astraud drilled the amateurs in how to ditch the plane at sea if anything went wrong; not easy, given the Chipmunks' fixed landing gear. If all went well, they would land on a hard sand beach.
I asked Jean; "Weren't you even a little bit afraid of that landing?" He chuckled and said, "Oh, we were young! We were - no, we were not afraid of landing on Juan de Nova, because the Chipmunks were easy to handle and very solid airplanes. Bur we were afraid of not finding Juan de Nova! We had only a quarter of an hour of gas to spare. So if we didn't find it right away, we had not much time to look for it. I remember taking off in the morning from Lumbo. If there was a contrary wind of more than ten knots, we would not arrive at Juan de Nova. We had to fly very early in the morning, when there was no wind. And at four in the morning, I remember we had warmed up the motors and re-refilled the reservoirs, and we left as soon as the sun - no, not even sunrise, but first light - to profit from the calm and actually reach Juan de Nova." One after another the little airplanes put down on the beach, each waiting for the one ahead to be pulled away. Lalut touched down last after two hours and twenty-five minutes in the air- with only five minutes left in his Chipmunk's fuel supply.
Juan de Nova was home to a fertilizer mine, thanks to the guano of the millions of seabirds that nested on its northern beach. The Chipmunks landed on the southern beach whose sand was too coarse for the birds' taste in nesting. Sixty-three men lived on the island, mostly Seychellois of all colours. They exported bird excrement to South Africa for the Potassium Company of Alsace. But of all the menus Lalut lists in his book from that journey, I most envy him the lobster, oysters, and raw fish marinated in lemon juice and coconut milk served up by their hosts at Juan de Nova - though definitely not the succeeding dish, sea turtle ragout.
A second convoy of nine Chipmunks followed some weeks after the first, and then a third. But on the third flight, fog came down, a radio failed. Bertrand de Guitaut and his wife, Aleth, were killed flying into a mountainside in Rhodesia."
Acknowledgements
Thanks to Barry Brown for sending me the above passage and for additional information on Otto Berry relating to the article Iron Mine Hill (Ntabasinsimbe) and the first casualty of the 1893 Matabele War
Alison Jolly. Lords and Lemurs; Mad Scientists, Kings with Spears, and the Survival of Diversity in Madagascar. Houghton Mifflin Harcourt. 2004