Jabulani
Why Visit?:
Jabulani Camp aims to be a leading eco-adventure tourism destination in Zimbabwe. They strive to provide guests with a novel bush experience with the safety and well-being of their wildlife being critical. They are passionate about natural heritage and hope their dedication and commitment will give their guests a personal and private bush adventure unlike any other.
Situated near Nalatale, the most architecturally satisfying of the dry-stone monument in Zimbabwe and not far from Danamombe (formerly Dhlo Dhlo) monument, the former capital of the Torwa State, it is easy to explore these important cultural remains and also to enjoy the plentiful local wildlife and beautiful indigenous woodlands.
How to get here:
Jabulani is between Bulawayo and Gweru and is reached on the A5 national road by turning off south at Shangani. Shangani is 64 KM from Gweru and 100 KM from Bulawayo. From the A5 national road coming from Gweru turn left at the tractor workshops 0.63 KM turn left at signpost for Naletale Monument. This is the DeBeers Road and although untarred, is in excellent condition. Drive in a south easterly direction 17.6 KM, turn right and continue westerly, 21.95 KM turn right into Jabulani; 22.3 KM turn right again, 22.7 KM reach Jabulani. Turnoffs are signposted.
GPS reference: S19°53'18.15" E29°27'35.00"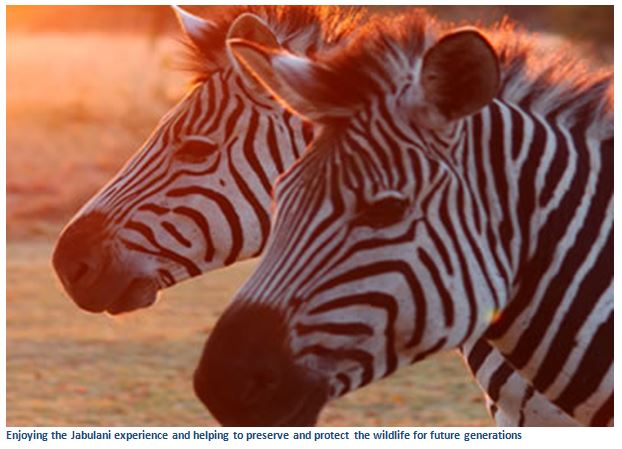 Jabulani is sited in 1,380-hectares of indigenous woodland and offers peace and solitude for those that want it or an exciting range of activities for those visitors that seek adventure. Visitors may choose to stay in any of the eight thatched chalets. There are four double-bed rooms and four twin-bed rooms each with their own en-suite bathrooms fully equipped with bath and shower facilities. To create an air of exclusivity, lodge guests are limited to sixteen people at any one time.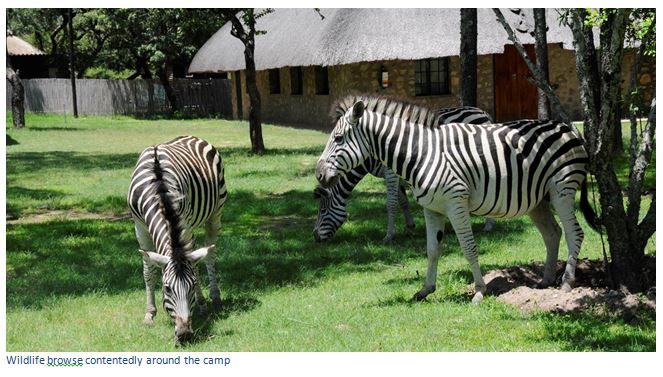 For those that visit in a group there are also two large dormitories under thatch, each capable of sleeping 25 people, with attached ablution blocks for large groups on school excursions, conference getaways and corporate training camps for leadership development, or team-building adventure.
A wide range of eco-adventure activities are offered including: game drives amidst 40 native wildlife species and a host of birdlife, walking safaris, horse-riding and mountain-biking, water skiing, canoeing and fishing, cultural tours to Nalatale, abseiling and volleyball. The camp has conference & celebration event amenities, a swimming pool and fire-pit and volleyball court.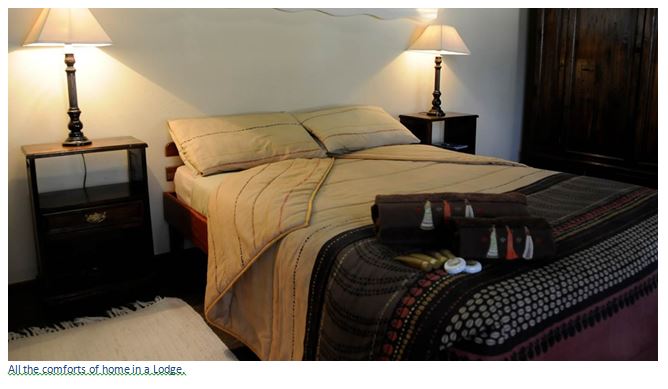 Jabulani creates a perfect bush experience. From sundowners at the watering hole watching herds of eland and impala to the skittish zebra and graceful giraffe, to dinner underneath the stars, we are determined to show our guests the very best African hospitality has to offer. The camp may be remote, but there is wireless and cell phone signal to keep you connected to the outside world as well as a plasma television so you never miss out on the rugby!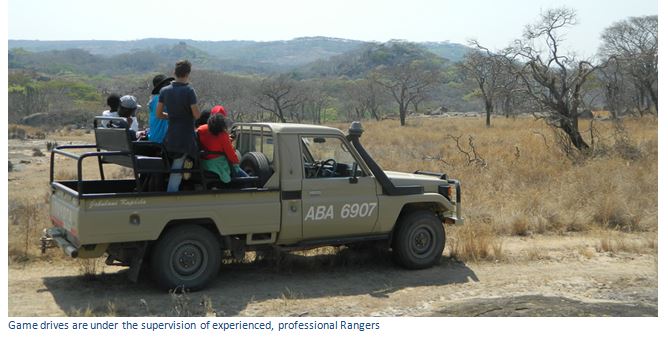 Fee:
Entrance and accommodation fees charged