Diana's Pool and Embizeni Chalets
Why Visit?:
The shallow pools with their sandy banks and the nearby rapids provide exciting swimming and climbing opportunities, although care needs to be exercised on slippery rocks.
The surrounding granite hills contain numerous caves with old grain bins and rock art and interesting plant life; local guides can be hired to visit them.
The orbicular granite formation, 1 kilometre downstream, is a rare and fascinating geological mystery and destination for a brief exploratory walk.
With only two chalets, this destination is off the beaten track and being set within the communal lands provides a good opportunity to walk and interact with the local community.
Daily charges are very reasonable and help the local community.
How to get here:
Diana's Pool is 70 kilometres southeast of Bulawayo. From Bulawayo take the A6 towards Gwanda, but turn right at the turnoff just before Mawabeni ( 57.5 KM peg) Drive the untarred road 10 KM to Esibomvu, turn left down a road 100 metres after Esibomvu Clinic signposted Diana's Pool 9 KM / Rhodes Indaba site 7 KM. Cross the Nsezi stream following the road, ignore the first road to the left, signposted Tshalimbe Primary School, my GPS directed me down this road to a dead-end, and continue on straight and where the road forks right to the signposted Indaba site, continue straight on. The signpost for Diana's Pool says 1 KM, but it is nearer 3 KM. Pass the small business centre on the right and see the caretaker Kevin Nxumalo's home on the left. To get to the chalets follow the track over the rocks and across the stream bearing right for 100 metres. The road is suitable for ordinary vehicles, as long as they have good ground clearance.
GPS reference: 20⁰27′40.93″S 28⁰53′02.02″E
Website: www.embizeni.net
Contact: piettevelde@gmail.com
Situated within the Matobo Communal lands, the word 'Embizeni' (Place of the Pots) is derived from the potholes the rain water has carved into the granite rocks over a lengthy geological period and Diana's Pools was named after the wife of the first Native Commissioner in the area, JP Richardson.
Piet te Velde built the chalets as a family using their personal funds. They had permission to construct 6 chalets, but due to farm invasions in 2000 and the resulting deteriorating economy, there was very little business and so finally only two chalets were constructed. As treasurer of the Umzingwane Publicity Association and as an independent rural development consultant Piet had a dream of developing eco-tourism in this beautiful district, but sadly with the continuing uncertain political and economic situation these plans, like many others, are on hold.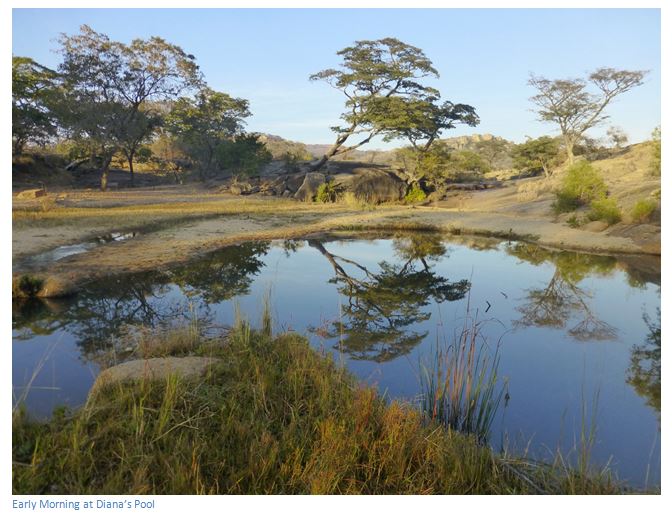 There are two chalets each with two spacious bedrooms, each having two single beds and a shower and toilet; a fitted and fully equipped kitchen and a large veranda with adjacent braai. The loft in each chalet can sleep an extra two people with mattresses and bedding is provided on request. Each chalet is fitted with solar powered lights and hot water, a gas stove and a small gas fridge. The accommodation is suitable for a maximum of twelve people.
The chalets are well-constructed and comfortable and much better-equipped than the ZimParks equivalents.
Family friendly and definitely worth a visit with plenty of activities within the near vicinity, such as the Rhodes Indaba site and Nyunteya Cave, and a good point for exploration of the magnificent Matobo and surrounding area. Local people are extremely friendly and welcoming and the community benefits greatly from projects such as these.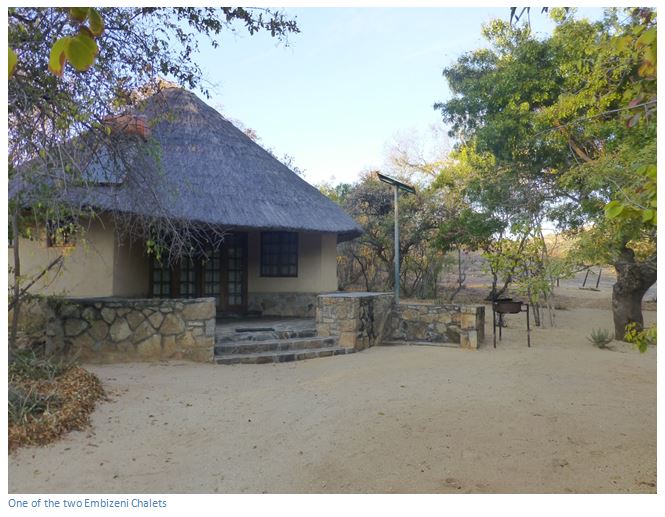 The pools are set in the rocks with cascades and slides and sand along the river edge. Things to do include:
Fishing at the nearby Mtshabezi, or Malunika Dam
Enjoying the riverine habitat around the chalets
Rock climbing and viewing the numerous San rock art sites in the surrounding area
Great exploring for children in the shallow pool with sandy beach
Relaxing in the outdoors and a braai (barbecue) under the stars
Local places of interest taken from the website (www.embizeni.net)

1

Rhodes Indaba site: The famous anthill, where Cecil Rhodes stood, when he addressed the Matabele warriors to negotiate peace.

2

Nyunteya Cave: This magnificent cave, about 100m from the road, contains about 13 grain bins, most of who are reasonably intact. Take care not to disturb the bats, which live in the cave.

3

Overhang: About 50m from the road is 3-grain bins, protected by an overhanging rock.

4

Deer hunter rock painting: In a small niche, on the face of the rock are bushman paintings of 3 animals, surrounded by what seem to be hunters.

5

Leopard rock painting: Close to the base of a big boulder is a tiny rock painting of what looks like a fast running leopard.

6

Dombo rock painting: Some small, but unusual paintings on the eastern side of Dombo mountain, one of which looks a like a person playing the drums.

7

Rock painting: A small rock painting on the northern slope of Mafushe mountain.

8

Grain bins: Very well hidden grain bins in a small cave with a tiny entrance.

9

Rock painting: A tiny bushman painting on the face of a big solitary boulder.

10

Mafushe cave: A pitch-dark cave, with at least 10-grain bins in fairly good condition. The entrance is small and difficult to find without a guide.

11

Mafushe pools: On the shoulder of Mafushe mountain, where one can enjoy a breath-taking view of Matopo communal lands, are some shallow pools which keep water for most of the year.

12

Tshalimbe rock paintings: A delightful site with a magnificent view of a beautiful traditional homestead and Tshalimbe school. The rock paintings are unusual in that they show several large persons, as if painted with the help of a brush, in addition to the usual 'stick persons'.

13

Malunika dam: A recently constructed community dam, the water source of a 6ha community irrigation scheme (under construction). The dam has been stocked with bream and fishing is allowed.

14

Malunika cave: Only 500m from the dam is a cave with a small but superb painting of a sable antelope and a few partly damaged grain bins. There are some stunning aloe specimens along the way up to the cave.

15

Grain bin: single isolated grain bins, in a small cave, near a homestead.

16

Warthog rock painting: A single rock painting of a warthog like animal.

17

Archers rock painting: A small bushman painting depicting hunters with bow and arrow.

18

Manyakavula: A rock overhangs of exceptional beauty, called the Chief's place, a site of traditional rituals.

19

Bkobo cave: A large cave with remnants of grain bins, suitable for camping.

20

Umstshwayeli rock painting: bushman painting of a sable antelope, under an overhang.

21

Big mbuze cave: A cave with a few unusual paintings of a baboon and a giraffe, suitable for camping.

22

Cave: A small cave with 2-grain bins and a clay pot.

23

Orbicular granite site: A rare granite rock formation with rounded (orbicular) intrusions, a geological mystery.
When to visit:
All year around Monday to Sunday 8:30am to 4:30pm
Fee:
Entrance and accommodation fees are payable