Danangombe Monument (formerly Dhlo-Dhlo Ruins)
Why Visit?:
Danangombe became important after the decline of Great Zimbabwe in the late 1400's. The Torwa State emerged in the west of modern Zimbabwe with its capital at Khame near Bulawayo in Matabeleland and its outlying centres including Danangombe (formerly Dhlo Dhlo) Naletale and Zinjanja (formerly Regina) and Manyanga (formerly Ntaba zika Mambo) They are all concentrated within 100 kilometres of the Matobo hills.
In 1693 Changamire defeated the Torwa dynasty at Khame near Bulawayo and Danangombe became the capital of the Rozvi state until the 1830's.
Danangombe is photogenic and easily accessible from Shangani off the A5 Gweru to Bulawayo highway on good all weather gravel roads and has an excellent site museum.
How to get here:
From Bulawayo take the A5 towards Gweru,100 KM turn right at Shangani on the road marked Dhlo Dhlo (NOT Nalatale) 112 KM turn right at fork marked Dhlo Dhlo, 125 KM reach Danangombe Ruins.
From Harare, distances are from the Zimbabwe Military museum in Gweru. Take the A5 towards Bulawayo, 63 KM turn left at Shangani on the road marked Dhlo Dhlo (NOT Nalatale) 75 KM turn right at fork marked Dhlo Dhlo, 88 KM reach Danangombe Ruins. The last thirteen Kilometres are on good gravel roads.
GPS reference: 19⁰56′46.85″S 29⁰19′50.62″E
Description
The main building is made up of two large platforms, the western one covering 900 square metres, with a retaining wall rising in places over 6 metres. The eastern platform covers over 2,800 metres, but is never more than 3 metres high. Roger Summers excavations revealed a sold rubble fill over a flat granite base requiring over ten thousand metric tons of stone…a vast undertaking by the builders. On top of the rubble is thick dhaka on which huts were constructed and the platforms are separated by a passage which climbs up slowly from the northern entrance. Summers classified them as Type 4 ruins characterised by artificial platforms with stone patterning of various kinds.

The central area platform retaining walls are very solid and well decorated with mostly chequer, but also cord, herringbone and some chevron patterns, the grey of the granite brightened up with the chocolate brown colour of banded ironstone, brought from at least ten Kilometres away. The walls are built of undressed granite slabs, but very regular in size and shape. To the west is a large open area enclosed by rough walls and without any buildings which is described as the western kraal; these walls are built quite roughly and were probably built later than the platform area.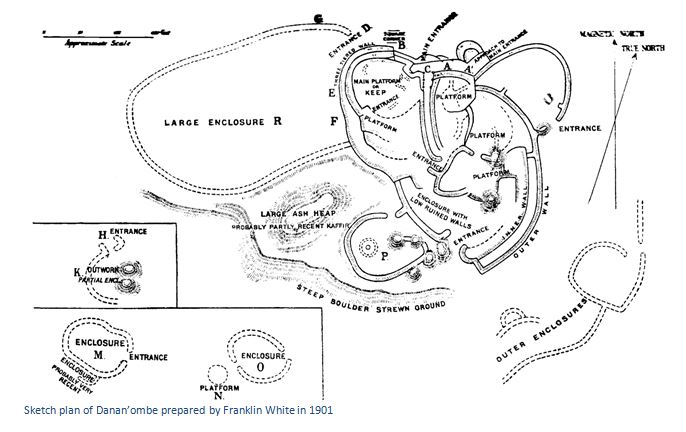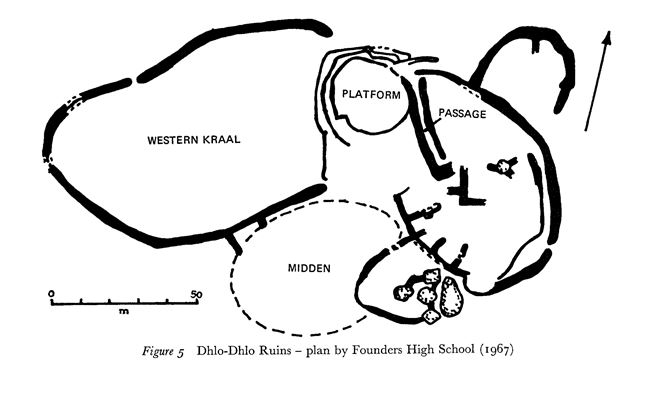 Drawn on the plan above to the south-west are a group of upstanding granite boulders which have been called the " high place" and resemble similar settings at Great Zimbabwe's Acropolis and Mutoko ruins. Sheltered under one of the boulders can be seen faint San rock paintings of a man and an ostrich which predate the ruins, but somehow managed to survive.
To the north is another small ruin, both the walling and dhaka fill has been left broken and scattered, because this is where most of the gold was found in a number of rich burial sites.
Background
In the earliest days of the occupation of Zimbabwe Danangombe was plundered by treasure-seekers, the greediest being the American prospectors, Frank Burnham and Pearl Ingram, whose 1894 finds are described below. Another 140 ounces were found the following year by the Ancient Ruins Company, as well as the religious relics of a Portuguese mission found on the low granite platform near the main ruin. They included portions of a bronze bowl, bronze oil lamps, a bell, and a priest's private seal, three feet of gold chain and pieces of silver plate, as well as two cannon. Hans Sauer in his book Ex Africa describes how he alerted Rhodes to the damage the Ancient Ruins Company was causing to the buildings at Danangombe and within forty-eight hours their activities had been brought to a halt and soon afterwards the company had collapsed.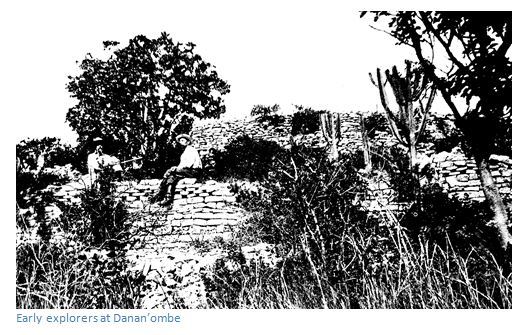 In 1905 Dr Randall-MacIver was appointed as the first trained archaeologist to Zimbabwe and in a short time he excavated at Nyanga, Danangombe, Nalatale, Khame and finally at Great Zimbabwe. He described the ruins at Danangombe as a fortified town with defensive walls rising in tiers and as having a citadel on its exposed northern and north-eastern sides.
Miss Caton-Thompson did a further excavation in 1929 and did not agree that it was a fortified town: "one can imagine nothing more helpful to enemies swarming over the girdle wall than the excellent footholds provided by the chequer pattern" she noted. Her excavation finds include five Dutch gin bottles made of translucent green glass, a blue and white Ming bowl, a brass candlestick of Arab design, many trade beads and local pottery.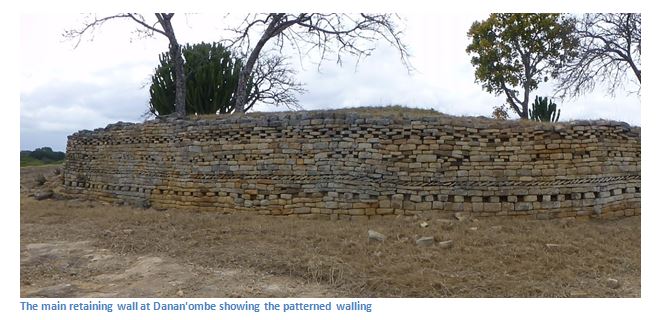 Rowland Fothergill did not think the relics found were evidence of actual Portuguese occupation at Danangombe Ruins and Peter Garlake excavated the nearest Portuguese fiera at Maramuca near Chegutu, so it appears from the archaeological evidence that there was no permanent trading site at Danangombe and these military and religious relics may have been given, or captured from the Portuguese.
The inhabitants
Danangombe's earliest inhabitants appear to have been the Torwa Dynasty until they were overthrown by the Rozvi Dynasty in 1693. The Rozvi Mambo's (i.e. paramount Chiefs) and their subordinate chiefs appear to have inhabited Khame, Danangombe, Bumbusi, Naletale, Zinjanja and Manyanga (formerly Ntaba zika Mambo) until the 1830's when they in turn were violently overrun by Nguni ethnic groups during the Mfecane. There are reports that the last reigning Rozvi Mambo was killed, some say skinned alive, at Manyanga ruins, some 70 kilometres to the northwest.
Following his excavations, Roger Summers dates the inhabited period of Danangombe from 1350 to 1825. However, archaeologically there is no clear distinction between the occupational layers of the Torwa and Rozvi and it is likely that that the Torwa were just absorbed within the Rozvi culture. Local oral traditions report that the ruins were still inhabited until the late1880's.
Objects found at Danangombe
Peter Garlake in his epic Great Zimbabwe relates that after Bent found crucibles with traces of gold at Zimbabwe all the ruins became increasingly associated with rumours of gold. In addition to the gold and Portuguese religious relics the most common finds at Danangombe were pottery bowls and pots found by Caton-Thompson, other finds made locally included carved bone objects (possibly amulets) iron objects and bronze-wire bangles fused to arms and legs of skeletons.
One of the cannons was a bronze breech-loader, the other an iron muzzle-loader, and both bore the Portuguese coat of arms, but as stated above they are not evidence of Portuguese military occupation of the fort. There are several records in the Portuguese chronicles of arms and ammunition being supplied to friendly Africans to aid them in their wars with hostile neighbours, and some records, also, of the capture of arms from the Portuguese.
Of the imported products, over 600 glass beads were found, sky-blue being the commonest colour. A blue and white Chinese Ming dynasty bowl (1368 – 1644) five Dutch square gin bottles manufactured about 1700 and some metal imported objects including an Islamic bronze candlestick, the Portuguese silver church regalia (now missing from the national Museum) and the two Portuguese iron cannon.
Acknowledgements
R.N. Hall and W.G. Neal. The Ancient Ruins of Rhodesia. Methuen and Co. 1902.
R. Summers. Ancient Ruins and vanished Civilisations of Southern Africa. T.V. Bulpin. 1971
R. Burrett and P. Hubbard. Khami, Capital of the Torwa State. Khami Press. 2013.
When to visit:
All year around Monday to Sunday 8:30am to 4:30pm
Fee:
An entrance fee is chargeable