Cyrene Mission
Why Visit?:
Cyrene Mission became famous for its localised art of Christian content which was developed first in the classrooms and then extended to decorate the chapel and schoolrooms so they became suitable to their function as a centre of worship in a rural African community.
Canon Edward Paterson from 1939 at Cyrene Mission and Father John Groeber from 1948 at Serima Mission were both spreading the message of Christianity and both had deliberately introduced art and craft into their African school curriculums.
Cyrene is an Anglican mission school with an artistic and historic outlook that is completely African; the thatched chapel has its interior and exterior walls covered with colourful murals painted by the students who have used Biblical stories as the source of their inspiration.
How to get here:
From Bulawayo take Main Street south. Distances are from the corner Main Street / Eighth Avenue. Main Street becomes the Plumtree Road (A7) 27.7 KM turn left for Cyrene Mission, 29.9 KM turn into Cyrene Mission.
GPS reference: 20⁰19′52.55″S 28⁰24′42.65″E
Website: http://cyrenemission.com
In 1939 Canon Edward Paterson, an Anglican priest born in Scotland but raised in Johannesburg, was given the task of developing a boys only mission school on a large area of farmland nearly thirty kilometres south west of Bulawayo which he named Cyrene, (sigh REE nee) after Simon, a citizen of the North African town of Cyrene, who was forced to carry Christ's cross.
Cyrene Mission had its beginnings in 1936, when John Banks donated two farms, including a large house, to the Anglican Diocese of Southern Rhodesia (now Zimbabwe) and under the direction of Bishop E.F. Paget, two projects were launched: St. Pancras Home, a rehabilitation centre for delinquent white boys and a skills-oriented primary school for black boys.
To supply a spiritual focus for these projects, a chapel was built in 1937. St Pancras Home was established first, but after Canon Edward (Ned) G Paterson's arrival in 1939, the St Pancras Home was closed and emphasis put on developing the school which opened in January 1940. As there was then no restriction on the age at which a boy might start, or complete his primary education, many of the students were young African men in their teens and twenties.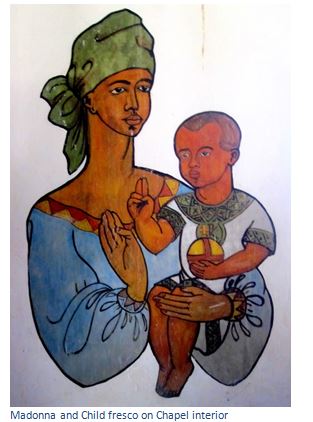 Both Paterson and Groeber hoped to avoid any influence from imported and western-style paintings and carvings which might have been placed in mission churches as existing Christian art. Paterson's technique was to provide art materials, tell bible stories and history and then demand that the African boys draw and paint their interpretation within their familiar culture. This resulted in the young artists drawing Christ being carried upon his mother's back, biblical scenes being painted amongst scenes of maize fields and the granite kopjes of the Matopos and biblical characters working with the hoes and tools used to practice subsistence agriculture by a rural people.
Paterson's own enthusiasm for arts and crafts was caught by many of the students and first one, then another and another, was given the privilege of painting his interpretation of biblical scenes on the chapel walls. So was born what some have called the Cyrene tradition in art – an art which grows out of the life and culture of those who produce it.
Patterson played a key role in educating many Zimbabwean black artists in the arts who later gained international fame. During the 1940's and '50s Cyrene students produced an abundance of paintings and carvings that brought them world renown. Their work was exhibited in London and South Africa, and royal visitors to the then Southern Rhodesia included Cyrene on their itineraries.The Queen visited Cyrene Mission in 1947 and the 'School' had a major exhibition in London in 1949.
Thanks to Paterson urging the boys to "fill the page" a collective painting style of rich, decorative patterning began to emerge. The artists included John Balopi, Zebedee Chikowore, Stephen Katsande, Adomech Moyo, Richard Rashidi, James Rutuma, Kingsley Sambo, Livingstone Sango, Ranford Sililo and Samuel Songo.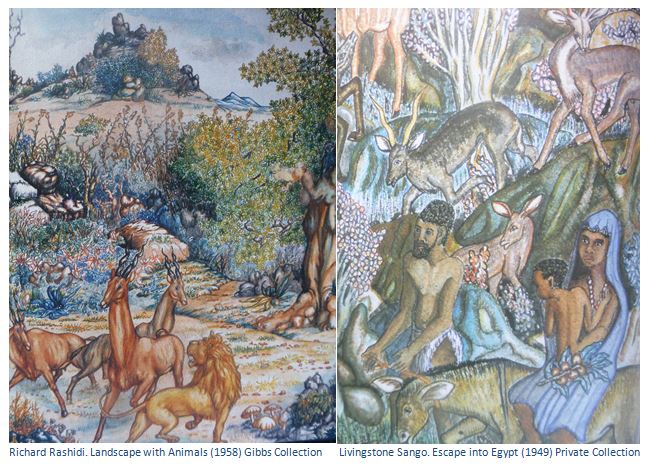 Canon Paterson left Cyrene in 1953 for Salisbury (now Harare) where he continued his art education activities (mostly at the Nyarutsetso Art Centre in Mbare) until his death in 1974. It did not, however, gain the acclaim or prestige of Cyrene and many of its best students opted for the better money to be gained from Shona sculpture.
Meanwhile, Cyrene developed into a Form 1-4 secondary school for boys, thanks mainly to a further twenty-two years of notable leadership supplied by Canon Robin A. Ewbank. Pressures of the Liberation War had caused the school to move to Bulawayo in 1978, but following Zimbabwe's independence in 1980, the school returned to its former site to begin a process of rebuilding and development led by Father Neil Pierce, Principal from 1982 to 2000.
Today Cyrene is a boarding school with some 500 Form 1-6 students from all over Zimbabwe. It has a high academic reputation, but the curriculum still stresses the importance of 'education with production', especially in agriculture.
The National Gallery in Harare has a good display of some of the block prints and linocuts made by pupils of Cyrene Mission under the watchful eye of Canon Edward Paterson who relied on encouragement rather than direction and tried to give the pupils free artistic expression so their talents developed naturally.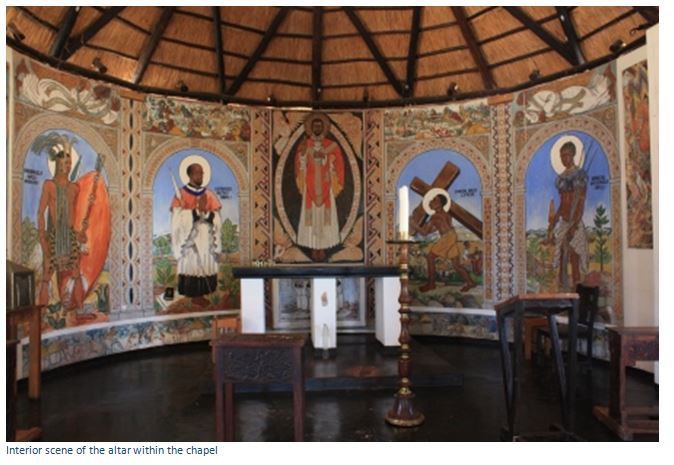 By the late 1940's the chapel glowed inside and out with murals painted by the boys which aimed to make the chapel more cheerful and appealing, but also to tell the bible's story to worshippers who could not read. remains as a living memorial of an earlier era. Its many murals mirror the artists' environment, with Matobo rocks and rural kraals in the background. They are unique, and were declared a National Monument in 1987. Visitors come from all over the world to view them, but it is much more than a monument as Mass is celebrated here daily, and during school holidays a small congregation meets each Sunday morning for worship.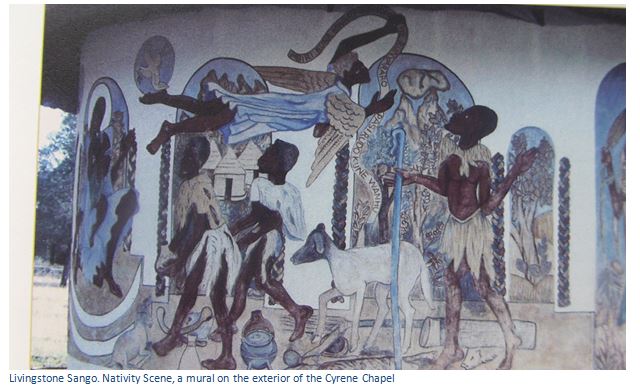 The chapel continues to play a central role in the life of Cyrene Mission, it is a place where God meets people and where people are given inspiration and direction to carry out their Christian mission.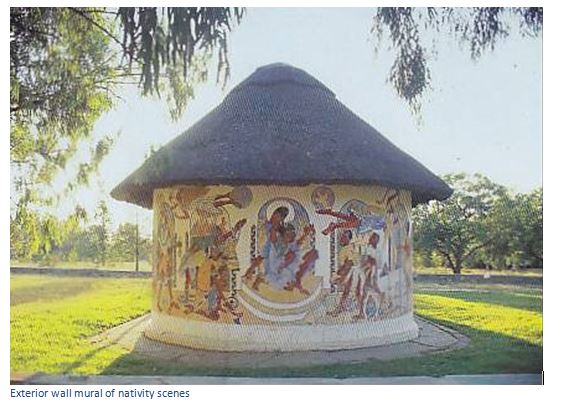 Acknowledgements
E. Randles. Chapter 5 Mission Art in Zimbabwe. Zimbabwe; Legacies of Stone Past and Present Volume II. Royal Museum for Central Africa Tervuren 1997
When to visit:
All year around Monday to Saturday 8:30am to 4:30pm
Fee:
Entrance free, but donations towards running the Church are welcome