Bambata Cave
Why Visit?:
This large cave has many paintings typical of Matabeland San hunter-gatherer rock art.
Important for its archaeological discoveries and excavations in 1918, 1938, 1929, 1939 and 1980 which have been well documented. The stratified Stone Age remains from Bambata Cave form a database against which other historical sites can be measured and compared.
An easy walk from the car park with marvellous views over the Matopos Hills.
How to get here:
From Bulawayo centre take Robert Mugabe Way in the city, this turns into Matopos Road which continues south 30 kilometres to the National Park boundary which continues as a single lane tarred road. Immediately after passing REPS School turn right at the fork towards Whovi Wild Area, 4.5 KM pass turnoff to World's View on left, 4.9 KM pass the old Railway Terminus on the right, 19.3 KM turn right off the tar onto a gravel road. 23.4 KM turn right at the intersection, 23.9 KM turn right, 24.9 KM reach car park. The Cave is reached after a thirty minute easy walk up the granite slopes.
GPS reference: 20⁰30′26.01″S 28⁰24′42.71″E
The great cave of Bambata, a major archaeological site and discovered by Neville Jones in 1917, has fine paintings including elephants, giraffes, warthogs, tsessebe and mongoose. Excavations in 1918, 1929, 1938 and 1939 revealed a great variety of implements and stone tools from the deep floor suggesting it has a long history of human occupation from the Middle Stone Age; a 1980 excavation of the upper layers revealed sheep bones and teeth and a distinctive form of pottery now called Bambata ware. The name is said to come from an occasion when the Matabele king Mzilikazi was obliged to climb down the hill on all fours, the name Bambata is the Zulu verb "ugubambata" meaning to caress, or stroke with the hands.
On the left are three faded elephant with a group of antelope in yellow and red, one of which is rarely shown from the front and not in profile. Underneath what may be a cheetah (see below) and numerous human figures, their heads protruding from small, tapered rectangles which have been interpreted as a large group of San hunter gatherers sleeping in their animal karosses.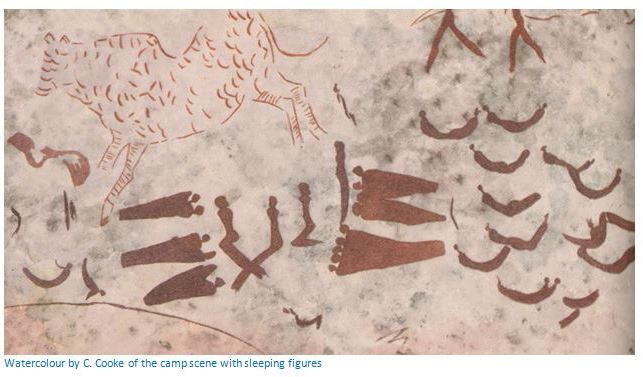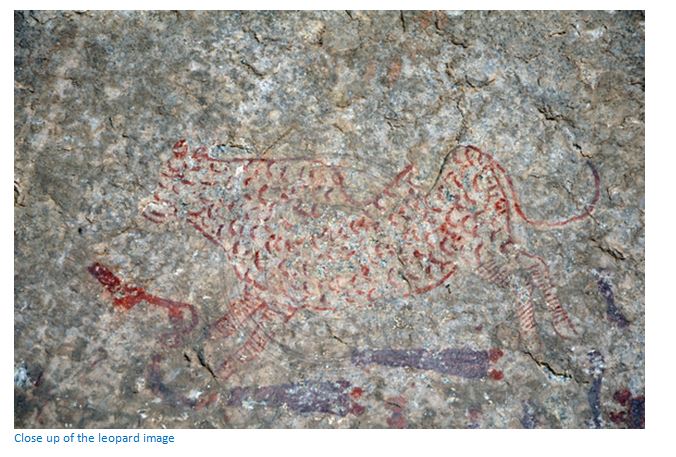 Dominating the frieze top right is a large ovoid with nine ochre cores with dark dots and lines and grey caps. An elongated human lies with one hand on his head and a leg bent back…the familiar posture of a trancer.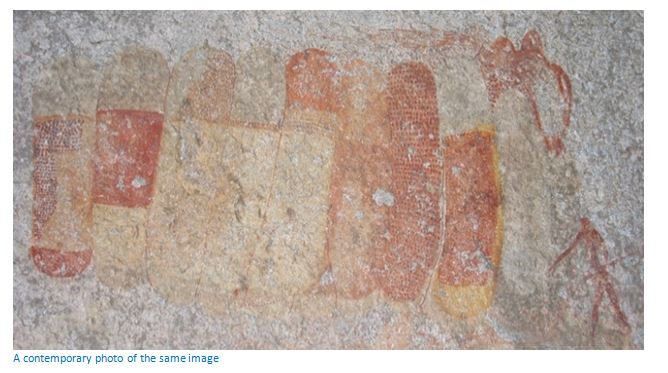 A line of twenty-five elongated hunters stretch to the right; above them a group of bushbuck are superimposed on a large ovoid; below them three females have bags and digging sticks. On the right lines lead from human figures which may represent n/um; this is activated in dancing and then overflows and escapes from the body of the trancer and is a theme often portrayed in Mashonaland rock art.
Far left are number of giraffe, zebra and a faded feline beside a large rhino and another reclining figure of a trancer and some shapes that resemble trees, but maybe humans with raised hands and outstretched fingers.
Acknowledgements
C.K. Cooke. A Guide to the Rock Art of Rhodesia. National Museums and Monuments of Rhodesia 1974.
E. Goodall, C.K. Cooke, J. Desmond Clark. Editor R. Summers. Prehistoric Rock Art of the Federation of Rhodesia and Nyasaland. National Publications Trust. 1959
When to visit:
All year around Monday to Sunday 6am to 6pm
Fee:
Entrance free once the National Park fee is paid