Zimbabwe on World Elephant Day 12 August 2021
Today we are reminded that conflict between people and wild animals is one of the main threats to the survival of some of the world's most iconic species. There are increasing calls for human-wildlife coexistence to be at the heart of the new international framework to help nature.
Human-wildlife conflict is a development and humanitarian issue as well as a conservation concern, with Zimbabweans people living near wildlife areas at risk of losing their lives, livestock and incomes due to wild species such as elephants.
The authors of an article in the African Elephant Journal called World Elephant Day 2021: The highs and lows[i] state what most of us already instinctively know - Africa continues to lose an exceptional number of elephants, mostly due to poaching for their tusks and human-induced habitat destruction.
Changes to Elephant species
The International Union for Conservation of Nature (IUCN) finally agreed to a distinction that many scientists and biologists have been proposing for years. They agreed that forest elephants (Loxodonta cyclotis) are genetically distinct from savanna elephants (Loxodonta africana) Local forest communities have known and recognised the differences for a long time as forest elephants are much smaller in size; bulls only reaching a maximum shoulder height of 2.5 metres compared to 4 metres for savanna bull elephant and their tusks are noticeably straighter and thinner to help them through the dense African rainforest.
This means they are separately listed on the IUCN Red Data. Whereas previously they were both listed as 'vulnerable' now the African forest elephant is classified as 'critically endangered' while the African savanna elephant is classified as 'endangered.'
Significant positive African successes
South African Environment Minister, Barbara Creecy has said the country would no longer push for the international sale of ivory at the Convention on International Trade in Endangered Species (CITES) as it had always done in the past. Although not yet law, this is a very big policy change.
Gabon has a new UNESCO World Heritage site in Vindo National Park which joins their lope Park listed in 2007. The listing came in response to Gabon's success in defending biodiversity and challenging climate change and recognition of its efforts to preserve its forest elephants in this central African country which is 90 percent covered by forest.
Chad in partnership with African Parks have been praised for their efforts in Zakouma National Park. Poaching has plummeted and wildlife is returning. Giraffe, buffalo and other species have experienced little to no poaching during the past 10 years, and only 24 known elephants have been killed since 2010, with none since January 2016. For the first time in decades, population numbers started increasing, and after years of trauma, elephants resumed breeding. In 2011, National Parks counted one calf under the age of five; in 2018, there were 127. The elephant population has now surpassed 559 individuals and is on the rise for the first time in a decade.
Kenya Wildlife Service announced it reduced elephant poaching by almost 90% over the past decade thanks to government action through better law enforcement and prosecution. Kenya also recorded a boom in baby elephants in Amboseli National Park.
The Mali Elephant Project, by working with local communities in protecting desert-adapted elephants is proving to be remarkably successful. There has been almost zero poaching and the government has approved a large extension to the Gourma Elephant Reserve. Mali's elephant population is only one of two populations of desert-adapted elephants (the other is in Namibia)
Mozambican President, Filipe Nyusi, announced that, for the third consecutive year, no elephants have been poached in the Niassa National Reserve in the far north of the country, or in the Gorongosa National Park in central Mozambique. Niassa had previously lost over half its 10,000-strong herd of elephants in the five years between 2008 and 2013 but government and NGO-aided efforts have turned the previously dire situation around.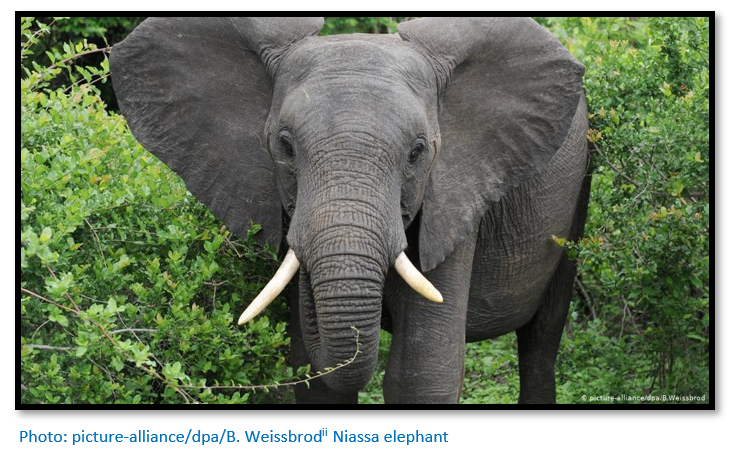 The UK has proposed legislation to ban the import of foreign hunting trophies from endangered animals, takes forward legislation "to ensure UK imports and exports of hunting trophies are not threatening the conservation status of species."[iii]
Significant negative impacts on Elephants
Japan still has a legal ivory market
Despite many countries banning the sale of ivory Japan still tolerates a large domestic ivory market – the only significant legal market remaining in the world. A recent study by GlobeScan Incorporated[iv] showed that 19% of Chinese travellers planned to circumvent the ban in their own country by buying in Japan. Until Japan shuts down its ivory market illegal smuggling of ivory will result in elephant poaching.[v]
The United States, Britain, the EU, Hong Kong, Singapore, Taiwan and even China have now banned the sale of all ivory products, except antiques. Kenya, Chad, Philippines and France have destroyed ivory stockpiles to ensure that no more ivory enters the marketplace illegally.
Migratory corridors and habitat loss
Another threat to elephants comes from the rapid loss of wildlife natural habitat. Their ancient migratory routes continue to be disrupted by human activities. In Kenya, an avocado agricultural consortium was prevented through lobbying from blocking an important elephant corridor in the Tsavo area.
Namibian live export of elephants
The Namibian Ministry of Environment, Forestry and Tourism (MEFT) in a response to human-wildlife conflict proposed selling 170 'high-value' free-roaming elephants from four commercial farming areas in the northern part of the country. Two of these areas are in the arid north-west of the country where the continent's second population of desert elephants exist and could be on the verge of collapse thanks to years of drought.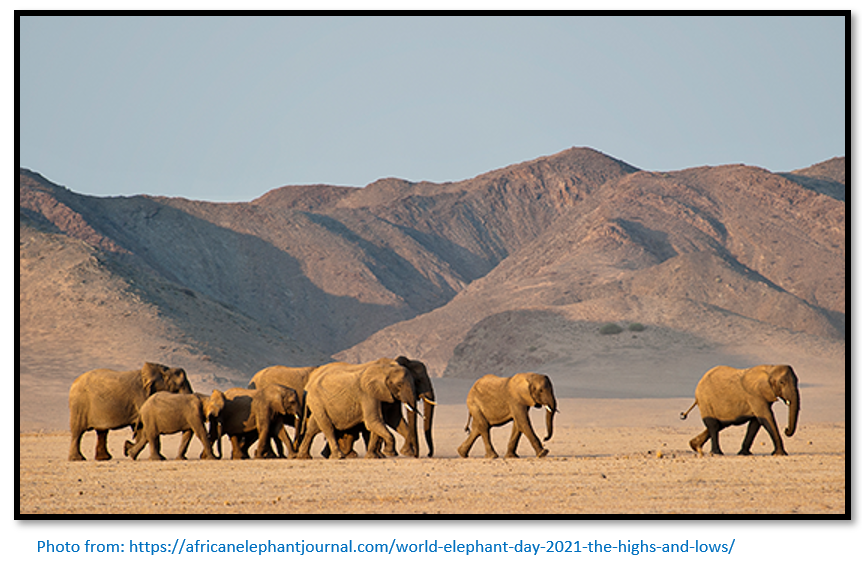 On 11 August 2021 a day before World Elephant Day, the MEFT issued a press release stating that 'the Ministry has successfully sold 57 of the 170 elephants' while '42 will be exported out of Namibia'. If the elephants are indeed captured from this region, the world will likely see off the last of Namibia's famed desert elephants.
Zimbabwe
ZimParks spokesperson Mr Tinashe Farawo has been often quoted as saying that the country's game reserves have breached their carrying capacity and can no longer accommodate all the elephants, hence the escalation of human-wildlife conflicts. He states their carrying capacity is 50 000 elephants but that they currently carry over 85,000. This is a great achievement and feather in the cap for Zimbabwe as it represents the world's second-largest population after neighbouring Botswana. But unfortunately ZimParks is considering the mass killing of elephants, known as culling, for the first time since 1988.[vi]
While world elephant numbers have fallen in total over the last few decades, Southern African nations, including Zimbabwe, have seen their populations increasing. Zimbabwe killed more than 50,000 elephants between 1965 and 1988, Uganda, Zambia and South Africa have also culled elephants in the past. Culling was halted after protests from environmental activists, but in recent years Botswana and Zimbabwe have asserted the right to manage their elephant numbers as they see fit. However there are other methods of population control include contraception and translocation.
The Zimbabwe government states the large number of animals is leading to destruction of habitat needed by other species and an increasing number of dangerous human-elephant interactions.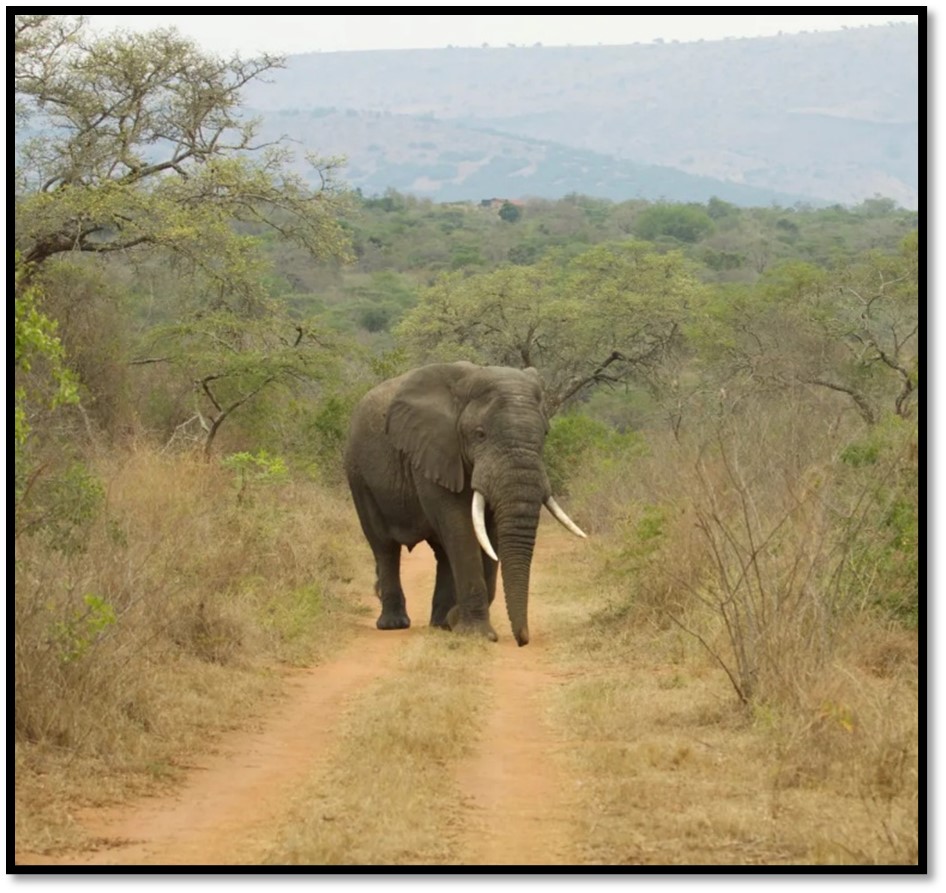 Trophy hunting rears its ugly head again
In April 2021 Zimbabwe Parks and Wildlife Management Authority (ZimParks) said it was putting up over 500 elephants for trophy hunting to fund its operations, raising international condemnation from animal rights groups including CNRG.
The Centre for Natural Resource Governance (CNRG) has called on authorities to be transparent, democratic and accountable with decision making processes that affect Zimbabwe's natural resources and the country's standing in the international community.
The lobby group has advised the government to seek the support of international conservation organisations in finding additional resources to improve conservation.[vii]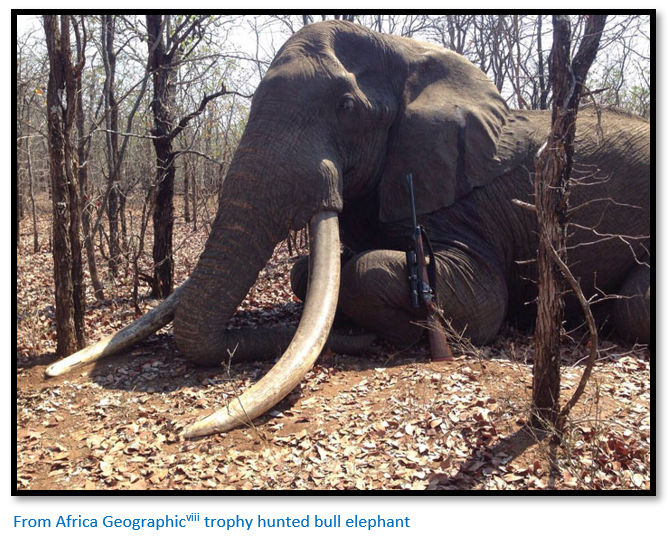 The CNRG's statement read: "The Government of Zimbabwe has been placing 500 elephants under a hunting quota for the past 30 years. This translates to about 15,000 elephants being killed by government licensed animal killers since 1991. Poaching has continued unabated despite trophy hunting under the guise of funding conservation.
As CNRG, we believe that animals do not need to pay with their lives to ensure that their species are protected. It is the responsibility of the government to avail funds for the protection and conservation of biodiversity. Trophy hunting is an unethical practice that agitates elephants and other animals; and also leads to increased incidences of human wildlife conflict. Whilst elephants are generally peaceful animals, they retaliate if a member of their family is attacked, killed or injured.
Elephants live as herds, and they defend and protect each other like any other animal species that live as families. Killing one elephant has serious repercussions and can cause huge emotional distress to the entire herd. Whilst trophy hunters, armed with guns, are well-trained and also enjoy extra protection from rangers and evacuate after their temporary hunting escapades, it is the locals who bear the brunt of wildlife vengeance."
Conclusions
Both Rosie and Adam Cruise in their article on World Elephant Day conclude that despite the successes in elephant conservation it is not yet time for concerned citizens, conservationists, NGO's and national Governments to take their foot off the pedal when it comes to saving our precious elephants.
References
Rosie Awori and Adam Cruise. 12 August 2021 World Elephant Day 2021: The highs and lows. https://africanelephantjournal.com/world-elephant-day-2021-the-highs-and-lows/
Ray Ndlovu – Bloomberg via Aljazeera. May 2021. Zimbabwe mulls first mass elephant killing in decades. https://africanelephantjournal.com/zimbabwe-mulls-first-mass-elephant-ki...
Notes
---
Fee:
Entrance and accommodation fees charged