Wildlife hero from Zimbabwe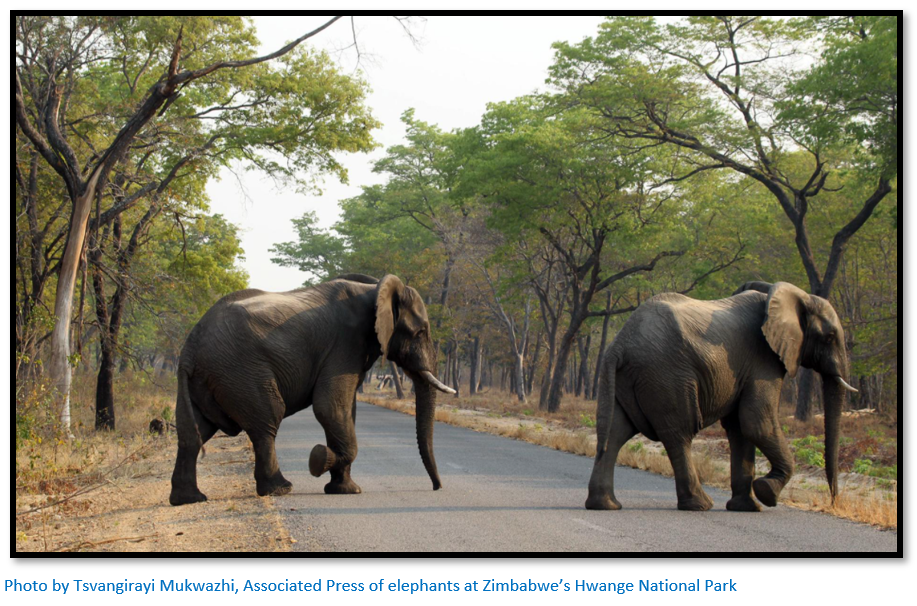 Zimbabwe's Amos Gwema won the 2020 Tusk Wildlife Ranger Award sponsored by the Nick Maughan Foundation for the sterling work he has carried out in Zimbabwe. Now in their eighth year Tusk Awards recognise the unstinting dedication that some representative individuals have made in their efforts to conserve wildlife and to show our appreciation for all their effort.
This is not the first time that Amos' hard work and skilful approach to his appointment as Principal Intelligence Officer of the Zimbabwe Parks and Wildlife Management Authority (ZimParks) has been recognised – in 2018 he was First Runner-up in a Special Award for Endangered Species Conservation from the Rhino Conservation Awards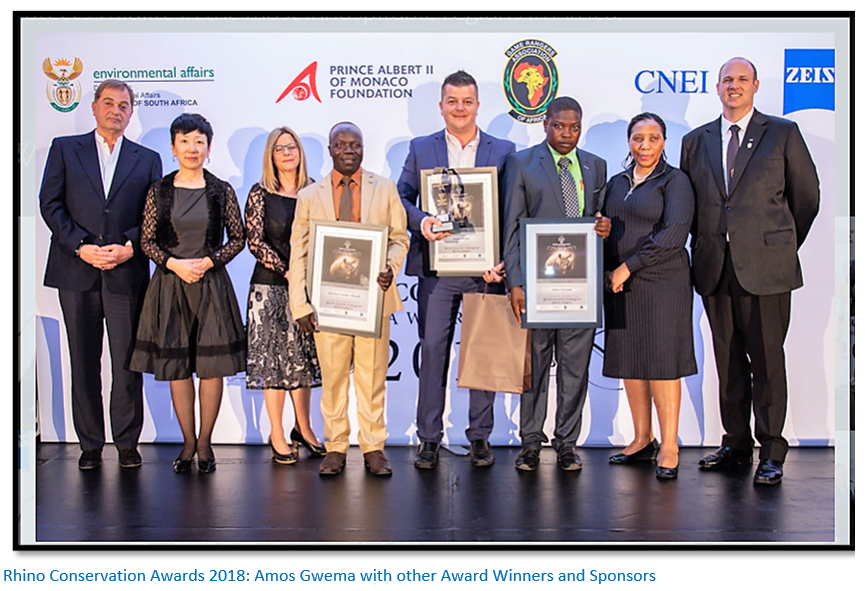 Locally at Hwange National Park even before that Amos had been recognised for his dedication and organisation in battling for the preservation of wildlife through tackling poaching within the National Park. Here below he is seen being presented with an award by the Bhejane Trust which operates and maintains a network of boreholes in collaboration with ZimParks, GroupElephant.com and the Conservation & Wildlife Fund. Replacing all the previous diesel-powered engines at Hwange's boreholes with solar and windmill powered units has massively reduced daily operating costs as previously Hwange needed at least 14,000 litres of diesel a month to pump the required supplies of water to the waterholes.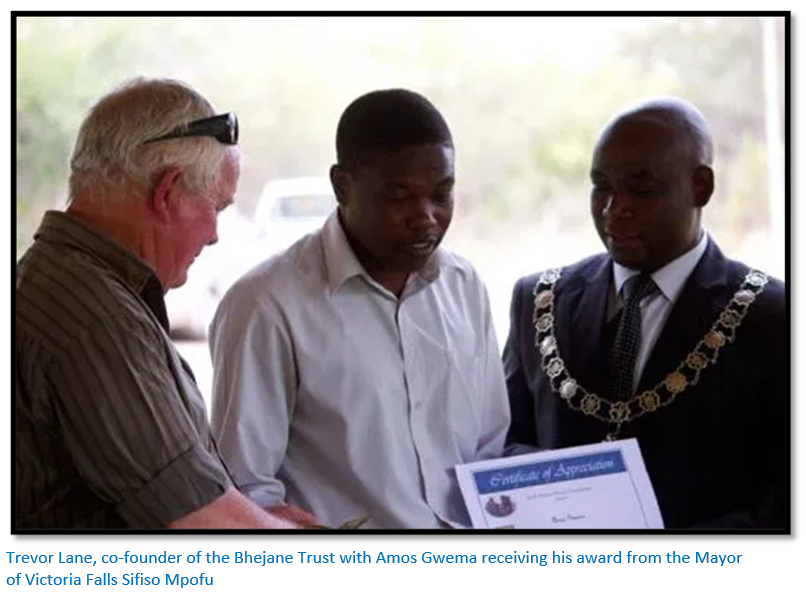 Amos Gwema's latest Tusk Wildlife Ranger Award was presented in a virtual awards ceremony by William, Duke of Cambridge who was joined by a host of famous faces including Dragons' Den judge Deborah Meaden, adventurer Bear Grylls and natural history presenter Liz Bonnin to celebrate the fantastic achievements of these award winners.
In reply Amos said: "I feel grateful that I have been able to come this far, that we have people out there in the world who are watching, that the little things we do come to be appreciated and that the efforts we are making are saving our wildlife and wild spaces."
"Yes Amos, we are watching and applauding your efforts!"
In an article[i] in The Daily Telegraph written by journalist Sarah Marshall which has been the inspiration for this article she wrote that although most of his surveillance work is done covertly from behind the scenes, Amos was preparing to take centre-stage with this year's Tusk Wildlife Ranger Award.
Amos Gwema's background
Amos was previously employed in the Criminal Investigation Department (CID) of the Zimbabwe Republic Police (ZRP) He went on secondment for training with Interpol and there began to specialize in the illegal wildlife trade which has become a growing problem across Africa for some years with demand from China and Vietnam for Africa's protected animals such as elephant ivory and rhino horn and pangolin. Pangolins are believed to be the world's most trafficked mammal, accounting for as much as 20% of all illegal wildlife trade and according to the International Union for Conservation of Nature (IUCN), more than a million pangolins were poached in the decade prior to 2014.
He applied for his position at ZimParks in 2008 and says he only realised after he was appointed to the position that he was probably the only candidate: " No-one wanted to be in Hwange, because it's too hot!"
His initial resources were extremely limited and when he initially arrived to "just an office with a telephone" everything was in disarray. Record keeping was in a poor state, poaching was high and there had been no recent convictions. It is a great testament to his training with CID and later with Interpol that he was able to make his first seizure of 40kg of ivory from Congolese refugees within a month of taking up his post. Without even a vehicle to assist him, he hailed a local taxi to make his first arrest.
More than 300 Elephants were poisoned between 2013-2014 in Hwange National Park alone
Elephant poaching has been significantly reduced from the period in 2013 when more than a hundred elephants were found dead in Hwange National Park after poachers poisoned water holes with cyanide.[ii] Their carcasses were found by game rangers stripped of their ivory which had been hidden within the surrounding communities preparatory to being smuggled to the ivory markets in Asia.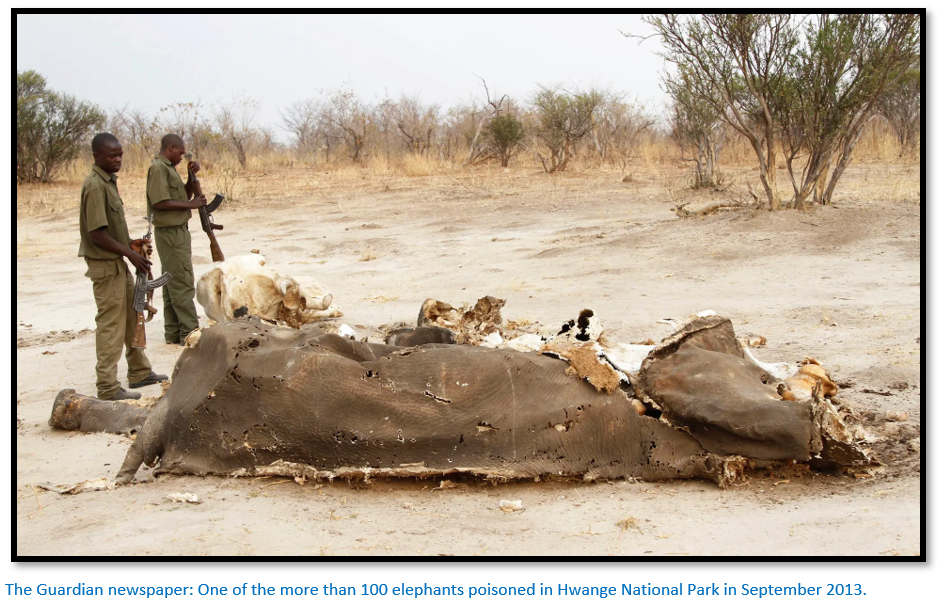 In early 2016 a director of How Gold Mine south of Bulawayo near Esigodini was arrested as being the kingpin behind the slaughter of elephants using cyanide which is used in extracting gold from its host rock in a process known as cyanide leaching. An anonymous source claimed that four tons of cyanide was sold to How Gold Mine, near Bulawayo, but he said, "To my surprise, my friends who were truck drivers told me some cyanide was transported to Hwange." The only mining done in the Hwange area is for coal which doesn't use cyanide.[iii]
Rifle shots alert game rangers to the presence of poachers so cyanide poison is favoured because it kills game silently, the problem being that not only the target animals like elephants are killed, but also any other animals including predators such as lions, hyenas, painted wolves and vultures that feed off the carcasses.
Initially ZimParks responded to the problem with force giving game rangers a clear shoot-to-kill policy for any poachers they encountered within a National Park. Poachers themselves captured were sentenced to a mandatory minimum jail sentence of nine years if they are found with ivory or poison.
The problem in Zimbabwe is the widespread poverty that has resulted from a ZANU-PF government determined to hold onto power for the past forty years; this has made impoverished villagers living in communities around the National Parks so poor that the high prices paid for elephant ivory and rhino tusks seem to outweigh the risks when they consider their poor livelihoods.
Elephants to pangolins are being saved from poachers
Demand from Asia and China in particular has been fuelling the illegal trade and poaching to its worst in two decades putting many endangered species at risk. The work of dedicated rangers like Amos and his colleagues at ZimParks has resulted in the convictions of a large number of poachers during the past five years and a great reduction in the amount of elephant poaching in Hwange National Park in Zimbabwe.
The citation to the award said Amos has been: "instrumental in drastically reducing the poaching of elephants and rhinos through his pro-active approach to combating wildlife crime in Zimbabwe. Amos' contribution has led to a very high conviction rate in his area of operation where his successes have been tangible. He has also worked on numerous cases combating poaching of pangolin. Facilitated workshops between wildlife law enforcement and the judiciary have led to valuable improvements on docket compilations and evidence presentation. He remains a formidable force for the protection of Zimbabwe's endangered species."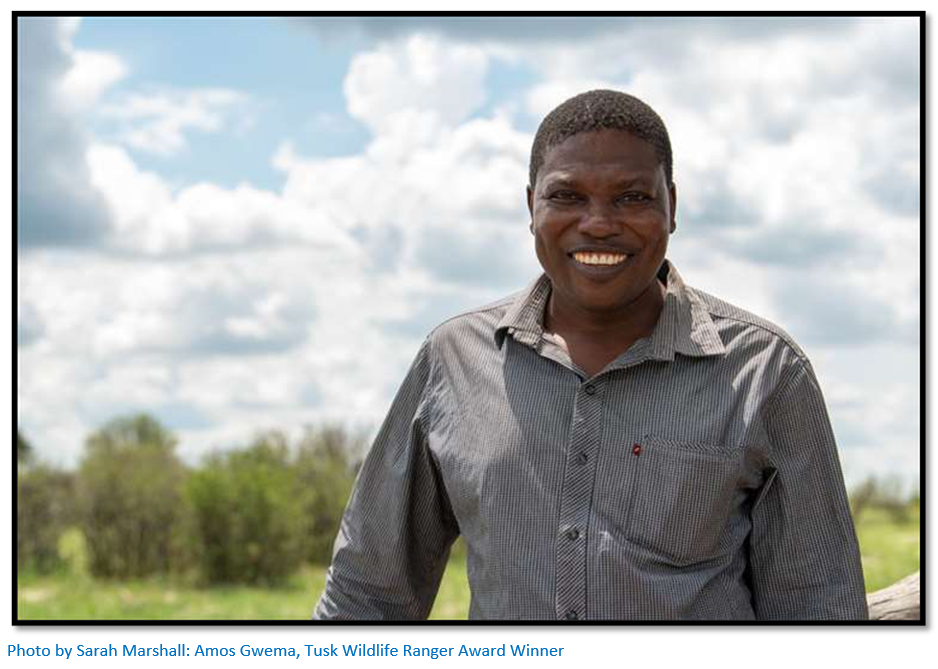 What is the secret of Amos' success?
Personal integrity in everyday life
Amos is credited by his colleagues for his honesty, dedication and fearless apprehension of criminals. Zimbabwe society needs to treasure such individuals. Instead the poor economic policies and poor leadership of Zimbabwe's politicians leads people to believe that corruption and nepotism pay dividends. For an example, read the article Rushwaya gold-smuggling case exposes a microcosm of the corruption that exists in Zimbabwe today under Midlands Province on the website www.zimfieldguide.com
The support of ZimParks management and his colleagues is vital
Hwange covers a vast area of 14,561 square kilometres, equivalent to half the landmass of Belgium, with only 150 game rangers available to patrol the entire area. The challenges are big and Amos says: "This work is not for the faint-hearted…It's been a sacrifice to reach where we are." Combating poachers but also working with large wild animals brings it's difficulties. This website has written about the dangers faced by game rangers before…see the article Zimbabwe's game rangers on the front-line of the fight against the illegal wildlife trade and poaching under Mashonaland West on the website www.zimfieldguide.com
Game rangers face dangers daily and it is to the great credit of ZimParks training and the game rangers' own courage and experience that fatalities have been low.
Law enforcement needs to be joined up.
Although his remit covers the entire country, Amos concentrates efforts on Hwange and its community boundaries, where poaching incidents have been worse. Amos has brought his CID experience in combating crime. "To be frank and honest, we've kept poaching down. For this year, not even one elephant has been shot in Hwange National Park" he says.
Once possible criminals are identified, Amos sends out his team of plain clothes investigator officers – men and women cherry picked from ZimParks' team of rangers and using WhatsApp, he directs sting operations remotely. At the core of his success is a valuable network of informants recruited locally. One of his first tasks was to obtain local police records naming poachers who had recently been arrested and convicted. "I followed these people to try and rehabilitate them with conservation science" he says.[iv]
Now he regularly receives information and rewards individuals with payments if a successful arrest is made. He plans to use part of his £30,000 Tusk award to establish a rehabilitation programme for poachers released from prison. He makes a good point: "We are helping pangolins to recover, but what about people?...Rehabilitation should be both to the human beings and to the animals if we want to succeed."
Collaboration with other organisations involved in wildlife is essential
Pangolins are historically revered in Zimbabwe and finding one and releasing it safely means future success for the individual who does so. Working with charities such as the Tikki Hywood Foundation in Harare means that pangolins which have been captured from poachers can be given a safe home whilst they are being rehabilitated and then returned to the wild, often in Hwange National Park where they can breed and flourish in protected safety. Read the article Saving the Pangolin from the wildlife trade where they are being increasingly trafficked under Harare Province on the website www.zimfieldguide.com
Understanding local communities around Zimbabwe's National Parks
For too long local communities that live around the country's national parks have failed to see their relevance and importance to their own lives. Increasingly organisations such as ZimParks and individuals within those organisations including enlightened regional managers understand that local communities are educated on the importance of wildlife and how they too can benefit and prosper from tourism. Unfortunately Zimbabwe's negative image on the world tourist map is not allowing the tourist sector to flourish to the full extent that its wonderful wildlife and unique potential deserves.
So much more can be done using an intelligent and thought-out approach to wildlife management. Amos Gwema has not suddenly been given loads of new resources – far from it – his teams use old mobile phones to communicate via WhatsApp and the only vehicle permanently available to him for arrests is his own private car.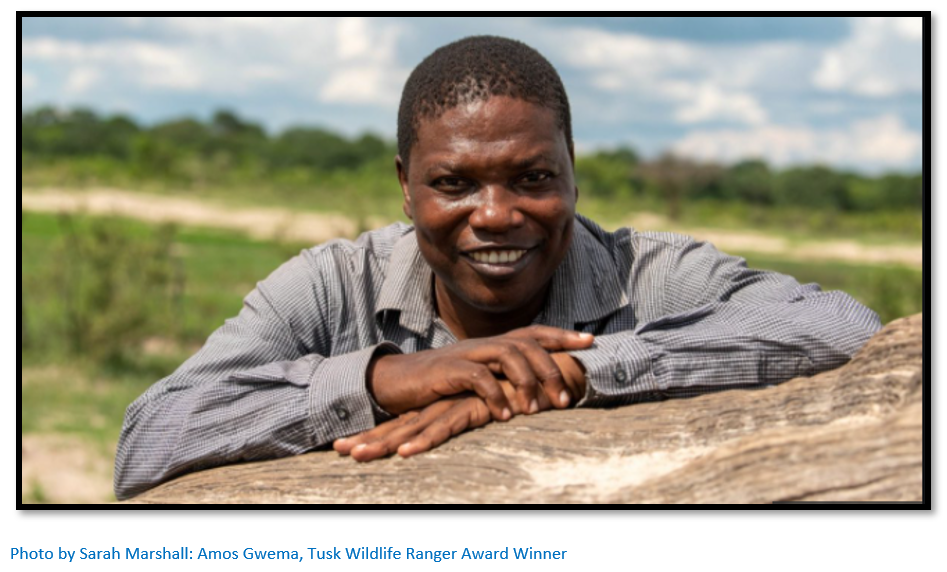 Wildlife Conservation
The term encompasses animals but includes all aspects of the natural world, including fauna, flora, rivers and trees. ZimParks historically has enjoyed a world-renowned reputation for the standard of care of its National Parks and the dedication shown by its game rangers.
However in recent years the economic malaise brought about by poor governmental policies and poor leadership under the previous Presidency of Robert Mugabe and his wife Grace led to a scarcity of resources – game rangers went unpaid for months – plus corrupt leadership at the very top of ZimParks resulted in poor morale throughout the organisation.
This resulted in a wildlife surveillance vacuum that poachers and illicit networks were quick to exploit and was encouraged by foreign kingpins from China and Vietnam, some under the protection of foreign embassies, who had the financial resources to buy poached elephant ivory and rhino horn, animal skins and bones. In the hard times for many local people poaching for meat became almost a necessity. Even local curio carvers often had to resort to poaching to survive.
There were a number of scandals around commercial hunting where local hunters "bent the rules" and either enticed wildlife out of National Parks or exceeded their hunting licence quotas in order to attract foreign clients.
Thanks to dedicated staff at ZimParks and wildlife charities in Zimbabwe and overseas the outlook for wildlife in Zimbabwe has improved with growing awareness of the encroachment of human settlements on wildlife areas and the declining numbers of many endangered species. Some of the organisations that are playing a critical role in Zimbabwe's wildlife conservation are listed below.
Animal and Wildlife Area Research and Rehabilitation (AWARE)
Bhejane Trust
Friends of Hwange Trust
International Anti-Poaching Foundation (IAPF)
Lowveld Wild Dog Project
Mahenye Charitable Trust
Matobo Rhino Project
Painted Wolf Foundation
The Zambesi Elephant Fund
The Zambesi Society
Zimbabwe Parks and Wildlife Management Authority (ZimParks)
Tikki Hywood Trust
Vets for Animal Welfare in Zimbabwe (VAWZ)
Vic Falls Anti-Poaching
Victoria Falls Wildlife Trust
References
https://bhejanetrustorg.wordpress.com/
Rhino Conservation Awards 2018: http://www.rhinoconservationawards.org/previous-winners/2018.html
The Daily Telegraph: Meet the conservation hero saving Zimbabwe's animals, both big and small by Sarah Marshall on 3 December 2020
The Guardian: Ten more elephants poisoned by poachers in Zimbabwe by Adam Cruise on 20 June 2017
National Geographic. Mining Director Busted for Elephant Poisonings by Adam Cruise on 27 February 2016
Notes
---
Fee:
Entrance and accommodation fees charged