UK Parliament postpones the trophy hunting ban yet again
Background to the current situation
Sources estimate that worldwide some 1.7 million trophies were legally traded between 2004 and 2014 with many from threatened species. It is estimated that 2,500 animal trophies were brought to the UK by British hunters.[i]
Last year the Secretary of State for Environment, Food and Rural Affairs, George Eustice, announced new legislation to outlaw the importing of hunting trophies from threatened species with new legislation in the spring of 2022. This would sit alongside the ivory ban legislation.[ii]
The new legislation would apply to imports of animal trophies including Africa's 'Big Five' – lions, leopards, rhinos, elephants and buffaloes. It will also cover more than 1,000 other species which are considered under threat, including zebra, hippos, wolves, wild cats, reindeer and polar bears.
Eustice talked up the ban saying their consultation had received 44,000 responses with 86% supporting further action with a ban. He said: "More animal species are now threatened with extinction than ever before and we are appalled at the thought of hunters bringing back trophies and placing more pressure on some of our most iconic and endangered animals. This would be one of the toughest bans in the world… meaning we will be leading the way in protecting endangered animals."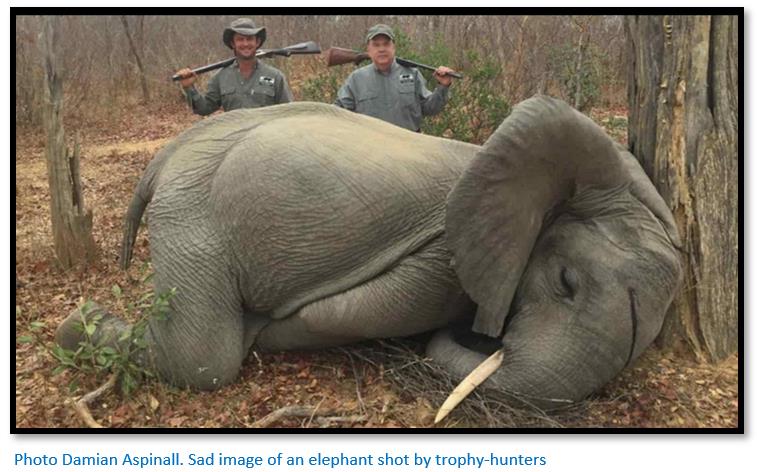 The trophy hunting import ban was a Tory manifesto commitment for this parliamentary session
George Eustice, the environment secretary, was quoted by the Guardian Newspaper on 22 March 2022 as saying the government was "absolutely committed to" bringing the bill forward. The government has said the bill has been delayed, claiming parliament does not have enough time this session to pass the law. Eustice said it would be a priority piece of legislation when the new session opens later in spring.
"While we won't be introducing the animals abroad bill in this session as we are out of time, we will be looking at a range of vehicles for legislation on these important issues in the next session," said Eustice.
Queen guitarist and animal welfare campaigner Brian May undoubtably echoed many people's misgivings when he said he was disappointed by the government weakening animal welfare legislation. He told the Guardian: "I am disappointed. I'm always disappointed when it comes to animal welfare bills. We need to look at our attitude when it comes to animals – there's so much talk by this government, they're always making grand promises, but there's so little action. Time and time again legislation which would protect animals is torpedoed. Or they take bits out and make it toothless and not fit for purpose."
Let's hope this is not just more empty, exaggerated talk and doesn't end up as a load of hot air
Eduardo Goncalves, founder of the Campaign to Ban Trophy Hunting, said: "Endangered animals are cruelly and needlessly killed every day. I urge the Government to bring the bill to Parliament as soon as possible and will be asking MP's and peers to get behind it."
MP's and conservationists are pressuring the government to fast-track a ban on imports from trophy-hunting of endangered species, fearing a backlog of legislation caused by Covid-19 could delay the move for years.[iii]
While the legislation is stalled, hunters continue to bring back their trophies.
The usual platitudes are being rolled out, but the truth is, no time has been allocated for legislation to go to MP's and the Department for Environment, Food and Rural Affairs is saying only that it will happen: "as soon as parliamentary time allows."
At the end of November 2020 the Prime Minister Boris Johnson said at 'Prime Minister's Questions' that the government would introduce legislation to ban trophies. Conservationists are saying that with all the political turmoil around his activities during lockdown, this important piece of legislation will become another less important issue.
Labour backbencher John Spellar said: "Jacob Rees-Mogg, leader of the house, has told MP's that legislation is likely to come forward 'in the fullness of time.' The 'fullness of time' is government-speak for 'This year, next year, sometime, never.' The public will be rightly outraged by dither and delay."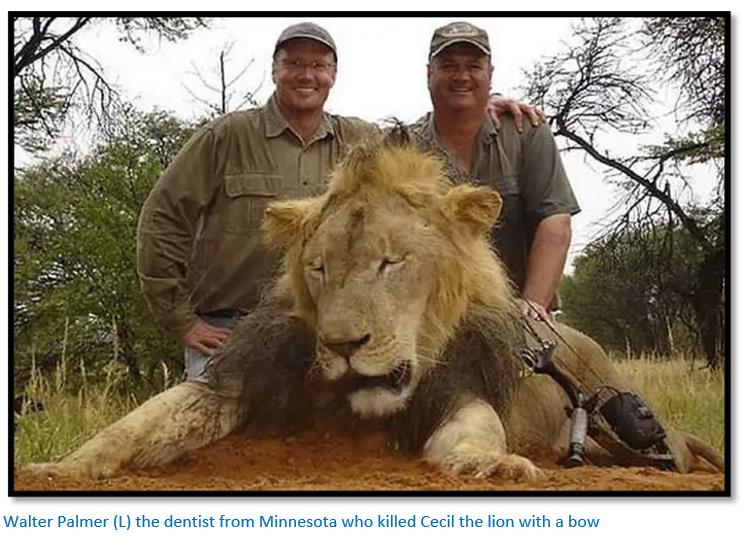 Pass the legislation another way?
Campaigners say to get this trophy ban done they would back a private member's bill. MP's from both Conservative and Labour parties have co-sponsored a bill by John Spellar and written to the prime minister asking the government to adopt it, sparing the government from having to find time in a crowded parliamentary schedule.
The letter to the prime minister said: "The government would rightly be given the credit for not only having shown leadership in putting this issue on the political map, but also ensuring that the ban became a reality and potentially saving the lives of a great many animals…
We invite the government to seize this historic opportunity and show its leadership in helping to bring this barbaric trade to a long-overdue end."
The question is: 'will the prime minister find time from all his mounting troubles to back the motion?"
Sir Roger Gale MP, chairman of the all-party parliamentary group on banning trophy hunting and patron of the Conservative Animal Welfare Foundation, said: "The promise to ban trophies was in our election manifesto and in those of all the main parties. The ban has been promised by the prime minister himself at the despatch box. Every week that goes by without this ban means more animals are needlessly and often cruelly killed just for entertainment."
Eduardo Goncalves added: "It has been two years since the ban was promised in the 2019 Queen's Speech. Another 300 animals at risk of extinction have been killed by British trophy-hunters since then. The government should be moving as swiftly as possible to stop this terrible trade. The government recently adopted Liam Fox MP's bill on providing lifelong care for people with Down's syndrome, to bring the law into effect. It should do the same with John Spellar's bill."[iv]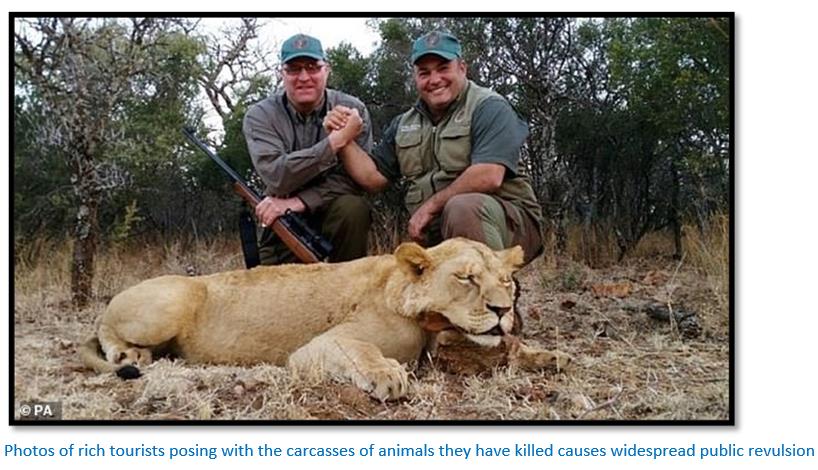 Why the ban on imports from trophy-hunting of endangered species needs to happen
Most ecologists believe that we are in the midst of the sixth mass extinction. Humanity's impact on nature, they say, is now comparable to the five previous catastrophic events over the past 600 million years, during which up to 95% of the planet's species disappeared.
The Millennium Ecosystem Assessment, which involved more than a thousand experts, estimated an extinction rate that was later calculated at up to 8,700 species a year, or 24 a day. More recently, scientists at the U.N. Convention on Biological Diversity concluded that: "Every day, up to 150 species are lost."[v]
Wildlife campaigners believe the legislation is a step in the right direction. Many of our wildlife species face extinction. United Nations scientists have identified human exploitation as a major driver of species loss.
Tanya Sanerib points to the United States as a major player in the wildlife market. More animal hunting trophies are imported into the United States than any other country in the world, according to the Congressional research Service. [vi]
She says it: "just makes sense to take killing of imperilled species for fun and decor off the table. And it sends the message that everyone — even the wealthy — needs to alter their relationship with wildlife and shift from possession to coexistence."
She writes: "When most people think of a hunting trophy, they imagine elephant heads and tusks, maned lion mounts and leopard skins. But U.S. trophy imports include everything from fish and birds to reptiles and lots of mammals. It can get bizarre: baboons stuffed with a hand held out to hold your keys, or 7-foot-tall giraffe neck-and-head mounts.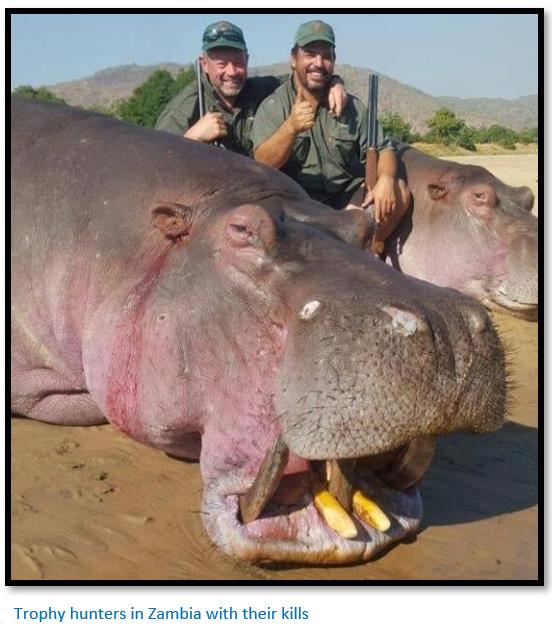 Some of these "trophy" species are listed under the U.S. Endangered Species Act. Roughly 640 foreign species are protected under the act (although many are not trophy hunted) While the Endangered Species Act does not stop U.S. citizens from killing these species in other countries, it generally prohibits imports of endangered species and allows for a prohibition on the import of trophies taken from threatened species.
Yet, trophy hunters still bring in the bodies, heads, tails, legs and skins of threatened and endangered species all the time. The U.S. Fish and Wildlife Service permits these imports under an exception limited to activities that "enhance the species' survival."
Doesn't killing an endangered or threatened species undeniably hurt its survival? Yes, but trophy hunters, in a Wizard of Oz manner, argue that the benefits of the fees they pay outweigh the imperilled animal's death lurking behind the monetary curtain."
As just one example, she says the United States permits an average of more than 200 leopards (a species protected as "threatened" under the act) to be imported as trophies every year.[vii]
And she makes the point that during his presidential campaign, Biden stated that he opposed allowing trophy hunters to import their kills into the United States. But the Biden administration has done nothing to rein in U.S. trophy imports.
In fact, she states, it's done the opposite! "In August, the Biden administration struck a deal with trophy hunters in which it agreed to restart processing for permits to import trophies taken from elephants — a threatened species. Ironically, the settlement stemmed from trophy hunters' allegations that the Trump administration had put a hold on elephant trophy imports after a 2017 Trump tweet calling trophy hunting a "horror show."
UK citizens who go on trophy hunting trips
Many 'wannabee' hunters travel with British trophy-hunting companies that promote 'holidays' taking travellers abroad to shoot lions bred in captivity, elephants, cheetahs and monkeys. There is an article on 'canned hunting' on this website called Canned Lion hunting and the horrible trade to the Far East in wild animal parts under Matabeleland North province.
Data from the Convention on International Trade in Endangered Species shows that British hunters shoot on average 200 endangered animals a year.
Many conservationists claim that trophy hunting and poaching are essentially the same, except that trophy hunters pay thousands of dollars for the pleasure. However no sport is involved as all 'wannabee' hunters are taken by guides and guards to protect them. In contrast, most of the poachers are from the local communities and are hunting because they're far from rich and need the money. But the result is exactly the same—literally thousands of animals, especially endangered species, are killed by them.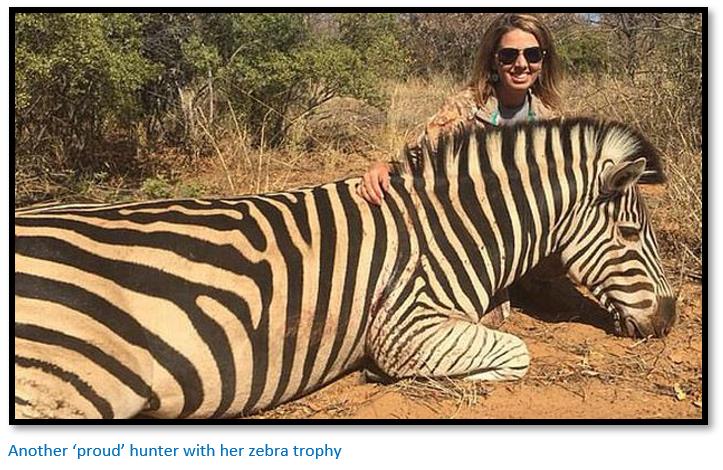 Americans dominate the trophy hunting business
An article in the Mail on Sunday in December 2020 by Michael Powell entitled Trophy hunters killed one animal every three minutes over the last decade, is based on a book by Eduardo Goncalves called Trophy Leaks: Top Hunters and Industry Secrets.
The author claims the U.S. trophy hunting industry is worth $300 million-a-year and reveals:
Almost 800 hunters have won the 'African Big 5' prize, an industry award for killing one of each species of lion, elephant, leopard, a black or white rhino, and buffalo.
Hunting lobbyists Safari Club International (SCI) awards a special prize to anyone who shoots more than 80 different African species
Game-hunting enthusiasts funded a £600,000 'dark arts' disinformation campaign on Facebook and Twitter using fake accounts purporting to be Africans opposed to Boris Johnson's pledge to ban trophy imports from coming to Britain. They also reportedly handed more than £1.5 million in campaign donations to US politicians, including Donald Trump.
He reveals that Cyril Ramaphosa, the South African president, is a member of a group called Stud Game Breeders, which makes about £7 million from wildlife auctions of trophy animals each year.
Mr Goncalves said: "Future generations will look back aghast at how we allowed the world's most endangered species to be gunned down in their droves by adrenaline junkies in pursuit of grinning selfies and gruesome souvenirs. Trophy-hunting isn't about a handful of sick individuals – it is about a huge global industry which wields extraordinary power and manipulates governments."
Safari industry claims that income from trophy-hunting pays for conservation efforts and goes towards local community projects, such as campfire, are a load of baloney, the funds get swallowed up by the area council or local 'big man' and very little filters down into community projects.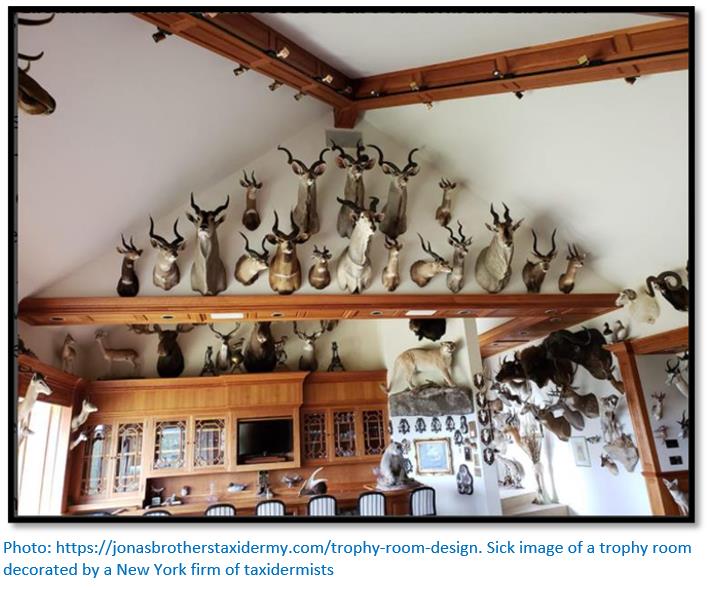 References
Elliot Mulligan. 10 Dec 2021. Hunters will be barred from bringing home their sick trophies in one of world's toughest bans to protect thousands of threatened species. Daily Mail. https://www.dailymail.co.uk/news/article-10294611/Hunters-barred-bringing-home-sick-trophies-one-worlds-toughest-bans.html
Jane Dalton. 13 Dec 2021. Fears new ban on trophy-hunt imports could be delayed for years. The Independent. https://www.independent.co.uk/news/uk/home-news/trophy-hunt-imports-law-lion-bear-b1973216.html
Tanya Sanerib (legal director of the Centre for Biological Diversity's International program) 17 Dec 2021. Biden bested by Boris on trophy hunting. The Hill. https://thehill.com/opinion/international/586164-biden-bested-by-boris-on-trophy-hunting
Fred Pearce. 17 Aug 2015. Global Extinction Rates: Why Do Estimates Vary So Wildly? Yale Environment 360. https://e360.yale.edu/features/global_extinction_rates_why_do_estimates_...
Michael Powell. 27 Dec 2020. Trophy hunters killed one animal every three minutes over the last decade, damning study reveals, with creatures gunned down from helicopters. Mail on Sunday. https://www.dailymail.co.uk/news/article-9089835/Trophy-hunters-killed-one-animal-three-minutes-decade-damning-study-reveals.html
www.theguardian.com/uk-news/2022/mar/22/uk-trophy-hunting-import-ban-to-...
Notes
---
Fee:
Entrance, accommodation and guiding fees charged