A letter written by Frederick Courteney Selous to his mother on 25 December 1878 from Inyati Mission
What set Selous apart from the other sporting pioneers of Zambesia in the 187-80's were his keen powers of observation, his wide-ranging interests and abilities and most significantly, his ability to describe his adventures in a mesmerising way both verbally and in print and this ability is apparent in the 1878 letter below.
Introduction
The letter reproduced below from Fred Selous is a combined Birthday / Christmas letter to his mother Ann after a previous letter from Tati written at the end of August and prior to his going on a hunting trip to Mashonaland. The hunting was poor in the 1878 winter as the elephants had moved from the highveld into the Zambesi Valley and lowveld and Selous and his companions on horseback could not enter with the tsetse-fly. This brought great hardship to hunters and traders as elephant ivory until then had been the most profitable commodity in Zambesia. He writes: "every European in it is ruined."
He describes the death of George Wood's head native hunter…an account that must have alarmed his mother and reminded her of the great dangers associated with elephant hunting. It appears that Selous is somewhat estranged from his father, Frederick Lokes Slous (original spelling) who was Deputy Chairman of the Stock Exchange, 1853 and 1854, and Chairman 1864-65. Clearly the family was a close-knit and wealthy, as the three brothers and their families were living next door to each other at 42, Gloucester Road, Regents Park. His father had six children with three wives and his third child, with his third wife Ann (née Holgate) was Fred.
Perhaps his father would have preferred that his son pursue a more commercial career…his younger son, Edmund, also eschewed business and practised as a barrister only briefly before retiring to pursue a career as an important ornithologist and writer. Both sons gained reputations for rebelliousness and an independent spirit. The headmaster of Fred's first school at Bruce Castle in Tottenham wrote to the authorities at Rugby School, which he was about to enter, saying that his admission would be a grave mistake that was almost certain to lead to unfortunate consequences.
When his future housemaster, Mr Wilson at Rugby school, wrote back to ask what the misbehaviours were about, he was told, "He breaks every rule; he lets himself down out of a dormitory window to go birds' nesting; he is constantly complained of by neighbours for trespassing; he fastened up an assistant master in a cowshed into which he had chased the young villain early one morning; somehow the youngster scrambled out, and fastened the door on the outside, so that the master missed morning school."
Fred's life almost came to an early end when he was involved in a disaster on the ice in Regent's Park, which took place on 15 January 1867. Around two hundred skaters were suddenly plunged into the water, of whom forty died from drowning or hypothermia. Somehow fifteen year old Fred managed to scramble to the shore.
In the letter Fred promises to write to his father once he is at Klerksdorp and reassures his mother that his letter to her and 'Jolly' (this appears to be a nickname perhaps of a relative?) also include his father: "for a letter to you or Jolly is as good as one to himself."
The letter itself is extremely fluent and written with hardly any corrections – a great testament to his character and clearsighted thinking.
Inyati Christmas Day
Amandebele Country Dec 25th
South Africa 1878[i]
My dear Mother
Yesterday was Christmas Eve and your birthday. I did not forget you and wished you many, many happy returns of the day, also a merry Christmas and a Happy New Year. We reached here five days ago after an absence of four months, during which I have been hunting elephants in the Mashuna country.[ii] My companions, Messrs Clarkson,[iii] Cross[iv] and Wood[v] within the hunting veldt two months before I got there and joined them for, as I think I told you in my last letter, I was ill when I returned here in May last from my trip on the other side of the Zambesi and unable to go in with them. When I joined them in the middle of September last on the further side of the river Umfuli they had done very well having come across several fine troops of elephants outside the fly where they were able to use horses.
After I had joined them, we hunted north east up to the river Ganyana[vi] (Hunyani/Manyame) and during a fortnight shot 39 elephants. Since then, however, we have never seen another. They decamped from our part of the country.[vii] On the Sunday before I got to Umfuli an accident happened to Mr Woods head native, a man named Zuabih from the town of Ingnoichen. Mr Clarkson came across a troop of elephants and commence shooting them. While killing one, he heard another screaming terrifically and galloped in the direction but saw nothing. In the evenings Zuabih was missing but no one thought anything could have happened to him except that he had lost himself. On the second day, however, as he did not turn up, Clarkson bethought him of the continuous screaming he had heard and remembered to have seen a gigantic tuskless bull turn out by himself, whose spoor he resolved to follow the next morning. This he did and soon found the place where the elephant had chased a man; then he found Zuabih's gun and near it, the odds and ends of skin he had worn round his waist, and finally what remained of Zuabih himself.
The poor fellow had been torn in three pieces; his arm was also broken in two places and one of his hands crushed. The elephant must have held him down with his foot and then torn him asunder with his trunk. Of course he was dead. I myself had a narrow escape this year, which I would tell you of some time. However, I got off unhurt.
I only saw one lion this year, which I shot. I have now quite recovered my health and am well and strong again. Financially, this country (the Matabele) is in a terrible condition, in fact, every European in it is ruined. All over South Africa things I believe are bad, but here I think worse than anywhere else. In another month, there will scarcely be a white man left here, except the missionaries. I myself, am now about to start down country to Potchefstroom in the Transvaal to get provisions, ammunition, etc, for next year's hunt; I intend trying the country to the north of Lake Ngami.[viii] However, I am not at all certain what I shall do and may spend the winter with the Volunteers against the Zulus if the war is going on with them.
I have received two letters from you, one containing the cutting from the Field. Also another letter from Jolly, but I have not had a letter from my father for a long time past. You ask me if I was ill or in danger in November (1877) No, not that I know of; I was in perfect health up to the 12th of January (1878) and in no danger that I know of, so that to the best of my belief, your dream had no reasonable foundation in fact.
The American papers (about Texas) I received. I put no trust in them, however, as they are all compiled by land companies. I wrote you a gloomy letter from Tati; and enclosed some of my journal in the end of August too, I wrote to Jolly from Inyati and again enclosed some more of my diary. When I can get a little time quietly to myself, I will go on with it. I am very glad to read in all your letters that my father's health is good; in your last you say too that his eye, which has been troubling him, is getting better. You must not take it ill that I do not write to him, for a letter to you or Jolly is as good as one to himself. But when I get to Klerksdorp in the Transvaal, I will write to him, for I shall then know what I'm going to do, and how I stand in a pecuniary point of view. As I said before we are all of us nearly ruined in here. All those who did so well three or four years ago are now either sold up, or on the verge of bankruptcy. Now too, the importation of powder has been stopped and owing to war and drought in Natal and in the Colony, transport is fearfully dear. I read in the Transvaal papers that sugar has been fetching 5 shillings a pound in Pretoria. This is a poor letter to write to you after so long silence, but really except to reiterate hunting adventures and experiences, of which you must already have had too much, I have very, very little to tell you. However I am now well and strong again, but I do not see my way clear to making much money in any path of life that I am capable of following. And now with best love to my father and Jolly and all other brothers, sisters, relations and friends.
Believe me, your affectionate son, Fred.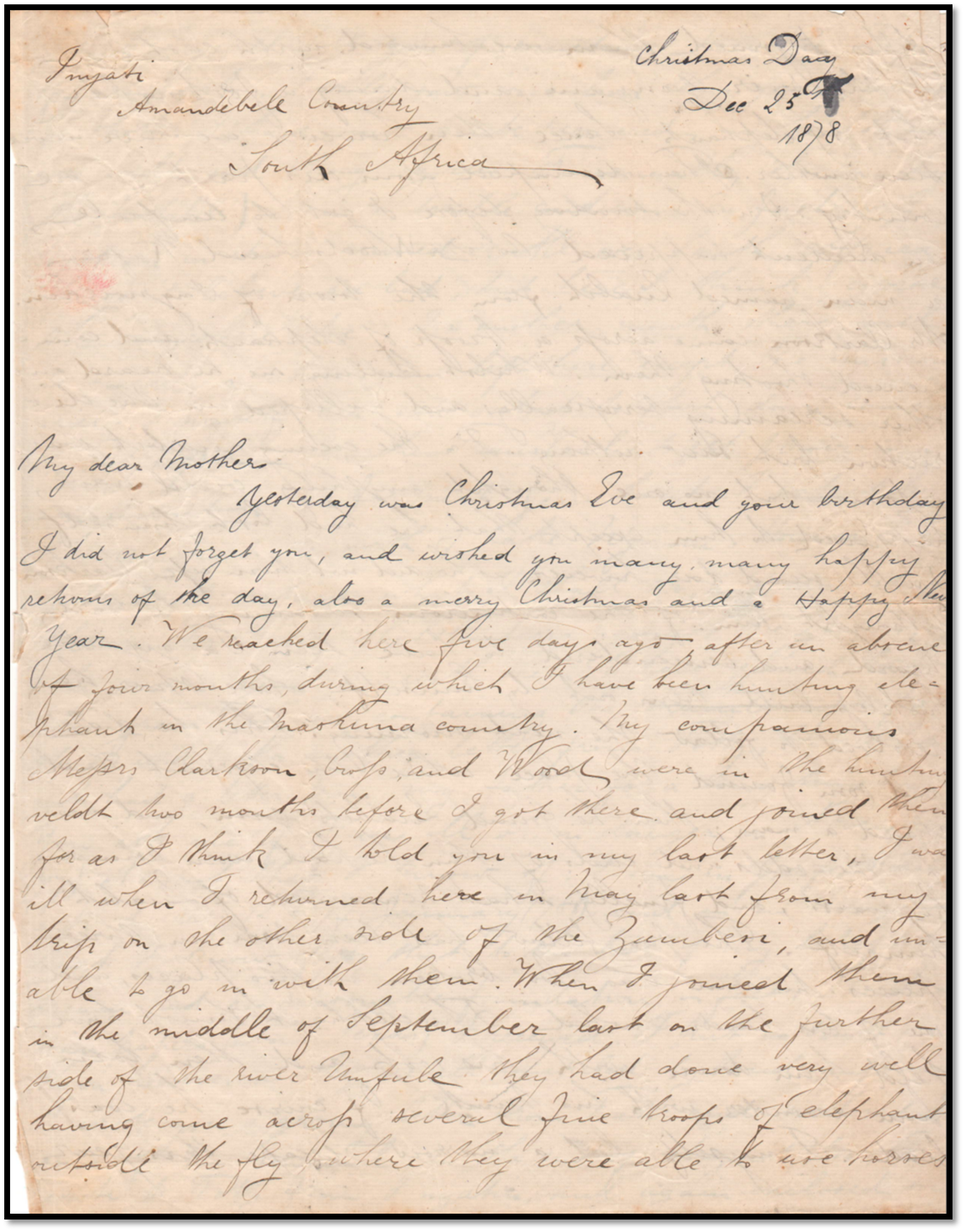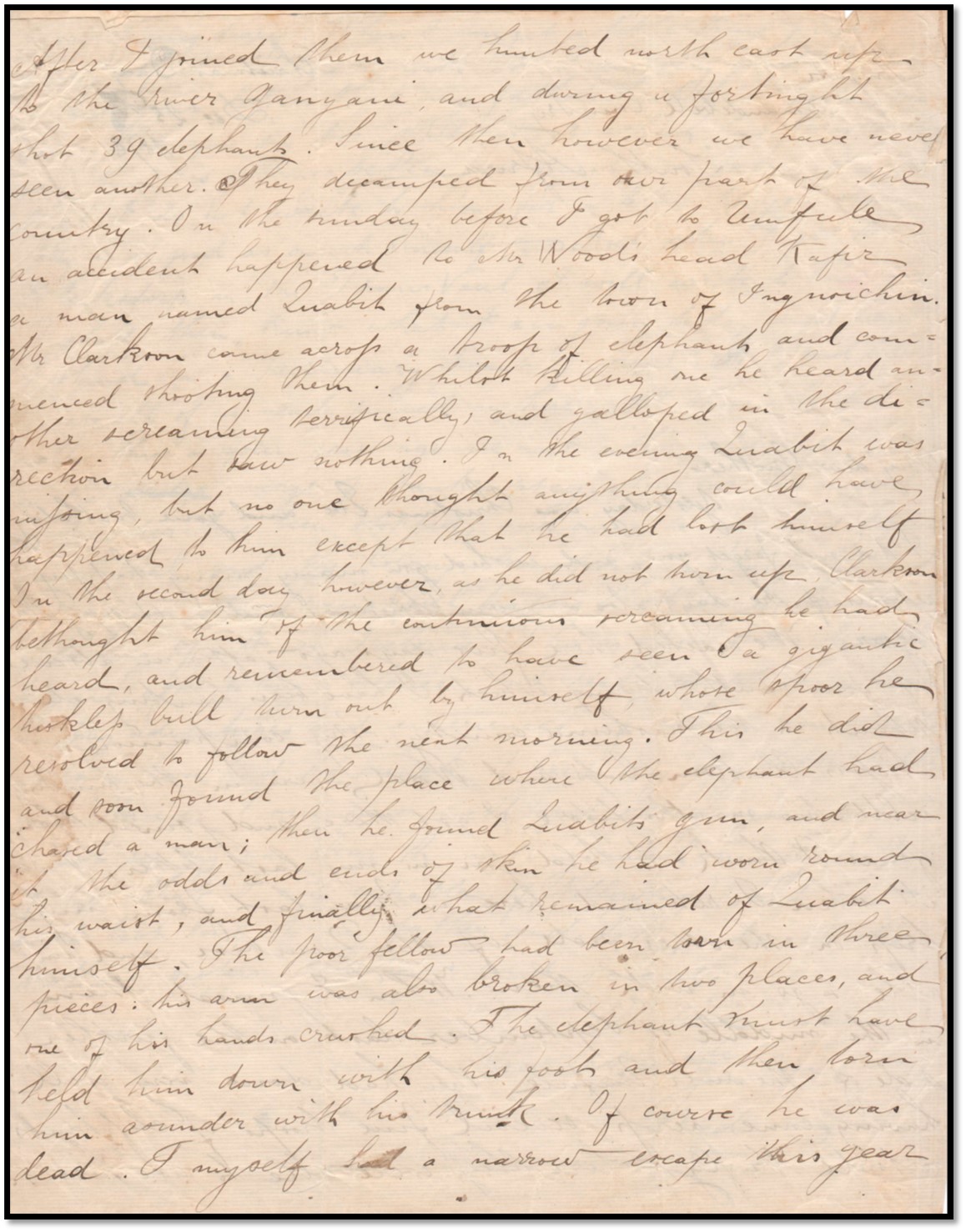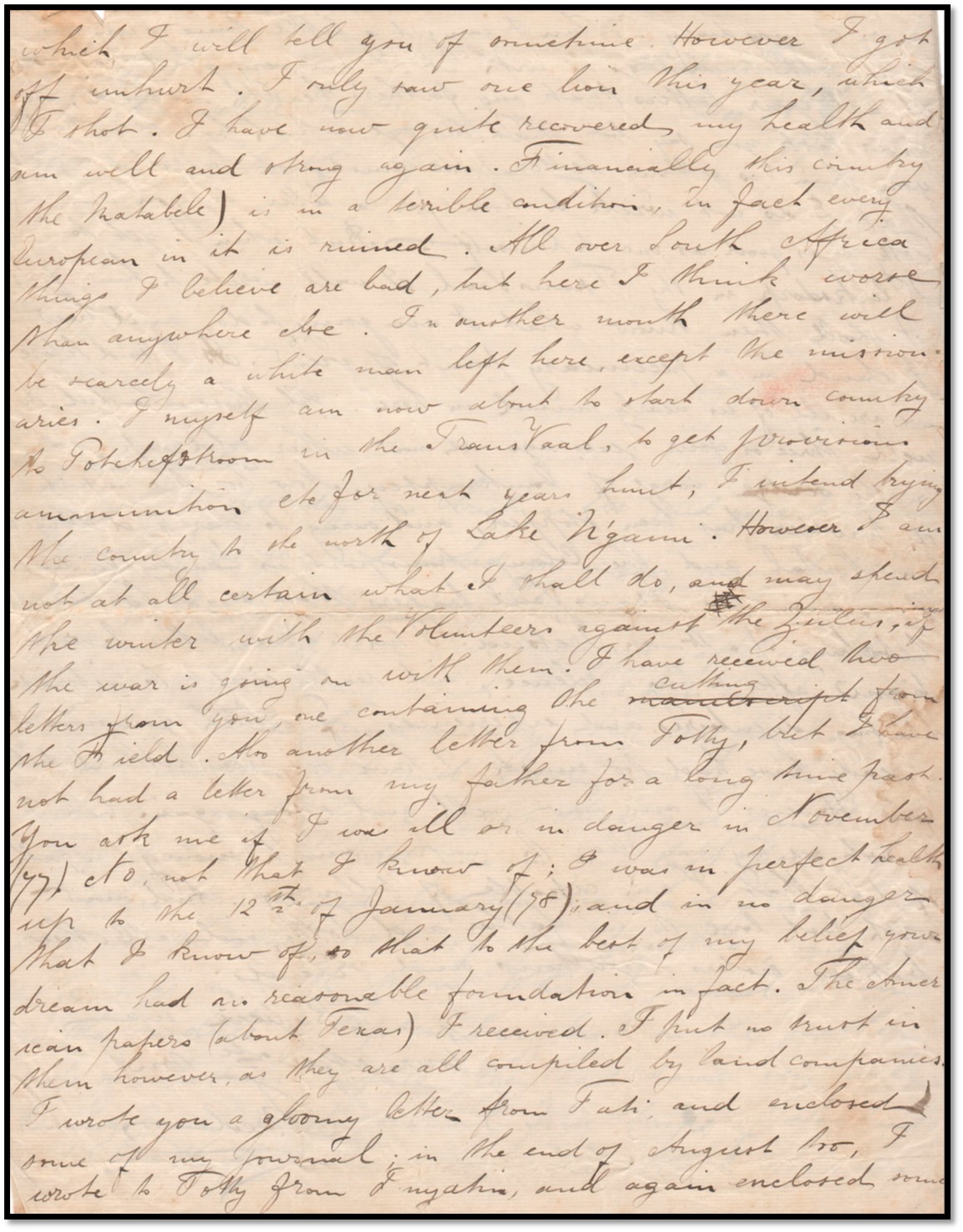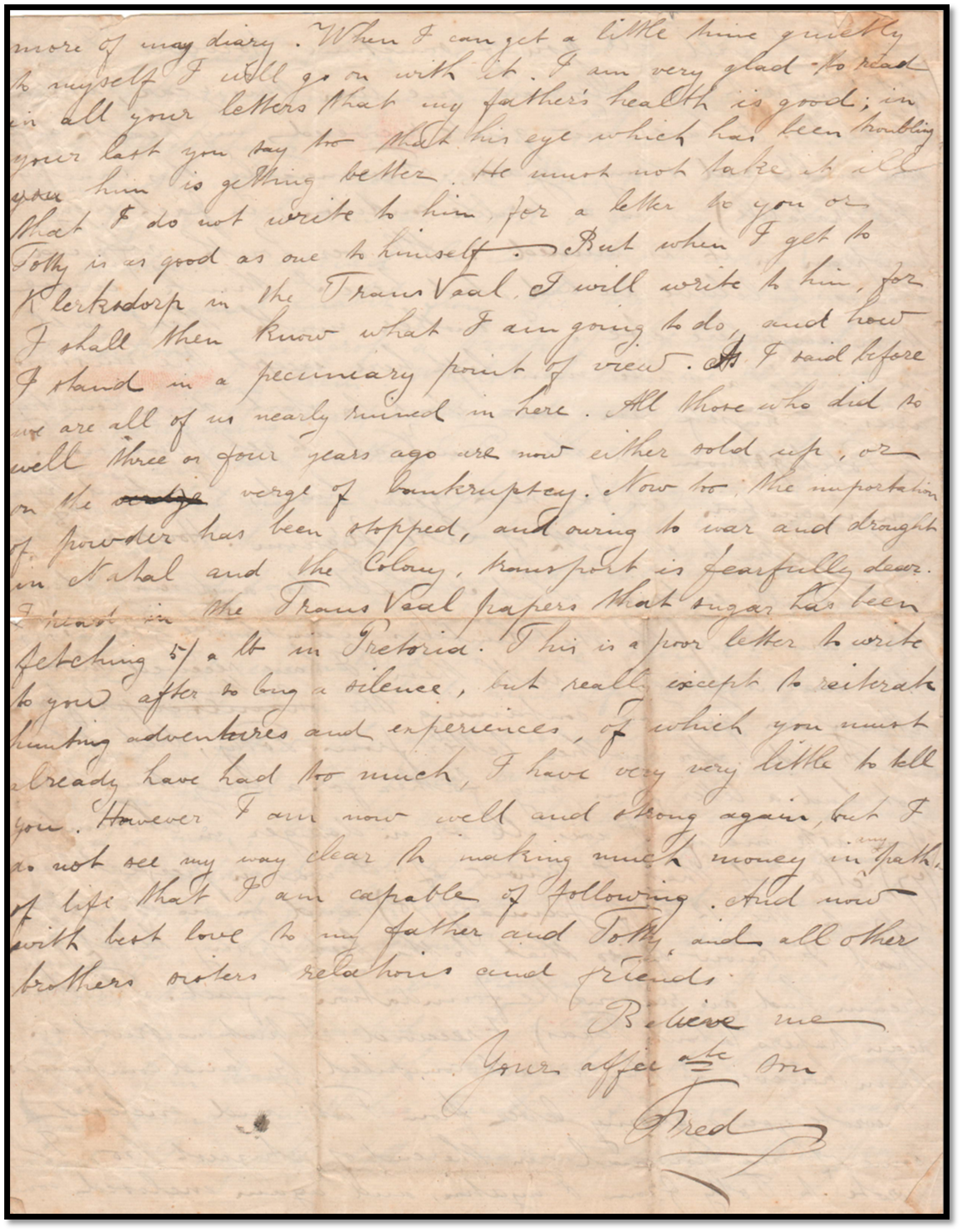 Acknowledgement
The letter was lent to me by Lance Bradfield in Australia who has a long family connection with Zimbabwe. Edwin Eugene Bradfield was an expert on ox-wagons and oxen and took an active part in the 1893 Matabeleland Campaign.
Notes
---