The death of Frederick Courteney Selous (31 December 1851 – 4 January 1917)
Introduction
This article concentrates on the end of Selous' life. Two names on the Great War Memorials at St Michael and All Angels Church in Pirbright commemorate the sacrifice of an extraordinary father and son – Frederick 'Fred' Courteney Selous and Frederick 'Freddie' Hatherley Bruce Selous. (See their War Memorial photo at the end of the article) Nineteen year old Freddie died in the skies over Belgium on 4 January 1918, a year to the day after his father had been killed by a sniper while fighting in East Africa, aged sixty-five.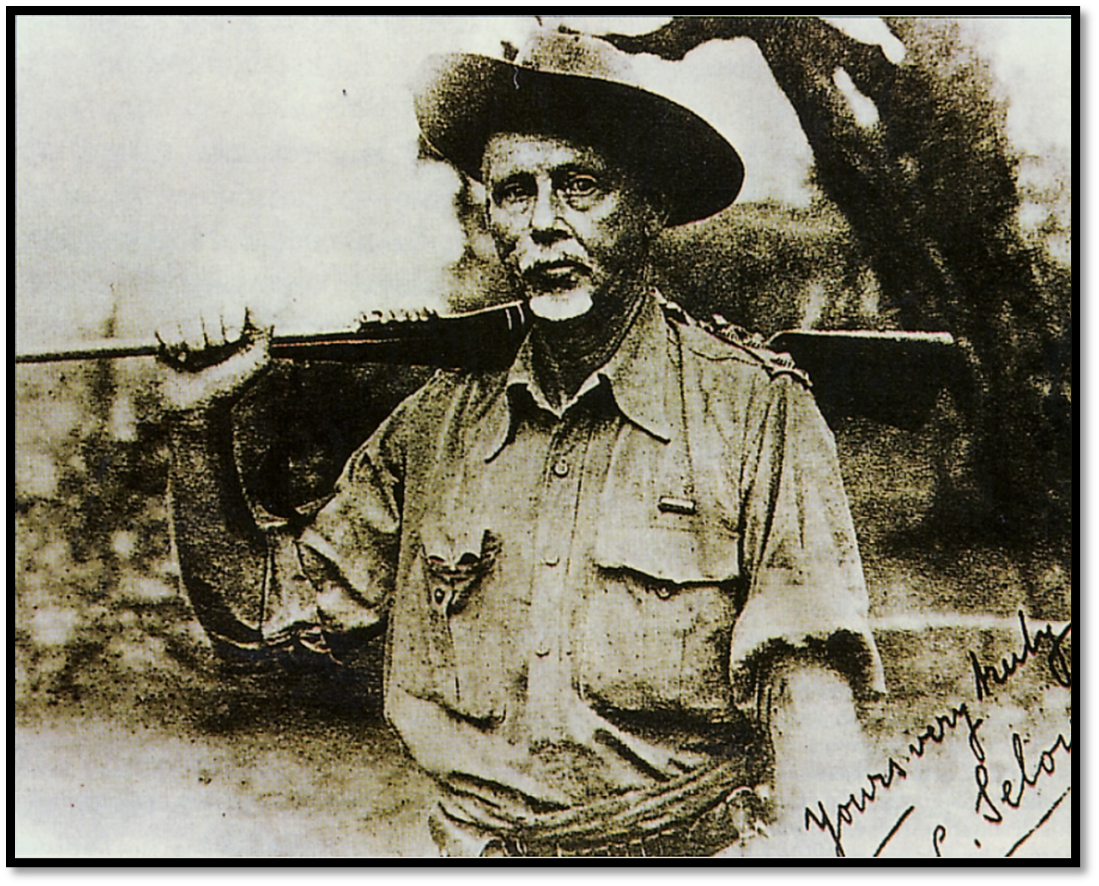 Frederick Courteney Selous wearing his Captain rank – photo between 23 August 1915 to 4 January 1917; note the tilted non-military hat!
Readers will view varying descriptions of his death. The action on the 4 January 1917 when he died was quickly over – just a skirmish really, but the troops of Company A which he led, were under fierce fire from the German Schutztruppen, who had previously measured the range from their own well-prepared positions, and recollections naturally vary with the adrenalin rush of 'live fire.' Those individuals quoted however have been checked with the 25th Royal Fusiliers Nominal Rolls to ensure they were members of the Battalion.
The image of Frederick Courteney Selous with his beard and double Terai grey slouch hat, always pushed back slightly at an angle on his head makes him instantly recognisable to any African historian.
"If there was one striking feature in his physiognomy it was his wonderful eyes, as clear and as blue as the summer sea. Nearly everyone who came in contact with him noticed his eyes. They were the eyes of the man who looks into the beyond vast spaces. Instinctively one saw in them the hunter and the man of wide views. In social intercourse Selous had a presence that was apt to make other people look insignificant. He was adored by all his friends, and even perfect strangers seemed to come under his magnetism at the first introduction."[i]
"He wore a double Terai grey slouch hat, slightly on the back on his head. Khaki knickerbockers, with no puttees, bare legs, except for his socks and shirt open at the neck, with a knotted handkerchief round the neck to keep the sun off, with a long native stick in his hand. He had a rooted objection to wearing a cork helmet. It is impossible to forget the impression he made. He was as straight as a guardsman, with a broad deep chest, with a beautiful healthy look in his face."[ii]
His fame as a hunter was complemented by his ability to write and speak of what he saw on his expeditions and hunting trips in a simple and accurate manner. Isaac Shimmin, a missionary friend said: "His word could be taken for every trivial detail" and William Finaughty, another famed elephant hunter, remarked: "Whatever Fred Selous says is absolutely true."
Selous was also much sought after as a lecturer. President Theodore Roosevelt of the United States of America was an admirer and intimate friend of Selous and corresponded with him for many years. The President once said, "He never boasted. He related his experiences simply, but very vividly and with the attention to minute detail which marks the born observer and narrator."
In 1910 he represented Britain at the Congress of Field Sports at Vienna. The Times wrote, "Throughout his career he was much more than merely a successful game shooter. Wherever he went he took the deepest interest in the habits and personality of the animals he encountered. Keen observation, indefatigable patience and a retentive memory combined to make him a field naturalist of very exceptional excellence; and these qualities, together with his enormous experience, raised him to the position of acknowledged doyen of the whole tribe of modern hunters."
Selous in 1914
At sixty-three years old in 1914 Selous (called Selous or 'Fred' in this article) was settled in Worplesdon[iii] near Guildford in Surrey with Gladys whom he had married in 1894.[iv] They had two sons: Frederick 'Freddie' Hatherley Bruce Selous (1898–1918) and Harold Sherborn Selous (1899-1954) Bertrand Selous was born prematurely on 6 July 1915 and died five days later.
Background summary
His earlier life hunting in Africa is covered in the article Frederick Courteney Selous' hunting trips from 1876 – 1885 with records from his original game book under Harare on the website www.zimfieldguide.com
He was the Pioneer Column's intelligence officer into Mashonaland in July 1890, being an obvious choice from his wide-ranging experiences in Mashonaland. In December 1892 he sailed from Africa but returned the following year for the 1893 Matabeleland War.[v] He was with the Southern Column and wounded at Singuesi[vi]
On 4 April 1894 he married Marie Catherine 'Gladys' Maddy and they bought their home Alpine Lodge in 1894 with eighteen acres, formerly it had been a poultry farm and horse stud. One of their first actions had been to establish a museum (named Zambezi) at Alpine Lodge, to house his wildlife exhibits. Many trophies decorated the walls and contemporary newspapers report that the exhibits included lions, leopards, buffalo, hippopotami, cobras, antelope and zebra. Perhaps because of this extensive collection in 1899-1900 Alpine Lodge was greatly enlarged and renamed Heatherside.[vii]
After a hunting trip in Anatolia in 1895 he returned to Matabeleland at the request of his old Friend Maurice Heany to manage a large cattle ranch at Essexvale (now Esigodini) and lived in a wire-wove on a high bank of the Ncema river.[viii] When the Matabele Rebellion (Umvukela) broke out in 1896, Gladys hurriedly took a scotch cart into Bulawayo, and Selous was given command of H Troop of the Bulawayo Field Force and became a close friend of Frederick Russell Burnham, the American Scout and Robert Baden Powell. By 1898, Gladys and Fred were back in England at their home when their first child, Frederick 'Freddie' Hatherley Bruce Selous was born.
Selous retains his fitness
Selous loved outdoor sports, particularly cricket, and played regularly for his local club at Worplesdon taking part in all their matches until 1915. "Big Game Hunters vs. Worplesdon was always a great and solemn occasion." Not unpredictably, he was president of the Worplesdon and District Rifle Club.
He remained extremely fit and was an enthusiastic cyclist, as a diary entry from 5 September 1909, when he was fifty-eight years old, illustrates, "I got home yesterday evening, having bicycled all the way from Gloucester—about 100 miles—in pouring rain most of the way, and over heavy, muddy roads, in just twelve hours, including stoppages for breakfast and lunch. I am not at all tired to-day, and next year, if I can get a fine day, I shall see if I cannot do 120 miles between daylight and dusk."[ix]
He travels around the world collecting wildlife exhibits for Museums
Selous had journeyed to Africa at the age of nineteen landing at Port Elizabeth (present-day Gqeberha) in 1871 and spent the next twenty years, with breaks to England, in Africa hunting, mapping and guiding sportsmen and prospectors, and in the latter years collecting exhibits for Museums. He was careful to document physical landscape features and, like Thomas Baines before him, was a careful map-maker. For this detailed work he received the 1893 Founders Medal from the Royal Geographical Society, "in recognition of twenty years' exploration and surveys in South Africa."[x]
He had journeyed in pursuit of big game and museum specimens to Europe; in 1870 to Bavaria, Germany, also Transylvania, then Hungary, but now Romania in 1899. He went to Mull Island, Scotland in 1894, Sardinia in 1902 and Norway in 1907. Further afield, he was in Asia including Turkey in 1894-5, Persia (now Iran) in 1897, the Caucasus in 1907. He was in North America, Wyoming and the Rocky Mountains in 1897-1898, Eastern Canada in 1900-1901, 1905, Alaska and Yukon in 1904 and 1905.
The results of his hunting had been sent to half of the world's Museums, but mainly to the Natural History Museum in London.
Selous as a local celebrity
As soon as he returned from the 1896 Matabele Rebellion (Umvukela) Selous was being referred to in newspapers and articles as 'the famous' or 'the celebrated' Frederick Selous. He was clearly the inspiration for Sir H. Rider Haggard's character, Allan Quatermain, celebrated in the 1887 novel of the same name that followed Haggard's 1885 novel King Solomon's Mines.
As an author, well-travelled explorer, and friend of Cecil Rhodes, L.S. Jameson and most of the leading men in South Africa, Matabeleland and Mashonaland, he was regarded as an expert on South African affairs and became a prominent public speaker on these subjects. His speeches were always entertaining with accounts from his books including A Hunter's Wanderings in Africa that contain many examples of hair-raising encounters with elephant, rhinos and lions and also of the deaths from being trampled or mauled, of colleagues, native hunters and servants. A local newspaper advertising one of his speeches is given below:
Guildford people can hear and see enough of wild animals today, for Mr FC Selous and Sanger's Circus both visit the town this afternoon and evening, though not, of course, in conjunction. The famous hunter will give lectures in the County and Borough Hall on his experiences in South Africa and elsewhere. He should have many interesting stories to tell, for he has had plenty of exciting experiences and a few remarkable escapes. Though Mr Selous has told us the story of his hunting days in his books, it will be far better to hear it from his own lips. The fact that the lectures will be illustrated by lantern slides will add to their interest. As the lectures are being given in aid of the Guildford and District Boy Scouts Association, they should attract large audiences.
Outbreak of the First World War
On 28 June 1914, Archduke Franz Ferdinand, the heir to the Austro-Hungarian throne, and his wife were assassinated by a Serbian-backed terrorist. From this event a series of political and military misjudgements were made that turned what was essentially a localised conflict in south-east Europe into a global war.
On 28 July Austria-Hungary, with German encouragement, declared war on Serbia and Russia's support of Serbia brought France into the conflict. A few days later, Germany declared war on Russia and two days later on France. Germany's breach of Belgian neutrality and British anxiety of German domination in Europe brought Britain and its Empire into the war on 4 August.
Selous had planned a hunting trip to the Sudan to collect museum exhibits, but this was abandoned at the outbreak of hostilities. He was already a member of the Legion of Frontiersmen, an organisation that had been founded to protect what was seen as foreign threats to the British Empire. The Legion had started in 1904,[xi] its headquarters in London, but with branches throughout the Empire to prepare members for a future war, although many of its members had no military experience. The Boer War from 1899 – 1902 had attracted many Irish, German and other nationalities to the Boer side and was seen as a warning shot.
In 1889 Selous had been in Mashonaland and warned the British Foreign Office that the Portuguese were set to claim the territory as their own and had been urging local chiefs to fly the Portuguese flag. He told Rhodes that he needed to act before the Portuguese could consolidate their position and in July 1890 the Pioneer Corps entered Mashonaland establishing Salisbury as the centre of British South Africa Company administration in September 1890.
In a speech he gave to a public meeting in Shamley Green in the Guildford area he puts across his views of the German threat very clearly: "In proposing a vote of thanks to Mr Rawnsley, Mr F.C. Selous referred to the Germans as the modern Goths. The Goths, 1400 years ago, destroyed the Roman Empire and they put back the civilization of the world for eight centuries. At the time of the Boer War there was no doubt that Germany would have attacked us, but our Navy was too strong. Germany was now determined that England must be destroyed. We have kept her out of her place in the sun. It was necessary that every man who could shoot ought to try to get into the firing line. He was a member of the Legion of Frontiersman. On Sunday there was a parade of 700 of them and they were inspected by General Bethune. They were all very fine looking men and could all ride and shoot. It was possible that the War Office would tell Colonel Driscoll, their commander, to organise some of his men and send them out. If he did, Colonel Driscoll had promised to take him [Selous] with them. Although he had passed the age, he was very active and strong and he hoped the fact that he was going would serve as a good recruiting agent in his own village (Applause) The vote was heartily accorded."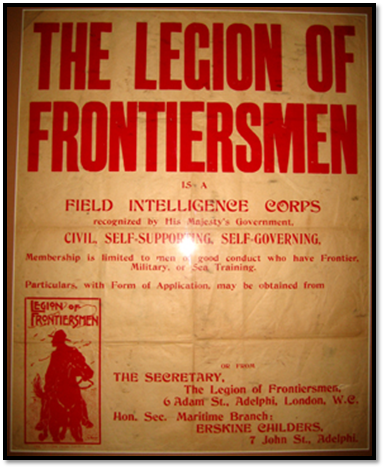 Wikipedia: Recruiting poster for the Legion of Frontiersman
By November 1914, Selous was acting as a special constable at Pirbright and was rather depressed that he could not contribute more to the war effort, particularly as his eldest son Freddie would soon be starting training. Even though he was now in his sixties he tried to enlist and petitioned his friend, Colonel Daniel Driscoll, the commander of the legion of Frontiersman, to plead his case to the War Office. His application for active service went directly to Lord Kitchener[xii] and he received this reply from H. J. Tennant, M.P., "I spoke to Lord Kitchener to-day about you and he thought that your age was prohibitive against your employment here or at the seat of war in Europe."
However, eventually his persistence paid off and on 4 February 1915, Colonel Driscoll said the War Office had stretched the age-limit in Selous' case, and that he would take him to East Africa as their Intelligence Officer.
Not wanting to be left out, his wife Gladys, also went into service for the country, travelling to Le Havre, France and volunteering to work for the Red Cross in 1915, at the age of 41, for which she was awarded the British War Medal.
Selous joins the 25th Battalion (Frontiersmen) of the Royal Fusiliers
It took some time before the War Office permitted the Legion of Frontiersmen to join the regular Army, but permission was finally given in March 1915 to form a Battalion of one thousand men with Fred deputised as one of the two men to carry out this task and at the age of sixty-four years old he was gazetted with the rank of temporary lieutenant. Fellow soldiers soon named the Battalion "The Old and the Bold" for the obvious reason given below!
The original Battalion Roll[xiii] has a number of Selous' friends including, Lieut. Cherry Kearton, a wildlife photographer, Lieut. George Outram, another hunter, second Lieut. William McMillan, an American millionaire and second Lieut Martin Ryan, previously employed at Buckingham Palace. Apparently among the other ranks were half a dozen bartenders, a circus clown, Texan cowboys, a former general in the Honduras army, a lighthouse keeper, a Park Lane millionaire, stockbrokers and a professional strong man.
Their Roll of Honour lists one hundred and forty-six dead in many different war-time cemeteries and is a testament to the sacrifices made by the Battalion.[xiv]
His Battalion leaves for East Africa and their first action at Bukoba on 22/23 June 1915
Within two months of its formation the Battalion and Selous landed at Mombasa, Kenya on 4 May 1915 attached to the East Africa Brigade under General Sheppard. In June the Battalion, as part of a force of sixteen hundred men with artillery and machine guns, was taken by train to Kisumu where they boarded the S.S. Usoga[xv] to attack the German forces on the south-west bank of Lake Victoria at Bukoba. On 22 June 1915 the force was spotted during the night before it landed and forced to disembark north of the town. Selous led A Company supported by C and D Companies with B Company in reserve. He writes, "Had the Germans only known that we were going to attempt a landing at this spot and brought a machine-gun to the top of the cliff, or had they even lined the top of the cliff with riflemen, they would probably have been able to kill every man in the closely packed boats and sunk the latter before they reached the shore."[xvi] On the outskirts of the town they encountered heavy opposition from snipers and machine gun emplacements and were forced to wait for support and reinforcements from 28 Mountain Battery and 2 Battalion of the Loyal North Lancs Regiment. "We fought in a long thin skirmishing line, which extended from the sea to over a mile inland, and slowly and gradually pushed our opponents back towards Bukoba."[xvii] By evening the Germans were forced from the outskirts back into Bukoba town.
Early next day, Selous led A Company on a reconnaissance patrol on the town and came under machine gun fire, but the battle drew support from the other companies and the ship's guns in Bukoba Bay. Sergeant-Major Bottomly of C Company, lying just a yard away from Fred, was shot dead. By midday they had control of the town, destroyed the wireless station and an ammunition depot and taken up positions to prevent any kind of German counter-attack. Casualties amounted to twenty; eight killed and twelve wounded. Some unfortunate looting meant no medals for bravery were awarded. In a letter to a close friend he writes: "Bukoba was rather hard, scarcely any food for two days and nights, up to our chests in the swamps, and then lying out in our wet clothes without fire or blanket."
Following this the Battalion was employed patrolling and guarding the railway line against German ambush and dynamiting patrols. Sickness really reduced the number of fighting men considerably. He wrote, "I think that I am the only officer who has not been in hospital. So far I have not been ill at all and I have never yet been a day off duty or had a day's leave." [xviii]
In a letter to Millais written from Voi on 8 December he says, "The attack on, and capture of Bukoba by our men is the only success on any considerable scale yet scored by the British out here. I do not say it was much, but at any rate we carried out what we were set to do, and captured the town of Bukoba and destroyed the very fine wireless installation."
On 23 August 1915, he was promoted to Captain. "I have got my promotion to captain, but that came to me in the natural course of events, as a Captain Williams was invalided home, and I was the senior subaltern."[xix]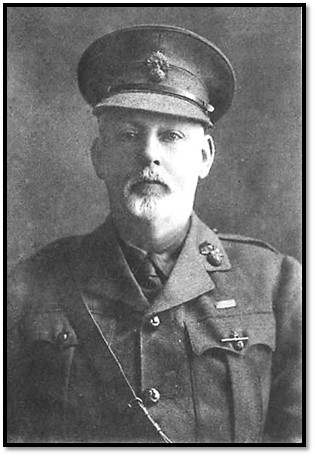 Selous in uniform as Captain
In February 1916 the Allies were realising the magnitude of the task and Selous writes to Millais, "The German officers out here seem to be very fine soldiers, and what people do not realize, their black troops are not only as brave as any Zulus, but splendidly led and well-armed and supported with any number of machine guns. No better men could be found in the whole world, and personally, in this bush-covered, overgrown, but still hot and waterless country, I would much sooner have to fight against Germans from the Fatherland than these well-trained and elusive blacks." The military situation was not going well, "A fortnight ago, just before General Smuts reached this country, an attack was launched against a German position not far from Taveta, by three regiments of South Africans, supported by a regiment of Baluchis and some Rhodesians. The situation was only saved from complete disaster by the Baluchis and the Rhodesians."[xx]
In May 1916 the Battalion was at Moshi practising making attacks on the German positions, with A Company under Selous, usually leading the advance. By this time sickness from fever and dysentery had resulted in half the officers being invalided home and the force that had started with nearly eleven hundred men had been reduced to just four hundred capable of marching and fighting.[xxi]
After a year's service he went back to England in the summer of 1916 for an operation for haemorrhoids but was soon back in East Africa and re-joined his men.
Selous is awarded the Distinguished Service Order (D.S.O.)
For the action at Bukoba and his inspiring leadership, Selous was mentioned in despatches by General Jan Smuts, the commander of British forces in German East Africa, and on 26 September 1916 he was awarded the D.S.O.
The official record was as follows, "Captain Frederick Courteney Selous, Royal Fusiliers. "For conspicuous gallantry, resource, and endurance. He has set a magnificent example to all ranks, and the value of his services with his Battalion cannot be over–estimated."[xxii]
A newspaper account of the award of his Distinguished Service Order[xxiii] noted: "Capt. F.C. Selous, D.S.O. Hearty congratulations to Mr F.C. Selous, the famous big game hunter, who lives at Worplesdon, on the award of the D.S.O. for his good work in East Africa, where he is serving with the Royal Fusiliers. Captain Selous was very anxious when war broke out to find some opening for his services and he was at one time afraid that his great wish would not be gratified, for he was over sixty years of age. But a man is as old as he feels. Mr Selous has led an adventurous life, as his fine museum of trophies at his Surrey home testifies, but he has known how to take care of his health. He has now been in East Africa about a year and his almost unique knowledge and experience have been invaluable. Moreover, he commands the absolute confidence of officers and men. We have this week seen a letter which Sergt-Major Cobbett of Guildford has received from his nephew, Pioneer Stanley Cobbett,[xxiv] who is serving in the same Battalion as Captain Selous. Referring to an article dealing with Mr Selous' work which he has not read, he remarks. Whatever it says, believe me, it cannot be overdone, for he is a fine gentleman, beloved by every man in the Battalion, and you, as an old Army man, know what that means. He is one of the gamest."
The military situation in November 2016
The British in Tanganyika held the ports, towns and railway lines, but the German Schutztruppen under Colonel (later Major General) Von Lettow-Vorbeck had a well-equipped and mobile Askari force of about 14,000 and through their 'hit-and-run' tactics they managed to tie-down approximately 300,000 British, Indian, Belgian and Portuguese troops.
December 1916
The 25th Royal Fusiliers were sent by rail to Mikesse and then had a trying eight day march to Kissaki. Along the way Selous wrote to Gladys, "We are now marching to Kissaki and from there will probably advance and attack the Germans on the Rufigi river. Very heavy rains have now set in and we have had rather a bad time of it and our detachment has shrunk from 384 to 170, with which we march today. We hear the bridge over the Rufigi river has been washed away by the floods and the German forces cut in two.[xxv]
On 25 December 1916 from near Kissaki he wrote again, "We are on the eve of an attack on the Germans out here. Their lines here are quite close to ours, our forces are gathering and we shall now attack their lines in several places simultaneously in a few days. Our forces are terribly depleted principally from sickness. The German forces are sure to be entrenching and as they still have a number of machine guns, it may be no child's play attacking their positions and we may meet with heavy losses."[xxvi]
Once again the Germans managed to slip away from Kissaki and positioned themselves north of the Rufiji river with the British forces attempting to attack them from 2 January 1917.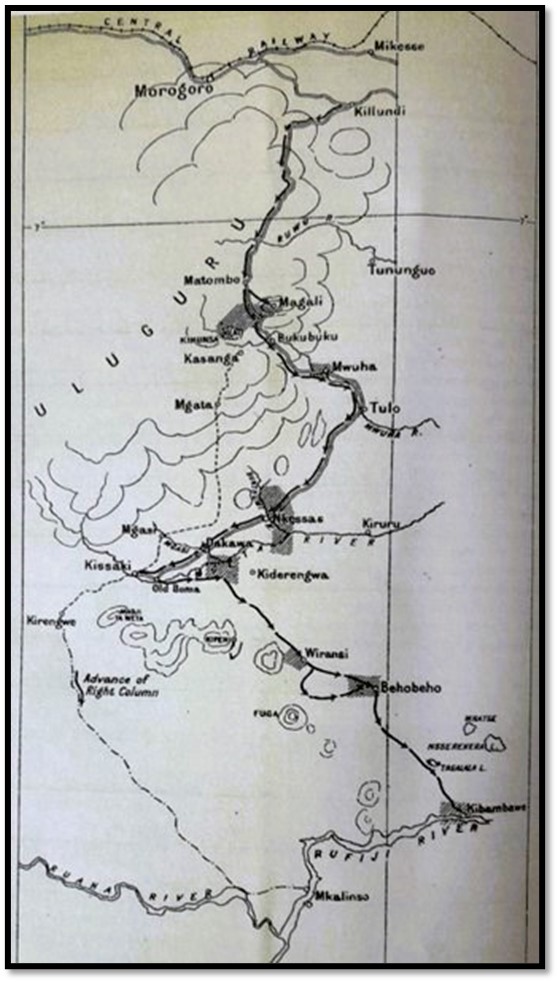 Map from The Western Front Association Bulletin 123
The Battalion is in action against the German Schutztruppen (Colonial Army)
The military situation at the beginning of January 1917 is that the 25th Royal Fusiliers Battalion was advancing on the Rufiji River against the German colonial Schutztruppen (colonial troops, led by white German officers)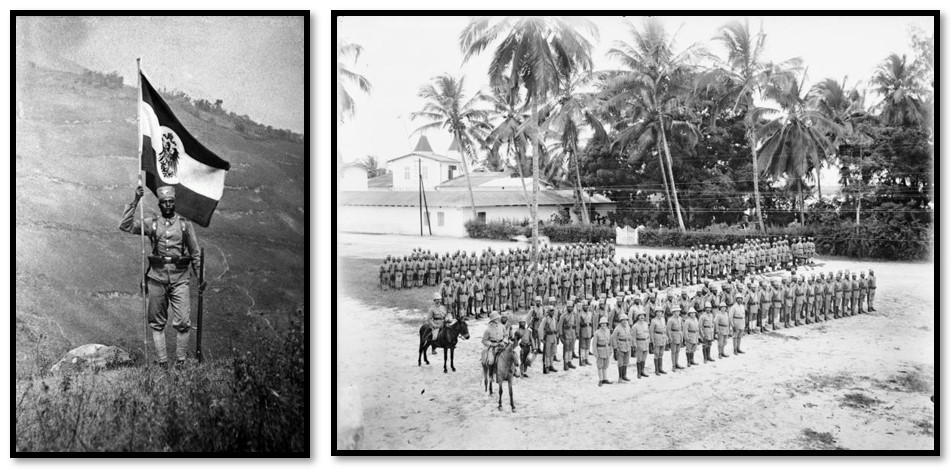 Photos by Walther Dobbertin from Bundesarchiv of a Schutztruppen Askari flag carrier, German East Africa, 1906 and Deutsch-Ostafrika Schutztruppen, Askari company formation, German East Africa, 1914
General Smuts summation of the military situation
General Smuts, who was in command of the British Forces in German East Africa (now Tanzania) gave an account of the fighting when Selous met his death:- "Our force moved out from Kissaki early on the morning of January 4th, 1917, with the object of attacking and surrounding a considerable number of German troops which was encamped along the low hills east of Beho-Beho (Sugar Mountain) N.E. of the road that led from Kissaki S.E. to the Rufigi river,[xxvii] distant some 13 miles from the enemy's position. The low hills occupied by the Germans were densely covered with thorn-bush and the visibility to the west was not good. Nevertheless, they soon realized the danger of their position when they detected a circling movement on the part of the 25th Royal Fusiliers, which had been detailed to stop them on the road leading S.E., the only road, in fact, by which they could retreat. They must have retired early, for their forces came to this point at the exact moment when the leading company of Fusiliers, under Captain Selous, reached the same point. Heavy firing on both sides then commenced, and Selous at once deployed his company, attacked the Germans, which greatly outnumbered him, and drove them back into the bush. It was at this moment that Selous was struck dead by a shot in the head. The Germans retreated in the dense bush again, and the Fusiliers failed to come to close quarters, for the enemy then made a circuit through the bush and reached the road lower down, eventually crossing the Rufigi."[xxviii]
The Battalion's war diary
For 4 January 1917 is the following record:
Marched out at 5.30 hrs. and engaged enemy in dense bush at 10.30 on our front and right flank simultaneously and drove him from his position 2 miles west of BEHO-BEHO (TCHOGOWALI) casualties sustained as follows:-
Killed.
Capt. Selous D.S.O., 1 N.C.O. and 2 men.
Wounded.
Capt. Welstead (slight), 2nd Lt. Buchanan (slight), 2nd Lt. Dutch (serious – since dead) 2 N.C.O's and 5 men.
Enemy retreated towards the RUFIGI RIVER. We camped for the night at TCHOGOWALI.
The circumstances of Selous' death
Most accounts give the following details of his death: "On the morning of 4 January, Frederick was creeping forward in combat when he raised his head in order to locate the enemy. He was shot in the head and was killed instantly."[xxix] The Wikipedia entry is very similar: "That morning, in combat during a minor engagement, while creeping forward, he raised his head and binoculars to locate the enemy and was shot in the head by a German sniper. He was killed instantly."[xxx]
However the following letter appeared in The Times: "Sir, I notice in The Times dated December 9, an article on Captain Selous and I beg to state that as I carried the late Captain Selous out of action, when he was mortally wounded at Beho-Beho, in German East Africa, at about 11 am, January 4, 1917, I can give a graphic description of his death. He was not killed instantaneously, as I fought over him for fully ten minutes. He was shot in the head, but this wound was not the cause of his death; this wound was caused by a splinter some half an hour previous to the action fought on the hills outside the village of Beho-Beho and when Captain Selous was asked if he was wounded he stated that it was nothing very much and insisted on going on. He went over the ridges at Beho-Beho and was kneeling near a small tree and was seen after the action had been in progress about 15 minutes to drop his rifle. I immediately went over to him and stayed with him for fully ten minutes before he received his fatal wound, and then I carried or dragged him to the rear of a small hill and there he died. His boy Ramizani, who had been with him some considerable years, cried when told Captain Selous was dead and stood upright on top of the ridge in face of terrible German machine gun fire and brought out of a tree the black sniper who wounded Captain Selous. For helping Captain Selous and another officer I was recommended to the British Government by my Colonel (D.P. Driscoll, D.S.O.) and received from the French government the Médaille Militaire.
Captain Selous was killed 60 miles from Kissaki and about 12 miles from the Rufigi River and buried in the village of Beho-Beho, together with six others of his battalion.
I remain yours very faithfully,
R. Davis, Corporal 32697.[xxxi]
25th battalion Royal Fusiliers"
It appears from this account that he was initially wounded, but continued to encourage his men to advance until he was shot dead by a sniper. There are a few inconsistencies in this letter. First he writes, "He was shot in the head, but this wound was not the cause of his death." He then states that Selous was wounded by a splinter half an hour before – no other account mentions this. Then states he received a fatal wound – clearly this is the sniper shot.
The account by Army Chaplain G.P. Fuller[xxxii] of Selous' death in Illustrated Life Rhodesia
During the rainy season of 1916 they were in camp at a village called Dakawa[xxxiii] between Duthumi and Kisaki. George Fuller, the author of the Illustrated Life Rhodesia article, states the rains finished early and in the opening days the Battalion prepared to move to the Rufiji river. They started their march two days before the day given out by their Intelligence Officer and the Germans were surprised at a nearby village called Wiranzi. [marked on the above map] He writes he made a prisoner of a German officer, who was still asleep, and had two enormous elephant tusks under his bed! He says General Sheppard let him keep one, that he gave to the supply officer, and that was the last he saw of it, but he kept the officer's beautiful velvet-collared blue-grey rain cloak.
From Wiranzi they marched at night to engage the Germans at Beho-Beho with Fuller walking with Captain Selous and Major Proctor of the Kashmir Rifles. He says Selous was a wonderful companion. At dawn they arrived at the escarpment opposite Beho-Beho and General Sheppard called the officers together to outline his plan.
In the plain below Beho-Beho were two hog-backed low hills that Sheppard considered key to the area and the 25th Royal Fusiliers were ordered to take them. However, the German had previously seen their strategic value, and had measured the distances exactly from their own positions at the edge of the plain. When the Royal Fusiliers reached the top of one of those hills there was a hail of bullets.
On their right they were being harassed by snipers. Selous stood up to spot them when he was shot. Fuller was on his left, Private Taylor from Selukwe on his right and Ramathani, his gunbearer of 28 years, just behind him. Fuller says Selous was killed instantly. Ramathani turned to Fuller and asked, "is he dead?" "Yes" I replied. "Dead truly?" he asked. "Yes, truly dead" I replied.
Ramathani's eyes became bloodshot, he stood up having seen two snipers in the trees on our right, took careful aim with his rifle and brought them both tumbling down. He then waved his rifle along the line of bush from where the German fire was coming and fired a shot before lying down, putting his arms over Selous, and weeping bitterly. Taylor and Fuller then went through Selous' pockets taking his wallet and personal things before handing them over later at headquarters and reporting his death.
The forces chaplain, Rev Grattan Guinness conducted the funeral service of Selous and the others – one being Private Taylor. Fuller says he left Selous' helmet on his chest in the grave. He says when he conveyed his condolences to Colonel Driscoll, the Battalions' commanding officer, the Colonel said it met with Selous' greatest desire – to die in Africa. Selous had told Driscoll on his recruitment that, "he belonged to Africa and that, to a certain extent, Africa belonged to him. He could not bear the thought of dying within four walls in England when Africa, with wide-opened arms, was waiting to welcome him back. That was where he wanted to die and be buried. So you see his cherished wish has come true."
Fuller says the whole column was at the funeral and added, "It is fitting that he should find his final resting place in one of the most untamed, unfrequented spots you can imagine in the vast continent of Africa. It is in keeping with his life that hordes of game should roam around and over his grave. In life he loved them all so well."
The Western Front Association Bulletin No 123 of December 2022
This article states the Germans were on the Beho-Beho ridge after 2 January 1917. Early on 4 January the British forces marched towards Beho-Beho with the 25th Royal Fusiliers and 3 Kashmir Rifles in the lead, "with the object of attacking and surrounding a considerable number of German troops which were encamped along the low hills east of Behobeho north east of the road that led from Kissaki south east to the Rufiji river."[xxxiv] About 10:30 am they came under fire, and Captain Selous leading Company A of the Fusiliers, was ordered to move forward and to their right, in an attempt to encircle the Germans and cut off their retreat. About midday the Fusiliers met a large German force that attacked them.
The Germans had realised earlier they might be encircled and began to retreat to the Rufiji road when their advance guard and the Royal Fusiliers made contact. Heavy firing began and Selous, wanting to locate the enemy advance guard, went forward and down a slope about fifty yards and was raising his binoculars, before being shot in the head by a sniper. Lieutenant Dutch took his place and received a mortal wound very soon afterwards.
The Germans made a controlled retreat, before making a circuit through the thick bush and reached the road lower down and crossed the Rufiji river.
Colonel Driscoll commander of 25 Royal Fusiliers wrote, "Captain Selous, the great hunter, was one of the hardest men in the battalion in spite of his 65 years. He was shot dead whilst leading his company through the bush against an enemy four times their strength. Lieutenant Dutch, another very gallant man, took his place and received a mortal wound immediately afterwards. No sculptured mausoleum records his prowess, but only a simple wooden cross bearing his name and that of his good comrades stands beneath the shade of a tamarind tree in a woody forest."[xxxv]
In the same article is a long quote from Captain R.M. Haines of the South African forces that ends as follows, "I was just in time to see him [Selous] buried. He was sewn up in a blanket and buried with some other men of the R. Fusiliers. I was told he was first wounded in the right arm, which was broken, but was bandaged up and he remained with his company. A little later he was hit again in the mouth and was killed instantaneously and apparently painlessly. A little space was cleared in the bush and he was buried at one of the most impressive services I have ever attended. Mr Lamb also mentions that Selous was wounded before he was killed, but this is contradicted by others who were present."
The same article also has Mr Denis Lye in The Field on 17 August 1918, quoting a member of A Company, "Captain Selous was shot through the head and right side. We were on a crest line at the time with the Germans in front and on both flanks. We were subjected to very heavy enfilade fire and could not locate the enemy properly owing to the wooded nature of their positions. At this stage Selous went down the slope about fifteen yards and was just raising his glasses in order to locate where certain snipers were when he received his first wound in the side. He was half-turning towards us when he was shot through the side of the head. He died immediately."[xxxvi]
Selous' gravesite at Beho-Beho
A number of websites[xxxvii] assert that he was buried in the present-day modest, flat stone grave with its simple bronze plaque reading: ""CAPTAIN F.C. SELOUS D.S.O., 25TH ROYAL FUSILIERS, KILLED IN ACTION 4.1.17." Justin Seymour-Smith sent me the photograph taken below by his maternal grandfather, Lt G.A. Murray-Hudson when he was seconded in 1921 to the King's African Rifles that shows the original gravesite of Selous and those killed with him on 4 January 1917.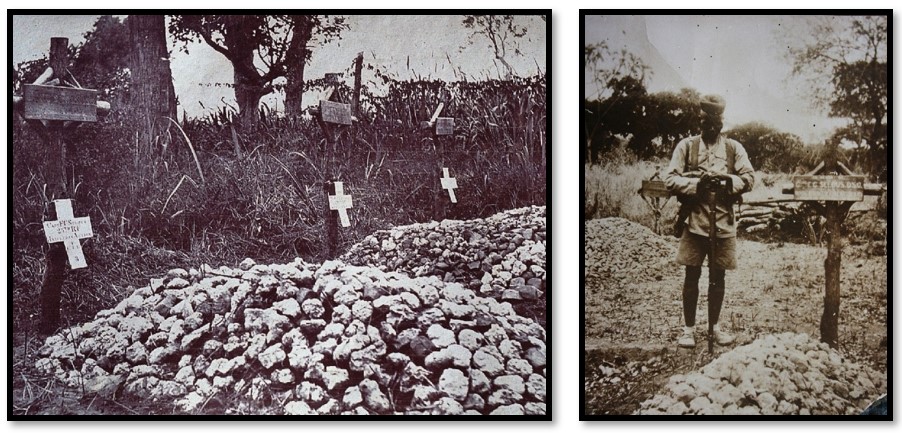 Photos courtesy of Justin Seymour-Smith: the original Selous gravesite at Beho-Beho, Selous Game Reserve, Tanzania (Selous grave nearest the camera) Is the figure standing in quiet grief Ramizani who shot the German snipers? It is tempting to think so
Frederick Courteney Selous was buried near where he died, beneath a Tamarind tree (Tamarindus indica) with his fallen comrades.
However, at a later time the graves of his fallen comrades, but not of Selous himself, were taken from this site by the Commonwealth War Graves Commission (CWGC) and reburied at the Dar es Salaam (Upanga Road) Cemetery although his grave is still recognised as a war grave by the CWGC.
The present-day Selous gravesite in the Selous Game Reserve[xxxviii]

Photos courtesy of Justin Seymour-Smith: Selous gravesite at Beho-Beho, Selous Game Reserve, Tanzania. Images taken in 2007 after the gravesite had been tidied up and the undergrowth cut back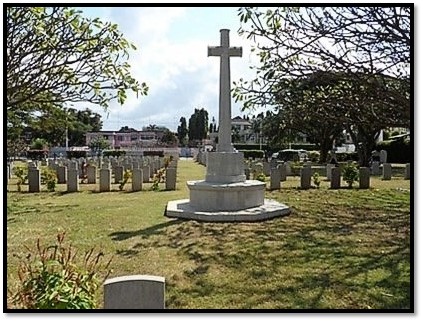 Dar es Salaam (Upanga Road) CWGC Cemetery
The 25th Battalion of Royal Fusiliers has a website[xxxix] from which I extracted a list of those soldiers who were killed on the same day as Selous. The ranks of his soldier comrades killed in the same action agree with the Battalion War Diary above. Clearly the description of Selous being buried at the Upanga Road cemetery at Dar es Salaam is incorrect, although he may be commemorated on a memorial there.

Lieutenant Dutch died of his wounds sustained in the same action. Presumably Privates Thornton and Evans (the second with the same surname) died in follow-up actions over the next two days.

Private William Thornton and Private Evan Evans were both with original nominal roll of the Royal Fusiliers (London Regiment) according to the website https://www.forces-war-records.co.uk/
The article by D. Whittaker in the Western Front Association Bulletin No 123 of December 2022, also includes a quote from P.H. Lamb writing in The Field of 18 June 1918 who says, "The other two graves are those of privates of the British West Indies Regiment who died at the same place months later. The precise spot where Selous was fighting when he was first wounded was pointed out to me. It was among some small knolls which lie about a mile to the north on which the present camp, known as Chogawali, has since been built."[xl]
Tributes from fellow soldiers
Colonel Driscoll, the commander of the Battalion wrote, "He died a most glorious death, and he has left a void which can never be filled. We feel his loss deeply; I especially do so, as he was such a grand example of all that an Officer should be. He was simply worshipped by his men."
A Corporal in A Company wrote, "We shall always remember the lectures and good advice given to us on board ship, and more especially the manner in which he looked after his Company as regards rations and the proper cooking of the same. Fearless of danger, Captain Selous would march in front of his Company and at a pace which told on younger men, and his bravery and kindness will ever be remembered by Frontiersmen."
A Lance-Corporal wrote, "He was always full of consideration for his 'boys,' as he called us, and he has saved us many an ambushing by his thorough knowledge of the bush and the country generally. We lose a grand sportsman, a brilliant leader and, more than that, a friend-for such he was. I am proud to have had such a man for my Officer. He cannot be replaced."
The following extracts are from an article in the Cornhill Magazine of November 1917, "How nobly he did his duty in East Africa has been told in the despatches of General Smuts. Much more, unknown to the public, remains in the memories of his brother Officers and men. His cool and shining courage was always conspicuous; his strength and staying powers were remarkable; in a climate where fever, dysentery and other ailments wrought havoc among our men, he never went sick. At the end of a long day's march, under tropical heat, when his fellows were glad to rest, he would sally out with his butterfly net as fresh and eager as a schoolboy, absorbed in the pursuit of that beloved natural history which was the passion of his life. He was the wonder and admiration of the British Army in East Africa."
"Truth, honour, courage and freedom were the things which before all others he valued most in the world; and for these great things and for his beloved England he gave his life freely and gladly. He was a great Englishman, and he leaves behind him a name that will endure for generations among those who cherish bravery, the spirit of adventure, and a stainless record."[xli]
Letters of Sympathy
A newspaper cutting states Mrs Selous received letters of sympathy from King George VI expressing his "appreciation of the manner in which the late Captain Selous, at the outbreak of war, placed his services at the disposal of the state" and also from Lord Buxton,[xlii] Sir Frederick Jackson (Governor of Uganda) the Royal Geographical Society, the British South Africa Company and other bodies.
Even General Paul von Lettow-Vorbeck, commander of the German Schutztruppen, upon hearing of his death and an admirer of Selous, apologized for his 'ungentlemanly death.'
Selous and Teddy Roosevelt
Selous had accompanied the American ex-president Teddy Roosevelt on his safari to British East Africa, the Congo and Egypt in 1909 and helped to ensure all the logistics ran smoothly. They became good friends and hunting companions. Roosevelt wrote of this experience, "Mr Selous is the last of the big game hunters of Southern Africa; the last of the mighty hunters whose experience lay in the greatest hunting ground which this world has seen since civilised man has appeared herein."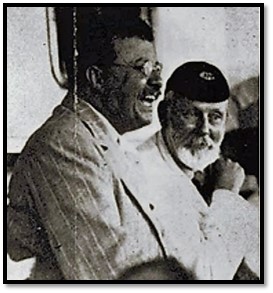 Selous and Roosevelt in 1909
John Millais in his biography of Selous included a condolence message from Theodore Roosevelt, "There was never a more welcome guest at the White House than Selous. He spent several days there. One afternoon we went walking and rock climbing alongside the Potomac; I think we swam the Potomac, but I am not sure.…. Later I spent a night with him at his house in Surrey, going through his museum of hunting-trophies. What interested me almost as much was being shown the various birds' nests in his garden. He also went to the British Museum with me to look into various matters, including the question of protective coloration. I greatly valued his friendship; I mourn his loss; and yet I feel that in death as in life he was to be envied.
It is well for any country to produce men of such a type; and if there are enough of them the nation need fear no decadence. He led a singularly adventurous and fascinating life, with just the right alternations between the wilderness and civilization. He helped spread the borders of his people's land. He added much to the sum of human knowledge and interest. He closed his life exactly as such a life ought to be closed, by dying in battle for his country while rendering her valiant and effective service. Who could wish a better life or a better death, or desire to leave a more honourable heritage to his family and his nation?"
Selous' legacy
In 1909, Selous co-founded the Shikar Club, a big-game hunters' association with two British Army Captains, Charles Edward Radclyffe and P.B. Vanderbyl and they regularly met at the Savoy Hotel, London. The Club's first President was the Earl of Lonsdale; another founding member was the Selous biographer John Millais.
Following his death, Gladys donated his entire collection of animal exhibits at their Heatherside home museum to the Natural History section of the British Museum. The Selous Collection has 524 mammals from three continents, all shot by him, including nineteen African lions and in his honour his bust faces the main entrance.[xliii] The same article states over his life more than five thousand plants and animal specimens were donated by him. Now renamed The Natural History Museum, Selous' many contributions in the field were honoured by commissioning a life-size likeness of him in bronze that adorns a niche on one side of the central staircase of the Museum.
The Selous's mongoose (Paracynictis selousi) and a subspecies of the African Sitatunga antelope, (Tragelaphus spekii selousi) were named in his honour.
The village of Selous lies on the A5 between Harare and Chegutu in Zimbabwe.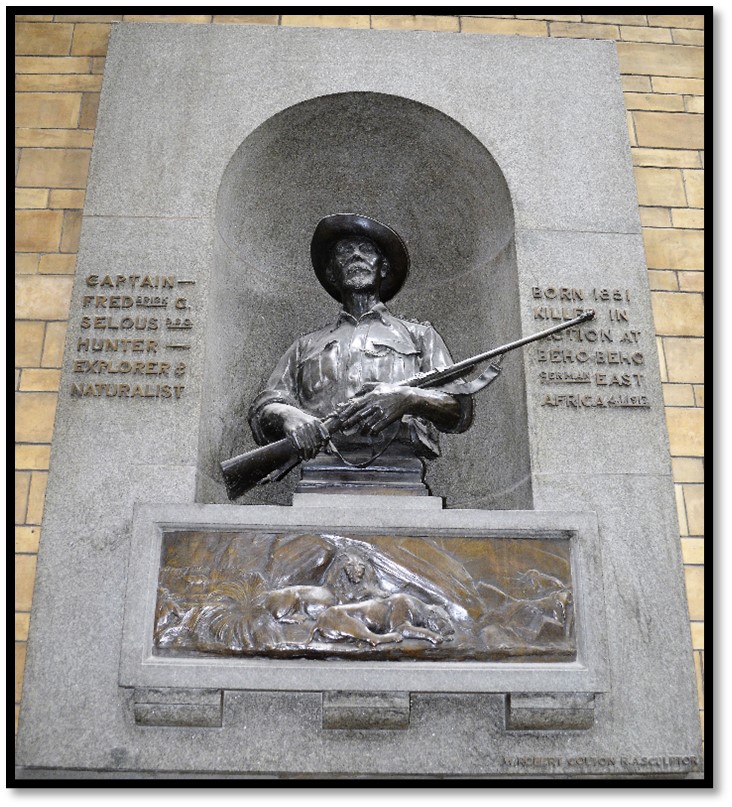 Selous' bust at the Natural History Museum (London)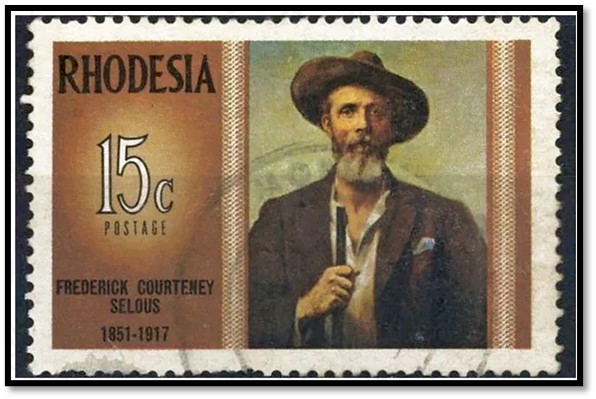 The above stamp was issued by the Rhodesian Post and Telecommunications Corporation postal service between 1 March 1971 and 31 August 1971 as the fifth stamp in its famous figures series.[xliv]
One of his most enduring legacies Selous left was a rich heritage of written works on the fauna of Rhodesia and he contributed several major papers as well as maps to the Journals of the Royal Geographical Society for which he was awarded a Founders Medal in 1893 "in recognition of twenty years' exploration and surveys in South Africa" and made an Honorary Life Fellow.
His best known books include:
A hunter's wanderings in Africa, being a narrative of nine years spent amongst the game of the far interior of South Africa, containing accounts of explorations beyond the Zambesi, on the river Chobe, and in the Matabele and Mashuna countries, with full notes upon the natural history and present distribution of all the large Mammalia. Richard Bentley & Son. London, 1881
Travel and Adventure in South-East Africa: Being the Narrative of the Last Eleven Years Spent by the Author on the Zambesi and its Tributaries; With an Account of the Colonisation of Mashonaland and the Progress of the Gold Industry in That Country. Rowland Ward. London, 1893
Sunshine & Storm in Rhodesia: Being a Narrative of Events in Matabeleland Both Before and During the Recent Native Insurrection up to the date of the disbandment of the Bulawayo Field Force. Rowland Ward. London 1896
African Nature Notes and Reminiscences. Macmillan. London, 1908
The Selous Game Reserve (the northern portion now renamed Nyerere National Park) in south eastern Tanzania is a hunting reserve that was named in his honour. First set up by the Germans as a protected area in 1896 and then a hunting reserve in 1905, well-known for its populations of African elephant, black rhinoceros, buffalo, lion, hippo, giraffe, zebra, antelope and African wild dog.
It was named the Selous Game Reserve in 1922 and originally covered an area of more than 19,000 square miles (49,200 km2) and in 1982 was designated a UNESCO World Heritage Site due to the diversity of its wildlife and undisturbed nature. From 2019, the northern part of the reserve covering 11,928 square miles (30,893 km2) has been removed to form the Nyerere National Park for photo safaris only.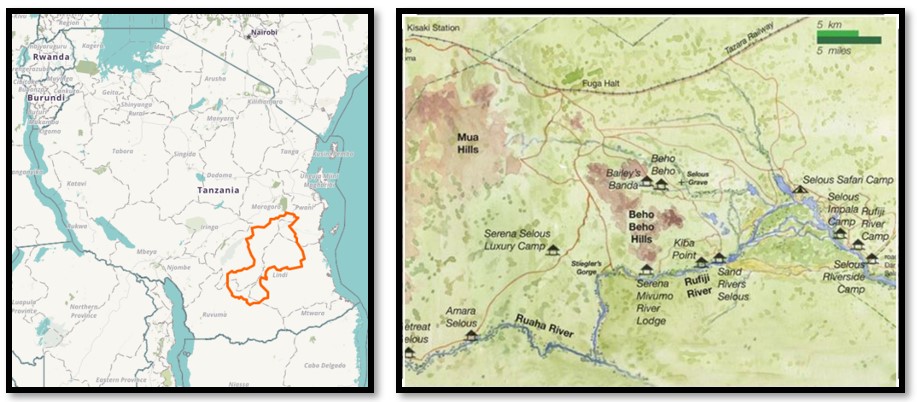 Wikipedia: Selous Game Reserve and Nyerere National Park) in Tanzania with detailed section of Beho-Beho
Gladys' life after Selous' death
Gladys remained at Heatherside for the rest of her life apart from a period during the Second World War when she allowed a London firm of Chartered Accountants, Smallfield, Rawlins and Co of Ironmonger Lane to use Heatherside as their offices for the duration of the war. Two of the firm's partners lived nearby - Thomas Rawlins at Cramond House in Pirbright, and Arthur Rawlins at Littlefield Manor, Worplesdon. The museum at Heatherside was used as an office for the Ministry of Food, Meat Rationing Division, as Arthur Rawlins was the controller employing 30 people.[xlv]
During this period, Gladys moved into Apple Trees in Malthouse Lane where she continued with charitable and fund-raising activities for the war, including sending Christmas parcels in 1915 to the soldiers of the Queen's Royal Surrey Regiment on the front lines. The parcels included a Christmas card featuring the Regiment's Pascal Lamb and Christmas wishes and the following items:
Christmas pudding Cigarettes Christmas carols Biscuits (2 sorts)
Shelled almonds Cigarette papers Books Quaker oats
Mixed nuts Tinned butter Chocolate Oxo
Dates Tea Soup tablets Gloves
Figs Dried milk Tobacco Handkerchiefs
On 4 January 1918 Gladys suffered the double tragedy of losing her eldest son Frederick 'Freddie' Hatherley Selous when he was a Captain in the Royal Flying Corps. However she continued with her charity work making woollen garments for the troops, becoming President of the Worplesdon Women's Institute for many years and was known for her skill in making patchwork quilts. When the war ended she moved back into Heatherside to take care of the house and gardens she and Fred had created and stayed there until she died in 1951, aged 77 years old.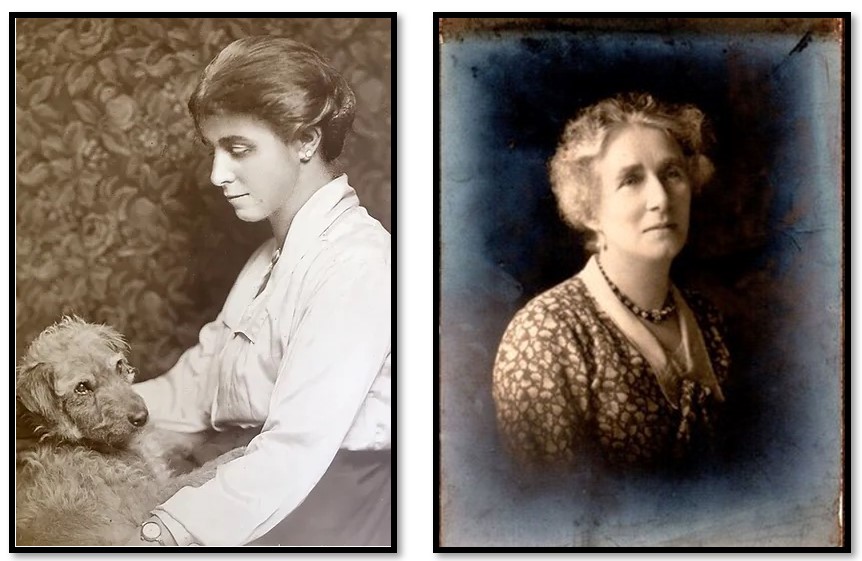 Gladys shortly after marriage and in later life
Frederick Hatherley Bruce Selous (1898 – 1918)
'Freddie' who was Fred and Gladys' eldest son was born in 1898 and, like his father, went to Rugby School where he excelled at sport and became captain of rugby.
He was at Sandhurst from September 1915 to April 1916 and was gazetted to the Royal West Surrey Regiment and attached to the Royal Flying Corps. On 3rd May 1916, at Catterick Bridge Military School he took his flying certificate in a Maurice Farman biplane, just 2 weeks after his 18th birthday.[xlvi]
In July 1916, Freddie went to the front before being posted in April 1917 to the Central Flying School as an Instructor (in itself a very dangerous task) By September 1917, he was back in France with No. 60 Squadron on operations flying Royal Aircraft Factory S.E.5a biplanes. On 8th November 1917 he was credited with a victory over a Rumpler C-type German reconnaissance plane over Klein-Zillebeke and on 28th December with another Rumpler C-type that crashed west of Roulers (Roeselare). The squadron moved bases a number of times, but by the winter of 1917 was based at Ste-Marie-Cappel.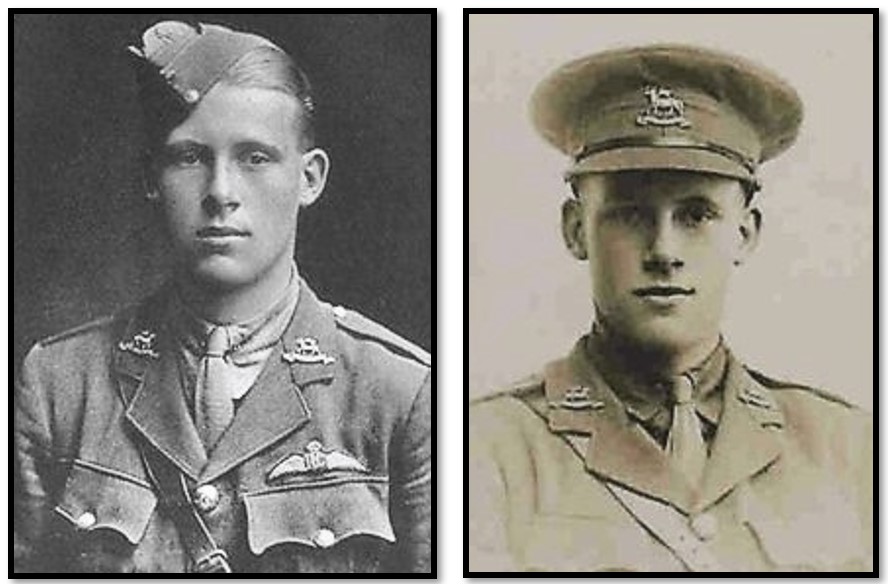 Frederick Hatherley Bruce Selous, the left hand photo from 1916 when he joined the RFC, while on the right is his first commission into the Royal West Surrey Regiment
He was awarded the Military Cross for Gallantry and the Silver Medal for Military Valour (Italy) but very sadly died while piloting S.E.5a No C5334 and leading his Flight over German lines near Roulers - on the Menin Road, on 4 January 1918, precisely one year to the day after the death of his father, aged just twenty years old and is commemorated at the Arras Flying Services Memorial[xlvii] and on the Roll of Honour at Worplesdon.
More recent investigation has suggested that Freddie was buried by the Germans at Nachtegaal which was also known as 'Vieux Chien' some miles southeast of Ypres. After the war the British graves from this German Cemetery were concentrated to Perth Cemetery China Wall (approximately 69 British graves were moved) They seem to have been moved to plots 10 and 11 in this cemetery and this is where Freddie is probably buried.[xlviii]
Tributes from Freddie's comrades
From contemporary reports he was either involved in a mid-air collision or his aircraft broke up in a dive during the attack. Lieutenant Edward Thornton, flying close to him at the time, described what he saw:— "I was up at 15,000 ft. over the German lines, when I saw Captain Selous take a dive at a German machine some 2,000 feet below. What actually happened I do not know, but all at once I saw both wings of the machine collapse, and he fell to the earth like a stone. We were terribly upset at this, as he was idolised by us all."
The Major commanding his squadron, wrote a letter of condolence to his mother, "It is a severe blow to the squadron to lose him, for he was beloved by officers and men alike. In fact, his popularity extended to a much greater area than his own aerodrome. In the short time that I have known him I have been struck with the courage and keenness of your son—always ready for his jobs, and always going about his work with the cheeriest and happiest of smiles. He was the life and soul of the mess."
Group Captain A.J.L. Scott, CB, MC, AFC, in his book "Sixty Squadron RAF 1916—1919" (pub. Greenhill Books 1920) wrote in the most glowing terms about Frederick Selous, comparing him to some of the celebrated air aces of the Great War:- "As good a flight commander as we ever had, he was a great loss to the squadron. Without, perhaps, the brilliance of Ball or Bishop he like Caldwell, Summers, Armstrong, Hammersley, Chidlaw-Roberts, Belgrave and Scholte, to name a few only of the best, played always for the squadron and not for his own hand. He took endless pains to enter young pilots to the game, watching them on their first patrols as a good and patient huntsman watches his young hounds."[xlix]

Arras Flying Services Memorial The SE5a, the type flown by Freddie
Harold Sherborn Selous (1899 – 1954)
Their second son, Harold became a civil servant in Nyasaland (now Malawi) spending most of his time in Nyasaland, with visits every few years back to England, no doubt to see his mother.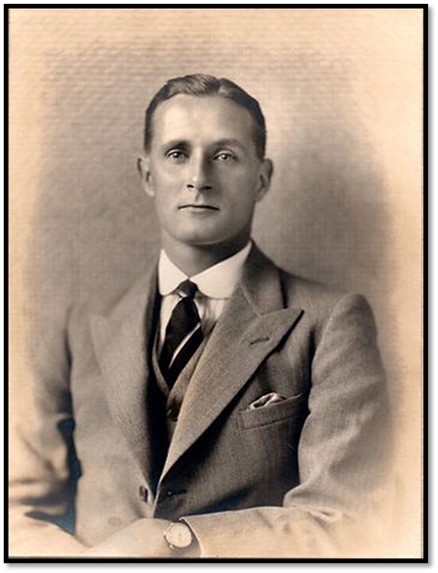 Harold Sherborn Selous
G.P. Fuller who wrote the account of Selous' death in Illustrated Life Rhodesia says that in the 1920's he was travelling from the Sudan to the Cape and in passing through Nyasaland he thought Harold might be interested in hearing about his father's last day. However, Harold was bored to death for possessing his famous name and did not want to hear a word about the details of the last day, death, or the funeral of his father. He offered tea, but Fuller and his wife refused and left.
The Heatherside Estate
The authors of the website https://www.foxcornerhistory.com/south-and-west-sides
from their research established that some parts of the estate (e.g. Heather Cottage) were sold immediately after Glady's death and by 1953 Heatherside Estate itself had been divided into two houses, named East Heatherside (now Norfolk House) and Squirrels (now The Squirrels) The total estate at the time Selous' death in 1917 was valued at £330,000.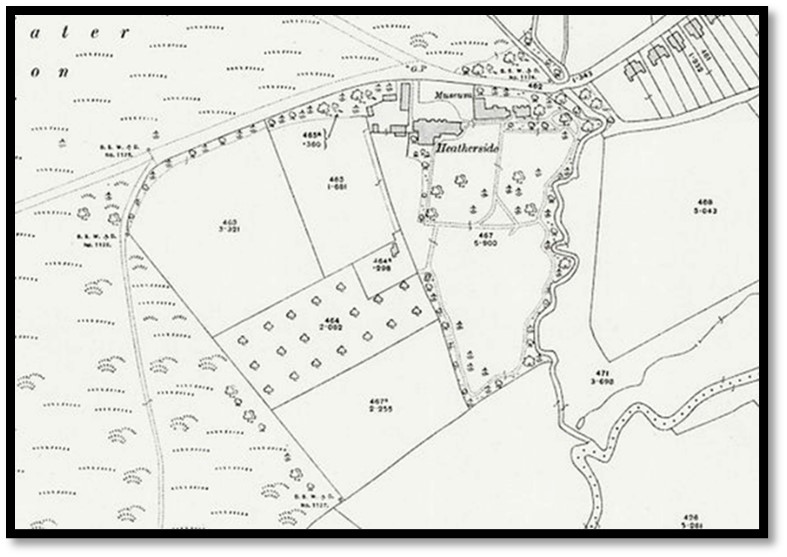 Heatherside Estate From the 1915 Ordinance Survey map
The map clearly marks one of the buildings near the road as a Museum. The authors say on the eastern side of the Museum was a building known as Heatherside Bungalow, in which George Steedman lived alone. He arrived in 1897 as the farm bailiff, but soon became the museum caretaker, and stayed there until 1929. Neither the Museum, nor Heatherside Bungalow exists anymore, and their foundations would today be somewhere underneath the front garden of Brookside. Two of the original five farmyard buildings exist today as Heather Cottage.
After the death of Gladys presumably most of the estate was left to her only surviving son, Harold, who died just three years after his mother, in South Africa in 1954.
​They say the elaborate gardens constructed by Gladys are now divided between three properties - Brookside, Norfolk House and The Squirrels and today their layout has changed completely with the division into three different properties.
​Most of the land further to the west, formerly the Tod's Farm estate, was sold off for development after Glady's death, during the 1950's, and is dealt with on the website under the Ash Road page.
The authors of the website https://www.foxcornerhistory.com/south-and-west-sides speculate whether Selous ever met Henry Morton Stanley (1841-1904), the African explorer, who searched for the missionary and explorer David Livingstone, and who lived on the other side of Pirbright on Stanley Hill. Their time in Pirbright overlapped by 10 years, and they believe it is unthinkable that they were unaware of each other's presence. A relative of David Livingstone, also lived in Malthouse Lane, Pirbright.
War Memorial at St Michael and All Angels Church in Pirbright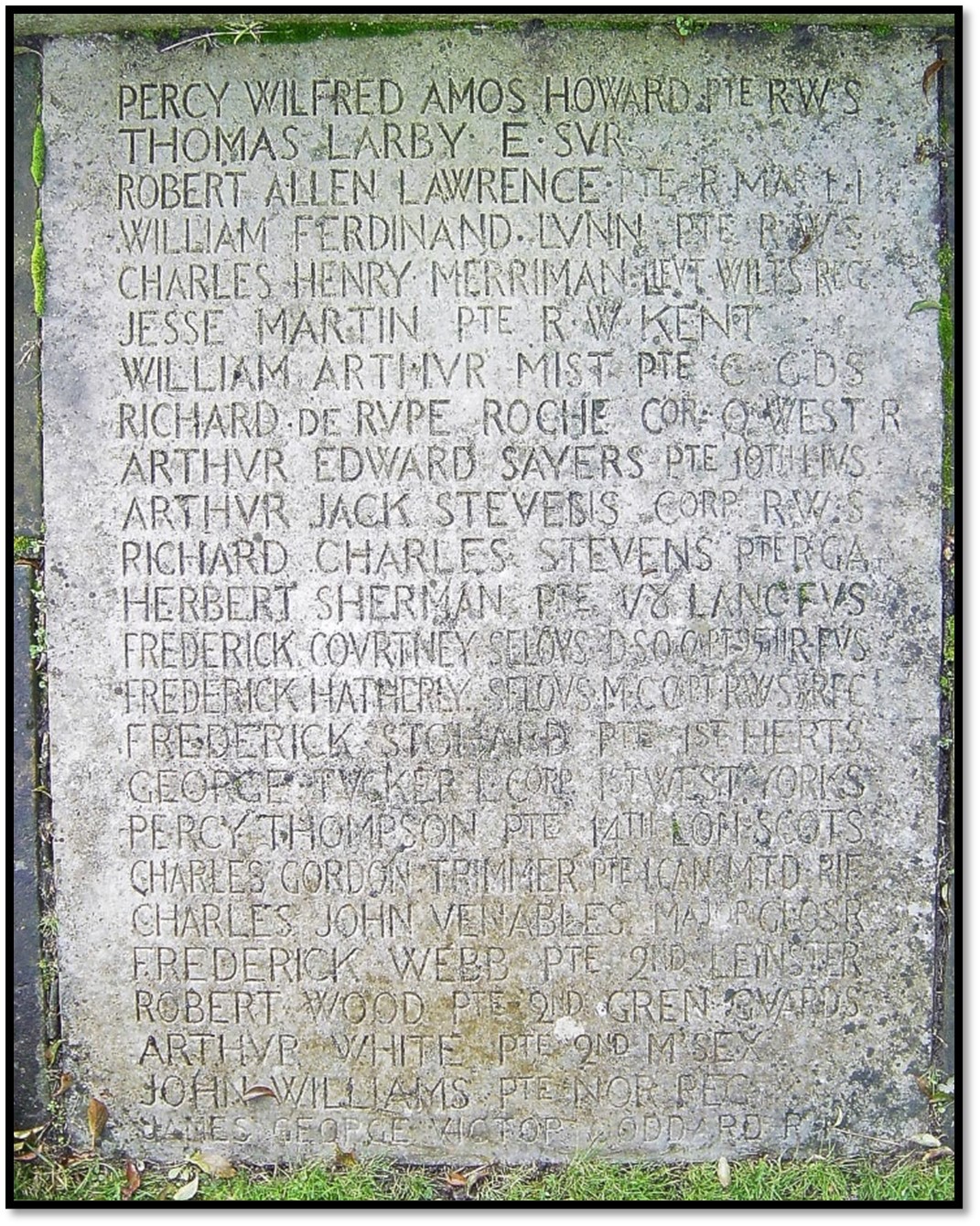 Photo courtesy of Jonathan Foster: the World War I Memorial with Selous' Father and Son's names inscribed
Selous, the epitome of the Victorian gentleman, explorer, hunter and soldier
Wilbur Smith, the author of so many historical fiction novels about Southern Africa including When the Lion Feeds, The Dark of the Sun, Shout at the Devil, The Sunbird and Eagle in the Sky described Selous as his history hero in an interview published in the February 2012 issue of the BBC History magazine.[l] He said Selous was someone who did not shoot game for pleasure, but was fascinated by nature, collected bird eggs, and was a keen conservationist, a man of action, intelligence and words. He thought Selous' finest hour was the manner of his death as a soldier at the age of 65 years old.[li]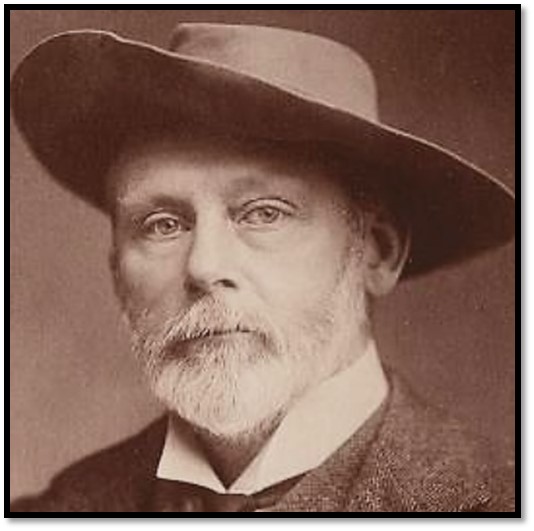 Acknowledgements
A lot of very useful information for this article came from the website https://www.foxcornerhistory.com/south-and-west-sides that describes the history of the Selous home at Heatherside, formerly Alpine Lodge and was the source of many of the newspaper cuttings used in the article. Jonathan Foster also provided me with the Western Front Association Bulletin 123 and photos of the War memorial at Pirbright for which I am very grateful.
Justin Seymour-Smith proved the inspiration for this article when he sent me photographs he had taken on a clean-up of Selous' grave in 2007, photos his maternal grandfather had taken in the 1920's and the G.P. Fuller article from Illustrated Life Rhodesia of 1969.
The website https://www.25throyalfusiliers.co.uk/ kept by Steve Eeles is a very useful source of information on the 25th Royal Fusiliers with both a Nominal Roll and a Roll of Honour and Steve kindly sourced the military record for George Fuller and provided other useful information.
The article by David Whittaker An Adventure from the War in East Africa; The Legion of Frontiersman and Captain F.C. Selous D.S.O. in The Western Front Association Bulletin 123 of December 2022 is a very informative and well written account.
References
https://www.foxcornerhistory.com/south-and-west-sides
https://www.surreyinthegreatwar.org.uk/story/father-and-son-f-c-selous-and-f-h-b-selous/
https://www.25throyalfusiliers.co.uk/
J.M. Wilson. Memorials of Rugbeians who fell in The Great War Vol IV. Published by Medici Society, London., 1918
D. Tattersfield, Vice-Chairman, The Western Front Association - https://www.westernfrontassociation.com/world-war-i-articles/captains-fr...
BBC History magazine of February 2012 interview with author Wilbur Smith: My history hero: Frederick Courteney Selous (1851-1917) https://www.historyextra.com/period/first-world-war/my-history-hero-fred...
B. Higham. Surrey Heritage. Father and Son – F C Selous and F H B Selous. 4 Jan 2018. https://www.surreyinthegreatwar.org.uk/story/father-and-son-f-c-selous-a...
J.G. Millais. Life of Frederick Courtenay Selous, D.S.O. Capt. 25th Royal Fusiliers. Longmans, Green and Co, 1919.
G.P. Fuller. Selous' Last Hour. Illustrated Life Rhodesia. 28 August 1969.
D. Whittaker. The Western Front Association Bulletin No 123 of December 2022. An Adventure from the War in German East Africa. The Legion of Frontiersman and Captain F.C. Selous D.S.O.
Notes
---
Fee:
Entrance, accommodation and guiding fees charged