Serima Mission Church
Why Visit?:
Evelyn Waugh, the famous English art critic, described Serima as the "African Chartres;" Chartres being probably the most famous medieval cathedral in Europe
St Mary's Church at Serima mission is built in an inspirational Romanesque design
The Mission, its school and Church were built on a very limited budget, from local materials only, because the local African community were inspired by Groeber's vision
It has been called one of the most inspiring churches to visit in Zimbabwe
How to get here:
Serima mission can be accessed from the A4 via gravel roads which are in fair condition. From Masvingo turn right at 60.3 KM. From Mvuma turn left at 36 KM. Distances are from the signpost on the A4. 5.9 KM continue straight on ignoring the road on the right, 9.8 KM turn right, 14.4 KM continue straight on through the junction, 17.8 KM turn right and continue straight on for Serima Mission Church which is directly ahead.
Serima Mission Church can also be accessed from the Chivhu – Chiredzi road and is clearly signposted.
GPS reference: 19⁰31′05.74″S 30⁰52′51.37″E
Serima Church, Hospital and School complex are situated within the Serima communal lands, south of Felixburg and north of Chatsworth, and to the east of the A4 connecting Mvuma with Masvingo.
Father John Groeber of the Swiss Bethlehem Mission Society arrived in the country in 1939 and after working on different mission stations including Driefontein, Silveira (Bikita), St Benedict's , St Joseph's (Chilimanzi) Gokomere and Fort Victoria (Masvingo) was posted to Serima in 1948 and given full freedom to plan and design and build a new Mission Church.
He built the mission to his own plans and to decorate it he awakened in the young primary school African boys at Serima a keen interest in drawing and carving by establishing an art workshop. The mask was the most important part of his art teaching. The boys were given basic training in drawing and then told to draw a face just as they wished. With the drawing done, they modelled the same face in clay and once done they carved the same face in wood. Those that made the best carvings received more specialised training under the guidance of Father Groeber. Elizabeth Morton argues that Mission-derived Christian art was central to the development of modern art in southern Africa and that the church workshops had a major impact on the education and training of many of Africa's most influential artists.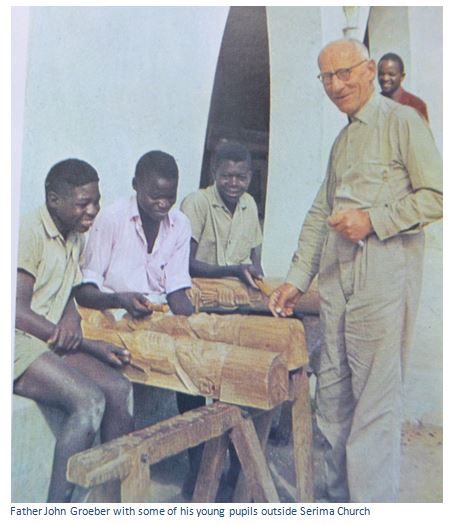 Father Groeber decided to decorate the church interior with extensive Christian art carvings that were to be "African" in style and as a result he had to make judgments about what African art should look like, as well as devising a training program that could produce this kind of African art, because local woodcraft production was practically extinct by this time. It is their carvings, paintings and decoration that now adorn the school buildings, classrooms and especially the Church. The modern techniques and styles that he developed would be institutionalized eventually at the Driefontein Carving School, and would also be used in the secular stone sculpture movement that emerged in Salisbury (now Harare) in the 1960's. Some of the best known artists to emerge from Groeber's school were Nicholas Mukomberanwa, Joseph Ndandarika, Tapfuma Gutsa, Gabriel Hatugari, Ernest Bhere and Cornelio Manguma (Sinyoro)
The Church plan has two rectangular naves which are laid at an angle of 45⁰ to each other and look, as Father Groeber said, "like a huge pair of shorts." Their axes converge on the high altar, so that the entire congregation has the altar in full view.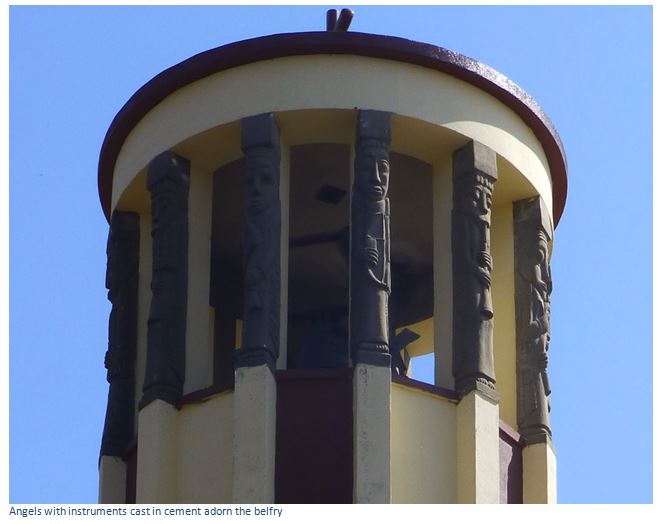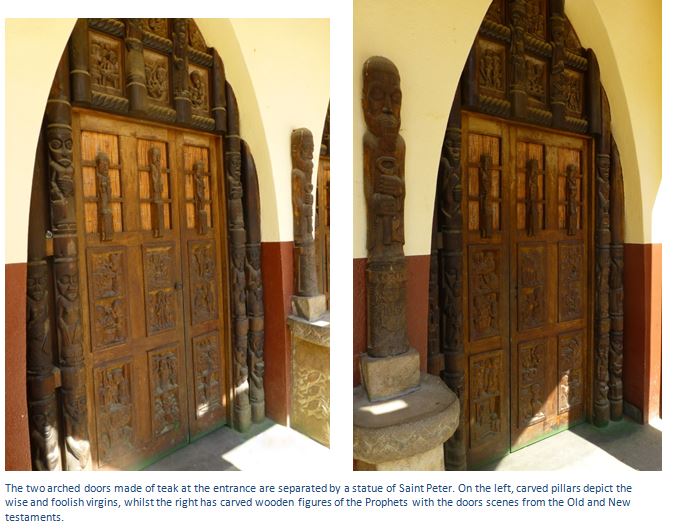 It was Father Groeber's respect and admiration of African art that led him to create this superb building using a local building style and local materials. Serima Church, with its open spaces, green polished floors and curved arches features a carved wood altar and soaring screen of apostles, saints and angels, the baptismal font clad in small clay tiles depicting biblical scenes and two side-altars of gracious beauty, one has tiers of fine large clay pots and intensely sculpted figures represent the wooden Stations of the Cross on the walls of the Church. Stools are carved out of solid blocks of wood and decorated with stylised carvings of animals which feature in the bible.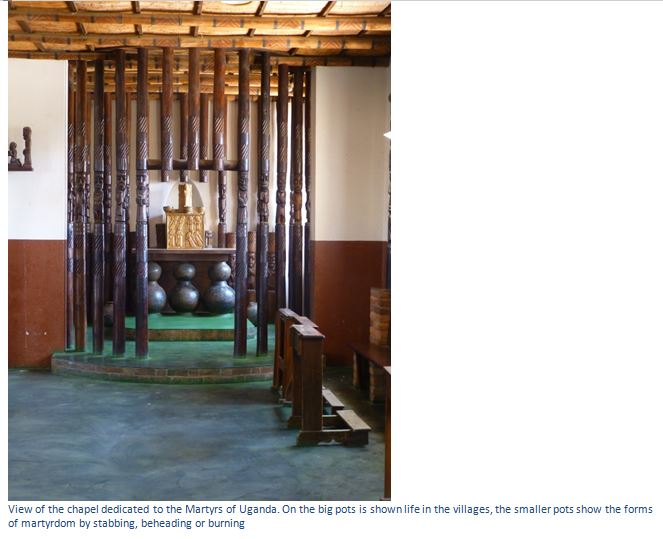 The pupils were given free rein to express their religious feelings. Elizabeth Morton says training young men to carve and paint was only a means to other ends for Father Groeber. On a deeply personal level, he was driven to prove that despite his modest background, his marginal academic abilities and credentials, he was capable of producing an architectural triumph that would define his life's work. On a broader theological level, he believed that the arts needed to be used to spread Christianity in the Third World and he practised this philosophy in the years 1948 – 1967 that he taught at Serima Mission Church.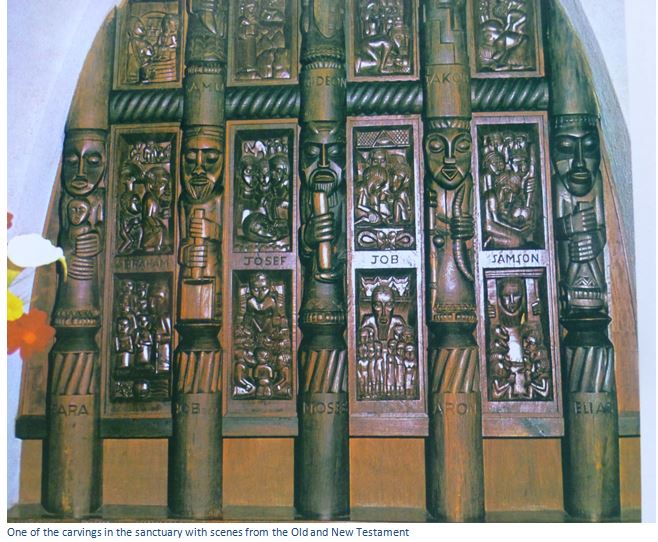 The interior decoration sought to create an African expression of Christianity, as one of Groeber's greatest admirers, his former student, Tapfuma Gutsa, has put it, he wanted "to produce a church and form of art that would make his people feel at home." Every piece of wood within the Church is carved with figures, or masks of apostles, angels and other biblical characters with over 80 figures on the roof and window beams alone. Large coloured murals made of coloured sands depict scenes from the Bible in the nave and coloured ceramic tiles decorate the altars and fonts.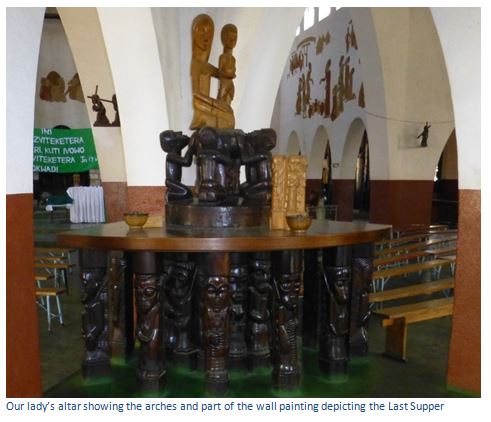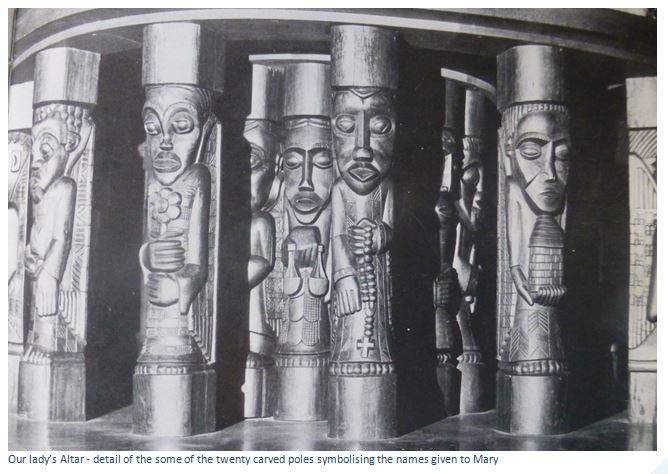 The problem for Groeber was that at first there were no artists capable of carrying out his vision and he had to train them all himself. By the mid-1950's he was giving all incoming students aptitude tests in art and was teaching art classes at the Serima School. In addition, he supervised the efforts of a small group of carvers (usually 3-4) who he picked out of his art classes and gave them scholarships. These students included Cornelius Manguma, Gabriel Hatugari, Nicholas Mukomberanwa and Joseph Ndandarika, and many went onto exhibit internationally and make their careers in carving.
Groeber's training system was demanding and rigorous one, always carried out under his very close supervision and he insisted on the highest technical standards for his artists. They were initially trained carefully in proportion and drawing, but Groeber refused to teach art history lessons for fear of contaminating his student's imaginations by letting them view European art. The only models the students were allowed to see were West African masks and works produced at Serima.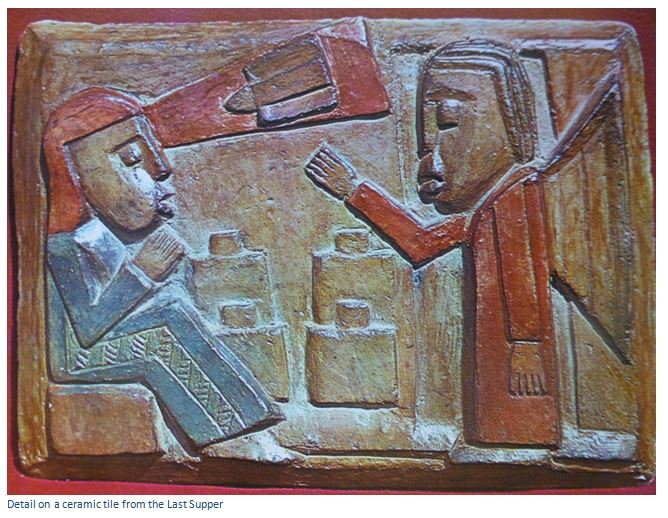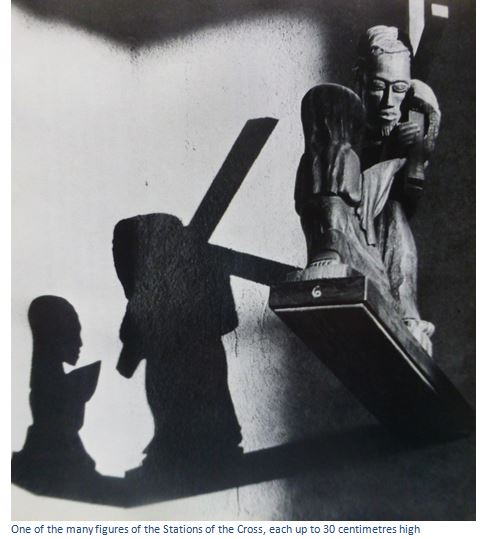 Today Serima Senior High School and a Primary School, both Catholic-based, as well as a district hospital serve the educational and health needs of the local community with Serima Mission Church at the centre of these activities.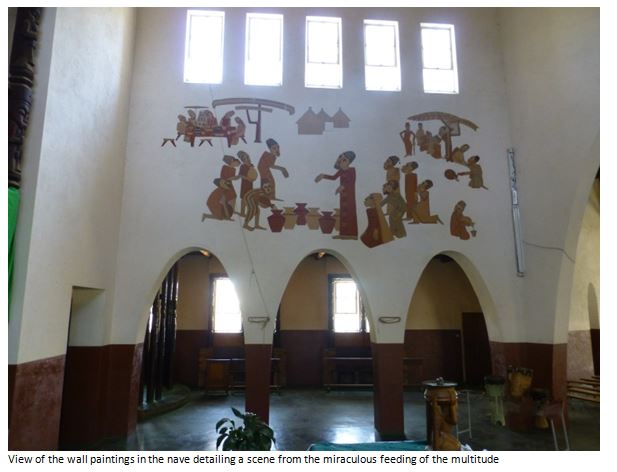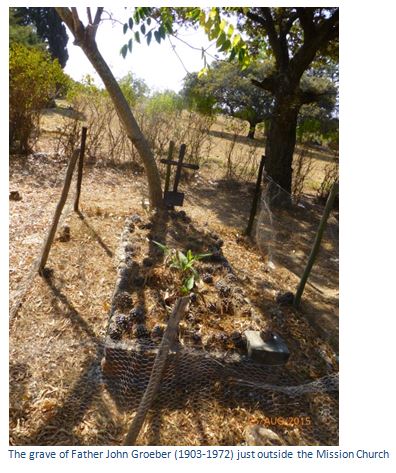 Acknowledgements
Elizabeth Morton: Father John Groeber's Workshop at Serima Mission and its Impact on the Zimbabwean Stone Sculpture Movement a paper presented at the Kevin Carroll Conference on African Christian Art, October 6 2012.
Jacob Raath. Essay on Serima Mission / Kate Raath for photos and information
Serima. Editors A.B. Plangger / M. Diethelm. Mambo Press, Gweru. 1974
When to visit:
All year around Monday to Sunday 8:30am to 4:30pm
Fee:
Entrance free, but donations towards running the Church are welcome