Savé Valley Conservancy
Why Visit?:
The guiding purpose of setting up Savé Valley Conservancy was to establish a sanctuary for the intensive protection of rhino as black rhinos are listed as critically endangered and the white rhino is near threatened. A century ago around 400,000 wild black rhinos roamed over sub-Saharan Africa; now it is estimated there are less than 2,500 due to trophy hunting, habitat loss and poaching for horn. The Savé Conservancy are Africa's most successful black rhino breeding programme.
Savé Valley Conservancy is home to an impressive number of animals, including the "big five" with black and white rhino and is classified as an important bird area with many of Zimbabwe's 670 recorded bird species including abundant Raptors.
The painted dog, like the black rhino, is also red-listed as critically endangered with as few as 5,700 remaining in the wild. They are highly social and live a rich cooperative pack existence and amazing opportunities exist in Savé Valley Conservancy to watch these dogs on special den-viewing safaris when for the first twelve weeks the puppies are nursed in and around the den.
How to get here:
The Savé Valley Conservancy is in the south-east Lowveld of Zimbabwe, approximately 150 kilometres south of Mutare. The Masvingo Mutare road (A9) forms the northern boundary and the Savé River runs the entire length of the eastern boundary. Communal lands form the western boundary of the Conservancy, and the Mkwasine River roughly defines the southern boundary which touches the A10 road to Chiredzi.
Website: www.savevalleyconservancy.org
The Savé (pronounced Sah-vey) Valley Conservancy is located in the south-east lowveld, about 70 Kilometres by road from Chiredzi. In the 1920's the Savé Valley was stocked with cattle farms which forced out the wildlife; the entire ecological balance and wildlife balance was out of sync and over time the environment became overused and infertile. The Conservancy was formed in 1991 by many land owners joining together with a common purpose: to improve and promote wildlife management and conservation and it has become the largest conservancy in the world.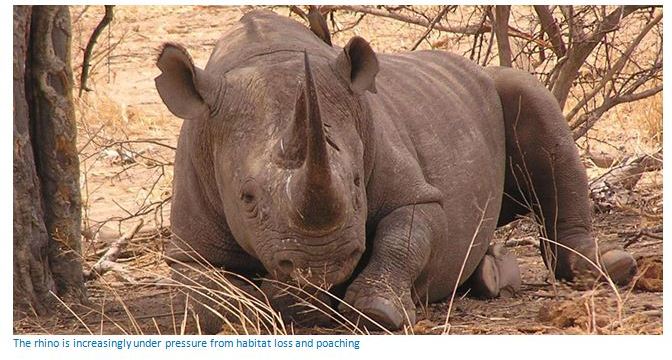 The owners believed that by decreasing the number of cattle and introducing the original wildlife back to the area it would help to restore the natural balance. The area is ideally suited for wildlife to thrive, and with international backing has also provided an excellent area for the distribution and protection of endangered species such as the Lichtenstein's hartebeest, the roan antelope, and protecting the black and white rhino from extinction, private game safaris, limited hunting concessions and multi species research. Unfortunately the original perimeter fence was destroyed by illegal settlers; but a 330 kilometre electric fence now surrounds the entire Savé Valley Conservancy of 3,200 Kilometres² formed by combining 24 adjoining farms.
The thousands of hectares of this harsh lowveld include rocky kopjes and riverine plains, mopane woodland, huge baobabs and acacia thickets in which herds of buffalo, elephant, impala, and rhino wander amongst the remains of ancient culture in the form of granite Iron Age walls and San rock art paintings.
Savé Valley Conservancy (SVC) is home to the 'big five'; lion, buffalo, leopard, elephant and black and white rhino as well as giraffe, eland, bushbuck, jackal, kudu, wildebeest, impala, warthog, bush pig, crocodile, nyala, duiker, honey badger, hippo, spotted hyena, vervet monkey, Sharpe's grysbok, red and Lichtenstein's hartebeest, waterbuck, klipspringer, zebra and baboon. There are also several vulnerable mammal species such as cheetah, serval, brown hyena, sable antelope and painted dogs.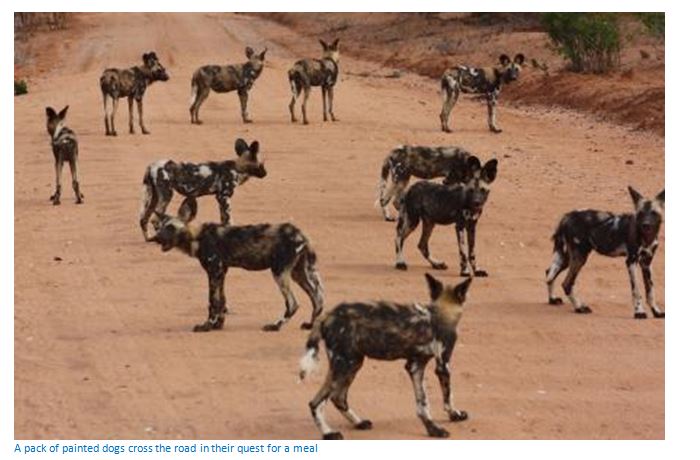 Clive Stockil, one of Zimbabwe's leading lights in the field of conservation and founder of the CAMPFIRE project (Communal Area Management Programme For Indigenous Resources) was awarded the Tusk Trust Lifetime Achievement Award in 2013 for his life-long work in the area, with the award being presented by Prince William. The Save Conservancy has drawn support from the World Wildlife Fund and investors from Europe and United States who are protected under bilateral investment agreements with the countries involved. Its breeding and conservation successes put it in a position to help restock other nature preserves across the nation suffering from poaching. Earnings from its operations are channelled into five neighbouring rural districts, supporting thousands of villagers by allowing them to sell their arts and crafts to visitors and employing at least 800 workers in the Conservancy.
However, all these positive outcomes were compromised in 2012 when Zanu PF loyalists, particularly from Masvingo province, invaded and parcelled out the Conservancy amongst themselves before embarking on an orgy of wildlife hunting, amongst them a former deputy minister who grabbed Savuli ranch within the conservancy and poached many animals including rhinos, sparking local and international outrage. Conservancy members had their own commercial hunting licenses cancelled, whilst the twenty-five connected political individuals who had no past relationship with wildlife, were allocated land and hunting licenses. At the time Willy Pabst, deputy head of the conservancy said "Let's end the madness of a few. We cannot host the United Nations World Tourism Organization August 2013 Summit and on the other hand destroy one of Zimbabwe's tourism jewels because a few want to lay their hands on the treasure."
In September 2014 those same political bigwigs and senior military officials were being kicked out after all their 25-year leases that were issued under the wildlife-based land reform programme were withdrawn on the grounds these same beneficiaries also owned A2 farms elsewhere. The Minister at the time said he hoped withdrawal of the leases would benefit communities around Savé Conservancy; however the land grab threat still remains.
Ongoing research to protect and preserve the restored environment within SVC includes the following projects:
Lowveld Wild Dog Project sponsored by The African Wildlife Conservation Fund's started by Dr Alistair Pole in 1996 to record painted dog numbers and distribution and to improve their overall conservation.

Sango Leopard Research Project was launched as a project in 2008 in association with the University of Pretoria, South Africa. The aim is to review the economic and ecological issues related to leopard hunting in Africa and to assess the impacts and sustainability of trophy hunting.

Black and White Rhino Projects monitor both species on a permanent ongoing basis. Rhino protection is demanding on both financial and human resources as they need to be safeguarded with anti-poaching and de-horning programmes.

The South East Lowveld Bird Atlassing Project monitors the numbers of birds of prey and works with the Endangered Wildlife Trust's Ground Hornbill Working Group to monitor their local population.

The Turgwe Hippo Trust rescued hippos in the 1990's on the Turgwe River and continues to study their population which is under threat from shrinking habitat and poaching.

Other projects through which the Trust endeavours to improve the lives of all within the SVC include:

A craft market project as part of a community outreach program.
A local conservation education program teaching groups of children in situ through school camps
A successful malaria eradication programme.
Providing books and teaching materials to the local community schools.
As a Non-Profit Organisation the Savé Valley Conservancy relies on donations and revenues generated for all their projects and research to protect endangered wildlife.
Local Safari and Hunting operators within the Savé Valley Conservancy include:
Senuko Safari Lodge (savevalleyconservancy.org) meaning "The place where animals drink" has eight twin-bedded chalets with open fronts and roll-down screens, allowing visitors to look out over the countryside. Each room contains two four-poster beds and has an en-suite bathroom with a bath and a shower. The lodge is built with local hardwoods and blended into a granite hill giving it a unique character. The communal area consists of a small swimming pool with a sundeck and a patio where visitors relax in the evening with a drink before dinner; the central dining room and bar have panoramic views over the local area.
Sango Lodge (www.sango-wildlife.com) comprises four private eco-suites constructed of stone, wood and glass and integrated into their surroundings of baobabs and boulders. They each have a luxurious bedroom and en-suite bathroom, lounge and outdoor shower with private patio. The communal facilities include a library and bar area with an open fire place and swimming pool. For the more adventurous, there's a luxury tent camp with each of the three tents permanently situated and furnished with an ensuite bathroom and a private deck.
Mkwasine Safari Camp (www.savevalleyconservancy.org) is sited on the banks of the Mkwasine River within an exclusive 30,000 acre private concession in the Save Valley Conservancy. The four large East Africa style tents, each have two 3/4 beds and an ensuite bathroom with shower, basin and flush toilet. The main lodge is thatched with a lounge and dining area and a fire for those cold winter nights. It overlooks a permanent pool in the Mkwasine River and is a great place to sit in the evenings under the stars and recount the adventures of the day.
Mokore Camp (www.mokoresafaris.com) is both a hunting and safari camp situated on the banks of the Turgwe River in the heart of the Savé Valley Conservancy and consists of six luxury stone under thatch chalets with en-suite bathrooms. The dining area with its wooden deck has a picturesque view of the river and is shaded by a canopy of large Nyala Berry trees. Their Sengwa Camp consists of three East African safari style tents which are en-suite and a central dining area is sited on a big bluff overlooking the Sengwa River.
Samanyanga Lodge (www.mazungasafaris.com) is situated in the Bubye Valley Conservancy (previously Lemco Safari area) which is over 340,000 hectares in extent in the south-western Zimbabwe. Mazunga Safaris operate seven camps, mostly tented camps. Samanyanga lodge is concealed by a canopy of riverine forest consists of six tented chalets accommodating 12 guests on raised wooden platforms, bathrooms are ensuite, with hot and cold running water and flush toilets. The central lodge overlooking the Bubi River is intimate and personal with its proximity to nature being the main feature of this wilderness retreat and is an ideal for relaxing holiday's and small conferences. We currently operate 7 camps with guest accommodation comprising thatched rondavels/chalets. The rooms are lit by either 12 volt or electrical generator and a wide range of wholesome meals are prepared by talented chefs at each camp.
Singita Pamushana Lodge (www.singita.com/pamushana-lodge) is within the 130,000 hectare Malilangwe "call of the Leopard" Wildlife Reserve in south-eastern Zimbabwe. Nestling beneath trees, the Lodge comprises six luxury air-conditioned luxury suites and one villa, all bedrooms have en suite bathroom and shower, as well as an outdoor shower, private plunge pool, a private lounge and game viewing deck. The main lodge area offers an indoor dining room, open dining room with teak-deck dining areas, bar, library, open-air lounge and two swimming pools overlooking the Malilangwe dam and sandstone hills. Additional accommodation is available at Singita Sabora tented camp and Singita Lebombo Lodge.
When to visit:
All year around Monday to Sunday 8am to 5pm
Fee:
Entrance and accommodation fees are payable