Quentin Barnett's childhood memories of life at Widgeon Ranch, Felixburg, Rhodesia 1956-1971
My Grandfather, Thomas Wilkie Barnett, died on Alanberry Farm (neighbouring Widgeon Ranch) in March 1936 at the age of 66 years. My Grandmother Francis was at the time Matron at Fort Victoria and later Milton Junior School in Bulawayo for about six years to assist putting her boys Alastair (my Dad), Tommy and Billy through school. In 1937 Frances married Russell Henry Brown who was running the Felixburg Trading Store and doing part-time farming and mining. He was a well-respected early settler whose father had arrived in Mozambique (Portuguese East Africa) around 1895 to assist in the construction of the Beira-Umtali railway line (we still have one of his original packing trunks shipped out to PEA with his belongings). Frances would have known Russell Brown from shopping at his shop.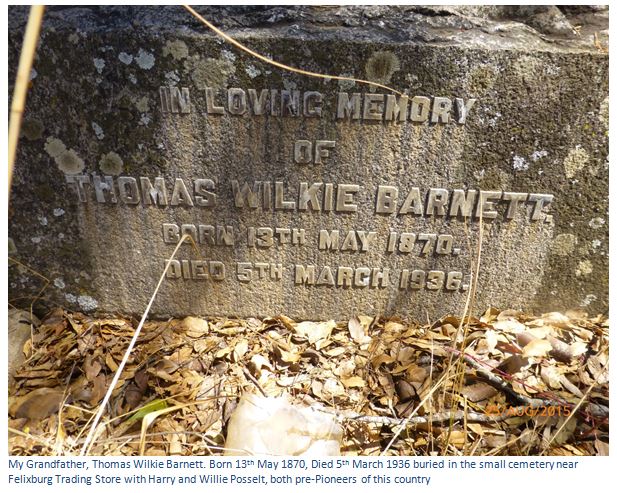 Russell Brown and Francis bought nearby Widgeon Ranch and built their home with a Rhodesian boiler, Aga stove, cork tile floors and asbestos roof and a lovely veranda around two sides of the house. The boreholes had windmills to supply water to the paddocks and house and with plentiful sheep manure, a very productive vegetable garden was soon established.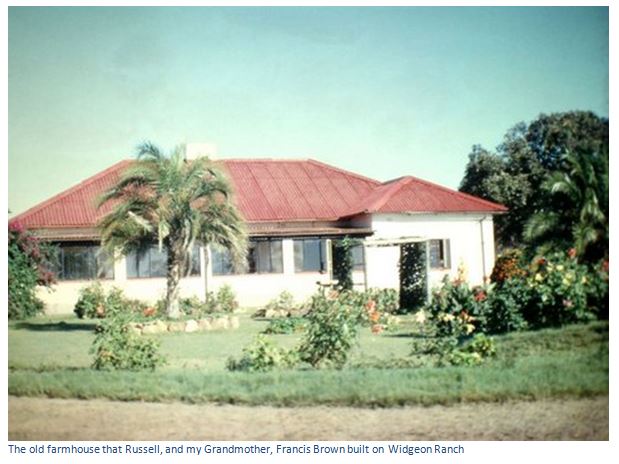 Widgeon Ranch was named after the numerous Widgeon wild duck that used to visit our natural water pans together with teal and knob billed duck, Egyptian geese, crowned cranes and wattled cranes. The ranch consisted of 13,000 acres of savannah grassland with outcrops of msasa woodlands on predominantly deep white Kalahari sand dotted with termite hills and the odd chakata or umbrella tree. The corner of the farm towards Dolly Posselt, who lived on Grasslands Farm, had red soil and was in time ploughed to maize and legume beans for rations, cattle and fowl feed. Ploughing was done using ox drawn ploughs with ox drawn wagons, trailers, hay cutters and manual shellers. Wild pig, baboon and kudu used to raid the maize, but generally the lands produced 40 bags per acre.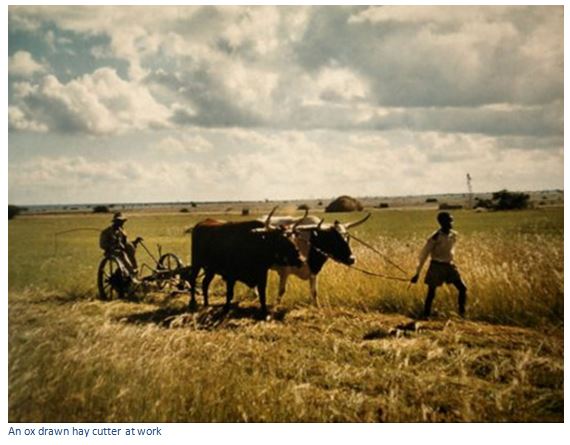 Tragically, Russell Brown, who suffered badly from arthritis, died of a rheumatic heart in February 1955. I will always have fond memories of him in his Chev motor car with the registration number E44 (E for Enkeldoorn) stopping at the concertina gates and giving sugar sticks and peppermints to the picannins. He had a big moustache, wore braces, smoked big cigars and drank Limousin brandy and had very neat hand writing and used to keep meticulous diaries and records. He also had a faithful fox terrier called Darkie who died two weeks after him of a broken heart; they were both buried not far from the homestead, side by side. My Gran spent nearly eighteen very happy years with Russell Henry Brown and my brother Russell is named after him. It is a pity I cannot give my biological grandfather, Thomas Wilkie Barnett, the same sort of eulogy as he died well before I was born, but I do know he liked a whisky and was a fine cattleman, introducing the first shorthorn cattle into the country. Thomas first farmed Rhodesdale in 1911 before it was renamed Central Estates and my Gran Frances married Tom in Bulawayo in 1911 arriving on a buckboard drawn by 8 mules.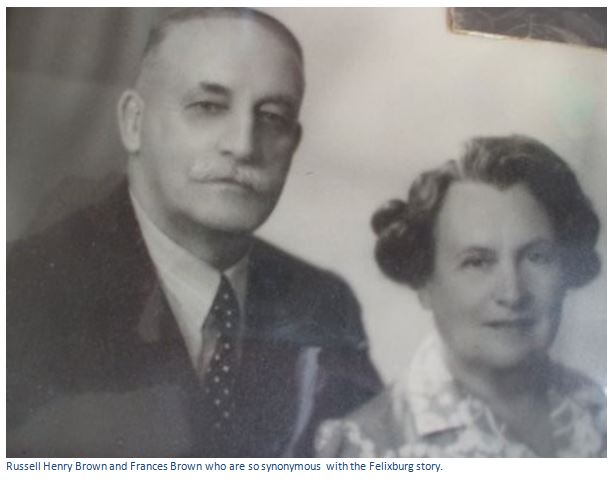 My father Alastair Barnett was a very successful commercial artist in Salisbury when he took over the farm in 1956, the same year that my sister Lorraine was born. His two brothers Tom and Bill already had farms of their own at Lion's Den, north of Chinhoyi and Rhodesdale, the old Central Estates area between Umvuma and Kwekwe. The office block and garage were extended on Widgeon Ranch and made into a comfortable three bedroom house, about one hundred metres from the original house where Granny Brown stayed.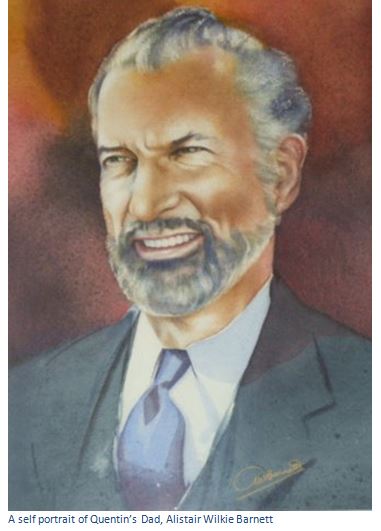 About one hundred metres on the other side of the house was the long drop toilet, or PK (picannin kia). It was quite scary going to the PK at night with a torch, or hurricane lamp as cobras, spitting beetles and wild cats were frequently in the vicinity as it was close to the chicken runs. The PK had stacks of magazines and WISH toilet paper and a painted face of a dirty old man staring at you from the inside of the door. On completion of your business, it was necessary to take a scoop of lime and tip it into the pit to suppress odour and flies. After the Tilley lamp era, both houses were lit by a diesel generator which had to be cranked up to start and could be turned off from inside the house usually at about 9.00pm. There was also a party line telephone; I remember our number was four long rings. If you were nosey, you could pick up the telephone receiver and listen in to other people's conversations. My room was one of the original rondavels my grandparents occupied when they first moved to the farm; I loved it there with its thatched roof and stable door.
The first year on the farm I had to undergo home schooling by correspondence with a teacher called Kay Osler in Salisbury. I was a bit behind as I was deaf in both ears and used to dread classes, especially when Mum used to close her eyes and count ten. She once asked me… if she was sitting there with Dad and Russell; how many shoes would they be wearing between them? Mum gave me fifteen minutes to think of the answer, and then came back and asked me; "how many shoes?" to which I replied; "what about granny's shoes?" I think she closed her eyes and counted twenty, instead of the usual ten that day!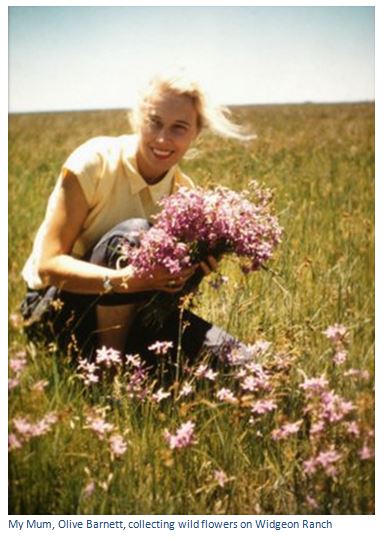 There was no television or computers in those days so we used to play records a lot on our gramophones. Russell spent much of his time drawing horses and reading, whilst I preferred to be out on my bicycle, or playing with farmyard animals, or out with the dogs or chickens. Russell and I would go into the fields barefoot with our pellet guns and shoot Namaqua Doves; I remember treading on devil thorns and getting steekgras seeds in our socks, or clothing. It was also fun to ride on the ox wagons with the dogs and we would often see guinea fowl, partridge, bustard, secretary birds and the odd jackal or tortoise on the way. We also played in the hay stacks, but we learnt right from wrong very soon, as mum was not shy to put her hair brush, or stick, to our rear ends.
We had various pets including Snipe a lovely Golden Retriever Dog and Sing Song our Siamese cat. Sing Song used to catch rats, but would also bring partially eaten rabbits into the house to show them off. Patsy my fox terrier dog would pull a little cart; Tickey, the little daschund, would be dressed up in dolls clothes and hats. He would follow us when we went out riding the horses and have to jump up every so often in the long grass to get his bearings. One day, unbeknown to us, he followed us for over 10 kilometres arriving back home late that night.
We also used to hand rear calves and lambs; the calves drinking powdered milk from a bucket and being treated as pets. Utah and Kalula the calves, would walk about with Tickey the daschund balancing on their backs, or even carry us for a short ride, when they were older. I used to love seeing my bantams as tiny chicks with stripes on their backs running behind their mother. I had Silkie bantams, Pekin bantams, guinea fowl and mallard ducks that would lay eggs and raise their young. I once put an Egyptian goose egg under a bantam which was hatched and raised. Gossie was a pet for many years and used to fly around the yard, until one day he took off with some wild geese and was never seen again. The bantam cocks would start crowing very early in the morning up in the trees but we were all quite used to the noise.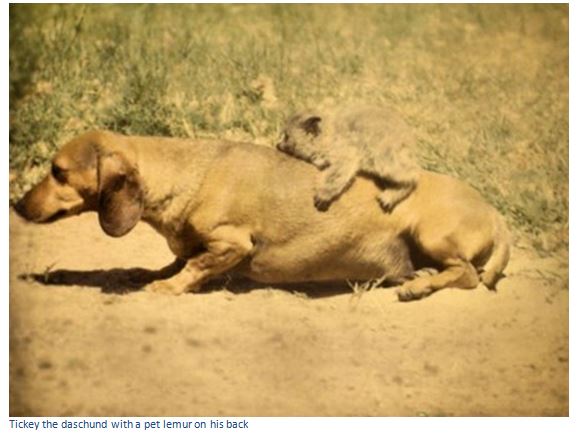 Much of my farm life was influenced by my dearly beloved Gran, Frances. Having been a matron for many years, she was a fine cook; I can remember her beautiful cakes with chocolate, coffee and vanilla icing with cherries and walnuts, lovely scones, coconut ice and biscuits. Russell and I were the envy of the other boys at Umvuma School with our tuck tins packed full of tasty homemade goodies. I often used to sleep in my Gran's room whilst I was a young boy and I remember her reading Enid Blyton's Famous Five and Secret Seven books to us on the chintz couch by the light of a Tilly lamp and the warmth of a crackling fire. We could see all the stars in such fine detail in those days, and the stillness of the crisp evenings would only be broken by a shrill jackal wail, or night jar call and the distant sound of the Welcome gold mine stamp mill. When we shone a spotlight over the veld we were sure to pick up the eyes of springhares hopping around like kangaroos, or spot a firefly in the beam. If we were lucky, we might spot an aardwolf, an antbear, or genet cat. During the day, we were more likely to see secretary birds, duiker, or reedbuck. I remember some starlings had built a huge nest in the chimney and I found bits of fish and crab in the nest which they could only have got from the Shashe River several miles away.
Gran Brown used to run the postal agency on the farm and every Friday everyone in the district would gather at the house to collect their mail which had been collected from Felixburg railway siding by bicycle. We used to collect stamps in those days and were able to get first day covers and build up a fine collection. Alec and Syd Lohr brought us a bag of sweets when they collected their mail and Roche Kelly would usually stay over for supper. Mr Kelly was a retired army Captain, with a very posh Irish accent, and we children used to embarrass everyone by getting the giggles and stifling our laughter under the table. Gran Brown was not a very good driver and found it difficult to twist her head around and look to the rear when reversing. She used to grate the gears and get into some scary skids in the thick sand on the roads around Felixburg, but miraculously emerged none the worse for wear. Gran used to help look after all my pets, which included all kinds of bantams, dogs, cats, calves, lambs, horses, night apes, lemurs, hedgehogs, pigeons, laughing doves, white rats and mice, parakeets and an eagle owl.
Bees were very common with the gum tree plantations and they would swarm and go berserk stinging anything they came across. It was funny to see the workers slap their faces, before running hell bent for cover, but it was tragic to see some of the poultry dying from hundreds of stings to the head. Mum would try to remove the stings by rubbing Vaseline on the affected area and scraping the stings off with a blade. On many occasions a bee would just fly into my hair and sting for no apparent reason. Now and then we would find a hive and harvest several combs of dripping honey.
Gran Brown used to separate the cream from the milk and make butter with two wooden paddles, and she used to collect wonderful big brown free range eggs from her Rhode Island Red hens, and the vegetable garden would produce all manner of fresh vegetables, youngberries and tree tomatoes. I remember well the breakfast platters of scrambled eggs, sausages, crispy bacon, fried tomatoes and mushrooms, and dinners of leg of lamb with roast potatoes, fresh green peas, cauliflower cheese and tender carrots. Desert would often be homemade ice cream, or youngberries and thick cream. I still have one or two of Gran's china platters; I also remember her light blue and pink tea sets and Willow dinner service.
I can still see her seated in her couch with a cup of coffee and saccharin, or an instant Postum, a popular substitute for coffee, and enjoying a Life, or Matinée cigarette. Gran had a lovely flower garden where she grew carnations, linaria, pansies, violets, dahlias, roses, arum lilies, pink, blue and purple hydrangeas, iris, calendulas, sweet peas and honey suckle. Every afternoon at about 4pm Gran used to walk to the turn off with Snowy, her Maltese poodle. We often used to join her with our own dogs; she was a great walker right up until the time she died. Gran eventually left the farm in 1965 to live in Salisbury, first at Raymark Court, and then at Fairways Homes and we used to visit her often and bring her farm produce. She was very popular at Fairways Homes, but tragically she slipped on the pavement one day when walking home from Eastlea. She broke a hip and was taken to hospital for a hip replacement, but never recovered and died at Fairways Homes Hospital on 23 August 1977 in her 88th year. I still have some of her furnishings in my house, such as the Tilley lamp stand, a liquor cabinet for her Sedgewick's Old Brown Sherry and the Limousin Brandy, a "pull out" dining table, a Hereford cow and calf ornament, and book case that was made by Italian internees at Mtao Forest near Umvuma.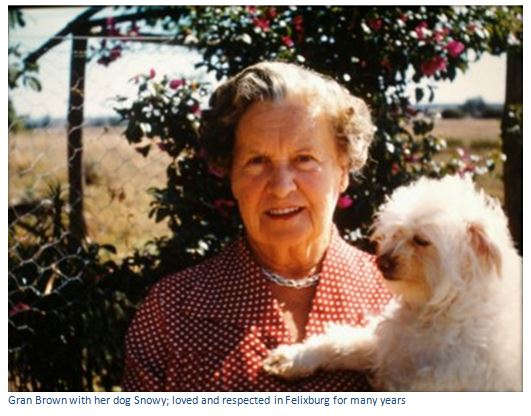 I recall the family travelling to Salisbury for farm business, but also to visit Gran Brown and Granny and Grandpa Smith (Mum's parents). We would get up early and drive through Alanberry farm, where Dad was raised, and join the main tar road at Enkeldoorn where he went to school. On the way we would stop and have our home packed ham sandwiches with mustard and hot coffee from the flask. Lou who was only about 3 or 4 years old would sing at the top of her voice and drive us all crazy. After about three hours driving, we would arrive in Salisbury where we would always visit the Dairy Den for a swirly ice cream cone with nuts and I used to enjoy selecting farm yard animals at Eric Cross's shop. It was fun visiting Granny and Grandpa Smith at their plot, as they had rabbits, chickens and guinea pigs. Grandpa used to sit in a chair with a kaross and smoke Star cigarettes and cough noisily; whilst Gran used to make a sponge sandwich cake with jam in the middle and icing sugar sprinkled lightly on top. It was always mealie meal porridge for breakfast, and the milk would always be delivered in glass bottles with silver foil tops. I can also remember Gran's delicious stewed peaches and plums. I still have a photo of a San hunter with a bow and arrow that hung on their wall for many years.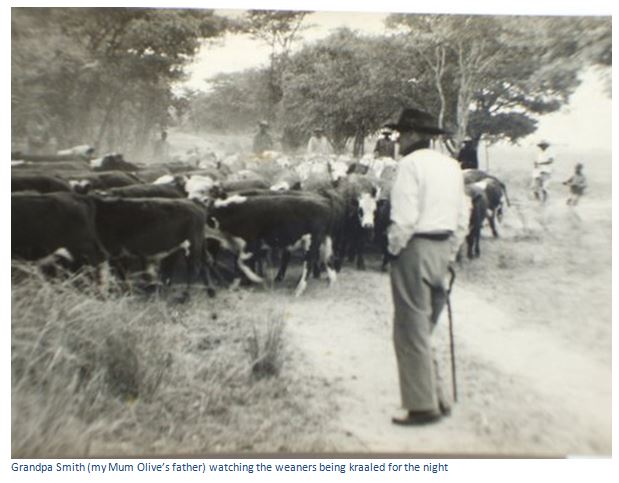 When we were young we would ride our bikes along the very sandy road, I had a blue Rudge bicycle with a bell and a dynamo powered light to the Felixburg Trading Store (formerly the Meikles Trading Store) that Grandpa Russell Brown ran. There is a little cemetery near the store where my Grandfather Tom Barnett is buried, along with some of the Posselt pioneers. I still have a ram horn snuff container that belonged to Grandpa Barnett.
After Russell Brown died, the store was bought by Peter Dracos, whose first wife died of typhoid; she was a good woman and friend of mum's. He remarried a new wife by mail order. I remember the store had a separate small gauzed building, which was the butchery, and a manually operated petrol pump. Inside the store was a long counter with shelves behind packed with blankets, rolls of colourful material, sweets, biscuits, loaves of bread and buns (or bunses as Dracos called them), squares of cake with pink icing, pen knives, Zobo watches with pocket chains, Vinolia soap, various cigarettes and tobaccos, three legged cooking pots, candles, washing powder, bicycle puncture repair kits, spare tyres, enamel plates, dishes and kettles. In the centre of the cracked floor were some sacks of beans, ground nuts, coarse salt and also a few large tins of paraffin that could be hand pumped into bottles. The store was quite dark and a battery radio would normally be playing on the counter, but the aromas were very distinctive. We would normally buy a bottle of coke and a small tin of condensed milk and punch two holes in the top, so as to suck out the delicious contents. Sometimes at home we used to run our own "play" store and sell soap, biscuits, sweets and Vaseline to anyone who would care to indulge us.
Rain on the farm was always celebrated, but Felixburg was a bad area for lightning and quite a few people lost their lives, or were seriously injured, including Phyllis Taberer, a neighbour who was struck whilst listening to her radio during a storm. The Taberer's had a rooster called "cheeky one" which used to chase us kids when we went to visit. She also had lots of turkeys and we used to order one for Christmas. It once happened that a group of cattle were gathered against a wire fence during a lightning storm and all eighteen of them were struck dead. The horses would put their back ends into the driving rain and lower their heads, whilst the cattle would gather beneath the chakata, or Umbrella trees for shelter. The chickens would shelter beneath corrugated iron shelters and look wet and pathetic. After the rain there would sometimes be a wonderful rainbow; the roosters would crow, the toppies (common bulbul) would sing and the swallows would swoop around and catch the flying ants that would emerge in their thousands from their ant colony. The rain quite often used to bring the Shashe River down in flood and visitors would sometimes have to wait for hours before they could negotiate the rocky drift and cross. The smell of rain on the parched earth, the sound of the rain on a tin roof, the flash of forked lightening and claps of thunder tend to remain with one forever. The smell of freshly cut hay (sometimes with molasses), sheep manure, cattle and horse pens were smells which I loved and will never forget, just like the smell of little puppies, or percolating coffee, or pipe tobacco, or cooking bacon, or freshly baked bread.... wonderful. The rains would bring out mushrooms and all sorts of wild flowers and large pools of water in the veld and huge green bull frogs would appear from nowhere to spawn. We used to splash about in these pools, avoiding the rivers and dams because of bilharzia which my Mum and Dad both had quite badly. We did however swim a lot in the reservoir next to the house, but were always afraid of the two big barbel fish (sharp tooth catfish barbel – Clarius gariepinus) that used to swim around at the bottom and eat the algae. Mum was very good at finding mushrooms that could be eaten and we used to eat a lot including the wild nedzis - a huge mushroom with the diameter of a large plate and a long stem. The African women used to "poach" these from our woods by the basket load and they would be carried off on their heads and dried out. They would also do a lot of tree chopping and carry off bundles of wood to build huts, or use as firewood and these scenes used to appear a lot in mum's paintings.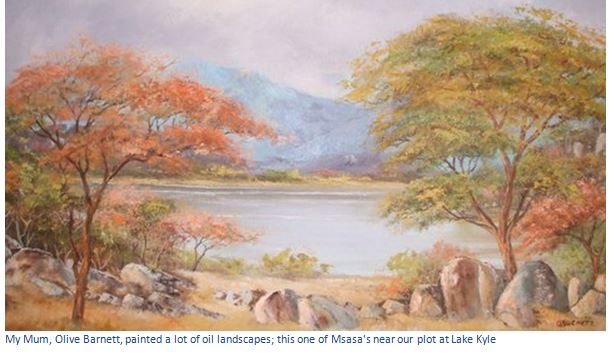 Drought was a not so pleasant facet of farm life, when the rains would come very late, or hardly come at all. Additional feed, phosphate licks and blocks of rock salt would be distributed to the various paddocks and we would very often have to lift up a weak old cow onto her feet and coax her to eat and drink, because once down it was very difficult for her to have the energy to get up again. Vultures gathering in the sky would be a tell-tale sign of a dead animal and skeletons dotted around in particularly bad years was never a pretty sight. The vultures and jackals would feed well as the muddy pools would dry up and crack and the hot dry wind swirled around into dust devils. October/November were probably the worst months , at the end of winter, only the splash of red from the coral (lucky bean) trees would bring relief from the dry brown veld. This was also a bad time for veld fires as the vegetation was dry and gusts of wind would fan up the huge flames which could travel very quickly. It was important to keep fireguards cut, but even then these were not always effective and Dad would have to gather all available staff to literally beat the flames out with sticks with a damp sack splayed out at the end. Large plumes of burnt grass would swirl into the air and hawks would swoop down and catch fleeing rodents as they dashed for cover. A large veld fire at night was quite an awe inspiring sight and could be seen from miles away. The rains when they did come however would transform the black parched earth into acres of short green grass like lawn, and the cattle would soon pick up weight again and the duiker relish the soft green shoots. Sometimes the rain would propagate poisonous plants and the cattle would inadvertently eat these with the other grasses and die. Once the animal had been cut open for examination , my mother was very good at carrying out post mortems, dissecting livers , identifying fluke and thread worms and noting the stomach contents. Usually Japie Jackson the vet was called for more serious illnesses like quarter evil, sweating sickness, gall sickness and red water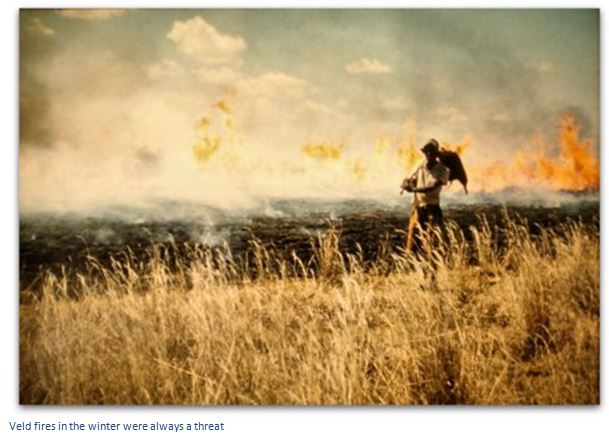 Dip day was another farm event and would take place every other week in the wet season when ticks were at their worst. The dip was a plunge dip and the cattle would swim through it and become totally submerged. Dad would sit on a special elevated seat in his stained old farm hat and green dust coat and count the animals jumping into the dip, by clicking a counting gadget, and take notes. There were over 1,000 head of cattle that had to be not only dipped, but the calves castrated, branded, dehorned, ear tagged and any sick animal treated for pink eye, septic wounds and ingrown horns. Fortunately there was nothing much an injection of Terramycin would not cure. The dipping process was accompanied by loud cracks of raw hide whips, and the slower animals would have their tails twisted all to the accompaniment of loud whistling and shouts of "dip, dip, dipaaaaa!" There was endless mooing of cows anxious not to lose their calves and once or twice there was a "penga" (in Shona "mad") animal that would try and jump out of the wooden pole kraal; one animal once jumped right up where Russell was sitting and broke his nose!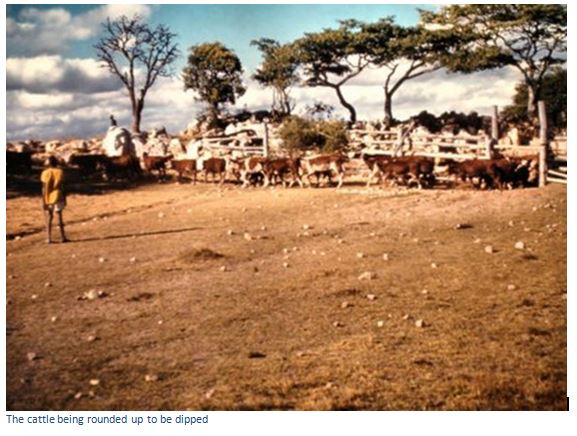 Each month an animal would be identified for rations and at the end of the day my father would shoot the beast between the eyes with his .22 Bruno rifle and the animal would be skinned and cut up. Mum would normally select what she wanted, perhaps fillets, rump, or tongue and keep it in a large enamel dish covered with a cloth until such time she could cut it up into portions and freeze it at home. The workers would take the head, feet and intestines, always considered a delicacy. A sheep might also be slaughtered at the homestead. The identified sheep, mostly a young hamel (castrated ram) would be slaughtered, hung up and the entrails removed. The carcass would then hang for a day or so before cutting up into parcels of rib, neck, saddle, with a knife and saw. We had very high quality meat on the farm with animals "off the grass" and free range poultry and eggs. I remember helping with the plucking of the poultry; boiling water would be poured over the dead bird and the feathers plucked, feet, head and entrails removed and the giblets placed into the cavity, not a very nice job. We had a very large deep freezer at the homestead for freezing weighed out parcels of ration meat which would be distributed to staff members together with mealie meal, groundnuts and salt every month. The hides were staked out, salted and sold to the tannery, which would come around and collect them periodically. Once the calves were old enough for weaning they would be separated from their mothers and driven out of sight and hearing to the home paddock. The first few days they would be kraaled and fed bean hay and made comfortable until they were used to being on their own. The poor things would moo endlessly for the first few days, but this would lessen as the days wore on.
Apart from involving herself in the various activities of farm life, Mum would also be nurse to the worker's families. I remember the big brown bottles of cough mixture, gentian violet, red mercurochrome, large jars of aspirin and rolls of bandages. In addition, she was forever sewing clothes and embroidering lovely dresses for Lou and her dolls. Mum painted beautiful oil landscapes which she used to sell, my dad too would paint and take photographs and we would view the slides from time to time (I still have some of the slides). We had many visitors stay on the farm; both family and friends , in particular Suzette Muller, Joan Hendrikz and my cousin Kathy, or Lynx as we used to call her. When in Fort Victoria, Mum played a lot of golf with her friend Daph McLeod, even winning some competitions, and she played tennis.
Driefontein, the Catholic Church, had the nearest medical centre and had very good doctors, particularly Doctor Lekkish from the USA. We made friends with the nurses and Jesuit Father's, including Father Gruber and Father Hubman and would sometimes go there and watch a film, or receive medical treatment, as when I fell out of our tree house and received a "greenstick fracture" to my arm.
The woods at the back of our house was a magical place for us and consisted mostly of msasa tree thickets with the odd snot apple, monkey orange, and Combretum trees. The lichen used to grow off from the trees in long "old man's beards" and outcrops of green moss would carpet parts of the ground in fairy-like gardens. In the wet season, many types of mushrooms, toad stools and fungi would grow up in little clusters of orange, maroon and yellow.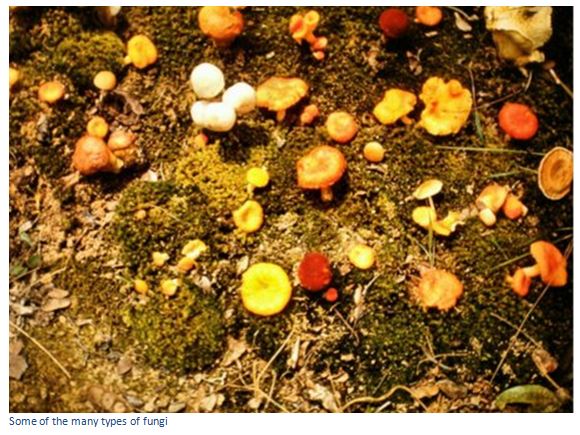 Huge spider webs would extend from one small tree to another and in the centre would be a large colourful spider, often with the remains of dead beetles and other insects. After rain the little droplets of water on the web strands would shine like little diamonds, but it was quite scary if you got entangled in the web as we often did. We often come across a freshly dug antbear hole and the dogs would tear off in pursuit of some hare, or shindi (the name we used for a polecat with a foul smell) The dogs loved to roll in anything dead and smelly and would not be popular when we arrived back at home. There were many birds in the woods, including paradise fly catchers, go away birds, woodpeckers, golden orioles, toppies, blue waxbills, partridges and little yellow white-eyes, as well as hawks and falcons. We collected birds' eggs and butterflies and built up very fine collections. The eggs would have a hole drilled in the one side using a hand held dentist drill bit and a stream of air blown into the egg using a biro pen case heated at the end and twisted up into a point with a small hole. We collected many eggs, but only one of each species and also had wonderful specimens of butterflies and moths. The latter were "set" on special cork boards made by our church minister Dickie Nash at Umvuma School and included Diadems, Garden Acreas, Policemen, African Monarchs, citrus swallowtail, Winter Commodore's, Foxy and all the other Charaxes, painted lady, orange, red and purple tips, Cabbage whites and yellows, purple and yellow pansies. We were very conscious of all the insect life, flora and fauna when we were young and I remember studying the dung beetles big and small and the myriad of colourful moths that used to lay eggs in the school bathrooms.
Every August the msasa leaves would turn into beautiful hues of crimson, orange, yellow and light green and their pods which would snap open with a loud crack and disperse their seeds. Large orange hairy caterpillar worms would eat the msasa leaves and travel in long lines from tree to tree. In the rainy season the Cicada's or Christmas Beetles would whistle very loudly but would stop as soon as you approached them. All sorts of interesting pieces of drift wood could be found in the woods and would form part of mum's flower arrangements at home. High termite hills could be found in the woods and the ants would form huge colonies underground supporting a queen ant. No wonder the ant bears thrived in this area, as well as the springhares which would burrow down into the soft earth. The tok tokkie beetles that would tap their rear ends on a hard surface to attract the attention of a mate and blister beetles would spray smelly poison into the dogs' eyes. There were lots of things to discover in the woods, such as owls nests in tree hollows. We once hand reared an eagle owl, we called him Zee Zee and he would swoop down from the tree to collect his food. There were also all manner of poisonous snakes including mambas, cobras, boomslangs and night adders. Dad once had to administer a snakebite serum injection to an African woman who had been bitten by a night adder. The snakes were attracted to the chicken runs where they would swallow the eggs. Once when my sister Lorraine was very small she came across a cobra, it reared up to bite her but because it had an egg in its mouth she was able to get away and tell my mother to come and see the funny "Gogo" in the garden. The wild cats and hawks were also prevalent around the chickens, waiting always for the opportunity to rush in and steel a young chick or two. So between the bees, cats, snakes and hawks the poor chickens had a tough time but we had good target practice shooting at the predators. At the far edge of the woods an old woman used to live under a crude shelter, she was regarded as a rain goddess and the workers appeared afraid of her and used to leave her food. She couldn't communicate and just wanted to remain where she was, we used to call her "the mad woman", and I often wonder what became of her.
Sometimes we would go for a picnic at "the beauty spot" in the far corner of the farm and which required some bundu bashing to get there. This was where a little stream meandered through some rocky outcrops with pretty clusters of msasa trees. A Hamerkop had built a nest on top of one of the rocks and an eagle chose one of the tall trees nearby to nest and raise its young year after year. There were the stone walls from the remains of some ancient ruins and pieces of clay pots and copper beads could be found. We would visit the dam and pan with its prolific bird life, but leeches would suck the blood from your legs when we waded into the water to get closer to the wattled crane nest with young hatchling. I still have wonderful memories of wild duck coming in to land against the backdrop of a beautiful sunset, or the call of a fish eagle as it swooped down to catch a fish. The staff had their own land behind the pans where they kept their own cattle and they used to cycle in to work early each morning. There was Mugari the boss boy, Nyringo, Jimson, Chivoko and Musa the lame gardener who skewered field mice on a stick and roasted them on a fire. The domestic including the gardener and shepherd stayed in a compound nearer the house.
My brother Russell and I learnt to ride horses early. Russell would normally ride Kim and I would ride Lucky, a black Basutu pony using a "Mexican" cowboy saddle and we used them to round up the cattle on dip days. Our mare Noel produced many good foals, but the stallion from our neighbours caused a lot of mayhem when Noel was in season. The stallion damaged his eye when jumping over fences to get to the mare and when we told Katrina, the owner's wife, she said "Skiet die bleddy ding". My mother and father both rode horses, but my mum damaged her back when she fell off one of the horses when jumping one day. When coming back from a ride the horses would usually bolt for home when the final turn for home was made and would be very difficult to control. It took a lot of nerve and skill to remain in the saddle whilst ducking beneath branches and jumping over anthills, and we did sometimes come off with a thump, but as long as our feet were free of the stirrups, we were fine. My mum was very strict in ensuring that we always rode using our riding helmets. We used to ride in the gymkhana at neighbouring Eastdale Ranch: one of the events was to eat a hanging apple on a string with no hands, but my horse would not allow me to catch the apple as he was more interested in eating the apple for himself.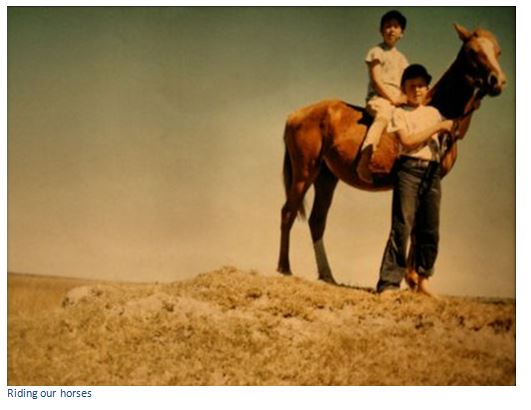 The train station was always a fun place to visit and Dad used to load his cattle at Felixburg Road Junction. The steam locomotive could be heard from miles away and then the plumes of sulphurous smoke could be seen as the train came chuffing in and would grind to a halt. Loud hisses of steam could be heard as the train reversed and coupled up the loaded wagons and with a loud whistle the train would chuff off out of sight to the Fort Victoria Cold Storage Commission where the cattle would be offloaded. Later on at Umvuma Junior School we used to come home for exeat weekends on the train and I can remember the green leather bunk seats, the folding down table and the round basin with a water tap. It was fun looking out the window and watching the world passing by, but quite often we would get tiny fragments of coal in our eyes amid strong smells of rotten eggs from the clouds of sulphur smoke. I loved the clickety clack of the iron wheels on the rails as we passed Fairfield, Hunguru, Nyombi and Badza Halt sidings and finally reached Felixburg Road where Mum and Dad would be waiting with the dogs to meet us.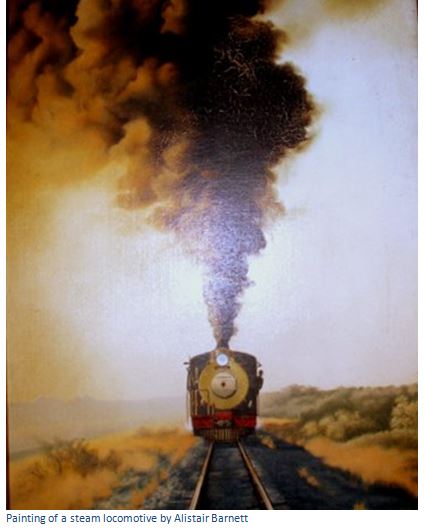 Mum used to go to Fort Victoria (now Masvingo) on the train sometimes as she worked at Meikles Store for a short while and Lou my sister went to school there. We got to know Fort Victoria well as Dad had his car serviced at Map Garage and we also used to go on to visit our Kyle Dam plot. I remember Nellermans Bakery, Barry Nel the Chemist, Mr Shay the Dentist, Dr Lamprecht (who sutured a wound on my forehead when I bumped it against a sawn off branch whilst playing hop scotch) and then of course Mum's work colleagues Eileen Brown, Sheila Wilson, Mr Lapham, Jack Fulton (who gave me blue and green budgies) and the Carey's who gave me some bantams. I can remember clearly Cotapaxi Mountain, the Cold Storage Commission, the Midlands Hotel with its open verandah, Meikles Store and of course visits to Daph McLeod who had a maid called Lettuce. In the very early days there were still strip roads and near the Felixburg turnoff was the big rocky outcrop which had a few giant rocks shaped like a man perched up on his chair.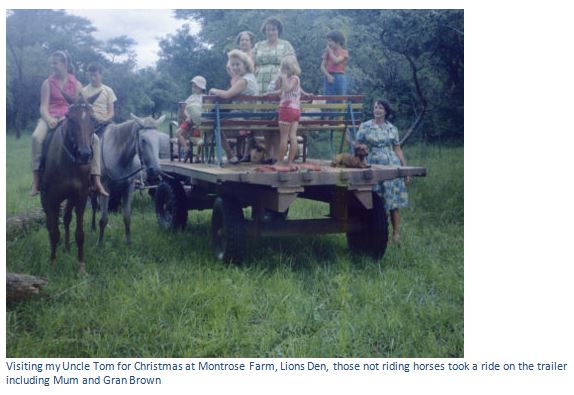 Family gatherings at Christmas time were another occasion never to be forgotten. They were usually spent at Widgeon Farm, or at my Uncle Tom and Aunty Sally, with children Victor, Liz and Rosie, at Montrose farm near Lion's Den, or with Uncle Bill and Aunty Eve, with children Richard, Nigel, Kevin and Tesni at Mvurachena Farm at Rhodesdale. Nigel tragically lost his life in the Rhodesian bush war at a very young age. With our cousins and Gran Brown there were about sixteen of us in all and we sometimes had to put up a tarpaulin with extra beds, or sleep on stretchers, or mattresses on the veranda. The amount of wonderful food in the form of hams, turkeys, chicken, and plum puddings with brandy sauce, Christmas cake, mince pies and sweets was mind-boggling and great excitement as brandy was poured over the plum pudding and set alight and with a pale blue flame set on the table. Finding "tickeys" and sixpences inside the pudding was great fun as well as pulling the crackers and finding mottos and charms inside. All the Christmas cards, decorations, candles, Christmas carols and Christmas tree with all the presents underneath added to the atmosphere and opening those presents with brightly coloured wrappings with glitter on was almost as exciting as seeing the gift itself. I shall always be grateful for those special times.
Easter was also a memorable occasion with Easter eggs, great and small, dark, milk or white, marshmallow with yokes, or hollow; some in the shape of eggs, others in the shape of a rabbit and the big hollow eggs would sometimes have a fluffy yellow chick inside. Today even the smallest Easter egg is expensive, so we were really lucky to be spoilt in that way. Often the eggs would be hidden from us and we would have a treasure hunt to find them. Our farm neighbours were an important part of our lives and we saw them quite regularly as Gran Brown owned the postal agency and every Friday they would come and collect their mail, often stopping for tea and a chat. The neighbours include Harry and Effie Kirkup of Smilingvale Farm who kept race horses in Salisbury. Effie gave me a jersey heifer once, but it ran all the way back home through fences and grids a few days later. She had a lovely garden and we often had tea there. "Spud" Elliot, his assistant, grew fine potatoes and enjoyed shooting wild duck and guinea fowl. Cyril (Spud) and Daph took the farm over from the Kirkup's some years later.
At Eastdale Ranch, which included 130,000 acres with 8,000 Sussex cattle, lived the Henman's. I used to play games with David Henman among the hay bales, but tragically he went missing at Falcon College about 1965 and was never found, although it was suspected he fell down an old mine shaft. He had a pretty sister called Lavinia, or Leaf. I remember visiting the Henman's in their land rover which used to have a big red and yellow light on the dashboard, and Mr Henman had a big brown horse called Gleam. After the Henman's, Harold and Barbara Green arrived, but being an ex-bank manager Harold was more of a financial expert rather than a practical rancher. He had two pretty daughters, Susan and Diana. His assistant was Ricky Taylor, a photographer by trade who had two sons, Eric and Colin. Eric went to school at Guinea Fowl and I went to Chaplin and we were good friends, but Colin died tragically in the Rhodesian bush war as well as Alec Barclay, another neighbour further afield. Cecil and Linda Fair took over from Harold Green; Cecil had a farming and sawmills background. He was a short man with a great sense of humour, a good shot and very practical and could lend his hand to anything. Cecil was a good cattleman and greatly improved the huge Sussex herd much to the satisfaction of his Lonrho bosses. I used to spend a lot of time at Eastdale with Linda and Cecil and go out with Cecil on his errands in his land cruiser. We used to "bundu bash" a lot and this was "heaven" to a young bush baby like me wanting to be a game ranger when I grew up. Linda and Cecil could tell great stories of hunting and adventures on the Zambezi River. We also met May and Rufus, Linda's parents, and Pepper their Pointer dog and our families became firm friends. Linda's youngest brother Tim Coleman was a very promising young mechanic at the Midlands Garage in Gwelo, but tragically he was killed in a motor car accident at a very young age. I used to ride his horse Ginger and listen to his "Shadows" records. John was Linda's older brother and a professional hunter.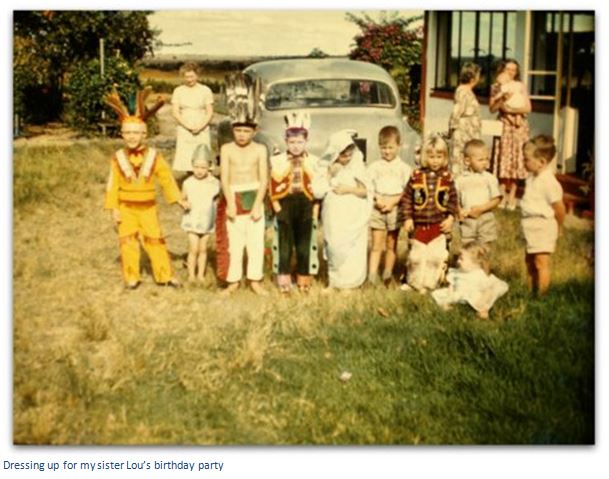 Cecil Fair's assistant was John Wheeler and he met his wife through the "hitching post" of the Farmer's Weekly magazine. The Fair's started off with an old beige Chevy, but graduated to a Pontiac which much to my delight they let me drive sometimes. They had two children, Richard (Loch) and Debs. Our families often went together to various New Year's Eve parties at Fort Victoria, Enkeldoorn and Umvuma Hotels and we had great fun. I remember Fleisch their domestic servant, Ringo their parrot, Chaka and Sonny, their bull mastiff dogs and listening with them to Jim Reeves and Jimmy Rodgers records. We also went with them to the Rand Easter Show and stayed at the Springbok Hotel. On our drive to South Africa we would pull in to the various farm stalls and drink cold fresh Dexter cow milk. Thirty seven years later when we settled in Nelspruit, South Africa, we found that Linda and Cecil were in White River, just 20 kilometres away. We still have a tea trolley Cecil Fair made for us all those years ago; sadly he died in November 2011.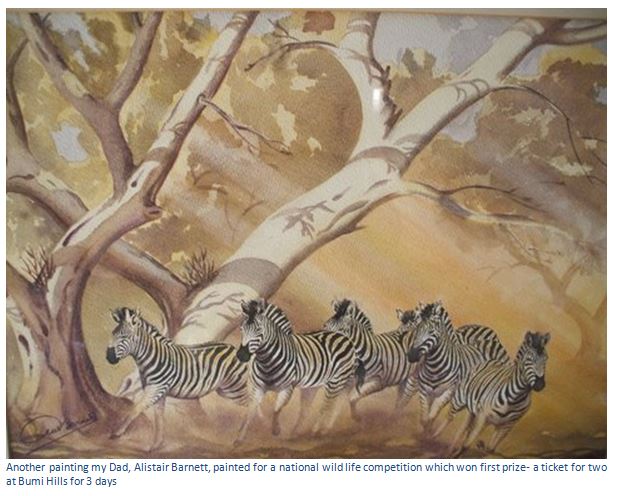 Keith Harvey was another neighbour on Nyororo Farm and was for a period, Cattle Chairman of the Rhodesian Farmer's Union and would send groups of farmers to Widgeon Ranch to see how things should be done. My father was meticulous with his fencing; he built up a fine flock of Dorper sheep and a herd of over 1,000 Hereford cattle with expert veld management and only the best bulls. He sourced his bulls from Mrs Rushforth in Matabeleland; Christopher, Ledbury and Zimbabwe were some of the best Bulls we had. Sadly Mrs Rushforth was murdered in the Rhodesian Bush war. Dad also meticulously and single handedly electrified both houses and the office block from the Zesa mains power grid. Everything dad did, he did well as he was a perfectionist. Keith Harvey helped my Gran Brown manage Widgeon Ranch for the short period of time between Russell Brown's death and my Dad taking over. Keith was a leader in developing the Mashona breed of cattle into a recognised indigenous commercial breed. Jeanette Harvey's parents, Jean and Andy Vass, lived in a cottage close to them, they were good friends with my Gran Brown together with Alec and Syd Lohr; Syd was born in Ireland, so she and Gran had a lot in common. When we were teenagers, my brother and I used to drive the old Ford Poplar over to the Harvey's and listen to Beatles and Rolling Stones records with Kathryn and Lynne. Keith was buried on the farm when he died in 2007 and Lynne's ashes were placed there when she tragically died of cancer in 2014. On the next farm to Nyororo was Paul and Sheila Titterton, who were cousins, Sheila was Keith's sister. They had a son Alan.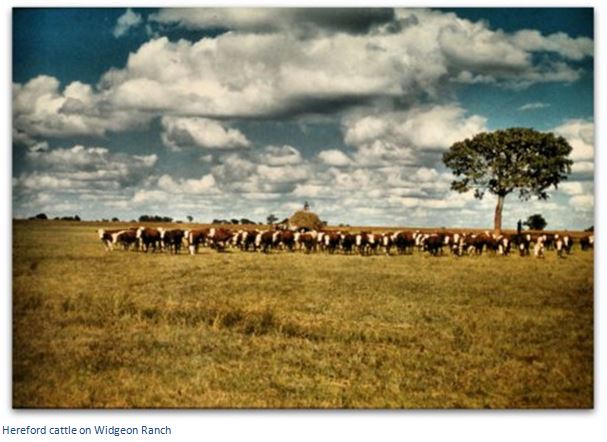 Ken and Peggy Mackintosh stayed at Maxwell Park; Ken was a Clan Leader from Scotland although he said very little about it. His wife Peggy, as I remember, was always sewing and repairing garments and school uniforms. They had cattle and kept a few pigs; in their yard was a wreck of an aircraft. Tragically their son Duncan died of polio in 1957 whilst at Umvuma School; he was good friends with my brother Russell. Malcolm their second son, now in New Zealand, eventually took over Maxwell Park and Felixburg Farm, next to Widgeon Ranch, before being evicted during the land grabs. Their two daughters were Lindsay and Isobel. Robbie Mackintosh, Ken's cousin, also farmed in the area.
Other neighbours were Japie and Katrina Jacobs and their son Boetie; their Oupa had a dachshund called Cocoa. Japie was a real salt of the earth hard working Afrikaner who wore a pith helmet and Katrina made wonderful homemade bread. They grew maize and also ran a dairy herd of Jersey cows, we had cream and milk from them and mighty good it was too; my favourite treat was a slice of fresh bread with thick cream and generous amounts of honey spread on top. On one occasion Boetie found a tick beneath his foreskin, and not knowing what to do, Japie poured a small amount of petrol on the tick hoping to dislodge it…need I say more!
Johan and Betty Kriek farmed Beema Farm; they had an orchard of quinces, custard apples and pomegranates and they kept horses. They had seven children, Dion was my friend, and we visited each other. I used to stay over with Bill and Peggy Napier and their son, Alan. Bill was the grandson of Captain William Napier who took part in the famed Alan Wilson's Patrol at Shangani. Peggy cooked the most wonderful chocolate sponge pudding with custard and I can remember eating this by the light of a paraffin lamp. The duck pen was directly outside the bedroom window and their quacking woke us up early in the morning. They ran a very remote store on Eastdale Ranch and we would take supplies out and stay in a couple of lovely rondavels. Flocks of doves used to peck for the spilt grain and I remember a donkey that had its nose torn by hyenas.
Dolly Posselt used to run Grasslands Farm on her own after her husband Teddy died in 1939. She had a handicapped son in a wheel chair named Gerhard and life must have been quite a battle for her. Teddy's father, Felix was an early pioneer and Felixburg was named after him. Teddy's two brothers Willie and Harry were the original owners of Maxwell and Felixburg Farms respectively. Willie found one of the original Zimbabwe Soapstone Birds and sold it to Cecil Rhodes for £25 around 1889.
Mum taught Russell and I to drive on the farm at an early age and we both passed our driving licences when we were 16 years old at the local Chilimanzi Police Station. As a family we went on holidays to the coast at Beira in Mozambique and also did local trips to Wankie National Park, Victoria Falls, Kariba, the Matopos, the Eastern Highlands and, of course, to our very own scenic plot at Bushmead on Lake Mutirikwi Kyle Dam.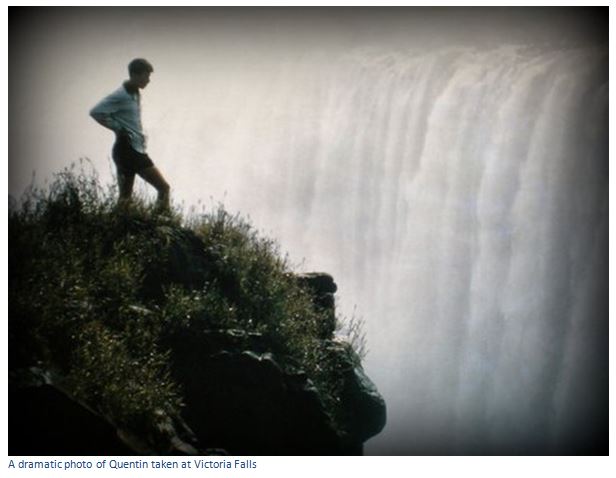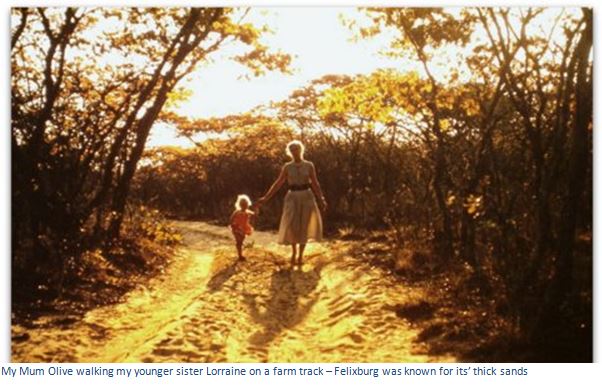 Visits to my Uncle Tom and Aunty Sally at Montrose Farm were always memorable; watching the guinea fowl from the house veranda scratching about in the lands, walks to the Angwa River, riding their horses, Honey and Thistle, or watching the cows being milked early in the morning. In the evening when the paraffin lights were lit Uncle Tom would enjoy his home brew beer with Blinkers his dog at his feet whilst Aunt Sally prepared a delicious supper in the kitchen.
Uncle Bill passed away from a massive heart attack at Mvurachena Farm in 1970 when he was only 46 years of age. I was able to go and assist Aunty Eve for a short while and help run the farm and take the boys to Plumtree School. We had many happy memories at Mvurachena and I can remember Aaron the cook wheeling ice cold beers out on the trolley. Whilst I was on the farm my brother Russell left school, completed his National Service and then went on to work at Wankie National Park and afterwards Zoo Park Okahandja in South West Africa (Namibia). He once visited us driving a Ford 250 with a caravan in tow and had a lion cub with him - much excitement!
We did not have many domestic servants; Mum had only three over 45 years. Patrick Chadamana from Serima comes to mind with his wife Modista and son Gerhard. Patrick was a wonderfully reliable, part of our family and a very capable cook. From the Farm he continued with my parents when they retired to Salisbury (now Harare) but he was later recalled to be a chief at Serima Village, and was subsequently murdered and his son died of the HIV virus.
Whilst we were still on Widgeon Ranch I went to Umvuma Junior School and then Chaplin High School in Gwelo. Before that I did one year of home correspondence on the farm with Mum. I was a bit slow because I had been deaf for 3 years as a child in Salisbury and required radio therapy treatment with Dr Greg. I went to Umvuma as a boarder when I was 8 years old; it was hard a as I loved staying on the Ranch with Mum and Granny and all my animals and birds. Nonetheless, there was a certain excitement since all the neighbours kids were there and I made new friends. We had black tin trunks with our names printed on them and either my parents, the Mackintosh's, the Harvey's, or the Maudlin's from the Mine would take turns to take us to Kennedy House Hostel some 35 miles away.
There was a big Syringa tree outside the hostel and steps lead down to terraced levels separated by Christ thorns, with the playing fields at the very bottom. The hostel was a double storey building with girls on top and boys below; the sick room was also at the top. The matron Mrs Van Tonder and the cook Mrs Impie lived in and the housemaster Richard Emmet. The headmaster Buster Brown and later Harry "Kipper" Lancashire and the other teachers lived outside the school grounds. Every morning we would all have to assemble outside the dining room to have our fingernails inspected and we would have our knuckles wrapped with a ruler if they were not clean. We would also have to stand by our bed lockers in the dormitory for dorm inspections to check if our shoes were clean, hair combed, bed made properly, towel folded to regulation and everything clean (including combs and brushes) and put in the correct place. Meals were at long tables and after grace ("For what we are about to receive may the Lord make us truly thankful, for Christ's sake, Amen") water would be poured into glasses from giant stainless steel jugs. Breakfast was usually mealie meal porridge, with a worm or two, and a square of omelette; but every Friday there was fish. Mostly the food was not too bad and I remember Mrs Impie making tasty brandy snaps with cream, rice pudding, bread pudding, sago, Zambezi mud pudding, jam tart with custard and liver and onions with mash.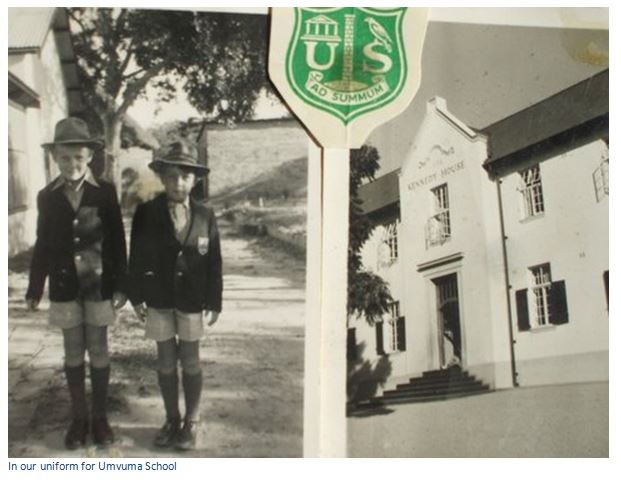 Every so often we would have to walk over to the hospital and Dr Bray would give us a regulation injection which I hated. On Sundays, after an egg and bacon breakfast, we would dress in whites (with shorts and belts with snake shape "S" buckles) and proceed in crocodile lines, two abreast, to walk to church where Dickie Nash would play the organ and we would all sing: "All Things Bright and Beautiful, Loving Shepherd Of Thy sheep, There is a green hill far away" and we were given stamps with bible story pictures to stick into our stamp books. Dickie Nash would also make setting boards for our butterfly collections; he was a brilliant man and could even repair watches. We would also proceed in crocodile lines to the swimming pool, which was a short distance from the school, and practice for galas. I was the champ at breast stroke, but had to wear ear plugs and could not dive because of my ear problems. I remember Lettie Ann Barclay and Jean Tulloch battling it out in freestyle, and great excitement at the relays, and who would win between Athens and Falcon Houses. Russell my brother chipped his front tooth in the swimming pool when Malcolm Mackintosh jumped up out of the water beneath his chin.
The main shop in Umvuma was Walkinshaws run by the Ardernes; there were a lot of Mum's oil landscapes hanging on the walls. I also associate the Tilbury's, Drury and Rumbold's with Walkinshaws and playing tennis with their children at the Umvuma Sports Club. I managed fairly well at school, although I could not hear very well. I generally did well at sport, and remember bunking out at night to look for baby night apes which were plentiful among the thorn trees. The Hamman's, Frankie Jack and Oscar Nielsen were all good friends and we used to visit Oscar's family and ride horses, I rode a horse called Flash. We would visit Blinkwaters Dam; other surnames I remember from that era, but did not know very well were the Hallam's, Speedie, Farquar, Steyn (butcher) and Utting (the Magistrate with a limp who was good at cricket). Once a month we were given a dose of Epsom salts by Mrs Van Tonder and once a week we were allowed to draw out tuck from our tuck tins which were kept locked in the tuck room. Most Saturday nights we had a film show, or 78 rpm records were played to us. Sports days were fun with sack races, egg & spoon races, as well as relays. There were also races for the parents and Mum was one of the best, but I remember in one of the races Mrs Joubert tripped and hurt herself.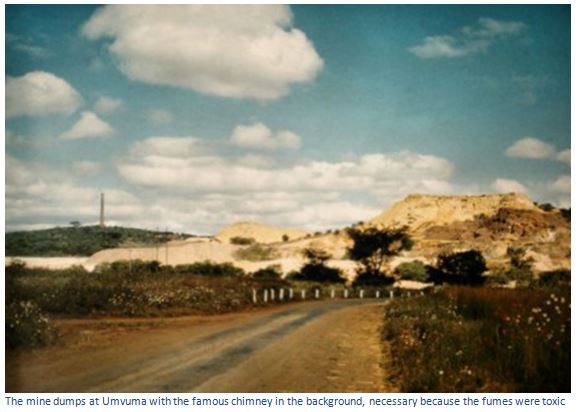 Umvuma (now Mvuma) was known for the Falcon Mine, later the Athens Mine, and the large chimney, it was one of the biggest mines in the country in its hey-day with gold mining at the Athens and Falcon shafts. My Grandmother gave birth to her second son here and he was the first baby born in the mine hospital in 1916. We looked forward to exeat weekends and holidays and the train trip home with packed brown bread jam, or peanut butter sandwiches and a banana. Sometimes my parents would pick us up and we would go to visit Uncle Bill and Aunty Eve some 20 miles further at Rhodesdale. We would eat water melons and paw paws, catch butterflies with our nets, swim in the reservoir and visit the Sebakwe dam or perhaps watch polo cross at the Rhodesdale Club. There were good times and not-so-good times at Umvuma; I much preferred to be at home, but there was not much choice but for us to go to boarding school.
From Umvuma Junior School I went on to Chaplin High School (where my father and Ian Smith also went) from 1963 to 1968. I was used to boarding school by then and was in Duthie House with my brother Russell. We had various initiation processes like singing to the prefects in the bathrooms and running a gauntlet with people hitting you with pillows, and shoes, or anything else that came to hand. In the first year we had to be a skivvy to a prefect. I was skivvy to John Picken, and had to do his hand washing, cleaning shoes, carry his books and make his bed. When we were naughty, we used to get "dawks" with a slipper, or piece of hosepipe, and Mr Isdale, the housemaster, was forever using his cane on "naughty" students, including my brother and Alec Smith, the Prime Minister's son.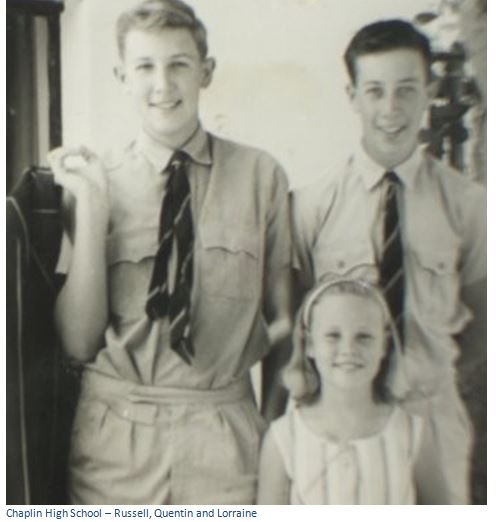 Sometimes there were fights and crowds would gather around and watch Jimmy Grundle giving his opponent a bloody nose. Every Friday we were able to draw out pocket money from Mr Isdale's office and go to the Bon Marche Restaurant for a Brown Cow, or Knickerbocker Glory. We had to practice hard for sports and athletics and often had to run up and down the Gwelo kopje, or do wind jammers around the playing fields. I played rugby, cricket, hockey, tennis, swimming and athletics and was vice-captain of the house swimming team and played first team tennis and hockey. I also did well at the 440 metres and hurdles track events and hop, skip and jump in the field events. It was a great thrill to watch and cheer our first rugby team in their white uniform when they competed against other schools. I remember Eldon Gilmour kicking the ball torpedo style into touch and Mike Mulligan at centre out manoeuvring Danny Saboda from Guinea Fowl to score a try. Chaplin High School produced many fine sports men and women who would represent the country in many fields.
On Sundays we could order meat from the kitchen and have a braai lunch up the Gwelo kopje. On exeat weekends, we hitchhiked to Shabani, Selukwe, Somabula or even home. It was easy to get a lift in our school uniform; I remember once getting a lift on the back of a motor bike all the way to our home turn off. Cadets' training was compulsory and I became a corporal and had to shout orders at drill. Russell had his leg broken during cadets when Mrs Von Rooy, the Latin teacher, ran over his leg in her car when parading on the road. I did well at Geography, Afrikaans, Technical Drawing and Biology and got on well with my teachers. In the beginning Twak MacLean was the Headmaster at Chaplin School and then George Ahlers "Odd Job" who became very well known for his good work. George's wife Frankie, née Wooler, went to school with my Mum and her sister Ada at Plumtree in 1935. Church on a Sunday was compulsory and I initially went to the Presbyterian Church where I was confirmed by The Rev. Edgar. I then went to Pastor Cyril Ogden's church which was quite a long walk past the hospital, and for the first time really got to like church services. Russell and I could take a friend home with us on holiday; I remember Martin Kaschula and Colin Ogden and we would camp out together. Lou would also take a bunch of friends' home with her. Kevin Gallagher, her boyfriend, came out a lot and even managed to roll the little Ford Poplar car, but no damage done and our families have remained firm friends ever since. I later on became a house prefect and enjoyed the privilege of having my own skivvy and attending special prefect dinners on Friday. We slept in one of the dormitories and kept law and order, presided over prep in the evenings, said prayers, dished out food at meal times and carried out inspections with Mr Isdale, the Housemaster. A bugle call would sound Reveille early in the mornings and at meal times, but some very strange sounds would sometimes be heard as the bugle was not easy to master.
After school, I did my 9 months National Service and then worked for the Messina Transvaal Development Company as a Field Assistant for a year and bought my first car, an NSU 1200cc.
At this time Mum and Dad were in the process of selling the Ranch to Japie Smit, one of our long time neighbours who had been in the area for many years. Japie used to bring us pockets of home grown navel oranges, as a young man he used to ride around the district on a bicycle and build dip tanks, but over the years he purchased several cattle ranches and eventually became a very wealthy land owner. I had my 21st birthday celebration on the farm and shortly after, in 1971, Mum and Dad retired to Salisbury and sold Widgeon Ranch.
I have to thank my parents and Granny Brown for a most wonderful farm upbringing that was quite unique and never to be repeated. The bush war was just starting to intensify, so it was not a bad time to sell and both Mum and Dad soon got involved in other interests and never looked back. We returned once or twice, but the farmers we once knew have now been forced off the land, the buildings and fencing have been vandalised, many of the trees, including the famous Felixburg blue gums have been chopped out and small settlements have sprung up with unsupervised patches of cultivation and huts everywhere. The farmland is used for latrines, snaring of wildlife is rife, the vleis are being burnt out, there is erosion and it is not safe anymore, which makes it the end of an era.