Poaching and recent trophy hunting controversy
Poaching
The current poaching situation has reached crisis proportions in many countries of the world, but especially Africa. South Africa alone has lost more than 1,215 rhinos to poaching in 2014. The whole of Zimbabwe has less than 600 rhinos are left. The fact is that with the combination of an unpredictable economy, inefficient laws and a lack of awareness at international level the number of animals being poached annually will lead to the senseless extermination of countless animal species.

Putting pressure on different countries in the world to tighten penalties for convicted poachers and to prevent the illegal trade in ivory has shown only limited success. When the sanctions were lifted in 2008 in order to permit the sale of 109 tons of ivory, the black market trade, particularly in Asia, was revitalised. This led to a slaughter of wildlife in dimensions that are impossible to grasp if one has not witnessed it personally.
Whilst pressure is brought to bear at the highest political level, a daily war is being fought on the ground. Heavily armed poachers dominate large areas and disregard everything and everyone that gets in their way. Any decrease in the work of anti-poaching units in a region immediately leads to a rapid decline in endangered species. Unfortunately, many of the affected animal species live in politically unstable regions that provide insufficient funds to counteract the threat. In areas where, foreign grants allow effective anti-poaching work to be maintained, the animal populations thrive because poaching is eliminated.
In areas that are vulnerable to poaching, there is an urgent need for effective counteraction. Only through the constant presence of assertive anti-poaching units can we hope to protect what is left of the wildlife, until governments are in a position to take over and develop effective alternatives. Anti-poaching methods have proven to be highly effective, but only if they are maintained by sufficient funds, the proper use of existing resources and commitment at grass roots level.
Many conservation organizations are currently concentrating on climate change, which is at the focus of international attention. At the IAPF we are convinced that the problem of poaching will be addressed sooner or later. But we are very concerned and wonder how long it will take for the necessary attention to be paid to the problem and what consequences this will have?
Wildlife crime is sweeping the planet. The illegal trafficking of wildlife is now one of the world's largest criminal industries, with repeated links to terrorism networks. High Target Species such as elephant and rhino are being hunted to extinction. These animals are the most difficult to protect, as poachers go to the most extreme lengths to kill them. If we can safeguard these animals, then entire ecosystems are protected. Anti-poaching rangers form the first and last line of defence for nature. Without the right training, equipment, management and support they cannot defend the World's natural heritage for future generations.
Rhinos were once abundant throughout Africa and Asia with an approximated worldwide population of 500 000 in the early twentieth century. However, despite intensive conservation efforts, poaching of this iconic species is dramatically increasing, pushing the remaining rhinos closer and closer towards extinction. The Western black rhino was declared extinct by the IUCN (International Union for Conservation of Nature) in 2011, with the primary cause identified as poaching. In fact, all five remaining rhino species are listed on the IUCN Red list of threatened species, with three out of five species classified as critically endangered.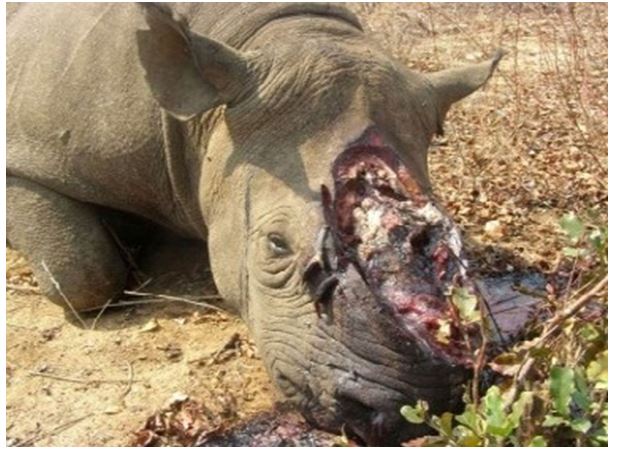 South Africa which has by far the largest population of rhinos in the world and is an incredibly important country for rhino conservation. However rhino poaching has reached a crisis point, and if the killing continues at this rate, we could see rhino deaths overtaking births in 2016-2018, meaning rhinos could go extinct in the very near future. Figures compiled by the South African Department of Environmental affairs show the dramatic escalation in poaching over recent years.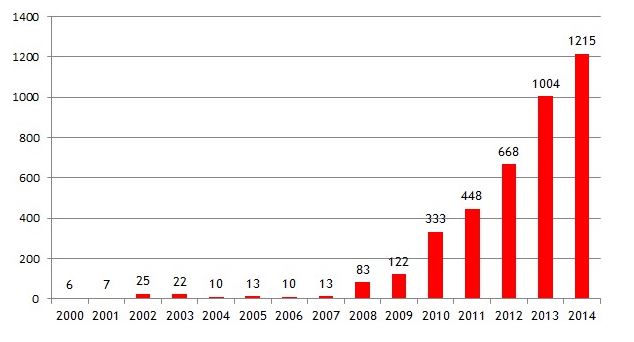 The rate at which elephants are being killed in Zimbabwe is truly disturbing. Reported cases in the first half of October 2015, fourteen were killed, three in Matusadona and eleven in Hwange National Park. Another sixteen were found dead in Lupane and ten in Chakabvi in Nyamatela. Fourteen tusks were recovered, but the other tusks were taken by the poachers. Thirty six carcasses were found near Sinamatella in Hwange National Park in the Dzivanini area. This totals 76 elephants killed in the past 2 weeks. . Many of these elephants have been poisoned with cyanide which kills silently. The problem with cyanide poisoning is that other animals are killed as well. Many vultures and hyena are being found poisoned after eating from the carcasses of poisoned elephants.
Zimbabwe Parks and Wildlife Management Authority has called for stiffer penalties for poachers following the discovery of the elephant carcasses. Cyanide is used by gold mines for processing the ore and is easily stolen so that poisoning is a growing problem in the country since a mass poisoning in october 2013 resulted in upto 100 deaths. Prison sentences imposed on local Zimbabweans for poaching have ranged between 5 and 15 years.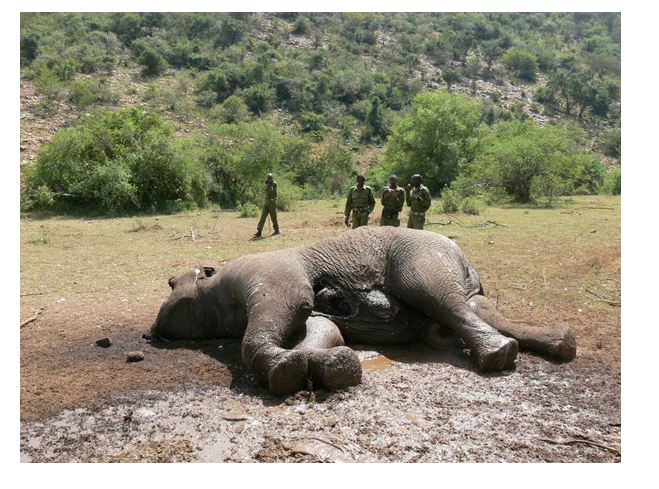 Trophy-hunting (or safari-hunting)
Facts and figures
105,000 animals are killed each year by around 18,500 trophy-hunters,

11 countries in Africa allow trophy hunting.

110 million hectares are dedicated to trophy-hunting as exclusive Safari Areas.

£31,500 ($49,000) is the average price for a ten day lion trophy hunting package in Zimbabwe

Cecil the lion's killing in Zimbabwe created an outrage among animal conservationists, prompted responses from politicians and a number of celebrities publicly condemned Cecil's killing. The trophy hunter Walter Palmer received a flood of hate messages and activists posted the dentist's private details online.

The killing of Cecil sparked a discussion among conservation organisations about the ethics and business of big-game hunting and a proposal for bills banning imports of lion trophies to the U.S. and European Union. These discussions have convinced three of the largest airlines in the U.S., ( American, Delta and United) to take the voluntary step of banning the transport of hunting trophies. Activists have also called on African countries to ban bow hunting, lion baiting and hunting from hunting blinds. Global media and social media reaction has resulted in close to 1.2 million people signing online petition "Justice for Cecil", which calls on Zimbabwe's government to stop issuing hunting permits for endangered animals.

Cecil was the best-known animal in the Hwange National Park and was identifiable by his black-fringed mane and a GPS tracking collar. The lions in the Park, including Cecil, have been studied by scientists from the Wildlife Conservation Research Unit at Oxford University as part of a scientific project that has run since 1999 and his movements had been followed since 2008. Of the 62 lions tagged during the study period, 34 have died, 24 through sport hunting. Of the adult male lions that were tagged inside the park, 72% were killed through sport hunting on areas near the park. One of the researchers on the project suggested that Cecil had become so popular because he was accustomed to people, allowing vehicles sometimes as close as 10 metres (33 ft.), making it easy for tourists and researchers to photograph and observe him.

The Zimbabwean authorities have decided not to prosecute Walter Palmer for killing Cecil the lion as according to them, all Palmer's paper work and documents were in order so he did not break any laws.

Big Tusker killed

Within the past few days in October 2015 a huge elephant with tusks weighing 122 pounds was killed just outside Gonarezhou National Park by a German hunter. His tusks were so big that they dragged along the ground when he was walking.

Conservationists and photographic safari operators expressed their outrage, saying the animal was one of a kind and should have been preserved for all to see. Anthony Kaschula, who operates a photographic safari firm in Gonarezhou, posted pictures of the hunt on Facebook, said the elephant had never been seen in the area before but would have been celebrated by visitors and locals alike.

"We have no control over poaching but we do have control over hunting policy that should acknowledge that animals such as this one are of far more value alive (to both hunters and non-hunters) than dead," he wrote. "Individual elephants such as these should be accorded their true value as a National Heritage and should be off limits to hunting. In this case, we have collectively failed to ensure that legislation is not in place to help safeguard such magnificent animals."

The problem is that in the last ten years elephant numbers have dropped by 62%. There are fewer than 500,000 on the African continent today and conservationists have warned that by the end of the next decade, they could be extinct.

Zimbabwe's elephant-hunting industry generates $14 million a year. Because elephant carcasses are so large, they are rarely exported but replicas are often made from fibre glass for the original tusks to be inserted into. In April 2014, the US banned the import of elephant trophies from Zimbabwe and Tanzania, overs concerns about a steep decline in their numbers.

Some have called for higher trophy fees for larger animals, and the protection of exceptional animals. Some countries (e.g. Botswana and Kenya) have banned big-game sport hunting altogether. For others, hunting remains a lifeline to sustain wildlife populations and impoverished communities living among them

The professional hunters association have suggested that unique elephants should be collared to protect them from hunting. "We have suggested before to all concerned parties that each elephant area should collar a few with biggest tusks, so that we do not shoot them," he said. "Nobody responded to our suggestion last year. We believe this might now be taken seriously."

A professional hunter said they paid as much as 70% of hunting fees back to the local community and observed quotas for animals. "This is good for Zimbabwe and good for local people," he said. "It's not uncommon for hunters to spend $100,000 (£64,551) each trip."

References

IAPF – International Anti-Poaching Organisation who supplied much of the text
Zimbabwe Conservation Task Force
Wickipedia