Masvingo (formerly Fort Victoria)
Why Visit?:
Most visitors pass quickly through Masvingo using it as a refuelling stop on their way to Harare, or Beit Bridge. However, Masvingo has a number of reasons for stopping and exploring the area. Lake Mutirikwi Recreational Park and Great Zimbabwe, for example.
How to get here:
From Beitbridge, Masvingo is 288 kilometres north on the A4.
Masvingo to Harare is 292 kilometres north on the A4.
Birchenough Bridge is 172 kilometres east on the A9.
Bulawayo is 280 kilometres west on the A9.
GPS reference: 20⁰04′24.70″S 30⁰49′58.37″E
Masvingo is Zimbabwe's oldest town; the Pioneer Column left from Tuli in the far south of Zimbabwe on July 11th, 1890 for Mashonaland; one hundred and seventeen ox-wagons making it up Providential Pass and 'C' troop of the Police started building of the first Fort Victoria on August 14th at a site seven kilometres south of the present town. By September, 1891, Major Leonard who was riding up to Fort Salisbury had this to say; "midday found us in Victoria, which a few words will describe. A miserable lot of huts and a wretched earthwork – which to call a fort is irony of the deepest description – all falling to pieces, with one or two shanty stores standing on a large sandy plain."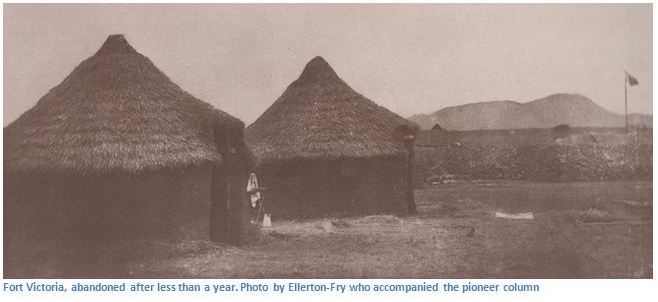 This first fort was in such disrepair that construction was started on a second fort, a pentagonal earthwork. By the end of the year the water supply proved inadequate and the town moved to its present position, near the confluence of the Mucheke and Shagashi Rivers early in 1892 and was named after Queen Victoria. In 1899 the town became known simply as Victoria; however in 1917 it reverted to its original name of Fort Victoria until 1982, when its name was briefly changed to Nyanda, but within a few months its name was again changed to Masvingo when it was discovered that Nyanda did not translate very well between dialects.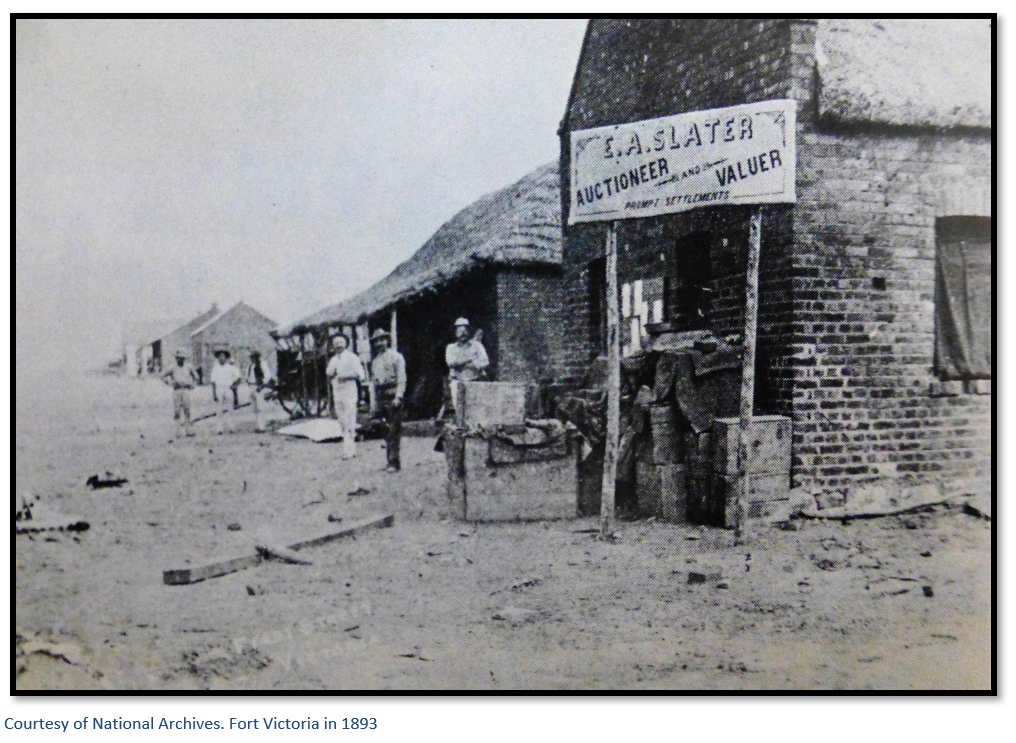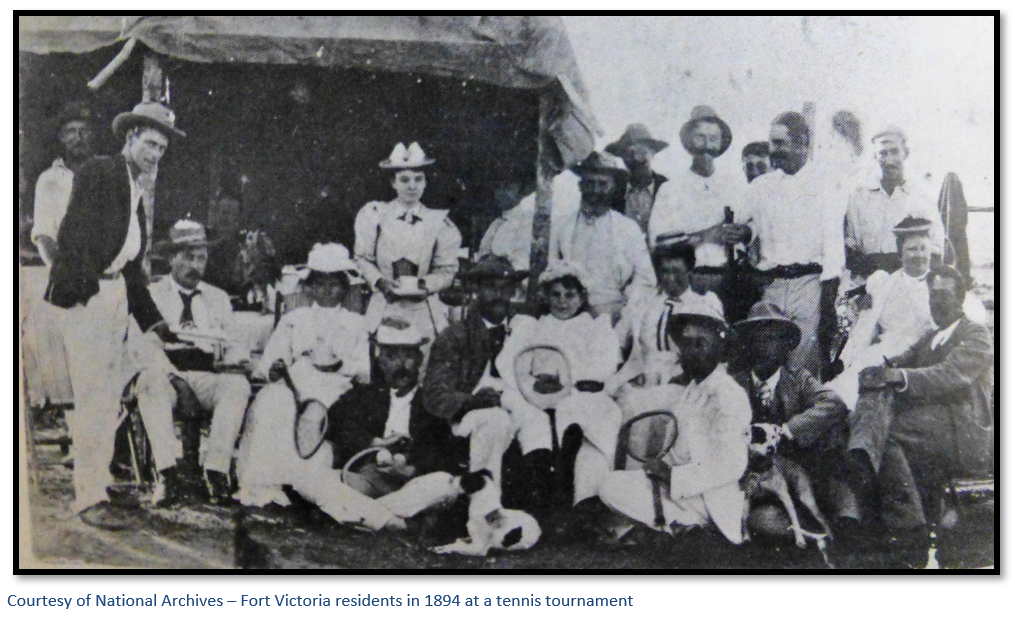 'The fort', to quote the Rev. A. A. Louw, one of the settlors who knew it in its first years, "consisted of a square enclosure with high walls all round and two towers at opposite corners. On each of these towers was posted a Maxim gun, and on the inside of the walls scaffolding erected to within five feet of the top enabled men standing on it to point their rifles over the wall and aim at the enemy."
On Sunday 9 July 1893, farmers to the east of Fort Victoria were horrified to find that Ndebele warriors were in their midst on one of their annual raids of the Mashona people. Those warriors, contemptuously sparing the Europeans, said: "We have been ordered not to kill you yet, but your day is coming." At the same time Lobengula sent a message to Dr. Jameson, then Administrator of Mashonaland, claiming his traditional right to raid when, where and whom he chose.
Farmers, hunters and missionaries in the Victoria district made their way to the Fort with their wagons, laden with household goods. About 200 men, women and children gathered and for three months the garrison and their families remained in the Fort, suffering much sickness and a gradual diminution of rations, while the Matabele remained in the area.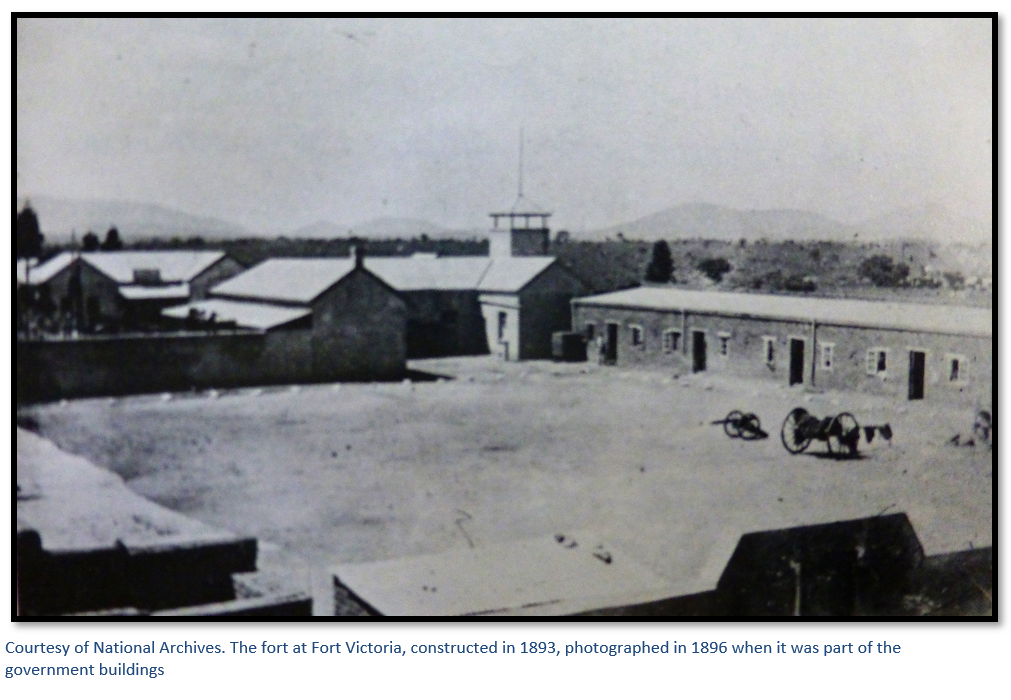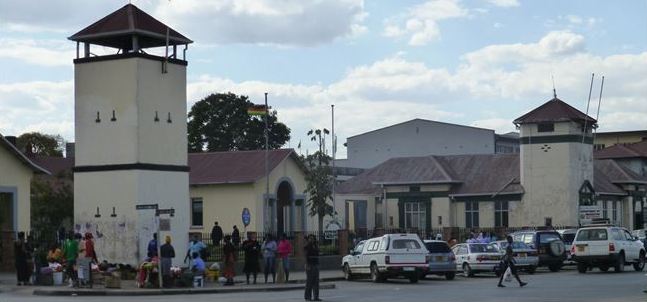 The Bell Tower is a historical Building and formed part of the Fort erected by the British South African Company in 1892 to protect settlers around Fort Victoria. Armed with Maxim machine guns, it protected Fort Victoria during the Matabele Rebellion of 1893, it was situated on the south corner of the square lager of Old Victoria. Today the Bell Tower lies on the north corner of Robert Mugabe Street and Leopold Takawira Avenue near Masvingo Post Office Building.
The Curfew Tower is another national monument and is located about 100 metres northwest of the Bell Tower and was built in 1893 as an extension of the fort. The Curfew Tower housed a gun collection from the First Chimurenga war and is situated in Hughes Street and is accessed through the District Administrator's gate, although the author could not gain access and was told the key was at the Great Zimbabwe Site Museum. It was from this watchtower that a curfew bell was rung each evening at 9.00pm.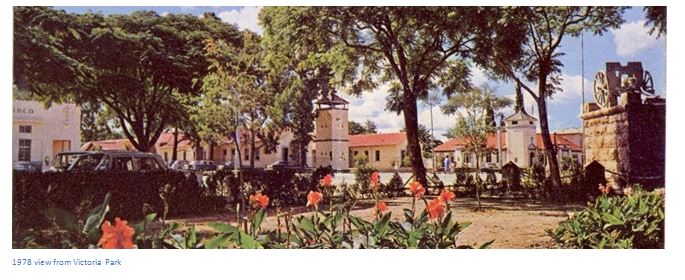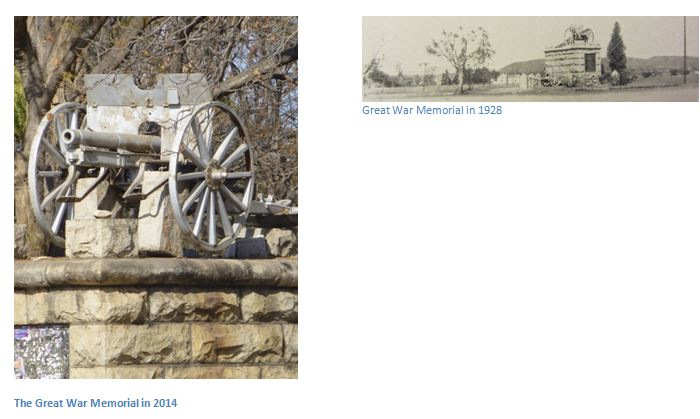 The offer of mining claims and farms had lured the European settlers, businesses soon followed in the form of the Bechuanaland Trading Company and then Meikles Brothers. By 1891 the first Anglican Church had been built which was also used as a schoolroom and by 1894, the first form of local government in the form of the Sanitary board was established. Social and recreational activities followed; first the Gymkhana Club in 1895 and in 1902 the Victoria Sports Club and race course.
The Standard Bank opened in 1911, motor cars arrived in 1913 and in 1914 the railway branch to Mvuma and Gweru was opened. During the 1930's the first of the strip roads and low-level bridges were built making road travel easier, although the bridges would still be flooded in the rainy season. The first industrial business of significance was the Cold Storage Commission factory in 1947 for processing meat. In 1953 the town achieved Municipal status and the Civic Centre has a prominent central site.
Transport Hub
The town is located 290 kilometres south of Harare and midway to Beitbridge on the A4; an extremely busy highway and Zimbabwe's main link with South Africa. It is the terminus of a railway spur from Bulawayo and has a commercial airfield west of the town. Many Coach and Bus Services to Beitbridge and points further south pass through Masvingo. Good, tarred roads link Masvingo with Harare, Beitbridge, Bulawayo, Gweru and Mutare via Birchenough Bridge. There are a number of Service Stations open 24 hours.
Accommodation:
There are hotels and backpacker lodges in Masvingo, some of which are listed separately. A Municipal camp /caravan park is situated on the Mutare Road and is useful for overnight stopovers, but facilities are basic.
Commercial
Masvingo is a commercial centre for cattle ranching and agriculture (grain, cotton, tobacco, fruit, and sugar) but the large-scale destruction of Zimbabwe's agricultural industry since 2000 has had a serious impact on farming in the district. The Cold Storage Commission was a major meat processor in the area and there are the remnants of some light engineering, irrigation, refrigeration, printing, tyre-re-treading, brewing and brick and tile manufacture. There is asbestos mining at Mashava, gold at Renco and numerous small workings throughout the district and a very large lithium deposit at Glencova.
Education
Masvingo Polytechnic and Great Zimbabwe University are the two main centres of higher education along with the Reformed Church University which is 25 kilometres south of Masvingo. Masvingo Teachers' College is on the campus of Great Zimbabwe University, other teachers' colleges include the Reformed Church's Morgenster Teachers' College and the Catholic run Bondolfi Teachers' College. The major high schools are Victoria High School, Kyle College, Zimuto High School, Gokomere High School and Chibi High School.
Tourism
Masvingo has a variety of tourist attractions within a thirty kilometre radius including Lake Mutirikwi National Park (formerly Lake Kyle), Mushandike National Park, and Great Zimbabwe National Monument, a significant archaeological site.
Masvingo / Great Zimbabwe Publicity Association
Situated on the edge of town going toward Beit Bridge, has helpful staff and plenty of suggestions for what to do and where to stay. (39) 62643 / 0773998028
Post office and Banking
Masvingo has a Post office and branches of Barclays and Standard Banks with ATM's.

Acknowledgements
---
P.S. Garlake. Pioneer Forts in Rhodesia 1890 – 1897. Rhodesiana No. 12 September 1965
A.G. Leonard. How we made Rhodesia. Books of Rhodesia 1973