Lake Mutirikwi (formerly Lake Kyle) Recreational Park
Why Visit?:
The Park is rich in wildlife, including three of the Big Five; White Rhino, Buffalo and Leopard
The Accommodation is clean and has spectacular views over the lake
The Park is one of the most centrally located and convenient to for overnight or longer stays
A large variety of scenic views, one of the most attractive in Zimbabwe
Open throughout the year
How to get here:
Visitors should travel from Masvingo on the A9 Mutare / Birchenough Bridge Road; distances are from the railway crossing point outside Masvingo. 12.1 KM turn right at the Lake Mutirikwi Recreational Park signpost and travel on the narrow tar road. 26.3 KM reach the Entrance Gate; 30.6 KM reach the Tourist Office. All roads leading to the Park are surfaced and in very good condition. However, roads within the Park require high clearance and 4WD in the rainy season. Care should be exercised crossing small streams and speed should be kept down as game may be encountered crossing the road at any time.
GPS reference: 20⁰13′06.38″S 31⁰00′35.06″E
The Recreational Park is 16,900 hectares in extent of which 9,300 hectares are occupied by Lake Mutirikwi when it is full. The Park area is bounded on the north by the Beza Range which rises to a height of 1,455 metres. Between this range and Lake Mutirikwi, is an undulating plain which terminates in an area of broken hills dividing Lake Mutirikwi into two main areas: east and west. Four main estuaries are a feature of the lakeshore in the central section of the area which is divided by deep inlets. Great Zimbabwe is situated on the southern side of the Park, while Masvingo is to the west of the Park. On the south of the lake, granite hills of mostly bare whalebacks of solid granite rock, dominate the landscape.
The Park is home to more than twenty-five species of wild mammals. The more common ones include; white rhinoceros, buffalo, eland, zebra, wildebeest, kudu, tsessebe, reedbuck, leopard warthog, waterbuck, impala, hippopotamus, ostrich, klipspringer and porcupine. Some of the rarer species include; antbear, bushbuck, bushpig, leopard, sable and steenbok.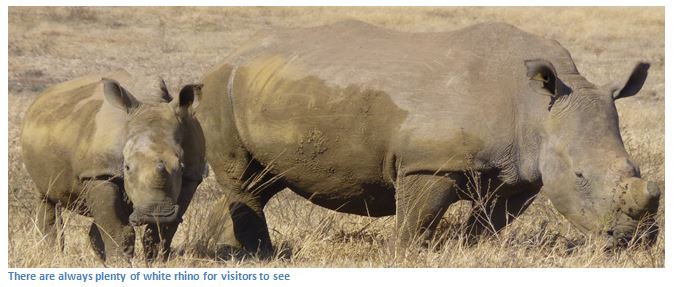 Vegetation
The vegetation varies from small patches of evergreen riverine species, through thicket woodland, open miombo woodland, grassland and rocky hills to a barren zone along the lake shore which is subject to periodic inundation and which supports only a sparse cover of annual herbs and grasses. The beauty of the woodland is largely due to the absence of elephant, which tend to trash the vegetation. Much of the plain area has been inundated by the lake waters on previous years and is generally bare of vegetation, although black wattle, an extremely invasive species, is establishing itself and needs to be kept in check.
Accommodation Facilities
Lodges
The lodges are located about one kilometre from the Tourist Office and are reached along a track that winds between trees and finally climbs a fairly steep granite hillside to a site that overlooks the lake. The self-catering lodges available include:
| | | |
| --- | --- | --- |
| Name | Type | Details |
| Waterbuck | 3 bedroomed | (2 bedrooms x 3 beds, 1 bedroom x 2 beds) |
| Elephant | 2 bedroomed | (1 bedroom x 3 beds, 1 bedroom x 2 beds) |
| Hippo | 2 bedroomed | (1 bedroom x 3 beds, 1 bedroom x 2 beds) |
| Rhino | 2 bedroomed | (1 bedroom x 3 beds, 1 bedroom x 2 beds) |
| Sable | 1 bedroomed | (1 bedroom x 1 bed, 1 single bed in the lounge) |
| Impala | 1 bedroomed | (1 bedroom x 1 bed, 1 single bed in the lounge) |
| Kudu | 1 bedroomed | (1 bedroom x 2 bed, 1 single bed in the lounge) |
| Buffalo | 1 bedroomed | (1 bedroom x 2 bed, 1 single bed in the lounge) |
| Cheetah | 1 bedroomed | (1 bedroom x 2 bed, 1 single bed in the lounge) |
| Duiker | 1 bedroomed | (1 bedroom x 2 bed, 1 single bed in the lounge) |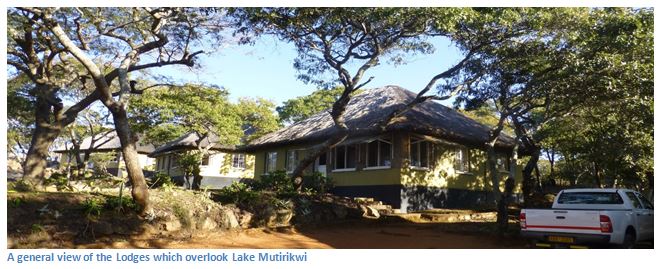 When visited the lodges were spotlessly clean with polished floors and clean bathrooms and fresh linen. All the cooking utensils required for a three night stay were present and the furniture was adequate. Curtains and cushions are looking a bit tired, but this is a minor criticism. The usual complaint in the comments book is the lack of DSTV, but maybe visitors should use the opportunity to talk around the braai and enjoy the wonderful sight of the Milky Way above! The staff are welcoming and helpful. Visitors need to keep windows and doors shut all the time as vervet monkeys may arrive unexpectedly! In the early evening the warthogs shuffle past the back door searching for bulbs and tubers.
The camp site is located 700 metres from the Tourist Office. There are eleven camping sites with two ablution blocks consisting of toilets and hot showers, plus two dining shelters.
Caravan Site
There are five caravan sites with a maximum capacity of six people at each site.
Picnic Sites
The picnic sites have ablution and fire places and are mainly for day use. Popoteke picnic site is located about ten kilometres from the entrance gate and situated in the northern portion of the Park. The Popoteke gorge site adjoins a special conservation area; a gorge rich in estuarine for spawning fish.
Mutirikwi picnic site is located six Kilometres from the Tourist Office.

Conference Facility
Waterbuck lodge may be used as an alternative conference facility for twenty people upon request.
Activities
Game viewing – but visitors must use their own vehicles for transport.
Fishing - visitors need to bring their own fishing gear and boats.
Horse riding.
Guided walks
Arboretum walk - unguided walk from Tourist Office to the camp sites
Nearby are angling clubs at Bompst Bay. Remember the lake has both bilharzia and crocodiles.
Amenities
There are no shops and visitors must bring adequate stocks of provisions.
Generally, management look to be in control in the Recreational Park. Fire-breaks had been cut; there was no evidence of bush fires in mid-August. We met armed rangers doing foot patrols during the day and saw them leaving on night patrol. The roads are good to fair, deteriorating where the gradients and camber allow summer rains to cut gullies into them and some of the stream crossings need maintenance. High clearance is recommended and 4WD in the rainy season as the deep ruts in the marshy ground indicate moving around can be problematic during the rainy season.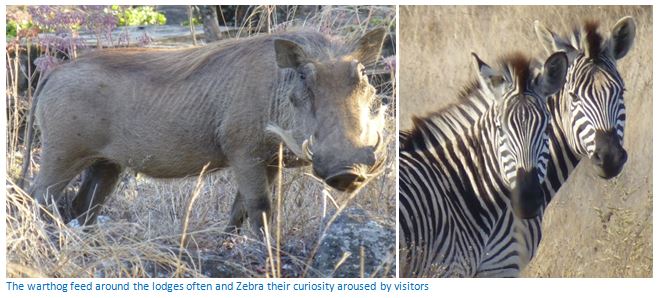 Nearby private accommodation includes:
Hippo Creek Lodge is on the road to Lake Mutirikwi Recreational Park and approximately 23 kilometres from Masvingo. There are twenty standard and two deluxe stone and thatch lodges overlooking Lake Mutirikwi, Zimbabwe's third largest inland water body; each is detached and self-contained with ensuite facilities. Breakfast is served in the restaurant and there is a lobby hall and bar area. Hippo Creek also provides facilities for caravans and camping. Activities include game viewing at the nearby Recreational Park, boat cruises on the lake, or tour the Great Zimbabwe monument on the other side of the lake.
Norma Jeane's Lakeview Resort (www.normajeanslakeview.com) is built around the tin-roofed homestead of Murray MacDougal, the man who conceived and drove the construction of Lake Mutirikwi which it overlooks and the lowveld sugar estates. Known for its beautiful gardens, home-style cooking, comfortable accommodation and friendly service it is well-situated for a first or last stop-over in Zimbabwe if you are travelling to or from South Africa and handy for the Great Zimbabwe World Heritage Site monument. Norma Jeane's Lakeview Resort has eight hotel rooms, with dining and a resident's lounge and four fully equipped self-catering family lodges all have views across Lake Mutirikwi. In addition, nine budget rooms have communal ablutions, kitchen and braai facilities, a camp site has an all-weather boma. The restaurant serves delicious, home-style full breakfasts, a la carte lunches and dinner is a set menu. The beautiful gardens create a birdwatcher's paradise and there is bass fishing in Lake Mutirikwi, as well as boat cruises, sailing and skiing.
When to visit:
All year around Monday to Sunday 6am to 6pm
Fee:
Entrance and accommodation fees charged