Felixburg
Why Visit?:
Everyone has heard of Felixburg, but it is one of those places that few have visited.
Felixburg never lived up to the potential that early settlors thought it possessed, even Thomas Meikle closed his store
Felixburg is mostly associated with Willie and Harry Posselt and their graveyard is just a few hundred metres from the store
How to get here:
From Harare, distances are measured from the Mvuma junction of the A4 Harare to Masvingo Road and the A17 to Gweru: 9.85 KM just before crossing the railway line turn left off the tar road, 27.46 KM reach Driefontein. 32 KM pass south of a dam wall; continue travelling east, 43 KM reach Felixburg store.
GPS reference for old Meikles store: 19⁰26′10.80″S 30⁰50′40.31″E
GPS reference for Posselt graveyard: 19⁰26′01.66″S 30⁰50′41.61″E
Felixburg serves an area of small communal farms and commercial farms and small gold mines in the Masvingo province of Zimbabwe. It is located about 50 kilometres north ofMasvingo and east of the road that connects to Chivhu. It was named after Harry (Felix) Posselt. The countryside around Felixburg is very attractive with beautiful forests of Miombo woodland featuring Brachystegia trees so common in this part of the world which alternate with open grasslands and vleis.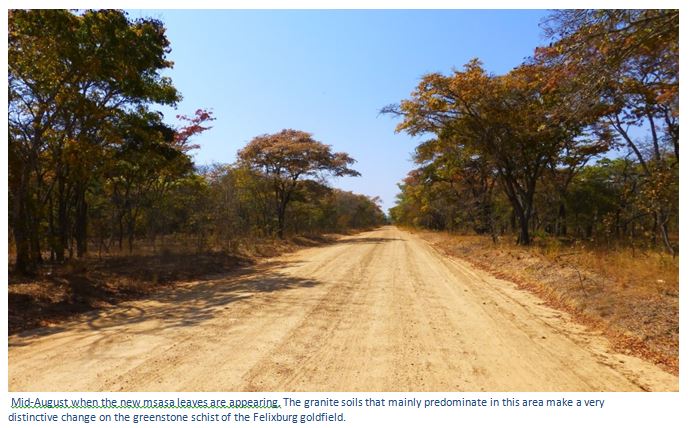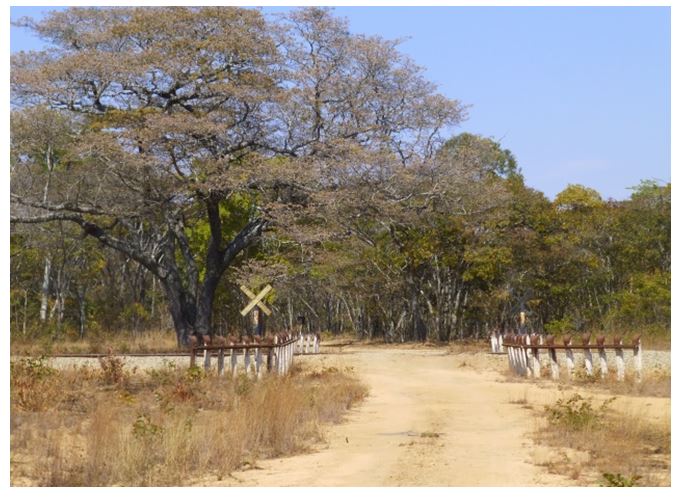 R.K. Harvey wrote an interesting article: "Felixburg – a Dream that Faded – but legends live On" in Heritage No. 14 of 1995. He says in 1890 the area conjured up visions of Eldorado, being a goldfield easily accessible from Masvingo (formerly Fort Victoria) about 10 km long and 3 km wide. The names of some of the 50 claims still recall the hopes of the times in; Golden Snake, Golden Cup, the Mint, New Hope, Luck be Mine and Success. Sadly most mines were short-lived, as the quartz veins pinched and disappeared.
Their excitement is hardly surprising as the wagons of the Pioneer Column traversed the site of the Castle Mine, a laager site is just 4 kilometres south of Felixburg and there were signs of pre-colonial mining in the form of "ancient workings" up to 24 metres deep. Most of the 2,800 kilograms of gold produced from the goldfield came from the Welcome, the Castle and Holiday mines within a few kilometres of the store. The windlasses of artisanal miners are visible even today on these old mine sites.
The store currently closest to the crossroads of Felixburg was opened by Tom Meikle in the 1890's, but even that closed in time; some saying it was the only mistake he ever made! It was taken over by Russel H. Brown, whose father was involved in the building of the Beira – Mutare railway line and the store became the chemist, post office and social centre of the small community before he died in 1955.
Felixburg is most associated with the Harry (Herman) and Willie (Felix) Posselt who were the sons of a German missionary (Karl Wilhelm Posselt) and brought up in Natal where they became fluent in Zulu. They read the accounts of Karl Mauch, who had been guided to Great Zimbabwe on 5th September 1871 by Adam Render, the first European to see the monument. Mauch stayed with Render for nine months, although he only made three visits to Great Zimbabwe due to local suspicions. From a lintel he cut some wood that he described as reddish, scented, and very like the wood of his pencil and from this Mauch concluded that the wood must be cedar of Lebanon and brought by the Phoenicians. Actually the wood was probably African sandalwood (spirostachys Africana) a local hardwood that later visitors also found in the walls of the Great Enclosure, but no one would know that for years. Mauch sent extravagant site descriptions to the overseas press, claiming that the site was a replica of Solomon's Temple and that he had found the land of Ophir described in the Bible. As the first Westerner to report on Great Zimbabwe he received most of the credit for the discovery and Adam Render, the actual discoverer, died in obscurity in 1881.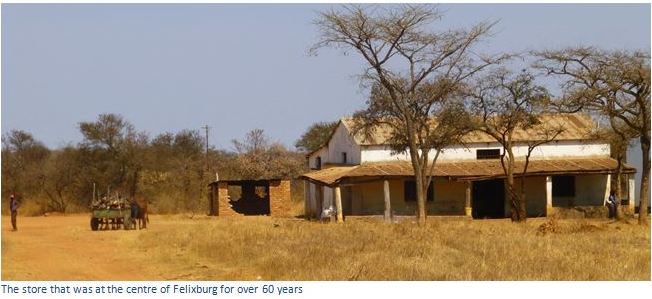 The two eldest Posselt brothers trekked north, stopping in the Transvaal and crossing the Limpopo in 1887 into modern day Zimbabwe to hunt in Chief Matibi's country who told them about Great Zimbabwe before their oxen were killed by tsetse fly and they were forced to turn back. In the winter of 1888 they returned and were guided by Mukati, Chief Matibi's son, to the Runde River where a Matabele impi accused them of being spies. When they protested in Zulu that they were hunting, the Induna said all the game belonged to Lobengula, but impressed by their Zulu skills said they should make a present to Lobengula.
When they asked what they should give the Induna said "Lobengula has ten fingers" so they gave ten blankets. The induna then said "Lobengula has ten toes" so after debate they parted with ten pieces of calico (limbo) whereupon the induna said he also had ten fingers. The brothers turned away and said: "you are warriors, but we are also warriors and you will only be able to steal our belongings when we are dead." The Induna gave way and became much after friendly after Willie shot a hippo in the Runde for them, but they were advised to leave their wagons behind and travel by horseback as the Induna guarding the next river, which was the Tokwe, also had ten fingers!
Willie journeyed on to Great Zimbabwe alone with Mukati and found the Shona were living in the Hill Complex at Great Zimbabwe. He spent several days exploring and said; "in an enclosure which served as a cattle kraal, I saw four soapstones, each carved in an image of a bird and facing towards the east. Each one, including its plinth, had been hewn out of a solid block of stone and measured four feet six inches in height, and each was firmly set into the ground." (Posselt 1953)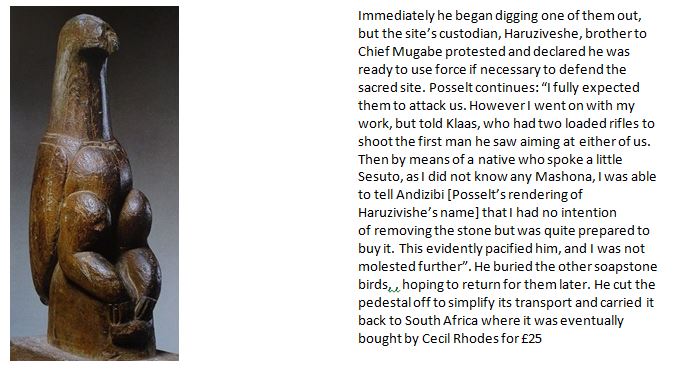 Harry Posselt returned to Masvingo and chose his pioneer grant farm which enclosed Great Zimbabwe, probably because he had some idea of fossicking in the ruins for treasure. But the area was soon declared a monument and the three brothers were given pioneer grants to farms at Felixburg. Maxwell Farm to Willie (Felix) Posselt (1858-1947) Felixburg to Harry (Herman) Posselt (1863-1953) and Grassland farm to Teddy (Theodor) Posselt (1866-1939)
Between the Great Enclosure (or the Elliptical Building) at Great Zimbabwe and the Hill are a series of small enclosures, now known as the Valley Ruins. Those close to the Great Enclosure form a close-knit group and are known as the No. 1, Renders and Mauch Ruins. Further away stand four more isolated and independent enclosures known as the Posselt, Philips, Maund and East Ruins: all are built with dressed stones laid in regular courses which suggests they were construction is contemporary with the Great Enclosure.
Both Willie and Harry fought in the 1893 Matabele war in Col. Napier's troop and in the 1896 Rebellion, or First Chimurenga, being based at Fort Belingwe (now Mberengwa) under Major D. Tyrie Laing. Willie never married and when finally Maxwell Farm had to be surrendered to Stuart Meikle in repayment of a loan he moved onto the old homestead on Harry's Felixburg Farm which was well-known for some of the tallest blue gums (Eucalyptus grandis) in Zimbabwe. They were planted in 1904 by Harry and described by Lyn Mullin in his book Historic Trees of Zimbabwe, originally comprising an avenue of 40-50 trees; only 10 were still alive in July 1965 of which the largest was 61 metres in height. Lyn Mullin attributes their height and size to the deep Kalahari sand and says Harry Posselt was a great promoter of blue gums for windbreaks and woodlots, but he soon started warning growers not to plant too close to their homesteads as he saw the danger they posed to his own farmhouse. When visited in August 2015 the giant blue gum trees had all been hacked down and the former plantation destroyed.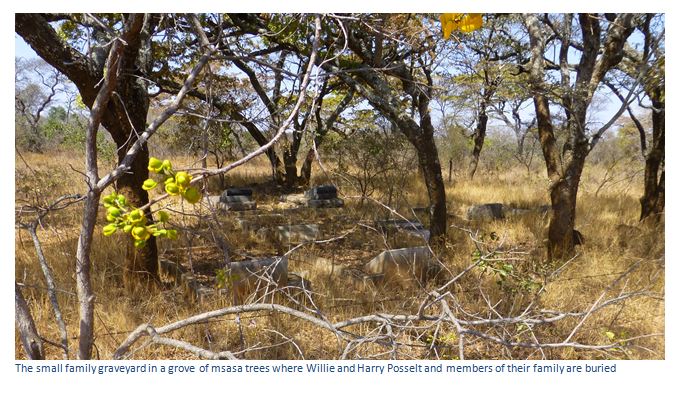 Their epitaphs read as follows:
IN LOVING MEMORY OF OUR DEAR BROTHER AND UNCLE WILLIE, E.A.W. POSSELT
BORN 11TH JULY 1858
DIED 26TH APRIL 1947
A FINE PIONEER OF RHODESIA WHO FIRST ENTERED THE COLONY IN 1888 AND WHO RE-DISCOVERED
ZIMBABWE RUINS IN AUGUST 1889.
A FRIEND TO ALL AND ENDEARED BY ALL.
Erected by his brother Harry and relatives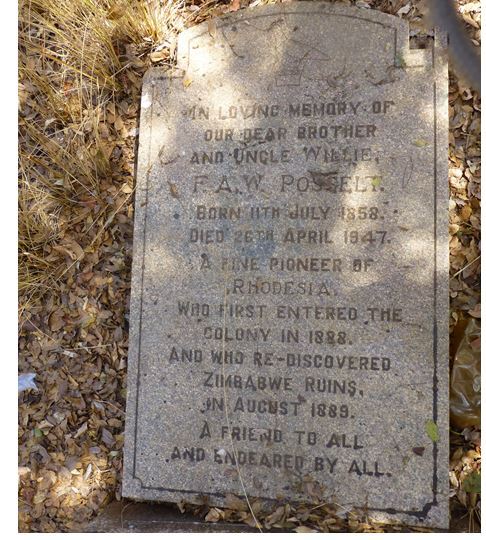 A CHERISHED MEMORY OF "HARRY" HERMAN E. POSSELT
BORN 12TH MARCH 1863
DIED 16TH JULY 1953
ERECTED BY HIS LOVING WIFE AND FAMILY
A PRE-PIONEER OF RHODESIA "HE CARVED A ROAD FOR OTHERS TO FOLLOW"
Other graves in the small cemetery include:
Harry's wife Anna Susanna Posselt (born 16th February 1888, died 17th August 1971)
Their son Victor Hermann Posselt (born 3rd January 1920, died 26th August 1997)
Dirk J.J. Matthyser (born 19th November 1888, died 22nd April 1948)
Thomas Wilkie Barnett (born 13th May 1870, died 5th March 1936)
Thomas Charles Johns (born 21st January 1871, died 2nd July 1933)
And two further graves which lack inscriptions.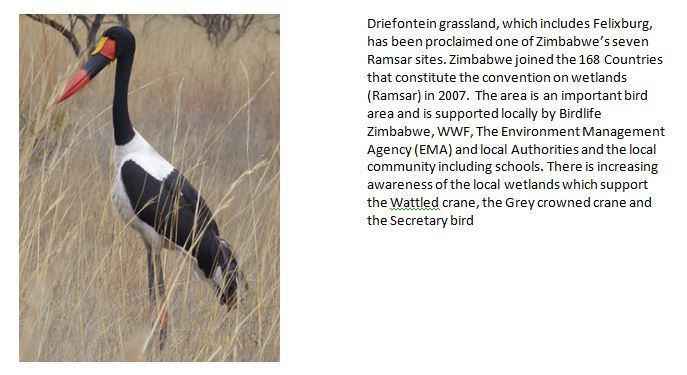 Acknowledgements
R.K. Harvey. Felixburg – a Dream that Faded – but legends live. Heritage No. 14 of 1995.
P.S. Garlake. Great Zimbabwe. Thames and Hudson 1973