Dengeni Cave
Why Visit?:
• The different style of depicting human figures and extensive use of white paint make this rock art different from anything to be encountered in Mashonaland or Matabeland.
• Leo Frobenius who studied southern African rock art very widely in the 1920's and 1930's used his "wedge-style" conclusions as evidence that rock art had developed on royal enclosures such as Great Zimbabwe and had then been extended to rock shelters such as this one.
• Abbé Breuil, an expert on European cave paintings, studied these friezes in the 1950's and dismissed the idea of local artists, stating they were the work of foreigner; Egyptians and Minoans, and these paintings feature prominently in one of his books.
How to get here:
This site is remote and there are thirty kilometres of gravel roads which maybe in poor condition, especially in the rainy season. From Masvingo take the A9 Birchenough Bridge Road. 43.7 KM turn right off the tar onto a gravel road. 54.4 KM pass Danda School, 59.8 KM turn right at Chimedza School, 66.7 Km pass Zishiri Business Centre, 69.6 Km turn left, 73.2 KM reach Govere School and car park. The cave is a two kilometre walk east of the school on level ground; visitors are recommended to use the services of a local guide.
GPS reference: 20⁰15′06.89″S 31⁰17′33.82″E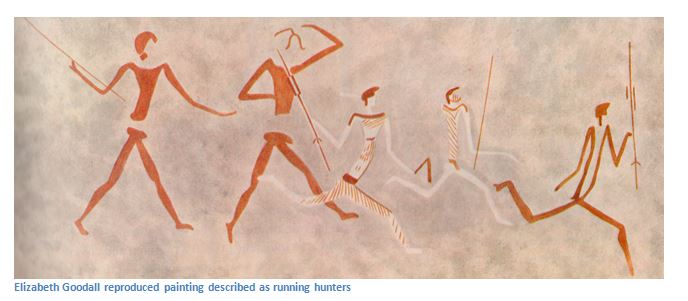 The most unusual feature of the shelter is a red and white painted line that emerges from a natural fissure and crosses the entire frieze ending near five eland; something which may interest South African researchers where the eland is the dominant motif. Below the line is a large design of concentric circles in red, plus kudu images. The Abbé Breuil was most interested in the human figures and saw in them proof of the arrival of an intrusive foreign culture, different from local people who were presumed to have been responsible for the more orthodox painting styles. Some of these figures have their bodies painted in white, while the hair and other details are in red. These images were both reproduced by Elizabeth Goodall one of the team that accompanied Frobenius, who described them as being in a polychrome style of a later period.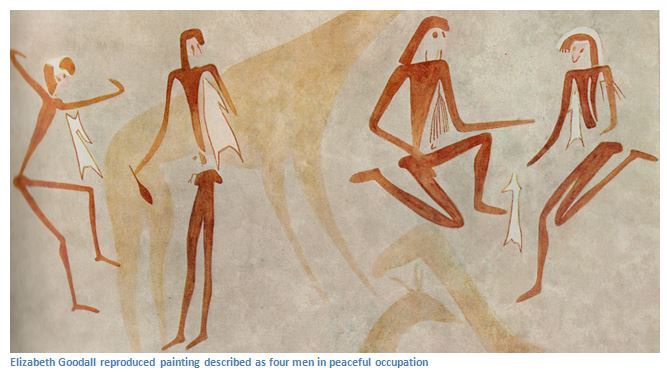 Acknowledgements
---
E. Goodall, C.K. Cooke, J. Desmond Clark. Editor R. Summers. Prehistoric Art of the Federation of Rhodesia and Nyasaland. National Publications Trust 1959
H. Breuil. Southern Rhodesia: the District of Fort Victoria and Other Sites: Rock Paintings of Southern Africa Vol. V Singer-Polignac Foundation Clairvaux 1966