Crooks Corner
Why Visit?:
In the 1900's this area was a safe-haven for gun runners, poachers, fugitives and anyone else dodging the law. It was an easy hop across the river whenever police from one particular country approached. There is a large plaque here commemorating the legendary ivory hunter Cecil Barnard (Bvekenya), who hid on an island in the middle of the Limpopo to avoid being tracked down by pursuing rangers and police in the 1920s. Ironically, Barnard later became a ranger himself. A police station was later built here. The road to Crook's Corner passes under majestic fig trees, jackal berries and a forest of fever trees. This is the spot where the Limpopo and Luvuhu rivers and three countries, Zimbabwe, South Africa and Mozambique meet.
How to get here:
The Makuleke Contractual Park, or Pafuri Triangle, constitutes the northernmost section of the Kruger National Park, South Africa and comprises approximately 240 square kilometres of land. The "triangle" is a wedge of land created by the confluence of the Limpopo and Luvuvhu Rivers at the tripoint Crook's Corner, which forms a border with Zimbabwe along the Limpopo River.
When Stephanus Barnard, better known by his Shangaan nickname of Bvekenya "the one who swaggers as he walks" arrived at Crooks Corner in 1910, it was true frontier territory – a wild place that had acquired its name from the number of outlaws living there. Situated where South Africa, Zimbabwe and Mozambique borders meet near Pafuri, it was an ideal place for fugitives from justice to skip over the border into another country. The actual location of Crooks Corner is on an island in the Limpopo, close to where the Luvuhu River flows into the Limpopo. There used to be a beacon on the island that marked the spot, but recent floods washed it away. Across from Crooks Corner is Ypie's Island, named after Bvekenya's favourite mule, which was marooned on the island for several weeks. It's said they survived on a diet of quinine and whisky to keep off the attacks of malaria, while making a precarious living by poaching ivory, black birding (illegally recruiting labour for the mines) and trading animal skins. The living was hard. If the animals didn't get you, the malaria would, or eventually the whisky.

Bvekenya quickly made a name for himself as an elephant poacher and was soon on the wanted lists of all the authorities. But as hard as these countries tried, they couldn't catch him. "When my father first started hunting, he uses a .303 rifle with a shortened barrel," says his son Izak. "To be effective he had to get close to his prey, sometimes within five meters or less. He told me stories of elephant actually falling on hunters because they were so close to them."

According to Izak, Bvekenya wasn't the ruthless poacher he was sometimes made out to be because he sought out older elephant that were already slowly starving to death. "He'd recognize them by their dung. If it was coarse, he'd know they had lost most of their teeth and couldn't chew their food properly. These were the animals he concentrated on." Bvekenya had his camp on the South African side of the Limpopo, near to the historic Ivory Trail that followed the river down to Sofala in Mozambique. Bvekenya knew this trail well, having travelled it on countless occasions with trains of donkeys laden with ivory to be sold at the port town.
Over the years the bush has reclaimed most of the places mentioned in TV Bulpin's The Ivory Trail, including Makhuleke store. It was an important supply point and also a meeting place, people would travel long distances to it to stock up on everything from ammunition to gin, and to catch up on the progress of the 'Great War' (World War I) in Europe – or to laugh at the latest attempted by the government to stamp its authority on Crooks Corner.
Bvekenya eventually left Crooks corner in November 1929. According to Bulpin, he gave up his nomadic hunting lifestyle after successfully tracking down a legendary elephant known as Dhlulamithi "taller than the trees." It was described as "the mightiest elephant in all the land", and shooting it had become an obsession with the poacher, but when he finally got the tusker in his sights, he had a change of heart. And so he settled down and took up farming at Geysdorp. The only time he returned to Crooks Corner was in 1952 when he went there with Izak to lay concrete slabs on the graves of his colleagues, Pye and Hartman. However in an article in African Hunter Vol. 18 No. 3 Umzingele quotes Ron Thomson, author of The Adventures of Shadreck – Southern Africa's Most Infamous Elephant Poacher who says Bvekenya was a hard-arsed ivory poacher and would never have given up the chance to shoot this elephant had the opportunity presented itself.

Bvekenya died on his farm on June 2, 1962, but his son Izak takes safaris into the Kalahari. As for Dhlulamithi, the elephant that mended Bvekenya's ways, nothing more is known. According to T.V. Bulpin, an elephant that was thought to be him – was shot in Gonarezhou in 1967 by a South African hunter. Again Umzingele in the same article in African Hunter provides the information that this was General Victor Verster hunting with Richard Harland; but it was 40 years after Bvekenya came across Dhlulamithi, who would have been long dead from natural causes. The left tusk weighed 62 Kgs and the right tusk 48 Kgs and is now displayed in the Pretoria Country Club and listed by Rowland Ward's Records of Big Game as the largest tusks recorded south of the Zambezi.
Umzingele quotes Richard Harland as say that Dhlulamithi is actually a hereditary title given to any big bull elephant. Whatever the truth, the story is fascinating and forms part of the mystery of that part of the country that was called Crook's Corner.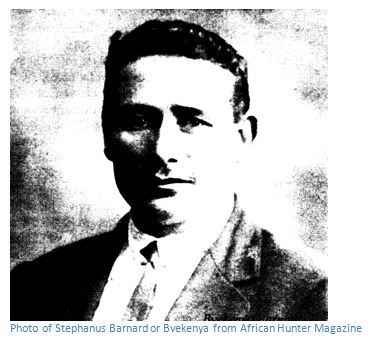 In 1986, Izak erected a memorial to his father near the site of Makhuleke village. It reads: In memory of Bvekenya and his wild companions who followed the ivory trail.
Acknowledgements
Abbreviated from www.pendukasafaris.co.za/whoshotdhlulamithi.htm and African Hunter Magazine
Wikimapia.org
Wikipedia
[i] T.V. Bulpin. The Ivory Tale.
Fee:
Entrance and accommodation fees are payable