Zimbabwe's Game Rangers on the front-line of the fight against the illegal wildlife trade and poaching
This article pays homage to the Game Rangers, both men and women from government agencies such as ZimParks, NGOs, private conservancies and local and indigenous communities who provide the first line of defence against the serious conditions tormenting our planet including protecting our wildlife and wildlands from poaching, habitat loss, pollution, fire and other threats.
World Ranger Day
31 July each year is World Rangers Day to commemorate Game Rangers killed or injured in the line of duty and to celebrate the achievements of all those men and women both in Zimbabwe and all around the world who risk their lives day in and day out in the battle to stop the poaching and illegal trafficking of wildlife. On this day we honour Fallen Rangers and stand with the people bravely protecting wildlife on the frontline of conservation worldwide; these dedicated Game Rangers are our Planet's Caretakers.
"Worldwide, about two Rangers are killed every week," says Sean Willmore, President of the International Ranger Federation and founder of the Thin Green Line Foundation, a charity that trains Rangers and supports the widows of those killed in the line of duty. "But that's only partial data," he adds. "It could be double that amount."[i]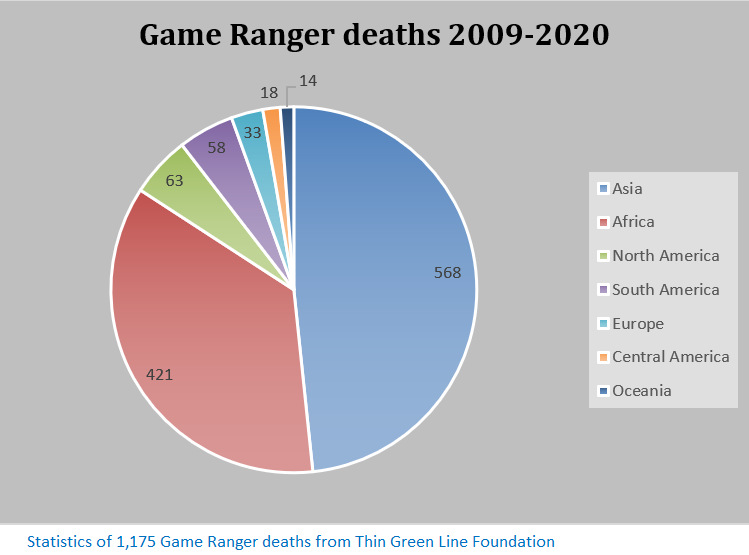 The 2009-1020 Ranger Roll of Honour compiled by the Thin Green Line Foundation represents reported and confirmed Ranger deaths but is known to be incomplete and does not include severely injured Rangers of which there are known to be many.

Our game Rangers are unsung heroes who face a wide-range of complicated challenges similar to soldiers in combat. They are the 'boots on the ground' and daily face danger from wildlife and timber poachers in addition to the dangers presented by the wildlife that they protect. In addition the environment they work in presents its' own threats from vehicle accidents because of the rough terrain in which they work and swollen rivers and floods which present a different kind of threat.
The Game Rangers Association of Africa (GRAA) has recorded 59 Ranger deaths in Africa in the past year (2019 - 54 deaths) meaning that at least 384 African Rangers have been killed in action since 2012. In a statement they said: "It must be remembered that these figures only reflect those deaths reported and actual estimates are thought to be significantly higher."
Eleven Zimbabwean Game Rangers have died since 2014 of whom three were Akashinga Game Rangers who were drowned in a single incident.
Zimbabwe Parks and Wildlife Management Authority (ZimParks)
The Zimbabwe Parks and Wildlife Authority (ZimParks) is responsible for conserving Zimbabwe's wildlife and wilderness resources in National Parks, Recreational Parks, Botanical Gardens and on other state-owned land.
A vast area of Zimbabwe falls into the custody and under the protection of ZimParks including: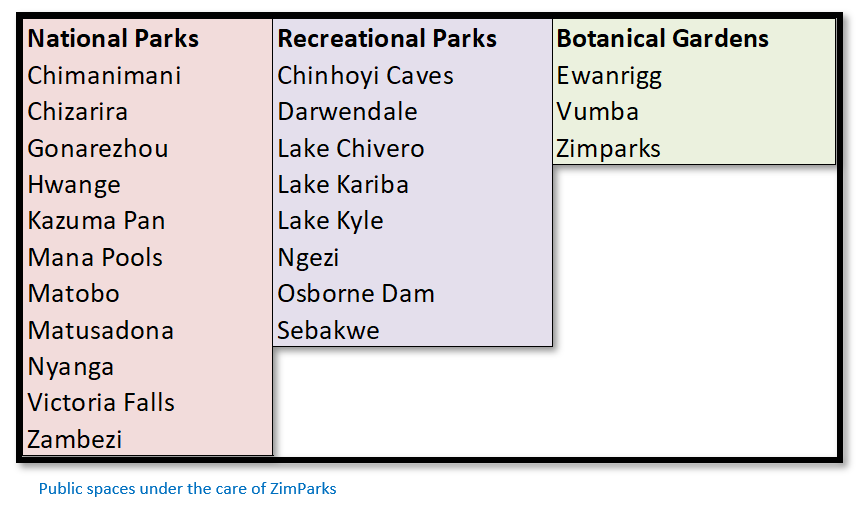 In 2016 ZimParks put out a tender for the supply of new vehicles for its directors and an advert for two new executives just when its working Rangers, toiling to stop poachers in 45°C heat, had not been paid for three months.
Many of ZimParks Game Rangers lacked proper training and equipment even the most basic gear such as boots or first aid kits. And when something goes wrong—someone is injured, or worse—there's little support for the families.
Members of a Parliamentary Committee on the Environment noticed the lack of priorities and were not impressed. "In order to keep them in this fight, more of the finances given for rhino poaching needs to go into the maintenance of the men at grassroots level."
In February 2018 Environment Minister Oppah Muchinguri Kashiri sacked the eight-member Zimbabwe Parks and Wildlife Management Authority (ZimParks) board of directors for misconduct, including abuse of office and poor corporate governance. Mundangepfupfu and his board took office five years ago but have faced criticism for presiding over a litany of scandals at the wildlife body, including the alleged theft of rhino horn worth $3 million. According to the charge sheet, Mundangepfupfu is accused of leading a board that facilitated insider non-performing loans for some directors, taking over the day-to-day running of the Authority, turning a blind eye to prudent corporate governance practices, and other issues.[ii]
Fortunately now ZimParks has new management and with strong laws and meaningful prosecutions with harsh penalties (more than just a slap on the wrist) also send a message to Rangers that their work counts.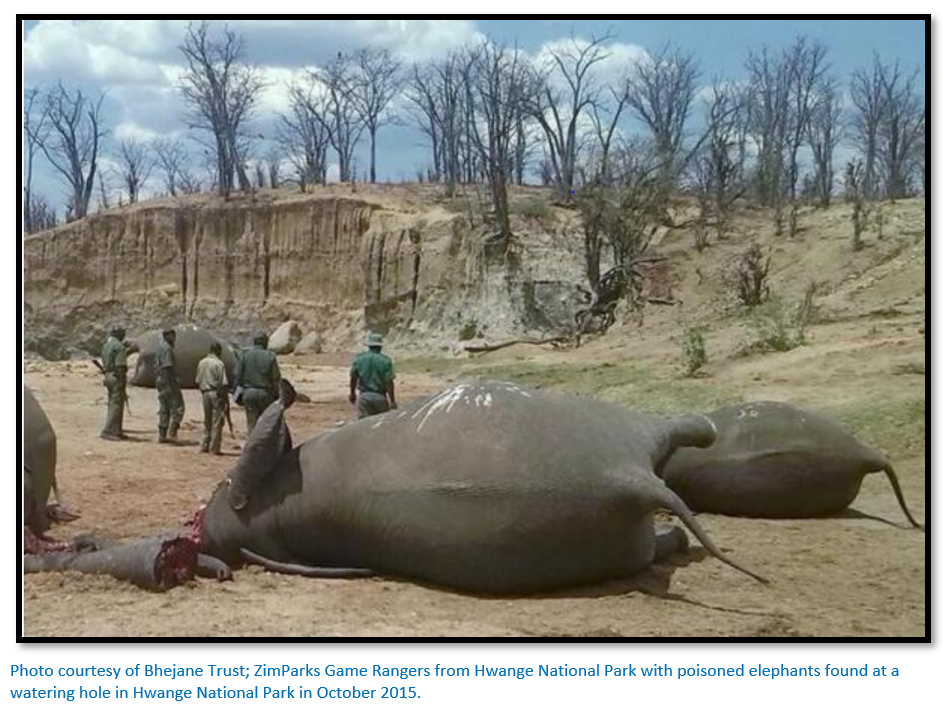 Relentless onslaught on our country's wildlife
There's a tense balance between our rural communities and protecting wildlife. In 2007 The Daily Telegraph reported that poaching in Zimbabwe was 'out of control.'[iii] The article continued: "The true scale of poaching in Zimbabwe is now impossible to gauge. But environmentalists are agreed; killing is widespread, indiscriminate and out of control. The World Wildlife Fund estimates up to 80 per cent of wildlife on reclaimed farms has been slaughtered since 2001, with little sign of the desire for bush meat and cash abating."

Rangers on rhino battlegrounds face similar tragedies. In South Africa in 2008 the same article reported that poachers had killed 442 rhinos, 293 in Kruger National Park alone.
Game Rangers are our Planet's caretakers. Yet Rangers in many parts of the world are chronically underpaid, uninsured, undertrained and underappreciated. More than 1,000 Rangers have been killed on duty in the last decade according to the International Ranger Federation. A 2016 study conducted by WWF and Global Wildlife Conservation found that out of 40 Asian and African countries where Rangers were surveyed:
28% did not provide Rangers with any access to health insurance
35% did not provide them access to life insurance
failed to provide long-term disability insurance
66% were not given the equipment they need to be successful at their job.[iv]
Around the world passionate individuals including Zimbabwe's Game Rangers are risking their lives day in and day out to protect the planet's life support systems on which we all depend—our forests and other wildlands. Yet many do their job under poor working conditions and without adequate protection.
Mike Appleton, Global Wildlife Conservation director of protected area management says: "If conservation is the planetary health sector, the Rangers are the nurses, the orderlies and the technicians. Would you go to a hospital and want to be treated by a nurse who isn't paid, has no training and no equipment? It is unacceptable that though Rangers are protecting the health of our planet, they are too often last in line for resources to do so effectively."[v]
Game Rangers are also the targets
Julius Miyengo is Commander of a Special Anti-Poaching Unit established by Game Rangers International protecting wildlife in Zambia's Kafue National Park. He says: "I've had Ranger friends who haven't been as lucky. I know some who have lost their lives in the field. I risk my life every day in my job. I have been a wildlife Ranger for 15 years and I have felt afraid many times. It is a dangerous job. That's the truth of it."[vi]
A recent survey of Rangers conducted by the WWF showed that almost 80 percent of the 1,742 respondents had faced a life-threatening encounter during their work.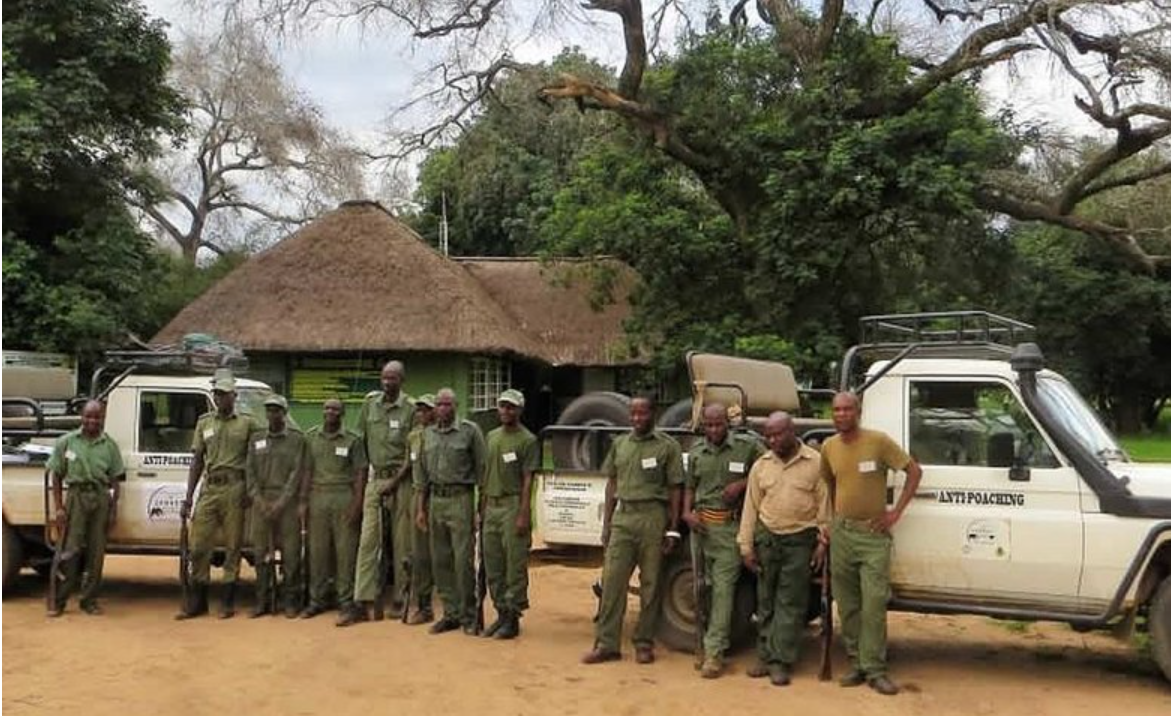 Photo courtesy of the Zambesi Society from https://globalconservation.org/news/1st-year-progress-mana-pools-world-h...
The case of Virunga National Park in the DRC is extreme as the country has been plagued by two decades of civil war and instability; 175 Game Rangers have lost their lives since its establishment in 1925 protecting the wildlife and habitat within the Park as well as the people living outside its boundaries. Before a Widows Fund was set up the families of deceased Game Rangers received little financial support often leaving them severely impoverished.
In 2007 the Fallen Rangers Fund was set up and the park management set out to find every widow of a fallen Game Ranger as far back as 1991. After the tragic loss of any Game Ranger a private fund is established with all donations being given directly to the widow who also received six month's equivalent of the full salary before receiving a pension.
Many Game Rangers are killed as a result of attacks by the very animals they are trying to protect as the wildlife they protect pose great dangers too. Animals cannot distinguish between poachers and Game Rangers so some of the dead Rangers have been trampled to death by the same elephants they are trying to protect. Any wounded animal such as a buffalo or elephant will attack any human that comes close to them; mothers with calves also pose great danger.
Julius Miyengo referred to the many poisonous snakes found in the remote areas; four years previously a friend and colleague was bitten by a black mamba. He was carried to the nearest vehicle and driven back to base for medical treatment, but sadly still lost his life.
Rules of Engagement
Unlike soldiers, Game Rangers are pursuing criminals not enemy combatants, although sometimes it must feel very close to actual combat. Game Rangers work under the legal legislation of the country and in most Southern African countries technically they are only permitted to fire in self-defence.
Johan Jooste special projects commander with South African National Parks (SANParks) at the time of the 2014 National Geographic article was quoted as saying: "Here's this [Ranger], tracking poachers in 45 degrees [Celsius, or 113 degrees Fahrenheit] for many days. He gets a sighting, but he cannot shoot at the person. He must now stalk the person. Yet the thick bush hinders tracking. When the Ranger finally finds his quarry then he must challenge the poacher. Only when that person picks up his rifle may he defend himself. And that is taxing."
Jooste went on to say that in 2013 SANParks Rangers engaged in 65 firefights, but they recorded 108 sightings of poachers. "Because we're law abiding, they get away. Because they run away into the bush, [the poachers] have the advantage."
When a Game Ranger in South Africa kills a poacher, the ensuing police investigation puts pressure on the Ranger and his or her family—even if the case is dismissed. Jooste says: "You're on the defensive all along. You know that when you sight them, in a split second you'll have to make a decision whether to defend yourself, and there will be consequences."[vii]
SANParks requires that whenever Rangers engage directly with poachers, they see a psychologist. "This is a guerrilla warfare situation being fought by men and women trained to protect animals and not trained to kill," says Retha Fincham, a clinical psychologist who treats Rangers at Kruger National Park.
The daily dedicated commitment of these men and women
"Many who become game Rangers go into it knowing that the position goes with many dangers of wild animals, dehydration, irritating insects, never mind the poachers—and most are the type of tough personality that can handle the rigors of the job," says Kevin Bewick head of the Anti-Poaching Intelligence Group of Southern Africa.
Stephen Midzi, whose base is Shangoni Post in Kruger National Park said simply: "Being a Ranger was not a choice but a calling. I was born for this, so had to fulfil what has already been written in my book of life." SANParks' Jooste added: "Not a single guy has quit and without the Rangers like Midzi poaching statistics would be a lot worse. Look what would happen if we weren't here."[viii]
Unlike other dangerous service sector jobs—police and firefighters—many countries lack both standardized training programs for Rangers and a clear hierarchy for advancement throughout their career. These shortfalls are evident in the fact that there is not even a standard name for the job—Rangers can also be called wildlife wardens, forest guards, foresters, scouts or watchers.[ix]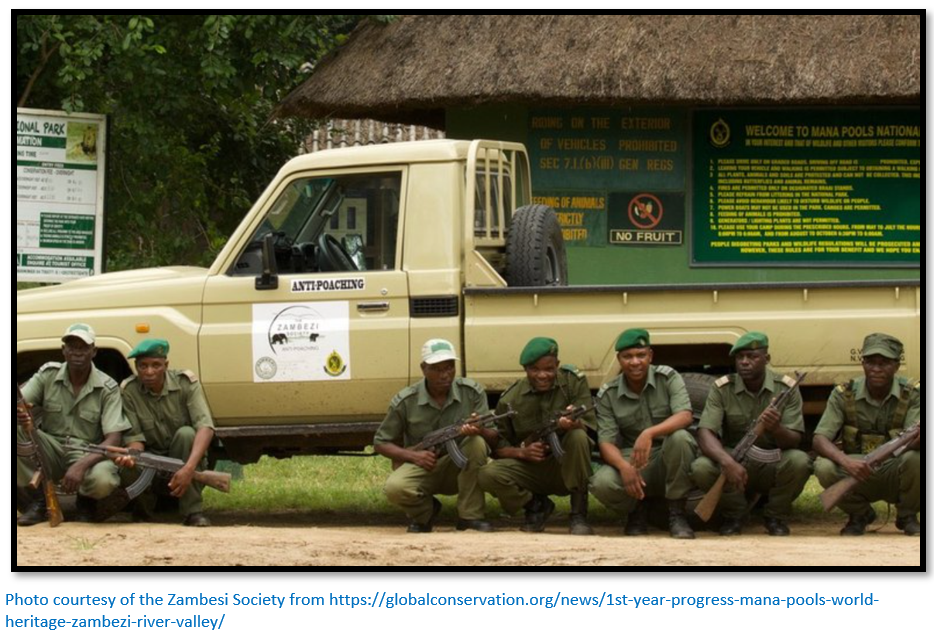 Psychological Stress that comes with the job
Game Rangers are exposed to deeply disturbing scenes of poached carcasses which signal a frustrating and grisly reminder of failure to beat the poachers and often they operate in the bush under harsh physical conditions where it may rain for days often with inadequate equipment, pay, and support. Fortunately technology is helping with improved radio reception and mobile phone coverage so they can co-ordinate their efforts better.
However the poacher has the advantage of huge areas of wilderness with thinly manned national park boundaries and often corrupt officials who are willing to facilitate their crimes and frustrate law enforcement.
Richard Ruggiero, U.S. Fish and Wildlife Service Branch Chief for Asia and Africa who regularly works on the front lines with Rangers says: "I've seen exactly 409 dead elephants to date. My only recourse now is to try hard to stop thinking about how I feel. It's an indulgence that only leads to more heartbreak, anger, and frustration. So I just plunge forward."
Many Game Rangers have watched a colleague die after a fire-fight with armed poachers. A new kind of 'Ranger trauma' can be detected at the sight of butchered animals or of killed or wounded colleagues.
There appear to be no studies on how Rangers in anti-poaching units are affected by repeated exposure to disturbing situations, but Laurel Neme who wrote the National Geographic article thinks the trauma suffered by soldiers in war zones may offer the closest proxy.
Some Game Rangers find comfort from the stress in their workplace. Kruger's Midzi said: "To sit among a pride of lions and hear them roar in synchrony, that's a moment that always renews my energy." Others de-stress in sport by running or playing soccer or handball.
But the psychological toll may result in a range of reactions, such as sleeplessness, agitation, anger, anxiety, and depression.[x] Don English the regional Ranger in Kruger National Park said even after a successful confrontation and exchange of gunshots when they apprehended two poachers they came across an adult female rhino in distress with her calf and another young rhino nearby. As they hovered above her checking for bullet wounds, the rhino stumbled away and collapsed. "With blood gushing out of her nostrils and mouth in saddened silence we watched her die in front of us" English later wrote in his journal.[xi]
Game Rangers as guides
Let's not forget that ZimParks Game Rangers accompany guests on many safaris in Zimbabwe especially any safari activity that involves danger. Not only are they continually learning from and respecting their diverse experiences in the wild but they make for great companions on any safari activity usually spotting any wildlife long before their guests and always ready to share their knowledge; teaching visitors how to interpret any spoor found, pointing out useful shrubs and trees used as traditional medicine, etc. They are usually walking bush encyclopaedia's and always tolerant of us 'city-slickers' lack of knowledge!
Their intimate knowledge of a specific part of a national park is essential for safe game viewing activity. By understanding animal behaviour Game Rangers will steer guests away from potential danger. In very extreme circumstances they may fire a warning shot into the air – they don't shoot the animals.
Game Rangers as Conservationists
Game Rangers need a very diverse skill-set. On any day it's a tough job and they might be involved in removing alien plants, controlling erosion, maintaining walking and driving trails, managing boreholes and waterholes, hunting for snares and working with nearby communities and educating schoolchildren about the importance of wildlife. They could be out on weeklong patrols combating poaching and land grabbing, biological monitoring and clearing alien plant species and fighting fires as well as keeping the peace between lions and villagers. Or they might be erecting electrified fencing to keep poachers out and rhinos in and peace between wildlife and rural communities. In every sense they provide an early warning system for threats.
Zimbabwe's National Parks need active and constant management both of the land areas, buildings and infrastructure including roads and fences and also the wildlife populations.
It is the Game Rangers in their day to day operations that keep what we regard as wilderness clean and pristine so that the animals thrive and we can enjoy them in their natural environment.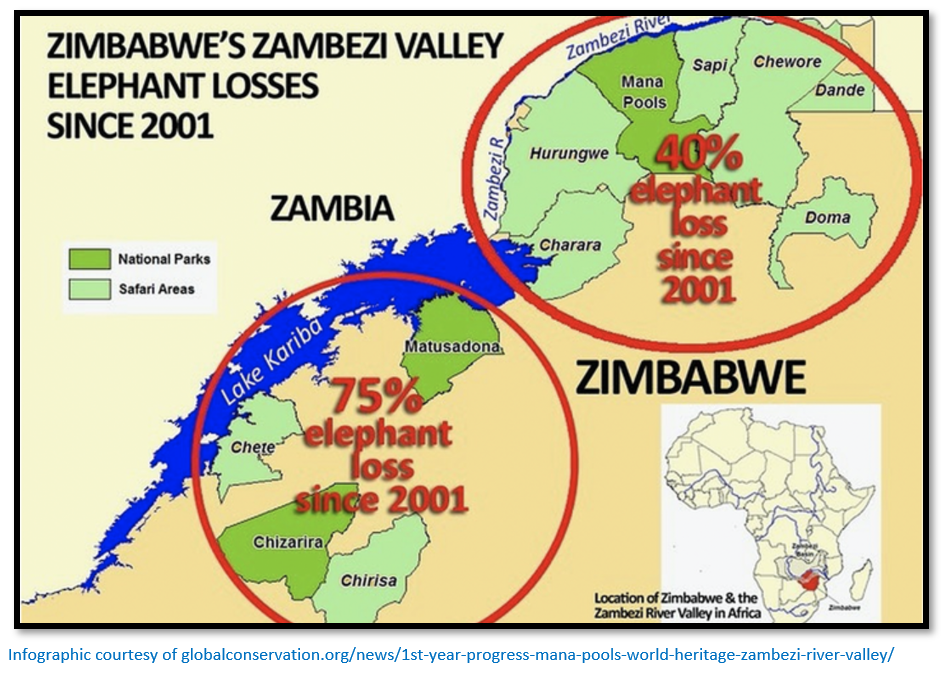 The challenges are severe. Only 3,000 elephants are left in Mana Pools and the park has seen a 40% decrease in numbers since 2001. We know that a poacher may get very little in compensation for an average pair of elephant tusks only $200 to $300 but sell for a wholesale price to black market retailers (more often than not in China) for as much as $2,100 per kilo. The penalty for poaching is an automatic 9 years and prison and poachers can legally be shot on sight in Zimbabwe. Yet poaching continues to be prevalent due to the financial hardship of those that live in the Zambezi Valley.
Qualities required of a Game Ranger
In Africa there are many titles for the post – Game Ranger, Game Warden, Conservation Officer, Protected Area Manager and many more, but basically they all have the same aim which is to ensuring the territorial and biological integrity of a protected area under his / her management.
The tasks required are multifaceted: ensuring the day to day health and well-being of wildlife, research and monitoring, game capture and introductions, fire-break burning programs, maintaining infrastructure and equipment including checking fences, interaction with the public, environmental education with children and importantly local community relations and involvement. Area managers would need to add day-to-day financial controls, human resource planning and administration.[xii]
To fulfil these job requirements a unique kind of individual is required who can carry out their tasks in what are often extreme conditions ranging from the heat of the Zambezi Valley or Gonarezhou to the cold mists of Nyanga or Chimanimani.
Due to the physical nature of the job a high level of fitness and strength is required. When Game Rangers encounter poachers they often run off and so they have to be fit enough to track and chase them over great distances and through very rough terrain. It is also imperative that those seeking employment as field Rangers have adequate security clearance as they will be involved in law enforcement and in most instances will be trained to carry firearms.
Trainees have to undergo basic training in order to develop the required skills to operate as a Game Ranger. For some individuals being a Ranger has always been their dream job since they developed a passion for conservation in school when learning about animals.
Anyone who does not consider this a real profession has not been up close to observe the extensive and diverse skills that are required by Game Rangers to carry out their day to day activities which include knowing first aid, search and rescue tactics, tracking skills, wildlife crime prevention, species identification, ecology, visitor education, and local community engagement.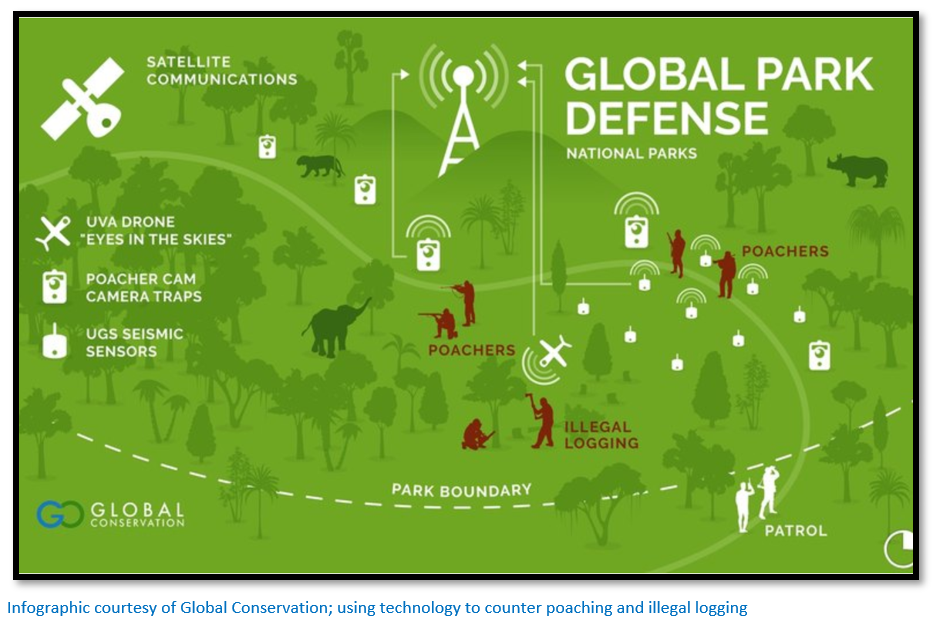 Support of their community
People in the community who have no other means of finding employment are sometimes left with no option but to try and make a living and go poaching. When the Game Rangers apprehend them they say: "we cannot fund ourselves, this is the first time I've been in the bush." The Game Rangers feel bad as they arrest them, they may personally know them and their families, it makes them feel bad, but they have to show that it doesn't pay to kill wildlife as the animals are lost forever.
Technological intelligence plays a part these days in apprehending poachers, but Julius Miyengo says that if the Game Rangers have a good relationship with the neighbouring communities they can develop a network of reliable informers and build a good rapport with villagers to help eliminate the bad seeds who are poaching. Rangers play football in the communities and that's where people are able to interact with us and share information.[xiii]
Community support can even turn poachers into conservationists. Kenyan Sammy Manthi of Kidong'u Village on the edge of Tsavo West National Park says: "When I was a poacher, I was seen as somebody who was just a drunk. Now that I am a community Ranger I am a respected member of my community." Tsavo Pride is a local organisation made up of former poachers that aims to create alternate livelihoods for local people.[xiv]
Game Rangers need our help
The world's Rangers play a vital, but often undervalued role in managing protected and conservation areas, cultural sites and biodiversity. Without them, we would see more deforestation, biodiversity loss and ecosystem degradation. Many Rangers also protect the resources of people whose lives and cultures are inseparable from nature. Rangers are women, men, government staff, community members, landowners, Indigenous peoples, volunteers and more.[xv]
Yet an International Union for Conservation of Nature (IUCN) 2019 global survey of more than 7,000 Rangers revealed that many are underpaid, uninsured, inadequately trained, working on temporary contracts, lacking even basic equipment and accommodation and spending weeks away from home. Many will get sick, injured and even killed in carrying out their duties as the annual Roll of Honour released by the International Ranger Federation (IRF) and the Thin Green Line Foundation on World Ranger Day demonstrates.[xvi]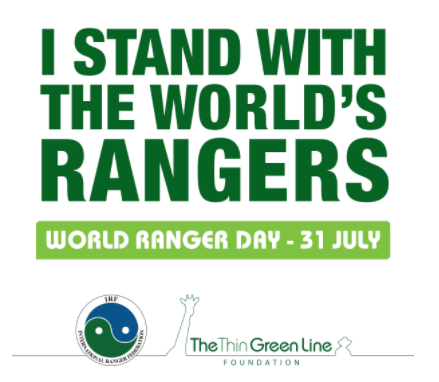 The IUCN took a lead role with other conservation organisations[xvii] to form the Universal Ranger Support Alliance (URSA) launched on World Ranger Day (31 July 2020) whose overall plan is:
A network of well-supported, professionally competent, mandated, motivated, responsible and representative Rangers working effectively as custodians of biodiversity and the life systems upon which we all depend. The plan has five main elements:
Better pay, working conditions and equipment: The plan establishes a framework for widespread adoption of global minimum standards of working and employment conditions for all Rangers.
Better opportunities for training and learning: The plan sets out a process for establishing general standards of competence, performance and conduct and for enabling much wider access to quality training and learning.
Fairer employment opportunities and conditions: The plan includes mechanisms for attracting underrepresented groups into the Ranger workforce, in particular women and members of Indigenous and local communities.
More trust and accountability: The plan prioritises the development of global codes of conduct, safeguarding mechanisms and means for reporting and responding to wrongdoing.
Better representation and advocacy: URSA is not the representative organisation of Rangers; that is the International Ranger Federation. The plan includes measures to strengthen the IRF's capability to make its voice heard, and to expand and empower the global network of Ranger associations.[xviii]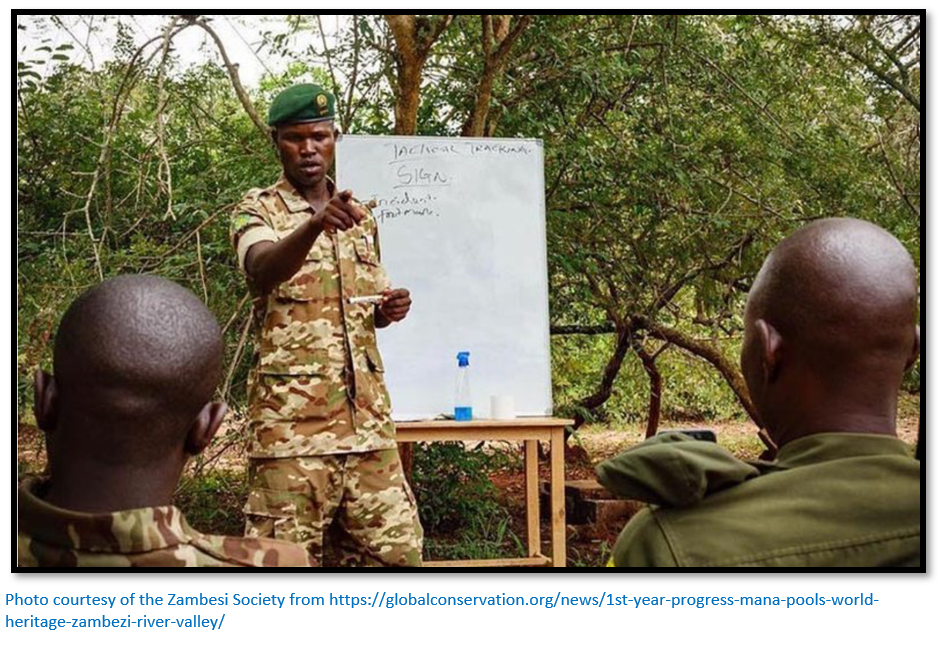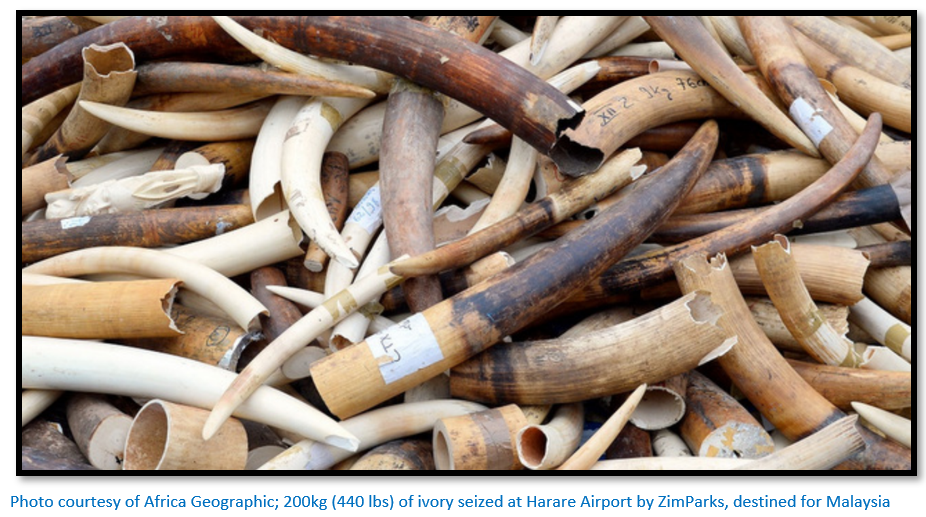 Criminal Crime bosses, politicians and civil servants that are facilitating the illegal wildlife trade need to be exposed and prosecuted
Most poachers are backed by a criminal syndicate and have ready buyers who supply the ammunition and firearms necessary to poach elephant and rhino for their ivory tusks and horns to sell in the Asian markets of China, Thailand and Hong Kong for millions of dollars.
The real target in tackling criminal networks of illegal wildlife traffickers needs to be the arrest of the ringleaders at the top of the supply chain who often have foreign backers – some working from their nation's embassy's in Zimbabwe.
The kingpins should be the target together with the civil servants that aid and abet their criminality. Catching poachers on the ground will not solve the problem at all. The level of unemployment existing in Zimbabwe will mean there are always fresh candidates willing to step into the shoes of poachers who have been apprehended and sentenced to lengthy terms in jail.
Most news articles highlighting the arrest of poachers indicated that they are all low-level poachers living in the community areas bordering National Parks and Conservation Areas and not the kingpins or even mid-level operators who are often protected by influential government officials. Very often the law enforcement agencies know who is behind the illegal trade in elephant and rhino horns and pangolin scales, but find they are untouchable because of their political connections.
Andrea Crosta the founder of Elephant Action League and Wildleaks said: "Put yourself in the shoes of an honest Ranger. Think about the increased motivation if law enforcement could bust those high up in the ivory supply chain."[xix]
In 2015 Grace Mugabe facilitated the export of 27 wild-caught young elephants which were reportedly sold for £25,000 each and shipped to China via Dubai amid an outcry from conservation groups who said it was cruel to separate the young animals from their family groups and cross-continental travel. They also questioned the record of the 300-acre Chimelong Safari Park, which has been accused of keeping animals in poor conditions and treating them badly.[xx]
Between 2012 and 2019, Zimbabwe has exported more than 140 juvenile elephants ranging in age from under two years to seven years, almost all destined for Chinese tourist venues.
Covoid-19 pandemic
The pandemic has added to and amplified issues facing the world such as climate change, poaching and illegal wildlife trafficking and armed conflict. Game Rangers and their managers need to be commemorated and warmly thanked for their commitment and sacrifices in protecting our natural and cultural heritage across the globe.
Managing the demands of animals and people
Although humans and wildlife have lived together since we first walked the earth much has changed and the pressures from human population growth increases every year. The balance between human communities and wild animals always remains tense. It may seem relaxed on safari in an organised setting but when animals such as lion or hippo venture into an African village things can get dangerous for both parties.
At one time the animal would be shot as a self-defence, but now Game Rangers are more likely to respond for calls for help and shoo it back into its protected area thus ensuring that nobody including the animal gets hurt. Thus potentially tense situations get managed into a peaceful conclusion.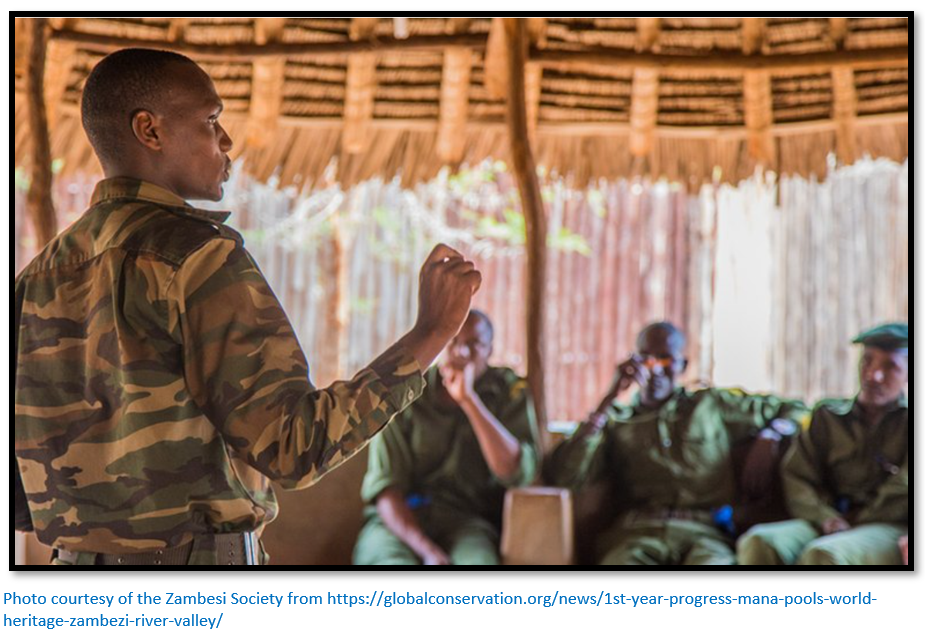 How do you help?
Whenever you visit a ZimParks location thank the Game Rangers there and ask them if they're happy with their working conditions. Talk to the people in charge about why you appreciate the work the Rangers are doing and why you want to see significant improvements for the profession.
Encourage any policymakers you know to put government support behind Rangers to turn this into a genuine profession, with decent salary and insurance, a career track, job security, training and sufficient equipment.
Game Rangers are often the sole breadwinners within large families. When they are killed in the line of duty, they leave behind family members who struggle not only emotionally but also economically. We owe it to them to ensure their families are looked after.
Consider supporting any of the following organisations that carry out work on behalf of our wildlife:
The Zambesi Society (zamsoc.org)
The Lion Recovery Fund (www.lionrecoveryfund.org)
The Elephant Crisis Fund (www.elephantcrisisfund.org
Tikki Hywood Foundation (www.tikkihywoodfoundation.org)
Kariba Animal Welfare Fund Trust (KAWFT) (www.kawft.org)
Global Conservation (www.globalconservation.org)
International Anti-Poaching Foundation (www.iapf.org)
Bushlife conservancy (www.bushlife-conservancy.org)
Akashinga Women Game Rangers
Akashinga means 'the brave ones' in Shona and this unit employs only women Rangers who are recruited from the villagers that surround wildlife areas. There's little debate that the women, many single with children, benefit from the above average salaries they earn for their part in the anti-poaching effort.
Many conservationists argue that as the criminal networks involved in the illegal wildlife trade become more sophisticated and as Zimbabwe is drawn into their networks the response should also change and organisations such as Damien Mander's International Anti-Poaching Foundation (IAPF) have a significant part to play in that response. Importantly Akashinga only recruits residents who are part of those communities that will benefit from conservation efforts and the organisation only hires women as Game Rangers for their basic training at the camp near Nyamakate on the boundary of the Charara Safari Area.
The drills look very military and some conservationists have questioned the approach, but Mander replies that basic weapons training is an essential in anti-poaching work and that the women Game Rangers greatest asset is their close connections with the local community and not their skills in firearms.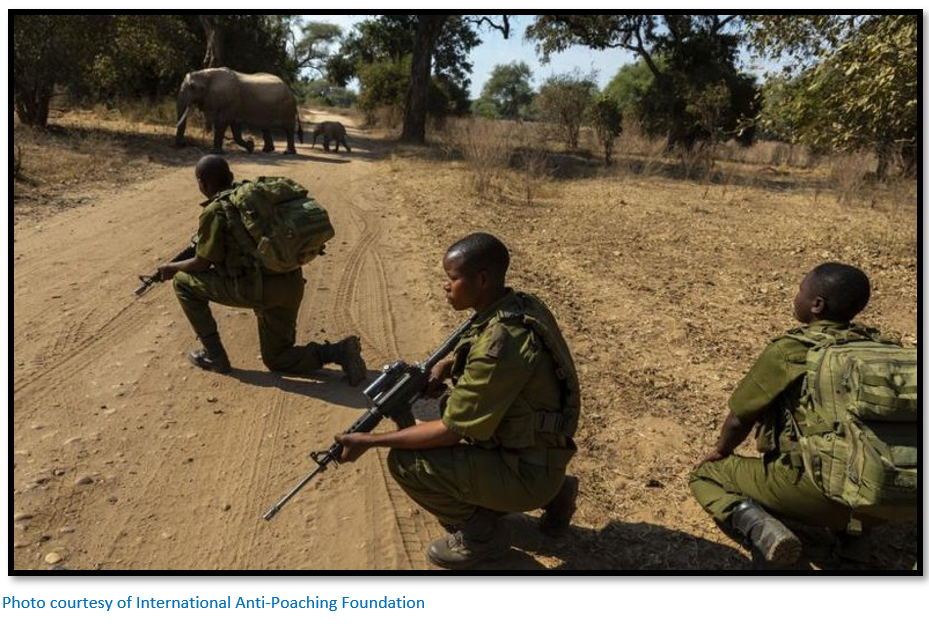 Zimbabwe has a complicated place in the history of poaching
Following the land invasions of 2000 poaching on former white-owned farms and conservation areas was condoned and became rampant. In 2007 the Telegraph reported: "Now poaching is deep into 'protected' state and privately-owned nature reserves and both endangered and common species are treated as prey. "They are killing everything and anything from a squirrel to an elephant," says Karen Paolillo, "for food and for money." British-born Karen[xxii] and her French husband Jean have dedicated some 17 years to protecting hippos and other animals on the Turgwe River in the privately-owned Save Valley Conservancy in the southeast Lowveld.[xxiii]
The WWF estimated that in the decade following the land invasions up to 80% of the wildlife on repossessed farms had been slaughtered either by the new owners or state sponsored opportunists from the army and police and politicians exploiting the vacuum opportunity offered with no substantive owner occupants.
In 2015, Zimbabwe banned the hunting of lions, leopards and elephants after an American dentist killed Cecil the lion in illegal circumstances but lifted the ban just days later as Zimbabwe is an attractive destination for game and trophy hunters who purchase permits in foreign exchange to kill elephants, lions and other animals.
Complicating the situation is that Zimbabwe is fraught with corruption and there are persistent rumours that politicians of the ruling party and senior civil servants sanction poaching on behalf of criminal networks operating from China and Thailand.
In March 2018 the Australian wildlife photographer Adrian Steirn said he uncovered a poaching and smuggling syndicate which tied Grace Mugabe into an illegal ivory smuggling ring. "Ivory was being sourced either from the national park's vault, being thieved or pilfered or from live elephants being killed by poaching syndicates."
The syndicate would then sell to Grace Mugabe's clientele, the kingpins from the Far East. "She would then be able to pack that and send it out through the airport. Anything through that airport, that was the property of the first lady, was not searched or scanned in any way." Steirn had gathered documents, undercover videos and testimonies to back up his allegations.[xxiv]
The potential profits from poaching are enormous and the illegal wildlife trade could be worth up to 20 billion euros ($23 billion) annually according to European Union statistics published in 2016.
References
S. Coles. Poaching in Zimbabwe out of control. The Telegraph, 10 July 2007
L. Neme. For Rangers on the Front Lines of Anti-Poaching Wars, Daily Trauma - Unsung heroes face daunting challenges. National Geographic, 27 June 2014
K. Mazvarirwofa. Women Rangers Pursue Poachers in Zimbabwe While Debate Ensues Over Anti-Poaching Tactics. Global Press Journal. 21 October 2018
F. Sevenso. Letter from Africa: Game Rangers in danger[xxv]. BBC 3 August 2016. https://www.bbc.co.uk/news/world-africa-36951644
Thin Green Line Foundation (https://thingreenline.org.au/wp-content/uploads/2020/07/2.-2009-2020-Honour-Role-Map.webp)
https://thingreenline.org.uk/projects/world-Ranger-day/
Standing With our Planet's Caretakers on World Ranger Day. Global Wildlife Conservation. 31.07.2018
https://globalconservation.org/news/1st-year-progress-mana-pools-world-h...
Al Jazeera. Zimbabwe investigates Grace Mugabe for illegal ivory smuggling. 24 March 2018
SAPeople Staff Writer. Fund to Help Africa's Game Rangers Started on World Ranger Day. 31.07.2020
https://www.independent.co.uk/news/world/wildlife-poaching-Rangers-illegal-trade-zambia-national-park-a9646406.html
http://www.gameRanger.org/get-involved/become-a-Ranger.html
https://www.iucn.org/news/protected-areas/202007/world-Ranger-day-2020-l...
The Herald. https://www.herald.co.zw/zimparks-board-dismissal-is-it-enough/ 26.02.2018
Notes
---
When to visit:
Closed in the rainy season December to February
Fee:
Entrance and accommodation fees charged