Wildfires: Zimbabwe's scourge
The problem of wildfires is not peculiar to Zimbabwe alone, but Zimbabwe does has one of the worst records in Africa for fires with over a million hectares of land burnt out in the 2021 during the fire season which runs from July to November.[i]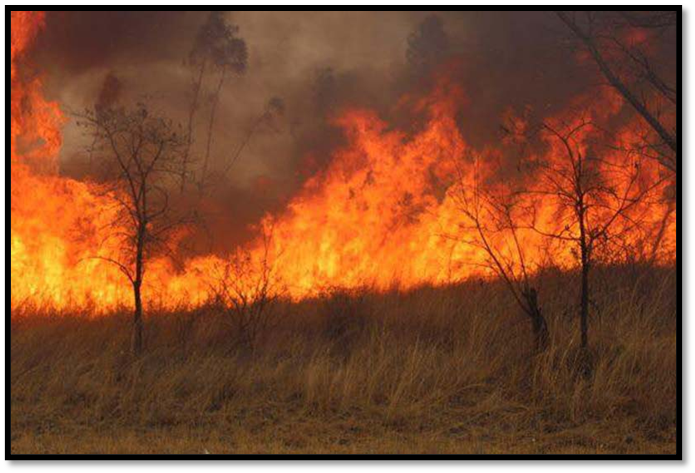 Photo newzimbabwe.com: A typical wildfire scene in Zimbabwe
The smoke and haze produced from wildfires is a very common scene in Zimbabwe between July and October with pieces of burnt grass carried by the wind and floating down to earth many kilometres from the source of the heat and are a very visible consequence. People suffering from respiratory problems, asthma, skin and eye diseases have been linked to occurrences of wild fires although little research has been carried out.
A 2016 study to evaluate the causes of wildfires and the associated socio-economic impacts and challenges associated with policing wildland fires in Chakari resettlement area[ii] (referred to as the Chakari study) used a number of sources including a review of published literature, reports from regulatory agencies, questionnaires, interviews and field observations to gather data around wildfires. The report called Causes of wildland fires, associated socio-economic impacts and challenges with policing, in Chakari resettlement area, Kadoma, Zimbabwe acknowledges that the study area was small, but the authors believe the results showed typical challenges that are faced in many resettlement areas in Zimbabwe.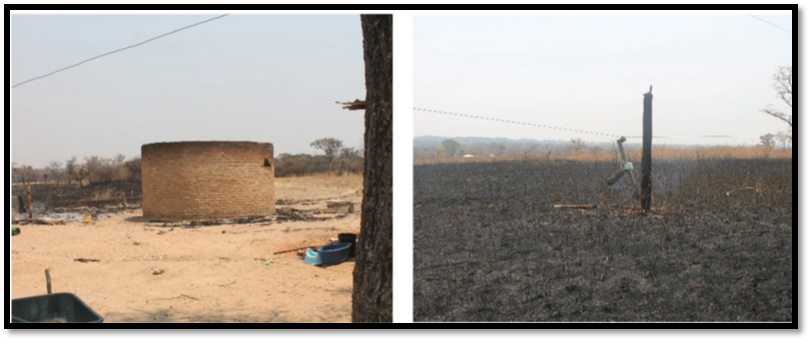 2016 EMA Report. Fire at Chitomborwizi, Makonde district that resulted in 3 deaths on 23 September 2016
Conclusions of the Chakari study
Fire management should move away from firefighting to prevention and sustainable practices that might include:
early burning.
training of communities on fire management and managing ignition sources. Policing of wildland fires can be improved through availing
more resources towards establishing partnerships with local population and leadership
empowering traditional leadership to police wildland fires.
The causes of wildfires
The table below analyses the main causes:

The % figure gives the percentage of survey respondents who agreed with each statement.
A more detailed analysis behind the human negligence and deliberate arson figure gave the following causes of wildfires:

Hunting and smoking out beehives were considered the major causes of wildfires by communities. Fires are deliberately set to drive out wild animals and also to allow re-growth in burnt areas for an easy catch.
The figures show many wildfires are caused by people clearing land for cultivation. The 2011 EMA report showed that 80% of the wildfires occurred in A1 and A2 model resettlement farming areas where most of the new farmers used fires for land clearance.
Making charcoal, cooking or trying to keep warm, arson and as a way of settling disputes were also cited for the spread of wildfires.
There are Zimbabwean instances where large-scale commercial forested areas were set alight by employees disgruntled over non-payment of salaries or low salaries. Forest fires are used as a weapon in land tenure or land use disputes.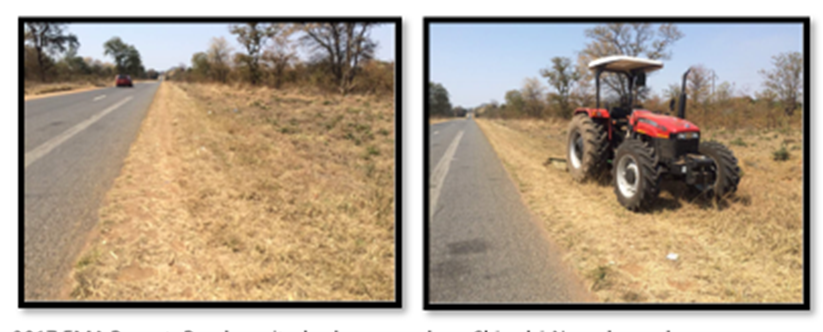 2017 EMA Report. Road servitude clearance along Chiredzi-Ngundu road
Unextinguished roadside fires used by travellers and long-distance truck drivers for cooking and fires left at bus stops for warming or cigarettes thrown out from moving vehicles have caused roadside fires. This is supported by a 2011 EMA report that showed that 60% of all wildfires occurred within 500 metres of major highways.
Some authors have argued that the recent increase in wildfires are due to newly resettled smallholder farmers, particularly in areas where they are given virgin land and prepare agricultural fields where fires used for land clearing get out of hand. The Environmental Management Authority (EMA) in 2013 recorded the highest numbers of fires in the resettlement areas.
Lightning is known as a natural cause of wildland fires at the beginning of the rainy season.
Effects of wildfire can be devastating for communal farmers
Vimbai Chinembiri in her article Did Hot Tempers Ignite a Rise in Wildfires? for Global Press Journal[iii] quoted a small farmer whose maize crop in Chegutu was destroyed by a wildfire.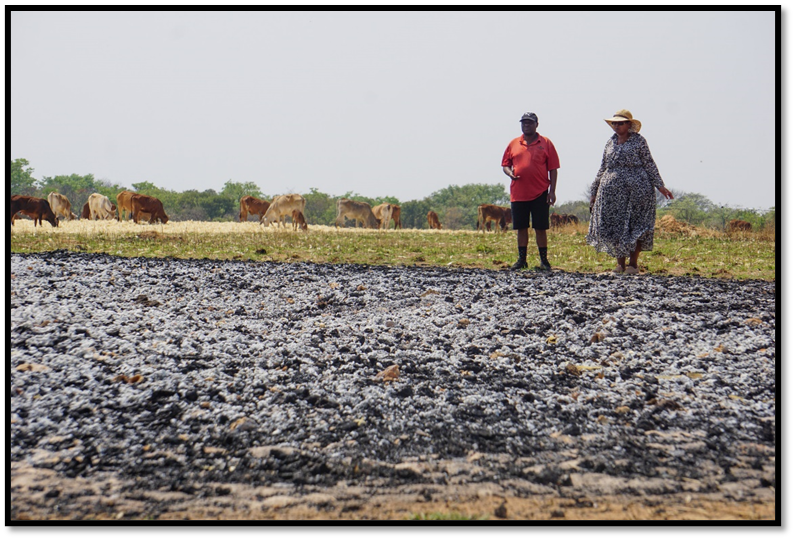 Photo: Vimbai Chinembiri, GPJ Zimbabwe
"We have an 8 to 10 metre-wide fireguard; I don't understand how a fire flew over that boundary," Simplisio Mudanda says, explaining his certainty that the fire that destroyed his crops was caused deliberately."
Simplisio and Spiwe Mudanda said that in the past decade all of their neighbours, the Sakala's, the Murombedzi's and the Madupisa's have lost crops and homes to wildfires in the fire season between July to October. Some frustrated farmers have blamed arson, conflicts between neighbours and continued discontent over the previous generation's land redistribution efforts.[iv]
Simplisio Mudanda says: "Conflicts are common between A1 and A2 farmers. They cut our fences and their cattle graze in our lands."
The author writes that many A2 farmers, a classification of black commercial farmers deemed as having the skills and resources to farm profitably, were granted 99-year leases to cultivate their land. Yet they remain plagued by insecurity due to frequent disagreements with the nearby A1 farmers, those who were historically landless and allocated smaller plots for growing crops and raising animals and, Simplisio Mudanda believes, are disproportionately behind last year's spike in fires.
John Madupisa, a local A1 farmer, agrees that the region has experienced too many fires, especially in September. But he says most are caused by preventable accidents, not arson.
"This land reform process was not done well. Most people who got these farms are not good farmers and should have been trained."
Beneficial effects of wildfires
60% of survey respondents indicated that fires if well scheduled and managed can be beneficial to the ecosystem by stimulating fresh grass growth and the germination of seeds, they reduce bush encroachment, eliminate poisonous plant species, destroy parasites like ticks, red ball worm, caterpillar and other cotton pest larvae. However most agreed this needs to be managed as when all grass is burned off it leads to loss of grazing land for the cattle.
In the Southern African region fires are often started deliberately between the early winter and early summer by livestock owners seeking to promote a green flush for their animals, by rodent hunters clearing vegetation to catch their prey more easily and by people creating firebreaks around their homesteads or seeking to improve visibility.
Negative effects of wildfires
About 16% of survey respondents have suffered losses as a result of wildfires. In one Chakari village wildfire in 2012 destroyed their gardens and vegetables resulting in an estimated total loss of USD$300. A farmer said a wildfire from a neighbouring farm gutted his granary and five tonnes of maize were lost. Another farmer lost thirteen fowl valued at $78 when his fowl run was gutted by wildfires. Several respondents said their huts were destroyed and they lost property such as clothes, others had livestock losses.
Wildfires encourage further burning in succeeding years
One of the most important effects of wildfires is the increased likelihood of further burning in following years as dead trees topple to the ground opening up the forest to drying by sunlight. The long-term result of repeated burns is harmful because it reduces biodiversity with the extinction of tree species that are not resistant to fire and the replacement of vast areas of forest with grasslands. Conversely fire tolerant tree species with thicker, insulating bark will survive, but may be less beneficial to local communities.
Impacts of wildfires on communities
Wildfires result in the loss of agricultural produce, forest products and food for both humans and animals and loss of property and equipment. The resulting trauma results in grief and stress and people may experience a feeling of helplessness. Studies have shown that in most African cultures, poor homeless people are often stigmatized and the loss of livelihoods may result in the complete disintegration of the family unit and resulting poverty.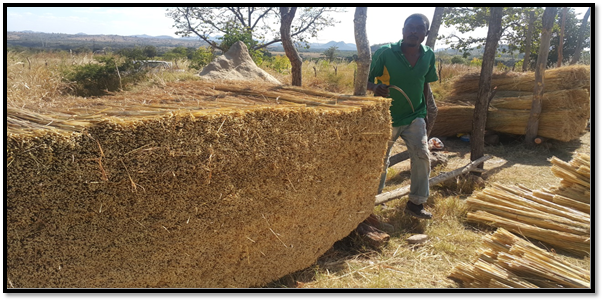 2018 EMA Report: thatching grass along Nyazura Mutare highway for sale
Firewood and hut building materials become scarcer following wildfires resulting in energy and time loss to find new sources from distant places. Thatching grass gets burnt and women and young girls waste their hours looking for new sources. Wild fruits such as mazhanje (Uapaca kirkiana) and herbs and traditional medicine becomes lost to villagers.
About 60% of the respondents said they relied on average sales of USD$57 per month from thatching grass, firewood or fruits from the forest to Chakari and surrounding towns.
In general cattle owners, thatch grass sellers and those practising beekeeping are most negatively affected by wildfires, while farmers who use fires for land preparation and as a source of nutrient do not view wildland fires as a challenge.
Tensions over land rights can be a cause of wildfires
John Cassim in his article Wildfires destroying plantations in Zimbabwe writes that Zimbabwe Parks and Wildlife Management Authority (Zimparks) and several forest companies in Manicaland have been adversely affected due to uncontrolled fires with the Chimanimani district experiencing the worst effects as it is home to the biggest wattle and pine timber plantations in the country.[v]
Local experts say many wildfires are the result of the land redistribution exercise that started in early 2000 and was finalized in 2020. Those who want to occupy land often start fires in the plantations to frustrate the forest companies into ceding some of the lands to people, who want to settle on these lands.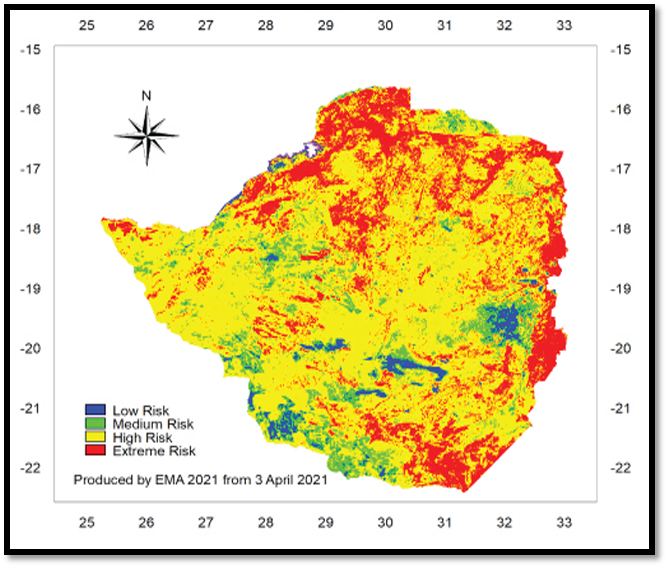 2021 EMA Report: Fire risk map
Zimbabwe agents responsible for policing wildfires
Those interviewed during the course of the survey included the Zimbabwe Republic Police (ZRP) Environmental Management Authority (EMA) forestry commission officers and local chiefs. Other key informants such as agricultural extension officers, village heads and headman were interviewed, in addition to informal interviews and direct field observations. All questionnaires and interviews were done at the villagers' or the local leaderships' homesteads, or at the offices of the policing agents (ZRP officers, EMA and forestry commission officials) and key informants (Extension officers) to facilitate a relaxed conversation.
Fire offenses in Zimbabwe
Under the Forest Act of 1996 the following are considered as fire offences:
(1) deliberately starting a fire and leaving it unattended
(2) lighting or assisting in lighting or adding fuel to a fire which spreads or causes injury and damage to property
(3) deliberately failing to extinguish a fire on one's property
(4) failure to have standard fireguards
(5) failure to report a fire and failure to stop and assist in putting out a fire.
However offenders pay very small amounts in fines which are as little as US$50, which are considered by many as non-deterrent and too little compared to the damages caused. Currently perpetrators are not legally obliged to compensate victims for the damage.
Punishment for starting wildfires is poor
The number of cases of arson recorded by the national crime statistics (Zimstats Quarterly Digest of Statistics 2015) are listed on the table, but only few people have been arrested and none has been asked to pay restitution. The authors state that compared to burglary or murder, environmental crime is markedly complex as evidence is extremely difficult to gather and authorities are usually called in after an offence has long been committed and the suspect would have vanished.
Zimbabwe Republic Police (ZRP) are simply not trained to detect fire related crime and even if the offender is identified, prosecuting such a crime is complex, time consuming and expensive. For example, in 2013, a total of 129 court dockets were opened for fire related offences and of these only 67 went through the courts resulting in only three people being convicted and given custodial sentences ranging between 3 to 12 months (EMA report)
There is anecdotal evidence that policing agents prefer the regulatory approach of levying fines to evade the hectic court process which waste much of their time. ZRP Police officers complain they have no transport to visit wildfire sites and to carry out investigations and at times are forced to use public transport in investigations.
Some respondents would argue that corrupt practices are so common in Zimbabwe that it does not make a difference whether the case is reported or not, as the perpetrators of wildfires simply pay the officers bribes to be set free.
Traditional community methods of policing have been lost
Previously community leaders such as chiefs and headmen would have punished those who caused wildfires, but these days they are only supposed to go and report the perpetrators to the police, forestry commission and EMA officials. Their powers as custodians of environmental laws have been taken over by the statutory bodies. In addition there can be a conflict of interest when a relative, neighbour, friend or child is the offender.
Community-Based Fire Management (CBFiM)
Although the statutory bodies have the regulatory powers they are not effective in monitoring and preventing wildfires. In order to be effective the police, forestry commission and EMA need the support of the community and public to provide information to make an arrest, rather than trying to catch the offender red-handed.
According to Chimanimani district administrator Joseph Manyurapasi, incidents of wildfires in 2021 went down after the establishment of committees made up of local chiefs, headmen, and councillors. "The committees were formed after noting huge losses that were recorded in 2020 due to bushfires. We recorded several fires last year hence we have come up with the committee to combat the challenge," he said.[vi]

2017 EMA Report. 18 metre standard fireguards constructed through hay baling and burning method at little England farm
The Chakari survey
The average response rate for the questionnaires that were distributed was 90 % and this gave a good confidence to conclude that the research findings were representative of the views of the population of Chakari. 54 % of the respondents were male, while 46 % were female and 77 % of the population had lived in Chakari for 6 – 15 years. The community was relatively new, and most of the households moved into the area at the onset of the agrarian reform program in 1999. Only 13 % of the respondents had stayed for more than 16 years.
The majority of respondents (87 %) agreed that wildfires are a major problem in the Chakari area, while only 13 % of respondents did not believe wildfires were a problem.

Some suggestions for improving the policing of wildfires
(1) The study suggests increasing enforcement of statutory regulations, but this seems doubtful as the powers already exist and have not succeeded in the past
(2) Better community involvement (CBFiM) and the study argues that the community can enforce the cutting of labour intensive fire guards better than the policing officers. Members of the community are also in a better position to identify culprits who caused wildland fires than officers based at stations kilometres away. This makes fire prevention more of a community issue than a central Government issue.
(3) A more rapid response to wildfires. Community warning of wildfires often comes from local people. Communities should be better prepared with adequate equipment and knowledge to fight and put out local wildfires.
(4) The report suggests the use of modern technology such as satellite data for planning fire prevention, prescribed burning and suppression. In view of the current economic situation of the country under the current political leadership and the low level of resource allocation to the relevant statutory bodies this seems a more 'idealistic' than practical solution. "The police force should also be equipped to fight fires" does not seem to be a helpful suggestion.
EMA is building awareness of fire threats
Despite the Covid-19 pandemic, 28,257 citizens attended 1,297 fire education and awareness meetings held by the EMA. In the fire hotspot areas, 597 roadshows were held that were attended by 78,353 citizens to raise awareness.

2021 EMA Report: fire education and awareness meetings held
In addition 205 fire-fighting teams with 805 participants were trained in fireguard construction and fire-fighting techniques.
Hay baling
Hay baling reduces the impact of fires and provides an alternative source of community income. In 2021 a total of 672,149 bales were produced from the grass on 208,239 hectares reducing the fire risk on these lands.

2021 EMA report: road servitude clearing and hay bailing in Matobo
Road servitude clearing and early burning
As research has shown that many wildfires break out near roads the responsible authorities have been encouraged to clear road servitudes and where the ground is not suitable for hay bailing to carry out early burning. The EMA claim 3,159 kilometres of road servitudes were cleared protecting 7,219 hectares of land and 7,567 hectares of land cleared by early burning.
Graphics
The graphs below only show fires recorded by the EMA during the 'statutory fire season' from 31 July to 31 October but excludes fires that take place in July or November.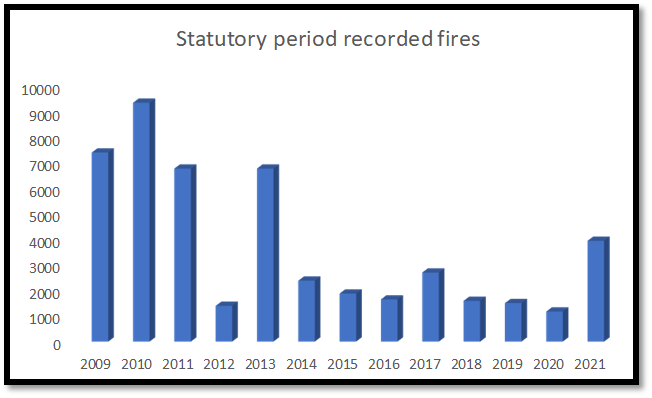 Source EMA annual reports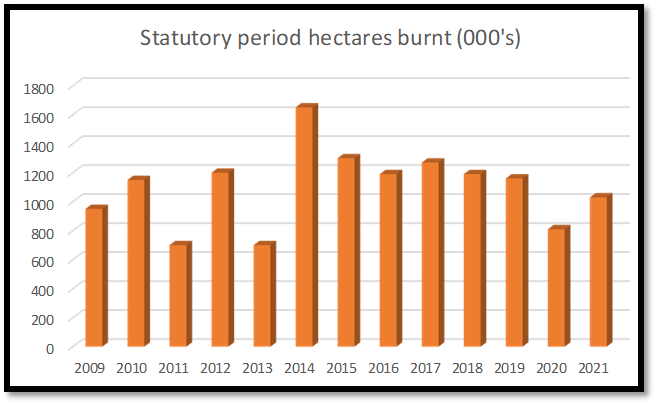 Source EMA annual reports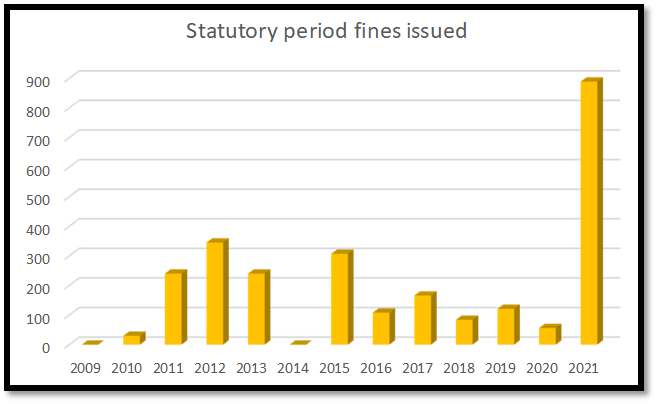 Source EMA annual report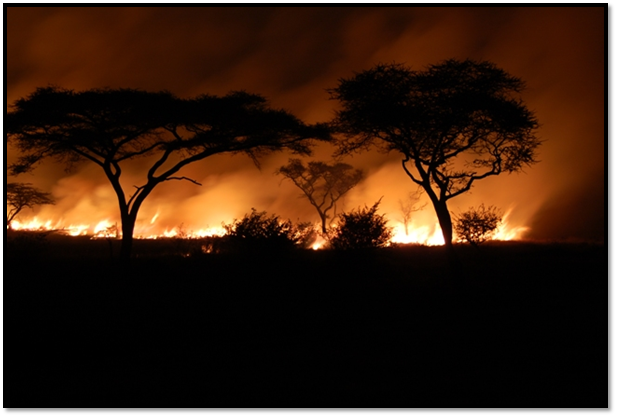 Photo www.herald.co.zw: a wildfire scene at night
References
Zimbabwe Environmental Management Agency Annual Reports (www.ema.co.zw) are a particularly useful information source. [Resources/downloads/Fire reports]
John Cassim. 17 August 2021. Wildfires destroying plantations in Zimbabwe. https://www.aa.com.tr/en/asia-pacific/wildfires-destroying-plantations-i...
Luckson Chinamatira, Spikelele Mtetwa & George Nyamadzawo. Causes of wildland fires, associated socio-economic impacts and challenges with policing, in Chakari resettlement area, Kadoma, Zimbabwe. Fire Science Reviews volume 5, Article number: 1 (2016)
Vimbai Chinembiri. 23 March 2022. Did Hot Tempers Ignite a Rise in Wildfires? Global Press Journal. https://globalpressjournal.com/africa/zimbabwe/hot-tempers-fueling-wildf...
Leopold Munhende. 6 September 2021. Deadly Wild Fires Engulf Zimbabwe. https://www.newzimbabwe.com/deadly-wild-fires-engulf-zimbabwe/
Notes
---