Santa Barbara Chapel, Kariba
Why Visit?:
extraordinarily beautiful Chapel commemorates the eighty-six workmen who died during the construction of the dam wall and underground power station
fine views over Lake Kariba
Operation Noah Memorial is very near on Kariba Heights
How to get here:
The Chapel is at the top of Kariba Heights overlooking the lake. Take Heights Drive and park at the Kariba Heights viewpoint, the Chapel is 250 metres away with its entrance on Heights Drive.
The little Chapel of Santa Barbara is situated at the top of the hill known as Kariba Heights and has a modern, open-air design very appropriate to the hot Kariba climate and a simple classical style typical of Italian Catholic churches including stained glass windows and marble statues. Santa Barbara is the patron saint of miners and builders of dams, so she was a very appropriate Saint for the Chapel which was built in the shape of a coffer dam and commemorates the lives of the eighty-six workmen who lost their lives in the construction of the Kariba dam and power station; their names are engraved on a marble plaque.
The first of the three bells was made by a team of Edmondo Fermi and his colleagues out of work hours with the metal cast from scrape machinery. They were part of the team constructing the dam wall in 1957 and when Edmondo heard his daughter was seriously ill, he hoped that God would be merciful in return. The inscription reads: EDMONDO HA COSTRUITO UNA CAMPANA E LA PICCOLA ANGELA E' MIGLIORATA. Roughly translated, it means: Edmond constructed a church bell and little Angela was healed. The bell was initially hung on its own bell tower, but when the Chapel was constructed a cement bell tower was added and today Edmondo Fermi's bell hangs along with two others.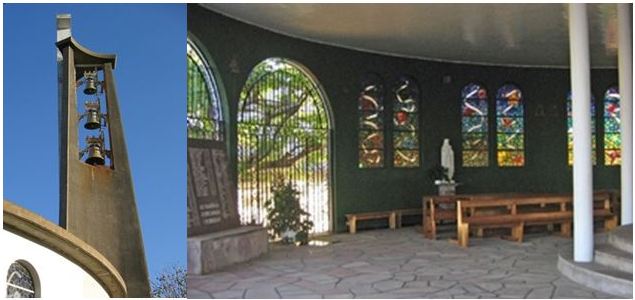 A custodian will happily unlock the church for those wishing to take a closer look at the beautiful interior, which includes a stone plinth carved with the names of all those who lost their lives during the construction.
Fee:
None, but a donation would be gratefully received