Mana Pools National Park, a UNESCO World Heritage Natural Site
Why Visit?:
UNESCO Natural World Heritage Site.
One of the world's wildest and best preserved natural ecological areas.
Rated consistently amongst the best Parks in Africa by international travel magazines.
Camping and lodges for hire.
Excellent canoeing and river fishing.
Remote wilderness areas without mass tourism.
The remnant pools of the mighty Zambezi River attract many bird and mammal species.
Unique guided and self-guided walks in the Park amongst the wild animals.
The country's biggest concentration of hippopotamuses and Nile crocodiles.
Animal Species
Elephant, buffalo, lion, leopard, cheetah, wild dog, spotted hyena, hippo, Nile crocodile, kudu, bushbuck, nyala, sable antelope, 350 bird species including Nyasa lovebird, yellow-spotted nicator, rock pratincole, banded snake-eagle and Livingstone's flycatcher.
How to get here:
Mana Pools is quite remote and situated in the extreme north of Zimbabwe on the Zambezi River. Take the A1 Harare to Chirundu national road, 115 KM reach Chinhoyi, 207 KM reach Karoi (the last town where supplies and fuel can be bought) 292 KM reach Makuti. At the bottom of the Zambezi Escarpment, 310 KM turn right at the Mana Pools sign post onto a gravel road, 341 KM reach Rukomechi River, 341.4 KM reach Nyakasikana Gate, turn left for Mana Pools, 377.5 KM ignore right turnoff for the airstrip, 380.5 reach Long Pool on the left, 383.2 KM turn right for National Park HQ, 383.7 KM turn right for National Park HQ, 384.4 KM reach Nyamepi Camp. The gravel roads are in good condition compared to many in Zimbabwe although the clay soil at Mana Pools will cause difficulties after any rain.
All visitors to Mana Pools National Park must check in and obtain an entry permit at the ZPWMA Zambezi Valley HQ at Marongora (GPS Reference: 16⁰13′23.86″S 29⁰09′41.11″E) at the top of the Zambezi escarpment, BEFORE descending the hills and turning right at the first entry gate. Without this permit, the gate officers will send visitors back up the hill to Marongora to collect one! On arrival at Mana Pools visitors must also check in at the Parks HQ at Nyamepi to show your accommodation booking form and pay conservation Fees. Visitors will not be allowed out of the Park exit gate if they cannot show proof that they have paid their fees, so keep the receipt for inspection.
Mana Pools is closed during the rainy season from approximately mid-December to the end of February as the gravel roads become impassable. Best game viewing is from June to November when many animals congregate near the Zambezi as there is no water in the interior. Charara Safari Area remains open throughout the year.
Until now, the Mana Pools National Park has been one of a very few in Africa that has allowed visitors to wander about unguided in big game territory – a unique selling point and has been marketed as one of the Park's exceptional experiences. While the danger of encountering predators immediately springs to mind, defenders of unguided walking say there have been few incidents in relation to the number of tourists who participate in the activity.
Recently concern about increasing uncontrolled and inconsiderate human behaviour led the Zimbabwe Parks & Wildlife Management Authority (ZPWMA) to ban all unguided walking. The Zambezi Society, a non-profit organisation committed to conserving the wildlife resources of the Zambezi River had recently begun working on a collaborative set of recommendations some months back, aiming to present a reconstituted code of conduct to national park authorities. In response, ZPWMA has reinstated "unguided" public walking in Mana Pools National Park, with immediate effect but all walking activities will require permits costing $10 per day for Zimbabweans / $15 per day for foreigners. The option of hiring a ranger still remains at the gazetted price and all persons found walking without a permit will be fined $100. Only photo-safaris and limited fishing is allowed; motorboats are not permitted.
NOTE: A Code of Conduct for both Mana Pools and Chitake Spring is available from the Zambezi Society website at: www.zamsoc.org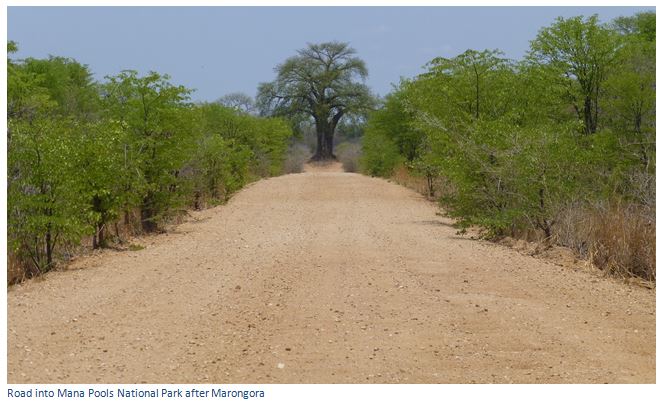 Mana Pools National Park together with Charara, Hurungwe, Sapi, Chewore and Dande Safari Areas in Zimbabwe and Lower Zambezi National Park in Zambia form the World Heritage Site. Only Doma Safari Area, the furthest from the Zambezi River is excluded from this designation due to poaching and human intrusion.
The name "Mana'' means "four" in Shona and applies to the four varying size pools (Main, Chine, Long and Chisambuk) inland from the Zambezi River that are remnant ox-bow lakes left by the Zambezi River thousands of years ago when its course moved north. They get flooded after each rainy season and as the region moves into the dry season many of the wild animals come for the water. ''Long Pool'', is the largest of the four pools, over six Kilometres in length with a large permanent population of hippo and crocodiles and draws large herds of elephant from the thickly vegetated areas in the south and also many aquatic birds.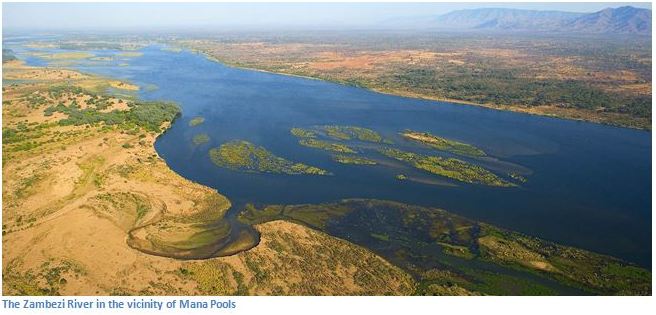 The Zambezi River in the vicinity of Mana Pools
The northern edge of Mana Pools National Park has the mighty Zambezi River which flows by on its way to the Indian Ocean. Along the banks of the Zambezi are the old river terraces where the vegetation comprises open Faidherbia albida woodlands. This gives a very open look to the area and visitors can walk unaccompanied by guides in the open albida woodland because visibility is good and there is little danger of unexpectedly coming across dangerous animals. Many of the large herbivores are attracted by fallen albida pods and along with the privilege of walking alone in this area with dangerous wildlife, unique to Mana Pools in Zimbabwe, come the responsibility to ensure that animals are given a wide berth and treated with extreme caution.
Elephant, eland, buffalo, impala, waterbuck, baboons, monkeys, zebra, warthog and hippo are some of the larger herbivores to be seen regularly by visitors. Lions, leopards, spotted hyena and cheetah are present in the area, but their nocturnal ways make them more elusive and difficult to see.
Mana Pools is 2,196 square kilometres (848 square miles) in extent within the Zambezi valley, but is part of the 10,500 square kilometres ZPWMA estate that runs from the Kariba Dam in the west to the Mozambique border in the east. This large area is without physical boundaries and the wildlife is free to move throughout the area - even northwards across the Zambezi River into Zambia, where there are also large wilderness areas set aside for wildlife conservation.
Other activities
Walking Safaris - these safaris are offered at full moon when qualified and armed ZPWMA staff will take visitors on a three day hike in the wilds of Mana Pools National Park. Visitors need to be fit, provide their own rucksacks, food and toiletries. This is a unique experience for the nature lover and those who enjoy the challenge of facing nature on foot.
Lion Tracking - this is a limited activity whilst the lion research project at Mana Pools is in progress and visitors can join Parks staff as they track radio-collared lions on foot. This activity is unique and also assists in data collection for research projects.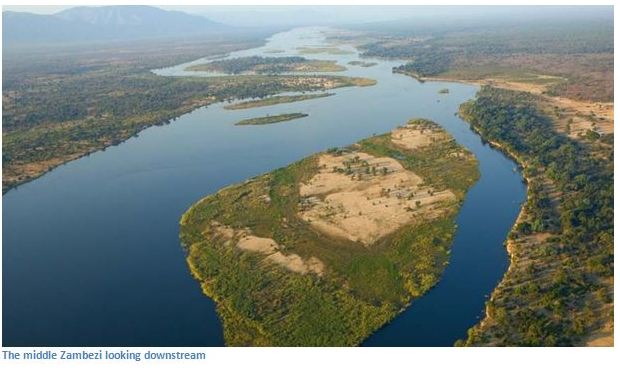 Fishing - visitors can fish in the Zambezi River from the bank, or use their own boats to catch tiger fish, bream and chessa.
Game drives are best in the early morning and late afternoon. Long Pool after sunrise usually has game to view.
Canoeing on the Zambezi River amongst the hippo and crocodiles is a favourite activity in Mana Pools National Park and a great way to experience the river and see wild animals up close.
Close to the riverbank large numbers of mahogany trees and acacias provide shade and nourishment. They look as if their lower branches have been trimmed at the same height; low for the mahoganies and high for the acacias. This is because the elephants love the acacia leaves and fruit and browse them as high up as they can reach, but they don't touch the mahogany trees which are browsed by the bushbuck and kudu. In the dry season from April to October, the animals depend on the Zambezi's water and herds of buffalo kick up clouds of dust on their way to drink and almost all the trees inland are leafless, and the grass eaten to the ground, but on the narrow Mana "floodplain" along the Zambezi, there is green grass to be found at the water's edge and foliage to be browsed by those animals that can reach it. The "Winter-Thorn" Faidherbia albida trees are vital for providing sustenance with their reverse-cycle winter leaf-cover and protein-rich "apple-ring" pods when there is no other food to be found. The elephants are also essential; for the biggest of them are able to reach up and pull branches down so that all animals benefit.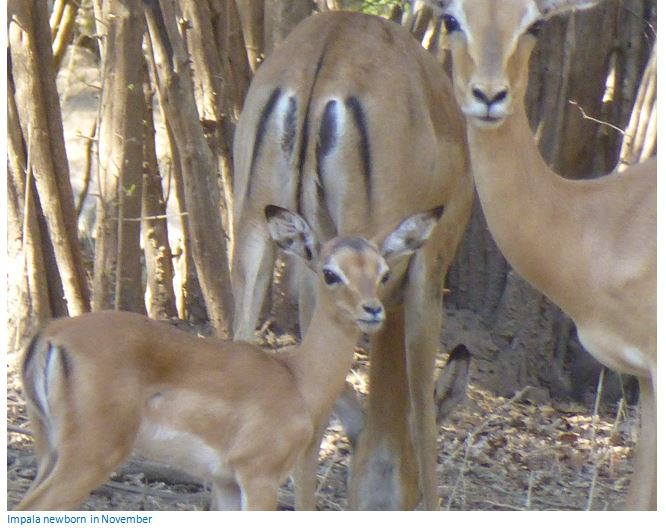 Further away from the river, there are swathes of almost impenetrable thicket known as "jesse" and beyond that a huge area of mopane forest scattered with huge baobabs which is the territory of the tsetse fly whose bite will make its victim wince.
Rubbish - Mana Pools has a "carry-in-carry-out" policy for all rubbish. Burn anything combustible on the nightly campfire, including organic material, but carefully bag any non-combustibles (e.g. glass, polystyrene, plastic bottles, aluminium cans) and take it out for safe disposal at an urban centre. DO NOT on any account leave your rubbish bag in Mana Pools, or at the exit gate (there are no disposal facilities there, and offenders will be fined). Monkeys, baboons and hyenas can be pests in a campsite if rubbish bags and foodstuffs are left out. Make sure all rubbish bags and food are securely shut away in a car, locked trunk, or trailer at all times and never leave food in the tent.
Firewood – at Mana Pools, firewood collection is not permitted and must be purchased by the bundle at the Nyamepi Parks HQ. Keep your campfire to a minimum size in order to preserve a fast-dwindling resource.
Facilities
Tourist facilities include lodges, a communal campsite with ablution facilities and exclusive campsites.
Lodges
There are five lodges in the Park all located along banks of the Zambezi River.
The two large lodges (Muchichiri and Musangu) have eight beds each, a bathroom and shower with hot and cold running water; two toilets and a fully kitted kitchen with stove and deep-freeze and all utensils such as cutlery, crockery and cooking utensils and bedding are supplied. A large dining room and lounge and an outside braai area with seating has views over the river where visitors can watch the wildlife coming down to drink, or watch the sun setting over the Zambezi River.
There are also three four-bedded thatched lodges, all under thatch. Each lodge has two bedrooms with two beds in each, a shower and toilet and seating areas outside near the Zambezi River. The kitchen is supplied with a deep-freezer, cooker, crockery and cutlery and other cooking implements and bedding are supplied. All the lodges are now extremely tired and overdue for a refurbishment.
Camping Site
There is one large communal campsite at the Nyamepi Camp camping area near the National Park reception office. Visitors need to bring their own camping equipment, bedding, and crockery, cutlery and cooking utensils. The ablution blocks nearby have been refurbished and have hot and cold running water, flush toilets and laundry basins. Visitors can buy firewood at the reception office, and each campsite has a braai area. This camping ground has 30 sites.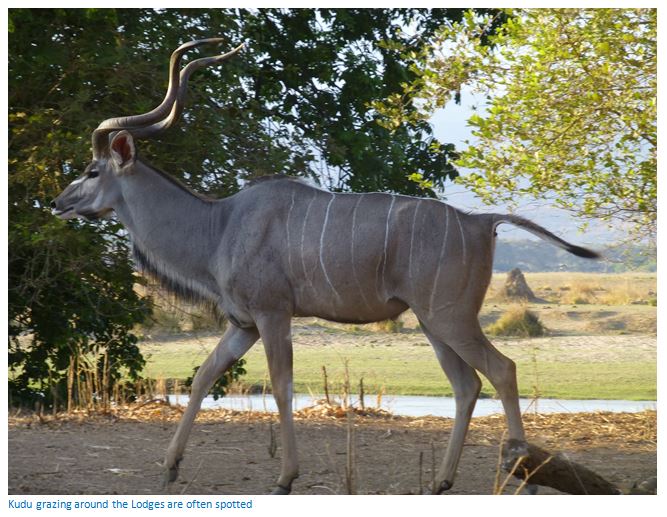 Exclusive Campsites
These exclusive campsites situated along the Zambezi River are for visitors who seek solitude and want to truly experience the wildness and challenges of the bush. There is a braai stand at each site and a rudimentary toilet. Water is collected from the river, or the reception office. Visitors to these sites need to be fully self-equipped and each campsite is only allowed two vehicles and twelve persons per stay.
Mucheni is eight Kilometres west of Nyamepi and has four secluded camp sites
Nkupe is just over one kilometre east of Nymepi and has one camp site
Ndungu is Just east of the car park area and has two campsites
Gwaya is a short distance upstream from the lodges and has one campsite, with cold-water shower, flush toilet, a basin and a braai stand.
Wild Exclusive Camp Sites
There are two completely wild camping sites located in the southern sector of the National Park, close to Chitake Spring, near the foothills of the Zambezi Escarpment. The check-in point for these camps is at Nyakasikana Gate. Both campsites are without any facilities and are accessible only with 4WD vehicles.
Chitake Camp 1 (Nzou) - located 150 metres downstream from the Chitake River crossing under a large Natal Mahogany.
Chitake Camp 2 (Shumba) - Situated on a small hill about one kilometre from the spring near a cluster of baobab trees with a magnificent views in all directions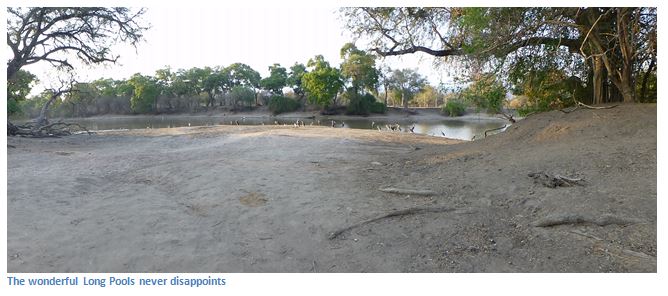 Tour Operator All-inclusive Tours
There are a number of registered tour operators who will take care of all requirements including transport, food, accommodation, activities, safety and transfers and some of these are listed.
Mwinilunga Lodges and Safaris (www.mwinilunga.com) offer two chalets under thatch with shower and toilet for eight guests at Mongwe and a three night canoe trip down to Mana Pools with a guide cooking and camping at pre-arranged spots on the river bank and finishing with five safari tents available at Mana Pools and communal hot showers and toilets and tented dining area. The rates include all meals and drinks and activities such as canoeing and fishing. Dave, Tess and Andrew McFarland personally run the camps and they are well-known for their good food and comfortable family atmosphere.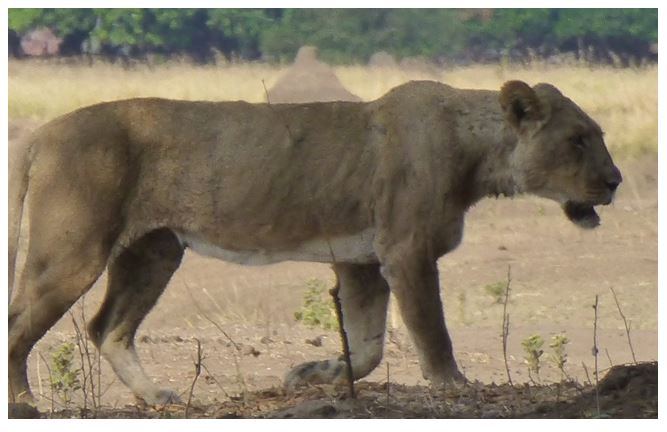 Chikwenya Safari Lodges (www.chikwenyasafaris.com) are downstream of the Mana Pools National Park office where the Sapi River joins the Zambezi and have nine thatched lodges and a presidential lodge, all with inside and outside bathrooms and a private deck. The main lodge has an outside bar, swimming pool with viewing deck, with a dining and lounge area. Activities include fishing, game drives, game cruises and walking.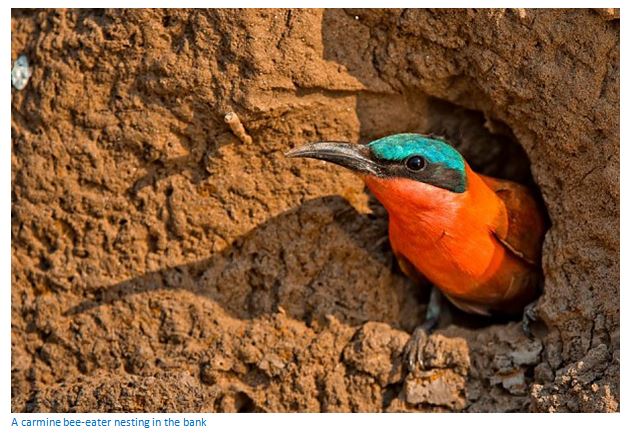 Ruckomechi Camp (www.wilderness-safaris.com) is a permanent camp set on a private concession near the confluence of the Zambezi and Ruckomechi Rivers at the upstream edge of Mana Pools National Park. It has ten spacious en-suite tents overlooking the Zambezi with a central dining room, bar, lounge, library and a separate deck for swimming and relaxing. Its "open-air bathroom" overlooks the river floodplain and the camp also offers adventurous guests a "sleep-out" wooden deck "tree-house" option overlooking Parachute Pan behind the camp. There are many wildlife viewing opportunities from vehicles or boats in this area along with birding and walking with a professional guide.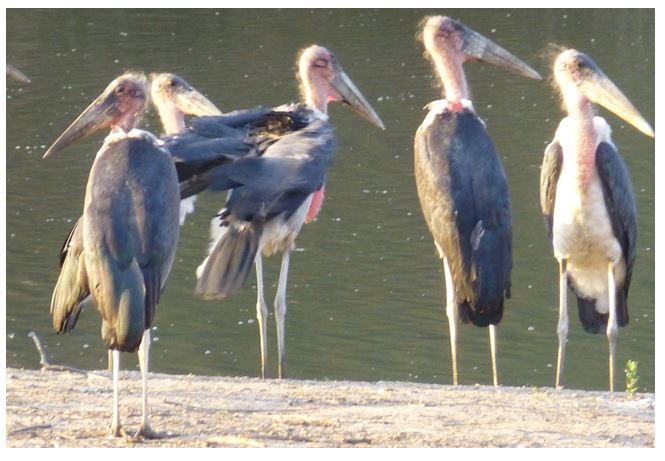 Tafika and Shamashanga (www.tafika.com) are luxury fishing camps on the Zambezi River in the Sapi Safari Area downstream from Mana Pools. Tafika accommodates up to 14 guests in seven luxury brick-under-thatch chalets with twin beds, overhead fans, and an en-suite bathroom overlooking the Zambezi River.
Shamashanga, upstream of Tafika, accommodates up to 16 guests in eight large, luxury twin-bed East African style tents with en-suite bathrooms. In both camps, a main lodge incorporates the dining room, bar, lounge and patio area with an open fire pit and a small plunge pool for welcome relief during the heat of the day. Both lodges offer fully catered facilities inclusive of refreshments, boats and equipment, and fifty litres of fuel per day. A team of professional river guides is there to help find the best fishing, or game viewing spots, prepare the fishing equipment and provide refreshments and light meals.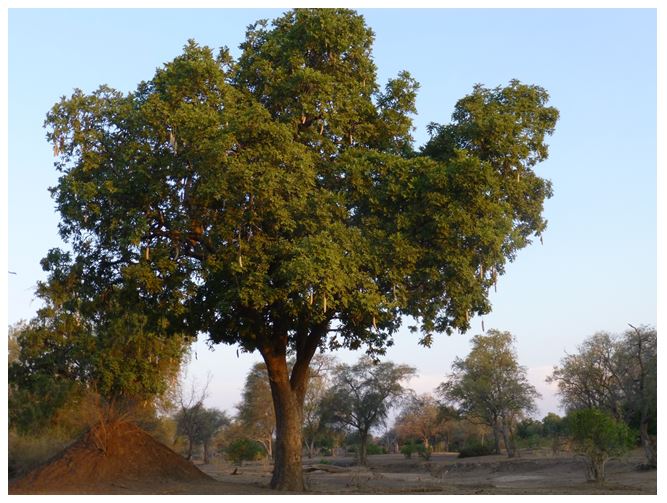 Bushlife Safaris (www.bushlifesafaris.com) owned by Professional Guides Nick and Des Murray, includes a wide range of wilderness-based operations in Mana Pools National Park including:
Vundu Camp has lodge-style accommodation in 8 spacious, tented chalets-under-thatch with en-suite bathrooms and a large, central lounge/dining area raised on wooden stilts with a magnificent view onto the Zambezi River.
Little Vundu is a smaller, more traditional, tented camp option situated upstream of Vundu. There are 5 tents with en-suite open-air thatch-walled bathrooms containing bucket showers and flush toilets.
Activities at both camps include game-drives, nature walks with a experienced professional guides providing opportunities for exceptional wildlife sightings of species such as wild dog, lion, elephant and leopard. Fishing and canoeing are additional activities on offer.
Chitake Mobile Tented Camp uses the same tents for on-request wilderness camping excursions at Chitake Spring. This water source attracts large herds of buffalo (and their predators) in the dry season months (July – November), and is situated inland at the southern end of Mana Pools. Walking with a professional guide is the only option at Chitake – so this is a true wilderness experience with incredible photographic opportunities.
Canoe trips of 3-4 nights on the Zambezi River with a tented camp is set up in advance for every nights' stop along the way.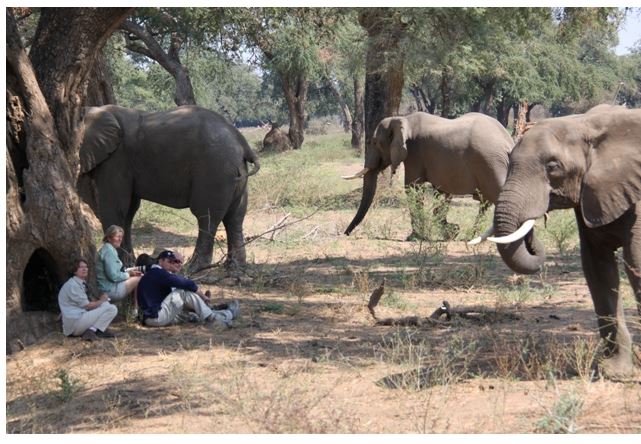 Goliath Safaris (www.goliathsafaris.com) is run by Stretch Ferreira with nearly 30 years of experience at Mana Pools and a pioneer in providing canoe trips on the Zambezi River and luxury tented camps at Mana Pools. They have six luxury tents sleeping a maximum of 12 guests with open-air dining and a covered lounge / bar area on the banks of the Zambezi River. Safaris are tailor-made to suit the wishes of guests and activities include game drives and walks, canoeing and fishing. Stretch is well-known for his walks and talking to the elephants which recently won top prize in the best walking safari category, and canoe trips, knowledge of the bush and his sense of humour.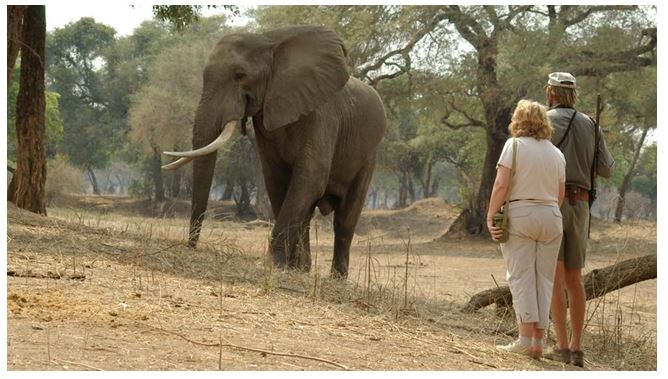 African Bush Camps (www.africanbushcamps.com) runs Kanga Camp, has a twelve bed tented camp with en-suite bathrooms and a central lounge / dining area, not far from Chitake springs and the mobile eight bedded Zambezi Life Styles camp with flush toilets and bucket showers on the Zambezi River which is open between April and November. They are for guests wanting to experience both a riverside and inland experience in Mana Pools and opting for a 5 - 6 night combined safari. Large herds of elephant, buffalo, kudu, impala and bushbuck come down to the Pan to drink at staggered periods throughout the day, whilst the evenings are spent enjoying occasional sightings of the more elusive predators such as leopard and hyena. Lions and wild dogs are also seen regularly.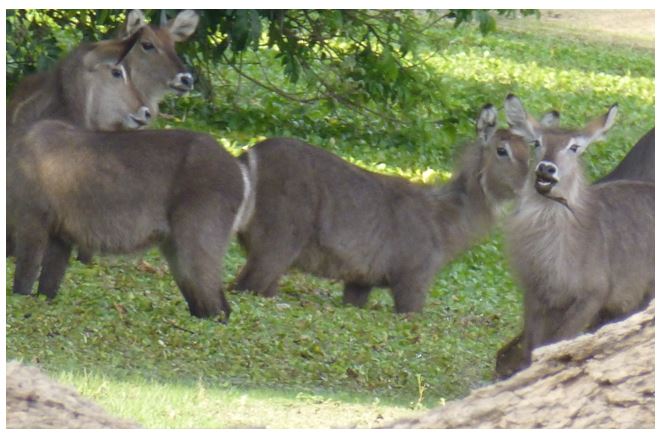 DryLand-Safaris (www.dryland-safaris.com) are a young Safari company owned and operated by Bono Lunga a river guide (mostly the lower Zambezi) and professional safari guide who specializes in tailor-made canoe, walking, hiking and private guided Safaris. Very popular is a six day / five night trip including two days walking in Mana Pools National Park that starts and ends in Chirundu. On this self-participatory canoe and camping safari guests will be accompanied by only two guides and all the gear and provisions will be taken in the canoes. Day starts early with a morning tea, packing canoes and a first paddle before breakfast, then canoeing - gliding down the river continues on remote channels between the islands before a long lunchtime break on mainland in the shade of big trees. In the evenings tents are set up on the sandbanks of the Zambezi before cooking dinner. Mana Pools is reached on day four with game walks to explore and encounter the small and large game on foot, before being brought back to Chirundu on day six by car. This trip can be extended to a ten day trip with canoeing to Kanyemba, but requires a minimum of 6 people.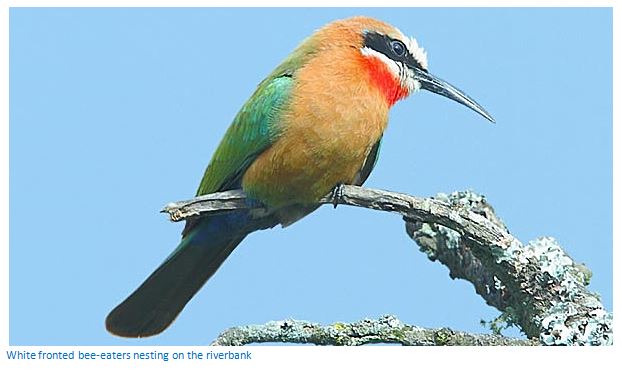 Natureways Safaris (www.natureways.com) has been running for more than 20 years and specializes in mobile safaris for small groups of between six and eight guests. Their core product is canoeing down the Zambezi River. They offer different canoe safari packages for different timetables and budgets, including a Zambezi long classic trip starting at Kariba, paddling the gorge into the floodplains past Chirundu (where their classic short trip starts) and along the Mana Pools shoreline and through the Mupata gorge and ending at Kanyemba. Each trip is accompanied by a fully qualified guide and various options are available depending on the time guests have available. They also offer tented camps in Mana Pools National Park and another near the Chitake Spring.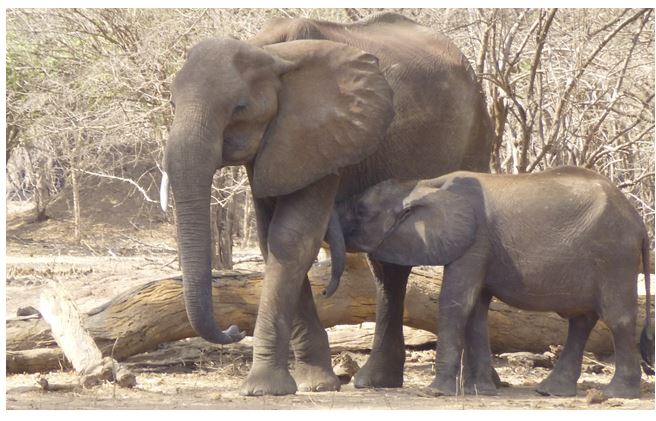 Tailormade Safaris (www.tailormade-safaris.com) are operated by a husband and wife team backed up by a crew of 3-4 staff who take care of the movement, setup and breakdown of the camp, cooking, waiting and making up the tents ensuring that guests make the most of their day and the night safaris. They offer self-contained walking trails in the company of a professional guide and a learner guide/tracker and disappear into the wilderness for up to three nights; this experience has to be one of the ways of getting closest to nature. Guests are supplied with a backpack that contains basic supplies and water, a lightweight nylon tent, sleeping bag and bedroll. Distances walked depend on the ability of the party and the pace of the slowest person. The guide will be armed and will have communication radios to be in touch with a backup vehicle. Areas covered in Zimbabwe include Mana Pools, Matusadona, Hwange, Matobo and Victoria Falls.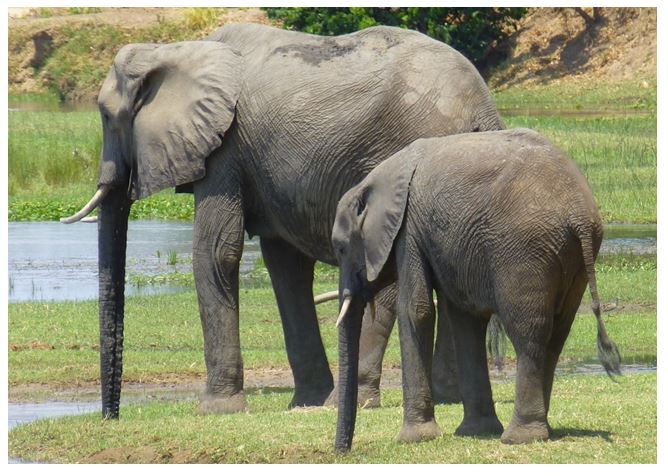 Kavinga Safari Camp (www.kavingasafaris.com) is located in the south of the Park, against the Zambezi escarpment on the upper reaches of the Ruckomechi River. Currently under construction for the 2015 season, this new camp will consist of five two-bedded lodges built on the edge of the cliff above the Zambezi Valley floor. The central dining and lounge area will have a deck protruding approximately five metres out from the cliff edge, providing magnificent views to the renowned Chitake Spring, which has a legendary reputation for superb game viewing and predators and is nine kilometres away.

Mana Pools Safari Company and John Steven Guided Safaris (www.manapoolssafaricompany.com) are situated within Mana Pools National Park on the Zambezi River offering bespoke safaris based from a traditional, colonial-style tented safari camp with a modern touch. Activities include guided walks, game viewing, canoeing, wilderness trails, birding, art safaris and photographic safaris.

ZIM4X4 (www.zim4x4.co.zw) provides tailor-made, self-drive wilderness tours for responsible 4x4 owners to Lake Kariba and the Zambezi Valley regions of Zimbabwe, including the Mana Pools, Sapi and Chewore World Heritage Site. These guided, participatory tours are led by Dick and Sally Pitman; Dick is a former Director of The Zambezi Society and an experienced 4x4 driver, author, guide and wildlife photographer. The emphasis is on a wilderness experience, where visitors can explore some of the lesser-known areas of the Zambezi Valley in their own vehicles, with an experienced guide; camping is the norm, but safaris can incorporate lodge accommodation, depending on requirement. Activities can include photography, guided walking, sailing, fishing, birding, house boating and canoeing with a specialist guide can be arranged and a reliable 4x4 vehicle fully-kitted for camping is available for hire to clients wishing to take a ZIM4x4 tour, but who do not have their own vehicle.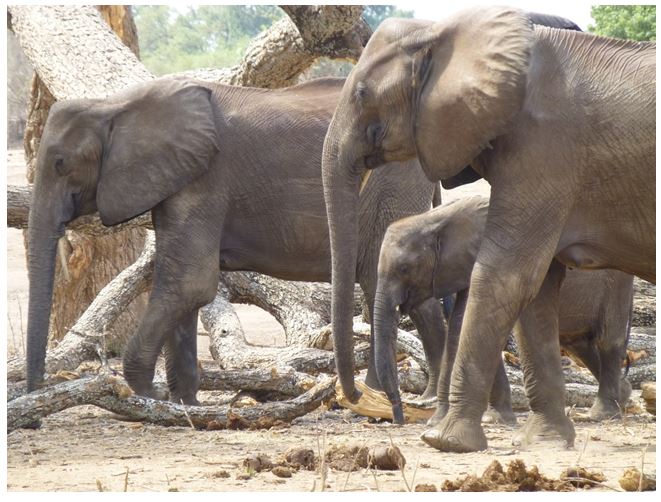 Falcon Lodges & Campsite (www.falconair.co.zw) offer basic self-catering facilities in the very remote border village of Kanyemba which is a fishing centre and the end-point for most long-haul canoeing safaris. Three simple brick-under-thatch lodges / chalets each accommodate four people in double or twin bedrooms, with a bath / shower, separate toilet, kitchen and sitting room. Each is fully furnished, with bedding, kitchen utensils, fridge, stove, satellite TV and hot & cold running water. A separate campsite on the Zambezi provides basic facilities for campers and canoe parties needing an overnight stay at the end of their trip.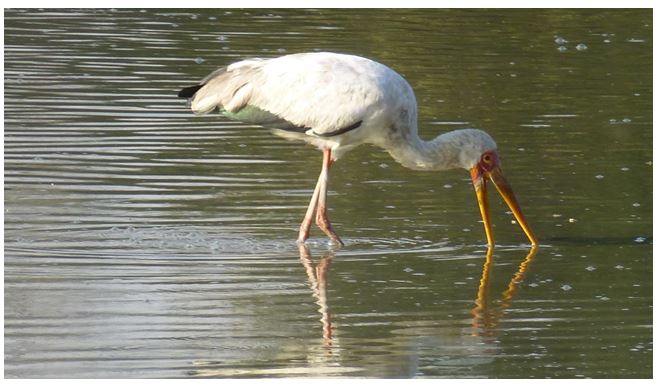 Threats to our National Parks
The Zambezi Society in a report (August 2015) highlighted the crisis to Zimbabwe's elephants in the Zambezi Valley. In addition to a 75% decline in the numbers of elephants in the Zambezi Valley south of Lake Kariba (Sebungwe area) since 2001 – from 14,000 to 3,500, there has been a 40% decrease recorded in the middle Zambezi Valley complex (which includes Mana Pools) – from 18,000 to 11,500. Both figures are shown below.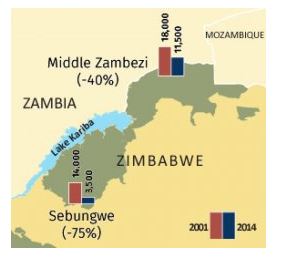 These statistics resulted from the 2014 national air survey conducted by experts as part of the Africa-wide Great Elephant Census, which surveyed all major elephant populations in Africa in 2014. The Zambezi Society goes on to say that the Kenyan-based Save the Elephants highlighted a huge escalation in the demand and price of elephant tusks in China since 2002. China's legal ivory trade, it believes, is acting as a smokescreen for horrific escalation of illegal activities which are driving the unsustainable killing of Africa's elephants.
A recent census in Tanzania revealed a catastrophic 60% loss of that country's elephants in just five years (109,051 in 2009 to 43,330 in 2014). Mozambique has lost around 50% in the same period from 20,000 to 10,300 elephants.
In Africa (and Zimbabwe is no exception), state wildlife authorities are unable to provide sufficient policing and protection of wildlife areas. The costs of protection are high, but government funds allocated for the purpose are negligible. This gap is exploited by corruption. Rangers on the ground, in general, are highly experienced but poorly paid.
Despite the March 2016 tragic deaths of two conservation volunteers, father and son Claudio and Max Chiarelli, acciently killed by ZPWMA park rangers, the Zambezi Society reports that combining the efforts of various anti-poaching operations in the Zambezi Valley areas together with the official law-enforcement agencies has recently produced some excellent results against wildlife poaching.
ZPWMA acting together with the law enforcement agencies and NGO's specifically, there are several operations working in the field in Mana Pools. The Zambezi Society is working in close collaboration with them in support of their efforts to assist the National Parks Authority:-
BAPSU (Bushlife Anti-Poaching Support Unit): This is spearheaded by Bushlife Safaris who are based at Vundu Camp in Mana Pools. They have worked tirelessly during the past few months to deploy anti-poaching rangers throughout the Park. This is of significant assistance to the under-resourced Parks Authority, which has great difficult policing Mana Pools especially during the rains, when road access is extremely difficult. To date, this rainy season, they have deployed more than 800 rangers on anti-poaching activities, covering some 20 000 kms in the Mana Pools, Sapi, Nykasanga, Rifa and Marongora areas. They have raised US$4,000 for ranger patrol rations and US$5,000 for fuel, and are also involved in supporting an information-based initiative outside of the Parks Estate, working with the Parks Authority and others, they have so far succeeded in making some 30 arrests for poaching activities.
Sino-Zimbabwe Trust: This Trust formed last year between China and Zimbabwe has also been deploying rangers in the field throughout the rains. It has a river-going motor launch on site and in the near future will add a number of important field equipment assets in Mana Pools National Park, including a microlight, a light helicopter and a few well kitted-out vehicles.
Mana Pools Volunteer Service: The efforts of the above have been bolstered by a newly-formed anti-poaching Volunteer Service working closely with The Zambezi Society. This service, which began operations towards the end of 2015, is assisting the Parks Authority with aerial surveys in the Zambezi Valley as well as vehicle deployment of anti-poaching patrols throughout the Mana Pools National Park. Gary Layard and Andy Hunter, who run the Service, report that already 3,800 kms have been covered in the Park, involving more than 80 anti-poaching ranger deployments, or upliftments.
Other Threats
The Kangaluwi Open-Cast Copper Mining Project in the Lower Zambezi National Park in Zambia opposite the Mana Pools / Sapi / Chewore World Heritage Site is ever present. This mining project is being challenged in the Zambian courts by WWF Zambia and a coalition of concerned parties, including Zimbabwe's Community-Based Resource Management Forum (CBNRM Forum) and the Zambezi Society. A petition has been presented to the Zimbabwe Minister for Environment, Water and Climate by the Zambezi Society; The Mail & Guardian newspaper picked up the issue and subsequently published a story, everyone should be concerned about this proposed Zambian mine affecting this precious World Heritage Site.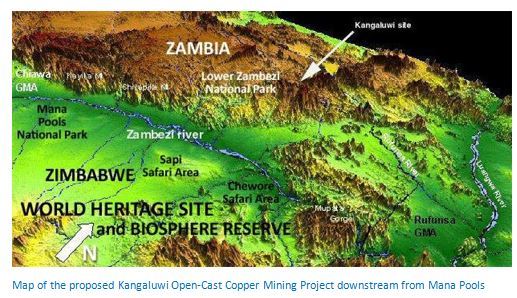 Another threat is the announcement in 2014 that the Governments of Zimbabwe and Zambia have signed a joint Memorandum of Understanding resurrecting the long proposed Batoka Hydro Power Station Development which involves building a dam wall in the Batoka Gorge below the Victoria Falls. The resulting lake would flood a section of the Zambesi River for some fifty Kilometres below the Falls, drowning one of the most highly regarded white water rafting areas in the world, which is also listed as an important bird life area by Birdlife International. The narrow deep-water nature of the resulting lake will not sustain large fish populations and an endangered species, the Taita falcon breeds here as well as many other rare birds of prey such as Verraux's eagle, Lanner and Peregrine falcon.
A number of organisations are doing excellent work with communities and /or conservation in and around the Zambezi River including AWARE Trust, Birdlife Zimbabwe, KAWFT – Kariba Animal Welfare Fund Trust, Gache Gache WEPU (Wildlife & Environmental Protection Unit) MAPP – Matusadona Anti-Poaching Project, RIFA Conservation Education Camp, The Tashinga Initiative, The Zambezi Society, VFAPU – Victoria Falls Anti-Poaching Unit and Zimbabwe Conservation Task Force. Not only are their initiatives restoring the fish to the lake, but the wildlife including elephant, buffalo, eland, waterbuck, bushbuck, warthogs, impala and wild dogs are being spotted in increasing numbers.
Mana Pools 2015 Game Count
Wildlife Environment Zimbabwe (WEZ) has been on the forefront of conservation, lobbying for the establishment of National Parks and protected areas, assisting in the management of these, and spreading knowledge on conservation and environmental issues. Game counts have therefore been incorporated in order to engage more people to have an active interest in their environmental heritage. These censuses: give trends and rough indications of game population sizes indicate if animals are being disturbed by poachers or not show animals that a tourist is likely to see assess the status of vegetation cover and the availability of water for the animals use the census information to advise National Parks on the status of biodiversity and on how to put in place biodiversity conservation and management priorities.
The Mana Pools Game Count took place on the 26th and 27th September 2015. The census had a total of 119 voluntary participants in 21 teams divided into 18 transect teams and 3 static teams.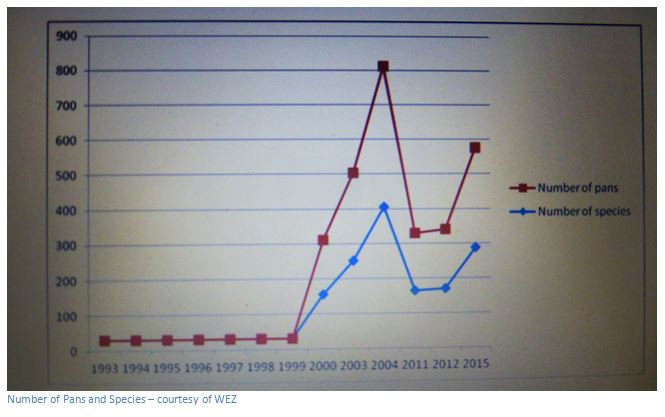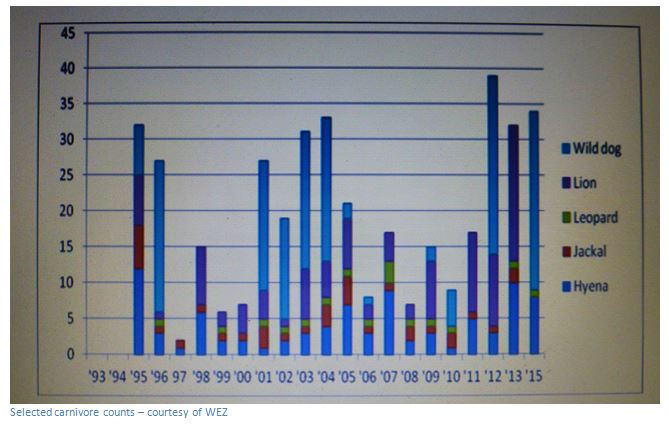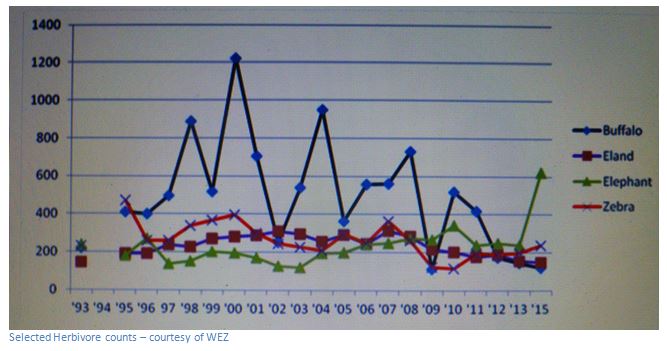 Contiguous to Mana Pools are Hurungwe and Charara Safari Areas in the Kariba eastern basin extending from the Zambezi River at Kariba on the west as far as the Ruckomechi River on the east and is the only hunting zone that stretches down the lake shore. The Makuti / Chirundu National road splits this Safari area approximately in half. Hunting safari operators hunt elephant, buffalo, lion, leopard, hippo, crocodile, sable plus other antelope and bird shooting.
Chapungu Safaris (www.huntzim.com) is run by professional hunters Ray Townsend and Warren Thorne. They have camps at:
Charara Camp in the Charara Safari Area with en-suite thatched chalets and communal dining area. From here they conduct hunting safaris for big game, plus the smaller plains species.
Gache Gache Lodge (www.gachegachelodge.com) on Lake Kariba has ten thatched chalets all en-suite with private verandas and a communal dining, lounge and bar area and is located in the Gache Gache River estuary in the eastern basin of Lake Kariba in a natural wilderness area where visitors can experience the "Big 4" wild animals, plenty of crocodiles and hippo, amazing birdlife and wonderful fishing for tigerfish or bream and they carry out plenty of conservation activities.
Sengwa Camp in the Binga Safari Area
Ruwanzi Safari Lodge about 40 Kilometres from Karoi has en-suite thatched chalets and communal dining area.
Gache Gache Lodge has announced that it is introducing Kariba's first Volunteerism Programme in 2015 to gain experience in wilderness area & lodge management, anti-poaching and community outreach including assistance to the Gache Gache Schools. Owner, Ray Townsend, has worked tirelessly over the past few years to protect the abundant fish and wildlife resources of the area by developing and training an effective anti-poaching team and building strong links with local community's villages and schools. Volunteers taking part will also be able to take part in activities including Fishing, Photography, Birding, Clay Pigeon Shooting and Rifle Training.
Zimbabwe Parks and Wildlife Management Authority (www.zimparks.org) have
Self-catering Nyanyana Lodges on the shore of Lake Kariba where guests are sent to sleep with the snort of hippos and awakened by the cry of the Fish eagle.

Twenty camping sites close to the lake shore which have the use of two ablution blocks with showers, baths, wash basins and toilets.

Caravan site with a capacity of fifteen caravans.
The Sapi, Chewore, Dande and Doma Safari Areas are all to the east and south east of Mana Pools National Park, but they do form part of the UNESCO World Heritage Site, except for Doma which is excluded from this designation as it has seen extensive human infringement and poaching. Although these Parks are adjacent to Mana Pools they occupy extremely remote parts of the country. Chewore is the largest and extends southwards from the Zambezi's Mupata Gorge down as far as the Angwa River which forms part of its southern border. The terrain is extremely rugged with mountains and valleys which are bisected by sand rivers. Roads and human settlements are few; this is a tsetse fly and malaria zone, visitors need to be self-sufficient in everything.
The northern boundaries of the Sapi and Chewore Safari Areas comprise the Zambezi River; unlike Mana Pools National Park visitors may fish from motorboats, photo-safari and hunting are permitted. The Mupata Gorge is a narrow, deep, confined valley making the river run swiftly and the fishing is excellent. Tiger fish, bream, giant vundu, bottlenose, Cornish jack, chessa, Nkupe and barbel are all regularly caught here.
Almost all the large animal species found in Zimbabwe are here except giraffe, wildebeest and the endangered black rhino. There is excellent bird viewing with over 400 species recorded as these Safari Areas cover a very diverse range of habitats each suited to the different species. This area of the Zambese valley includes the most extensive fossil remains in Zimbabwe, including widespread "petrified forests" of fossil wood west of Mupata Gorge. In southern section of the South Chewore Safari Area, there is a track way of fossil footprints of the dinosaur Allosaurus discovered in a riverbed.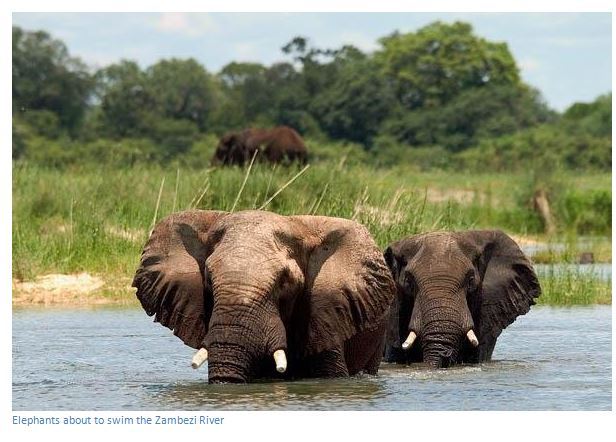 When to visit:
Closed in the rainy season December to February
Fee:
Entrance and accommodation fees charged