Lake Kariba
Why Visit?:
Start point for lake cruising and fishing, canoeing on the Zambezi.
Provisions and fuel are obtainable, houseboats and boats on Lake Kariba for hire.
Events such as the Kariba Tiger Fishing Tournament, or the half-marathon, or the Kariba Cycle Challenge.
How to get here:
Take the A1 Harare to Chirundu national road, 115 KM reach Chinhoyi, 207 KM reach Karoi, 292 KM reach Makuti, 292.4 KM turn left for Kariba, 363 KM reach Kariba Town.
Getting there by air: Air Zimbabwe is now running scheduled flights into Kariba linking the resort town with Victoria Falls and Harare via the "Zambezi Triangle" flight route. Flights run three days a week, on Wednesdays, Fridays and Sundays, using a 52-seater MA60 aircraft.
There are many stories that are put forward to explain the name Kariba. Local elders say that close to the dam wall is a rock shaped like a traditional stone trap, riva, hence Kariva, but in translation Kariva became Kariba. The rock caused a whirlpool in the river and any unfortunate boat or canoe caught by the force of the whirlpool was sucked into the depths of the river, never to be seen again. They believed this natural phenomenon was actually caused by Nyaminyami who lived in the depths of the whirlpool and needed to be soothed by any travellers in order to enjoy a safe passage across the river.
Kariba is built on steep hills 370 metres above the lake; in the fifties there was only a construction camp for workers on the dam and power station and the little town developed haphazardly on the hills surrounding the gorge while the dam was being constructed. Since then development has been rapid, particularly along the wooded lake shore. Here hotels and harbours have been created, providing sophisticated amenities for the many tourists who drive, or fly on Air Zimbabwe's scheduled service to this popular holiday area.
In recent years the Kariba has become well-known for attracting visitors to specific events, including the Heroes Long Weekend annual Kariba half-marathon in August which in 2014 attracted over 600 entrants with hundreds of well-wishers and supporters to cheer them on; even some of the local elephants joined in causing a delay to some runners! Fortunately there are marshals from the Kariba Animal Welfare Fund Trust (KAWFT) ZPWMA and the Kariba Emergency Medical Centre on hand to ensure complete safety for all the participants.

There are a 21 kilometres, 10 kilometres and a fun kid's race of 2 kilometres, so a perfect weekend for the whole family to enjoy. The challenging 21 kilometres half marathon, which winds its way along the lake, through the Kariba hills and across the Kariba Dam Wall, attracted 184 serious runners in 2014.
The Kariba Cycle Challenge takes place over three days in July-August and is a great opportunity for active road cyclists to enjoy their sport in Kariba's spectacular environment with wonderful lake views and in pleasantly mild winter temperatures. Different cycling activities and courses (varying between 10km and 100km in length) are on offer for each of the three days, depending on the fitness levels of the participants. There is also a 3km Kiddies Race on the last day.
Wildlife have right of way in Kariba, so even during a half-marathon made way for them! Residents and businesses, Kariba Animal Welfare Fund Trust and Zimbabwe Parks and Wildlife Management Authority have been working together to increase the welfare of the wildlife around Kariba and their efforts are paying off…herds of up to eighty elephant and resident buffalo are being frequently seen around Kariba town. So drivers are warned to drive below 60 km/ h and with care.
The Kariba Tiger tournament (www.kitft.co.zw) which is usually held in late October, 2014 was the 23rd such event and centred around the National Anglers Union of Zimbabwe (NAUZ) in Charara, Kariba. Their slogan is "wakey, wakey" rise and shine, it's "tiger time" and there are plenty of prizes sponsored by well-known Zimbabwean companies. The event is held over three days with plenty of international and local entrants, one hundred and thirteen teams entered in 2014 and the winning team hauled in over sixty fish weighing over one hundred and forty-three kilograms!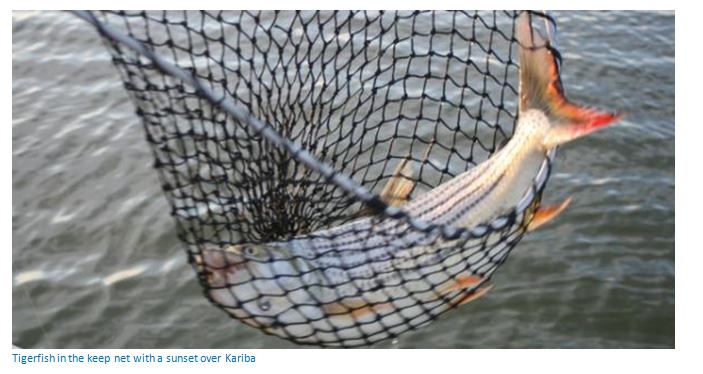 There are a number of small hotels and lodges, holiday cottages, self-catering facilities and campsites dotted among the hills, bays and shorelines of Kariba town from where views of the lake are stunning. Points of interest include the dam wall itself from the observation point on the hill above it; The Heights on a hill 600 metres above the lake with another look-out point, a collection of small shops and craft stalls, a hotel, the Kariba Club (bar/restaurant/swimming pool) and the extraordinarily beautiful little Chapel of Santa Barbara, built in memory of workers who died during construction of the dam wall.
Kariba's main hotels can arrange minibus tours because getting around without a car can be difficult with the town so spread-out. A day of sightseeing at Kariba may include a visit to the dam wall and a tour of the town with its many viewpoints over the lake. Visitors may also hire sailing dinghies and power boats from a number of operators, learn to water ski, or join regular cruises. Everyone who visits Kariba should take a journey on the lake: only from this vantage point can the immensity of this inland sea be appreciated. Most cruises skirt the shoreline and visitors may see, particularly in the late afternoons, wild animals coming to drink or wallow in the shallows.
There are food supermarkets with a reasonable range of basic groceries and provisions in Nhamhunga and Mahombekombe, the two small commercial centres at opposite ends of Kariba town. Petrol and diesel are available from fuel stations on the main road through the town, or from the various boat harbours widely spread out along the extensive shoreline at the base of the hills; who usually also supply ice and drinks.
Lake Kariba has since become an attractive and popular, although mostly regional, holiday destination. Its vast expanse of water forms a boundary between Zimbabwe and Zambia; its extensive and attractive shorelines are home to large populations of wildlife and its islands are dotted in a picture-postcard deep blue sea against a backdrop of high escarpment mountain ranges on each side. Big sky sunsets over the lake are legendary with the bare branches of its famous drowned trees silhouetted in the foreground.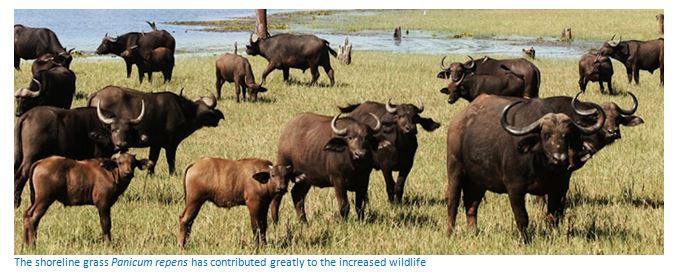 Beyond the developed area of Kariba near the dam wall; Lake Kariba extends westwards for 281 Kilometres. This is largely untouched wilderness, where small lake-shore resorts and safari companies provide facilities for the visitor who wishes to enjoy the solitude and scenic splendour of these remote areas with their superb game-viewing and fishing. Kariba boasts all of the big five mammals and its water abounds with some of the greatest concentrations of hippo and crocodile in Africa, as well as magnificent bird watching
The largest body of water at Kariba is the vast eastern basin, which exteds 32 kilometres south from Kariba town and 65 kilometres from the eastern shore to the resort hotel of Bumi Hills.

Along the southern shore, extending west from the dramatic Sanyati Gorge is the 1,370 square-kilometre Matusadona National Park. This is a scenic area rich in wild life and on islands facing the mountains safari operators have established permanent camps from which unique opportunities for viewing and photographing game are provided. There is also camp accommodation within the National Park itself.

At the extreme western end of Lake Kariba, the little settlement of Mlibizi is the terminus for Kariba Ferries and the 22-hour overnight passenger and vehicle ferry service is a popular way for visitors to cross the lake between the Hwange / Victoria Falls area and Kariba town, or vice versa. The ferry runs weekly (schedules are published on their website) and sometimes more often during high season periods and early booking is essential.
Departure is early morning (9.00 am) and passengers need to embark an hour before this. Some tour operators in Victoria Falls and Hwange offer road transfers to Mlibizi for travellers without a vehicle. However, since the transfer journey is 3+ hours long from Vic Falls, unless you want to make an extremely early morning start, it is usually more convenient to stay in Mlibizi the night before the ferry departs to Kariba (and the same in Kariba for the journey in the opposite direction). Accommodation in Mlibizi is restricted to a few privately-owned lodges, self-catering houses, a small hotel and a lakeside resort (self-catering chalets and a campsite) next to the ferry terminal. There are a few houseboats and pontoon-style fishing boats can be hired at a daily rate.
Binga is a fishing, boating and cultural centre reachable on tar from the main Bulawayo-Victoria Falls road and with an airstrip accessible by small charter aircraft. The town is an administrative hub created for the Tonga people who originally lived along the Zambezi River and were re-located inland and to the south, when Lake Kariba was built and its rising waters covered their traditional homes. This community has suffered great hardships since their displacement, and the area has attracted international aid for medical, educational and community projects. Batonga traditions and culture are of great interest to visitors and a cultural museum has been established along with a thriving co-operative handicraft industry, focused on traditional Tonga basket ware, beadwork, drums and carved stools and doors.
Besides its cultural significance, Binga is a good place for visitors from Bulawayo, Hwange or the Victoria Falls to access a houseboat or a fishing holiday on Lake Kariba without having to go all the way to Kariba town. The town makes a good stopping-off point for self-drive visitors aiming to drive the long, slow 4x4 unpaved road along the southern shore of Lake Kariba. Much of the accommodation in Binga is privately-owned, so visitor facilities are limited and mostly self-catering. There are some lakeside villa options and small lodges. The old "hot springs" Rest camp in Binga offers basic chalet accommodation and there are also a couple of campsites.
The lake was intended as a reservoir and hydroelectric project that benefits both Zimbabwe and Zambia. In addition, a tiny species of fish named Kapenta was relocated here from Lake Tanganyika. Many commercial fishing companies now live off these fish on both sides of the border.

The annual Kariba Tiger fishing Tournament attracts thousands of visitors each year, but here are some suggestions for other things to do:
The Kariba Dam Wall can be viewed from the Observation Point built into the hill above the Kariba Gorge where a beautifully carved stone statue of Nyaminyami, the traditional river spirit of the Zambezi, overlooks the wall. The Zimbabwe Tourism Authority and the Kariba Publicity Association have a small information centre which has pictures from the 1950's of the building of the dam and tells the story of the Tonga people who were forced to abandon their homes in the Zambezi Valley when Lake Kariba filled up behind the dam and to change their way of life.

Visitors can walk onto the dam wall itself, but be prepared to drive to the Zimbabwe Customs & Immigration post and leave passports, or other ID documentation, before driving or walking down to the wall. This is particularly rewarding when the dam's floodgates are open as spectacular volume of water sprays out into the Kariba Gorge far below.

There is a small craft market in the car park at the Observation Point where the talented women of Kariba sell attractive tablecloths, crocheted garments, hats, trinkets and carved walking sticks.

A steep drive up to the very top of Kariba's highest hill, known as The Heights, is worth the effort as the view at 600 metres above the lake over Kariba's Eastern Basin and a series of islands towards the distant range of the Matusadona Mountains 35 kilometres away is spectacular, especially in the early evening when there is no heat haze and the sun is setting. Santa Barbara Chapel is also here.

At the craft market at The Heights look out for local handicrafts such has necklaces made from the seeds of local trees including the baobab, and the wood carvers who make the famous "Nyaminyami walking sticks" which come in all shapes and sizes and depict the traditions and beliefs of the Tonga people and their close relationship with the River Spirit, Nyaminyami.

Canoeing on the Zambezi River starting below the dam wall
Fee:
Entrance free, but fishing and boating licence required