Jack Parsonson – War ace and one of Mashonaland Country District's most colourful characters
Original draft by Doug McClymont
Jack Parsonson was shot down three times - first, by Afrika Corps light flak at El Alamein, then near Cappucco by a gaggle of Luftwaffe Me 109's and finally, by an E- boat of the German Kriegsmarine. Ground, air and sea, was it unique?[i] It is an extraordinary story of escape, recapture and then escape. It was on the third occasion, on 30 April 1943, that his luck ran out.
My association with Jack
When I was Officer in Charge of the Trelawney Tobacco Research Station (TRB) one of my most persistent neighbours was Jack Parsonson. He was always very approachable, always appeared at 3 pm for afternoon tea and was always on the scrounge for something; tools, chemicals, fertilizer, diesel, carbon paper, etc. etc. He was most persuasive and most times I relented and lent him TRB stuff. Then one day two things happened which changed my outlook forever.
I was in the workshop working on a 'Briggs and Scrapem' pump motor[ii] when I needed a No 10 spanner. Mybecki, my workshop wizard, claimed that 'Mr Jack' had 'borrowed' it. I then got Stefan the driver, who once broke an anvil sharpening his badza, and a trailer and Mybecki and told them to go to 'Mr Jack's' and collect all our stuff back. Two hours later they returned with a reaping trailer heaped with stuff all stamped TRB. It was not long before Jack followed claiming I had illegally stripped his workshop. I told him to search through the trailer and I would apologise for anything there that was not stamped with the TRB logo. Needless to say, there was nothing and we returned all the 'loot' to stock. This proved a problem at the annual audit as now there was a vast amount of equipment which has previously been 'written off' that was now available! It was a couple of months before Jack came back for tea!
The second thing was that I had obtained a copy of the Official History of the South African Airforce for World War II from the library, and low and behold, Major Jack Parsonson DSO was an official South African War hero of note and had three whole pages revealing his exploits in North Africa.
This demanded an immediate reassessment and I began looking further into the life and times of Jack Parsonson. Whenever I quizzed him about what he had done he always fobbed me off and said he had written it all down and I could read it when it was published. Needless to say, I waited in vain. However, he did indeed write it down, and having been turned down by all the South African publishers, it was published in the USA after he had died.
Jack's background and training as an artillery officer
John Edward 'Jack' Parsonson was born at Smithfield, Orange Free State on 20th November 1914. After being schooled at Queens College, Queenstown, he took a young interest in army units exercising near his home and joined the Active Citizen Force Militia (ACFM) in 1935. He had been working in a bank but was bored and saw this as an escape to something more adventurous.
In February 1938 he was commissioned 2nd Lieutenant with the 1st City Regiment as part of the Queenstown Contingent. Two years later he was selected for Permanent Force Course 367G and was commissioned on 1st March 1939 as an officer with the South African Field Artillery. He said he chose the artillery because they did not march but were driven into action on trucks towing the artillery.
Major-General 'Dick' Clifton takes up the story: 'Jack, like Rosy[iii] and me, was a product of the pre-war South African Military College. In those days, cadets were trained in infantry and artillery duties while, at the same time, being taught to fly. Once commissioned, he chose the Field Artillery because it promised the most exciting life. In a Horse Battery of 4.5-inch howitzers, there was ample opportunity for equestrian pursuits, and Jack loved horses almost as much as he loved aeroplanes. He was handsome and he sat a horse superbly. On his coal black charger, 2nd Lieutenant Parsonson looked magnificent with his immaculate riding breeches and Barathea tunic, highly polished riding boots and Sam Browne belt. His other great advantage in joining the Artillery was that once a week he could fly any of the Hawker Harts or the beautiful Hawker Fury, whereas fellow cadets who had chosen the Air Force found themselves on an instructor's course flying Avro Tutor trainers."
When war broke out Jack lost no time in transferring to the South African Air Force (SAAF)
With World War II Jack trains as a pilot and is posted to SAAF No 3 Squadron in East Africa 1941 - 1942
Following his pilot training course in August 1941, he was transferred to the SAAF No. 3 Squadron and flown up to Nakuru, Kenya. The squadron had been re-equipped with Curtiss P-36 Mohawk IV's, an American designed and built fighter aircraft and he flew from an airfield on the border of Ethiopia and Somaliland[iv] with the rank of supernumerary Captain. Three Mohawks (2516,2528 and 2522) were detached to Aiscia to cover the Vichy French enclave at Djibouti and it was here that Jack was credited with destroying a Savoia Marchetti 75 transport on the ground at Djibouti on 5 October 1941, his first success against the enemy.[v]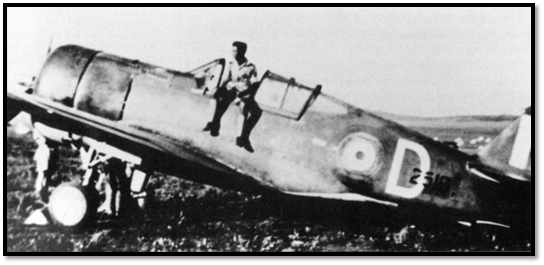 Curtiss Mohawk IV SAAF 3 Sqn 2522 flown by Capt Jack Parsonson at Aiscia, Somaliland in Sept-Oct 1941
Transferred to No. 2 (SAAF) Squadron - North Africa 1942
Towards the end of the summer of 1942, Jack was transferred to No. 2 (SAAF) Squadron in the Western Desert flying Kittyhawk's and his guns were soon back in action. He damaged an Italian Macchi C.202 Folgore (Mc. 202) over Alam El Haifa on 29 August; then damaged a brace of Messerschmitt Bf 109 (Me 109's) over Duba on 9 October and destroyed another Me 109 over the El Alamein area on 26 October.
On 1 November 1942, whilst strafing enemy troops and transport, his Kittyhawk was hit by ground fire and he was compelled to make a forced-landing in the Qattara Depression of north-west Egypt. He walked north through the desert for two days and through an enemy minefield. He also suffered from mirages and a number of falls but was eventually picked up by a patrolling jeep of 40 Recce Squadron, SAAF.[vi]

On 10 November 1942, over Tobruk, he faced even greater odds, being attacked head on by four Me 109's. A desperate combat ensued, the fight beginning at 17,000 feet and quickly spiralling downwards. At 8,000 feet four more Me 109's joined the fray and his Kittyhawk shuddered under a torrent of cannon fire. Gaping holes appeared in the mainframe and, as he neared deck level, another cannon shell just missed his right shoulder and slammed into the instrument panel, shattering the oil tank. Cannon fire continued to hit his Kittyhawk even as it crash landed at a speed of 180 mph, 'skimming over the surface like a flat stone thrown across water.'

When the shattered aircraft finally came to a halt, Parsonson threw off his harness and parachute straps and exited the cockpit under fire, making for the cover of a roofless stone hut. But the German pilots seemed determined to kill him. They were not satisfied with merely shooting him down. After a while the attack ceased and he looked cautiously out of the hut to see what was happening. All eight Me 109's were circling like hawks waiting to pounce on their prey!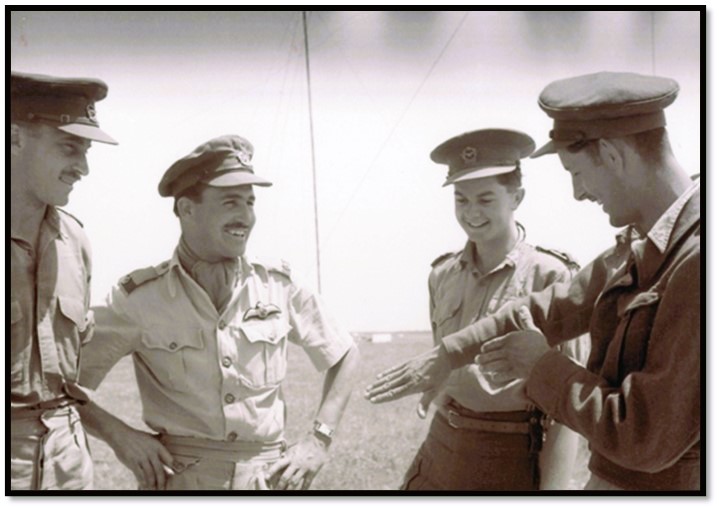 Jack Parsonson with fighter-pilots of SAAF No 2 Squadron
Taken prisoner by the Germans
He crouched down in the hut and after a short while heard the sound of an approaching vehicle. Drawing his revolver he peered over the top of the hut's walls and saw a two-ton truck laden with armed soldiers. It stopped a few yards away and realising the futility of his revolver he stuck it back in his holster, walked into the open and raised his hands in surrender. A very decent young German officer walked up and after looking him up and down for a few moments said, "You must be feeling very tired. The war is over for you. Would you like this egg? Make a hole in each end and suck it. You'll find it very refreshing." He was offered a cigarette and told to climb aboard the truck.'[vii]
Following a night in captivity near Fort Capuzzo, Parsonson's journey was hastened by the arrival of British tanks. Taking advantage of the confusion they caused, he leapt from his truck and ran for a gully, the ground around him being kicked up by automatic fire. A game of cat and mouse followed, but at length he was surrounded and recaptured: his guards beat him up with rifle butts and he was warned that if he made another attempt to escape, he would be shot out of hand. The journey continued, a journey in which he saw Rommel pass on four separate occasions in an open Volkswagen; he was also introduced to a pair of black South African prisoners, 'sterling men who had been captured at Tobruk.'

Always ready for another escape attempt, Jack takes up the story in A Time to Remember, " … We sat in the well of a truck with our backs to the engine just behind the cab. The Sergeant sat on my right and the Sergeant-Major on my left. The rest of the crew - five or six of them - rested further back. The night was very dark and we were nose-to-tail in the long column.

The Sergeant-Major drew his Luger and told me that if I tried to escape he would be happy to shoot me. Twice during the long, boring drive I felt him raise the blanket covering the three of us to peer surreptitiously underneath. I pretended to be dozing.

Just before first light I had a curious feeling, I sensed everyone was fast asleep and that I must get up very slowly, which I did. All that was necessary was to stretch quietly over the Sergeant-Major, put my hand on the side of the truck and vault over it to the ground. The column was moving very slowly so it would be no great feat… '

Nobody stirred as Jack walked quietly down the line of lorries in the opposite direction to which they travelled, but after about 100 yards, 'a frightful din' broke out: his escape had been discovered and he ran for it. Luckily good fortune prevailed and, rather than a Luger bullet, he encountered a friendly Bedouin shepherd. That good fortune was very much apparent when the Bedouin showed Parsonson a letter from Lieutenant-Colonel Carlyle of the Long Range Desert Group, a letter stating the bearer to be a trustworthy man who would assist Allied troops. And so it proved, Parsonson reaching our lines on the following day.
He was sent to H.Q. 4th Armoured Division and, on re-joining his No 2 squadron, was quickly back in action taking a half-share in a Mc. 202 on 1 December 1942.
Given command of No. 5 (SAAF) Squadron 1942 - 1943
On 17th December 1942 Jack was promoted to command No 5 SAAF Squadron but in his own words, "We were doing two or three shows a day and I suppose the tension was increasing. Apart from the intensive operations our Kittyhawk's were badly worn out and many lame ducks limped home and some could not get home."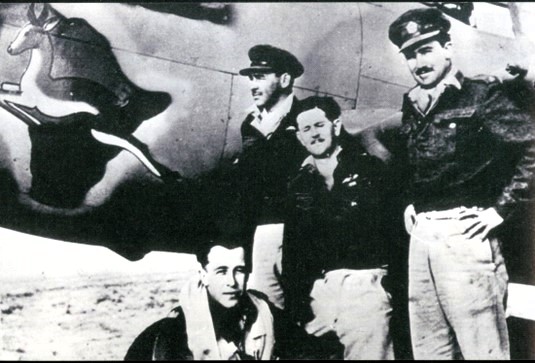 Desert Warriors: Parsonson right, with fellow South African pilots
The tension finally came to head in mid-April when Jack was asked by his Adjutant and the Intelligence Officer for a meeting. He wrote, 'They shuffled a bit more and then said, "You've got a sort of mutiny on your hands. The pilots are very unhappy about you; you go about with a grim look on your face and don't smile anymore." That evening I made a point of grinning and being cheerful again. I know that underneath I was worried about being hacked for the third time, and this showed that worry can be contagious…'
Soon there were better times. Returning from a patrol on 19 April 1943, No. 5 Squadron sighted a mixed formation of Junkers Ju 52's and Savoia-Marchetti SM.79's, with a fighter escort. Whilst No. 4 Squadron dealt with the escort, Jack and his fellow pilots dived into the formation of transport planes and 'shot them to pieces, Junkers and Savoia's[viii] bursting into flames, crashing and exploding everywhere.' The Squadron's bag amounted to seven destroyed.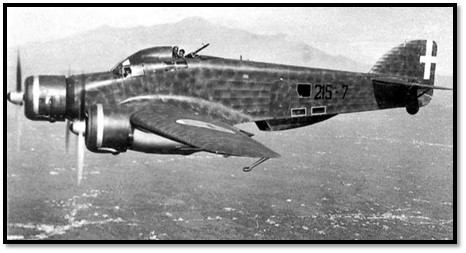 Wikipedia: Savoia-Marchetti SM.79's
'The Massacre of Cap Bon'
Even greater success came on 22 April 1943 when Parsonson and his pilots encountered a formation of Messerschmitt Me 323 Gigant's[ix] off Cap Bon. He takes up the story, "As we passed over the coast north of Korbous I saw something which I could hardly credit. Out of the morning mists, coming towards Tunis, appeared a Balbo[x] of Me 323's, six-engined transport aircraft in two huge V's escorted by numerous fighters. These gigantic aeroplanes, capable of carrying unprecedented loads, were below and to our right. I turned the wing down towards them, gave the order to attack and then it was up to each pilot to select his own target. My squadron had the advantage of going first. 4 Squadron followed us while 1 and 2 Squadrons piled into the enemy fighters. Then, on a much larger scale was a repetition of the previous show. The Me. 323's were so large they could not be missed and our heavy .5s wreaked havoc among them. The carnage was horrific as these transports were mainly carrying fuel for the beleaguered Afrika Corps and the remnants of the Luftwaffe. As they were hit a large number burst into flames. When they hit the water the petrol spread and it seemed that the sea itself was alight. All but one of the Me 323's were despatched. No.5 Squadron destroyed 15 transports, 4 Squadron destroyed nine, 2 Squadron shot down one Re. 2001 and 1 Squadron destroyed five aircraft."

Jack Parsonson - who accounted for two of the giant Me 323 transports - was awarded an immediate D.S.O.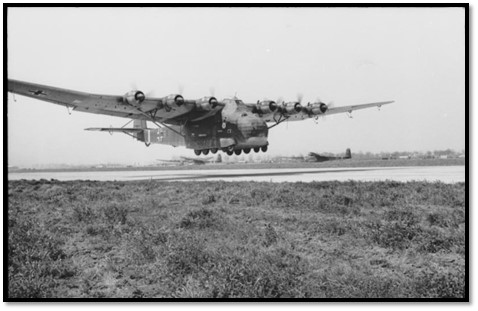 Wikipedia: Messerschmitt Me 323 Gigant

Shot down 'hacked' for a third time
On 30 April 1943, whilst attacking Kriegsmarine E-Boats, his aircraft was hit by flak and had to ditch in the sea off Zembra Island. "Between Tunis and Zembra Island we saw three E-Boats below. There were no other targets so I ordered the two bombed-up squadrons to form echelon right and down we went. All the bombs missed so we continued down to water level to attack with our .5 Browning's. As low as possible I approached from the beam. The shooting was easy for us, but so it was for the defending gunners. The E-Boat was in flames as I passed over and I knew the chaps behind would certainly sink it. I also knew I had been hit in the glycol so told Rod to take the Wing home.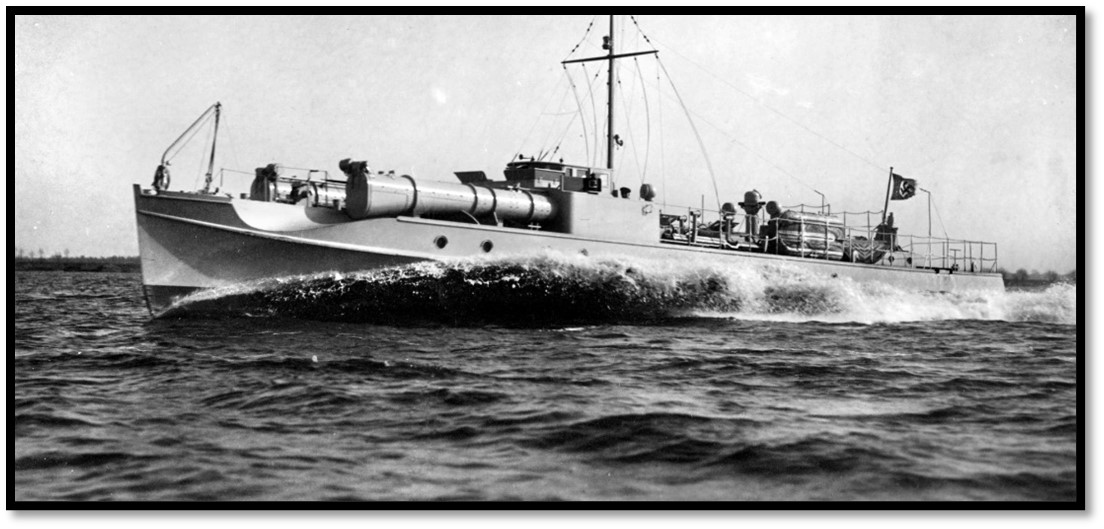 German torpedo-boat (E-Boat)
I flew towards Zembra Island knowing very well that I did not have much time before the engine seized. I turned past the island so that I could attempt a landing on the water on the far side of the E-Boats. I circled low and landed with nose well up about a hundred yards from the shore. The big air scoop under the nose of a Kittyhawk made landing on water a very problematical undertaking. I landed lightly, tail well down and the aircraft settled nicely on the water, and only then realised that the canopy was still closed and the radio leads not disconnected. Hastily I opened up the canopy, which fortunately did not jam, pulled off my flying helmet with leads, undid the straps and got out on to the wing root. I ripped off the dinghy and slid into the water and the aircraft sank moments later. I blew up the dinghy, clambered on and saw the cliffs quite close. It did not take long to paddle with my hands to land.

The coast is very rocky just there, but it was easy to climb ashore. Taking the dinghy with me and hiding it carefully, I climbed the steep face of the cliff. I reached a place where there was good concealment and made myself fairly comfortable waiting to see what would happen. I was well hidden when an E-Boat came round the headland. It circled slowly while one of the men on board searched the sea and island through binoculars. There was nothing for them to see. My beautiful new engine Kitty - GLX - was at the bottom of the sea and I was well concealed on the hillside. After a while they returned the way they had come."

Having found another vantage point, Parsonson watched his Squadron return to finish off the damaged E-Boat. He then settled down for the night. Unbeknown to him, an allied motor torpedo boat circled the island to rescue Jack, but he was fast asleep!

Captured by the Italians
Early next morning, Jack paddled his way by hand in his dinghy towards the mainland some twelve miles (19 kms) away. But as he came in sight of the shore he was spotted by Italian troops. Captured, he was taken to Tunis and then by Ju 52 to Sicily and Rome. Although he was looking for opportunities to escape, they never came and he was then escorted by rail to Germany and the infamous Stalag Luft III.[xi]

Life in captivity as a POW in Stalag Luft III 1943 - 1945
Jack did not settle well into POW life, and he counteracted boredom by becoming a ferocious bridge player and also helping with the digging of tunnel 'Harry' of 'Great Escape' fame. Escape was on everybody's minds and the Germans knew it:

He writes, "One day there was a great disturbance, masses of German soldiers, armed to the teeth and wearing steel helmets poured into the camp. There was a curious feeling of sinister force and dangerous influences. We were all routed out and formed up on the parade ground where we had our daily roll-call, and we waited for hours. Eventually a German General and his entourage bustled in accompanied by several civilians dressed in sombre clothes. We heard that these were members of the Gestapo. The fat little General harangued us for hours, through an interpreter, while the Gestapo and ferrets poked about through the blocks. They took up the whole day but didn't find anything of consequence."

Being both South African and irascible, he soon quarrelled with Roger Bushell, the South African born (Springs) RAF leader of the Escape Committee and known as 'Big X' responsible for all three tunnels ('Tom' 'Dick' and 'Harry') that were dug at Stalag Luft III.
In the social order operating in the RAF at that time, Bushell would have considered Jack, although a fellow South African, as coming from a lower 'class' in society and a lower rank in the air force. Bushell was in the RAF and Jack was in the SAAF. Furthermore, Bushell had been educated in England at Wellington College in Berkshire and then went to study law at Pembroke College, Cambridge while Jack had left school to work in a bank after Queens College in Queenstown.
Thus, a bumptious 'colonial' would have been put in his place by Squadron Leader Bushell. But whilst the tunnel was being dug Jack heard from his unit that he had been awarded the Distinguished Service Order (DSO) for his desert exploits. That Jack had the DSO and Bushell had only been 'mentioned in despatches' probably, in retrospect, saved Jack's life as Bushell insisted on two draws for places in the queue to exit the tunnel and Jack drew second last. Had he gone earlier he would probably have been shot by the Gestapo.
The tunnel 'Tom' was discovered by the Germans, but work continued on 'Harry' although getting rid of the soil was an ongoing issue. Jack was part of the tunnel digging and subsequently given a place in the actual escape on the night of 23-24 March 1944, together with his friend 'Jimmy' Chapel. He writes, "Finally, after a further draw the escape committee decided to tack our two names on the end of the list [of escapers] as we had worked very hard and were very keen."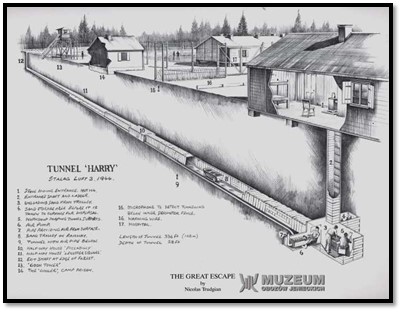 A schematic of the escape tunnel 'Harry' at Stalag Luft III
Jack was fortunate in that he was still with fellow 'escapers-to-be' in Hut 104 when the alarm was sounded. Maps, compasses and disguises were all destroyed in the hut's stove and they awaited the arrival of the German search parties.
Jack continues, "Finally, the doors were unbarred and a call for the senior British Officer to come out was shouted. I glanced around and saw Squadron Leader Griffiths, a New Zealander in the RAF and said to him, "You're the senior officer. You go out!" He replied, "No, you are!" We each lit a cigarette, assuming a nonchalance that neither of us felt, and walked out together. Outside a mass of armed soldiers stood in a circle around the end of the block with their rifles and sub-machine guns at the ready and wearing steel helmets and greatcoats. They looked formidable. Oberst von Lindeiner, the camp commandant, stood in the middle of the circle flanked by the senior members of his staff. The Oberst was obviously in a towering rage. He rapped out an order. "Geschutz!" On the order, 'Rubberneck', the senior ferret, and Glimitz pulled out their Lugers and pointed them at my chest. I thought that Geschutz meant shoot. I thought my last moment had come and could practically feel the heavy bullets striking me in the chest. Nothing happened for a moment and I thought, "I'm still alive." With that all the kriegies[xii] were called out and we were lined up in front of the barrack block. As soon as we were all outside we were marched to near the front gate and told to strip naked. It was a cold day with a bit of snow around. We stood there all day while the Germans searched 104 and did a count of all the prisoners in the compound…"

Seventy-six prisoners attempted the escape and on being recaptured fifty were handed over to the Gestapo and shot dead.[xiii] Jack's memoir describes their shock at the news of the murder of their fellow officers, among them two South African pilots known to him, Lieutenants Gous and Stevens, "The feeling in the camp remained suicidal for some time and some ideas of retaliation were talked about before things returned to normal."
Stalag Luft III is abandoned in the face of the allies advance
In March 1945 as the allies advanced all the POW's were force-marched west in atrocious weather. In April at a farm 12 miles short of Lubeck, the German guards attention began to waver and days later there was the sound of vehicles and shouting, "We rushed back to the road and saw the most wonderful sight … Montgomery's men had arrived and we were free!"
Whether he took up his entitlement to membership of the Late Arrivals and Goldfish Clubs[xiv] remains unknown, but he was certainly entitled to after being shot down three times and twice evading capture: no wonder his favoured exclamation was "Isn't it marvellous to be alive!"
Free at last
Jack was flown to the UK and then to Italy, where he met up with his old South African comrades and was promoted to the acting rank of Lieutenant-Colonel as wing leader of No. 8 SAAF spending many enjoyable hours flying Spitfires over the Italian countryside. Then in November 1945, he was ordered home to South Africa.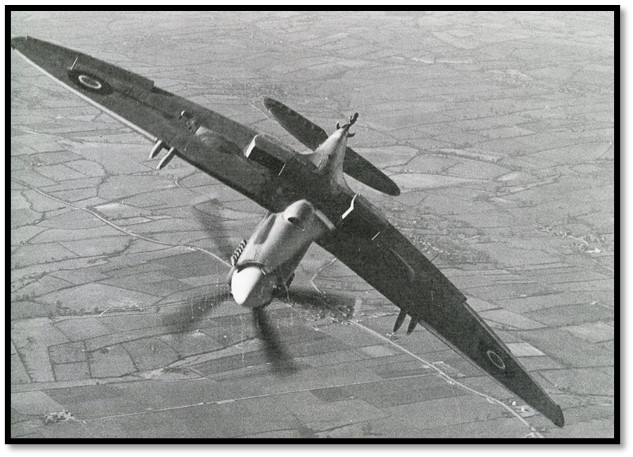 Spitfire Victory Roll, Italy 1945
Return to the SAAF after the War
At Waterkloof he held a number of staff appointments and married General 'Boetie' Venter's daughter, they divorced in 1964. During this period, he received his DSO from King George VI. The original recommendation in the London Gazette of 25 May 1943 stated, 'This officer is a fearless, determined and skilful fighter, whose example has proved most inspiring. On two occasions his aircraft has been shot down but, displaying great fortitude, Major Parsonson succeeded in re-joining his squadron. In recent air operations in the Tunisian theatre, this officer flew with distinction. In April, he participated in an engagement during which a convoy of transport aircraft was destroyed off the Tunisian coast. A few days later, he led a formation in an attack on a large number of similar aircraft over the Gulf of Tunis. During the action 20 of them were shot down, two being destroyed by Major Parsonson. His fine fighting qualities are worthy of high praise.'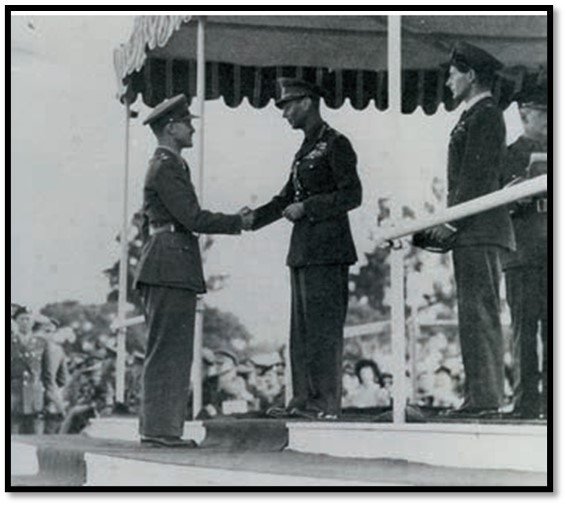 Parsonson receives his D.S.O. from King George VI, South Africa, 1947
But Jack found he could not settle down into the peacetime routine of the SAAF and resigned his commission in 1954 before migrating north to start tobacco farming.
Tobacco farming and sport in Southern Rhodesia
Very little is known where he started as a farm assistant growing tobacco but by 1968, he had purchased Nidd Valley Farm at Trelawney and in 1964 he married Joan Oliver. Joan's husband, Guy Oliver, had suffered a stroke from a war wound that left him badly paralysed and quite helpless. Jack built a cottage on the farm for him to live in where he could be properly looked after until he died. It was here that I met him in 1972.
Tobacco farming provided a living but lacked the excitement he had experienced during the War. He loved bridge, polo and golf in that order. However, his irascible nature did not make for easy passage, and he argued incessantly with those running the various social and country clubs including the Banket and Umboe Polo Clubs and with the Banket and Trelawney Golf Clubs. He was a talented golfer and was always picked for the Trelawney golf teams, especially those playing the Dimmock Cup, the district inter-club competition. It was on one of these that he repeated his desert 21-mile walk. In a car driven by Alec Houston, a neighbouring Trelawney farmer, he caused such an uproar in the car returning from a Dimmock game at Mangula that Alec turfed him out the car near Sinoia and he walked home. This didn't bother him too much and he was playing golf the next Thursday afternoon.
He was a ferocious bridge player and after his long Stalag playing experience did not suffer mistakes in bidding, or playing, and the ladies were frightened of playing with him. Sinoia Club was the bridge venue for Lomagundi district, and he participated and won many tournaments over the years.
His love of golf motivated him to build his own golf course on the farm and he had a nine green, eighteen
tee course which he maintained. He was financed by the Land Bank for his farming activities but the Land Bank Inspectors were always complaining that the money spent on the golf course should have been properly spent on his tobacco crop. The constraints they placed on his Land Bank loan, I am sure stimulated his 'borrowing' inputs from neighbours all around him.
Joan ran a very successful trading store on the farm, and from reports towards 1980 before he emigrated, this income provided their livelihood.
Jack and Joan leave Zimbabwe for Hermanus in the Cape
With the change in regime, in 1981 he sold his farm to Ben Mugabe, a relative of the leader. He then acquired a six hectare plot near Hermanus. Here he built an A frame cottage and spent his last days. These were not happy as he had to have a heart bypass operation and also suffered from arthritis and osteoporosis. By 1991 he was too ill to stay at the plot, so he and Joan moved to a retirement village near Hermanus. He used this period to write his autobiography 'A Time to Remember' but could not find a South African publisher.
He collapsed on 15th August 1992 and died in hospital the next day. His autobiography was co-written with Thomas A. Frisque and published in the USA the following year. It was disappointing in that it covered only his war years and there was little mention of life outside the SAAF in any detail. There were few mentions of his family and almost nothing on his farming life, how he had started, or any incidents during this period. For such a colourful character this was a serious omission.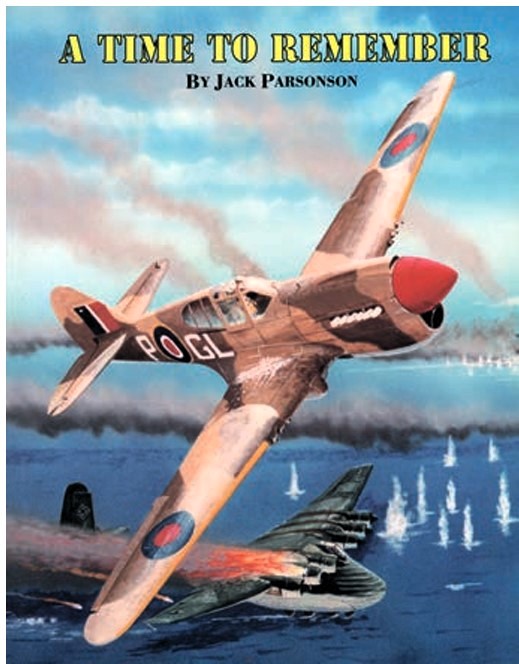 Cover of A Time to Remember
A great character
So passed on a legend in the South African Airforce and a great character in the Mashonaland Country
Districts. He was a smooth talker, and I enjoyed his banter, but kept well away from him on the bridge table. I never played on his farm golf course, probably because I had sent my staff over to retrieve the 'borrowed' TRB equipment. His rare Second World War Desert Air Force ace's D.S.O. group of five awarded medals were sold by Spinks on 19 April 2018 as Lot 44 below, DSO prominent on the left, and fetched £4,500 at auction.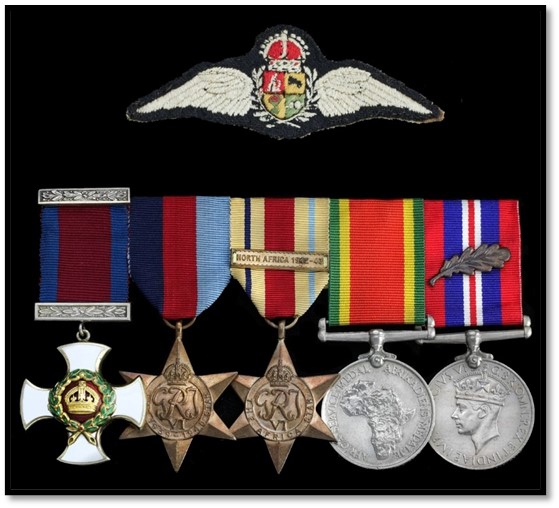 Distinguished Service Order, G.VI.R., silver-gilt and enamel, the reverse of the suspension bar officially dated '1943'; 1939-45 Star; Africa Star, clasp, North Africa 1942-43; War Medal 1939-45, M.I.D. oak leaf; Africa Service Medal 1939-45, these four officially inscribed, 'P102686 J. E. Parsonson', together with his embroidered S.A.A.F. Wings and three metalled S.A.A.F. badges, occasional edge bruise, generally good very fine (9)

A tribute by Major-General R. 'Dick' Clifton, S.A.A.F.[xv]
"Jack Parsonson was, in fact, shot down three times - first, by Afrika Corps light flak, then by the Luftwaffe - a gaggle of Me. 109s - and, finally, by the German Kriegsmarine (a motor torpedo boat). It was an extraordinary story of escape, recapture and then escape. It was on the third occasion, on 30 April 1943, that his luck ran out.

Gunfire from the E-Boat he was attacking hit his aircraft in the coolant rad. As he was going down, streaming glycol, his calm voice, sounding very matter of fact, came over the R./T. "Well boys, I've had it!" He ditched in the sea near Zembra Island, paddled ashore in his dinghy, and hid up for two nights and a day.

Confident that if he could reach the mainland in darkness he could then evade the enemy, he set out to paddle the dozen or so miles to the shore. Unfortunately, he was spotted, taken prisoner and this time they made sure he didn't get away. So, while Rosy du Toit survived four operational tours and was, in time, promoted to command 8 Fighter Wing of the S.A.A.F. as a full Colonel, poor old Jack champed at the bit in Stalag Luft III.

Jack Parsonson's reluctance ever to shoot the line often leaves one wondering just how he really felt when the chips were down. When you ask him about it, he just laughs and passes it off. "I was terrified, old boy, absolutely petrified. But weren't we all?" And still one is left wondering …"
Jack Parsonson's flying Log Book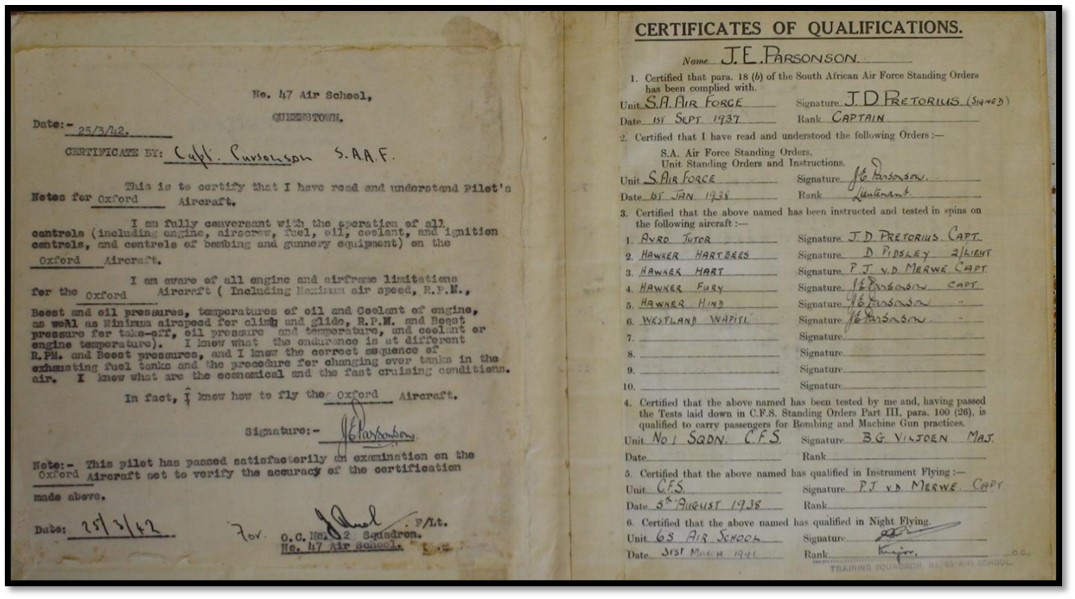 Parsonson's original Flying Log Book is held in the collection of the S.A.A.F. Museum at Swartkops; it is available for viewing on: http://saafww2pilots2.yolasite.com/jack-parsonson-log-book.php

References
D. McClymont. Jack Parsonson – one of MCD's colourful characters
J. Parsonson and T.M. Frisque. A Time to Remember. Aviation Usk, 1993
Spink. Orders, Decorations and Medals. Lot 44, P111-119, 25-26 April 2018, London
Notes
---