Gore was a greedy man
By Darwin Chakabva
These stories of Shona Customs were first published in 1970 and were amongst the best essays received in a nationwide essay competition on Shona culture and tradition. Their authors ranged from a 15 year-old schoolboy to a university student and they came from Sakubva in Mutare to Berejena Mission near Masvingo.
Although more than 50 years have passed since the essays were written and many aspects of Shona customs have changed, it is hoped that the stories will give insight into what many parents and grandparents of the present generation learnt from their own relations in the 1960's.
Mambo Press, originally established by the Catholic Church at Gweru, publishes a wide selection of books in many subjects and for a wide audience.
This story was told to me by my grandmother. She is proud of telling her grandchildren stories of the past. This story is about my own tribe, the Makorekore, who inhabit the northern part of Rhodesia in the area called Urungwe.
My grandmother says there were always greedy people in our family. Her son-in-law, Gore, had two wives who never quarrelled. They were as though born from the same mother. Their husband Gore was a different creature. Gore never dreamt of working and he never helped his wives who spent most of their days in the fields or in the bushes gathering firewood or picking fruit. When Chona, my grandmother, asked him about his behaviour he could only say: "I have wasted my riches and my father's too in order to marry these two lazy wives. So I will do what I want without fear of interference from anyone."
His children were lazy too. One year the family ran short of food. Gore that he must do something to help himself, but not his family. This was no time for him to stay at home because his wives gave him so little food. One day his younger wife, Pedzai, brought a dish of sadza and a kind of vegetable called tsunha. She told her husband to share the food with his four children. Dambudzi, the elder wife and Pedzai left to go fishing. On the way Pedzai told Dambudzi that she had seen the look on go Gore's face and she knew that the look meant something. They talked about their husband and both agreed that he was greedy, lazy and never gave a thought to his family.
Later they returned without having caught any fish. Their children told them that they had not had anything to eat. They said that when their mothers had left, Gore sent them out to look for firewood. The children left unhappily and when they returned they saw their father beating the dog. He told them the sad story that the dog had eaten all the food. The children didn't argue, but they noticed the white morsels on their father's lips. They knew it was sadza. The children told all this to their mothers. The father heard it too. He was sad to see his wives unhappy and to hear his family crying for food, but he was pleased that he himself was not hungry.
It was a bright, cloudless day and Gore believed that it was his birthday. He told his wives to get their pots ready and he left the village early in the morning with his dog, Topera. Topera means "we shall perish." The name was given by the wives. At midday Topera caught a big fat hare. Gore also caught ten mice. He prepared a fire to cook his food. He ate all ten mice and roasted the hare. He sat for a long time thinking what to do with the meat. He ate some and hid the rest. Later Gore visited this place again to finish the meat. This time he was discovered. Gore was tried by the tribal elders and found guilty of greediness. His two wives divorced him.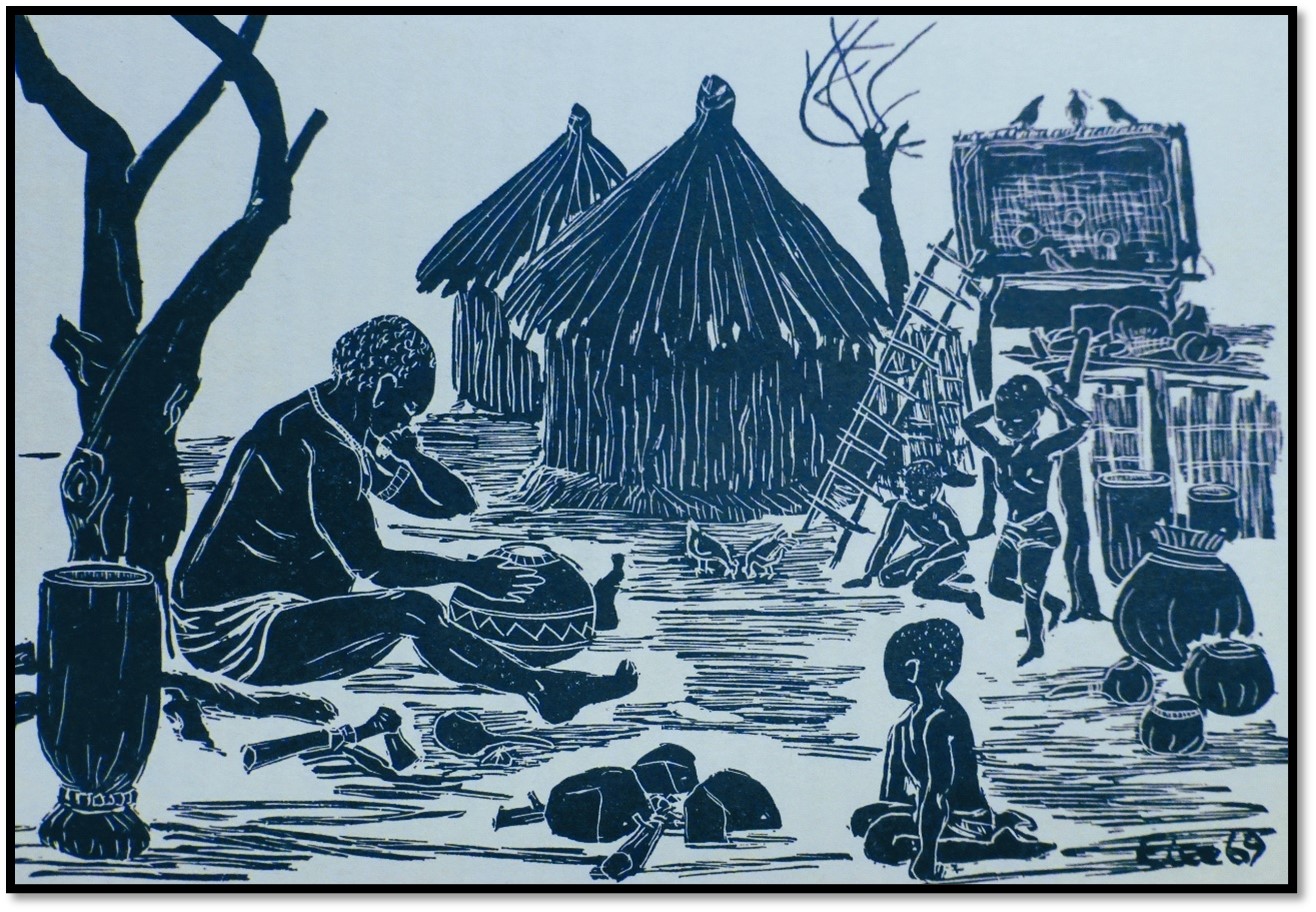 Reference
Clive and Peggy Kileff (Editors) E. Lee (illustrations) Shona Customs. Mambo Press in association with the Rhodesia Literature Bureau, Gwelo, 1974