Early European visitors to Hartley Hills goldfield
Why Visit?:
In 1890 there were four well-known gold-fields. The Mazowe Valley, the Northern, near LoMagondi's (north of modern Chinhoyi and on the Angwa River) the Mupfure River (formerly the Umfuli) or Hartley gold-fields and the goldfields of Manicaland, especially Penhalonga.
Many of the men who came had gold fever and had to decide to which of the known goldfields they would go; travelling according to their means with donkey and pack oxen, or horseback, or by wagon.
One of them was William "Curio" Harvey Brown, who had accompanied the Pioneer Column. Major Frank Johnson of the firm Johnson, Heany and Borrow offered Brown a wagon and span of oxen, driver and leader, as well as a horse, if he would take a wagon of provisions to Hartley Hill and supply the prospectors with meat from shooting game; the skins and skeletons would be for the Smithsonian Museum for whom Brown was collecting specimens.
Dr Hans Sauer, was another visitor in 1891, asked by Rhodes asked to take charge of an exploration company, the Rhodesia Exploring Syndicate, which he did for the next twenty years. Their biggest investment was the Ayrshire Mine.
Another early visitor to Hartley Hill was Lord Randolph Churchill, father of Sir Winston Churchill, a shareholder of the BSA Company, who was paid £100 for each letter he wrote for the Daily Graphic describing his travels. His entourage included HC Perkins, a well-known American mining engineer and also Hans Lee, so of John Lee, as hunter guide. Churchill had considerable personal gifts, but also an overbearing personality and was famously described in Salisbury (now Harare) as someone who would offer you tea; whilst he himself drank champagne!
How to get here:
Hartley town on the A5 national road is now named Chegutu. The original Hartley Hill goldfields are east of the junction of the Mupfure River (formerly the Umfuli) and the Chimbo River (sometimes marked Zimbo) The area is easily reached from the main Harare Bulawayo A5 National road 71 KM from Harare, by turning left off the National road at the roundabout, south toward Ngezi Mine. At 7.2 KM continue past Chengeta Safari Lodge turnoff on the left and at 15.73 KM reach Seigneury Road intersection. Turn left onto the gravel road, 17.54 KM go to the left of the Seigneury store, 17.69 KM cross the Chimbo River, 18.00 KM pass the stamp mill on your left, 18.62 KM stay on main gravel road, pass old gold diggings on your right, 19.11 KM a farm track turns left for Fort Hill. (i.e. 3.3 KM from the tar turn-off) 19.27 KM take right-hand fork, 19.62 KM park car and the fort is on the summit of the kopje to your left. Johnson's kopje is to your right. 350 metres northwest of Johnson's kopje are the two peaks of Hartley Hill mining camp next to the Chimbo Stream. See the Google earth image for the layout of the original site.
GPS reference for Fort Hill: 18⁰12′05.81″S 30⁰23′46.11″E
GPS reference for Johnson's kopje: 18⁰12′01.16″S 30⁰23′47.41″E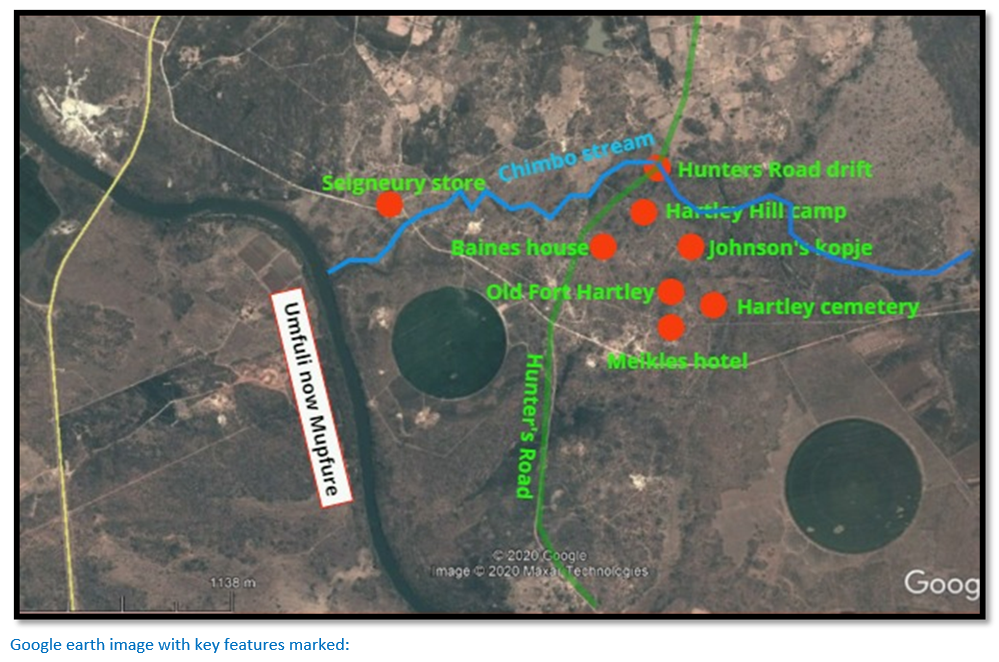 William "Curio" Harvey Brown describes how on 1st October 1890 the Pioneers were disbanded at Fort Salisbury. The BSA Company issued licences at a shilling each, entitling prospectors to peg a block of ten claims (fifteen if they were a Pioneer) each 45 metres (150 feet) in length by 120 metres (400 feet) wide. In return the BSA Company claimed the right to fifty per cent of the shares issued in any stock companies formed to exploit the gold discoveries.
He took the second wagon to go to Hartley Hills and was accompanied by some prospectors and Mr. Surrage, the parson. Along the way they killed a large black rhinoceros which the whole party helped to skin along with much joking about how once they had made their fortunes they would all journey to see the skin and skeleton exhibited at the 1893 Chicago World Fair. On reaching Hartley Hill, they found the ground pegged in all directions on top of the pre-existing "ancient gold workings." Many of the prospectors were enthusiastic over their finds and showed Brown specimens of quartz with visible gold and told him to "peg your ground, or lose your chance for a fortune," but his real interest still lay in collecting specimens and he went hunting south of the Mupfure River. In three weeks he shot and preserved specimens of eland, roan, tsessebe, reedbuck, sable, Burchell's zebra, kudu, oribi, impala, warthog and jackal, and with a wagon load of skins and horns, returned to Hartley.
At Hartley Hills he met James Dawson, the trader, and a party of Indunas, sent by Lobengula with the ironic message that he was glad the white men (i.e. the Pioneer Column) had arrived safely in Mashonaland without accident, or sickness.
It was now the rainy season and Brown was given permission to build a hut on Johnson's kopje where the firm of Johnson, Heany and Borrow had built their own huts with poles, dhaka and thatch. This he covered with a "wagon-sail" to make it waterproof and to keep his animal specimens dry. Food was scarce; mostly Boer meal, sugar and split peas, supplemented by game meat.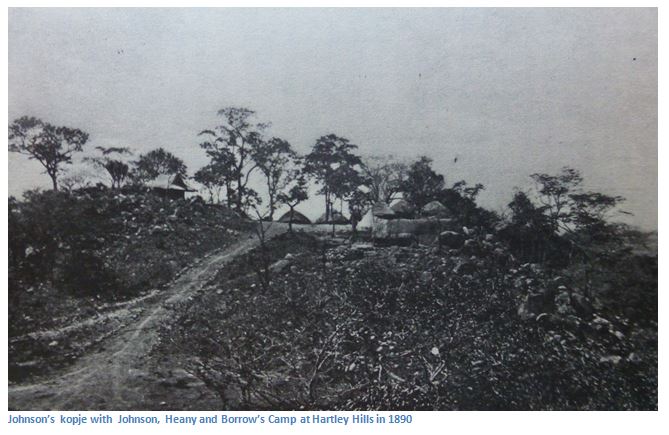 Soon the 1890 rainy season was upon them; so heavy was the rainfall that Brown describes the country around as one vast frog-pond and in spite of all his efforts, his specimens became covered in mould. In the meantime, quite a community of prospectors had collected at Hartley Hills, the largest camp near where the Chimbo River (sometimes called the Zimbo) joined the Mupfure River (formerly the Umfuli) at the site of "ancient workings" which consisted of mounds of earth. Long trenches and excavations were not dug continuously on the quartz reef, but in places where rich ore was found.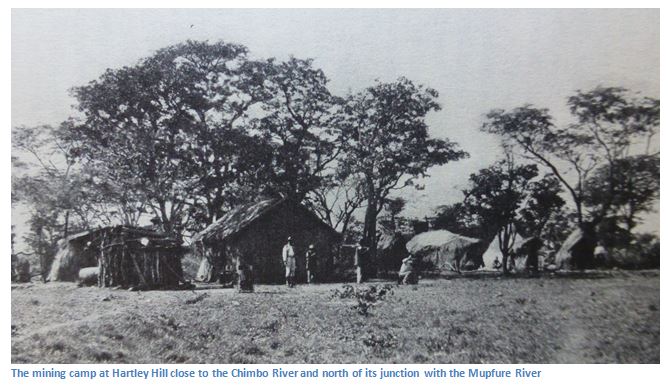 Brown visited the various camps and watched the men crushing the quartz in small iron mortars and then panning the powdered stone in nearby streams to find the gold. He says the "ancient miners" were thorough in their search and any outcroppings of quartz not worked by them were always barren of gold. Most prospectors paid the Mashona in blankets, or articles of clothing, or beads or cartridge cases to lead them to "ancient workings" in the bush.
In early December 1890, the father of one of his servants offered to lead Brown to a fine "magodi" or old working, about a day's walk down the Mupfure River. They arrived just before dark in the rain and sheltered in a hut speedily erected. Next morning, he was astonished to see the enormous amount of work that had been carried out; over five acres of ground many pits had been dug and the earth thrown onto mounds. However knowing nothing about gold-mining, Brown decided the reddish slate was used for making paint and was more interested in the large number of elephant skeletons lying around which have been killed for their ivory, perhaps by Henry Hartley around 1866.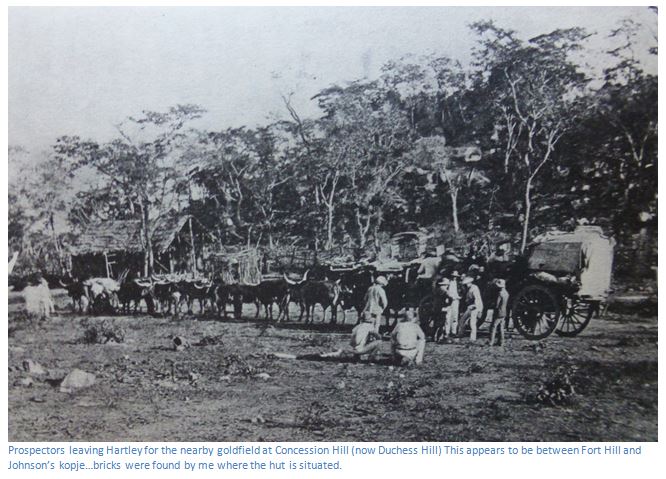 Next day back at Hartley Hills, the father of another of his servants says he knew of the site of another old working; this time in the fly country. (i.e. infested with tsetse fly) They made slow progress south as his servants insisted on following every "honey bird" which lead them to a bees nest. They arrived at the Mondetonga River and made camp on top of one of the neighbouring hills; this is probably the Mombe River at Concession Hill, the site of the present-day Pickstone Mine. Brown found many grinding stones scattered about, and also "dolly holes" worn into the rock which he describes as small mortars for crushing the quartz. Elephants spoor was still plentiful, their paths as easy to travel over as a well-beaten road. The elephant came in the rainy season and then travelled northwest towards the Zambezi Valley in the dry season. Although doubtful as to the worth of his gold claims, Brown registered them next morning with Graham, the Mining Commissioner, who had an office at Hartley Hills and then returned to crush some quartz with a small hammer and panned the dust in his frying-pan.

Travelling less than three kilometres down the Mupfure River, Brown discovered extensive old workings and tramped over acres of them, becoming quite bewildered as to where to locate his next block of gold claims. He crushed more quartz and panned it in his frying-pan; finding such excellent traces of gold that he became really quite excited. He had left from Hartley Hills with just 5kg of meal, so now he has just meat and honey for food. Lions roared all night and next day he reached the Umsweswe River and killed an eighteen foot crocodile; but his servants would not cross the river, saying they are afraid of the amaNdebele. Brown thought they had honey fever as badly as he was developing gold fever!
Back at Hartley Hill he confided in John Hawes, a prospector, who became very guarded and assured Brown it would be better to keep the find everything a secret between themselves and then offered to accompany Brown to Concession Hill (now Duchess Hill) to give him the benefit of his gold-mining experience and help to peg his claims. On their arrival at Concession Hill, Hawes became excited at the sight of so much unpegged ground; they were both sure that somewhere in the area lay the source of their fortunes, if only they could pick the right spot! They came across the wagon trail that Mr Harmon, a mining engineer, has taken to a new exciting gold area called the "Eiffel district" about which an air of mystery prevailed and decided to follow the tracks.
John Hawes' prospecting technique seems to have been to break off bits of quartz and then lick them with his tongue for signs of visible gold. On examining a piece of quartz knocked off by the wagon, he found it rich with gold and slapped Brown on the back exclaiming "Brown, we're made men!" However, after several exhausting hours' work with pick and shovel, they found it was only a narrow stringer of quartz and gave up by nightfall, the last day of 1890, in despair.
They reached the "Eiffel" and the camp of Robert Jameson and Stier; at the time considered to be the richest gold-field yet discovered and their eyes bulged with astonishment at the visible gold in the quartz samples they were shown. Going back to Hartley Hill they lost the wagon road, travelling in very wet conditions, sometimes wading through streams up to their necks, and hearing lions roaring in close proximity. At last exhausted, they slept on the wet grass, tormented by midges and mosquitoes with Brown saying the frogs made as much din as a boiler factory with hundreds of hammers beating rivets! In time at Eiffel Flats, the Cam and Motor Mine became the largest gold producer in the country producing one hundred and fifty tonnes in its lifetime with its main shaft descending 1,800 metres; today, it is an open cast operation.
That rainy season of 1890-1 was exceptionally heavy with over 127 cm (50 inches) of rain; their Boer meal, sugar, honey, beans and biltong ran out and the men at Hartley Hills were reduced to eating pumpkins and rice which they exchanged with the local Mashona for empty brass cartridge cases…these were smelted in a charcoal furnace into a rough brass rod and then beaten into ankle and wrist bangles for the women.
Towards the end of February a wagon-load of prospectors, some sick with malaria, left for Salisbury (Harare) and in mid-March, Brown left with two others on the journey of ninety-five kilometers which he made barefoot through continuous mud and swamp. As soon as they reached Salisbury they enjoyed a supper of beef soup and beefsteak pie, and then Brown went down with fever. Doctor Rand fixed him up with some horrible medicine called "Rand's Kicker" and his friends supplied him with the best food their larder contained: boiled split peas and dry ship biscuit!
Brown returned to Hartley Hills in February 1892 to re-peg his claims and found that three ten stamp mills were crushing quartz on the site. The BSA Company anticipated a boom; but Doctor Rand who was asked to report on the health of the area said that after two years anyone living here would be: "either dead, or a lunatic."
Roger Summers in his book Ancient Mining in Rhodesia records the following mines and claims under his Area 31 for Hartley Hill with their estimated pre-European outputs.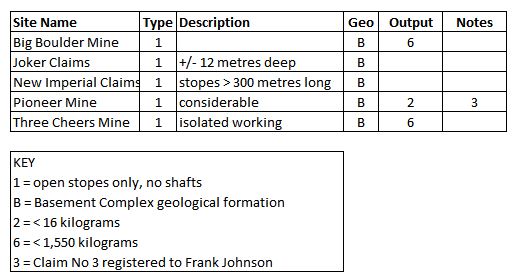 Much larger outputs were recorded for pre-European mining in the following surrounding areas:

Dr Hans Sauer was another early visitor to Hartley Hills. From Vryburg he and Bob Williams, a mining engineer and later Sir Robert Williams, Bart., of Tanzania fame, trekked in a large tented buck-wagon drawn by a team of eighteen oxen and took the path of the Pioneer Column the year before to arrive in August 1891 at Salisbury which he describes as having just a few wooden shanties and pole and dhaka huts with thatched roofs…fortunately with their large tented ox-wagon they did not need housing.
He and Williams trekked to Hartley Hills, because he says it was the only district where "old workings" had been found on gold reefs and there they found the party of Lord Randolph Churchill with Alfred Beit, Percy FitzPatrick (author of Jock of the Bushveld) Frank Johnson, Borrow and many others. They were dressing before having dinner with Beit when a lion roared nearby and their small terrier promptly bolted under the wagon. Lions were soon heard all around the camp, but they stayed in the darkness out of the light of their fires. The lions killed two of Henry Burrow's horses, and the roaring and fighting kept them awake all night; needless to say none of Beit's guests turned up for dinner.
Whilst Williams and Maund visited the more outlying districts, Hans Sauer examined the old workings at Hartley Hills which he found disappointing. They concluded the time for acquiring gold claims had not yet arrived and on their return journey to Salisbury they were attacked by a lion which Sauer shot and wounded.
They returned to England via Beira; Williams preceeded Sauer and on his arrival at Umtali [see Old Umtali – the second site, on the website www.zimfieldguide.com] stopped his cart outside Col. Heyman's house where he was staying the night when a large lion leapt on one of the mules, broke its neck and dragged it away into the darkness.
Lord Randolph Churchill's journey started in Cape Town where they travelled by train to Vryburg and then by two private coaches to Johannesburg and Pretoria and then through Fort Tuli to Salisbury by ox-wagon. From Salisbury two roads went to Hartley Hills. The lower road followed the main road to Fort Victoria (now Masvingo) as far as the Hunyani River (now the Manyame) when it turned off west. The upper road travelled north west from Salisbury before turning west and then south. Perkins and Rolker, the mining experts with Capt. Williams took the lower road, whilst Hans Lee and Churchill took the upper route in order to do some shooting along the way! A summary of Churchill's diary shows a great many animals were killed, but that he was not a great shot.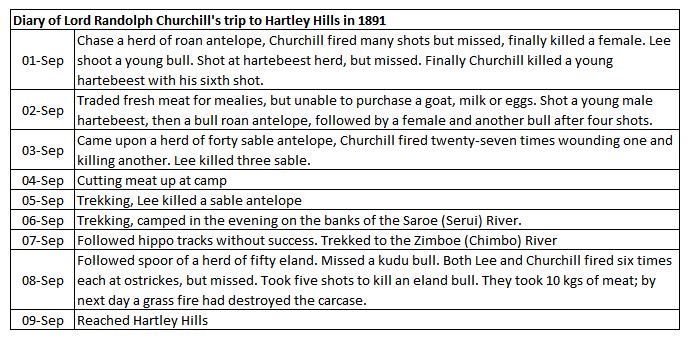 Churchill described the countryside as wide undulating plains, dotted with kopjes and long belts of thick bush. Surprisingly for September, the Chimbo stream still was still running in its rocky bed into the Umfuli (Mupfure) River which Churchill describes a fine piece of water. Hartley Hills he says has little attraction, having an unhealthy, stuffy appearance with the soil much tainted by numerous outspans and a plague of black flies which persecute one from morning until evening.
On Johnson's kopje, which he incorrectly describes as the higher; Johnson, Heaney and Borrow had built huts and store-houses. On the kopje two hundred metres away, later named Fort Hill, Graham the Mining Commissioner, had his offices and house which six years later, these were converted into BSAP and Natal Troop accommodation at Fort Hill.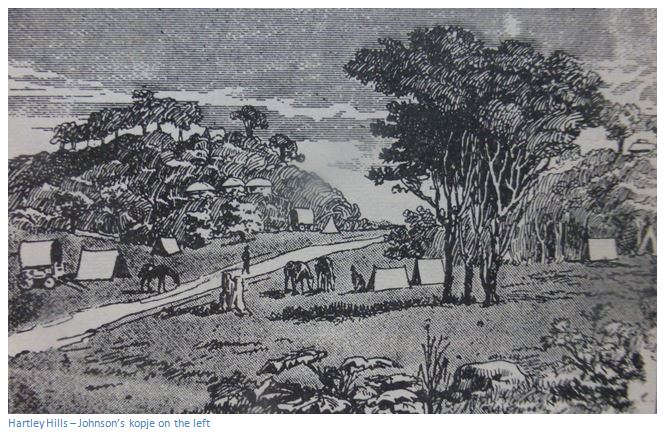 Lions were a nuisance, the first night of Churchill's arrival, a donkey was carried off from Johnson's kopje with the lion returning on successive nights. One of Sir John Willoughby's prospectors heard a noise in the night and fired at three large animal shapes in the dark; killing three of Sir John's donkeys!
Alfred Beit accompanied Perkins and Rolker into the "Eiffel district," then Major Giles, Capt. Williams and John Willoughby turned up followed by the other members of the party. Lord Churchill, as was his custom went hunting and shot a roan antelope bull. A few days later, a lion charged Dr Rayner coming too close for comfort before being killed by Hans Lee, the lion measuring 12 feet 3 inches (374 cms)
Churchill concluded that Mashonaland was neither an Arcadia, nor an Eldorado. The Mazoe district, Hartley Hill and the much talked about "Eiffel" districts were all disappointing. The reef outcrops had a wonderful appearance of visible gold, but the results were poor when the ore was crushed and panned. Mackay went with an experienced prospector down the Mupfure River to the Chakari district, today the site of the Dalny and Turquois Mines, but found only unpromising quartz specimens.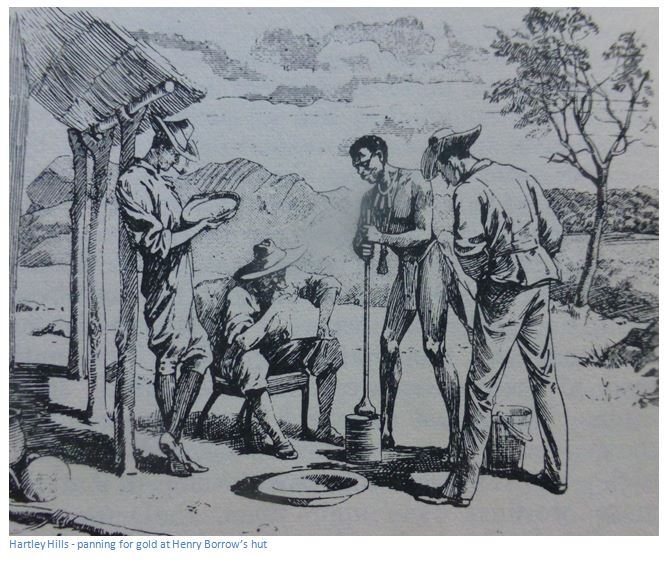 Perkins told Churchill he had never been in a gold area where so few promising samples had been found. Despite the unfavourable opinions of the experts, Churchill purchased a half share in a mine belonging to Johnson, Heaney and Borrow! On their last day at Hartley, Perkins was examining an old reef which had a narrow shaft at its base. Whilst waiting for a rope and talking on the edge, a leopard dashed out of the shaft and between their legs before bounding into the bush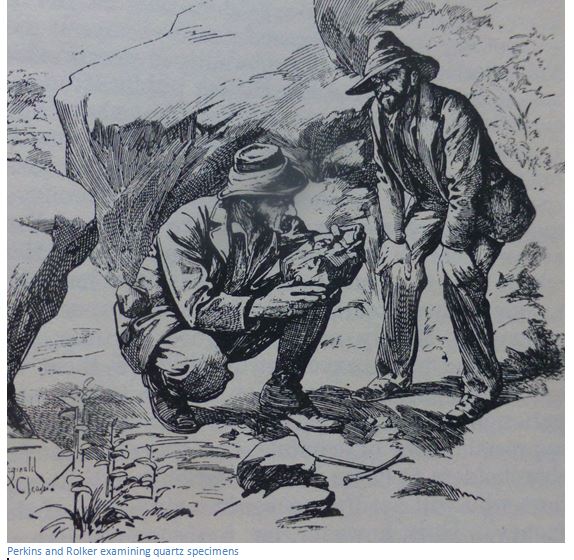 Acknowledgements
R. Summers. Ancient Mining in Rhodesia. Trustees of the National Museums of Rhodesia, 1969
T. Baines. The Gold Regions of South Eastern Africa. Books of Rhodesia 1968
W.H. Brown. On the South African Frontier. Books of Rhodesia 1970
H. Sauer. Ex Africa. Books of Rhodesia 1973
R.S. Churchill. Men, Mines and Animals in South Africa. books of Rhodesia. 1969