Chirundu
Why Visit?:
Camping and lodges for hire
Fun canoeing and boating on the Zambezi River
Excellent river fishing for tigerfish, bream, cornish jack, vundu/catfish, bottlenose, cheas, nkupe, robbie and barbel
How to get here:
Chirundu is situated on the Zambezi River at the border with Zambia. Take the A1 Harare to Chirundu national road, 115 KM reach Chinhoyi, 207 KM reach Karoi, 292 KM reach Makuti, 352 KM reach Chirundu
GPS reference: 16⁰02′31.16″S 28⁰51′30.10″E
Chirundu is the border town between Zimbabwe and Zambia with a new one-stop border control and customs and facility based on the Zimbabwe side of the Zambezi River. The Zambezi is only about 370 metres wide at Chirundu and two transport bridges span the Zambezi River here. The old Otto Beit Bridge, a steel suspension bridge, was built in 1939 and named after Alfred Beit's younger brother; the Beit Trust funded the Bridge, and is a single span of 382 metres, but with only one lane and an ever increasing amount of heavy lorry traffic between the countries this inevitably led to long queues and waiting time. In the early 2002 the new Chirundu Bridge with two lanes was constructed 90 metres upstream from the old one. It is the typical modern concrete box girder bridge 400 metres long.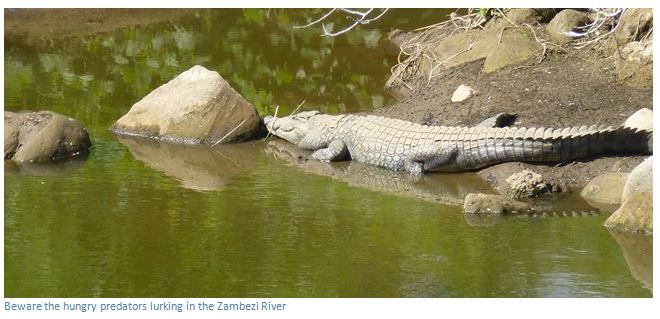 Chirundu town is almost always hot and dusty and full of massive haulage trucks waiting their turn to complete the border formalities as the facilities are still really inadequate and too cumbersome to cope with the volumes of traffic and crossing the border is often a tiring and tedious process. Chirundu town has little to recommend it; its' only real charm is the fact that elephants, baboons and vervet monkeys often wander through the streets on their way from the river to the bush.
RIFA Conservation Education Camp (www.rifaconservation.org) is based within a few kilometres of Chirundu and is managed by the Zimbabwe Hunters Association and partnered by Zimbabwe Parks and Wildlife Authority. Camps are designed for thirty Zimbabwean schoolchildren and three or four teachers to stay for a period of a week within the protected wildlife area and to study wildlife conservation and environmental education and to build awareness of the country's amazing ecosystem; since its establishment in 1981 over 20,000 schoolchildren and teachers have been through RIFA's programme.
Together with other local conservation groups such as The Zambezi Society (www.zamsoc.org) and Birdlife Zimbabwe (www.birdlifezimbabwe.org) these groups are working on a master plan so all interested parties in Zambia, Zimbabwe, Mocambique and Botswana ensure the Zambezi River is sensitively managed to benefit the wilderness, the wildlife and the people.
The draw card for Chirundu is the fishing camps and accommodation available close-by and particularly the Zambezi Tigerfish which are caught using spinner, bait of fly from either the bank or on a powerboat. Other popular fish that are caught include Cornish jack, bream, vundu / catfish, bottlenose, chessa, Nkupe, Robbie and barbel. The operators listed below have powerboats and experienced guides who know the Zambezi River for hire.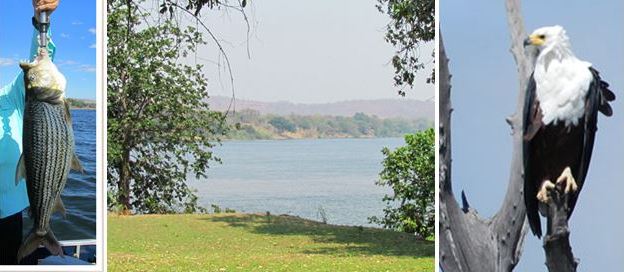 There are a number of comfortable lodges a few kilometres downstream from Chirundu with spacious lawns and shady trees leading down to the Zambezi River. It is from their jetties that many of the canoeing trips start down the Zambezi into Mana Pools National Park and onto Kanyemba and they are well-known for the hard fighting tiger fish of the Zambezi. Recently they have become a popular setting for outside weddings and there have been reports that elephants have been gate-crashing the parties in the evening.
Tiger Safaris (www.tigersafaris.co.zw) at Chirundu have six thatched, fully-equipped self-catering lodges; five can sleep six people in each, and the sixth can accommodate eight people. The camp is situated on the Zambezi River just downstream from the Chirundu Bridge and is easily accessible from the main A1 highway; this delightful and informal camp is a popular spot for keen fishermen and women and for family holidays. Bring your own boat, or hire a speedboat with an experienced skipper who knows the river well and can take you to the best fishing spots in the area.

Jecha Point Fishing Lodge (www.jechapoint.com) and campsite about 3 kilometres downstream from Chirundu is well-known for good catches of tiger fish, some over seven kilograms which are after weighing and photographing are revived and released back into the river. The lodge accommodates 12 people in comfortable, en-suite, stone-under-thatch chalets set in shady and lawned surroundings on the banks of the river. There is also a campsite with newly-constructed ablutions and a braai/barbeque pit which can accommodate several parties of campers adjacent to the Lodge. Self-catering and fully-catered options are available, as are boat launching facilities and hire of boats and experienced drivers / fishing guides can be arranged. An attractive feature of this lodge is the raised wooden "tree-house" game & bird-viewing platform built into an acacia tree and overlooking a watercourse behind the lodge.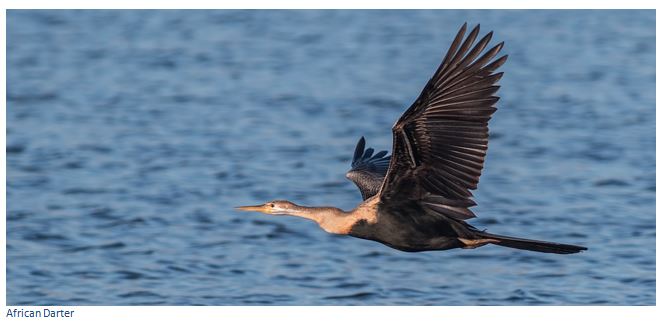 Nyamoumba Lodge (www.facebook.com/Wild Dog Tours) is situated upstream of Chirundu where Zambezi River emerges from the Kariba Gorge. It is a self-catering fishing lodge sleeping eight people in four full-serviced, en-suite chalets with an open-plan central dining / bar area overlooking a pool and barbeque area in shady gardens at the edge of the river. Electricity is provided by a silenced generator and solar-energy panels supply hot water. Visitors can bring their own boats or hire the lodge's skippered craft for fishing expeditions downstream towards Chirundu, or upstream into the Kariba Gorge. There are four lawned campsites with picnic facilities under shady trees; each has its own individual ablution-block / kitchen. Access is by air charter to a nearby airstrip, or via a two-hour dirt road journey along the Zambezi escarpment from Marongora or by boat.
Mongwe is a community of privately run fishing camps situated within the Hurungwe Safari Area between Chirundu and Mana Pools National Park with the land privately leased from Zimbabwe Parks and Wildlife Authority with a hunting exclusion zone around the camps. This initiative with National Parks has been heralded as a breakthrough and combined with an anti-poaching effort, planting trees and grasses in the nearby disused sugarcane fields and developing conservation education through paying volunteers has been a great success. The popular fishing area has a number of river-side camps open to visitors on a self-catering, or fully-catered basis.
Halsted Safaris (www.halstedsafaris.com) fishing and safari lodge sleeps a maximum of 8 people in 4 comfortable chalets nestled into the trees at the edge of the Zambezi River at Mongwe – roughly half way between Chirundu and Mana Pools. Surrounded by green lawns with a central, shaded lounge/bar/dining area with a pool deck overlooking the river, Halsted's Camp has internet facilities, boats, drivers, fishing guides and well-trained staff to look after your every need. The camp can also be hired on a self-catering basis by groups of minimum 6 people (maximum 8).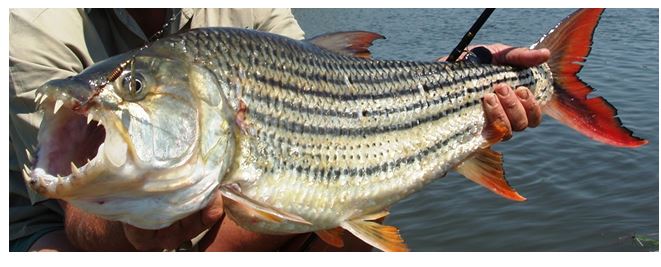 When to visit:
Closed in the rainy season December to March
Fee:
Entrance and accommodation fees charged