Chengeta Safari Lodge and Pamuzinda Safari Lodge
Why Visit?:
Between the two lodges there are over 8,000 hectares of private game reserve for game drives.
Mammals include Elephant, Lion, Buffalo, zebra, giraffe, eland, kudu, tsessebe as well as many of the smaller antelope and other species.
A remarkable selection of approximately 350 bird species which are attracted by the rivers on both properties including the crowned eagle and the African fish eagle.
A wide range of activities for visitors.
Easy access from Harare for international visitors wanting an introduction to safari life and local residents who want to a weekend break.
How to get here:
Both Chengeta and Pamuzinda are reached from the main Harare Bulawayo national road (A5) 71 KM from Harare, 2.95 KM after Selous reach the roundabout, turn left off the national road toward Ngezi Mine, 7.2 KM reach Chengeta Safari Lodge turnoff on the left, take the gravel road, 8.85 KM reach the entrance to the Safari Park, 9.41 KM reach Chengeta Lodge.
For Pamuzinda Safari Lodge continue past the Chengeta Safari lodge turnoff, 11.6 KM reach Pamuzinda Safari Lodge signpost and turn right onto a gravel road, 13.64 KM pass Shumba Lodges, 14.3 KM turn left, 14.4 KM reach Pamuzinda Safari Park, 15.2 KM reach airstrip, 16 KM reach Pamuzinda Safari Lodge.
Chengeta has seven double-bedded and nine twin-bedded rooms, all ensuite which are grouped around attractive gardens with indigenous trees and two swimming pools and overlooked by a thatched dining room. Guests can undertake numerous activities from horse-riding, or canoeing and fishing on the Chimbo River for the active, or enjoy day and night game-viewing drives and clay-pigeon shooting, or just chill by the swimming pool and enjoy the outdoor bush atmosphere and many people Harare residents make the journey for Sunday lunch and the Chengeta atmosphere.

Pamuzinda Safari Lodge has a 4 star rating with fifteen individual lodges with private gardens and balconies overlooking the Serui River, including two luxurious royal lodges. They each have en-suite bathrooms and private garden showers. A central complex has a communal dining and river deck and there is a separate conference centre which can accommodate up to thirty attendees. The Safari Lodge is very popular for corporate events away from the distractions of Harare and also for wedding parties.

Shumba Guest lodge is just four kilometres away on the edge of the Safari Park and can accommodate up to twenty-three people on a sharing basis.
Activities for the adventurous include taking an elephant-back ride through the bush, or just interacting with the two adult elephants, Boxer and Shorty and Mambo the baby and their handlers which can be a truly memorable experience. Visitors can join in at bath time in one of the smaller dams within the Pamuzinda Reserve.
Visitors can travel by horseback or on-foot safaris accompanied by a Ranger around the game reserve and see the animals in their natural environment. Horse-rides cater for both complete novices wanting an hour or two's ride; or experienced riders wanting a half or full days' ride, which can include a picnic lunch. Safe canoeing is available on the Serui River within Pamuzinda, or the Chimbo River at Chengeta, as well as a large dam on the outskirts of the Chengeta reserve. For a more sedate cruise, try the pontoon boat powered by a silent battery driven motor along the Serui River.
There is no need to get unfit whilst on holiday: early morning or evening bush walks can be arranged with experienced guides. Game drives in open game drive vehicles are generally taken both morning and evening or at night-time to see those nocturnal animals and for guests staying for more than a day, drives can be taken within both reserves. Fisherman can try their skill for bass, barbell or bream on the Serui River at Pamuzinda, or on the Chengeta Dam; both safari Lodges can provide basic rods and tackle and clay pigeon shooting is also available.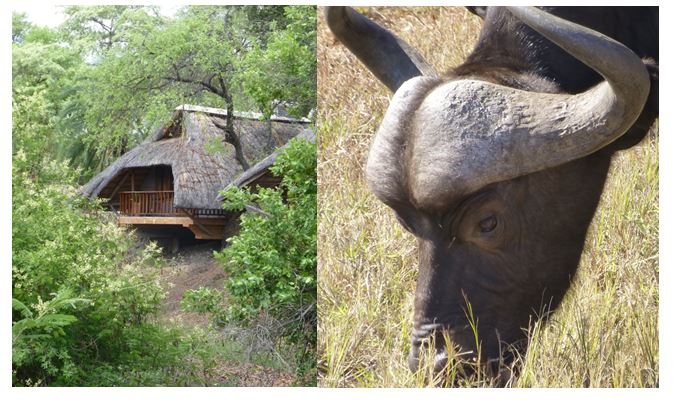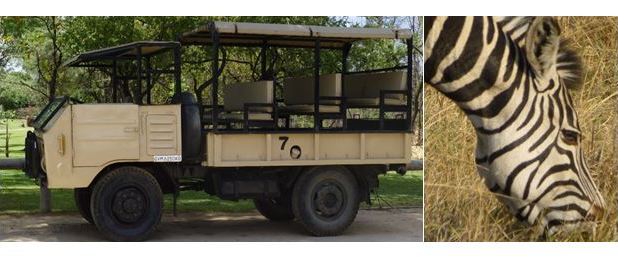 Fee:
Entrance and accommodation fees charged