Blackwater Fever
In his amusing and evocative book Percy M. Clark provides an insight into life at the Old Drift above the Victoria Falls where the major problem was malaria. Quinine was readily available, but the mosquitoes and the choice of a poor site to form a settlement, at the narrowest point of the Zambezi, but in swampy low-lying ground, caused the death of many from blackwater fever. In late 1902 Dr J. Wilson arrived and set up a private clinic. At the end of 1902 many settlers were fever ridden, and by January 1903, the doctor, and soon after two pharmacists, had also died and by March 1903, out of the thirty-one settlers there, no less than eleven (i.e. 35%) died of blackwater fever, or malaria. Many of the early settlers were interred in the small cemetery up river from Old Drift- the cemetery is now all that remains of the settlement. Such was the shortage of coffins that whisky crates were used in their manufacture.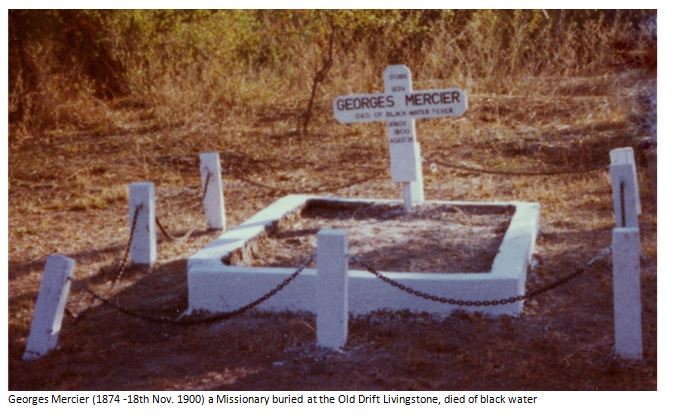 Blackwater fever is a serious complication of malaria, causing massive destruction of red blood vessels and manifested in dark-red or black coloured urine, with sufferers of blackwater fever usually dying if they are moved.
A 1929 report records the number of cases of the disease admitted to hospitals in Zimbabwe and the number of fatal cases during each of the years 1914 to 1928. The total cases numbered 679 and the deaths 152, giving a fatality rate of 22.2 per cent. In earlier times, medical facilities were much more primitive, and deaths must have been correspondingly higher.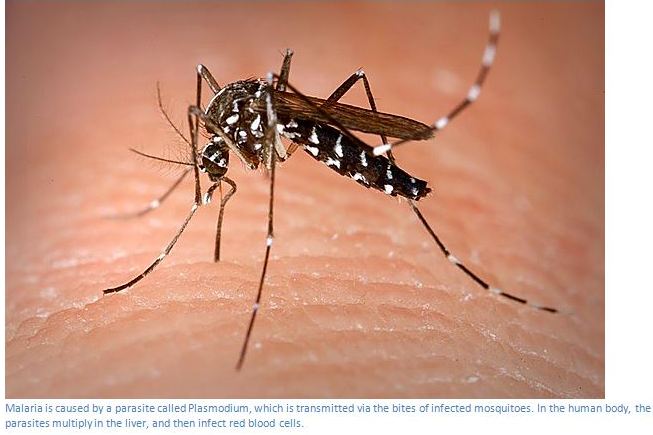 A further report in 1950 states that since the occupation of Zimbabwe in 1890, malaria and blackwater fever have been the most serious health problems in the country, and states that their fatality rate for hospital admissions had been 28%. Great faith had been placed in quinine prophylaxis and this drug was sold in all post offices until 1945 when more effective drugs became freely available. Although the rate of deaths fell, in the period 1944-48 over 8% of European infant deaths were still attributed to malaria.
In 1949 the Southern Rhodesia State Lottery Trustees set aside £50,000 for a two year experimental programme of malaria and bilharzia control. The area chosen for the experiment was the upper Mazoe River catchment, 1,900 square miles in extant, north of Harare. Malaria control from October to April was by DDT spraying and bilharzia control from May to September by copper-sulphate spraying in rivers and streams.
| | | | | | | | | | | | |
| --- | --- | --- | --- | --- | --- | --- | --- | --- | --- | --- | --- |
| Hospital | 1940 | 1941 | 1942 | 1943 | 1944 | 1945 | 1946 | 1947 | 1948 | 1949 | 1950 |
| Mazowe | 89 | 71 | 75 | 113 | 79 | 95 | 100 | 64 | 38 | 55 | 2 |
| Chinhoyi | 63 | 118 | 79 | 110 | 75 | 93 | 62 | 36 | 22 | 54 | 68 |
As far as malaria results were concerned, Dr Blair reported the results of spraying were quite remarkable, and atitudes changed from a rather a cool interest in the project to enthusiastic co-operation from everyone concerned as the sickness rate between February and April feel markedly.
Today malaria remains one of the world's most deadly diseases, each year killing about 880,000 people, mostly children in sub-Saharan Africa, according to the WHO. The use of DDT was banned in 1972, after it built up in food chains, nearly wiping out fish eagles, and other birds.
But the use of DDT to fight malaria has been increasing since it was endorsed in 2006 by the World Health Organization and the President's Malaria Initiative, a U.S. aid program launched by former President Bush. In many African countries, as well as India and North Korea, the pesticide is sprayed inside homes and buildings to kill mosquitoes that carry malaria.
Fifteen environmental health experts, who reviewed almost 500 health studies concluded that DDT "should be used with caution, only when needed, and when no other effective, safe and affordable alternatives are locally available." We cannot allow people to die from malaria, but we also cannot continue using DDT if we know about the health risks," said one of the scientists.
Acknowledgements
P.M. Clark. The Autobiography of an Old Drifter. Books of Rhodesia. 1972
G.R. Ross. Researches on Blackwater fever in Southern Rhodesia. London School of Hygiene and Tropical medicine. 1932.
Dr. D.M. Blair. Report on Malarial Control in Southern Rhodesia to the WHO. 1950.
Should DDT be used to combat Malaria? Scientific American. 2009.