Ruchera Cave
Why Visit?:
The cave is well protected from the weather and is particularly rich in paintings.
Amongst the animals drawn are large elephants painted in white and grey clay, antelope, several carnivores, beautiful striped zebra, lizards, baboons, warthog and fishes.
Very rarely for Zimbabwe, two men and two women are painted guiding a flock of sheep.
Just a few kilometres and visible from Mutoko Ruins, so both can be visited in a morning, although visitors need to be reasonably agile for the short, but rocky climb from the car park.
How to get here:
From Harare travel 143 KM to Mutoko. Distances are from the junction of the A2 and Mutoko town as if continuing to Nyamapanda. 7.54 KM turn right onto gravel road at signpost for Chitekwe School, 8.7 KM turn right onto farm track. 9.3 KM leave vehicle at the foot of the granite hill. The cave is visible facing south and is reached after a short, but rocky and a very steep climb. 4WD not required.
GPS reference: 17⁰23′13.50″S 32⁰17′33.86″E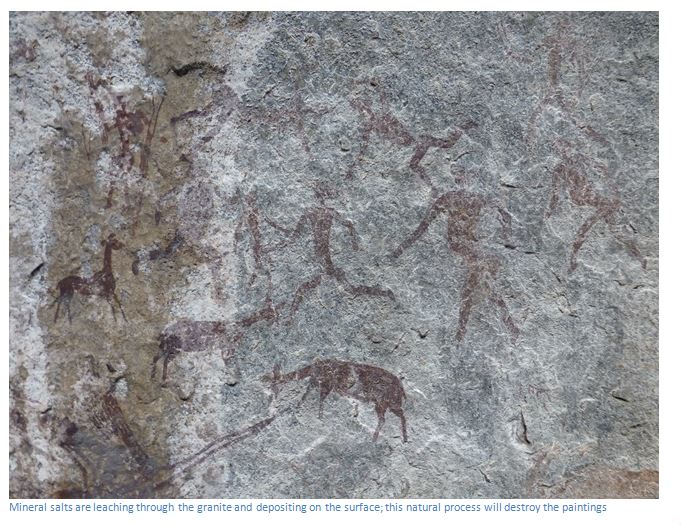 The paintings are densely superimposed in this very spacious domed cave. Four large elephants painted in a white and grey clay dominate the cave:
The large elephant on the left is filled with small antelope and hunters, below a double zig-zag line may come from an obese figure, now obscured. Below are three large humans, one in orange.
The second smaller elephant has a number of particularly fine zebra across its body, striped in white. There are two ovoids, one striped and one spotted on its trunk. To the right is a 40cm therianthrope; a semi human with attenuated limbs, antelope ears and a prominent tail.
The third elephant has several unfinished antelope under its head, two sables and a line of four small elephants. A large 30cm hunter with weapons and shoulder bag is painted in an orange ochre.
The fourth quite small elephant has two elephants and a feline on its body, another elephant on its forelegs. Below, what maybe ant bears are outlined in white. Below them, a warthog, four sable and kudu and a group of dancing figures. Also a rare and unusual scene over 2 metres long of two men and two women who guide a flock of sheep; one herder has many white lines protruding from his head and their figures are heavily built, not at all like the usual figures of hunters.
The densely painted area to the right includes another large elephant, a dark human with wide shoulders and narrow waist (Breuil's wedge shape) two ovoids, a large figure lying down with oval shapes from his back (probably in trance, as at Diana's Vow) with a smaller similar figure lying below flanked by two crouched figures with lines coming from their stomachs. Below are more sheep with several figures in ochre and white surrounded by strange shapes, perhaps insects.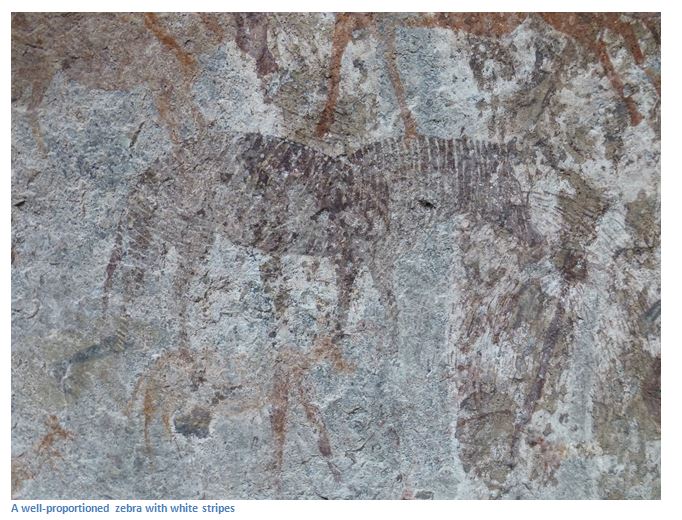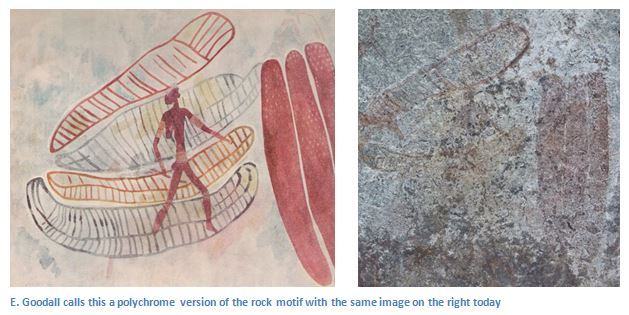 Other figures to the right include a small elephant, three elongated fish, an ovoid and a group of nine kudu cows. Above a dark figure with shoulder bag and distended stomach falls towards a kneeling hunter. Above, are two figures lying down, both with bags, below a tall wide-shouldered figure. On their right is another large reclining figure with a smaller figure, also lying down, above.
On the extreme right side are kudu, a rhino and a possible feline. A large elephant and antelope, both pierced by arrows are shown upside down with their legs, the elephant's trunk and buck's neck relaxed in death. Above a dark zebra, are five hunters, armed with bows and arrows and accompanied by a dog.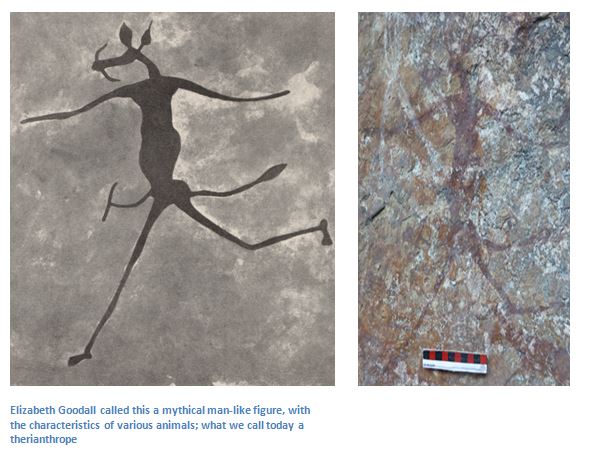 Acknowledgements
P.S. Garlake. The Painted Caves, An introduction to the Prehistoric Art of Zimbabwe. modus 1987
C.K. Cooke, J. Desmond Clark, E. Goodall , Edited by R. Summers. Prehistoric Rock Art of the Federation of Rhodesia and Nyasaland. National Publications Trust 1959
Fee:
None, but a small donation if you are guided to the site