Murehwa Cave
Why Visit?:
A wide selection of paintings is on view including animals, plants, humans, mythical creatures, ovoids in different colours and styles.
Easy access from via Murehwa town, mostly on tar.
Some good examples of creatures seen by the San in their journeys into their spirit world. This was entered through the medium of the trance dance and although it was an extremely terrifying experience for the San, it was necessary when relatives were sick or injured in order to plead with their Gods to save the victims. Elizabeth Goodall made some good copies as shown below, similar examples can be viewed at other sites, such as Markwe, near Marondera.
How to get here:
From Harare take the A2 towards Murehwa. Distances are from the A2 turnoff to Murehwa: 3.74 KM turn left off the old strip road (just after leaving Murehwa town) 4.04 KM take right onto a gravel road, 4.84 KM turn left, 5.34 KM continue left skirting the edge of Madzinudzangara Hill, 5.95 KM park by the road near a group of houses (GPS reference: 17⁰37′23.56″S 31⁰46′02.18″E) speak to the most senior person and ask if there is a teenage child who can guide you. Murehwa Cave faces north at the highest end of this Hill and should be visible. The 20 minute approach walk and climb are not difficult. Some scrambling is required moving from the west side across to the east side of the cave.
GPS reference: 17⁰37′32.33″S 31⁰45′57.93″E
The site is within a large domed cave with recesses to the left and right of the main cave and has many Late Stone Age paintings.
The eastern recess contains a group of running filiform hunters, with five felines to their right crouching, standing and springing. Eight human figures, their faces elongated with muzzles and a feline are on the cave roof. Their wild gestures suggest a trance scene
On the left of the main cave is an elephant in thick orange pigment, a rhino and ostrich, then some hunters, one with a large bow and a large feline.
On the vertical face is a mythical creature in profile with a long trunk, spiny back and two feet shown below.

On the roof centred in stippling is a small obese figure, legs apart with two parallel lines issuing from the body. An elephant and zebra have white and red stripes plus two similar creatures as described above.

Elizabeth Goodall's baboon hunt near a lake is probably more enigmatic than she believed; stippling in rock art is often taken to indicate n/um (or spiritual energy) which has been activated in trance dance, boiled over and is released from the body.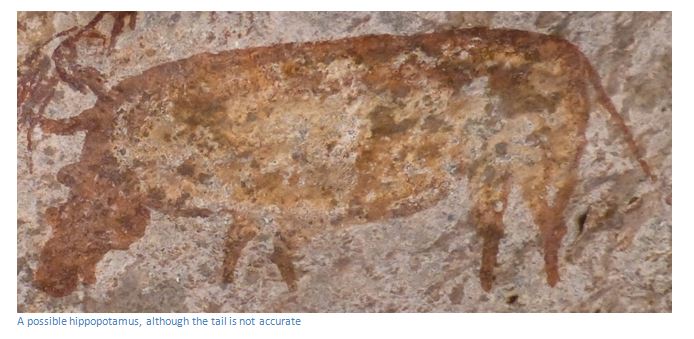 In the central cave the densely painted frieze are many indistinct and faded paintings. Two elephants in red outlines and cream clay are high on the left. A brown and white sable is distinguishable, plus the white caps of some ovoids and some women with white vertical stripes. At the bottom a small antbear is enclosed in a semi-circle with kudu and sable and to the right a large orange elephant and a large rhino.

On the west face of a large boulder separating the eastern recess from the main cave over fifty small males dance in lines, the central figure bending his body through 180⁰, clearly in trance. Nearby boulders have many painted animals
The roof of the western recess has five females and a group of wildebeest. In the centre five crouching men have rattles or lines coming from their stomachs. On the roof are a group of figures sitting or lying down probably in trance; to their right three women in skirts, one with a baby on her back, hold sticks.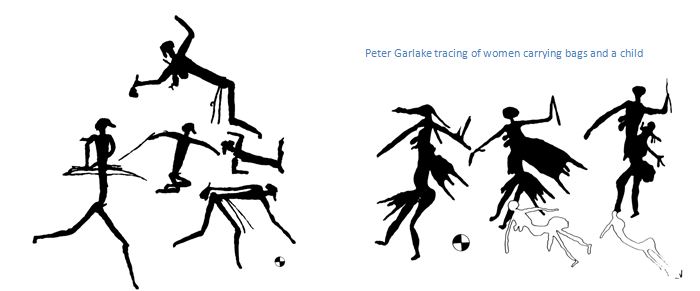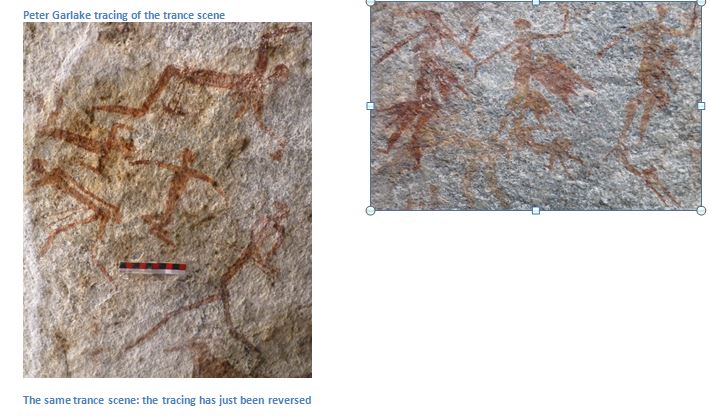 Acknowledgements
P.S. Garlake. The Painted Caves, An introduction to the Prehistoric Art of Zimbabwe. modus 1987
C.K. Cooke, J. Desmond Clark, E. Goodall , Edited by R. Summers. Prehistoric Rock Art of the Federation of Rhodesia and Nyasaland. National Publications Trust 1959