Mashona Rebellion / First Chimurenga 1896-7 graves at Old Marandellas (Ruzawi Cemetery)
Why Visit?:
Within the Ruzawi cemetery there are two rows of graves made up of fifteen iron crosses and three marble memorials.
The graveyard became unkempt in the period to 1936; the original crosses were all wood, and over time they were eaten by termites and the names became illegible. Apart from the marble memorials, it is no longer possible to say who is buried where.
It appears that fourteen people are actually buried within Ruzawi cemetery; the remaining four iron crosses are actually memorials to people who are probably buried where they were killed in 1896-7.
The cemetery is very well kept within the grounds of Ruzawi School and easily accessible.
How to get here:
Drive the A3 (Mutare Road) into Marondera. Passing along Main Street turn right just after Elm Street onto the Old Marandellas Road to Ruzawi School at the bus and taxi rank. Drive due south for 4.4 KM continuing past the turn-off to the right. At 4.7 KM turn right into Ruzawi School grounds, 5.3 KM turn left toward the school buildings and the school control post. Park at 5.4 KM, the cemetery is on your immediate right. Visitors should visit the school admin building and request permission to view the cemetery.
GPS reference: 18⁰14′06.67″S 31⁰33′13.62″E
Most of the material for this article comes from R. Hodder-Williams' very useful articles in Rhodesiana Publication No.21 dated December 1969 and Rhodesiana No. 17 dated July 1967.
Old Marandellas begun in 1891 when Rhodes offered 20 acres of land to anyone willing to set up a coach stop on the Salisbury – Umtali coaching road to provide shelter and food for passengers and stabling for the horses and mules. Messrs Bottomley, Head and Moore obtained their discharges from the BSAP and built an Inn at the Ruzawi outspan. By 1892 a police post was formed and in 1894 a Native Commissioner "Wiri" Edwards was also stationed at what is now called Old Marandellas and serving as the administration centre of the district. In 1896 Sam Dalton took over the Ruzawi Inn. Today all that remains is part of a wall and a tree that legend says rooted from a hitching post.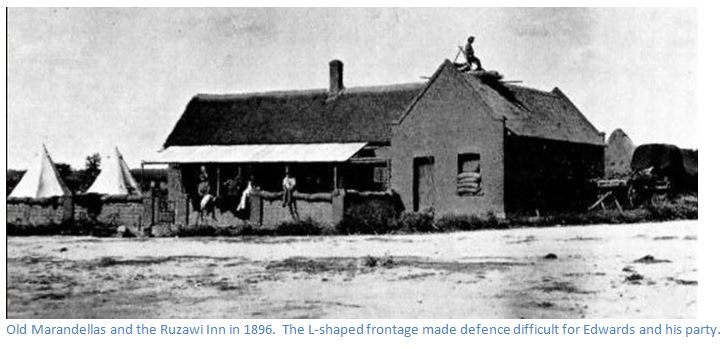 Wednesday 15th June 1896 the killings began at Mashingombi's kraal on the Mupfure River west of Beatrice when Native Commissioner Moony and two prospectors, Stunt and Shell were killed, then the Norton family on Wednesday 17th June and then to Marandellas with the slaying of Bernard Mizeki at his home the same evening by Mchemwa and Gatsi, the sons of Chief Mangwende. [See the article on the Bernard Mizeki shrine under Mashonaland East]
The same day the Native Commissioner Edwards left Headlands to meet the Chief Native Commissioner H.M. Taberer for a meeting with Chief Makoni and Trooper Fitzgerald was left in charge at Old Marandellas. Capt. Harry Bremner, on holiday from the 20th Hussars, rode through Old Marandellas on his way to Charter, to join the Natal Troop. Stores from Beira for the Matabele uprising, or First Umvukela, had reached Old Marandellas, but the oxen had been struck down with rinderpest and now the stores and ammunition were stranded on their wagons at the Ruzawi outspan.
Thursday the 18th was a busy day on the Marandellas road as the rivers were low and conditions were good for transporting supplies. George Lamb, a transport-rider for Store Brothers in Salisbury was taking a wagon drawn by eight donkeys with two passengers to Umtali and was passed near the Ruzawi outspan by the Salisbury –Umtali mail coach with five male passengers leaving the country. Going the other way was the Comte de la Panouse with 4,000 lbs of supplies for Salisbury drawn by four donkeys. All were oblivious of the ominous events happening around them.
The next day, Friday 19th, Lamb's wagon moved slowly on to Lewis's store at Macheke where he passed some time with Sam Dalton. He was heading towards Headlands when he was met by a runner who had a telegram from his brother in Salisbury warning him about the Mashona uprising. They turned back for Salisbury and were met by an African employee of Store Brothers with a letter from his brother saying "don't treat this matter lightly." Wiri Edwards also heard the news by telegram at Headlands, and he and Taberer abandoned any notion of a meeting with Chief Makoni, preferring to warn the scattered European population that they were in imminent danger and should come into old Marandellas as soon as possible.
Other wagons drawn by mules arrived at Old Marandellas from Umtali with additional stores brought from Beira with their conductor Gray.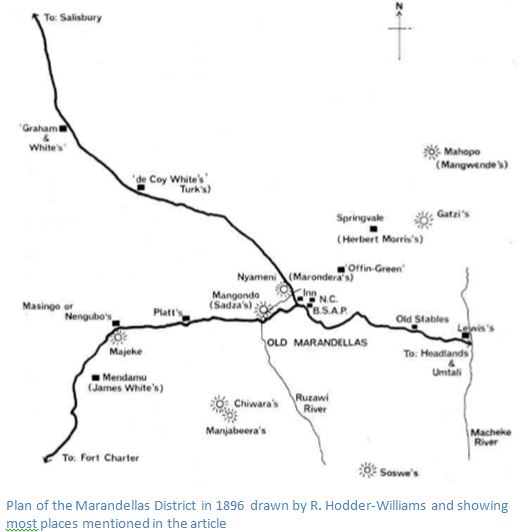 On the morning of Saturday 20th June Chief Marondera's followers prepared for the fight and moved from their Nyameni kopje kraals towards Old Marandellas. Trooper Fitzgerald had been busy sending messages to the isolated Europeans in the district telling them to come into Old Marandellas.
The same evening Edwards left Headlands with a young transport-rider, Kenneth Jakins, determined to deny the Mashona the ammunition which lay in the wagons stranded at Ruzawi outspan; although unknown to him, Sam Dalton was already unloading it into the hotel. They reached Lewis's store at Macheke and urged him to bury his stores and hurry to Headlands, but he refused to believe there had been a general uprising. Around them on the tops of prominent kopjes, Edwards could see signal fires.
George Lamb had turned back for Salisbury, advising all he met to do the same, and joined up with the Comte de la Panouse and J.H. Finch. They stopped at James de Coy White's store to spend the night, but he was away bartering with local Africans and a message was left with his assistant Lynch. James de Coy White returned from this bartering trip, but was subsequently killed on another trading trip. The fate of Lynch remains unknown, although he did not accompany Lamb's party and is not listed amongst those killed.
The first to spot Chief Marondera's armed followers near Old Marandellas was a young herd boy looking after cattle that had survived the rinderpest on the Ruzawi River. He reported to the Native Commissioner's messengers, Shidagwa and Jim, who hurried to Edwards' house and bravely removed papers and possessions to the Ruzawi inn, although Jim was killed by fire from the surrounding kopjes.
Edwards and Jakins were met by a messenger sent by Fitzgerald and the trio sneaked through the encircling lines into the Ruzawi Inn which had been fortified and in which all the local Europeans, except two, were sheltering.
One of the two was James White; farming for Willoughby's Consolidated on the farm Mendamu twenty kilometres away towards Charter, who had received a message from Trooper Fitzgerald and replied early on Saturday morning: "Thanks for the warning, but there is no sign of any trouble here. If you hear of anything more, let me know. Captain Bremner is here and is going into Marandellas early tomorrow."
The messenger with the reply arrived back at the hotel only because some of his family were amongst the besiegers. Capt. Harry Bremner was still in bed within the one roomed pole and dhaka farmhouse when he was killed. James White drove his assailants off with a revolver, but was badly wounded and wrote a last note which was found by Alderson's mounted infantry in August outside the homestead: "the natives have been here, Bremner is dead and I am badly wounded and will peg out soon from loss of blood. Goodbye to all my friends – James White."
Molimile Molele at Nengubo (Waddilove) Mission quickly learnt that James White, a great friend of his, living about five kilometres away had been killed. He decided to go over at once and investigate and found White badly wounded and helpless on the road. He spanned a couple of his oxen on to White's small cart and set off back to the Mission, but about 200 metres from his church, the Shona ran down towards him and killed Molele and White and two young African boys who had run out to meet them. Molele and White were buried side by side near the Mission.
They had met White on the road about midday on Saturday and therefore never reached Mendamu farm to find Capt. Harry Bremner, who was buried by Major Watts party on 26th July: "before leaving (Mendamu) we buried poor Bremner in front of the house as decently as was possible under the circumstances."
Three traders, Metcalfe, Richards and Hitchman were killed between Old Marandellas and Headlands; the last having on his body a letter from Native Commissioner Ross telling him to move to safety.
On Sunday 21st George Lamb and his party spent the night at Graham and White's store, in present day Bromley, marked on the map above. Harry Graham and Phillips, a prospector, were both murdered near this store next day.
A new farmer to the area called "Offin" by Ernest Morris and "Green" by Edwards and "Offin-Green" by Hodder-Williams had a very narrow escape. He had received Fitzgerald's note telling him to leave, but refused. On Sunday morning, Herbert Morris sent his cook Simon to urge "Offin-Green" to make for the hotel. His mind was soon made up when Chief Mangwende's son, Mchemwa appeared running toward the homestead with his followers plainly intent on killing him. A thrilling chase ensued, between "Offin-Green" and Simon, firing back at their pursuers and Mchemwa's band, until the two managed to reach the comparative safety of the Ruzawi Inn.
Here plans had been made on Saturday night for an escape as Edwards considered the hotel too large to defend properly with the stranded wagons providing good cover for any attackers. Three of the wagons with mules that had arrived with Gray on Friday 19th were prepared for the escape. There were nine European men, Edwards, Jakins, Trooper Fitzgerald, Sam Dalton, the hotel manager, Herbert Morris, "Offin-Green," Gray and two others; possibly Platt who farmed on the Charter road and a van der Spuy.
The wagon preparations had been watched by the Shona who assumed they would make for Salisbury and were taken by surprise when the wagons headed east through the kopjes towards Macheke and into more open country. Although chased, rifle fire prevented their pursuers from closing in and the mules were changed 26 kilometres from Old Marandellas at the old stables. [see the map] They reached Lewis's store at Macheke safely, although Lewis was still unwilling to leave until he saw his Shangaan workers starting to flee. Edwards says: "He dived into the store and came out with his rifle, a blanket, a box of Three Castle cigarettes and a bottle of brandy." They reached the village of Headlands as night was falling.
No Europeans now remained in the district, and it was not until the 29th July that Major Watts arrived at Old Marandellas from Charter having buried Capt. Harry Bremner on the way. On their way they had fought a battle for the control of a pass in which four of the men were wounded and arrived at the hotel; "very badly off for boots, clothes, etc. and much needing a refit all around" as described by Lieut.-Col. E.A.H. Alderson on meeting them at the beginning of August. At Old Marandellas they found the dead bodies of two African drivers who had brought empty wagons from Charter to collect supplies and ammunition.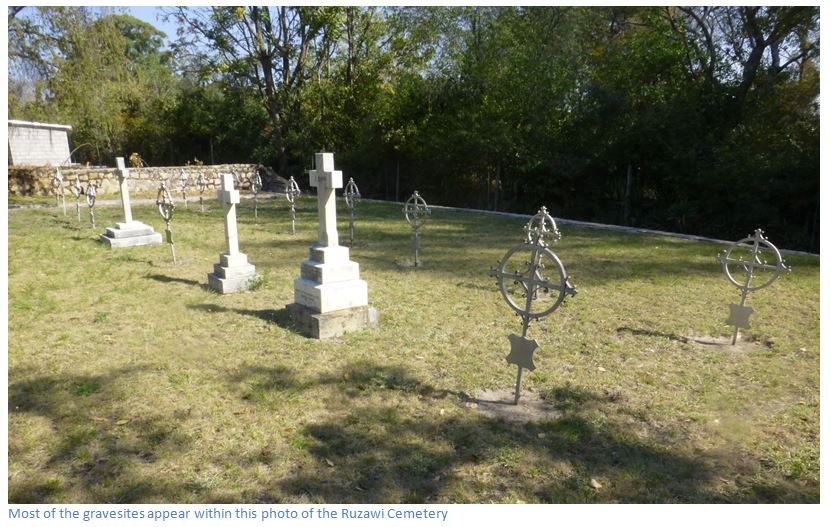 The making of the cemetery at Old Marandellas
Between 1897 and 1936 the cemetery lay uncared-for, until it was laid out in 1936 by Canon Robert Grinham and Maurice Carver, who had opened Ruzawi School in 1928 as a preparatory boarding school for boys on the site of the Ruzawi Inn. The Old Marandellas site had been bypassed with the growth of the new town Marandellas on the railway line. The Ruzawi Inn buildings were converted into dormitories and class rooms and the old stables became the school chapel. The cemetery was dedicated on 2nd November 1967.
Today there are fifteen iron crosses and three marble memorials in the cemetery relating to the 1896-7 graves, but excluding the more recent graves which lie within the neatly laid out cemetery area. There is no indication that names were ever engraved on the memorial plaques of the iron crosses, although it is possible they were originally painted and have faded and been painted over. The iron crosses were fabricated locally to replace the wooden originals and, unlike those at the Paradise plot cemetery in Marondera itself, were not cast in the Gregory iron foundry at Cape Town.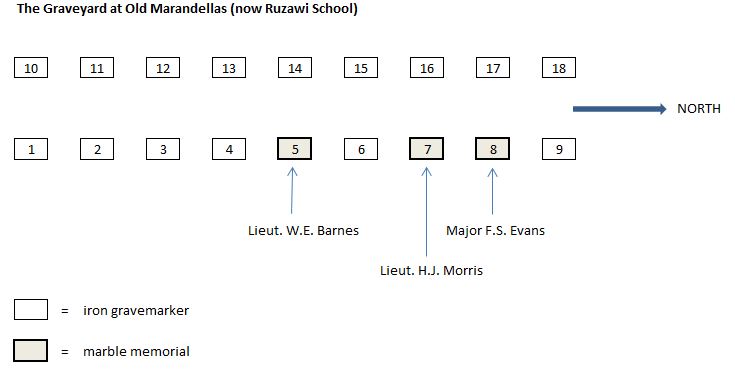 There are three lists which differ in their details on who is buried within the cemetery:
(1) Ruzawi School has two lists which agree in number, but differ in their spellings and record nineteen names for eighteen graves. Hodder-Williams says the lists came from Mrs Groves, one time Honorary Secretary of the Guild of Loyal Women (GLW) in 1908-9 and were from lists drawn up by the BSAP and copied in a letter dated 17th November 1932 from E.C. Tyndale-Biscoe to Canon Robert Grinham.
(2) The Guild of Loyal Women itself had a graves register drawn up in 1909 which only contains seventeen names.
(3) The BSAP lists state there are fifteen crosses, but has only seven names.
Hodder-Williams examines the contemporary accounts and letters and sifts the evidence in an attempt to find out who is buried at Old Marandellas.
He concludes that the first fourteen names in the table below (i.e. W.E. Barnes to H. Runciman) are actually buried in the Old Marandellas cemetery, leaving five claimants to the remaining four crosses which are probably memorials rather than actual burials.
A memorial to Mrs Heine and her three children were recorded in the cemetery in 1900 by S.H. Gilbert, and as Cornelius Greyling was discovered with them about 32 kilometres from Charter it seems reasonable to assume that two of the crosses were dedicated as memorials to them. By road Charter is about 80 kilometres from Old Marondera and it seems more likely that their bodies were buried in the veld by the mounted patrol rather than bringing the bodies all the way back to Old Marondera.
There are three remaining claimants. The deaths of Capt. Henry Bremner and James White have been described in detail already. It is known they were both buried where they were killed and it would seem very surprising if the two of the crosses had not been dedicated as memorials to them. There are few details about Tpr J. Montiman although his name does appear on the BSAP list and it is possible his name is a misspelling of Runciman. He does not appear in the list of casualties in The '96 Rebellions by the BSA Company, or in the Register of Deaths of the Master of the High Court.
I have not gone into any great detail on the circumstances surrounding the deaths of the men, women and children listed below; this is well covered by Lieut.-Col. E.A.H. Alderson in his book With the Mounted Infantry and the Mashonaland Field Force 1896 and by R. Hodder-Williams in the quoted articles.
Surname

Initials / Name

No. / Rank

Unit

Status

Date of Death

Footnotes

Barnes

William Edward

Lt.

Quartermaster Army Service Corps / MFF

KIA

10 August 1896

Having reached Marandellas on their way from Umtali to Salisbury, the force was asked by Judge Vintcent to visit some of the villages in the area. Barnes accompanied the column to search for much-needed grain for the horses. The column found Gatzi's kraal empty, the occupants having fled into nearby caves, and it was while peering into one of these in his search for grain, that Barnes was shot in the chest. He died within minutes. Article mentions some sources say 13th, but this conflicts with the Mashonaland Field Force diary which says 10th August 1896; buried two days later

Joliffe

Michael

Conductor

Transport Rider / MFF

KIA

17 August 1896

Killed at Ushewekunsi's kraal. He was shot from a neighbouring kopje.

Frost

William

7978 / Pte

3rd Bn King's Royal Rifle Corps / MFF

KIA

14 September 1896

Died from wounds received on 3 September near Graham and White's. In early September, a column under Maj Jenner, comprising of artillery, mounted infantry and Honey's Scouts, marched to Umtegeza's kraal via Marandellas, hoping they would intercept a supplies convoy. En route, considerable resistance was encountered at a village near the telegraph line, during which Frost sustained severe gunshot wounds to his knee, which was amputated at the thigh on 06/09/1896,from which he died 8 days later.

Morris

Herbert John

Lt.

Umtali Rifles Volunteers / MFF

KIA

3 October 1896 (maybe 2/10/1896 as Adams-Acton wrote in his diary: "the doctor was standing near and attended to Morris first. Although it was only a few seconds before the bleeding stopped, he lost so much blood that he died during the night" Alderson (P193) also states he died the same night

Died from wounds received on 2 October at Chipara's (?) Manyerbeera's kraal near Marandellas. An 80-strong patrol under Capt. Pease was conducting operations at Chipara's and Manyerbeera's kraals near Marandellas. Lt Lye of the Umtali Rifles was shot from a cave, and severely wounded. Morris immediately went to his aid, picked him up, but as he moved off out of the line of fire he was shot a point-blank range. Both officers were recovered and taken to the hospital at Marandellas, but Morris died that evening from massive haemorrhaging. He died gallantly saving the life of a fellow officer.

Evans

Francis Studdert

Maj.

1st Bn Sherwood Foresters / MFF

KIA

19 October 1896

Killed at Gatzi's kraal. Evans had moved from Umtali with a detachment of the line of communications troops, and from Marandellas, headed to Gatzi's kraal which he had set fire to on 10 August. Daybreak found the rebels rushing away from the kraal, heading towards nearby kopjes. The troops rushed forward, and as Evans was reconnoitring the caves in which the rebels had sought shelter, he was shot through the heart, dying instantly. See also Earnshaw / Alderson / Adams-Acton

Earnshaw

Harry P. / Henry Popplewell

Tpr

Umtali Rifles / MFF

KOAS

19 October 1896 (some sources say 20/10/1896 but Alderson / Adams-Acton say Evans & Earnshaw died the same day. Confusion may arise because the burials took place the next day)

Accidentally shot himself in action Gatzi's kraal. Maj Evans's column had moved from Umtali with a detachment of the line of communications troops, and from Marandellas, headed to Gatzi's kraal which he had set fire to on 10 August. Daybreak found the rebels rushing away from the kraal, heading towards nearby kopjes. The troops rushed forward, and in the process, Earnshaw accidentally shot himself dead. See also Evans / Alderson / Adams-Acton

Beaty

John

8189 / Pte

Medical Staff Corps / MFF

DOAS

29 October 1896

Died of rheumatic fever and heart disease in Marandellas Hospital .

Bremner

William Henry

Tpr

Umtali Rifles / MFF

suicide

14 February 1897

Molony

Joseph A.C.

Dr

Umtali Rifles / MFF

fever

2 March 1897, or 12 March 1897

Surgeon attached to the Umtali Rifles. Register of deaths gives 2 March BSA Co reports gives 12 March

Stoddart

James Hastie

Tpr

Umtali Rifles / MFF

KIA

17 April 1897

Killed at Soswe's kraal. There is a Studdart (sic) at Paradise, 4 miles away, but R. H-W says the two lists were muddled. Ruzawi records have two Stoddart, but R. H-W says this is a another confusion with Major Francis Studdert Evans. When the Goromonzi police inspected the Ruzawi cemetery in August 1912 the only still decipherable name was Tpr. Stoddart...all the others were worn away by rain & sun.

There is a James Stoddart mentioned in The Matabele Rebellion, 1896: with the Belingwe Field Force by their commander Major D. Tyrie Laing. [See the article "Fort Rixon Rebellion Memorial, Matabele Uprising or First Umvukela, 1896) under Matabeland South Province. He says:

"On the 3rd of April, shortly after daybreak, the sentry reported the approach of a white man. This proved to be James Stoddart, who had, on learning the seriousness of the uprising in Matabeleland, decided to come in from Victoria, in Mashonaland to warn his men in the "Sabie" district. His horse broke down before he had got over the first thirty miles, and he had to walk the remaining fifty, doing the greater part of the distance at night. He was surprised when he reached the "Sabie" camps to find them deserted, but, nothing daunted, came on with the intention of warning Belingwe, not knowing that we had already been advised. When he came in he was very footsore, hungry, and soaking wet, having lain the greater part of the previous night in the bush, on a small rise, about a mile east of our position, watching for any signs as to whether the store was deserted, or inhabited by natives or whites. He was very happy indeed when daylight came and he saw the white sentries on their posts and the place in a state of defence."

There is more in the article.

McCormick

James

Tpr

BSAP

fever

11 May 1897

Died of fever at Marandellas Hospital.

Taylor

George

Tpr

Umtali Rifles / MFF

KIA

28 May 1897

Died from wounds received on 26 May at Chief Soswe's kraal. BSAP list says death on 20/05/1896

Fish

Albert

580 / Tpr

BSAP

DOAS

7 August 1897

Found dead on the veld near Marandellas.

Runciman

Henry

Conductor

Transport Rider / BSAP

DOAS

5 October 1897

One of Major "Maori" Browne's BSAP troop. Taken out of Conductor Webb's wagons a few miles west of Marandellas on 2/10/1896 with a temperature of 106⁰. Died three days later of fever and alcohol poisoning and buried the same day.

Heine

Corlina Martina Mary (6 years) Thomas (8 years) Frederick (3 years)

-

-

murdered

about 20 June 1896

Murdered about 32 kilometres from Charter, bodies recovered and buried on 14th & 15th July 1896. The same patrol also recovered Cornelius Greyling's body.

Greyling

Cornelius

Farmer

-

murdered

about 20 June 1896

Same area as Mrs Heine & 3 children, body recovered with the Heine family

Montiman

J.

Tpr

-

DOAS

20 May 1897

His name is on the Ruzawi lists & BSAP lists, but appears on no casualty lists at all, but unlike all other names he does not appear in the Registry of Deaths of the Master of the High Court. Is his name a misspelling of Runciman?

Bremner

Harold

Capt. or Lt.

20th Hussars, but not on active service

Murdered

20 June 1896

Killed by Mashona at James White's Mendamu Farm. Major Watts of the Matabeland Relief Force says on 26/07/1896 "before leaving (Mendamu) we buried poor Bremner in front of the house as decently as was possible under the circumstances." But BSA Co records state his body was found on 05/08/1896. (1) Is there a confusion between Bremner and White? They may be both buried at Mendamu Farm, with a memorial to Bremner at Ruzawi. (2) There is a definite confusion in the Ruzawi records between the two Bremner's who were not related

White

James

-

Farmer - Mendamu Farm

Murdered

20 June 1896

When NC Edwards left for headlands, he left Tpr Fitzgerald in charge. Fitzgerald sent letter by messenger to White's farm on Friday 19 June 1896. Early next morning White gave a letter to the messenger who on leaving saw a body of Shona hiding behind a cattle kraal and although captured, was freed.

MFF = Mashonaland Field Force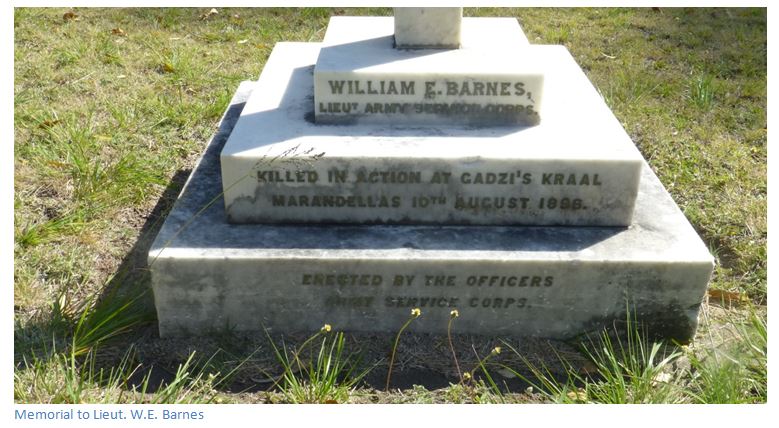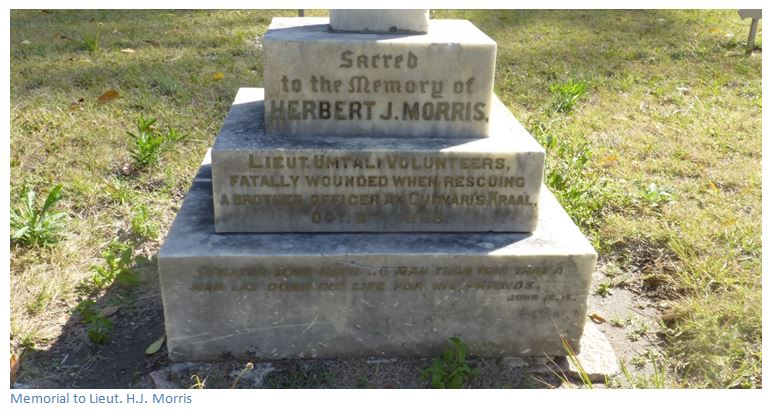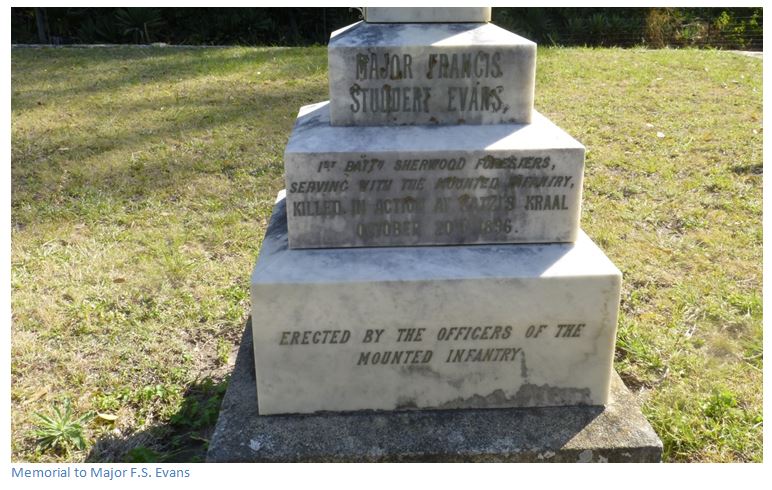 The above has gone into considerable detail into how some of the new settlors in the Marandellas area lost their lives during the Mashona Rebellion, or First Chimurenga of 1896 – 1897. Many people refused to believe that the Mashona would follow the Ndebele into revolt; this was a common belief and the first killings took the European settlors completely by surprise, although the signs had been evident for some time and there had been widespread discontent with the hut tax, forced labour, use of violence and abuse of women and the loss of land.
In the subsequent killings and looting of stores and farms, many also lost all their property and possessions as the following from Jack Carruthers diary reveals: "We had hardly got settled when the prisoners of the rebellion made their escape from the Salisbury prison. The noise and firing around my home at the dead of night quite upset my wife. I had not calculated on the shortage of supplies in town. Nothing was to be bought in the way of vegetables, meat was seldom available. A friend of mine favoured me with a few fowls at 30/- each. My wife refused to pay 30/- for a dozen for eggs. It was to her delight early one morning when she found a small black goat and two kids tied up at our backdoor. Major Piet van Niekerk had placed them there for our milk supply. He had just returned from the Zambezi with cattle and goats for the Company. My wife was more than grateful for the welcome gift (Piet went on to live in Inyanga). On finding a snake in the house I was compelled to conduct a general search killing no less than 11 around the house and garden. By now I realized I had lost all I possessed. My farm Stockdale had been looted and everything had been taken from the store. My pigs, goats, fowls and private kit had been carried away. My pal Frank Austin was murdered on my gold claim just across the Mazoe River from the farm. At mount Darwin my prospector friend Henkins was killed and thrown down a shaft. My Enterprise lime works suffered the worst, a family of coloured folks and two men were murdered there and everything destroyed. I had lost five wagons, two scotch carts and my entire private mining outfit from five different camps. The B.S.A. Company gave me part compensation, paying me for the cattle that were brought in from my farm by the Abercorn patrol; these were slaughtered in the Salisbury laager in 1896. A further loss I suffered was goods-in-transit from Beira, simply dumped down at the railhead when the rebellion broke out. I did not consider it worth removing after inspection, especially at £6.10 per 100lb for transport. Many others abandoned their goods as well. I suffered a loss of over £1000. The dumping of goods along the railway line lent itself to a lot of thieving and miscarriage. E Stecker, manager of the B.T.A. once called me in to witness the opening of certain cases that had just arrived from Macequece by wagon. One case opened up had been emptied and filled with bricks others contained empty boot boxes. In those early days trains leaving Beira were despatched with as many trucks as the small engines could pull out of the station, consigned for the seventy five mile peg (the then terminus), where goods were dumped down haphazardly on the veldt. On reaching hilly country the train trailers were unhitched and left behind at sidings to be picked up later. This was very convenient for family parties of thieves to carry on their pilfering at times simply emptying trucks and sending them back to Beira completely empty. Some of the storekeepers boasted they had no need to send away for certain goods, I know this for a fact. A great deal of thieving was carried on in this manner and many consignments of goods were lost on the way, this was my own experience. Similar thieving was carried on along the Mafeking line until a party of thieves failed to clear a trailer by daylight and were caught red-handed. When my wife's goods arrived in Salisbury, cases of crockery were entirely damaged; hardly an article reached us intact. Bad handling destroyed our furniture; there was no claiming for loss, as everything came up at owner's risk. Later a consignment of ours was destroyed by fire in transit after the train reached Salisbury. The damaged goods were sold by auction on instructions from the B & M Rail Company; they realized £62. I neither got my cost of goods valued at £160 nor the above-mentioned amount. Messrs Scanlan and Nichols charged me some £16 expenses for sending in my claim, then told me they could not carry on the case as they were the 'solicitors to the railway'. Papers in connection herewith all went astray."
Acknowledgements
R. Hodder-Williams. The Graveyard at Old Marandellas. Rhodesiana Publication No.21 dated December 1969. Pages 10-18
R. Hodder-Williams. Marandellas and the Mashona Rebellion. Rhodesiana Publication No. 17 dated July 1967. Pages 27-55.
E.A.H. Alderson. With the Mounted Infantry and the Mashonaland Field Force 1896. Books of Rhodesia Volume 20, Bulawayo 1971.
S.H. Gilbert. Rhodesia and After (being the story of the 17th and 18th Battalions of Imperial Yeomanry in South Africa) Simpkin Marshall, Hamilton, Kent & Co., London 1901.
BSA Company. The '96 Rebellions. Books of Rhodesia, Bulawayo 1975.