Gambarimwe Cave
Why Visit?:
This cave is also quite remote; some of the paintings are high up on the wall and therefore have survived in reasonable condition.
It has a number of good camp scenes and a frieze of stippling and trees that stretch across most of the cave
How to get here:
From Harare take the A2 towards 143 KM to Mutoko. Just 0.63 KM from Mutoko town turnoff, the old strip rod joins from the left. Distances are from the A2 / old strip road intersection: Take the old strip road heading west back to Harare, 7.03 KM turn right onto gravel road with signpost for Katzukunya Schools and Clinic, 9.2 pass turnoff left to Katzukunya school, 16.49 KM pass turnoff left to stores, 17.03 KM pass turnoff right to Nyamakope School, 17.58 KM turn left onto the road at the granite block signposted "Quarrying Enterprises, Nyamakope Site," follow the track up the hill going west, 18.58 KM park car at entrance to farmstead. (GPS reference: 17⁰19′14.35″S 32⁰07′22.67″E) Suggest you ask for a guide (Mike Kambire 0771692090) to take you on the path that leads north from here on the other side of the road and then northwest to Gambarimwe cave which is well concealed behind boulders on the crest of the hill.
GPS reference: 17⁰18′53.66″S 32⁰07′11.52″E
Top left is the largest camp scene with a many couples accompanied by children, their bags and weapons by their sides and hunters at the edges of the scene. Five circles of stippling are associated with each of the groups, below, a couple with a child. Note how the humans are always shown in a very limited range of types and postures. The outline is all important with the head, legs and feet shown in profile, but the shoulders and torso are often shown from the front. The child is exactly the same as the adults, just smaller scale. These simple conventions and very limited subject matter meant that many hunter gatherers who wished to become artists would have managed with time and a little practice to become competent artists.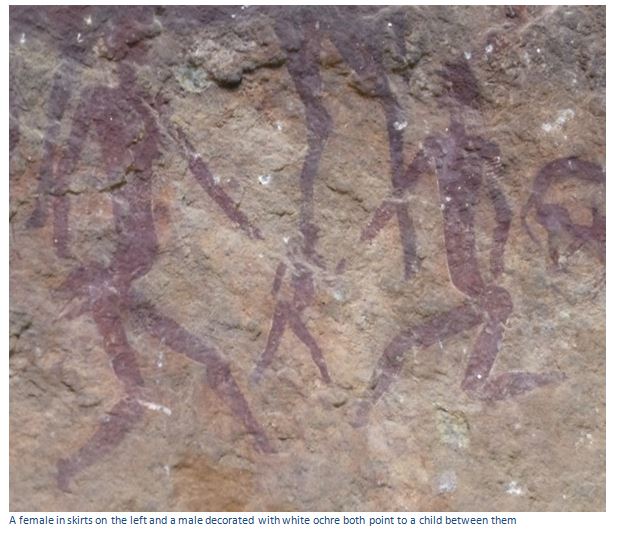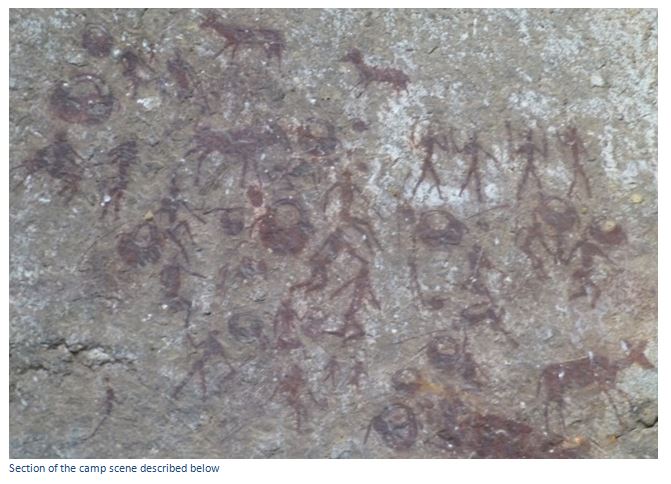 To the right of the camp scene above, the frieze of stippling and trees extends across the cave. Below two rhino are enclosed within an oval outline. Below in the photo two "mother goddess" figures painted in orange have lines extending from their bodies and white dotted bands across their chests and are superimposed on an ovoid / formling. (See the Manemba cave entry for interpretation) Below the colours of a tsessebe in ochre and white look as fresh as when they were painted, although the legs have disappeared.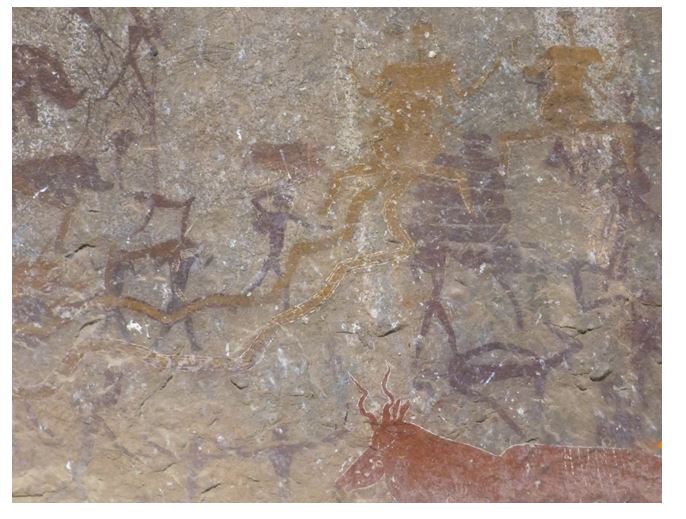 Five crouched figures in profile, each with just one leg and arm are detailed in white are associated with the lines running from the female figures. Around them are three kudu and below a unique animal, a spotted leopard. Two figures with protruding stomachs and inverted cones on their heads are nearby, one holds a short staff, and the other has arms raised. Another common feature of Gambarimwe is stick-like figures (at least six) that are either falling or lying down and both are associated with the trance state.
Below are a series of continuous semi-circles in white pigment and to the far right a camp scene with at least ten families. Most women are squatting, the men lie down, many have cones on their heads or lenticular shapes on their chests and many have children between them.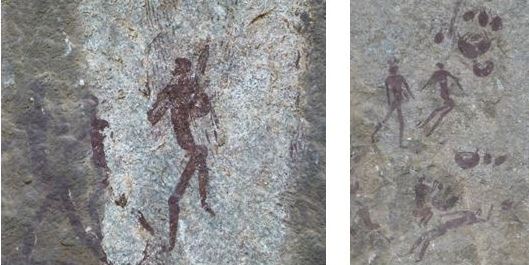 Note how the hunters have virtually disappeared where portions of the granite have leached mineral salts.
Finally to the far right, two red hippo and a white buffalo, another "mother goddess" and three therianthropes, one holds a crescent and another has a zig-zag line coming from the hand. A faint ovoid has small red circles within its outline and an opening at the top, below roots are visible on a damaged area.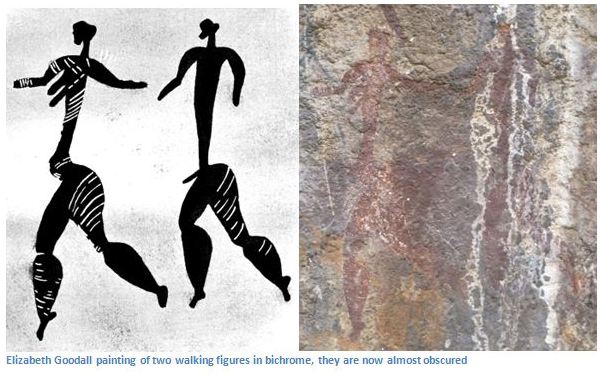 Very large tree branches have been burnt in the cave and the smoke damage has substantially contributed to the damage and deterioration that has been caused to Gambarimwe cave in the last half century.

Acknowledgements
P.S. Garlake. The Painted Caves, An introduction to the Prehistoric Art of Zimbabwe. modus 1987
C.K. Cooke, J. Desmond Clark, E. Goodall , Edited by R. Summers. Prehistoric Rock Art of the Federation of Rhodesia and Nyasaland. National Publications Trust 1959