Ewanrigg Botanical Garden – a tribute to its creator Basil Christian
Why Visit?:
The Gardens are internationally known for the wide range of both indigenous and exotic aloes and cycads and succulent plants, one of the largest collections in the world.
The overall setting is extremely attractive with the collections planted in a natural style amongst small granite kopjes where these plants flourish amidst a habitat of indigenous Miombo and brachystegia woodlands.
A very enjoyable days outing within easy reach of Harare for a braai or a picnic within a most enjoyable setting. The children can bring their bikes and have fun roaming around the grounds in a safe and secure environment.
Multitudes of birds and butterflies are attracted by the flowering plants and water features and it is a great place for bird-spotting.
Easy Access from Harare on a good tar road, the A13.
How to get here:
Take the (A2) Enterprise Road, passing through Newlands and Chisipite and continuing on until the toll gates. 21 KM turn left on the (A13) Shamva Road; after another 15.5 KM turn right off the tar onto the gravel Christian Road at the Ewanrigg signpost, 40.5 KM to the garden entrance.
The national road (A13) is in excellent condition, the gravel road is good and passable in all conditions; there is a small ford to be crossed just short of the entrance.
GPS reference: 17⁰41′38.06″E 31⁰20′02.86″E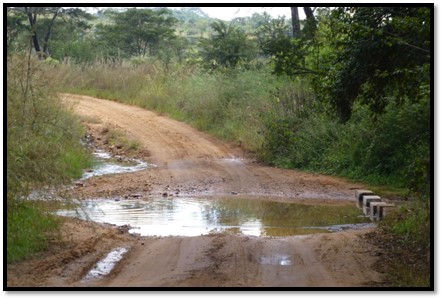 The small ford near the entrance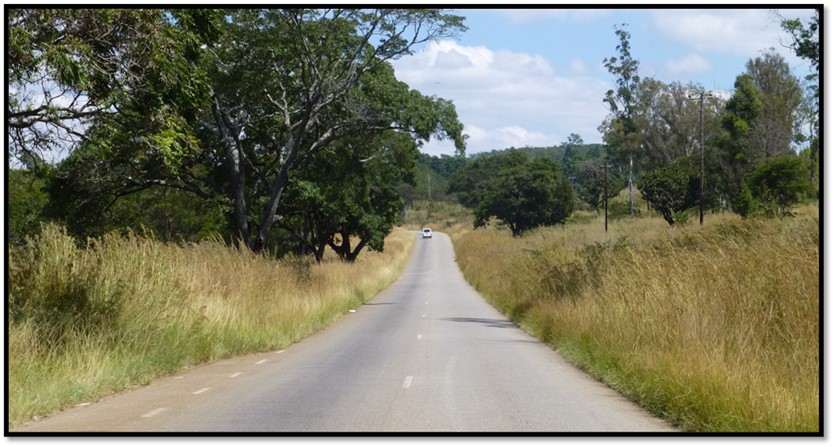 Author photo; the National A13 road from Harare to Ewanrigg
Ewanrigg's creator – Basil Christian
Ewanrigg Botanical Gardens, now in the care of Zimbabwe Parks and Wildlife Authority (Zimparks) was the original creation of one person, Harold Basil Christian, usually referred to as 'Basil.' He came to Rhodesia (present-day Zimbabwe) in 1911 and bought the farm Mount Shannon, which he renamed Ewanrigg. There is a discussion below as to why he chose this name.
He built a house on a kopje and spacious lawns were planted in front of the house where a garden was planned. Initially he attempted to grow imported European alpine plants, but these tree species, which tend to be conifers, favour high altitudes, cooler temperatures and generous amounts of water and proved not well-suited to the heat, dryness, and altitude of his farm.
The story goes that in 1916, after it proved impossible to remove an unsightly rock from the spacious lawns in front of the house, his farm surveyor went to a hill close by, uprooted an Aloe cameronii and planted it "to hide the stark appearance of this unsightly rock." Basil Christian was very impressed when, despite never being watered, the aloe flowered the next year and he decided to concentrate on indigenous aloes rather than imported trees.

Author photo: large open spaces alternate with closely planted ridges of aloes
Development of Ewanrigg Botanical Garden
From 1916 on, numerous rockeries were constructed and more and more aloes were acquired for the garden and in the 1930s, he began traveling throughout Rhodesia and South Africa, searching for new varieties of aloe for his garden. In 1937, he journeyed throughout Manicaland and the following year in Nyasaland (today's Malawi) to study the aloes there up until the 1930s, and they were such a success that he began to add cycads and many species of small succulent plants.
His research into Aloes
But in addition to enjoying the collection, identification, cultivation, study and photographing of the different Aloe species, he gradually began to publish his research. In 1933, he published his first article, 'Notes on African Aloes,' in the Rhodesian Agricultural Journal that began, "From a gardening point of view the growing of Aloes has several advantages which are not possessed by the ordinary plants grown for decorative purposes. Aloes are perennials, and once they are planted they continue growing and flowering for many years. Once established, they can persist throughout the driest seasons without watering, although certain species from the winter rainfall areas or mist belts thrive much better with an occasional watering in our winter." From then on until his death, he published numerous articles and papers in various periodicals, and several were published posthumously.
Basil Christian and Gilbert W. Reynolds, a South African optometrist, became the aloe experts. They met in Port Elizabeth (now Gqeberha) in 1933, and mutually agreed that Christian would focus on aloes growing north of the Limpopo river, while Reynolds would concentrate on aloes occurring south of the river.
In 1937 a small injury from a rusty nail to his arm went septic and his right arm was amputated above the elbow. This forced him to give up other hobbies and focus on gardening and he developed an additional interest in Barberton daisies. For the next fifteen years he was busy preparing a book on tropical African Aloe species, and although he completed much research, the book was never published.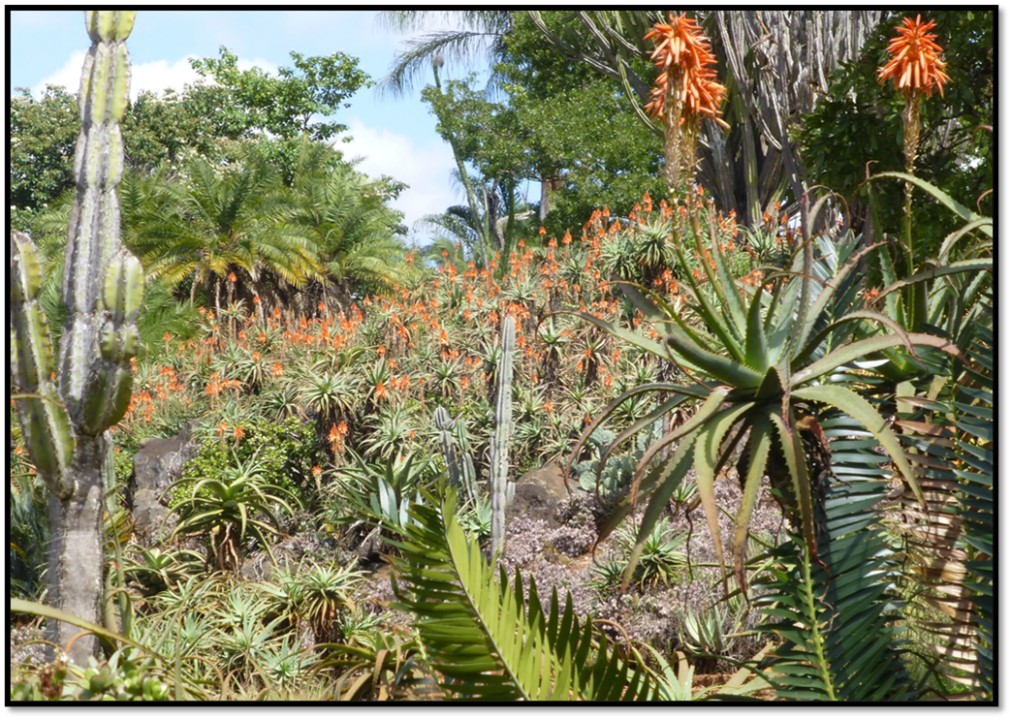 Author photo: Ewanrigg aloes in bloom
In 1939 Gilbert Reynolds visited Ewanrigg Farm and published a detailed description of his visit in the South African Horticultural Journal, in which he noted the rockeries, pools, and the prevalence of Aloe cameronii, which were in bloom during the winter season, saying, "Glowing reports of 'Ewanrigg' have often reached me and it has long been my keen desire to go up and see for myself just exactly what this famous garden really did look like ... I shall endeavour to record my impressions but justice cannot be done in a mere pen picture. It is one of those gardens that must be seen to be appreciated, and one should linger for days to take it all in. We had only a day at our disposal — much too short a time . . . The memory of that unique garden, of the rockeries and pools and especially the blaze of colour put up by the masses of Aloe cameronii will linger for many a year to come. We left 'Ewanrigg' reluctantly but with the earnest hope that we would be able to visit it again one day…the finest and most complete collection of Aloes in existence."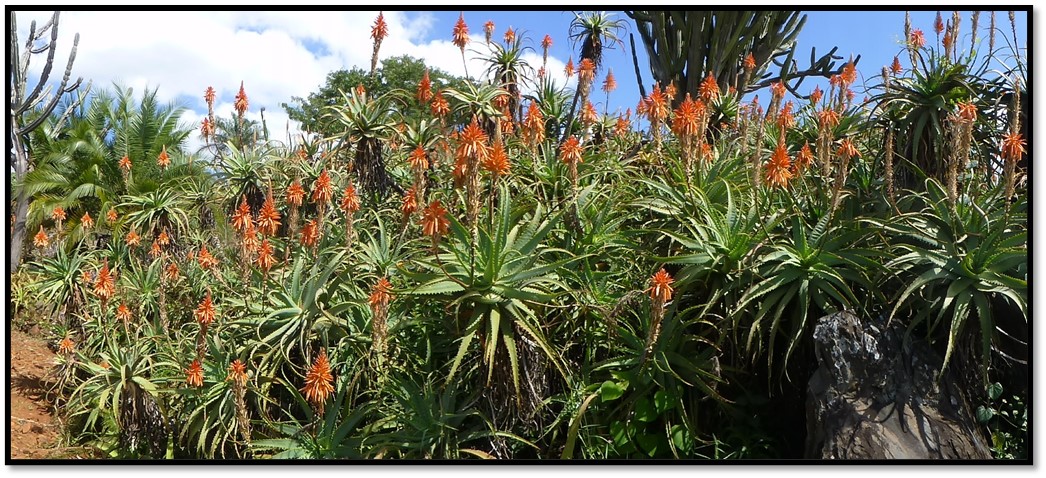 Author photo: the Aloes favour the hilly ridges for maximum sunshine
Basil Christian's international reputation as an Aloe expert grows
Over the years, his international reputation as an authority on African Aloe species grew and he became recognized by botanists around the world as an authority. One species was named Aloe christianii in his honour, its description written by Gilbert Reynolds in 1936 — "the species having been originally collected by Christian at Ewanrigg."
Many specimens of aloes arrived at Ewanrigg where they would be recorded and planted, and when they bloomed, their flowers were described and the descriptions were published. He enlisted the help of Dr Inez Clare Verdoorn, another world botanical authority in South Africa, and between them they recorded 28 previously unidentified species.
By the early 1940's, Ewanrigg had expanded to seven acres and was internationally recognised for its collection of African aloes in particular. Many international experts visited and in 1943 the 14.5 acres of garden was declared National Monument No 46, "A beaconed area of approximately 14.5 acres situated immediately east of the homestead on Ewanrigg Farm, Salisbury District, comprising the Aloe Garden, the slopes of the kopje covered with indigenous timber adjoining the garden, and an area of land at the base of the said kopje."
His interests widen into cycads and euphorbia
In later life Christian continued to cultivate aloes, but also began collecting and propagating African Cycads and in 1947, he and Dr Inez Clare Verdoorn went on a cycad tour of South Africa travelling from the Transvaal to Natal. He also grew interested in Euphorbia and his contribution was acknowledged in the 1941 book Succulent Euphorbieae of Southern Africa, "for very useful information about the species native in the Rhodesia's and for gifts of plants and photographs" and several of his photographs were used as illustrations.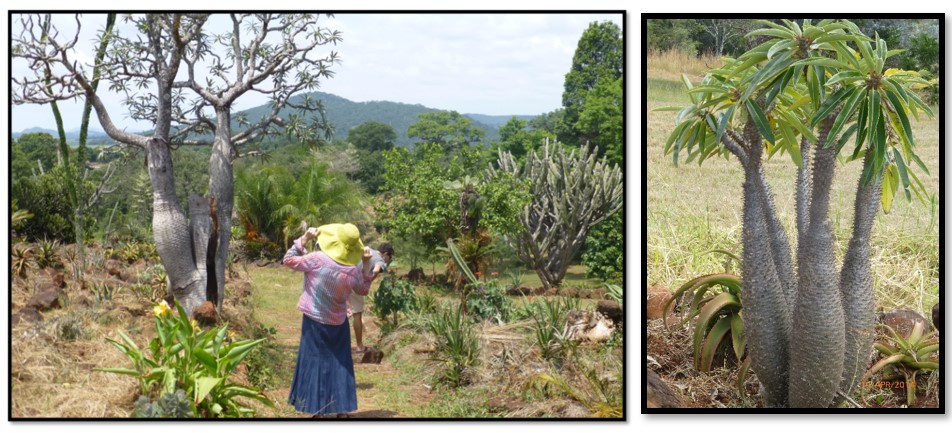 Author photo: one of the many species of Euphorbia at Ewanrigg
Ewanrigg is bequeathed to the nation by Basil Christian
In 1948, he subdivided his 1,401 acre (662 morgen) property keeping just over half the original acreage - 707 acres. On 5 June 1948, in his will he made this land, which included his garden, over to the Rhodesian state. The Rhodesia Herald, which published an article at the time read, "If the offer of the owner Mr Basil Christian is accepted by the Rhodesian Government, the finest and most complete collection of aloes and cycads in the world will become the property of the Colony for all time."
In an interview Christian said his interest had grown as a hobby and that during bis many years of research he had corresponded with botanists throughout the world and that his collection would not have been possible without the help of Kew Gardens and the South African government's Division of Botany, who frequently sent him new specimens. In the same interview, he acknowledged that Ewanrigg had made a significant contribution to science, and that all his records would be donated to the country along with the garden.
Harold 'Basil' Christian died on Friday, 12 May 1950 at St Anne's Hospital, Salisbury after a lengthy illness, aged 79 years and was buried the following day at Salisbury Cemetery, following a funeral service at the Anglican Cathedral. He was remembered as a proud Old Etonian, an enthusiastic member of the Rhodesian Agricultural Union, an active member of The Salisbury Club, a skilled horseback rider and most memorably, for the wonderful creation of his garden.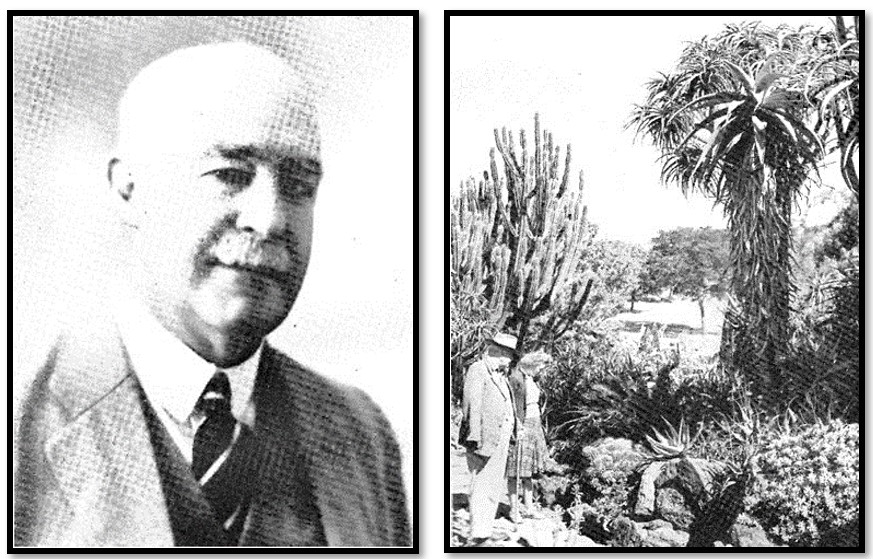 Photos NAZ: Basil Christian in 1948 and in his garden at Ewanrigg
In her tribute to Basil Christian Dr Inez Clare Verdoorn wrote, "The rock-work is still there to be admired and the Aloes and Cycads to be studied, but the maker and builder of that garden has now gone from it. After a long battle with a trying malady on a night in May 1950, H. Basil Christian of Ewanrigg died. The next day a mutual friend in Salisbury, hearing the news, wrote in part of the 'laird of Ewanrigg' as he called him, 'a very gallant gentleman doing grand work in his own line under the heaviest of handicaps, and holding his head high and scorning the facile pity of weaklings . . . Ave atque vale most faithful of Old Etonians. I like a man who has the courage of his loyalties. . . Eton sustained him against all odds and that is more than can be said of most men.' Ewanrigg must needs be desolate and wan for a while but in time it will recover. Long may it be a monument to the memory of Basil Christian and an asset to the country that he loved."
HFW Davies and A.G. Buckland continued to develop the gardens at Ewanrigg
In June 1949 H.F.W. Davies, a horticulturist who had trained at the Royal Botanic Gardens at Kew and worked at the National Botanic Gardens at Kirstenbosch in the Cape, took up residence at Ewanrigg. Davies, who had met Christian at a meeting of the Succulent Society of which Christian was the founder and president, remained as curator for 23 years and maintained and further developed Ewanrigg garden until his retirement from the Department of National Parks and Wild Life Management in 1970.
H.F.W. Davies was succeeded by A.G. Buckland, a keen student of stapeliads, aloes and other succulents, who continued the tradition of extending and making improvements at Ewanrigg.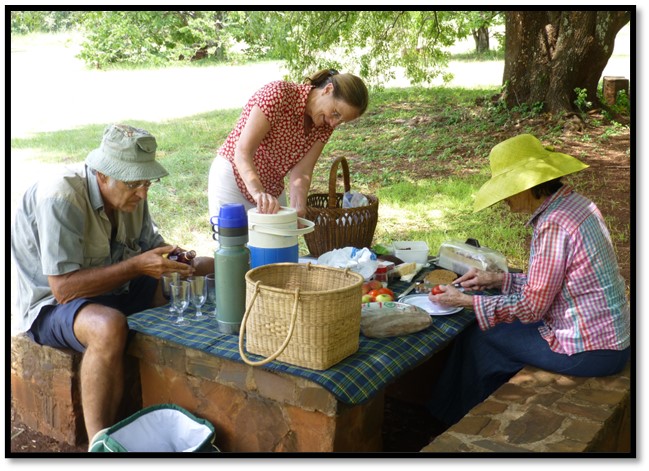 Author photo – visitors enjoy a picnic at Ewanrigg
The plaque to Basil Christian
At an Ewanrigg ceremony in 1952 The Rhodesia Herald reported as follows in the press, A simple plaque to the memory of Basil Christian who, in his Aloe garden at Ewanrigg has left to the nation a source of pleasure and inspiration for future generations, is a fitting tribute. Sir Ernest Guest, when he unveiled the plaque, quoted the Latin inscription to Sir Christopher Wren in St. Paul's Cathedral: "If you want a memorial, look around you.
The garden is his memorial, and a rock bears a brass plate with this inscription:
HAROLD BASIL CHRISTIAN
1871 to 1950
Here a garden was born
FONS et ORIGO
ERECTED BY THE BOTANICAL
SOCIETY OF SOUTHERN
RHODESIA, 1952
'Fons et Origo' — the fountain and source. It was at this spot that Christian planted his first Aloes, which are still growing. From that small beginning came the inspiration to build what is reputed to be the finest garden of aloes, cycads and succulents in the world. It was declared a national monument several years ago, and before his death in May 1950 he gave it to the nation. Farmer, lover of nature, and a world authority on Aloes, Basil Christian has left for posterity a thing of beauty."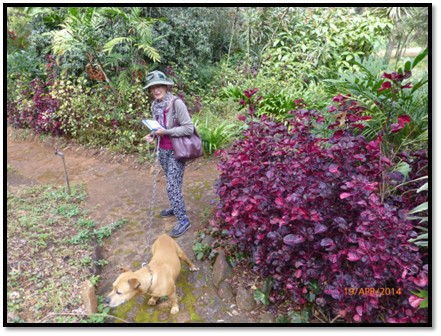 Author photo – footpaths guide visitors through the Botanical Gardens
The present day property is managed by the Zimbabwe Parks and Wildlife Authority
In 1950, the estate was named Ewanrigg Botanical Garden and was opened to the public. In 1960 the Governor Humphrey Gibbs declared it a National Park. The area under cultivation has been considerably expanded over the years to 100 hectares under the management of the Zimbabwe Parks and Wildlife Management Authority (Zimparks)
To the credit of the Zimbabwe Parks and Wildlife Management Authority they have done a great job in maintaining the quality of the gardens and also expanding the area under cultivation for the enjoyment of Zimbabwe citizens and the community. In recent years, the country's economic decline has seen a failure of delivery of most Zimbabwean organisations, but I believe if Basil Christian came back and saw the garden today he would feel just as proud of his creation as he did in the late 1940's.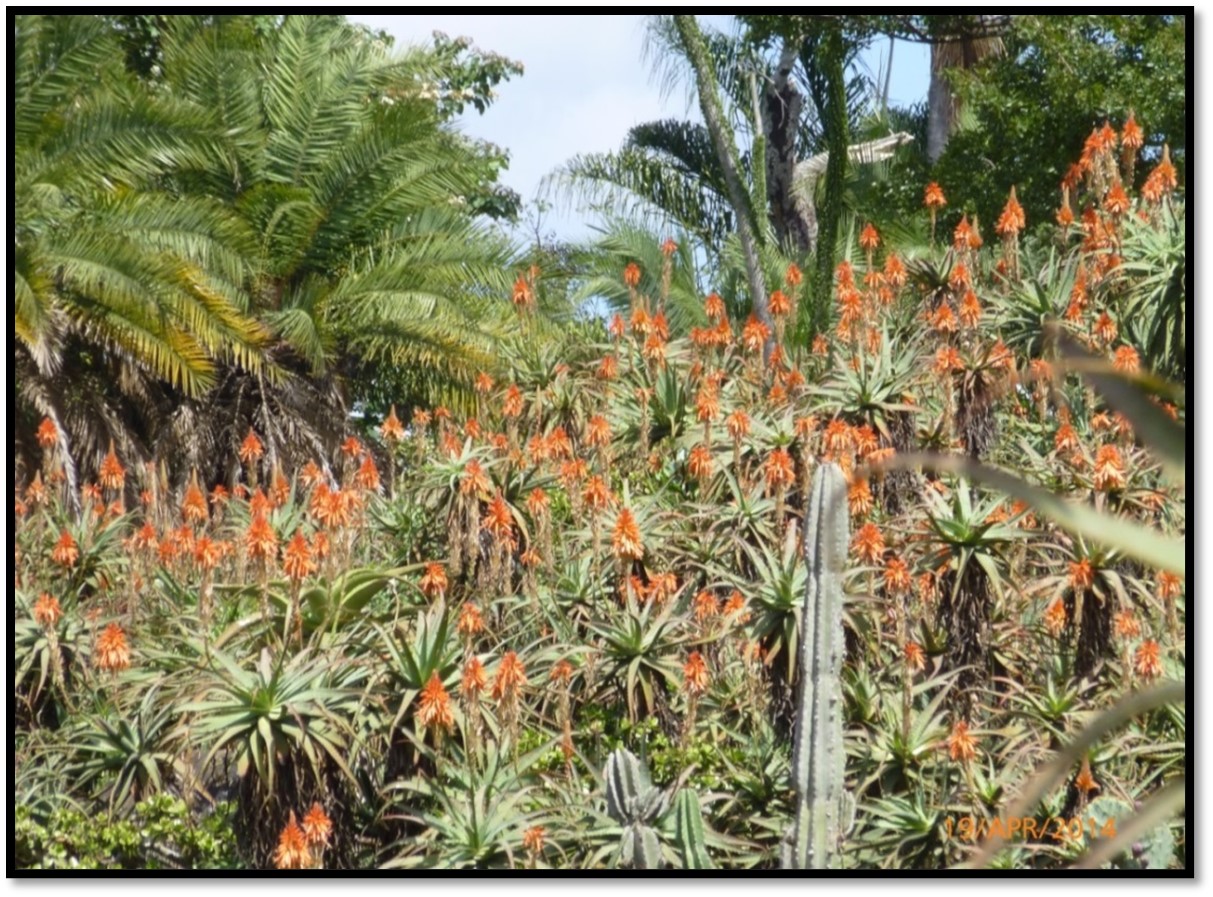 A general view of a sample of the Ewanrigg Aloes
The best time for aloe viewing is in the winter from April to July when they are in bloom. At this time, they entice large numbers of long-billed sunbirds attracted by the nectar and visits by bird watchers will be well rewarded. Short-billed birds have also learnt to perch on the stem of the aloe spike and puncture the base of each flower to capture the nectar. A wide variety of birds are attracted, including water birds to the dam in the north of the garden.
The Zimbabwe Parks and Wildlife Management Authority operate the site. Some reasons for visiting the site include:
A picnic site popular with families with braai stands, water points and toilet facilities
An open ground where visitors can play ball games
Photography of plants and birds
Walks – guided and unguided
Bird watching
Enjoying the botanical gardens set in an attractive piece of countryside
On the writer's last visit the café on site was permanently closed, probably due to a lack of visitors, although the braai area was well used with at least a dozen cars. The gardens looked well maintained, paths and walkways had been cut back and the Zimparks staff at the entrance was very welcoming. Despite the state of the economy and the lack of funding for Zimparks, Ewanrigg Botanic Garden does not feel neglected and is very much a community resource which Harare residents should be encouraged to use. Clearly Basil Christian made a wise choice in low-maintenance gardening all those years ago.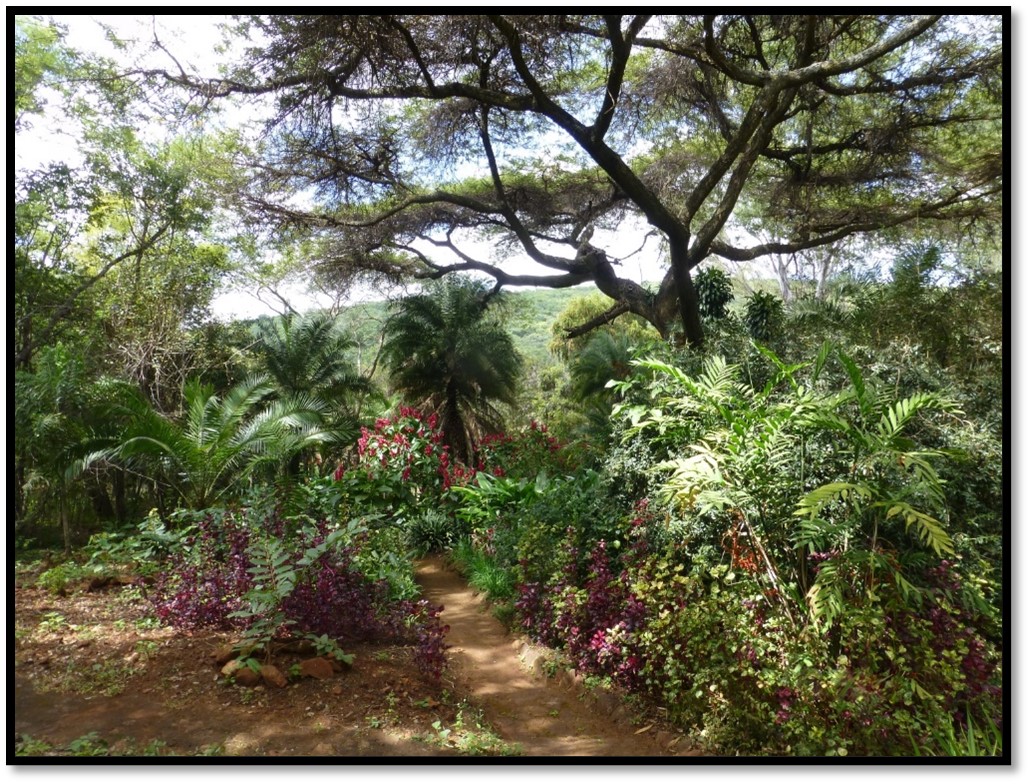 Author photo – attractive planting makes a walk through the gardens very enjoyable
In this section we speculate whether Basil Christian named his farm after an old family property in Cumberland or after his brother Ewan who was killed in action during the Boer War?
Ewanrigg Hall, Cumberland
The website https://houseandheritage.org/2017/04/07/ewanrigg-hall/ states that Ewanrigg Hall, a late 18th century country house, was seat of the Christian family of Cumberland for many generations. But their fortune gradually deteriorated and there were several occasions when the house was unsuccessfully offered for sale and numerous times it was occupied by live-in tenants. In the end it proved to be a millstone for the Christian family who eventually got rid of it by the end of the 19th century.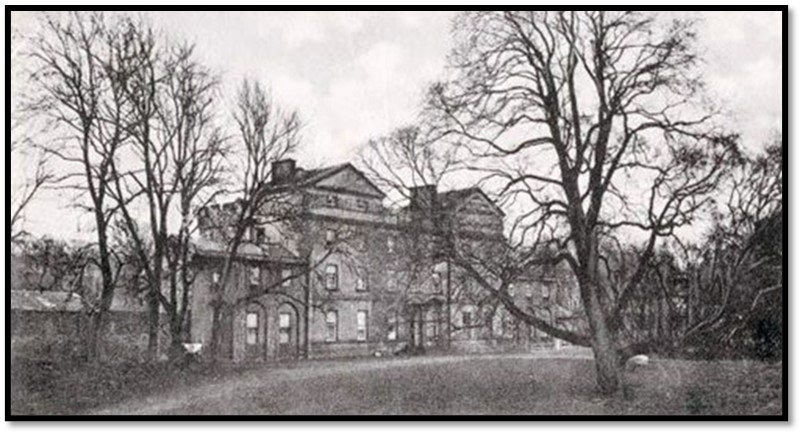 Photo houseandheritage.org – the abandoned Ewanrigg Hall
The website states that for many years Ewanrigg Hall was occupied by Henry Taubmen Christian who died in 1859. Unfortunately, his widow ended her years at Dunston Lodge Lunatic Asylum in Gateshead. The house was left unoccupied, 'a deserted and decaying mansion,' where ghosts were said to haunt its corridors and where 'no tenant could be found with enough temerity to take it.' In 1895 the house and its 600 acre estate was offered for auction by order of the Court of Chancery. No purchaser was forthcoming but in 1897 it was sold to Mr. J.R. Twentyman, a wealthy tea trader who lived in Shanghai, and who had previously bid for Dalston Hall.
Twentyman demolished Ewanrigg Hall in 1903 and reduced the former grand house to cowsheds and a farmhouse as seen in the photo below.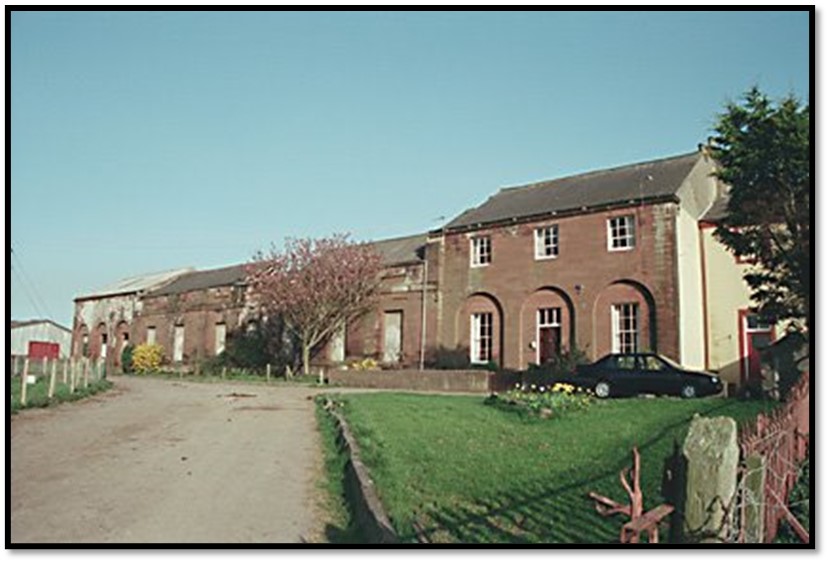 Photo houseandheritage.org – Ewanrigg Hall after being demolished and converted into cowsheds and farmhouse
In modern times the owner was John Dixon, but he died in 2012, the farmhouse was left empty and allowed to deteriorate before burning down in August 2015, possibly as the result of arson.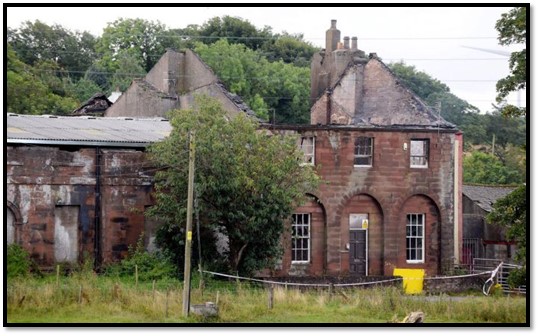 Photo houseandheritage.org – the farmhouse remains of Ewanrigg Hall destroyed by fire
So the Christian family association legally ended in 1897, but in practical terms ended in 1859 on Henry Taubman Christian's death as his wife died intestate or lacked the mental capacity - the house was sold by the Court of Chancery.
Harold 'Basil' Christian
Much of the information here is from the really excellent article written by Michael Kimberley in Rhodesiana Publication No 36, March 1977.
Basil Christian, who named his Mashonaland farm Ewanrigg, lived from 1871 to 1950. He was born in Port Elizabeth (now Gqeberha) the son of Henry Bailey Christian, a successful farmer who was a Captain in the local militia in 1846 and Michael Kimberley writes, "He was President of the Port Elizabeth Agricultural Society, the first President of the South African Agricultural Union, President of the Port Elizabeth Chamber of Commerce and President of the Jockey Club of South Africa and the Port Elizabeth Turf Club for a number of years. He was a Harbour Commissioner and, for a short while, a member of the Legislative Assembly." When he died in 1903 it was said of him, "by his death a link with the past is severed and South Africa is the poorer by the loss of a good man who was the type of what an English colonial gentleman should be." Clearly his father Henry lived much or all of his life in South Africa with no known association with Ewanrigg Hall in Cumberland.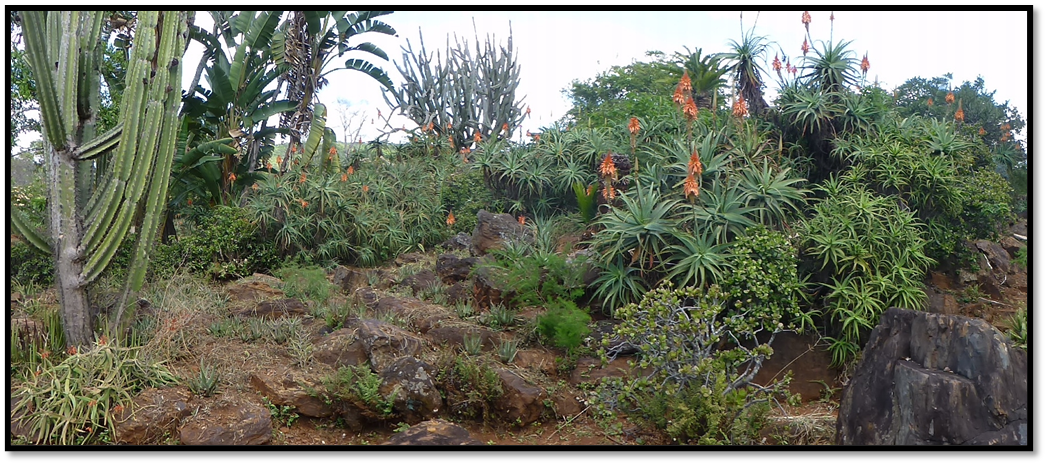 Author photo: an aloe ridge coming into flower
Harold 'Basil' was the youngest of four sons and four daughters. He was educated at Eton College and his sporting achievements were recorded in the Eton College Journal of 1887 and 1888. He may never have visited Ewanrigg hall, then unoccupied, 'a deserted and decaying mansion,' although he would undoubtably have heard stories from his father about his forebears and their association with Ewanrigg Hall.
Basil, like his elder brother Ewan, fought in the Boer War (1899-1902) Basil was in the Imperial Light Horse, was present at the siege of Ladysmith and distinguished himself by gallantry in the field at the Battle of Tugela Heights. Ewan served in Rimington's Guides and died from wounds received at Paardeberg on the 28th February 1900 while saving a comrade.
After a mining career with De Beers, Basil heard about Rhodesia from a first cousin, Harold Henry Dunell Christian, who in 1896 settled near Salisbury. In 1911 Basil also came to Rhodesia and a few years after his arrival he purchased the 662 morgen (1,401 acres) Mount Shannon farm, being Subdivision A of The Meadows, from Gerald Ernest George Fitzgibbon for £5,000. This he renamed Ewanrigg.
At the time he was perhaps 42 years old, his elder brother Ewan had been killed about 13 years before.
The question is what would have been the greatest influence in his naming Ewanrigg farm? An ancestral property that he most probably never visited in Cumberland, Wikipedia references another old family property in the Isle of Man, or the death of his brother, Ewan? Rigg is the Welsh word for a ridge and as the photos show, the farm has a series of them.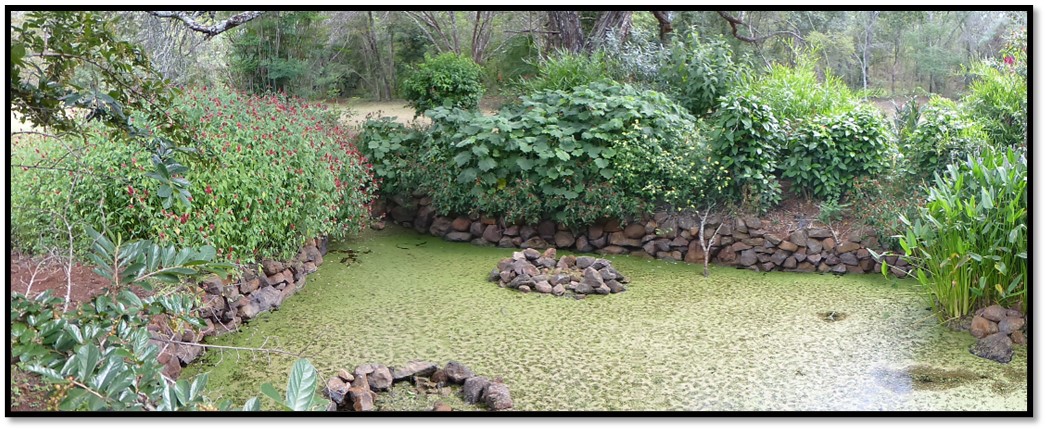 Author photo: one of the attractive water features that dot the garden
References
M.J. Kimberley. Harold Basil Christian: an early Rhodesian Botanist. Rhodesiana Volume 36, March 1977. P37-46
https://houseandheritage.org/2017/04/07/ewanrigg-hall/
When to visit:
Monday to Sunday, 8am to 5pm