Zimbabwe has wonderful birdlife – take a guided tour with an expert
Text by Stuart Beverley.
There are over 685 species of birds that have been recorded in Zimbabwe, boasting varied habitats ranging from the lower Zambezi Valley riverine and mopane veld through the Miombo woodlands of the Highveld to the Eastern Highlands montane grasslands. To really experience all that Zimbabwe has to offer you need to at least sample a couple of these habitats with their different birds.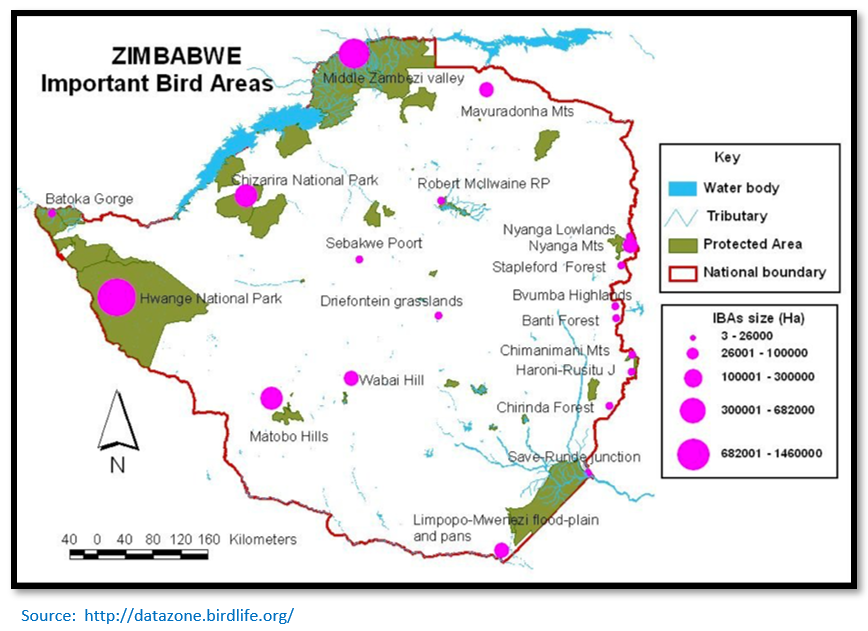 Harare; Monavale & Marlborough Vlei, Mukuvisi and Haka
In the wetland areas look out for Striped Crakes and Streaky-breasted Flufftails Black Coucals, Croaking Cisticolas and Yellow-mantled Widowbirds Broad-tailed Warblers and the occasional Dwarf Bittern, an unusual bird for Harare. Long Crested Eagles are fairly common. Orange-breasted Waxbills Cuckoo Finch Common widows and bishops Pale-crowned Cisticola Grey-rumped Swallows Corn Crakes, African Crakes and Marsh Owls.
The Haka miombo birds are similar to Mukuvisi, but being a bigger 'island' of woodland, still has some Miombo Rock-thrushes and occasional Southern Black Tits that Mukuvisi has lost. You will find all the other miombo specials here: Spotted Creeper, White-breasted Cuckoo shrike, Miombo Tit, Red-faced Crombec, Whyte's Barbet, Brown-backed and Green-backed Honeybird, African Golden Oriole, Southern Hyliota, African Yellow White-eye, etc., as well as seasonal Broad-billed Roller, nightjars, cuckoos, bee-eaters, Tree Pipit and many others. It is worthwhile checking out White-crested Helmet-shrike flocks as they often form the focus of exciting bird parties. Meyer's Parrots can sometimes be found here, as can Miombo Blue-eared Starlings, though the latter are more common at Mukuvisi.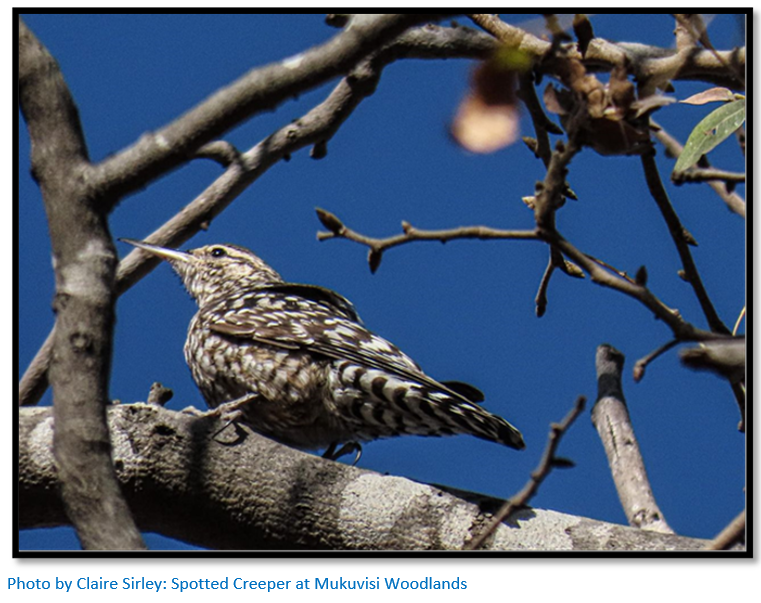 Ewanrigg: The main attraction is the aloe section which attracts Copper, Purple-banded, Miombo Double-collared, Variable, White-bellied, Scarlet-chested, Amethyst and Western Violet-backed Sunbirds, particularly during the flowering season from April to July. The Violet-backed is especially difficult to find anywhere and this makes Ewanrigg the most reliable birding spot for this elusive bird. They are often found on the large Acrocarpus coffee shade tree near the warden's house, rather than on the aloes. Bronze, Red-backed Mannikin and Magpie Mannikin are often together near the indigenous bamboo
Bulawayo (Aiselby and Hillside dams)
Aisleby supports in the region of 325 species, ranging from bush birds, to raptors and waterfowl. Several rarities and vagrants have been recorded over the years. Flamingo and Great White Pelican have been known to use Aisleby as a 'stop over' on their flights.
Hillside dams are home to many varieties of waterfowl, with the African Fish-eagle making its presence known on many occasions by means of its unmistakable call. The African Jacana, Black Crake, together with many other varieties, make themselves known by their antics within and on the reeds of the dam and their paddling around. Of an evening, the Spotted Eagle-owl may be heard, competing with the Fiery-necked Nightjar
The Eastern Highlands
Nyanga - the mountains are important for the rare Taita Falcon and summer brings Blue Swallows to the montane grasslands to breed. Wattled Crane also breeds in the area. The forests are known for restricted range Chirinda Apalis and Roberts's Warbler. Other special forest birds include Orange Ground-thrush, White-starred Robin, Swynnerton's Robin, Red-capped Robin-chat, Stripe-cheeked Greenbul, Barratt's Warbler, White-tailed Crested Flycatcher, Yellow-throated Woodland-warbler, Barratt's Warbler, Olive and Black-fronted Bush-shrike. Red-faced Crimson wing can be looked for in the tangles and in more open situations the Yellow-bellied Waxbill is common and Livingstone's Turaco often seen and heard. Orange-winged Pytilia can also be found in the more open habitats. A recent range expansion involves the Swee Waxbill in the western parts of Nyanga.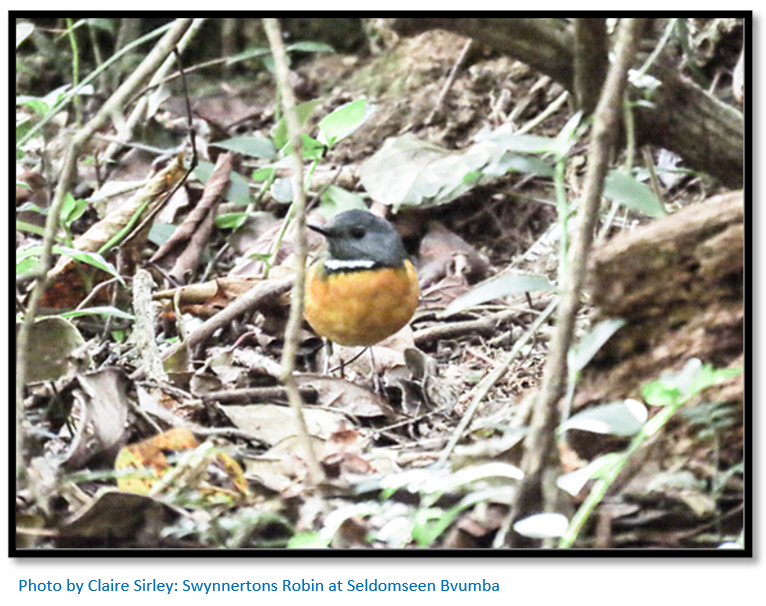 The Bvumba is an exciting eastern highlands birding destination with many montane specials in an area comprising montane forest and grassland, bracken-scrub, exotic vegetation, miombo and acacia woodland and streams and dams. The great variation in altitudes and moisture from the east means that our bird list should be used with caution as some species occur in the drier rain shadow, others in east facing habitats and others are marginal altitudinal migrants from the Burma Valley.
The montane forests and their edges are a favoured birding habitat with like Swynnerton's Robin, White-starred Robin, Red-capped Robin-chat, Orange Ground-thrush, Chirinda Apalis, Roberts's Warbler, Buff-spotted Flufftail, Yellow-throated Woodland-warbler, Dark-backed Weaver, Yellow-streaked and Stripe-cheeked Greenbul, Grey Cuckoo shrike, Square-tailed Drongo, White-eared Barbet, Yellow-rumped Tinkerbird, Livingstone's Turaco, Eastern Bronze-naped Pigeon, African Broadbill, Scaly-throated Honeyguide, Green Twinspot, Red-faced Crimson wing, African Firefinch and others. Gorgeous Bush-shrike can be found lower in thicket and is replaced higher up by the Black-fronted whilst Blue-mantled Crested Flycatcher is an occasional lowland bird and is replaced higher up by the White-tailed Crested.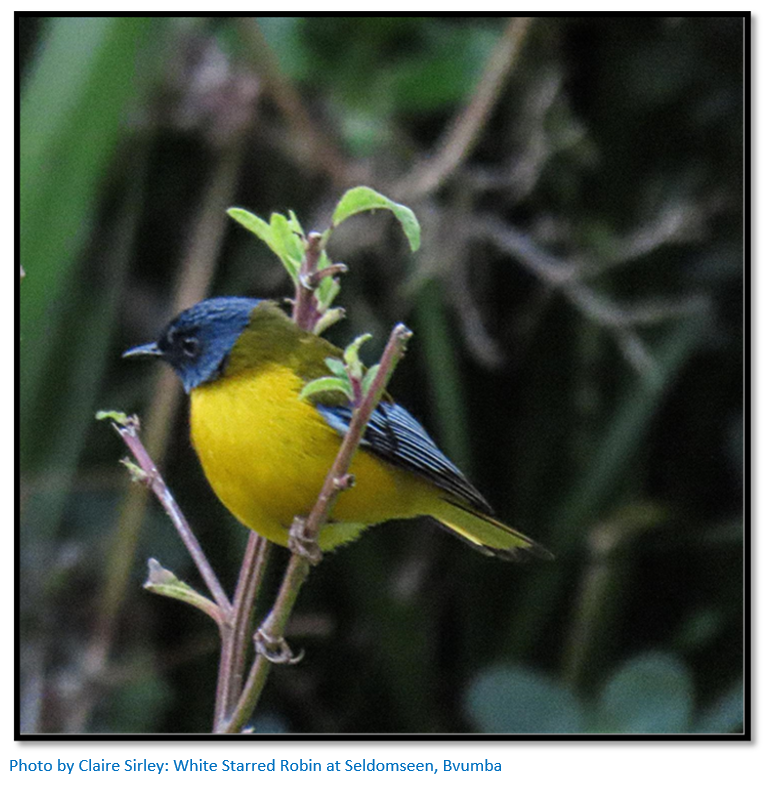 The Eastern Lowland Forests
Aberfoyle: Specials to the area are: Anchieta's ( Marsh) Tchagra – this is the only place you'll find this bird, Palm-nut Vulture, Red Faced Crimson wing, Red Chested and Buff Spotted Flufftail, Barred Long Tailed Cuckoo, Green Twinspot, Barratt's Warbler, Pallid (Eastern) Honeyguide, Green Backed Honeyguide, l, Plain Backed (Blue Throated) Sunbird, White Eared Barbet, Rufous Winged Cisticola, Forest Weaver, Mashona Hyliota, Square Tailed Drongo, Green backed Woodpecker, Bronze Naped Pigeon, Scarce Swift, Grey Waxbill, Pale Batis, Red Winged Warbler, Black Throated Wattle-Eye, Ayres Eagle and Black Sparrowhawk
Haroni Rusitu: Lowland forest dripping with specialties: very healthy populations of Tiny Greenbul and Black-headed Apalis there are many Green Malkoha as well as green-backed Woodpecker, Chestnut-fronted Helmet Shrikes, Black-and-White Flycatchers there. Also Martial Eagle and Crowned plus Southern Banded-Snake Eagle and sometimes Taita Falcon.
The Zambezi
The Zambezi River and the floodplain is the main attraction. Here there are some specials. Rufous-bellied Heron and Long-toed Lapwing like the areas of fringing weed along the river banks and White-fronted Plover and African Skimmer favour the open sandbars for breeding; Collared Pratincole fly over and roost in favoured spots on islands or sandbars whilst Blue-cheeked Bee-eaters visit in summer – the Southern Carmine Bee-eater colonies are vibrant with colour, with year-round White-fronted Bee-eater colonies along the steep banks. White-backed Night-heron do occur but are secretive and are most common in the thick fringing vegetation of Chikwenya Island. Pel's Fishing-owls are quite frequent around the National Park lodges and appear along the river at other spots occasionally. Western Banded Snake-eagle often sit quietly in tall trees overlooking the river and are easy to miss, whilst Red-necked Falcon whiz through after small birds and are increasing from their strongholds of the Rukomechi and Sapi rivers on the west and east boundaries of the park. Mottled Spinetails favour certain baobabs but Böhm's Spinetail are frequent, flitting over the floodplain and river. The thickets produce Eastern Nicator, African Pitta, Red-capped Robin-chat, Bearded Scrub-robin and others. Collared Palm-thrush should be sought after in Ilala palm areas, whilst the cooler riverine has Black-throated Wattle-eye and Livingstone's Flycatcher. Meves's Starlings are just plain common! Purple-banded Sunbird and Collared Sunbird like the woodlands and riverine but Shelley's Sunbird only occurs at wild mistletoe during the rains.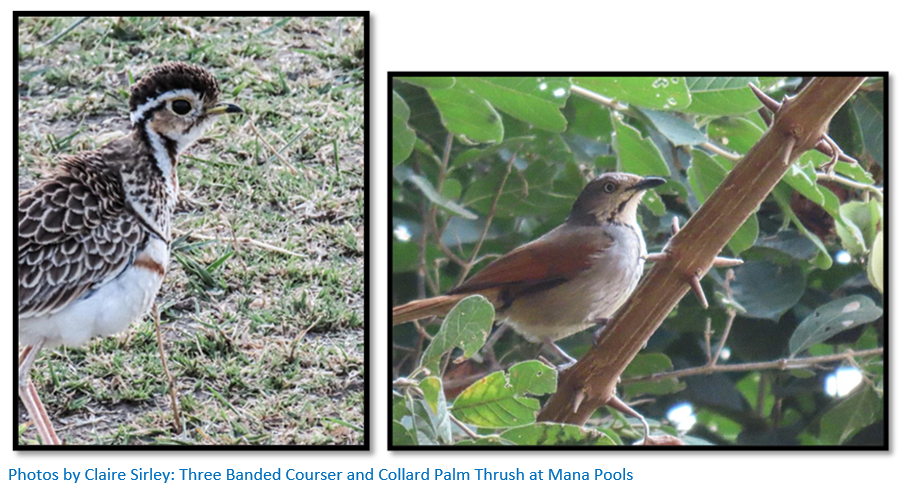 Kariba: Being a clean and vast lake there is often not a lot to seen in the middle and bays, islands and estuaries are where you should look for waterbirds. White-backed Night-heron and even African Finfoot have been found up the Sanyati Gorge whilst on the western side of Matusadona National Park the Ume basin is good for nesting Marabou Storks and White-backed Vultures and look for Arnot's Chats near the Chura. The Ume is great to explore and Western Banded Snake-eagles sit quietly in the tall trees and Senegal and White-browed Coucals forage low down. If you want Grey Crowned Crane try the Mukadzapela River of the park and look out for Black-bellied Bustards on the Panicum foreshores. look out for Long-toed Lapwings where there are extensive stretches of Kariba weed. The common gull is Grey-headed but the occasional Lesser Black-backed turns up on Kariba. If you see a buffalo herd or rhino on the Matusadona foreshore check them out for Red and Yellow-billed Oxpeckers. If you on land, such as in the park or Bumi Hills, it is a good idea to search the dry thickets for Orange-winged Pytilia and Broad-tailed Paradise-whydahs could be near by – examine widowfinches carefully for the Green Widowfinch which is easily overlooked.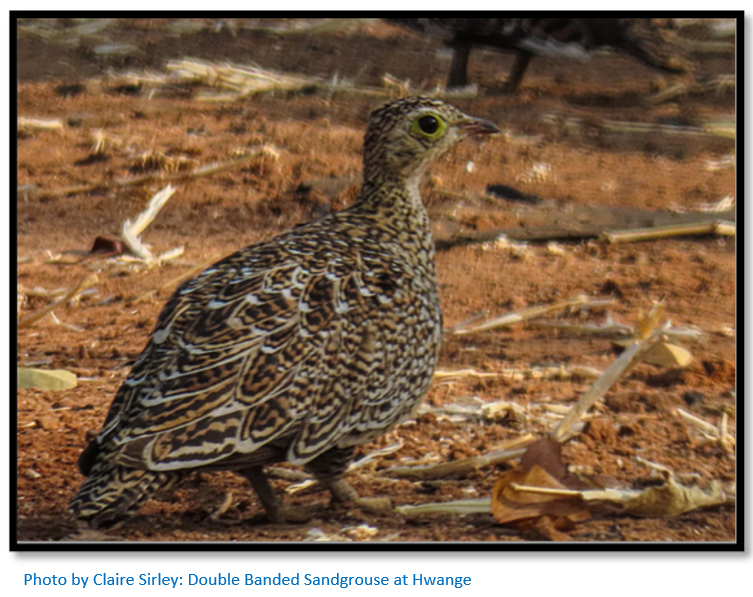 Victoria Falls: Kazungula occupies the most westerly corner of the country with the Zambezi River and its swamps and floodplains, acacia and open woodland, with Zambia just across the river, Botswana to the west and an arrow point of the Caprivi Strip north of that. On the floodplains are specials such as the Slaty Egret, Long-toed Lapwings, Coppery-tailed Coucal, Swamp Nightjar, Hartlaub's Babbler, Greater Swamp-warbler, Luapula and Chirping Cisticolas, Plain-backed Pipit, Southern Brown-throated Weaver and Swamp Boubou, Swamp Nightjar, Hartlaub's Babbler, Greater Swamp-warbler, Luapula and Chirping Cisticolas, Plain-backed Pipit, Southern Brown-throated Weaver and Swamp Boubou. Shelley's Sunbird is found. Denham's Bustard in the National Park, along with occasional and rare Red-headed Quelea between the Falls and Kazungula. The Victoria Falls can give you Brown Firefinch, Schalow's Turaco, Olive Woodpecker, Northern Grey-headed Sparrow, Collared Palm-thrush and many others. The gorges are very popular for adventure-type safaris and activities and this has threatened the Taita Falcon though Peregrine Falcons are more tolerant of disturbance. There are also many other raptors to be seen in the area, including the migrants in summer. African Black Swifts are common in the gorges and the mottled hollidayi race here has led to reports of Mottled Swift. Ross's Turaco has been reported from the river and here you can find Western Banded Snake-eagle, Lesser Sand Plover.
Masoka Pitta Camp: Angwa River including the African Pitta, Green Sandpiper, both Spinetails, massive flocks of Lillian Lovebirds, Western Banded Snake Eagles.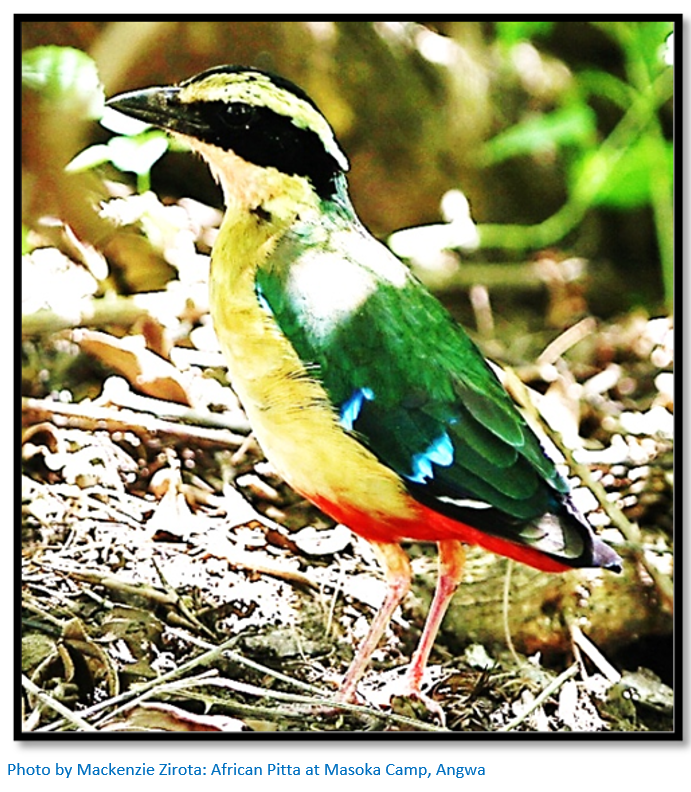 Central Zimbabwe
Wabai/Shangani: 300 species live and breed within the Shangani Sanctuary. Shangani Vulture Restaurant (SVR) has opened at Shangani Wildlife Sanctuary (SWS)
Vultures – African White-Backed Vulture, Lappet-Faced Vulture, White-Headed Vulture and Cape Vulture. Some of the special ones include: Ostrich, Cranes – Wattled crane, Crowned crane, Kori Bustard, Storks – Black, Abdim's, White, Yellow billed, Korhaan – karoo, blue, southern white-bellied, Eagles – African Fish Eagle, Martial Eagle, Bateleur Peregrine Falcon, Owls – Spotted Eagle Owl, Cape Eagle, Spurwing geese
Driefontein: Specially protected birds comprising Wattled Crane and Grey Crowned Cranes, Secretary birds, the African Fish-eagle, the Black-chested Snake-eagle and the Black-bellied Bustard. It is Zimbabwe's main Wattled Crane area and is on the list of sites that were recently designated as wetlands of international importance (Ramsar sites).
Lake Kyle: The lake itself will give you the normal herons, egrets and storks with ducks and other waterbirds. The miombo woodland is a popular habitat to bird in and offers African Cuckoo Hawk, Brown-backed and Green-backed Honeybirds, White-breasted Cuckoo shrike, and Miombo Double-collared Sunbird amongst others. It is worth checking the unusual forest birds that occur at Great Zimbabwe with African Emerald Cuckoo, Narina Trogon, Silvery-cheeked Hornbill, Scaly-throated Honeyguide, Grey Cuckoo shrike, Red-capped Robin-chat, African Dusky Flycatcher, Cape Batis and Swee Waxbill having been recorded there. Being on the edge of the plateau there are some interesting lowveld birds to watch out for.
Sebakwe poort: The precipitous multi-coloured hued cliffs provide a haunt for several bird species such as Peregrine Falcons, Rock Martins, Red winged Starling, Mocking Cliff-chat, African Black Swifts, Indian Swifts and Black Storks.
The South East
Mahenye: The area around the junction of the Save' and Runde rivers is the best place to look for Pel's Fishing Owl and Southern Banded Snake Eagle and the forest next to the school at the junction is home to Gorgeous Bush shrike and Green Malkoha. The Mangrove Kingfisher is new to Zimbabwe and may be found in the rains around the Save-Runde confluence, the country's lowest point
The massive Tambohata Pan close to the junction attracts large numbers of waterbirds in the wet season. Lesser Jacana, Lesser Moorhen, and Allen's Gallinule are some of the unusual species that are attracted to this pan. Brown-headed Parrot and Collared Palm Thrush are two species that can be seen around the edge of the pan. Senegal Lapwing occurs in the well-grazed areas and Mosque Swallow, Mottled Spinetail can be found around the many Baobab trees. In the riverine thickets look for Eastern Nicator, Yellow-breasted Apalis, and Black-throated Wattle-eye. The rivers attract many waterbirds from herons, storks and egrets to waders, African Skimmers and nesting Southern Carmine Bee-eaters. Purple-crested Turacos flash crimson through the denser riverine and Grey-headed, Brown-headed and Meyer's Parrots squawk and shriek.. and the spectacular Chilojo Cliffs can be checked for Verreaux's Eagles, Peregrine Falcons, Black Storks, swifts and other raptors.
Manjinj in the Nuanetsi area: a great water fowl section and Plain-backed Sunbird has been seen here as well as in several other places, A special for the area is the Lemon-breasted Canary so check Ilala palm savannah and over-grazed areas; large flocks have been recorded in the Chikwarakwara area in the south.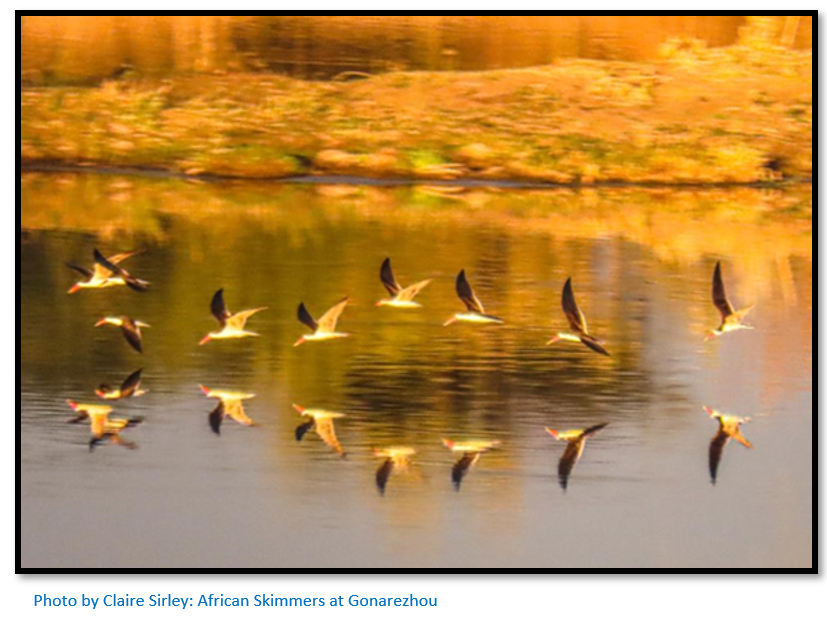 Mashonaland
Umfurudzi and Hippo Pools: In the park itself there is a wonderful raptor population around Hippo Pools that has been studied – the African Crowned Eagles and Verreaux's Eagles nest sites can be visited… and others besides. African Cuckoo Hawk, European Honey-buzzard, Bat Hawk, migrant eagles, accipiter's, falcons and Dickinson's Kestrels can be found (make use of the extensive walking trails, marked and mapped, and explore). African Finfoot can be found at Hippo Pools and the White-backed Night-heron often displays right in front of the camp! Pel's Fishing-owl, Black-throated Wattle-eye and Livingstone's Flycatchers in the riverine forest. Narina Trogons, Red-throated Twinspot and Collared Sunbird are also regular here and you may be lucky and find the Plain-backed and Western Violet-backed Sunbirds. Also check the woodlands for Grey Tit-flycatcher, Broad-tailed Paradise-whydah (and Orange-winged Pytilia), Tree Pipit, and Cabanis's Bunting. There are also areas of great miombo woodland where you can find Spotted Creeper, White-breasted Cuckoo shrike, African Golden Oriole, Miombo Tit, probably Southern Hyliota (needs confirmation, as does the Miombo Rock-thrush and Red-faced Crombec!), Wood Pipit, Black-eared Seedeater and others. The hills have Boulder Chat close to Hippo Pools.
Gosho Park: High rainfall miombo woodlands Bird parties are what you are looking for and where you can get the specials together – Boulder chat, Spotted Creeper, Green-capped Eremomela, Red-faced Crombec, Whyte's Barbet, Brown and Green-backed Honeybirds, African Golden Oriole, Miombo Tit and Rufous-bellied plus Grey Penduline-tit, White-breasted Cuckoo shrike, woodpeckers and Fork-tailed Drongo, Southern Hyliota, Wood Pipit, shrikes, Miombo Double-collared Sunbird, African Yellow-white-eye and more. Collared Flycatcher has been recorded in the past, in woodland across the stream west of the bush camp, so look out for him in the rainy season whilst Tree Pipits are generally distributed.
The Wetlands (RAMSAR Sites)
The Ramsar convention entered into force in Zimbabwe on 3 May 2013. Zimbabwe currently has 7 sites designated as Wetlands of International Importance (Ramsar Sites), with a surface area of 453,828 hectares dedicated to the protection and preservation of the wetland and birdlife associated.
Driefontein
Lk Manyame
Monavale
Cleveland Dam
Chinhoyi Caves
Vic Falls
Amongst the birds that can be seen are wetland that boasts some special crakes and flufftails in the summer months. Birding is best from December through April, though the Striped Crakes and Streaky-breasted Flufftails that so attract visitors are more reliable from about mid-January, depending on the rains and stable flooding for breeding. Black Coucals, Croaking Cisticolas and Yellow-mantled Widowbirds are common and good rains bring in Broad-tailed Warblers and the occasional Dwarf Bittern. Orange-breasted Waxbills flash flit from spot to spot and Cuckoo Finch are about, though they are better when they form flocks later in the year. Common widows and bishops are everywhere in breeding dress and the thin call of the Pale-crowned Cisticola floats about somewhere overhead, while Grey-rumped Swallows fly back and forth. It is not unusual to flush Corn Crakes, African Crakes and Marsh Owls. The Black-shouldered Kite is common as are passing flocks of Amur Falcons, whilst the occasional Eurasian Hobby sweeps through. As the vlei dries through winter, grass fires begin and the open ground attracts a very different bird community. The dry months bring Capped Wheatears, Red-capped Larks, African and Buffy Pipits and a few Temminck's Courser.
Kuimba Shiri
Keen birders should not miss Kuimba Shiri on the eastern shore of Lake Chivero and opposite the National Park. You can see many of Zimbabwe's birds of prey (the raptors) including the Marshall, Black, Crowned and Fish Eagle as well as the owls. Kuimba Shiri is a dedicated bird sanctuary and a good place to start viewing the birdlife of Zimbabwe within close proximity of Harare. The hosts Gary, Elcine and Josh and knowledgeable staff are never happier than taking questions about birds.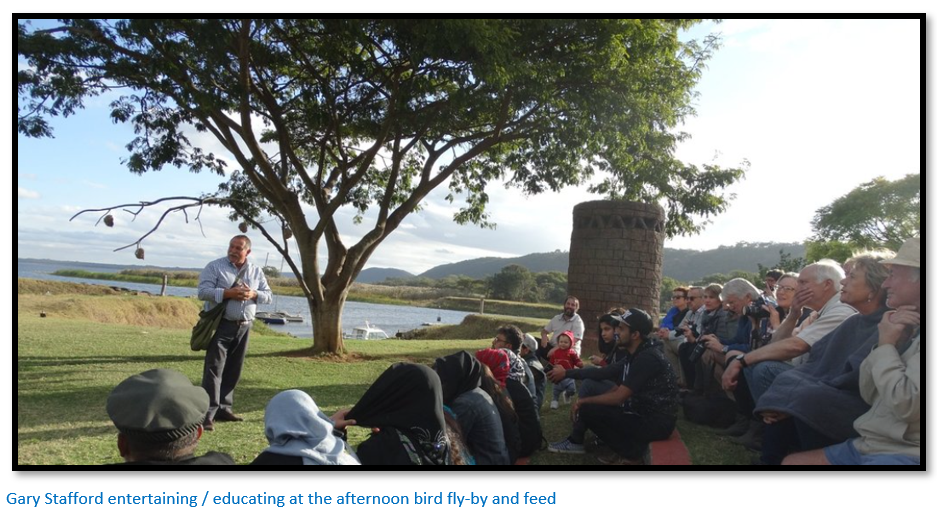 Acknowledgements
Birdlife.org Zimbabwe
Roberts Birds of Southern Africa
Aberfoyle Lodge
Seldomseen Lodge
Zambezi Society
Text: Stuart Beverley
Photo Credits: Claire Sirley and Mackenzie Zirota
Zimbabwean Bird Guides and tours
General
Darryl Tiran
Cell. +263 712610222
Derek Adams
+263 776428251
Info @birdingsafarisvictoriafalls.com
www.birdingsafarisvictoriafalls.com
Tony Wood
Cell: +263 (0)772 224224 Home: +263 (0)4 499909
www.birdingzimbabwe.com tonyzw@gmail.com
Ian Riddell
Cell: +263 (0)772 117054
Jean-Michel Blake
Cell +263 775 817 114
Eastern Highlands
Peter Magosvongwe petermagosvongwe@gmail.com
Cell: +263 779 749 336 or +263 715 787 986 or +263 738 512 425
Bvumba
Murambiwa Buluwesi
+263 712978786 contact Seldomseen
Peter Madziwana contact Seldomseen
Aberfoyle
Morgan Saineti
Contact: https://www.aberfoylelodge.com/index.php/aberfoyle-lodge-birding-and-orc...
Cell: +263 771 263414
Masoka Pitta Camp
Mackenzie Zirota
Cell: +263 7 79807261.
Email: mackenziezirota@gmail.com
Monavale Vlei
Jimmy Muropa
Cell+263 772772771
Umfurudzi Safari Area
Tadious Ndadzira contact Hippo Pools
Cell: +263 (0)773 979 444
South East Lowveld
Ray Sandwith (Lowveld Wanderer)
Cell: +263 775 499 024 and +263 778764200
Matobo & Bulawayo
Sam Magwai
Cell: +263 (0) 775 499024
Fee:
Entrance, accommodation and guiding fees charged