Tengenenge Sculpture Village
Why Visit?:
The source of high-quality art recognized as one of the great discoveries of Africa in the twentieth century and the cause of much international acclaim in the 1980's.
Watch soapstone sculpture being carved on site by the artists as they shape sculptures that are meaningful to their Shona culture from the raw stone.
Experience how the enthusiasm and skill of the sculptors is transferred into their art pieces.
How to get here:
Leave Harare on the Golden Stairs Road (A11) driving towards Mazowe. Distances are from Mazowe dam wall, 3.1 KM turn left onto the A12, 15.70 KM ignore right turnoff to Amandas (formerly Concession) and continue on the A12, 49.6 KM ignore right turnoff to Msonedi, 57.4 KM ignore left turn for Mvurwi, 84.3 KM turn left off the A12 onto a gravel road, 90.0 KM keep left at fork, 90.31 KM keep left at fork, 93.6 KM continue left, 94.5 KM continue directly on, 106.6 KM turn right, 108.4 KM turn left, 110.8 KM pass large industrial unit containing chrome mined by San He Mining, 111.4 KM turn right, 113.3 KM reach Tengenenge
GPS reference: 16⁰43′51.81″S 30⁰56′39.08″E
Tengenenge is situated against the Great Dyke, seemingly a typical African village in the North of Zimbabwe. However at Tengenenge almost everyone, male or female, is a sculptor working the good quality serpentine and springstone mined locally from the Great Dyke. The village is an open-air gallery where many sculptures are exhibited, each on their sculptors own stand. They receive the stone for free; Tengenenge organisation takes care of the sales and community services such as water and electricity with an artists' commission.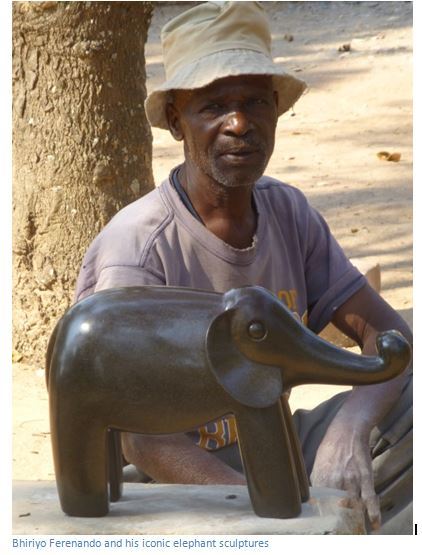 Tom Blomefield was the founder and director of Tengenenge until 2007, since when he has been succeeded by Dominic Benhura, also a well-known international sculptor. Blomefield came in 1946 to Zimbabwe to become a tobacco farmer and chrome miner and founded Tengenenge Art Community in 1966 so that he and his farm workers could make a living as both tobacco and chrome had become the target of sanctions. Tengenenge means "the beginning of the beginning" and managed to survive the struggles to independence in 1980, despite the difficulties and lack of tourists.
Shona stone sculpture is not "traditional", although much of its subject matter has traditional roots. Around 1957 the first director of the Rhodes National Gallery; Frank Mcewen, encouraged local artists through workshops to work in soapstone and to find inspiration from Shona mythology. The art developed slowly, but gained great impetus after 1966 when Tom Blomefield opened up his farm as a community of working artists. Early talented sculptors included Thomas Mukarpobgwa, Joram Mariga, Bernard Matemera, Sylvester Mubayi, Henry Mukarobgwa, Henry Munyaradzi, Joseph Ndandarika, Richard Mteki, Colleen Madamombe (the best-known female sculptor) Bernard Takawira and his brother John Takawira and the Mukomberanwa family. Some of the first generation artists, such as Bhiriyo Ferenando and Josiah Manzi are still producing stone sculptures.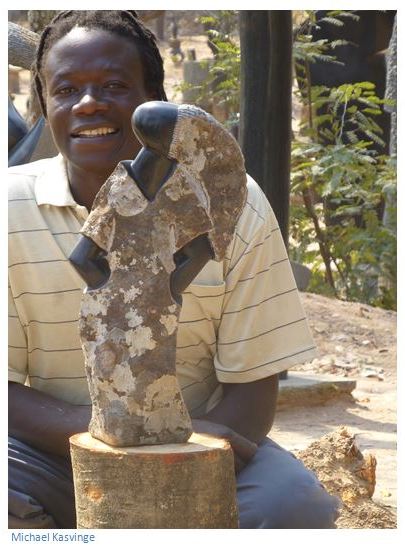 Thanks to the efforts and contacts of Frank McEwen, their work was shown in many international exhibitions and began to become known for its vitality and originality. At independence in 1980, there was a boom in demand for the carvings at both Tengenenge and Chapungu, but government policies since 2000 have not favoured tourism to Zimbabwe and with the drop in international visitors the sales of sculpture have suffered accordingly.
Zimbabwe has been blessed with an outstanding medium of stones through which Shona stone sculpture speaks about fundamental human experiences such as grief, happiness, humour, anxiety, motherhood and spiritual search - and communicate these in a profoundly simple and direct way that is both rare and extremely refreshing.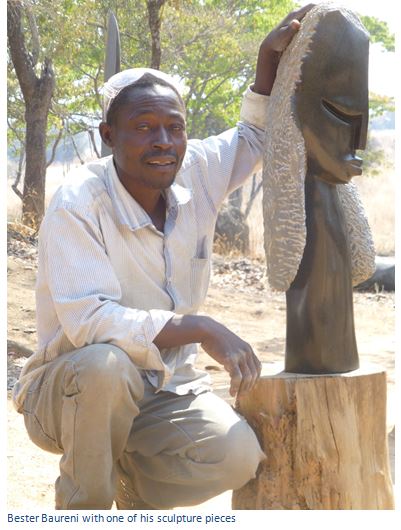 A new generation of sculptors is working in Zimbabwe today that show great promise. Their work can be seen at the Chitungwisa Arts centre, or Tsindi Lodge in Hatfield on the airport road. As with their new urban influences, these young artists are building on the old school of 'Shona sculpture' and creating a new modern style using hard black springstone, richly coloured erpentine, and soapstone, grey limestone and semi-precious verdite and lepidolite.

Tengenenge Sculpture village has guesthouses which are very furnished very simply, but are clean and comfortable and visitors who want to stay overnight will be guaranteed a warm welcome and traditional meals and dancing.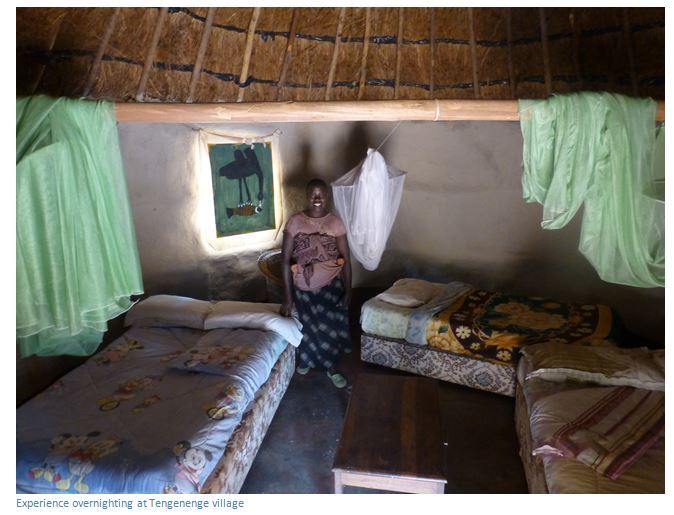 When to visit:
All year around Monday to Sunday 8am to 5pm
Fee:
None, but the sculptors are very persuasive and visitors are likely to leave with a sculptor piece