Chisvingo and Nhunguza monuments, Masembura Communal Lands
Why Visit?:
Although these dry-stone monuments are very small, they are significant in that the archaeological evidence revealed by Peter Garlake seems to indicate a single, continuous, evolving occupation of Zimbabwe Culture by one cultural group between the early thirteenth and mid-fifteenth centuries, with an extension of political power into northern Mashonaland during the fourteenth and fifteenth centuries with which Chisvingo, Nhunguza and Ruanga are associated. In the mid-fifteenth century Great Zimbabwe was abandoned with a decline in dry-stone building. At the same time the Mutapa state rose in the extreme north of Mashonaland and the Torwa Empire in the south west around Khame, Naletale, Danan'ombe and Zinjanja.
The close proximity of Chisvingo, Nhunguza and Yellow Jacket Ruins seems to indicate the three ruins may have been built and occupied by the same Zimbabwe Culture ruling group. They may have been minor provincial Chiefs as the ruins are not large and only a few exotic items, comprising glass beads, were excavated.
Peter Garlake speculates that the shallowness of the deposits, the uniform stratigraphy, and the absence of evidence that the huts were altered, or rebuilt, may indicate they were only occupied for a short period, perhaps a single generation.
Although Chisvingo Ruins cannot be described as spectacular; they are located in a very attractive area of brachystegia woodland, with easy access on tarred road from Harare and make a good walk for visitors who park on the tar road.
How to get here:
GPS reference for turnoff to the track to the Chisvingo Ruins: 17⁰23′29.14″S 31⁰15′25.89″E
GPS reference for Chisvingo Ruins: 17⁰23′00.15″S 31⁰15′04.86″E
GPS reference for Nhunguza Ruins: 17⁰22′50.52″S 31⁰14′15.18″E
GPS reference for Ruanga Ruins: 17⁰01′35.52″S 31⁰40′42.18″E
GPS reference for Yellow Jacket Ruins: 17⁰01′35.52″S 31⁰40′42.18″E
Leave Harare on the Borrowdale Road, distances are from Borrowdale police station. 13.4 KM the road crosses a grid and enters the Chinamora Communal Lands. 16.3KM pass the signpost to Domboshava National Monument. 26.6 KM pass the signpost to Ngomakurira National monument. 30.0 KM pass the turnoff to Chikupu rock art shelter, 28.2 KM pass Makumbe Mission turnoff, 29.5 KM turn left at the intersection staying on the tar road. 35.2 KM keep right at the intersection, 40.9 KM turn left at the intersection keeping to the tar. 48.2 KM continue past the stores and turnoff for Chavadzimu rock art shelter, 53 Km continue through Manhenga village, 54.4 KM turn left off the tar road. Drive over the rise on the untarred Masembura Road, 59.0 M reach Maravanyika Primary School and the turnoff on the right for Chisvingo Ruins. Either drive with a high-clearance vehicle or park and walk along the farm track for 2.0 KM going first north and then west around the prominent kopje before turning into the brachystegia woodland for a further 120 metres to reach Chisvingo ruins.

Chisvingo Ruins are located in the Masembura Communal Lands in Mashonaland. The name comes from the Shona Rusvingo; stone wall, or fortification. Little excavation work has been carried out; but the nearby Nhunguza Ruin, 1.5 kilometres to the northeast was excavated by Peter Garlake in 1972 and dated to the sixteenth Century. Much of the notes below relate to Nhunguza Ruins below as Chisvingo and Nhunguza ruins are very similar in their style and type of dry-stone walling and Peter Garlake classifies them both as Zimbabwe-type ruins. Chisvingo Ruin comprises a single curved enclosure shaped somewhat like an open horseshoe. The dry-stone walling encloses the northern, eastern and southern sides leaving the east side open to the extent of 30 metres. The diameter of the ruin is about 35 metres and the enclosure area would originally have been surrounded by pole and dhaka huts, but no trace of these remains. Like Nhunguza, Chisvingo is not on an easily defended site, but all the surrounding hilltops are visible on every side, and it is in attractive brachystegia woodland and occupies a level saddle between granite kopjes with extensive views. In common with all these ruins, land suitable for grazing and agriculture surrounds the site. The close fitting, dressed and coursed granite walls have a chevron and herringbone pattern and Garlake thinks they might have once had a dentelle frieze. Later alterations include the blocking of a rounded entrance.
Both these ruins and others were described by early hunters and explorers. The archaeologist J.T. Bent positions Chisvingo Ruin accurately, but did not visit, and called it Chipadzi's Ruin as it is near the kraal of this name. Chisvingo Ruins is 24 kilometres down the Pote River from the Yellow Jacket Ruins. The Mazowe River joins the Pote River just above Shamva; and the area has many goldfields with numerous "ancient workings" and written accounts by the Portuguese in the sixteenth century of alluvial mining for gold. Garlake makes the point that besides these ruins, there are a number of sixteenth century Portuguese trading posts at Dambarare, Matafuna, Bocuto, Massapa and Luanze easily accessible from the Mazowe River with their base at Tete on the Zambezi River [see the separate article on Luanze under Mashonaland East]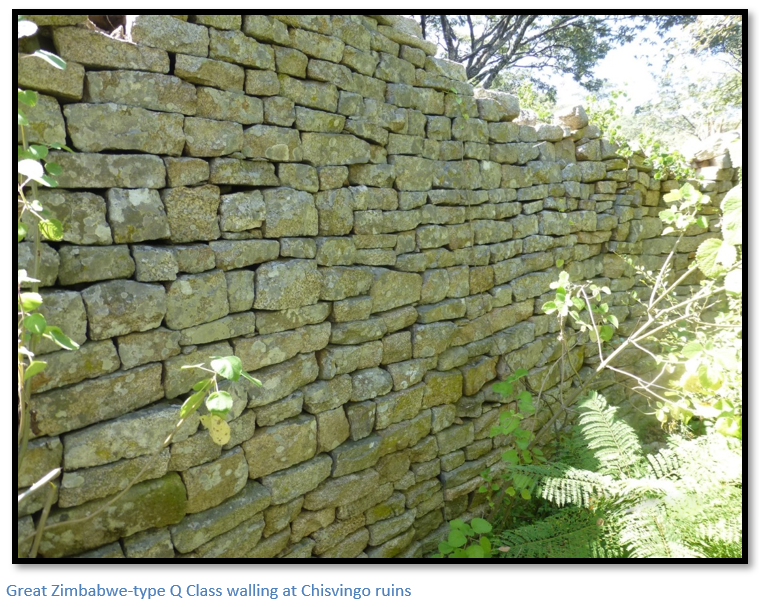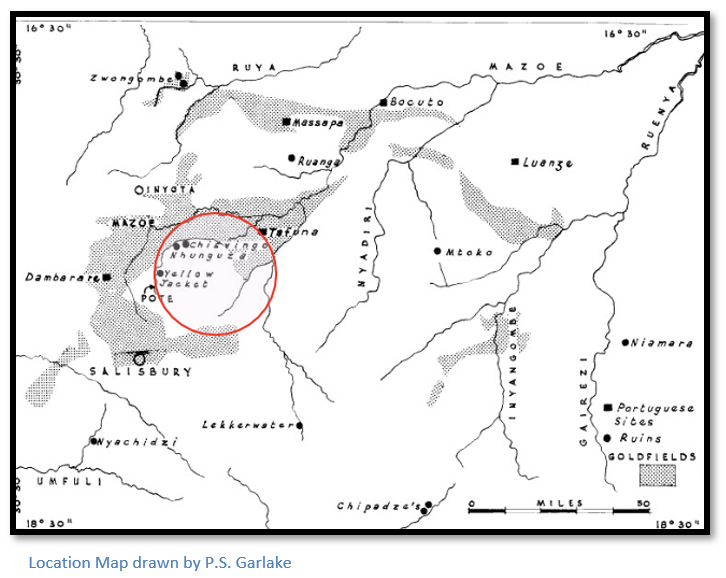 Other ruins in the area include the Yellow Jacket Ruin which has dressed and coursed dry-stone walls forming an enclosure about 9 metres in diameter within a small granite hill on the headwaters of the Pote river. Bent in The ruined cities of Mashonaland described it in 1892 as "a small ancient fort…constructed with courses of wonderful regularity, equal to what we term the best period of Zimbabwe architecture" and he also described many "ancient gold workings" in the area. The ruin is also described by R.N. Hall and W.G. Neal in their book The ancient ruins of Rhodesia, but they added no new details and their Posti Ruins are probably the same ruin, but from another source. F.C. Selous illustrates the Yellow Jacket Ruin but does not describe it and places it incorrectly.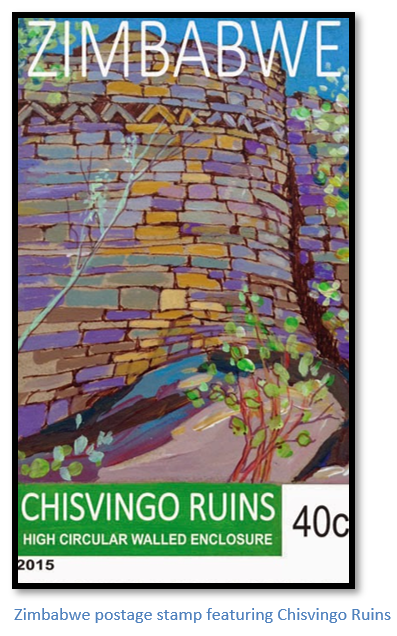 Excavations at Nhunguza ruins nearby
Peter Garlake's article discusses excavations at two ruins; Nhunguza and Ruanga. However, as Ruanga ruins is further north on Odenfara Farm and Nhunguza is physically very close to Chisvingo ruins, only the excavation finds at Nhunguza are described here. Nhunguza Ruins are just 1.5 kilometres away from Chisvingo Ruins in a north-eastern direction and close to the Nhunguza River, a tributary of the Pote River.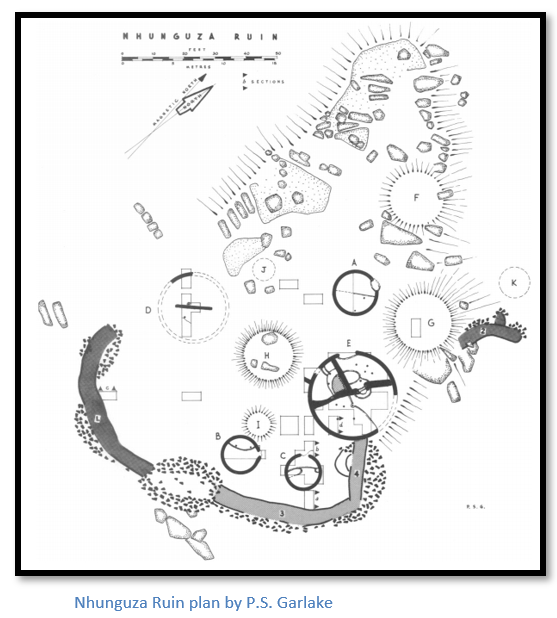 The walls are similar to Chisvingo ruins in that they form an open horseshoe plan. The walls in dark grey on the left of the plan above are composed of dressed granite blocks and are laid in regular horizontal courses and are classified class Q-type walling, similar to that of Great Zimbabwe, by Garlake. The lighter grey coloured walling on the right has undressed stones with little concern for coursing identified as class P-type walling at Great Zimbabwe. All the walls are 1.2-1.8 metres thick and originally stood 1.8-2.4 metres high, which is very similar to Chisvingo Ruins. There are many stones lying in the area of the open horseshoe, but Garlake concludes this was never closed by walling.
Outside the enclosure area 37 trenches dug over a period of 8 weeks starting June 1969. Garlake says the stratigraphy over the whole site was uniform and unequivocal with a single occupation deposit making up one of the seven layers observed. None of the buildings appeared to have been destroyed or hurriedly left, and once the site had been abandoned, the huts simply decayed and fell in, before being baked by subsequent bush fires.
Five huts identified as gravel mounds (E,F,G,H,I on the plan) were partially, or completely excavated. The floors had thick dhaka bases and were well finished and smooth. There were no signs of door hinges on the rounded entrances, and the walls were similarly well finished and smooth and considerable portions had survived in situ. There was nothing to indicate the roof timbers had rested on the walls meaning the roof was supported by a ring of posts outside the hut walls. R.N. Hall describes finding huts at Great Zimbabwe within the Acropolis and Great Enclosure of the same type; the roof supporting posts being 30cm outside the hut walls.
Huts A, B and C were identified as domestic sleeping huts, as each had a raised sleeping area. Hut D appears to have been a main living hut as it had a straight wall of solid dhaka down the centre, similar to those at Tsindi and Khame ruins. Hut E was markedly different, being the largest and most complex hut excavated in a Zimbabwe-type excavation. After the external walls were built, the hut was divided into three rooms by a central cross-wall running from north to south, and a further wall running east-west which divided the western half of the hut into two halves.
The room on the north western room (on the left of the diagram below) had a wide entrance and finely finished raised seat on along the partition wall and a narrow doorway led into the large eastern room of the hut. The south western room on the right of the diagram had a platform of undressed granite blocks entirely encased in dhaka and appears to have been built as a stand to display objects. Peter Garlake thought this hut had no domestic role and probably served in a communal, or ceremonial role.
Huts F, G and H may have formed the main living quarters, outside the enclosure area and not excavated were at least another six pole and dhaka huts, which were probably domestic sleeping huts.
Excavation finds
A considerable amount of pottery was recovered, all made of the same clay material with walls of varying thickness and half had their exteriors burnished with graphite. Most were short pots with a spherical body and a short neck with a maximum diameter of 20-30 cm. In addition, there were 3 large, unburnished, thick bodied pots presumably intended as storage vessels.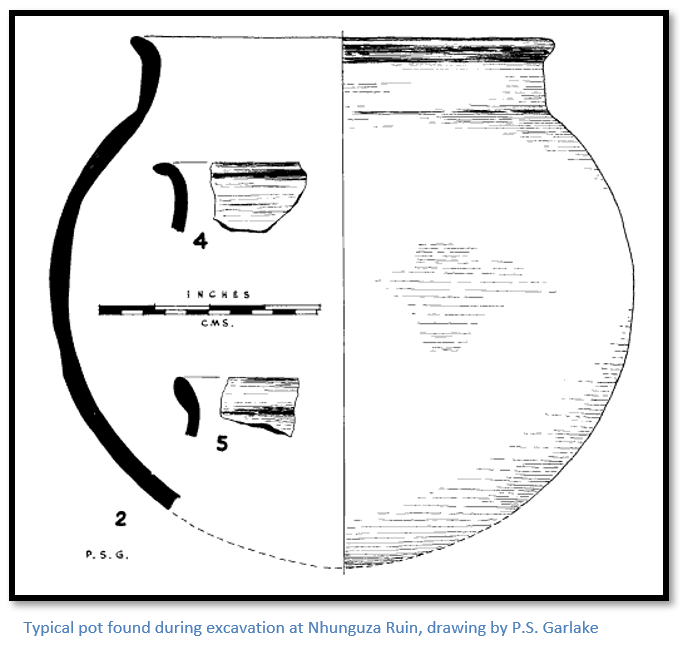 Within Hut E, were two groups of four pottery discs with holes bored in their centres were found. Garlake says they are usually interpreted as spindle whirls, but they maybe gaming counters, or divining dice, which are usually in groups of four.
A few glass beads, an iron bead and a gold bead were excavated. Eleven bundles of copper wire for making bangles, lumps of iron slag, an iron spearhead, an iron arrowhead and iron blade were also found.
Zimbabwe Culture
Peter Garlake considers the Class P and Class Q walls and artefacts at Chisvingo, Nhunguza and Ruanga to be culturally identical with those of the same period at Great Zimbabwe, Chipadzi's ruin at Harleigh Farm, Tsindi Ruin at Theydon near Marondera and Zaka Ruin.

Iron-age Furnace sites at Chisvingo ruins
Two nearby Iron-age furnace sites were excavated by Martin Prendergast. The lower furnace site was excavated by him in 1977 and the upper furnace site area in 1979, and the author discusses the relationship of both smelting sites to the ruins.
The lower furnace site consisted of a slag dump and five stone-reinforced forced-draught furnaces with four tuyeres holes and were radiocarbon dated to around 1700 AD.
The upper furnace site, comprised a line of three or more furnaces, is 80 metres northwest of Chisvingo Ruin and identified through remnants of furnace dhaka slag, and remains of tuyeres (clay pipe which were used to force air into the furnace using goat-skin bellows) with small waste dumps on the slope. Two were typical examples of Iron-age furnaces being built of dhaka which was fused from the heat on the inside; each with a front rake hole and two rear tuyeres holes, one may have been a forge. Much of the slag was mixed with pieces of charcoal with one large piece weighing 5 kilograms.
Martin Prendergast concluded that the furnaces are two centuries later than the ruins and not associated with the ruins. The types of furnaces are also somewhat different and were probably used by different groups with slightly different metallurgical traditions.
He concludes that ruins probably retained a religious or other cultural importance long after they were abandoned and may account for their siting close to the ruins. Logistically it would have made more sense to site the furnaces closer to the Iron Mask Range to the west; but the significance of the site probably outweighed the problem of logistics.
Acknowledgements
P.S. Garlake. Excavations at the Nhunguza and Ruanga Ruins in Northern Mashonaland. South African Archaeological Bulletin, Vol. 27, No. 107/108. Dec 1972. P107-142
M.D. Prendergast. Chisvingo Hill Furnace Site, Northern Mashonaland. South African Archaeological Society. Goodwin Series, No.3 Iron Age Studies in southern Africa. 1979. P47-51
J.T. Bent. The ruined cities of Mashonaland. Longmans, Green. London 1892.
R.N. Hall & W.G. Neal. The ancient ruins of Rhodesia. Methuen. London 1902