An Avenue of Kapok Trees outside Shamva
Why Visit?:
These Kapok trees, Celia pentandra, are probably the biggest and largest stand of this particular tree in the country.
Easily accessible from the road, they grow naturally in the tropics and are outside their natural environment in Zimbabwe. However, this stand appears to be flourishing and they make a curious and interesting attraction beside the A13 national road close to Shamva.
Lyn Mullin in his book Historic Trees of Zimbabwe describes the six specimens planted by John Norris on Devonshire Farm at Mutare. Edone Ann Logan also describes other single specimens at Shamva and Juliasdale, so they are rare, but not unheard of in Zimbabwe, and were probably all planted by tree enthusiasts.
How to get here:
Take the (A2) Enterprise Road, passing through Newlands and Chisipite and continuing until the tollgates. Distances are from the tollgates. 0.2 KM turn left on the (A13) Shamva Road; 15.4 KM pass Ewanrigg turnoff on the right, 21.6 KM reach Bally Vaughn entrance on the left. 44.0 KM reach Mumurgwe rock art turnoff on the left, at 64.3 KM reach the Kapok Trees, Ceiba pentandra, on your right. Naison Kanengoni is getting used to visitors stopping to admire these spectacular trees!
Coming from Shamva and measured from the Bindura road turnoff, it is about 4.7 KM to Rutherdale Estate.
GPS reference: 17⁰21′05.31″S 31⁰33′18.77″E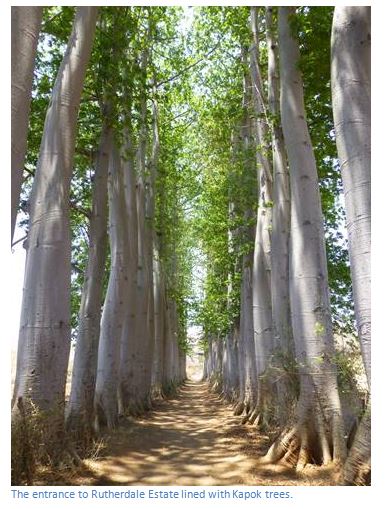 Just outside Shamva, on Rutherdale Estate, which borders Maxton Estate, on the east side of the A13 towards Harare is a double line of very large trees leading to a farmhouse.
Lyn Mullin in his classic Historic Trees of Zimbabwe describes the kapok trees on Devonshire Farm near Mutare that were planted by John Norris; the six remaining trees in December 1986 are described as the tallest of their kind in Zimbabwe. These were planted sometime after 1907 when the Norris family moved from Placefell farm in Juliasdale to Devonshire Farm at Mutare.
John Norris died at home on Devonshire Farm, Mutare on 26 May 1943, after a long illness and most of the information below is from his obituary on the website: www.ourstory.com
He was said to be the last survivor of those who knew Rhodes really intimately; he was for eight years his personal valet during Rhodes's greatest years and, through the bitter-years of his fall. John Norris was faithful to Rhodes' memory throughout his life. In the dining room of his house hung a large signed photograph of Rhodes, while several of the pictures on the walls and various knick-knacks were presents from Rhodes to Mrs Norris. In a storeroom he had a large collection of letters written to and by Rhodes, none of them, perhaps, of very great historical value, but carefully preserved through the years as a token of respect and regard.
John Norris never had much schooling and began work at the age of 12, and four years later in 1884, out of work and penniless, enlisted in the Inniskilling Dragoons, a very distinguished cavalry regiment from Protestant Northern Ireland which fought at Waterloo in 1815 and Balaclava in 1854. After six months' training he was drafted to South Africa, arriving at Cape Town in the Grantully Castle on December 6, 1884. He first met Rhodes in 1885 when he was in Bechuanaland as the personal valet to Sir Charles Warren. Five years later in 1890 when he had obtained his discharge, he met Rhodes again, and was offered a position to accompany him with the Pioneer Column to Rhodesia. However, other events intervened, and Rhodes became Prime Minister of the Cape, retaining Norris as his valet.
In 1891 he married Elizabeth Johnson of Cape Town, and they had three sons and three daughters. Their eldest son, John, joined the King's Royal Rifles during the Great War and was killed at Loos in 1916.
John Norris naturally had many interesting stories, but his principal recollection of Rhodes was that he did everything for the advancement of South Africa, the Empire, and humanity, and nothing for himself. Rhodes, in the presence of Alfred Beit, told Norris he was to apply to his trustees for help if in any need, but Norris never felt the necessity of approaching the trustees, simply because he had made good by his own ability.
When asked what kind of man was Rhodes like to work for, Norris replied: "Well, there is a saying - no man is a hero to his valet. This I do not agree with; at any rate he was my hero and baas, very considerate if you worked hard but not otherwise; if he disliked anyone he was very hard, and it was useless to try to please him. At times he was very irritable with everyone, but afterwards always made up for it by being very kind, especially if he had really upset one."
"Speaking of Rhodes's friends, it is very hard to give any impression of Rhodes and Jameson as they stood quite alone in their relations to one another. He often said 'Jameson is one in a million.' The only thing I cannot imagine is Rhodes and Jameson squabbling; they were devoted to one another."

"Rhodes was not the man to hide his dislikes of any person to me. His likes and dislikes were more often than not extreme; if he really cared for anyone, he always overlooked their faults. Thus it was very hard for him after the Raid to find his lifelong friends throwing him over. He was so cynical over some that it preyed on his mind to the last."

"Two telegrams I always remember taking down and sending off were one to arrest Siqcase, the Pondo chief. Before he sent it he said it was not constitutional and that the Chief Justice would release him, which he did, and on my asking the reason he replied "it will save bloodshed." The other one was to Jameson, quoting St. Luke, about a King going to war, in connection with the Matabele murders at Fort Victoria (now Masvingo)

Now both these telegrams were sent after two or three hours' most serious thought. He came home on both occasions from sitting in Parliament in the afternoon, and neither was sent until just on closing time at 5 o'clock. I mention these two cases because to my mind they were two of the most serious decisions he had to make during his life, and to both of which he gave very serious thought, and no one except myself can record the true facts."

Norris remained with Rhodes at Groote Schuur until October 1896, when he was sent up to Nyanga, to manage Rhodes's experimental farm, on which he had poured out a great deal of money. Rhodes had first visited the Nyanga district in 1896 and was so impressed with it that he immediately asked his close associate, James Gordon McDonald, to arrange the purchase of up to 100,000 acres (40,500 hectares), "and be sure you take in the Pungwe Falls. I would like to try sheep and apple growing". McDonald was able to carry out his request, and so was born the Rhodes Inyanga Estate which was eventually bequeathed to the country as a National Park.
John Grimmer, one of "Rhodes's Young Men", had charge of the estate for a short time, but it was John Norris, the one-time valet to Rhodes, who should get the credit for getting the farming and fruit-growing operations started as by the middle of 1899 he had established fairly extensive orchards of deciduous fruits, and even tried citrus, which was found unsuitable for the local climate.
The farm homestead became the nucleus of today's Rhodes Hotel, and among the trees planted near the old homestead was an avenue of English oak, Quercus robur. There is no certainty about the planting date, but it was probably during Norris's time as Manager, before Rhodes's death in 1902, and they were possibly the first oaks in Zimbabwe. Most of them still stand there today, although their growth has been restricted by the flooded gums, Eucalyptus grandis, that tower over them from across the road leading to the hotel.
The year before, Norris had spent some months at the Matobo estate in Matabeleland. He remained at Nyanga for four or five years, and then in Juliasdale at Placefell Farm, before moving to Devonshire Farm in 1907, very close to Mutare. Here he built up a magnificent dairy farm, and was freely recognised as one of the most progressive farmers in the district. He took a deep interest in agricultural matters, and was a foundation member of the Umtali Agricultural Society, and for many years was a member of the committee.
Although the kapok tree, Ceiba pentandra, is a native of South America; there is a West African variety. It is a tropical tree; so they are growing way out of their natural habitat, but they seem to have become naturalised, and are related to the Baobab, Adansonia digitata.
Lyn Mullin describes the six kapoks, Ceiba pentandra, planted by John Norris, that were still standing in December 1986 at Devonshire Farm on the northwest of Mutare, when probably those described here at Rutherdale Estate were much smaller. Today this stand near Shamva has at least 80 trees; they are packed quite closely on either side of the farm track. Lyn Mullin and Wikipedia say they grow up to 70 metres and this stand may be reaching their natural height limit.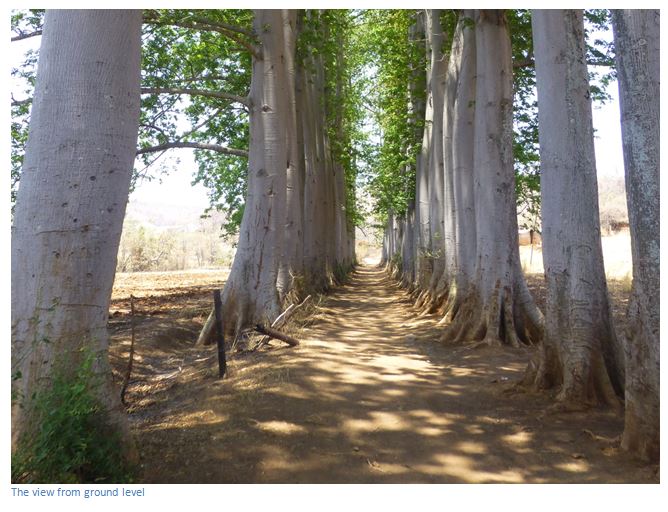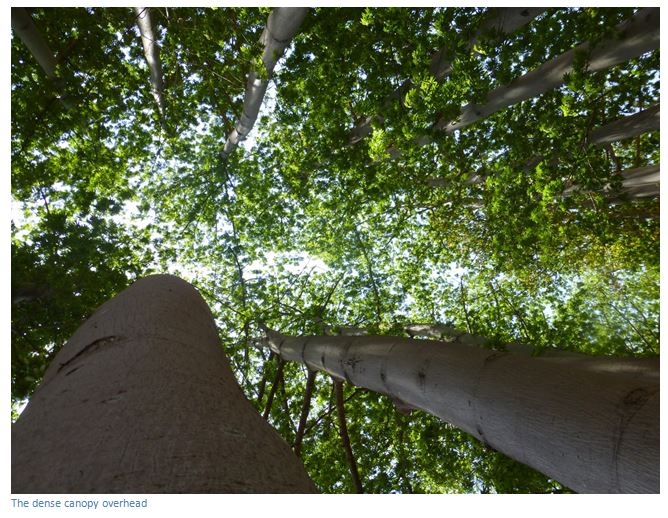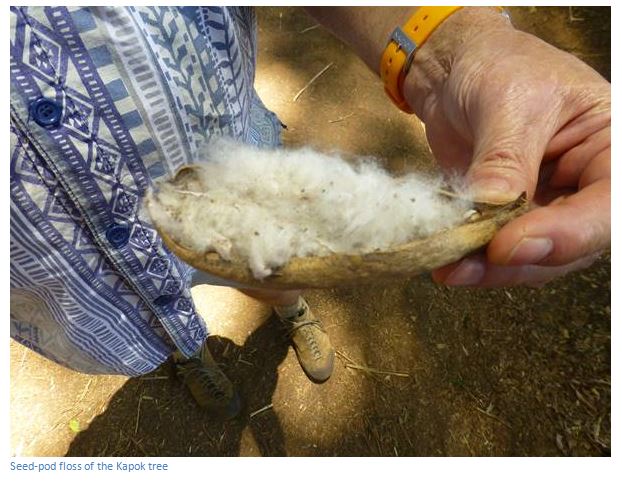 Lyn Mullin writes that the Kapok tree is widely commercially cultivated in tropical areas for its seed-pod floss as the floss is resistant to wetting and is used in life-jackets, it also produces oil and the wood has been used for making matchsticks.
Acknowledgements
Thanks to Denise and Eddy Norris and the website: www.ourstory.com/ Jan 12, 2013 - John Norris Dead Former Valet of Rhodes. The obituary is believed to be from the Rhodesia Herald from May 1943 by John's grandson, Edward "Eddy" Norris.
Lyn Mullin. Historic Trees of Zimbabwe. CBC Publishing 2003
Edone Ann Logan for information