Zimbabwe Mining Company Linked to Shady Deals With Belarusians
Background
An independent journalism organization, Journalism Development Network Inc trading as the Organized Crime and Corruption Reporting Project (OCCRP) has revealed in articles – on which this article is based - that the son of Belarus President Alexander Lukashenko's right-hand man and his son are involved in some suspicious gold mining deals in Zimbabwe. The information came from the leaked documents in the Pandora papers.[i]
Viktor Sheiman, Lukashenko's right-hand man was sent to Zimbabwe in March 2018 to begin the deal between the Zimbabwe and Belarus governments. At the time he was head of the Presidential Property Management Department for Belarusian President Alexander Lukashenko.[ii] Since then, Sheiman has flown to Harare at least twice, and Zimbabwe's President Emerson Mnangagwa visited Minsk, where he met with Lukashenko.
Reports that were issued later stated a mining deal had been agreed as a collaboration between Belarus and Zimbabwe and Sheiman said it was intended to make "profit for Belarus." The Zimbabwean newspaper reported that Sheiman and Winston Chitando, Minister of Mines and Mining Development, agreed to establish a joint mining company called Zim Goldfields.[iii]
Ambitious plans were announced. In 2019 to reach $500 million in trade between Zimbabwe-Belarus and by 2020 - $1 billion. They talked about the supply of Belarusian equipment to Zimbabwe, the development of mineral deposits there, as well as about cooperation between the two countries in the field of defence. "Nobody is going to cooperate for free. If they have no money, they are ready to pay with minerals. It suits us" Victor Sheiman said.[iv]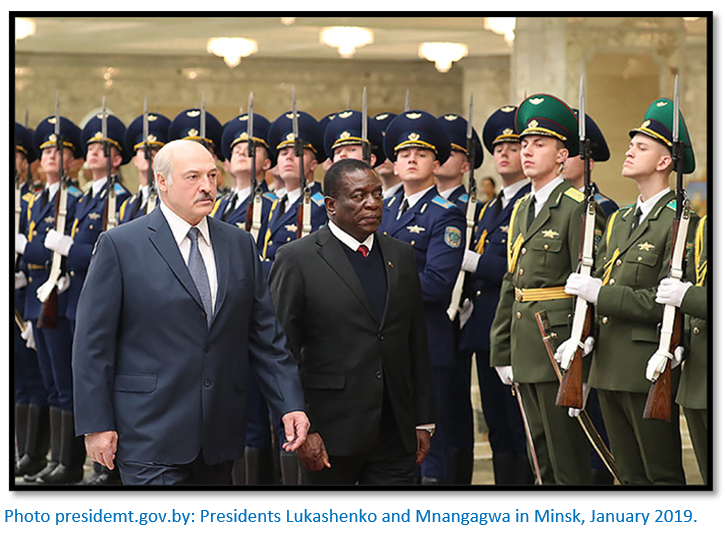 The OCCRP articles reveal that the inter-government deal mysteriously changed into private gold-mining deals between Sergei Sheiman and other Belarusians through alleged offshore accounts in which the Belarus government had no stake and the Zimbabwe government had only a 30% minority stake through ZMDC.
The mining deal was in fact a private deal in which the Belarus government had no stake
A local Zimbabwean company, Zim Goldfields[v] was formed, with Zimbabwe's state-owned mining company, the Zimbabwe Mining Development Corporation (ZMDC) owning 30% and the remaining majority of 70% owned by a UK shell company called Midlands Goldfields Limited (MGL)
Midlands Goldfields Ltd, the UK company has a proxy director, named Robert Michael Friedberg.[vi]
However, Midlands Goldfields Ltd (MGL) is owned 100% by Midlands Goldfields Foundation (MGF) which was the secret company registered in the Seychelles revealed by the Pandora Papers that is owned by Sergei Sheiman, Victor Sheiman's son and a powerful Belarusian businessman Alexander Zingman[vii] who served as Zimbabwe's honorary consul in Belarus since early 2019. Each owns 50% of MGF.
It is Sergei Sheiman and Alexander Zingman who are the beneficial owners of the 70% stake in Zim Goldfields; so it was never a government to government deal – always a gold mining venture set up to benefit these two private individuals. No doubt the ZANU-PF government will always deny such knowledge of shady dealings.
Offshore shell companies are often used to hide these fishy deals
The Pandora papers that spilled the beans on thousands of shell companies were the original source for the information that Sergei Sheiman and Alexander Zingman were the true owners of Midlands Goldfields Foundation (MGF) the 70% majority owner of Zim Goldfields.
The Pandora Papers revealed the secret offshore holdings of more than 300 politicians and public officials from more than 90 countries and territories in a treasure trove of nearly 12 million confidential files. They show how presidents, prime ministers, royals, elected officials — and some of their family members and closest associates — stash assets in a covert financial system with the help of professional firms and banks, such as Croma, who establish companies in secrecy jurisdictions.[viii]
The two Belarusians used these secretive shell companies to hide their involvement in shady business deals and conflicts of interest. In the case of Zim Goldfields the article states: "Its ownership was masked by a proxy — U.K. records name Robert Michael Friedberg as the director of the company — but leaked documents from the Pandora Papers show that Friedberg was acting on behalf of its owners as a nominee for a Seychelles entity with a similar name: Midlands Goldfields Foundation and that entity was owned by Sergei Sheiman and Zingman, who had both reportedly been part of the March 2018 mission to Harare.
Both shell companies appear to have been created specifically to take advantage of the opportunity afforded by Viktor Sheiman's official visit to Zimbabwe: Midlands Goldfields in both the Seychelles and U.K. were incorporated just a few months before his trip, and Zim Goldfields was set up shortly after."[ix]
Who are Victor and Sergei Sheiman and Alexander Zingman?
Viktor Sheiman, the right-hand man of Belarus President Lukashenko, left his position as head of the Belarus President Property Management Directorate in June 2021 with a personal message of gratitude from Lukashenko for "opening the window to Africa."
He has been a close ally of the president ever since Lukashenko came to power in 1994, twenty-eight years ago. Belarus, like Zimbabwe, has a record of Presidents who enjoyed their stay in power. In 2004, whilst serving as the Belarus prosecutor-general he was sanctioned by the EU over the disappearance of several prominent Lukashenko critics with the USA doing the same two years later.[x]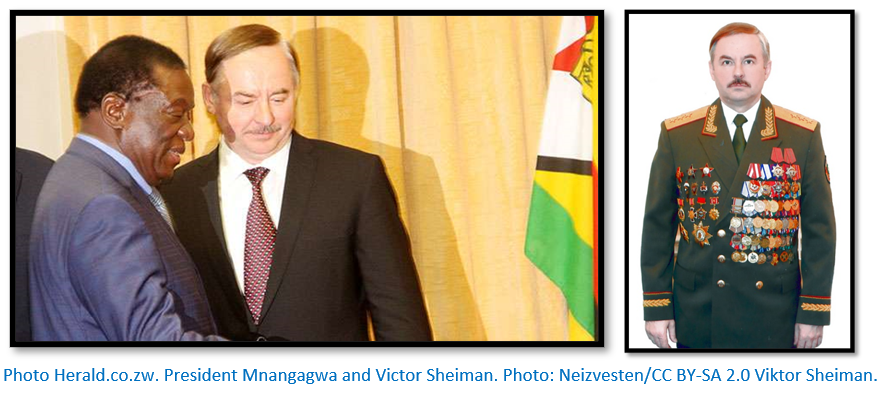 Viktor Sheiman told Belarus's state-owned news agency that he had met with Zimbabwean officials to discuss "expanding economic cooperation" between the two countries, and that he had brokered an opportunity for "the creation of a mining enterprise" and he told Belarusian state television that the trip had produced deals to explore for minerals such as gold, platinum, and rare earths through a joint-venture in mining.[xi]
Sergei Sheiman was reportedly part of the March 2018 Belarus mission to Harare along with his father and Zingman as an advisor. He keeps a low profile but sources say he does business with a former Federal Security Service (FSB) general, close to the Russian authorities.[xii]
Alexander Zingman is an influential Belarusian businessman and has been Zimbabwe's honorary consul in Belarus since 2019. Zingman first appeared in a photo next to Victor Sheiman and Vice President Constantino Chiwenga in March 2018 in Harare when the parties allegedly signed contracts worth about $60 million for the supply of Belarusian agricultural machinery to Zimbabwe. He was then seen next to President Mnangagwa at the opening of the Zimbabwe consulate in the President Hotel in Minsk, which, most conveniently, belongs to the Presidential Property Management Department, headed by Viktor Sheiman. Clearly he is a key figure in relations between Belarus and Zimbabwe and is known to be called 'Alex' by President Mnangagwa, indicating a close personal relationship.[xiii] Zingman's name, contact details, passport number and signature appearing in the UK company records for Midlands Goldfields Limited. Despite this, Aftrade DMCC, Zingman's Dubai-based company in a written response denied his involvement: "Mr Zingman has no links whatsoever with either Zim Goldfields or Midland Goldfields Limited" and added in a separate statement: "Mr. Zingman is also not involved in any business relationships or existing companies with Mr. Sergei Sheiman."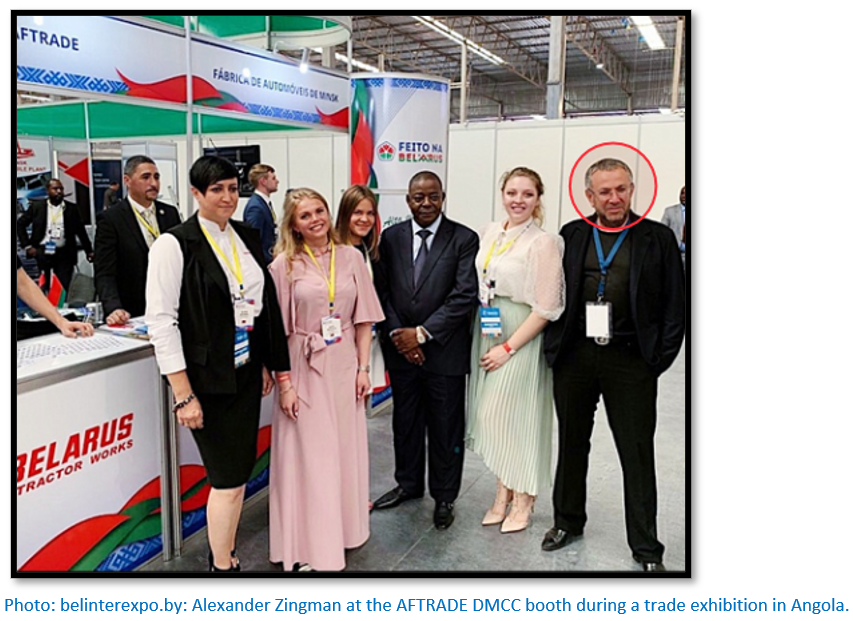 Evgeni Zhovner is a close associate of Viktor Sheiman and worked alongside him in the past. He is a part owner of Belgeopoisk and later signed documents as a director of Zim Goldfields.
Dmitri Krasilnikov, another well-connected Belarusian, the son of BelAseptika's owner who worked as Zim Goldfields chief operations officer.
Where does Aftrade DMCC, Zingman's Dubai-based company fit in?
Aftrade DMCC supplies Belarusian heavy plant equipment made in Belarus to Africa. The company is the official agents for MAZ and Bobruiskagromash equipment and at international exhibitions represents the interests of such Belarus enterprises such as Amkodor, BelAZ, MTZ, Gomselmash, Lidselmash and Lidagroprommash.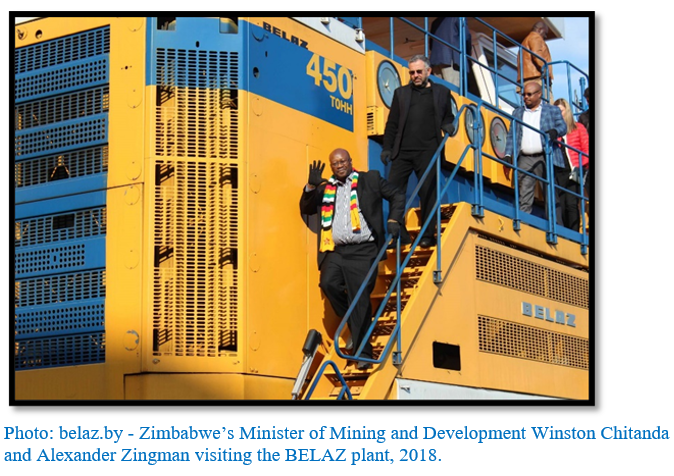 Another Belarus company, Sohra Overseas FZE, reportedly sold a large batch of BelAZ dump trucks to the Chinese / Zimbabwe military who exploit the Marange diamond fields in Chiadzwa, Mutare District, Zimbabwe. [xiv] Sohra Overseas FZE with the state-owned military supplier Belspetsvneshtekhnika has also sold military equipment through their defence joint-venture BSZT-New technologies.
What did Sergei Sheiman and Alexander Zingman acquire through Zim Goldfields?
Zim Goldfields obtained permits in May 2018 to prospect for gold on nearly 55,000 hectares in three locations, including a site along the Mutare river, which runs through Penhalonga, on the Mozambique / Zimbabwe border. The company was awarded a five-year "special grant" in May 2018 to mine along the Mutare river in the Penhalonga valley.
Zim Goldfields hired Belgeopoisk, previously owned in part by the Belarusian state to help its exploration and mining activities. Belgeopoisk is now privately owned, partly by Evgeni Zhovner, the Zim Goldfields director who signed its articles of association as a director on behalf of Midlands Goldfields Limited (MGL)
Another Belgeopoisk director, Sergei Mamchik, in a phone interview confirmed Belgeopoisk was working for Zim Goldfields, but said he had no knowledge of the company's end beneficiaries: "I don't know and I don't want to know." Mamchik refused to say how much gold had been mined by Zim Goldfields: "Why do you want to know that? … It's a trade secret."
However a Belgeopoisk document detailing the company's operations for Zim Goldfields between 2018 and 2020 appears to corroborate the gold recoveries. It states that 1,985 cubic metres of 'gold-bearing sands' were excavated, of which 520 cubic metres contained recoverable gold.[xv]
Presumably official returns of gold output have been made to the Ministry of Mines? All gold must legally be sold through Fidelity Printers and Refiners (FPR) although a former Zim Goldfields employee and a local community organization both said gold was discovered and sold from the site.[xvi]
When did it all start to go wrong?
One problem that must have afflicted Zim Goldfields from the beginning was that of artisanal miners and the local community that have regarded the Mutare river as a source for panning gold for many centuries. The fact that ZMDC issued a mining permit to Zim Goldfields would have been regarded as a challenge to their traditional activity gold panning activities.
Reports state that within months, the company was in trouble with Zimbabwean authorities. A December 2018 visit to the Zim Goldfields mine-site, led by the Manicaland Ministry of Mines officials reported the company had violated several safety regulations, though it is unclear whether any penalties were issued. The letter states:
An investigation was conducted on the 10 December 2018 by the Ministry of Mines and Mining Development. The team comprised the following members:
O. Dube. Provincial Mining Director
M. Mukudzavu. Mining Engineering
B. Bvurire. Metallurgy
W. Chinhamora. Geology
K.C. Gandawa. Survey.
In a December 2018 follow-up letter (See appendix A below) the team reported the following mining violations:
1. Employees were not furnished with adequate PPE.
2. A mine manager had not been appointed.
3. A portable James table and water pumps were seen on site for bulk sampling.
4. A drilling machine was seen on site.
5. Poor housekeeping around the shafts and mine surroundings.
6. No barricades, signs and gates at the shaft which endangers domestic animals and people.
7. No approved sighting of works.
8. No employees register.
All of the above meant Zim Goldfields was in violation of its mining permits.
Consequences of the Zimbabwe government banning riverbed mining
Then in September 2020 the Zimbabwean government banned all riverbed mining because of the environmental damage being caused. Clearly this included Zim Goldfields operations along the Mutare river.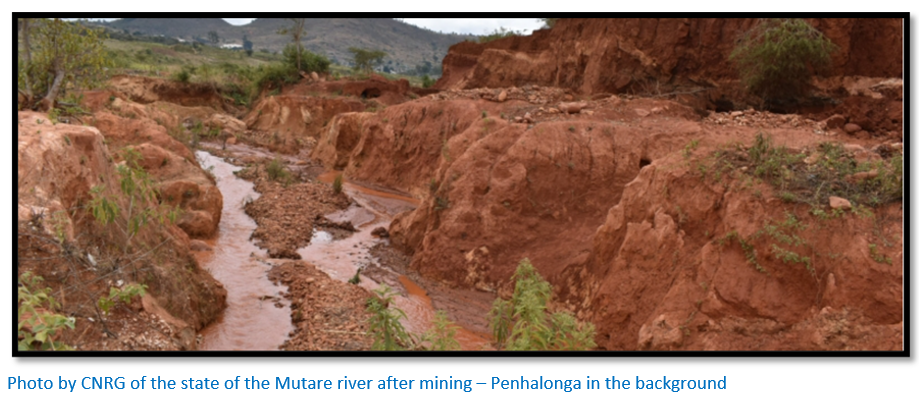 OCCRP reports that both Midlands Goldfields Foundation (MGF) in the Seychelles and the UK based Midlands Goldfields Limited (MGL) operations were shut down within days.
At the same time Zim Goldfields listed a change of directors. Evgeni Zhovner, a director representing Midlands Goldfields on Zim Goldfields documents, appeared as a director on Zim Goldfields company records after September 2020, suggesting the company may have remained under Belarusian control.
Zim Goldfields situation after September 2020
OCCRP report that it is not clear whether Zim Goldfields continues to operate and ZMDC, the minority 30% shareholders, did not respond to questions concerning the company's status.
Other controversies Zim Goldfields found itself involved in
Zim Goldfields was involved in a deadly controversy following reports that ten illegal gold miners were feared to have been buried alive at the old Premier Estates property on the Mutare river and that only two bodies had been recovered. A local community organization press release blamed the deaths on a Chinese company subcontracted by "a Belarusian company" and named the Chinese party as "Zhondin Investments."[xvii]
In November 2020, the Chinese company started back-filling what they believed to be the abandoned gold mines on the Zim Goldfields site. But it turned out they were not abandoned - ten local artisanal miners were underground and were buried alive. Only two bodies were discovered, the rest were never retrieved.[xvi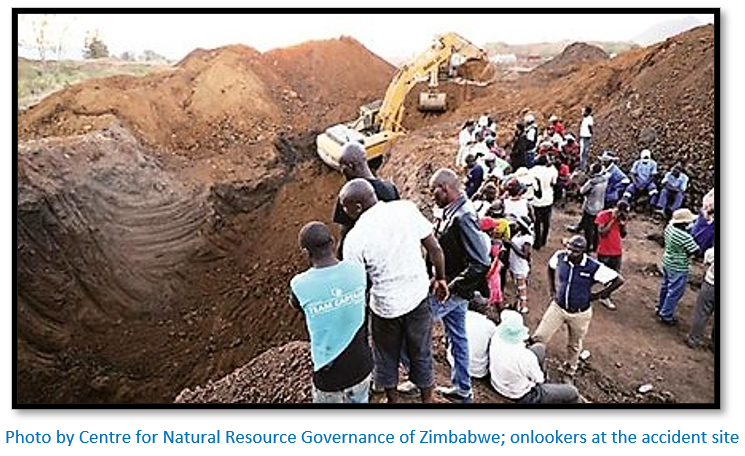 The governments of both countries did not make a big deal of the event, and neither really did the media. They were just more casualties in what is a chaotic and dysfunctional system that suits the Zanu-PF big-wigs as it hides their massive involvement in legal and illegal gold mining.
Then documents obtained by OCCRP show that Zim Goldfields subcontracted a Chinese company called Ming Chang Sino-Africa Mining to carry out environmental "rehabilitation" at its mining site. Two December 2020 letters from Zim Goldfields to Ming Chang complain that the Chinese company did not adequately carry out the work – presumably the Environmental Management Agency (EMA) of Zimbabwe complained about the poor rehabilitation work.
Further clashes on the Mutare river between artisanal and Chinese miners
Four Chinese nationals were attacked by artisanal miners following a misunderstanding over mining rights on 3 February 2021 at Premier Estate near Penhalonga. It is reported that a group of artisanal miners was working at a site on the Mutare river when Chinese nationals from Zhong Jian Investments brought an excavator to fill the shaft, claiming that they had a permit to mine at Premier Estates. This angered the artisanal miners who summoned their colleagues working along Mutare River and they jointly attacked the Chinese nationals using an assortment of artisanal mining tools such as crowbars, picks and shovels while sparing the operator of the excavator – a Zimbabwean national. One of the Chinese men reportedly sustained three broken ribs, while another lost a finger as he tried to protect his face from a shovel attack. The condition of the other two is still unknown.[xix]
Ming Chang Sino-Africa Mining Investments
Described as well-known gold dealers in the town of Zvishavane, the Chinese mining group Ming Chang Sino-Africa Mining Investments has an influential backer in the form of President Mnangagwa, Chinese group Ming Chang and in an article by Africa Intelligence was described as close to gaining control of Empress Gold Mine.[xx]
The company was taken to court in 2016 by an employee who was permanently injured whilst operating a ball-mill at their workplace. The accident was judged wholly attributable to the negligence of the company who were in breach of the common law duty of care which resulted in the injury and damages were awarded against the company.[xxi]
Zim Goldfields / Belgeopoisk foreign employees are mostly ex-Belarusian military
Belgeopoisk, the Belarusian public-private enterprise, contracted to carry out exploration and mining for Zim Goldfields, is partly owned by Evgeni Zhovner, later listed as a Zim Goldfields director. Articles state their geologists are always accompanied by security guards who are all from ex-Belarus military and law enforcement agencies.
Perhaps this is because they have touted for business in high-risk countries, such as Sudan. These security advisers, including Evgeni Zhovner, Evgeni Chanov and Alexander Romanovsky, apparently ex-KGB,[xxii] apparently make all the important decisions regarding Zim Goldfields and Belgeopoisk.
Vytis Jurkonis, a political scientist at Vilnius University and an expert on Belarus, told OCCRP: "I think it has all the signs of a really shady structure with direct links to the president's administration."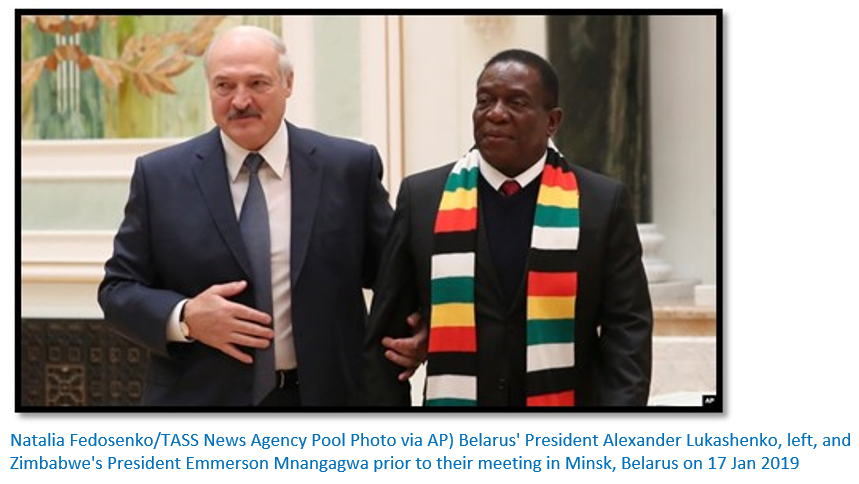 Appendix A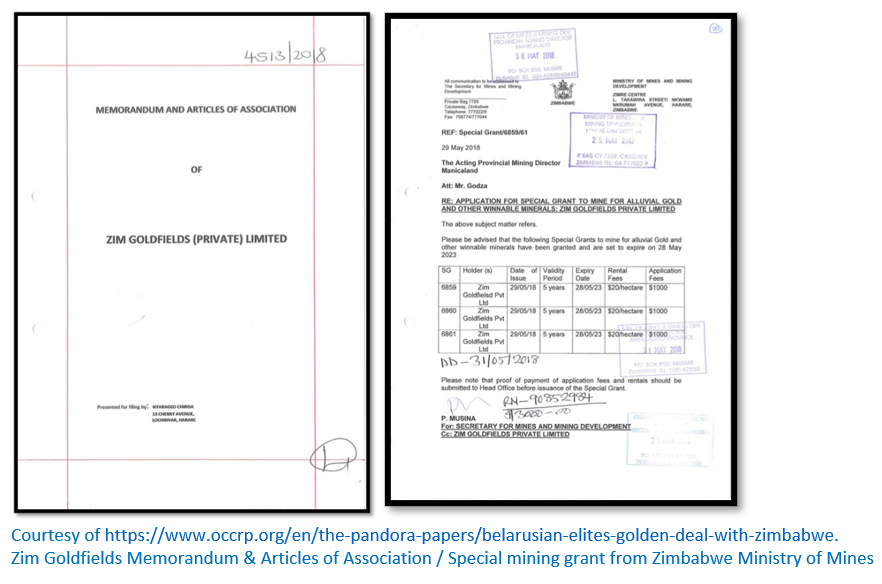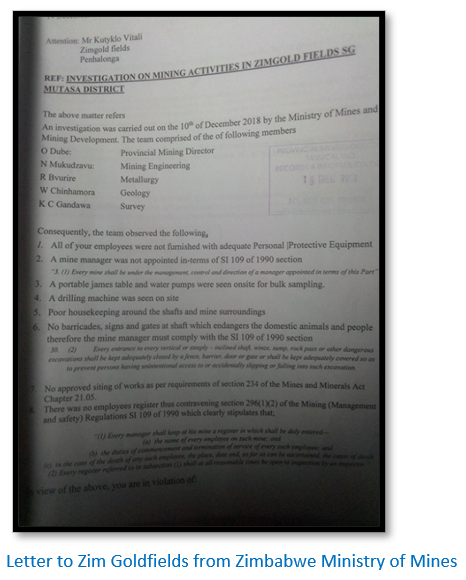 References
Voice of America. 9 October 2021. Stas Ivashkevich (Belsat) and Aliaksei Karpeka (Euroadio.fm) contributed to this story: voazimbabwe.com/a/zimbabwe-belarus-gold-mining/6264214.html
Organised Crime and Corruption Reporting Project (OCCRP) Belarusian Elites' Golden Deal With Zimbabwe. https://www.occrp.org/en/the-pandora-papers/belarusian-elites-golden-dea...
The Zimbabwean. 7 October 2021. https://www.thezimbabwean.co/2021/10/investigation-how-viktor-sheimans-son-secretly-mines-gold-in-zimbabwe/
Belsat.eu. 24 March 2020. Private jet, Zingman and UAE. What remains behind the scenes of relations between Belarus and Zimbabwe? https://belsat.eu/ru/news/chastnyj-samolet-zingman-i-oae-chto-ostaetsya-...
Simiso Mlevu. 10 Feb 2021. Centre for National Resource Governance. Artisanal miners clash with Chinese miners at Premier Estate, Mutare.
Notes
---